Spokane is more than just a large city in the state of Washington. It is a home to waterfalls, museums that are so unique, lots of parks and so many other fun places.
Make Spokane your next bus stop so that you could explore the shops and restaurants downtown, listen to a music performance by the Spokane Symphony orchestra.
There are quite a lot of things to do in Spokane, Washington. Spokane also has a scenic trail and a lot of wine shops. There is also the Mobius Children's Museum and Riverfront Park which are kid-friendly attraction spots.
Let's look at some of the best things to do in Spokane as well as the best of Spokane WA attractions.
Things to Do in Spokane
1. Riverfront Park
Riverfront Park is one of the most spectacular American urban parks.
It sits on 100 acres of land, which comprises of the Spokane Falls and Rivers, an island, the Expo '74 Pavilion, the 1909 Looff Carousel, the 1902 Clock Tower and a lot other cool places.
There is also a giant red wagon where kids play in, after which they can go cool off in the huge Rotary Fountain in the same park.
The park has wild conservation and meadows areas which makes it suitable for hiking. This should make your list of what to see in Spokane, Washington.
Some of the animals you can find in the Park include geese, ducks, marmots, beaver, ospreys e.t.c. You can also climb the Spokane Falls Skyride to get an overview of the Park.
Location: 507 N Howard St., Spokane, Washington. Phone No: 509-625-6601.
2. The Steam Plant
Formerly serving as a heating plant for years, the steam plant has been revived once more.
After its renovation, it is now opened to be used as a restaurant, an event venue, retail space, and a brewery.
Despite this renovation, it is one of the best places to tour as all around, you will still boilers, catwalks, and a lot of other things that tell the history of the former glory of the Park.
So, take a tour around the plant, and probably, at the end, you can visit one of the newly established restaurants over there, so as treat yourself to a shellfish sauteed in smoked bacon, shallots garlic and basil while drinking a beer or wine.
Location: 159 South Lincoln, Spokane, Washington. Phone No: 509-777-3900
3. Wild Sage Bistro
Are you looking for a place that serves fresh, seasonal, food that is sourced locally? The place you are looking for is Wild Sage Bistro.
They serve the best and will be quite a nice addition to your checklist of top things to do in Spokane, Washington.
Wild Sage Bistro is beautiful and it is tastefully decorated. It is a comfortable spot for having your meal.
They also offer gluten-free fine dining options. This made it home for everyone.
They make the foods that they serve from locally caught fresh fish, crabs, ginger, fresh fruits and tomatoes, local beef, vegetables e.t.c.
You will also love the list of wines they offer. It's a lot of fun and most importantly eating!
Location: 916 W. 2nd Ave, Spokane, Washington. Phone No: 509-456-7575
4. Latah Creek Winery.
Owned and operated by a family, the Latah Creek Winery is located in the Indiana Avenue in Spokane.
This award-winning winery was established in the year 1982, and it is widely recognized all over the world because they still make wine using old traditional winemaking methods.
The company permits tourists to visit the winery, and they also have a courtyard where the visitor can get a taste of the wine. You can also use the winery for a picnic if you like.
Some of the red wines they make include, Malbec, Sangiovese, and the most popular among them, Merlot.
They also make white wines like Pinot Gris, Moscato, Chardonnay, and Riesling.
Location: 13030 East Indiana Avenue, Spokane, Washington. Phone No: 509-926-0164
5. Avista Stadium
The Avista Stadium is an outdoor Sports venue which is situated in the North Havana Street just at the fairgrounds east of downtown Spokane.
When it was opened in 1958, it was called the Fairgrounds Recreational Park, before its name was later changed.
Today, the stadium is the home of the Spokane Indians minor league baseball team. Also, ten championship teams have played in this stadium.
Some of the features of the stadium are, 6,803 seaters capacity, an elevation of 1,910 feet above sea level, skyboxes, the Banner Back Diamond Club, a press box, and lots more.
There is also an area called the Kids Zone where the children can play during games and a picnic area for those who want to host a picnic in the stadium.
Talking about fun things to do in Spokane, Washington, a visit here should make your day.
Location: 602 North Havanna Street, Spokane, Washington. Phone No: 509-535-2922
6. Gonzaga University
Gonzaga University is a private university owned by the Roman Catholic church. It is situated on East Boone Avenue.
Father Joseph Cataldo under the society of Jesus founded the University as a catholic school for the local Native Americans in the year 1887.
Gonzaga University is named after Aloysius Gonzaga who was a Jesuit Saint.
The whole of the University is on 131 acres of grassland that is not so far from downtown Spokane.
The total number of buildings owned by the University is 105. There also two large libraries and so many pieces of artwork.
Location: 502 East Boone Avenue, Spokane Washington. Phone No: 509-328-4220
7. The Cathedral of St. John the Evangelist
The Cathedral of St. John the Evangelist is the Episcopal Diocesan Cathedral in Spokane. It is located on East 12th Avenue.
The church was formed in the year 1929 when three churches: St. James, St. Peter's and All Saints Cathedral merged to form one cathedral.
The current building that houses the church, was completed in the year 1954. The church is 180 feet high, and it's was built with cut sandstone.
At the window of the church, you will see the stained glass. On the walls, you will see so many carvings. All these together beautifies the cathedral.
In the church you will see one of the finest organs made by Aeolian-Skinner company which consists of 4,039.
It's 49 bell Carillion that is in the Bishop Cross Tower can be heard from miles away.
Location: 127 East 12th Avenue, Spokane, Washington. Phone No: 509-838-4277.
8. Manito Park
Would you like to know what to do in Spokane for fun?
A visit to the Manito park will be just fine.
One of the best parks in Spokane, in the Manito park, you could see a lot of bird watchers, kids that are playing baseball while some other people are picnicking.
Founded in 1930, Manito Park is a 90-acres park that is located in Spokane's South Hill neighborhood.
During the spring, summer, and fall, the park gives has a rose smell. The reason for this smell is the Japanese garden or the dahlia garden in the Park.
You can take a stroll on the paved paths beside this garden, or sit on a bench while relaxing.
You can also check out the pond to watch the Duck and geese as they frolic. There are also exotic desert and tropical plants in the conservatory that thrive all year round.
Also visit the Flowerbeds in the winter, for it gets covered in snow. It is a wonderful site to see at that time of the year. Children are also allowed to sled down the bill of the Park during winter.
Location: 1702 S. Grand Blvd., Spokane Washington, Phone No: 509-625-6200
9. Spokane Falls.
Right in the central business district that is downtown of Spokane, you will find the Spokane Falls.
Spokane Falls are dams and waterfalls which adds beauty and splendor to the city. Spokane falls are one of the top 10 Spokane WA attractions.
The falls were formally called "Stluputqu" which means "swift water" by the native Americans that once lived in this land.
When you get to the fall, you will observe that it is divided into two parts, each built at different times. The Upper Falls is the site of the Upper Falls Dam which was built in 1920.
There are also the Lower Falls which is the site of the Monroe Street Dam, it was built in 1890 and it's this can that generates the electricity that power the city.
Due to the importance of these falls, an organization known as Friends of the Falls organization was established to preserve the Fall.
You will be amazed by the majesty obtained when science and nature are working together when you see the fall. This will be a nice addition to your list of things to do in Spokane, Washington.
10. The Scoop.
Are you going to visit Spokane with your kids? If yes, I suggest that you visit the Scoop, they are going to love it!. The scoop is a small waffle and Ice cream shop which is located on the 25th Avenue on Spokane's South Hill.
They make fabulous, hot, and delicious Belgian waffles with a lot of ice cream, whipped cream and fruits. The whole waffle and cream will be made right there in your presence! It's all fun to watch.
You can also by a waffle sandwich with cheese or sausage drizzled with maple syrup for lunch.
In case you can't make it to 25th Avenue, you can check out their website to see the location of their food truck to locate the one closest to you.
Location: 1001 W 25th Ave, Spokane, Washington. Phone No: 509-535-7171.
11. Mount Spokane Ski and Snowboard Park
Are you a lover of skiing and would like to add that as part of your fun things to do in Spokane checklist.
Located on North Mount Spokane Park Drive, Mount Spokane Ski and Snowboard Park is a ski resort.
You can find it exactly with the Mount Spokane State Park which is approximately 23 miles northeast of the City of Spokane.
It is equipped with five chairlifts which are for taking skiers from the snowboarders from the base to the peak which is about 5,889 feet in height.
The park also has lodges, a tubing hill, and also allows for nighttime skiing.
There is also the historic Vista House (which was built in the year 1993) at the summit of Park. There, you can get hot foods and drinks on weekends and holidays.
The park also offers lessons for children and adults, and special programs like daycares. You can rent the Park if you want to.
Location: 29500 North Mount Spokane Park Drive, Mead WA 99021. Phone No: 509-238-2220.
12. Wisconsinburger
Do you like burgers? I bet you do. One of the best makers of burger, Wisconsinburger has a shop on Spokane's South Hill.
The people of Spokane truly love Wisconsinburger, it is no surprise that they have a big success in this place.
To make the burgers, they simply use prime beef that is locally sourced, grounded every morning, something they call cheese cord which is imported from Wisconsin and a hot crunchy bun.
The burgers are made by the skilled chefs they employ, you can enjoy their burger and wash it down with one of the beers they sell on the site.
Location: 916 S Hatch St., Spokane, Wahington. Phone No: 509-241-3083.
13. Queen of Sheba
Have you ever tasted a piece of injera dipped in the thick sauce of Yesiga?
If you have not, let me introduce you to a very spicy treat.
Injera is just a bread, of the Ethiopian origin, which is soft, spongy, and crepe. It is normally dipped into stews, like the Yesiga.
Fedora itself is a stew that is made from onions, garlic, tomatoes, ginger, and some other Ethiopian spices.
This special food is served in the Queen of Sheba, and it tastes the same as when served in Ethiopia.
It is also served in the traditional way, which involves putting it on a large plate, and eating together by friends and family with their hands (no fork needed).
Queen of Sheba is a beautiful restaurant and it is decorated using the Ethiopian ethnic art. They also serve other Ethiopian dishes apart from the Injera. You will enjoy every food you will taste in this place.
Location: 621 W Mallon Ave Suite 426, Spokane, Washington. Phone: 509-328-3958
14. Spokane Symphony
Spokane Symphony is a professional orchestra based in Spokane. This orchestra performs most of its concert at the Martin Woldson Theatre at the Fox which is located on West Sprague Avenue.
Called the Spokane Philharmonic in the year 1945 when it was established, this 70 member orchestra was given its current name in the year 1962.
Apart from the regular concerts, the orchestra also holds SuperPops performances and some other two free Park concerts of which one is held at Spokane's Comstock Park, who the other holds at the Liberty Lake's Pavilion.
They also hold a Nutcracker valley during the holiday seasons. If you are a lover of good music, then let this be on top of the list of things to go to Spokane.
Location: Martin Woldson Theatre at The Fox, 1001 W. Sprague, Spokane, Washington. Phone No: 509-624-1200
15. Barrister Winery.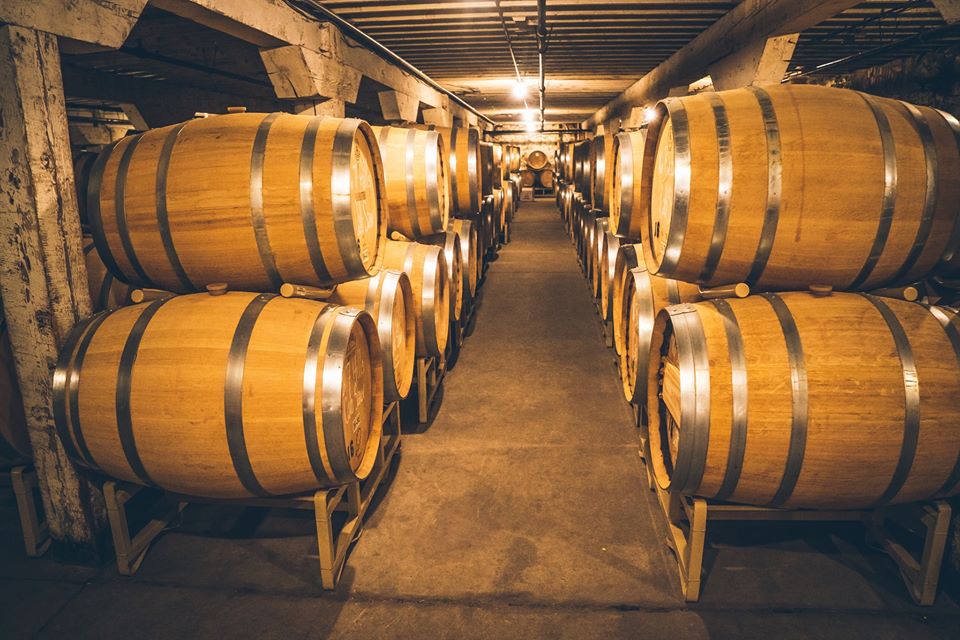 The Barrister Winery is housed in a 100-year old 25,000 square foot warehouse which has high ceilings and beams and bricks which are exposed.
It is located along the Union Pacific Railroad in the Davenport Arts District in Spokane.
This winery which was founded in 2000 features a tasting room that is open from Monday to Sunday and it has an art gallery.
Some of the wines they make includes, Merlot, Malbec, Bland, Cabernet Sauvignon, Sangiovese and Sauvignon Blanc e.t.c.
On Wednesdays, the winner holds a summer evening music series on their courtyard. And they also give tours to their visitors.
The winery is for rent, thus you can use it for weddings, birthday parties, and other occasions that are special to you.
Location: 1213 W. Railroad Ave., Spokane, Washington. Phone No: 509-465-3591.
16. Martin Wolfson Theatre at the Fox
Founded in the year 1931, the Martin Woldson Theatre at the Fox started its life as a Fox movie Theatre.
This Art Deco building was designed by Robert Reamer who is a renowned architect. When it was completed, this 2,300 seater auditorium was the largest in Spokane.
In those days, the theatre was the only airconditioned building in Spokane and also, the one with the most advanced modern movie technology.
It also had spectacular murals that were used in the decoration of the mezzanine and the auditorium. These murals were designed by Anthony Heinsbergen.
The theatre has played host to some top stars like Catherine Hepburn wad Frank Sinatra.
In 2000, due to age and lack of maintenance, the theatre was mapped out for demolition. Through Martin Woldson and her daughter's funding, it was saved and renovated.
Today, the theatre houses the Spokane Symphony and it is the perfect stage to perform arts in Spokane.
It is listed on the National Register of Historic Places due to its value, you will definitely love its sight including it as part of your things to do in Spokane, Washington checklist.
Location: 1001 W. Sprague Avenue, Spokane, Washington. Phone No: 509-624-1200
17. Downtown Spokane
There are a lot of things to do in Spokane when you meet downtown Spokane.
The downtown of Spokane is filled with a lot of dinings, entertainment districts and shopping opportunities for both the visitors and the residents.
Some of the places you will find in the Entrainment district include the 20 screen AMC theatre, the Knitting Factory Concert House, the Martin Woldson Theatre at the Fox and so many other restaurants and bars.
Downtown, you will also find the Cork District and the Inland Northwest Ale Trail. Both ways you can follow if you desire to get a taste of the finest brews and wine in Spokane.
18. Northwest Museum of Arts and Culture
Located on the West First Avenue in Browne's Addition neighborhood of Spokane, The Northwest Museum of Arts & Culture is the next place you should visit.
The Northwest Museum of Arts & Culture is a Museum that has a lot of Arts and artifacts collects that tell the history of the local region, Native American, Indian culture, and so on.
It is locally known as MAC. The museum has five underground galleries, an outdoor amphitheater, an educational center, an auditorium, a cafe and a store.
Lest I forget, it's was formally know Cheney Cowles Museum.
The museum to own and conduct tours on the nearby historic Campbell House which was built in 1898.
Some other works you can find in the Museum include maps, photographs, books, Joel E Ferris Research Archives and so many others.
Location: 2316 West First Avenue, Spokane, Washington. Phone No: 509-456-3931
19. John A. Finch Arboretum
The John A. Finch Arboretum is a 65-acre public arboretum that is Located on the West Woodland Boulevard on Sunset Hill along Garden Springs Creek in Spokane.
This arboretum was established in 1949 and was named after the Spokane businessman. The arboretum has more than 2000 trees and shrubs.
You will also find many lilacs and collections of maples, conifers and rhododendron.
One of the famous nature trails in Spokane known as the Touch and See Nature trail owned by the Girl Scout organization of Spokane can be found in this arboretum.
You can visit the arboretum any time you want. Some times during the year, special events and activities are held in this place.
Location: 3404 West Woodland Boulevard, Spokane, Washington. Phone No: 509-624-4832
20. Riverside State Park
The Riverside State Park is the largest in the whole of Washington. It is situated on West Charles Road, which is about nine miles northwest of Spokane in the Nine Miles Falls.
The park has a lot of fun areas such as the Bowl and Pitcher, the 600-acre Nine Mile Recreation Area, and the 1,500-acre Little Spokane River Natural Area.
There are so many fun activities you can engage yourself in this park. There are a lot of things to do in Spokane here such as, bird watching, boating canoeing and kayaking, biking, fishing, picnicking, camping and swimming e.t.c.
21. Centennial Trail
The Centennial Trail, finished in 1991 is a 37.5mile-long hiking and biking trail which begins from the state line just between Washington and Idaho and ends at the Nine Mile Falls in Washington.
Some of this trail passes through the downtown Spokane and then through Riverfront Park, after which it passes through the rural area spreading through the east and west.
The trail is most visited by hikers, cyclists, and everyone who loves camping, hiking, snowshoeing, bird watching, biking e.t.c as it provides access to them all.
The Centennial Trail also links with the North Idaho Centennial Trail, and together it serves as a connection between the Couer d'Alene and Spokane.
22. Green Bluff
This is the name given to a farming community in Spokane County, and also a cliff which can be found nearby.
The name "Green Bluff" can as a result of an incident that happened during the time it was inhabited by the Early Native Americans.
For as story tells, after the Early settlers burnt the evergreen trees they found in the area, it didn't take too long for green grasses to appear again, as if what they did was a bluff.
In the green bluff, you will find crops like Strawberries, apples, apricots, peaches, cherries, peaches, and much more.
In 1902, a group called the Green Bluff Grower's Association was formed. Their goal is to help farmers to grow their fruits.
Most of the farms in this area give tours to their visitors. And since the farms are beautifully kept, they are always graced by birds.
Visiting here will make your visit worthwhile hence should make your checklist of top things to do In Spokane.
23. Mobius Children's Museum
The Mobius Children's Museum is an art, culture, and science museum which is situated at the River Park Square that is on West Main Avenue.
The museum has a lot of fun and educational activities for the young ones. Some of these activities are organized as camps and classes.
This is amongst the best things to do in Spokane today with kids, they have a place called the "Out of Hand Art Studio" which is a place kids are taught how to paint, color, and create things using materials like beads, feathers e.t.c.
There are also the Geotopia classes which teach kids all about the elements of the ecosystem like wind, water, weather e.t.c. They are also taught about reptiles and insects in this class.
There is also the Globe Theatre where storytellers and musicians entertain the children.
Location: River Park Square, 808 West Main Avenue, Spokane Washington. Phone No: 509-321-7121
24. Riblet Mansion and Arbor Crest Winery.
The Riblet Mansion has quite a long history. What made this building most spectacular is the person that built it.
The house was built by a genius inventor who invented the square wheel tractor and other wonderful inventions. The house, which sits about 400 feet above the river makes it a good air out to view the Spokane Valley.
The Arbor Crest Winery can be found on the site of the Riblet Mansion. This winery offers a varied selection of wines as well as other food samplings. They also make beers.
Sometimes, on this ground, especially during the summer, concerts and picnics are held in this place.
Location: 4705 North Fruit Hill Road, Spokane, Washington, 99217, USA. Phone No: +15099279463
25. Mizuna
First opened in 1996, the Mizuna has become one of the topmost and recommended restaurants in Spokane.
It is housed in a turn of the century building and due to the exciting dishes it has to offer, sometimes Mizuna is referred to as a foodie's paradise.
Most of the ingredients used in making the food in this restaurant are locally sourced. They also have a menu for those who are vegetarians.
Some of the food they offer includes, lemongrass seafood curry, seasonal soups, and roasted best salad.
Mizuna can be easily found as its location is just beside the iconic Riverfront Park. Thus, you can just stop by this place after taking a hike or while strolling around downtown.
Location: 214 North Street, Downtown Spokane, Spokane, Washington, 99201, USA. Phone No: +15097472004
26. The Big Red Wagon
If you are above the age of 40, you are likely to remember kids were satisfied with simple things like a Radio Flyer Wagon e.t.c.
The Riverfront Park, in a bit to make sure the future generation won't forget what fun was in the days of old, the build a Big Red Wagon in front of the Park.
Big Red Wagon is the world's largest Radio Flyer Wagon. It was built as a part of the "Centennial Celebration of Children" in the year 1989.
Unlike some you structures, the Big Red Wagon is not just a sculpture to be viewed, rather, it can be played on as well.
It is like the main toy, only that this replica is made from more than 26 tons of steel and concrete and it stands about 12 feet tall.
Thus, both adults and children are welcome to climb into the wagon. You need not worry, the Wagon can contain 300 people at a time.
For safety, it has a gaunt white hands which is also a slide. This, no one will be tempted to jump out of this 12 feet toy.
Though this type of you is no longer in vogue, the Big Red Wagon still does a great job in showing people what life was like in the old times, when fun was more of in the imagination. You can add jumping on this wagon as one of the fun things to do in Spokane during your visit here.
27. Indian Painted Rocks
Rocks that are a mystery to all, the story of the Indian Painted Rocks started 250 years ago.
The Native Americans that lived just beside the Spokane River painted the rocks found there with red paint
As time went by, these porous rocks just absorbed these paint and making it permanent. Today, the paintings seem as if it is coming out of the rocks.
You can still find these stones in the Little Spokane River Natural Area in the same city that was named after the tribe that painted those rocks.
In 1970, The Painted Rocks Site was nominated by the National Register of Historic Places as a historic place.
They did because it has survived all these years and it is still intact. Most of the Native American pictographs which were located in the river banks in this area were covered in water by the same that was built in the turn of the 20th century.
It is believed by the members of the Spokane tribe that these paintings have been around since the 1750s.
This is because some of the pictographs showed a cross and a horse, both of which show that European settlers once lived in that area.
The content, reason, and interpretation for the pictographs are still debated amongst photographers.
You can easily get to see these rocks when you come through the Little Spokane River Natural Area parking lot. This path is also known as the Indian Painted Rocks trailhead.
You will surely get to see kayakers and hikers in this place.
28. Garbage-Eating Goat Statue
Unlike most cities who just put a little post that says "do not litter", the city of Spokane makes its a little fun by installing a Garbage-Eating Goat Statue in one of their city Parks.
Since it's placement in the year 1974 as a part of the public art that was made by the World's Fair in that very year, it has become one of Spokane favorite landmarks.
The metal goat sculpture was built to have a vacuum inside which automatically 'eats' up any piece of garbage that is placed in its mouth by sucking it in.
When it was installed, the statue was heavily criticized by a group of dairy farmers who claimed that the statue implied that a dairy boat would eat trash. For this reason it wasn't replicated.
Regardless of the criticism, the garbage eating goat which is situated at the Riverfront Park seems to be cleaning up the city one trash at a time. And this it has been doing for the past 40 years.
You can also check out some of the fun things to do in Missouri if you would like a visit to Missouri.
29. Mary Lou's Milk Bottle
The Mary Lou's Milk Bottle is a giant milk bottle that once stood above the Benewah Creamery.
Benewah Creamery was a store open in Spokane in the year 1935 on the West Garland Avenue and North Post Street.
The giant milk bottle stood as a befitting beacon for dairy lovers in those days.
Owned by Paul Newport who was a dairy merchant, the Benewah Creamery truly ran a lot of retail outlets.
The Newport family used the milk to make cheese and ice cream and they sold them and other wares at this store till 1974 when it finally went out of business.
Today, this unusual building with a giant bottle on top of it has become one of Spokane's landmarks.
Though the new owner of the store transformed it into a store for selling second-hand furniture and knickknacks, the milk bottle remains on top of the building.
Spokane nearly lost this landmark in 2011 when the building was almost engulfed by fire. It was later restored to its former glory after the fire.
Today the store is now a diner called the Mary Lou's Milk Bottle which sells sandwiches, burgers, milkshakes, and wonderful ice creams.
Location: 802 W Garland Ave Spokane, Washington, 99205, United States.
30. Monroe Street Bridge Bison Skulls.
The Monroe Street Bridge is not your normal bridge, this bridge has concrete bison skulls mounted on its pedestrian pavilion-like guardian.
The color of these unconventional ornaments is pale, thus, this made it peer out over both the river that is rushing below and the pedestrians that make use of the overpass.
The construction of the Monroe Street Bridge started in 1909 and was completed in 1911. Its construction was aimed at replacing its two predecessors.
For before it, there was once a wooden bridge in its place that burnt down.
The steel bridge which was installed in place of the wooden bridge had vibrations that were so scary. Today, the bison skulls and the two concrete behemoths serve as a decorative fixture.
The person who suggested the addition of the bovines to the bridge was Patrick C. Shine a prominent politician based in Spokane.
He found a bison skull on his travel to Alberta, Canada.
Before Shine family sold his house, one could find the original boson skull which he found mounted on the garage of his family house.
After the house was sold by the Shine family, the beloved skull vanished and became lost. Therefore, one can say that the bison skulls in the bridge serve as a monument for the real one that is missing.
It's also worth noting that the bison in the bridge was reconstructed in the '90s after it became worn and weathered and it's broken parts already falling off. Here is one of the best sights of Spokane and should make your list of Spokane activities.
Location: 218 N Monroe St. Spokane, Washington, United States.
31. Dodd House
The Dodd house is the former home of Sonora Smart Dodd who was the "Mother of Father's Day".
It is a bungalow with a large plaque on its yard. Though the building is a private residence, you can still stop by to see it.
The story behind the "Mother of Father's Day" is like this. While listening to a Mother's Day sermon, Dodd had the idea to begin a national day for dads.
It is not surprising why she came up with the idea. Her father was a Civil War Veteran and also a widower, and he had raised Dodd and her five brothers all by himself.
A year after she heard the sermon, her plan to hold a celebration became a reality. On June 19, 1910 Spokane had her first official Father's Day at the local YMCA.
Though Dodd's initial plan was to celebrate on June 5, which was her father's birthday, the celebration was shifted forward till the third Sunday in June.
Even though that Dodd is not the first American woman to suggest the idea of Father's Day, she is credited with bringing national attention to the idea.
She spent years campaigning for the holiday and in 1972, decades after supports from senators and previous presidents, President Richard M. Nixon finally signed a bill recognizing Father's Day.
Location: 603 S Arthur St Spokane, Washington United States.
32. Looff Carrousel
Don't say your trip to the Riverfront Park was complete when you didn't ride the historic Looff Carrousel.
This Carrousel was a gift from Charles I. D Looff who was a master carver to his daughter during her wedding.
The Loof Carrousel which dates as far back as 1909 is composed of carved wooden horses and colorful creatures.
Every visitor to Spokane enjoys it. Today, it has become one of Spokane WA attractions.
In a bit to preserve its beauty for the future generation, the Carrousel which was restored recently is now housed in a climate-controlled structure that is like a music box.
A ride on the Loof Carrousel is a ride you and your family will never forget in a hurry.
Start Planning Your Trip to Spokane
Every city has what makes it special, but considering the beautiful spots in Spokane, one can't help but repeat the famous words of George Orwell, "Some are more equal (i.e special) than the others", start planning your trip to this beautiful city.
There are quite a lot of things to do in Spokane which you can explore during your visit to make the best of your visit, crossing off the Spokane attractions and activities listed in this guide, you will truly enjoy your stay in this beautiful city of Washington.