In search of the best and fun things to do in Williamsport, PA?
Williamsport is an exciting city and seat of Lycoming County, located between the West Branch of Susquehanna River and the foothills of the Allegheny Mountains that is 75 miles (121 km) north of Harrisburg.
Williamsport, Pennsylvania, founded in 1795, was said to be named after William Russel, who had a boat landing on the river.
Before the arrival of Europeans, the Andastes Indians (a subgroup of the Susquehannock, or Susquehanna) inhabited the city. The town is covered by more than 300,000 acres of state game lands, making it a famous area for hunters and outdoor lovers.
Things to Do in Williamsport
1. Little League World Series
If you happen to visit Williamsport in mid-August, make sure to visit Howard J.Lamade Stadium to witness the fun-filled, non-cost Williamsport event.
Aside from the game, the stadium boasts other activities for individuals of all ages to enjoy.
For those who aren't familiar with Little League Baseball, it is an all-youth softball and baseball league located at Williamsport, Pennsylvania.
The league caters to the age group 4-16 by segregating them into distinct categories.
Fans of other sports are highly encouraged to give it a shot because the vibe is intoxicating, and you could become addicted.
This is one of the best things to do in Williamsport if you are interested in sports.
2. Susquehanna Riverwalk
The Susquehanna River Walk &Timber Trail offers East walking and biking experiences for residents of all biking levels in Williamsport and South Williamsport.
The trails are built mainly atop levees along the north and south shores of the West Branch Susquehanna River, plus the two bridge crossings at Maynard Street and Market Street.
The looped section between the two bridge crossings is named the Timber Trail, and it provides interpretative signage about the lumber heritage of the region.
Place along the trail is the Lumber-themed public art, including "The Wood Hick," a life-sized sculpture of a lumber camp worker.
Drive through the southeastern terminus of the Susquehanna River Walk portion of the trail in South Williamsport, passing Paws Park to your right.
Take the trail over a railroad crossing, and then you continue on the course with the river by your right. From the U.S. 15/Market Street in South Williamsport, either you turn right to cross the Market Street Bridge or take the Timber Trail to cross the Maynard Street Bridge.
The two bridges present a dedicated pedestrian-bicyclist portion on the west side to offer easy, protected access to the riverside trail's north and south portions. Gradual grades on the entrances & exits of ramps under the bridges offer easy access for all ability levels. Visit the to enjoy hiking and biking fun experience and the scenic view of nature.
3. Local Breweries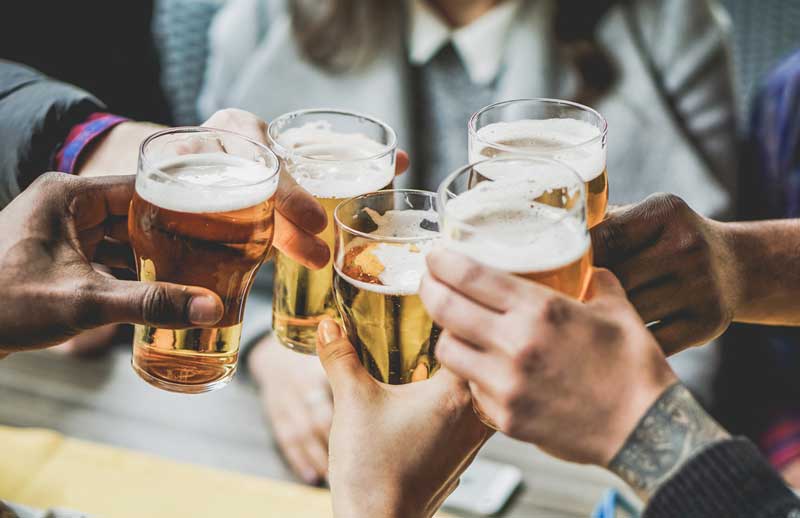 Williamsport is well known for its quality of food and breweries. To experience this, visit a nearby brewery to enjoy authentic beers and tasty food.
Breweries in this area are known for their hospitality, ambiance, and sincerity.
They capture the spirit of Williamsport and will guarantee the team the best time.
The most highly rated and suggested breweries within the vicinity include New Trail Brewing, Therapy Brewing, Bullfrog Brewery, and Bald Birds Brewing Company.
Wine connoisseurs should add visiting any of these breweries to their list of things to do in Williamsport.
4. Nomad Distilling
Nomad Distilling is in Bastress Township, outside Williamsport, Pennsylvania.
Frank and Sarah Kudlack, who are well-experienced in local Pennsylvania entrepreneurship, bought the Nomad Distilling after five years of operating as a local business.
Frank is great is managing and reinventing the historic property while Sarah handles the marketing and event parts. Their skills and experiences have helped place a long-standing love for the city and their new venture.
Nomad Distilling offers tastings, delightful brunch, lunch, sumptuous meals, and unique cocktails in an exquisite and relaxing atmosphere.
You will love this place as the staff is amiable and knowledgeable. Explore the Nomad Distilling to enjoy a relaxing and fun evening with your friends and family.
Address: 5451 State Route 654, Williamsport, PA 17702-8456
5. Thomas T. Taber Museum
For some history time, add a visit to the Thomas T. Taber Museum to your list of things to do in Williamsport.
The Thomas T. Taber Museum, founded in 1999, displays the background of Lycoming County with its numerous exhibits on the history of Lycoming's Native Americans and the historic lumber industry.
The museum also showcases various antique cottage industries and re-creating various period items that date back to British colonialism.
The museum also houses more than 300 model trains as well as two operating layouts.
Talks, fundraisers, workshops are also held for locals and visitors alike. It's a must-see destination for anyone interested in local culture and history.
Address: 858 W 4th St, Williamsport, PA 17701, United States
6. Miners Run Falls
Just 40 minutes to the north of Williamsport, in the McIntyre Wild Area, is Miners Run, a hidden gem with seven spectacular waterfalls.
The trip up to Miners Run is ideal for those who enjoy nature and the wild terrain.
Nothing beats the morning blues as a refreshing hike upstream, laying your eyes on seven beautiful waterfalls.
The waters are shallow and simple to navigate. Just make sure you bring an appropriate map and footwear.
If hiking is not your style, you could enjoy stunning views of the main waterfall from the road.
7. Lycoming County Visitors Center
Lycoming County provides a fun and great activities, including sporting and cultural events, museums and historical sites, great nightlife entertainment, and shopping.
If you're in Williamsport, Pennsylvania, you need to visit the Lycoming County Visitors Center as you will get information on the things to do, places to visit, attractions to explore, museums, and everything you need to know about Williamsport, Pennsylvania.
Lycoming County Visitors Center is a well-designed center with exhibits and literature for all the local attractions.
As you tour the center with the tour guide, you will discover exciting things and areas in the kitty, including the Little League Hall of Fame, Penn College, Millionaires Row, and many others. The staff is helpful, friendly, and knowledgeable as they guide and explain what you need to know about the city.
It would be best to have brochures and other materials like maps that might be of interest for a future visit.
Address: 102W 4th St, Williamsport, PA 17701-6158
8. Band Rock Vista
Band Rock Vista is famous across Pennsylvania for its breathtaking picturesque panoramas of Lycoming Creek Valley.
According to residents, the area earned its name because of the bands that performed there in the 20th century on Sundays.
It is possible that you will not see bands when you go out there. However, the views will not disappoint.
While the scenery is stunning, the route that gets you there is very narrow and not suitable for most vehicles.
It is strongly recommended to walk the last couple of miles instead of attempting to drive vehicles. This will protect you and allow you time to take in the beauty of the landscape.
Address: McIntyre Mountain Rd, Roaring Branch, PA 17765, United States
Visit tourist attractions in Washington, check out this list of things to do in Bellingham, things to do in Yakima, and things to do in Spokane for a memorable exploration
9. Original Little League Field
The growth and success of Original Little League baseball became apparent when more than 12,000 spectators attended the Little League World Series in 1958. The historic field also features softball and other exciting games.
The quick growth led to the construction of the enormous Howard J. Lamaze Stadium in South Williamsport, Pennsylvania, where Little League Series games started in 1959.
The Original Little Field in Memorial Park served as a blueprint for numerous stadiums, sandlots, fields, and leagues worldwide. Organized on the historic base oaths in the Original Little League Field are the annual tournaments for local teams and other fun, exciting games.
The Original Little League Field has become a source of pride to the community.
Visit the Original Little League Field to discover fascinating histories about the field, and if you love ball games, you will also love this place.
Address: 1695 W 4th St, Williamsport, PA 17701-5649
10. Hiawatha Paddlewheel Riverboat Cruise
Hiawatha is a riverboat with a paddlewheel named in honor of the historic boat that bore the same name.
The boat offers river cruises every day of the week with various options. The cruise offers a beautiful view of the Susquehanna State Park in a very relaxing atmosphere.
Hiawatha follows a seasonal calendar for their events to ensure that guests are entertained. This event covers Brunch Cruises, Princess Party Cruises, Wine Cruises, Dinner Cruises, and many more.
The breathtaking beauty of the scenery and the excitement of the surrounding make it an unforgettable trip.
Anyone who is awed by the tranquility and beauty of nature will enjoy this cruise. Do well to come along with a camera to capture some of the beautiful views.
Address: 2205 Hiawatha Blvd, Williamsport, PA 17701, United States
11. World Little League Museum
World of Little League, as its name implies, tells you everything details about the history of Little League, how it got started, how it developed, and where it's headed.
The museum features alumni and exhibits with uniforms and memorabilia from 1939 onwards and a variety of baseball exhibits.
If you're not impressed with Little League History, check out the other activities available on the site.
The museum also has a running space and a wall that you can leap over and an area where you can test your skill with ground balls that are open to children and adults.
World Little League Museum is accessible all year and is worth adding to your list of things to do in Williamsport if you are a Little League fan.
Address: 525 US-15, South Williamsport, PA 17702, United States
12. Original Field
Are you a fan of baseball? If yes, add a visit to the Original Field to your list of things to do in Williamsport.
The Original Field is the first officially recognized field for Little League baseball and was constructed in 1942.
The field is maintained regularly and is a magnet for visitors, and provides some interesting historical information.
The annual local tournaments are still held on these fields. It is an expression of pride for the locals.
In 2014, the Original field was included in the National Register of Historic Places.
Address: 1635-1699 W 4th St, Williamsport, PA 17701, United States
13. Pine Creek Rail Trail
Pine Creek Rail Trail is one of the top rail-trails in the state of Pennsylvania.
The trail has stunning high cliffs, majestic trees, gorgeous waterfalls, and it is truly a paradise for nature-lovers.
It covers sixty miles (ca.97 km) and could take as long as the duration of two days to explore.
However, you are able to take advantage of the numerous access points along the route and alter the route to your preference.
Morning bike ride n the trail are absolutely breathtaking and are a perfect recommendation for everyone who comes to the region.
14. Susquehanna State Park
Susquehanna State Park is a unique Pennsylvania state park that rests on a 20-acres area in Williamsport in Lycoming County, Pennsylvania, in the U.S.
The state park is on the West Branch Susquehanna River in the western area of Susquehanna State Park features cruises on a paddle wheeler, boating, fishing, and picnicking.
One of the main attractions at Susquehanna Park is the paddle wheeler Hiawatha. The park offers an hour-long public cruise on weekends from May to October and weekdays from July to September.
The special cruises provided are karaoke, Sunday brunch, dinner, family night, and sunset concert cruises.
The park's boat launch permits access to the river for boating as it allows canoes, kayaks, rowboats, and non-powered boats. You can also enjoy fishing from the backs of the river and boats. You will find species of fishes like panfish, catfish, and smallmouth bass. You can also plan a family or friends picnic as picnic tables and pavilion with lots of tables.
15. Peter Herdic Transportation Museum
If you are interested in sports or history, add Peter Herdic Transportation Museum to your list of things to do in Williamsport.
Peter Herdic Transportation Museum has been taking visitors and locals on a journey through the history of transportation in Susquehanna Valley over the decades.
The museum is located in an area that used to be a major transportation hub at the beginning of 1900. The entire building was renovated and then used to build the museum it is now.
The museum is situated near downtown Williamsport and displays a number of renovated vehicles.
They also offer tours during the season of the city at no additional cost. The museum is an excellent place for anyone with an interest in the past or transportation.
Address: 810 Nichols Pl, Williamsport, PA 17701, United States
For a fun time in Florida, take to exploring our list of things to do in Tampa, things to do in Destin and fun things to do in Gainesville for a fun vacation time.
16. Millionaires Row
Williamsport is famous for having the highest percentage of millionaires per capita, more than other cities in the United States, Similar to the
Billionaires Row
located in New York City.
It is known as the Millionaire's row lines with homes dating to 1855, which showcase stunning Victorian-style architecture.
To better navigate the area, you can purchase tour maps in the vicinity or download them on the internet.
The region is also home to other historical attractions in Williamsport like Williamsport's Peter Herdic Transportation Museum, The Rowley House Museum, and The Thomas T.Taber Museum.
This is why it's an ideal time to stop at Millionaires Row on the way to these historical Williamsport attractions.
The famous street is sure to attract anyone with a passion for history or architecture.
Address: 707 W 4th St #5903, Williamsport, PA 17701, United States
17. Jacoby Falls
Jacoby Falls is a 29 feet (ca.9 m) beauty that cascades down the rocks into a vanishing and enchanting hollow.
It is situated within The Loyalsock State Forest in eastern Lycoming County, and the falls are visible after a three-mile hike through a part in the woods.
The hike may be lengthy, but it's definitely worth it. Jacoby Falls is a natural beauty and a place that shouldn't be overlooked.
Address: Jacoby Falls Trail, Gamble Township, PA 17754, USA
18. New Trail Brewing
New Trail Brewing exits for the betterment of unique craft beer. The New Trail Brewing brew beers for its guests to enjoy while enjoying the incredible beauty of Williamsport, Pennsylvania.
The wine tasting room is open from Wednesday through Friday from 3:00 pm – 10:00 pm, on Saturday from 12:00 to 10:00 on, and on Sunday from 12:00 to 6:00 pm.
New Trail Brewing is a family-friendly place to visit, and it also offers indoor and outdoor seating. Beer, Pennsylvania wines, and Pennsylvania-inspired cocktails are always available in the tasting room.
New Trail Brewing provides charcuterie baskets, food trucks, Mexican cuisine, and others. Explore New Trail Brewing with your friends and loved ones as you spend quality time and enjoy unique drinks and delicious delicacies.
Address: Arch Street, Williamsport, PA 17701
19. Community Arts Center
One of the best things to do in Williamsport for lovers of art is visiting the
Community Arts Center.
The Community Arts Center, Williamsport, went through a long "intermission" because of the pandemic. But the center is back and with full force.
The center for the affected arts has begun the new season with enthusiasm and fire. It's the season of new beginnings as well as a way to escape the harsh reality of our daily lives.
They're back and more powerful than ever before. The center is sure to attract everyone who appreciates the art's beauty and fluidity.
The show will feature amazing artists from all over the nation and promises a memorable evening.
You can easily book tickets on their website to enjoy the most memorable night.
Address: 220 W 4th St, Williamsport, PA 17701, United States
20. The Gallery at Penn College
The Gallery at Penn College offers exhibitions of contemporary art by artists worldwide. The Gallery is accessible to the public, and it opens year-round.
The Gallery at Penn College works towards being an essential educational resource for students and a cultural asset to local communities and Pennsylvania College of Technology.
The Gallery is committed to promoting art appreciation through exhibitions of contemporary art and accompanying programs.
The Gallery at Penn College also supports the mission of Penn College and provides opportunities for personal growth, education, social awareness, and cultural diversity; through direct experiences with original artworks. Exhibits typically include a meet the artist reception and gallery talk.
The Gallery also spearheads the College's permanent art collection. Visit the Gallery at Penn College to discover incredible artworks of creative artists, culture, and histories.
Address: 1 College Ave 3rd Floor, Madigan Library, Williamsport, PA 17701-5778
21. Golden Eagle Trail
Golden Eagle Trail Golden Eagle Trail's nine-mile hike through the Pennsylvania Grand Canyon is one of the top trails in the state.
The trail begins on the eastern part of the Pine Creek Gorge and passes through scenic vistas with sparkling mountaintop rivers.
Golden Eagle Trail, however, presents difficult elevation changes that present quite an obstacle for hikers.
To Be Noted In light of the growing number of cyclists and the decline of the ecosystems within the region, Visitors are not permitted to stay overnight along the trail.
22. Kaos Fun Zone
Are you looking for things to do in Williamsport with kids? If yes, add a visit to the Kaos Fun Zone to your checklist.
Kaos Fun Zone is a family-friendly, all-inclusive play zone with plenty of games to keep your kids engaged.
This fun zone is an ideal spot to let your kids play while the adults get together after an extended day.
The attraction features a massive trampoline park with a number of trampolines. There is also an arcade with games and laser tag, a laser tag area for large groups, as well as bowling alley.
All the amenities are suitable for children and adults alike, making it a perfect place for a family outing.
Families or groups can also have great food at their bar and Grill restaurant after. Visiting the Kaos Fun Zone is also one of the best things to do in Williamsport with the entire family.
Address: 315 Hepburn St, Williamsport, PA 17701, United States
23. Otto Book Store
Otto Book Store is a store that provides exciting and engaging books. Otto Book Store is known as America's oldest book store that has been in operation since 1841.
The Otto Book Store, the oldest independent book store in Williamsport, Pennsylvania, specializes in finding the right book for the right best. The book store also offers gifts wrapping and other free local deliveries in Williamsport.
The book store opens every Monday, Wednesday, and Thursday from 9:00 am to 5:00 pm, on Tuesday and Friday from 9:00 am to 6:00 pm, and on Saturday from 9 am – 5:00 pm.
Otto Book Store is committed to serving generations of readers from the heart of downtown Williamsport as it offers exciting books, arts, wallpapers, and others. Explore the book store to discover lovely books, and you can also request they wrap your gifts and deliver them to you.
Address: 107 W 4th St, Williamsport, PA 17701-6104
Want to check out other cities in Pennsylvania? here are guides on things to do in Bethlehem, things to do Hershey , and things to do in Lancaster for a fun Mississippi exploration.
Plan Your Next Trip to Williamsport
Williamsport, Pennsylvania, is a gorgeous place for a gateway, as you can cruise in the Susquehanna River, cultural performances, discover excellent histories, fun outdoor activities, beautiful historical structures, artworks, gifts, and sumptuous delicacies, and many others.
In Williamsport, Pennsylvania, you will also enjoy hiking, biking, water sports, picnicking, wine tasting, challenging games, a tour of the museum, shopping with your friends and family.
Those mentioned above things to do in Williamsport, Pennsylvania, will guide you to places you need to visit as you take your trip down to the beautiful city.