In search of the best and fun things to do in Stroudsburg, PA?
Stroudsburg is the county seat for Monroe County, Pennsylvania's Pocono Mountains, United States. In 2021, its population was 5,950.
This community is located at the confluence of the Brodhead, McMichaels, and Pocono Creeks, about five miles away from the Delaware Canal.
Jacob Stroud established Stroudsburg with his family in the middle of the eighteenth century. The colonel drew out plans for the region, which carries his name as well.
As time went on, the State government incorporated the colony in 1815, becoming Fort Hamilton, which defended the original inhabitants against raids by Native Americans.
Regardless of its small size, Stroudsburg boasts many cultural and storied attractions. It also serves as the commercial center of Monroe County. Stroudsburg became the county seat of Monroe in 1836.
It also houses some enterprises, including tanning, textile, and lumber factories. The borough now draws visitors with its cultural, documented, and aesthetic landmarks.
Let's explore some of the best things to do in Stroudsburg, PA.
Things to Do in Stroudsburg, PA
1. Pocono Heritage Land Trust
Don Miller, a naturalist, a teacher, and more, founded the organization in 1984 as a charitable program whose principal aim was to protect the Pocono Mountains area's natural endowment.
Aside from preserving the land, Pocono Heritage Land Trust inspires the public to enjoy, explore and take care of their natural world and its life forms.
Visitors and Tourists can tour some nature preserves owned by the Pocono Heritage Land Trust, including the Fieldstone Farm Preserve and Glen Run Nature Preserve.
Glen Run offers a four-mile trail suitable for trekking and biking and a chance to engage in a catch-and-release fishing experience. At the same time, the Fieldstone Farm features hillside springs, wetlands, and freshwater ponds.
Address: 1539 Cherry Lane Rd, Stroudsburg, PA 18301, USA
2. Banter's Hard Cider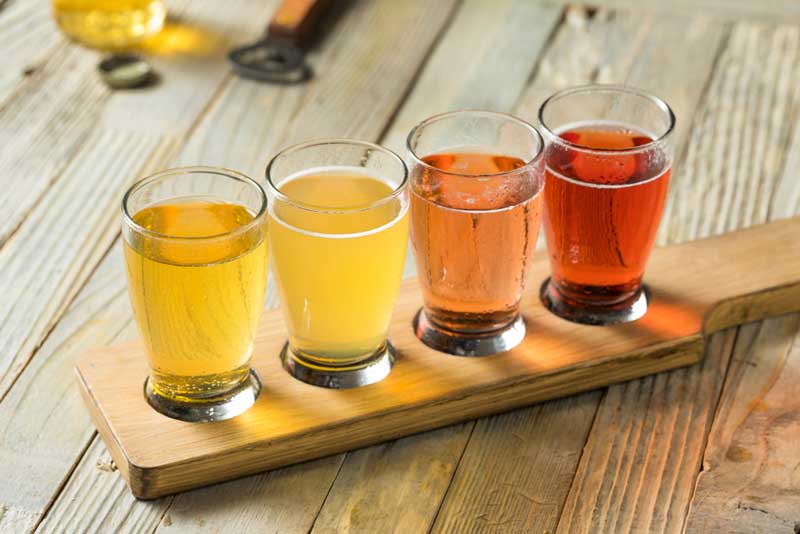 Stroudsburg, PA, is home to Banter's Hard Cider. This fine cider-producing company carries on the cherished American legacy of innovation.
This brewery creates distinctive and delicious combinations by fusing modern craft brewing skills with age-old cider-making traditions.
The brewery also produces a variety of ciders, including traditional apple ciders and seasonal fruit varieties.
There are always fresh ciders available here. Banter's Hard Cider was founded after an exhaustive series of attempts.
Before settling on the tempting blend that his family and friends adored, the proprietor, Steve Brancato, attempted numerous combinations.
As a result, Banter's Hard Cider started as a renowned Stroudsburg brewery. The brewery now offers six fine ciders on tap and drinks made with cider.
You can sample Overcast, the company's signature drink. The brewery also sells Bon, a well-liked English-style cider with champagne-like characteristics.
Address: 35 N 7th St, Stroudsburg, PA 18360, USA
3. Rowan Asher Winery
Matthew and Misty Stallard's family-run Winery is a labor of love developed from their shared passion for wine.
After a trip to Europe and a honeymoon in California, they fell in love with the idea and procedures of wine-making.
In 1999, the couple began producing wine as "Valley View Cellars", in their underground root cellar.
Matthew and Misty established the urban Winery in 2015 under the names of their sons, Rowan and Asher, other than their own
The Winery has received the distinction of being the Best Winery in Stroudsburg thanks to its skill in producing wine.
You can purchase hard apple ciders and a variety of wines, including Muscato and pinot grigio. You can also tour the facility, especially if you wish to see the wine-making procedures.
Address: 616 Main St, Stroudsburg, PA 18360, USA
4. Gamut Art Gallery
Are you an art lover looking for what to do in Stroudsburg, PA? Then, visit the Gamut Art Gallery in Stroudsburg, PA.
Located in the heart of Stroudsburg, Gamut Art Gallery features a combination of art and history, creating a fantastic experience.
In the city's historic downtown center, the Gallery is housed inside a historic structure. It is covered by a slate roof dating 190 years back.
Similarly, its art piece collections and other unprecedented exhibits date back to the 1890s. Along with the artwork, the Gallery also showcases unique antiques, sculptures, and works of contemporary art.
The Gallery similarly exhibits work by both foreign and local artists, demonstrating the art world's distinctiveness.
Address: 109 N 8th St, Stroudsburg, PA 18360, United States
5. The Academy Hill Historic District
The Academy Hill Historic District, a national historic community featuring 180 structures, is a great place to understand Stroudsburg's past thoroughly.
In 1988, the authorities included Academy Hill in the National Register of Historic Places.
Numerous historic homes, some of which date from the late 19th and 20th centuries, may be found in the Academy Hill Historic District.
On your journey, you will see homes constructed per the prevalent architectural designs of the day, including Queen Anne, American Craftsman, and Colonial Revival.
Remember to bring your camera to take photographs of these stunning old residences. Some of the information you will see here cannot be found in museums as they are immovable.
Address: Stroudsburg, PA 18360, United States
6. Quiet Valley Living Historical Farm
Aside from the museums, historic homes, and landmarks in Stroudsburg, PA, another place in the city that offers a vital history lesson is the
Quiet Valley Living Historical Farm
.
Northeastern Pennsylvania's scenic Pocono Mountain is home to this historic Farm. The Farm also hosts fantastic Christmas events in due season.
Beginning on the third Saturday in June and continuing through Labor Day, the Farm is available for tours. Tours are open Tuesday through Saturday, from 10:00 am to 5:00 pm, and on Sundays, from 12:00 noon to 5:00 pm.
You may join in the fun by dressing up to re-enact the lifestyle of the Pennsylvania German families who inhabited the area between the 1760s to 1913.
Address: 347 Quiet Valley Rd, Stroudsburg, PA 18360, USA
7. Olde Engine Works
The Old Engine Works boasts 22,000 sq ft of enclosed antique market space. It is amongst Stroudsburg's biggest attractions. It runs out of a restored historic structure that was once a 1903 machine shop.
The shop not only offers antiques but also serves as a reminder of the illustrious past of American industry.
Currently, this antique market is home to about 100 merchants who specialize in selling only the finest antiques, vintage artefacts, collectables, and furniture.
There are no better goods anywhere in the Poconos. The market is also big enough to keep you looking for the ideal thing to take home to your loved ones all day.
The facility is closer to the borough's center than you might have thought. It would be best if you didn't miss it.
Address: 62 N 3rd St, Stroudsburg, PA 18360, USA
8. Siamsa Irish Pub
Siamsa Irish Pub serves delicious hearty American fares or authentic Irish meals. The Siamsa Irish Pub in Stroudsburg has become a popular spot for locals and visitors looking for substantial American and original Irish food.
This Pub is located inside a former bank on Main Street in Stroudsburg. This Irish bar operates daily and serves delectable Irish meals and a wide selection of beers and beverages.
At this acclaimed bar, ordering Irish food won't let you down. So relax and have a good time, drinking your favourite beverages with your pals.
Address: 636 Main St, Stroudsburg, PA 18360, USA
Pennsylvania has some of the best cities in the United States to explore. Here is a list of things to do in Hanover, things to do in Reading and things to do in Lake Harmony for a fun exploration
9. Monroe Farmers Market
Monroe Farmers Market has been the platform for the farmers of Stroudsburg to sell their fresh produce for more than 40 years.
The Market attempts to uphold a high quality that makes it stand out among other demands. Because it is a producer-only market, they exclusively sell homegrown produce and food.
In addition to hand-roasted quality coffee, you may purchase premium food, plants, dairy goods, natural honey, syrups, jellies, pastries, bread, and pastries.
Visit the outdoor farmers' Market at the charming Courthouse Square in Stroudsburg. The sale lasts the entire morning.
The Market is sheltered within the Renegade Winery on Main Street when winter comes. Shopping at Monroe Farmers Market is among the best things to do In Stroudsburg, PA, as it helps visitors to connect with the locals.
Address: 600 Main St, Stroudsburg, PA 18360, United States
10. The Klues Escape Room
Among many fun things to do in Stroudsburg, PA, is to visit Klues Escape Room to participate in an escape game.
If you are seeking a team game to enjoy with your friends in the night hours, Klues Escape Room is the go-to place.
Like a typical escape room, Klues provides an exciting group adventure. It is the perfect game for bonding with friends or family members.
Klues Escape Room features four different themed rooms, the Mad Scientist, Pocono Moonshiner, the Mad Hatter, and Pharaoh's Curse; all are available for play.
Address: 542 Main St, Stroudsburg, PA 18360, USA
11. Pure Day Spa
An ideal place to relax in the downtown Stroudsburg area is Pure Day Spa. Its quiet and peaceful ambience will make you feel at ease as you walk into its premises.
The atmosphere at the spa and well-trained and experienced staff, and top-quality products will leave you feeling refreshed.
Pure Day Spa is committed to providing all who visit with top-notch services and offering every customer a special kind of experience.
The Spa started operating in 2007 with comfort, relaxation, and utilities for both sexes as a wellness center combined with a resort.
Pure Day Spa has consecutively won the Reader's Choice Awards in the Pocono area for several years. It remains the best Day Spa in the area.
A few amenities you will find in this 4,000 sq ft spa includes a wet room, a complete nail salon, and six treatment rooms.
Address: 770 Main St, Stroudsburg, PA 18360, USA
12. The Renegade Winery
If you are seeking a one-of-a-kind winery, you are fortunate, as The Renegade Winery offers an entirely different experience.
The Renegade Winery is the oldest "Urban Concept Winery" at the center of the Pocono Mountain area; you are welcome to sample some of their best wines.
Their unique ideas and procedures for brewing wine have created the best wines in Stroudsburg's downtown area.
Please drop by the Winery and explore the wine bar to select from their best blends. Afterwards, please take a tour to see how they produce their wine.
Address: 600 Main St, Stroudsburg, PA 18360, USA
13. Kettle Creek Wildlife Sanctuary
Visiting the Kettle Creek Wildlife Sanctuary is worth adding to your list of the top things to do in Stroudsburg, PA if you want to experience the wild outdoors.
The Sanctuary is a sizable preserve of 166 acres, of which 120 were contributed by Clayton Swink, a longtime resident of Stroudsburg, to support the preservation of regional wildlife.
The Sanctuary now provides many outdoor activities for locals and tourists from across the globe to enjoy. The land has various environments, including ponds, evergreen trees, and deciduous woodlands.
The Sanctuary's trails offer beautiful views and are accessible for trekking year-round, every day of the week.
These paths, like the Songbird and Black Trails, are also great for cross-country skiing in the winter. However, camping is not permitted.
Address: 8050 Running Valley Rd, Stroudsburg, PA 18360, USA
14. Create & Be Art Studio
Visiting Create & Be Art Studio is worth adding to your itinerary of what to do in Stroudsburg, PA if you seek a unique art style.
The Studio is home to a multicultural community of art enthusiasts, artists, and other creatives, fostering a vibrant and growing art scene.
The firm has also developed platforms for both physical visitors and online viewers, expanding the boundaries of the art gallery environment.
Additionally, visual artists, photographers, and other art form specialists in Stroudsburg and the surrounding areas are increasing thanks to these platforms.
The art pieces are so beautiful that you might purchase a few to show off at home when you visit.
Address: 8 N 6th St, Stroudsburg, PA 18360, USA
15. The Sherman Theater
Visit the Sherman Theater in Stroudsburg to watch a performance. It is the ideal location in the Pocono Mountains for action-packed entertainment.
The Theater supports regional musicians, hosts festivals, and offers powerful performances by today's leading artists.
The Sherman Theater provides visitors with a complete calendar of annual entertainment activities and performances.
The Theater features state-of-the-art lighting and audio systems and a fully stocked bar along with the performances.
Even if it fills, the venue can still hold standing-room-only performances. So don't miss the Sherman Theater's historic performances by the current finest artists.
Address: 524 Main St, Stroudsburg, PA 18360, USA
Also, check out our list of things to do in Scranton, and things to do in Jim Thorpe for a fun time in these cities of Pennsylvania.
16. Eagles Rest cellar
The Fetherman family runs Eagles Rest, a lovely 200-acre estate owned by veterans. It is home to the Eagle Rest Cellar.
The winery has a tasting room and a 5-acre vineyard. Additionally, it offers a vineyard-facing outside tasting space that features fire pits.
Eagle Rest Cellar welcomes visitors to participate in a fantastic adventure that lets them fully appreciate life's experiences! It is also an ideal venue for specific events. The staff and their leader are very amiable.
The facility offers hospitality like no other; aside from the wine tasting and tours offered at the cellar, the live music performance puts it all together, creating an unforgettable experience.
Address: 107 Eagles Rest Lane, Stroudsburg, PA 18360, USA
17. Stroud Mansion
Col. Jacob Stroud founded the city and erected this stately 12-room home in 1795 for his son. Although John, his oldest son, left town after a few years.
The Mansion was Stroud's home for a long time until 1893 before becoming a store, boarding home, and library. This Mansion also started housing the county's Historical association in 1921.
Thanks to proper maintenance, the building's original features, like its stone walls, symmetrical facade, flat-arch window lintels, and quoins, remain the same.
The Mansion houses artifacts about the city's history from as far back as the Native Americans on four floors.
You may also tour the historically appropriate chambers, including the Victorian parlor, the Stroud Room containing 18th-century furnishings, and the underground kitchen from the Colonial era.
Additionally, you can check out the antique and textile collections and the tools and weapons area. Touring this Mansion is one of the top things to do in Stroudsburg, PA.
Address: 900 Main St, Stroudsburg, PA 18360, USA
18. Glen Run Nature Preserve
Glen Run Nature Preserve is the perfect relaxing spot after exploring downtown Stroudsburg. The park features a four miles trail that you can use for biking and trekking.
The Pocono Heritage Land Trust manages the enormous (182 acres) property filled with outdoor activities to enjoy.
Travel the winding trails that take you through the deep forest on a bike or foot if you prefer to take things slowly
Godfrey Ridge on the property offers stunning views of Stroudsburg. You can also still see the Churleigh Inn's ancient foundations.
The Preserve's little stream also offers fishing, but under the condition that you will release your catch back into the water. The Preserve is among the best places to visit in Stroudsburg, PA.
Address: 740 Bangor Mountain Rd, Stroudsburg, PA 18360, USA
19. Sarah Street Bar and Grill
The Sarah Street Bar and Grill, located in the heart of Stroudsburg, among the picturesque Pocono Mountains, is one of the area's gems.
This neighborhood restaurant welcomes patrons to enjoy delectable fare in one of its dining rooms or outside on the large deck.
In addition to delicious meals, this restaurant also features daily live music and beverages and a game room featuring pool boards and darts.
The Sarah Street Bar and Grill food menu cover a wide variety of dinners, pub food, and seafood on the food menu here.
The delightful service, delicious meals, and tasty cold drinks offered at Sarah Street Bar and Grill will remain with you even after you leave Stroudsburg.
Address: 550 Quaker Alley, Stroudsburg, PA 18360, USA
20. Downriver Brewing Axe Throwing
Axe-throwing games are available to everyone who enters the Downriver Brewing Axe Throwing facility, where you can play with axes and relieve some stress.
The skilled axe instructor at the bar will show you the right and safest ways to hurl an axe and suggest some games to keep things interesting.
Make a time slot for yourself and your buddies, and throw all your issues at the target for an hour or two.
You can also reserve the location for unforgettable bachelor and bachelorette parties or business team-building activities.
Additionally, you may try cutting-edge microbrews made by the Downriver Brewery within the artisan brewery that houses this axe-throwing facility. In addition, the brewery serves fantastic gourmet food to go with your brews.
Address: 564 Main St Inside, Main St, Stroudsburg, PA 18360, USA
21. Arlington Diner, Stroudsburg, Pennsylvania
Stroudsburg, PA, is home to Arlington Diner. This eatery aims for perfection, with its goal and objectives focused on satisfying its customers.
The restaurant is outstanding in offering freshly prepared cuisines and offering top-notch services. The environment is always neatly kept, fostering a remarkable eating experience.
This Diner utilizes the best cooking techniques and the freshest ingredients, which makes the taste of its meals unique and of a different class.
All fares provided are freshly prepared, including the mouthwatering pot roast, the famous home fries, and more.
Address: 834 North 9th St, Stroudsburg, PA 18360, USA
22. Mountain View Vineyard
The Mountain View Vineyard in Stroudsburg, Pennsylvania, is the perfect place to spend a day unwinding with a cool beverage.
In addition to the Vineyard's wines, all produced in the Poconos, it also sells distilled craft beers and spirits, which sets it apart from other wineries in the region.
Mountain View's tasting room is available for visits. At specific times, visitors can also take advantage of live entertainment, brewery, and winery excursions.
Visit Mountain View Vineyard, enjoy wine and other beverages, and learn the brewing processes.
Address: 2332 Walters Rd, Stroudsburg, PA 18360, USA
23. S & S Speed Ways
S & S Speed Ways is a family owned and run, indoor go-kart racing establishment that has been operating since 1996, offering fun, inexpensive side-by-side racing.
If you have kids at least 5′ 4″ tall, a visit to S & S Speed Ways will make a great addition to your list of fun things to do in Stroudsburg, PA, for a fun driving experience.
Customers' safety is among the facility's top priorities, so there are a few safety rules, such as being 5'4″ tall to drive and wearing gloves, seatbelts, and safety glasses.
Some fun things in this amusement park are racing against friends (the facility's main attraction), playing pool, gaming, vending, etc.
The facility is also a well-liked venue for private parties. Free wifi is available, and there is also a slingshot car dealer where you can purchase new slingshot cars or repair used ones.
Address: 7062 US-209, Stroudsburg, PA 18360, United States
24. Monroe County Historical Association
An ideal tourist destination for history buffs is the Monroe County Historical Association, the body charged with maintaining historical landmarks in the area.
Dr. Mary Erdman and other prominent Monroe County residents founded the Monroe County Historical Association in 1921.
The historic Stroud Mansion, built in 1795, is home to the historical society's research library and museum.
Jacob Stroud constructed the mansion, and his family remained a longtime resident. The original features of the villa have stayed the same to date.
Only through guided tours are the Stroud Mansion and its Monroe County Historical Association Museum available to the general public
Address: 900 Main St, Stroudsburg, PA 18360, USA
25. Stroud Mall
If you enjoy shopping, you will enjoy spending time at the large shopping mall in the Pocono area. Stroud's Mall is owned by CBL & Associates Properties, who opened the shopping mall in 1978.
The Mall, encompassing 419,059 sq. ft., features 54 store spaces, three retail floors, ample parking space, and two garages.
Shoprite, InStyle beauty salon, Nara beauty, Stroud mart, Claires, At & t, Shoe dept, Chi life, Vape n chill, A touch id class, and Santa's workshop are some of the outlets you may explore at Stroud mall.
If you get hungry while shopping, you may satisfy your hunger at Got beans, Natural Vibes, Burger King, Texas Roadhouse, Auntie Aanne's, or any other available eateries; the choice is yours.
You can get the best shopping deals from different brands and vendors, such as 50% off at LensCrafters, 20% off, a military discount at Claire's, and more. Journeys also offer birthday rewards.
Address: 344 Stroud Mall Rd, Stroudsburg, PA 18360, United States
Check out more cities in Pennsylvania. Here is a guide on things to do in Williamsport, things to do in Doylestown, and fun things to do in West Chester for a fun time.
Plan Your Trip to Stroudsburg
Bring your loved ones or family to Stroudsburg for an enjoyable vacation if you're looking for a place with natural adventures.
You will be overwhelmed by Stroudsburg's cultural endowments and rich chronicle. Aside from being a great place to visit, it could also be a nice place to reside.
Do visit!