Looking for the best and fun things to do in Doylestown, PA?
Doylestown is located 80 miles southwest of New York City and 35miles north of Philanthropic. The town came into existence in 1745 at a meeting point called US Route 202 and Pennsylvania Route 611.
The town got its name from William Doyle, who erected an Inn at the intersection points. The town has a history stretching back to when the town center was almost destroyed, and its redemption came as a result of civic action. Prestigious people who once lived in this town are James A Michener, Henry Chapman Mercer and Oscar Hammerstein, Pearl S. Buck
For a fun vacation time, here are the top things to do in Doylestown, PA.
Things to Do in Doylestown
1. Kids Castle Central Park
One of the best attractions to keep a major priority, especially for the kids, is the Kids Castle Play Center and should be on your list of fun things to do in Doylestown.
The Kids Castle play center idea was gotten from castles owned by Henry Mercer. The project came into existence through the donations and contributions of various individuals.
The Kids castle was founded in 1997 and has existed since then and was later renovated in 2013. The castle has four building sections and provides for kids' needs, not minding their abilities.
The castle caters to kids with auditory, mobility, visual and cognitive needs. Everyday they try to incorporate new activities that will suit the kids.
Address: 425 Wells Rd, Doylestown, PA 18901, Phone: 215-348-9915
2. Michener Art Museum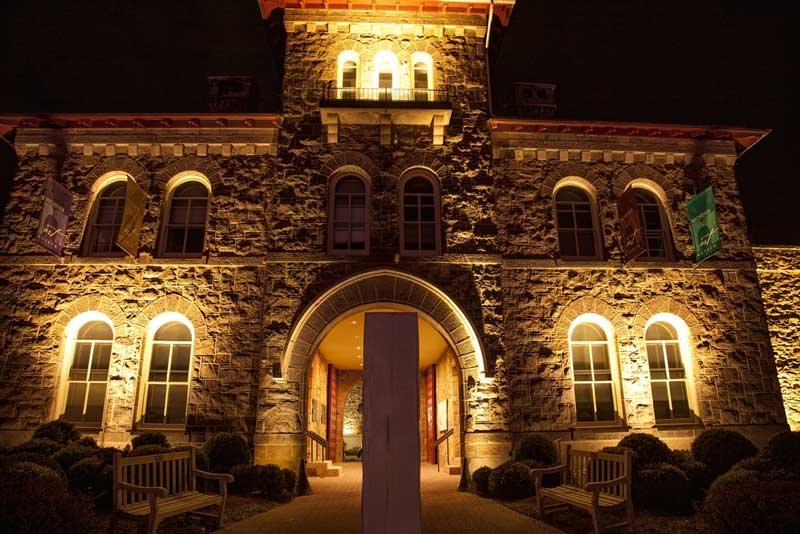 Suppose you're a lover of visual arts. In that case, the Michener Art Museum should be a major stop for you as it holds a lot of historical information that will pique your interest, making it a top priority on your list of things to do in Doylestown.
The historic building serves as a home for renowned artworks done by Pennsylvania's most talented and outstanding artists
Visitors can explore the courtyards, outdoor gardens, and landscape terrain that gives it a castle resemblance. The serene environment helps you have a quality experience here and a pavilion.
The museum hall has over 2,700 paintings, sculptures, visual arts, and photographs. These artifacts tell this state's art history and that of renowned artists.
Address: 138 S. Pine Street, Doylestown, PA 18901, Phone: 215-340-9800
3. Moravian Pottery and Tile Works
Henry Chapman Mercer constructed the Moravian Pottery and Tile works, and he was the person in charge of the business from 1898-1930.
Currently, the museum is working effectively. The tiles to find here are made via the designs from Mercer. To get the desired shape to fit the design, locally-sourced clay was used.
During his time, the marks of other potters were not used after molding; when he died, a special mark was introduced to be able to differentiate his tiles after reproduction from that of others.
Self-guided tours are also available for visitors, and if you want to be knowledgeable about pottery, here should be a must-see when you're in Doylestown.
Address: 130 E Swamp Rd, Doylestown, PA 18901, United States
4. Central Park
The
Central Park
in Doylestown has a land area of 125 acres of vegetation just outside the city. The property was bought in 1995 from the Delaware Valley College, with 30 acres from the land still on rent to the college for urban farming.
The Park is situated close to the seashore of Neshaminy Creek, one of the biggest parks to find in the city, and is one of the most iconic parks in Doylestown.
Central Park is a place of abode for the Kids Castle and the Environmental Education Center. The park has several outdoor facilities such as soccer fields, tennis courts, basketball courts to try out, and you can have a stroll on their picturesque fitness trail and go cycling.
They got an amphitheater which is the location for summer concerts and movies. There's also a trail with sensors for people with special abilities.
Address: 425 Wells Rd, Doylestown, PA 18901, United States
5. Fonthill Castle
One of the well-known destinations in Doylestown is the Mercer Mile, and it is a combination of different buildings constructed by renowned archeologist and tile maker Chapman Mercer.
Your major stop should be at Foothill Castle, and it is quite a magnificent attraction to see. When you visit, you will stumble upon one of the medieval castles that the dukes of England used.
You should have no doubts if your location is still in the United States. Fonthill is not a castle, but the magnanimous beauty of its architectural design, superb environment, and detailed facade will leave you feeling you're touring the estate of a monarch.
The castle was constructed by Mercer in the early 1900s and was built using poured in place concrete. The building has 44 rooms, 18 fireplaces, and 32 staircases, and over 200 windows in different sizes and shapes draw sunlight into the rooms.
If you're a historian, here is an ideal place to visit as you learn the autobiography of Mercer Mile, you sure want to add here to your list of fun places to visit.
Address: 525 E Court St, Doylestown, PA 18901, Phone: 215-348-9461
6. Peace Valley Park
Peace Valley
is an ideal destination to visit and relax as you have a good time in the busy city. The park is situated on Doylestown northeastern border.
The park has a landmass of 1500 acres and provides trails of over 14miles, thick, lush forests, verdant grounds, and picturesque lake Galena.
It is a perfect destination for sailing, paddleboarding, kayaking, and fishing. When it is winter, the entire lake turns ice causing it an ideal place for skating for visitors and locals.
The Peace Valley Nature is just opposite the lake and provides educational programs, tours, and various activities to help visitors to be knowledgeable about the park
Bird watching is something to opt-in for a while you're here and check out the various trails for an opportunity to meet these birds. Many fauna and flora can be seen here.
Address: 230 Creek Rd, Doylestown, PA 18901, United State
7. Mercer Museum
The next place for you to visit is the Mercer Museum, and the whole place seems like an imaginary world on its own. This is a perfect place to visit if you love history and should be on your itinerary.
The structure is a six Storey Mercer Museum constructed by Henry Chapman Mercer. He anticipated the emergence of the industrial revolution coming with lots of machinery goods and went about collecting handcrafted artifacts from the early 18tha and 19th centuries.
The Museum showcases 40000 artifacts and 30000 items to find here were hand-picked by Mercer. Mercer did the cataloging system adopted for this museum and the building design.
The museum is listed on the National Register of Historic Places, and it has 55 exhibit alcoves and areas. It also has a towering central atrium that showcases large artifacts like a stage coach and a whaling boat.
Address: 84 South Pine Street, Doylestown, PA 18901, Phone: 215-345-0210
8. Honey Restaurant
The Honey restaurant is quite an interesting destination, especially after long hours of touring through the city. You will need a place to treat yourself to a delectable dinner.
The restaurant offers delicious meals. The dishes on their food menu, such as fish, meat, and vegetarian, are presented on plates that are usually small so customers can have a taste of their different dishes, and you will want to.
Their food menu is steadily advancing and expanding because of the high demand for these dishes. Visitors can treat themselves to their best cocktails available, liquid desserts, non-alcoholic beverages, and Pennsylvania craft beers.
The honey restaurant does not operate on Mondays, opening times are 5pm, and only dinner is served here.
Address: 42 Shewell Ave., Doylestown, PA 18901
Pennsylvania makes one of the top vacation states in the United States, check out our guide on things to do in Erie  , things to do in Lancaster, and things to do in Bethlehem for a memorable Pennsylvania vacation.
9. Quinoa Peruvian and Mexican Restaurant
The Quinoa Peruvian and Mexican Restaurant are a family-owned and operated restaurant focused on preparing delicious dishes for visitors and locals alike.
The restaurant has the feel of a family setting and makes delicious family cuisines, and has over time been given its best since it kicked off in 2013.
The restaurant uses the freshest and best ingredients available, and these ingredients are locally sourced to give you that natural taste.
Have a bite of their spicy meats like their Peruvian Lamb Stew Tacu Tacu, which is prepared to slowly cook for 48 hours; the aroma from the stew will get you salivating. You can also try out their fresh seafood, such as the Ceviche Limeno.
The restaurant is available for visitors from Tuesdays to Saturdays.
Address: 54 E State Street, Doylestown, Pennsylvania 18901, Phone: 215-348-2826
10. Hellerick's Family Farm
Seeking to have a gratifying adventure to bless your vacation with family, colleagues, or friends. Making an ideal destination for visiting should be on your checklist of things to do in Doylestown.
You can try out their suspended obstacle course known as Aerial Adventure and other challenges available for everyone. The place is furry friendly, and pets can enjoy a great deal of time doing activities like goat yoga, there are so many pets to check out on the farm.
You can also enjoy their seasonal activities, like their autumn festival filled with lots of activities like corn mazes, sunflower fields, and hayrides.
Visitors can also pick farm produce such as pumpkins, berries, flowers, and pears to bring back home, but it depends on the crops in season.
Address: 5500 N. Easton Road, Doylestown, Pennsylvania 18902, Phone: 215-766-8388
11. Pearl S. Buck House
The Pearl S. Buck house has been on the Green Hills Farm for about 40 years, and this is quite a long time, from 1933 to the late 60s. Most of her various completed works to find here are all on 67 acres of farmland.
The house is a typical Pennsylvania 19th century architecture built with huge fieldstone. The building owner also expanded the building, adding up two libraries.
The museum was founded in 1980 and got listed on the National Register Of Historic Places. About twelve rooms are available for showcasing, and you can find her gravesite, award-winning gardens, and greenhouse.
Address: 520 Dublin Rd, Perkasie, PA 18944, United States
12. Aldie Mansion
The story behind the Aldie Mansion is so interesting, and such stories are not left without having to document them so untold generations will come to enjoy the beautiful history of this place
If you're a fan of architecture and history, give your eyes the best treat ever and be glad you did. The Aldin Mansion has a history stretching back to 1927 and was home to William and Martha Mercer.
The mansion presents itself as typical American craftsmanship having excellent brickwork, gargoyles, antique tiles, and sculpted architectural works designed properly.
Something else to amaze you is to find yourself in the same family mansion that has hosted prestigious names such as Groucho Marx and Von Trapp Family.
Over time this architectural masterpiece has been well taken care of and an abode for the nonprofit Heritage Conservancy and other special events like weddings and birthday events.
Address: 85 Old Dublin Pike, Doylestown, Pennsylvania 18901, Phone: 215-345-7020
13. Bucks County Civil War Library and Museum
If you're a history enthusiast, the Bucks County Civil War Library is a must-see for you while planning your bucket list of fun things to do in Doylestown.
Get to know about the history of one out of many critical wars in America while touring the Bucks County Civil War Library and Museum.
The library is seated in the central downtown area, and the museum provides an iconic view of the county's history for 140 years with its important role in the war.
Address:32 North Broad Street, Doylestown, Pennsylvania 18901, Phone: 215-822-1562
14. Doylestown Escape Room
There's no better way to have a perfect getaway with family and friends without having to visit the Doylestown Escape room. If you want to take your mind off mundane activities, especially from work, here's the right place to be and should top your checklist of places to visit.
The escape has a tremendous selection of excellent escape rooms that visitors will love to try out, and the adventure is captivating.
Soak yourself up in their various themes like their Hollywood Christmas adventure, a murder mystery, time hoping science fiction, and a thrilling adventure.
All this is geared towards giving you a pleasurable experience filled with thinking, bonding, laughter, and teamwork. Their rooms are spacious and can have two to eight players.
Address: 140 South Main Street, Doylestown, Pennsylvania 18901, Phone: 215-340-1729
15. National Shrine of Our Lady of Czestochowa
The Polish-American Catholic shrine was constructed in 1953 and is quite famous and acknowledged globally as the "The National Shrine of Our Lady of Czestochowa."
Myriads of tourists from different parts of the world visit the church regularly to acknowledge the Madonna while saying their fervent prayers for blessings and help in their life.
If you're a religious tourist and are seeking to have some time to meditate and reflect on your life's purpose, then you should have to spare some hours to enjoy the solemnity and find that inner peace.
Tourists who are not religious can also have a good time admiring the magnificent sculpture at the altar with angels all pointed at the beautiful painting of the Black Madonna.
Visitors can also find sculptural stone works of the Blessed Mary, Jesus Christ and Archangel Michael, all cited at strategic points
The frontal view of this church is something you shouldn't miss out on, the architectural design is out of this world and epitomizes the genesis of this Polish shrine.
Address: 654 Ferry Rd, Doylestown, PA 18901, United States
16. Doylestown Rock Gym
The Doylestown Rock Gym is seated on 12000 square feet of land area, thus making it a huge land area. There are many things to do in Doylestown that will keep your mind engaged.
There's something for everyone here, not mind your climbing abilities or age. There are numerous outdoor and indoor climbing walls for climbers like the lead walls, boulders, overhangs, caves, and cracks.
There are also classes available for persons wanting to learn the art of climbing. You can choose from any of the levels depending on your abilities.
There are classes for avid climbers and even kids. Climbing programs are also available for visitors who want to improve their climbing skills and try new tricks.
Address: 3853 Old Easton Road, Doylestown, Pennsylvania 18902, Phone: 215-230-9085
17. The Flowers at Peace Valley Lavender Farm
Very close to Peace Valley Park is a privately crowned farm that produces purple flowers with a sweet-smelling fragrance.
The farm is quite a small one. Over here, you will find beautiful lavenders used to make other products. The farm makes for an ideal backdrop to take beautiful photos, and you might as well come with your camera.
Visitors who want to pick flowers to take how are always welcomed, while the rest of the flowers are collected and used to produce different kinds of products.
The products include culinary ingredients, lotions and soaps, and many others.
Address: 802 New Galena Rd, Doylestown, PA 18901, United States
18. Henry Schmieder Arboretum
The Delaware Valley University is situated in Doylestown, and inside the premises, you can find the beautiful Henry Schmieder Arboretum.
If you are a horticulturist or love flowers, a visit here should be your priority as numerous types of verdant and healthy trees make this place a great attraction to see.
The entire place is devoted to education and research on the different types of indigenous species cultivated here. Aside from enjoying the picturesque terrain and properly patterned trees, you will get to have a better knowledge of the economic importance of this region.
Have a self-guided tour in springtime, where every plant and tree blooms are displayed.
Address: Delaware Valley College, Doylestown, Pennsylvania
19. Lilly's Restaurant and Catering
The Lily's Restaurant is a huge business established in Doylestown in 1998. The restaurant provides a complete dining experience for her visitors in a comfortable café type ambiance in the center of Doylestown.
The property also has the Jury Room opened by Lilly that works in handy with the Geronimo brewing facility. The restaurant attracts people from different parts of the country who want to be treated to good dishes.
The restaurant provides different dishes for lunch, and there are appetizers, brunch sandwiches, and lots more to enjoy. You can visit with the family and treat yourselves to a fantastic meal.
The restaurant is available from 10ma to 3pm every day.
Address: 1 West Court St., Doylestown, PA 18901, Phone: 215-230-7883
20. Cruise the Thrilling Neshaminy Creek
The Neshaminy Creek is a fast-flowing stream of water that provides lots of adventurous and beautiful views to see.
The creek is situated at the borderline of Doylestown and is the launch point for rafts and kayaks. Get your journey started on this beautiful creek and unravel its secret treasures.
Some views can be seen through picturesque bridges, the fishing areas, which are serene and beautiful to see from a distance, and if your paddling skills are great, you can try out the turbulent rapids.
Visitors who would choose not to engage in water activities could just enjoy a walk on their picturesque trails just opposite the creek while enjoying the views and taking lovely photos to post on your Instagram.
Address: Doylestown, Pennsylvania, United States
21. Piccola Trattoria
One of the best destinations to be if you are a fan of delicious meals is visiting the Piccola Trattorias in Doylestown, and it should make your bucket list of fun things to do in Doylestown, PA.
The restaurant was first opened in 1999 and later opened in 206 in Doylestown. They have been in the business of serving locals and tourists alike quality traditional and contemporary Italian recipes from their vast selection of food menus for breakfast, lunch, or dinner.
Visitors van also gave their events planned out for them with top-notch catering services available from banquets to buffets. Everything to find here will be interesting as it pertains to meals. Their staff are excellent and be sure to get a big hug when you visit.
Address: 1745 South Easton Road, Doylestown, PA 18901, Phone: 267-485-4000
22. Quakertown Swamp
The Quakertown Swamp has about 518 acres and is well known for having the biggest wetlands in Southeastern Pennsylvania.
As you tour through this destination, be rest assured to find enormous flora and fauna that cut across the beautiful wildlife, having more than 91 different kinds of birds, beavers, and the Blue Heron rookery.
The wildlife here is well taken care of, and it is well known for being a Wild Plant Sanctuary and more of an important wetland by the Wildlife Service and US Fish.
Aside from its huge impact on wildlife, the Quakertown Swamp plays a vital role to its neighbors as it helps control floods and keep the waters around free from pollutants.
Address: Pennsylvania, US
23. Boulders at Ringing Rocks County Park
If you have been craving to have that ideal getaway that is quite unusual but still interesting, visiting the Boulders at Ringing Rocks County Park should be a major stop for you and should top your list of fun things to do in Doylestown, PA.
The Park is on 8 acres of land with lots of diabase boulders. The site is beautiful since the boulders can make lovely sounds.
The Stones make resonant tunes upon striking with a hammer, and the sounds produced are like that of a xylophone. It is amazing stuff to behold because attractions like these are rare to find in this part of the world.
You can also have a lovely walk to Bucks County's highest waterfall, known as the majestic High fall, situated in the region.
Address: Ringing Rocks Rd, Upper Black Eddy, PA 18972, United States
Want more of the beauty of Pennsylvania? check out our guides on things to do in Hershey, things to do in Wilkes Barre, and things to do in Lititz for a memorable time in Pennsylvania.
Plan Your Trip to Doylestown
The city of Doylestown is such a huge attraction that it supports and celebrates its own. It is a relaxing destination with so many treasures to dig up but for those who are patient enough.
Plan your trip to Doylestown, create your bucket list of things to do in Doylestown, and go have a fun time.