An ideal vacation destination is Jim Thorpe, seated amid the Pocono Mountains. This town is the Carbon County seat, situated in eastern Pennsylvania, with a population of 4,648 as of 2020.
The town was first known as Mauch Chunk. In 1953, the name was changed to Jim Thorpe in honor of James Francis ThorpeBack, an Oklahoma Indian athlete who was an Olympic medal winner.
It is one of the most romantic holiday spots owing to its beautiful and peaceful nature, and there are sure lots of fun things to do in Jim Thorpe, PA.
The town is renowned for its unique architecture and passenger trail service. The town, whose ambiance is often calming and tranquil, has done well to preserve its changing history.
Alongside Jim Thorpe's historical features, visitors can enjoy outdoor adventures, shopping, dining, and live music.
Are you planning an exploration of Jim Thorpe? Check out the top things to do in Jim Thorpe, PA.
Things to Do in Jim Thorpe
1. Glen Onoko Falls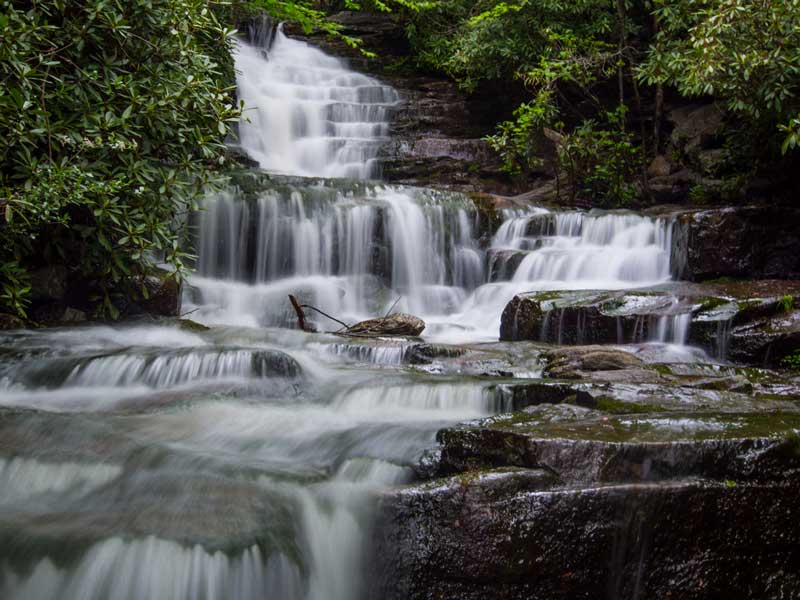 Among the best things to do in Jim Thorpe, PA, is to rejuvenate at the Glen Onoko Falls.
The Glen Onoko Falls nestles at a higher elevation (the steep route up to the falls might make it difficult to ascend).
However, if you visit this attraction, you will be in for a treat. The luscious green plants and trees lining the trails to the Glen Onoko Falls enhance the majestic view.
The view from above the falls is fascinating. Locals advise that the best time to visit Glen Onoko Falls is early at dawn to catch a glimpse of the gorgeous Sunrise.
It would be best if you did not miss this stunning place when you visit Jim Thorpe.
Address: Jim Thorpe, PA 18229, United States
2. Lehigh Gorge Scenic Railway
The Lehigh Gorge Scenic Railway houses classic trains from the 1900s. Unquestionably, a trip on the Lehigh Gorge Scenic Railway will rank among the most breathtaking rail journeys you've ever taken.
All its passengers enjoy spectacular views in the train's opulent rooms as the train travels through the town. The exciting part is that this service is available at any time of the year.
Although the journey takes about 45 minutes, the memories will stick with you for far longer. The Lehigh Gorge Scenic Railway also offers a romantic experience for couples, which is recommended for newlyweds.
The journey is enjoyable and allows you to see Jim Thorpe in a new light.
Address: 320 Main St, White Haven, PA 18661, United States
3. The Jim Thorpe Memorial
One of the best places to visit in Jim Thorpe, PA, is the Jim Thorpe Memorial for an educational experience.
If you want to learn more about James Thorpe, the man after whom the city was named, visit the Jim Thorpe Memorial.
Jim Thorpe, the famous athlete, was honored with the Memorial hall, which exhibits documentaries about his life.
A tour around this monumental property takes around 30 minutes, and afterward, tourists would undoubtedly appreciate the location's significance.
It is a modest but exceptional learning environment. There is much historical information to unravel in this destination.
Address: 101 E 10th St, Jim Thorpe, PA 18229, United States
4. Big Creek Vineyard
If you're indecisive about what to do in Jim Thorpe, PA, you should visit Big Creek Vineyard for some of the fine wines in the town.
The taste of wine differs depending on where they are made, treat your taste buds to Big Creek Vineyard's excellently crafted wines.
Jim Thorpe, PA, produces some of the best-ranking wines in the United States. The vineyard treats its visitors to various flavors to give them a taste of what they are missing; as a result, you might leave with a bottle or two.
You can combine and match flavors on their organized and customized menu. Big Creek Vineyard grows the fruits with which its wines are made.
Its location makes it easily accessible, so why don't you drop by whenever you visit Jim Thorpe, PA?
Address: 41 Susquehanna St, Jim Thorpe, PA 18229, United States
5. Asa Packer Mansion Museum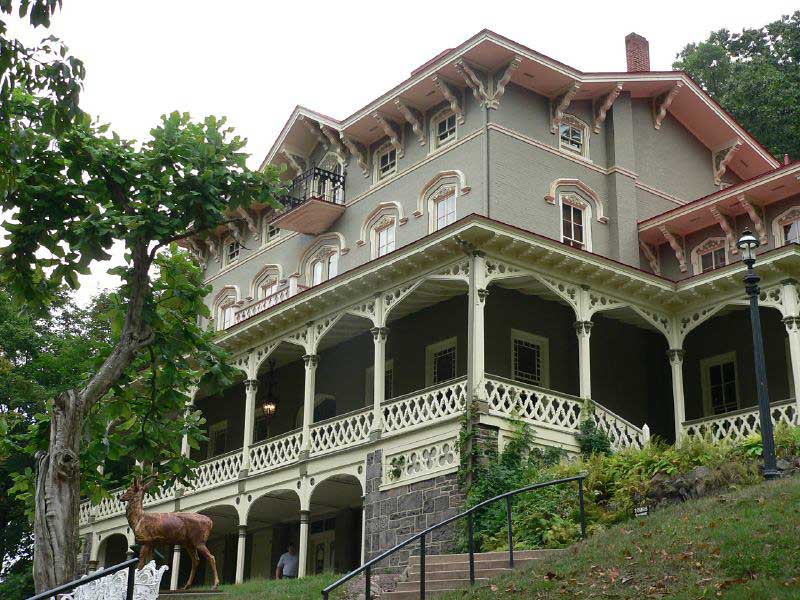 This Museum is named after Lehigh University's founder, a philanthropist, a well-known railroad entrepreneur, and the former owner and resident of the Mansion.
The Asa Packer Mansion in Jim Thorpe, PA, is a Victorian Marvel transformed into a museum.
The Packer family lived in the Mansion in the late 1800s. This notable historical site is a magnificent three-story home with 18 bedrooms, designed and built by architect Samuel Sloan in 1861.
Since the Bear Mountain Lions bought the estate in 1956, it has been accessible for visits by the general public. Guests are welcome to tour the Mansion from Memorial Day through Halloween.
The Mansion's interior looks almost completely unchanged today. Asa Packer Museum will take you back in time with its vintage aura. It takes an hour to explore this well-structured Mansion.
Address: Packer Hill Ave, Jim Thorpe, PA 18229, United States
6. Pocono Whitewater Rafting
One of the fun things to do in Jim Thorpe, PA, is to visit the Pocono Whitewater, especially if you want an adrenaline rush. Reviews made by tourists have earned it a spot as a top-sight attraction.
Although intimidating, the exercises offered here are lots of fun. Visitors can enjoy Whitewater Rafting, Hiking, Skirmish Paintball, Rail-Trail Biking, and Family Trips in the Pocono Whitewater.
An instructor will be with you the whole time since the guides will go with you in the water.
Adrenaline will begin to flow due to the unstable nature of the water and the very high tides; thus, you will surely break a sweat.
If you are looking for an adventure in Jim Thorpe, PA, don't think twice about Pocono Whitewater Rafting.
Address: 1519 PA-903, Jim Thorpe, PA 18229, United States
7. Broadway Grill and Pub
A spot that has made its mark as a must-try meal spot in Jim Thorpe, PA, is the Broadway Grill and Pub.
The Broadway Grill, located in the historic Inn at Jim Thorpe, has many charming Victorian features like wrought-iron balconies, gas fireplaces, and most significantly, its tin ceilings.
However, the food and beverages offered are anything but outdated. The Pub serves inventive cocktails, craft beers, and wines worldwide.
Their modern American cuisine is prepared using locally sourced ingredients at their peak of freshness.
On some weekends, the venue has a full schedule of live music functions. The Broadway Grill serves breakfast, lunch, and dinner from Thursday through Sunday.
Address: 24 Broadway, Jim Thorpe, PA 18229, USA
8. Mauch Chunk Opera House
Watch a show at Mauch Chunk Opera House to experience Jim Thorpe's distinctive culture.
After National Geographic Traveller featured Mauch Chunk Opera House, it attained publicity. The location is renowned for its premium acoustics.
At Mauch Chunk Opera House, various shows are presented, including rock, folk, classical, and jazz. The destination is excellent for performing arts and concerts and is a refuge for theater and music fans.
Weekend performances are famous among locals; you should attend a show whenever you come. This entertainment spot is not difficult to find as it is in the center of the town.
The Opera House assures you of an exciting time here.
Address:14 W Broadway, Jim Thorpe, PA 18229, United States
Are you planning a road trip to Pennsylvania? here is a guide on things to do in Reading, things to do in Johnstown, and things to do in Scranton for a fun trip.
9. Mauch Chunk Lake Park
If you are wondering what to do in Jim Thorpe, PA, explore the fascinating Mauch Chunk Lake Park.
Mauch Chunk Lake Park was established after the lake "Mauch Chunk Lake was created to curb the town's flooding caused by Mauch Chunk Creek in 1978.
Due to how happy the people were about the project ending their flooding problem, the administrators built a park surrounding it; thus, the Mauch Chunk Lake Park was born.
The cool breeze emanating from the water body and trees around the area makes the Park very conducive for people to unwind.
Every year, the Park receives over 150,000 visitors, which qualifies it as a sight attraction for families, friends, and couples.
Match Chunk Lake Park offers the best picnic spots and many outdoor games.
Some amenities that pull tourists to the Park include the swimming beach, hiking paths, cottages, affordable boating services, and campsites.
There is a fishing pier and two boats on the coastlines for those who would love to go fishing, as the Lake is brimming with different fish species.
Address: 625 Lentz Trail, Jim Thorpe, PA 18229, USA
10. Studio YNW
The Studio YNW artworks combine different art forms with distinctive aesthetic qualities, creating an extraordinary atmosphere.
If you are an art enthusiast, admiring the art at the Studio YNW is one of the best things to do in Jim Thorpe, PA.
The setting of Studio YNW has an art studio atmosphere rather than an art gallery. Most of the art pieces at the gallery are a mixture of imagination and surrealism.
The resident artist Yvonne Wright is the painter of the art pieces, some of which are for sale to anyone who likes them.
Address:100 W Broadway, Jim Thorpe, PA 18229, United States
11. Old Jail Museum
Knowing that the Old Jail Museum used to be a prison in the past makes it an exciting spot to see.
If you are interested in a great history, then a visit to the Old jail museum should have a spot on your list of top things to do in Jim Thorpe, PA.
The Old Jail Museum, constructed in the 1800s, initially served as a prison. The Museum housed inmates from Jim Thorpe and neighboring towns until 1980.
The Old Jail Museum, the oldest high-rise building in the city, makes it a historical landmark. The jail had 27 cells inside before it became a museum.
The easy yet enjoyable guided tour will teach you much about this place. The jail has endured the test of time, but it's still in fine condition.
Additionally, they show brief prisoner videos on screen, some of which are heartbreaking. Visit the Old Jail Museum in the afternoon when it's less busy. Although the Museum may seem frightening from the inside, you shouldn't have any worries as it is secure.
It is a fascinating facility you would love to explore.
Address: 128 W Broadway, Jim Thorpe, PA 18229, United States
12. Jim Thorpe River Adventures
Jim Thorpe River Adventures is the establishment that governs whitewater-rafting trips. This adventure is on the Lehigh River Gorge and is suitable for people of all ages and skill levels.
The beginners' trips are 3-4 hours long, having different sections of class I and II rapids.
Expert rafters can participate in the rafting trips that feature canyon paddling in class 2 and 3 rapids.
Jim Thorpe River Adventures does not only organize rafting trips. They also rent out mountain bikes and portable kayaks.
Address: 123 Lehigh Dr, Lehighton, PA 18235, USA
13. Sidecar Tourz
In the old days, between the 80s and 90s, Sidecars were quite famous; they were like a symbol of aristocracy.
Sidecars are no longer available in virtually any modernized city, but Jim Thorpe, PA, still has them on the roads.
If you have always wondered what a ride on a Sidecar would feel like, take the chance to board one to help you transverse the city in style.
Tourists can rent Sidecars from the tour operator, who will also make available a tour guide for an affordable price.
Exploring Jim Thorpe on a Sidecar will give you the feeling you are in a movie with the setting of the 80s.
Address: 16 W Broadway, Jim Thorpe, PA 18229, United States
14. Skirmish Paint Ball
Playing at the Skirmish Paint Ball is among the fun things to do in Jim Thorpe, PA, mostly among people between the age range of 17 to 30.
Visit the Skirmish PaintBall on the Pocono Mountains to experience the thrill of the 750 acres of pure adventure, of which 50 fields are of distinctive themes.
On different maps, you can find several outdoor scenes such as broad open fields, swamps, creeks, bridges, and more.
Skirmish Paint Ball offers obstacles such as castles, forts, tanks, and cargo containers. It also has an actual village for you to transverse.
Anyone within the age range can join the adventure, irrespective of their skills. Safety is ensured as staff members are always present to supervise the fun.
Address: 1519 State Route 903, Jim Thorpe, PA 18229, United States
15. Harry Packer Mansion
Another historical monument in Jim Thorpe, PA, is the Harry Packer Mansion. It is a great accommodation facility for visitors.
The Harry Packer Museum is the inspiration behind the Mansion's design depicted in the Disney Haunted House.
It might not look very comforting, but it is a lovely place to spend the night. This Mansion offers insight into numerous stories and unexplainable incidents concerning the house.
Some of the Stories you will hear in the Mansion might be scary, but it is a safe place.
The stories are presented in a game setting where occupants of the house get to take on roles of the characters and try to find the clues that help get to the bottom of the mysteries.
Engaging in the Harry Packer Mansion games is fun, especially if you love to play detective.
This Inn has spacious rooms and provides maximum comfort. It also has a unique Pumpkin Martini that tastes so good; the taste would stay with you for a long time.
Address: 19 Packer Hill Ave, Jim Thorpe, PA 18229, United States
Planning a trip to Pennsylvania road trip, don't miss our checklist of fun things to do in West Chester, things to do in Bedford, and fun things to do in Ohiopyle.
16. Antonios Pizzeria
Suppose you're wondering what type of food you will find in Jim Thorpe. Well, there is nothing to worry about when it comes to food.
There are many fantastic eateries in Jim Thorpe, PA, amongst which is the Antonios Pizzeria. Antonios Pizzeria is a famous Pizza spot in the city, known for its variety of exceptionally delicious pizza.
Feel free to drop by Antonios Pizzeria any time to scan their broad menu options, containing different tastes and unconventional pizza selections.
Aside from pizza, this eatery also serves many other tasty treats, such as pasta and salads. Their famous Thin-crust cheese pizza is a must-try.
Address:43 Broadway, Jim Thorpe, PA 18229, United States
17. Bear Mountain Butterfly Sanctuary
Are you looking for something unique? Bear Mountain Butterfly Sanctuary is the perfect spot for you.
A visit to Bear Mountain Butterfly Sanctuary is recommended, especially if you are on your honeymoon.
This gorgeous site is perfect for a romantic walk through nature, as it allows you to feel the butterflies in your belly and see and touch them.
Bear Mountain Butterfly Sanctuary is home to the most beautiful species of butterflies. This magnificent location makes a perfect location for stunning photographs.
This mind-blowing place is so beautiful that one nearly feels like they are in a fantasy tale, making it difficult to leave.
It would be best if you visited Bear Mountain Butterfly Sanctuary in the evening as the creatures in the area are most active then.
Address:18 Church Rd, Jim Thorpe, PA 18229, United States
18. Mauch Chunk Museum
The exhibits at this Museum are linked to the coal mining community of Mauch Chunk, which existed before Jim Thorpe.
The knowledgeable tour guides will talk about the museum relics and take guests on a journey back in time, starting from the prehistoric era and ending with the occasions that resulted in the founding of the modern Jim Thorpe.
Mauch Chunk's industrialization, Lenape Indians, and coal recovery in eastern Pennsylvania are all exhibited.
The Museum showcases Mauch Chunk's transformation over the years and the train known as Switchback Gravity.
The town's geological history is also covered in the museum exhibits. For special events like weddings and festivities, the ballroom on the second floor is available for rental.
Address: 41 W Broadway, Jim Thorpe, PA 18229, USA
19. Poconos Biking
Biking around the Poconos offers a marvelous view of the area while simultaneously offering people fun and good exercise.
Exploring untrodden roads is one of cycling's most significant benefits; therefore, you should do that while you travel around the picturesque city.
You can choose from multiple trails biking through the Poconos without worrying about losing your way.
Because of the breathtaking scenery, you won't get bored riding for hours. It's advised you rent a bike early in the morning and head out to the Poconos. Overall, you'll have a great adventure.
Address: Jim Thorpe, PA 18229, United States.
20. Stabin Museum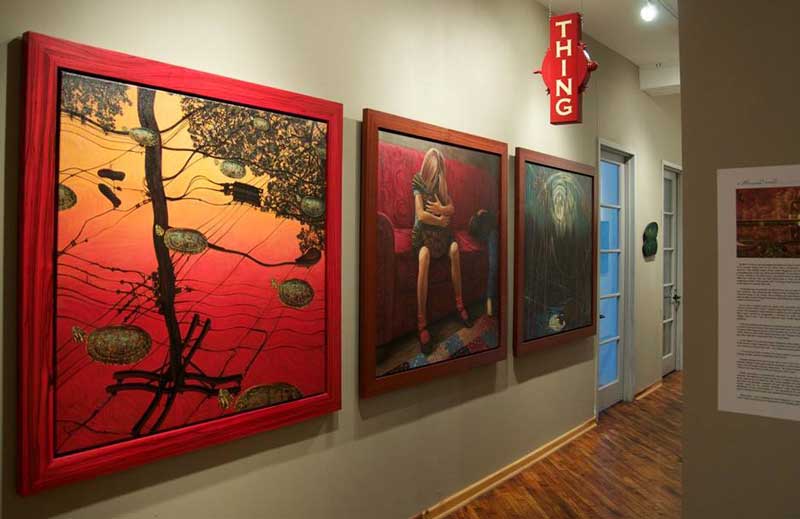 Through his artwork, Victor Stabin honors the progression of art history, from ancient Japanese watercolor printmakers to modern graphic arts.
His wife, two daughters, and the dictionary are his primary sources of inspiration.
Victor transformed 16,000 square feet of the property into his studio when he started the remodeling in 2003.
Renovations over the years have changed the interior into a mind-blowing collection of art galleries showcasing Stabin's work spanning decades, from his first drawings to his most recent Turtle Series paintings.
Address:268 W Broadway, Jim Thorpe, PA 18229, USA
21. Cafe Arielle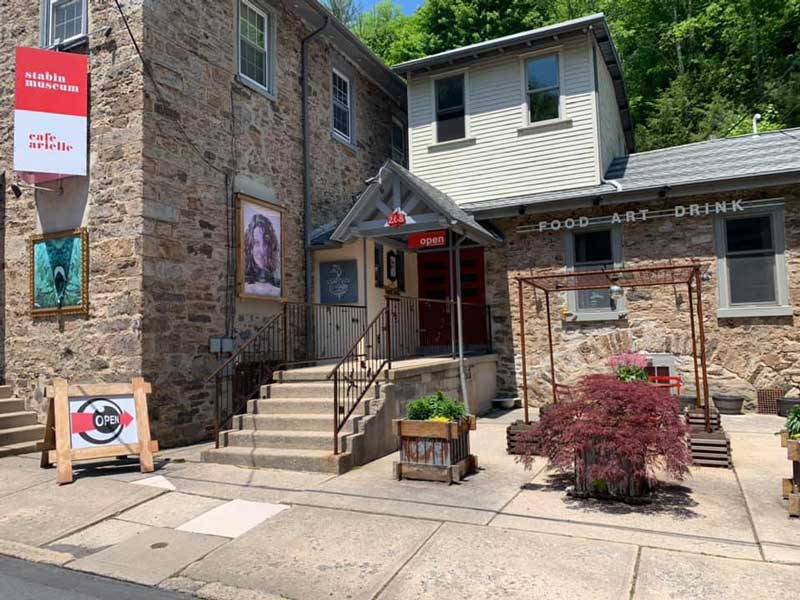 Café Arielle, housed in a lovingly restored former silk mill and pyrotechnics factory, is one of the best places to visit in Jim Thorpe, PA, if you want some incredibly delicious meals.
Despite having an ancient backdrop, the restaurant is modern and has numerous cutting-edge features.
The dining tables were made from silk cutting tables, with legs made of repurposed pipes from old heating systems.
Either the patio or the stone-walled dining room with stone wall finishing are viable options for dining.
A straightforward but delectable menu of café staples is offered at Café Arielle, including salads, charcuterie boards, sandwiches, flatbreads, and delicious entrees.
Address: 268 W Broadway, Jim Thorpe, PA 18229, USA
22. Molly Maguire's Pub & Steakhouse
Molly Maguire's Pub & Steakhouse is a well-liked destination amongst tourists and locals known for serving Irish beer, among other rare treats.
This famous Pub and Steakhouse is nestled within the oldest standing building on Hazard Square.
Molly Maguire's Pub & Steakhouse is owned by the Behan family, hailing from Dublin, Ireland; they have been running the establishment for more than 25years.
This beautiful Pub & steakhouse is suitable for family dinners, as it also features family dining settings inside and outside.
Although Molly Maguire's Pub and Steakhouse is known as an "Irish pub," they also serve meals that are not Irish.
Well-liked options on their menu include several salads, burgers, grilled salmon, steaks, Ahi Tuna, and wraps.
Address: 5 Hazard Square, Jim Thorpe, PA 18229, USA
23. Jim Thorpe Yoga & Wellness
The instructor and owner of Jim Thorpe Yoga Wellness center, Maya Kowalcyk, established the facility in 2012.
The establishment aims to provide students of all ages and abilities with high-quality yoga courses taught by qualified and experienced instructors while cultivating a community that supports leading a healthy, fulfilling, and more connected life.
The owner and yoga instructor, Maya Kowalcyk, has been involved with yoga since 1997 and teaching since 2008.
Jim Thorpe Yoga and Wellness is easily accessible on the east side, away from the busiest part of town, and close to many essential facilities such as motels and restaurants.
There is ample parking space, and the area is secure. Visiting Jim Thorpe Yoga and Wellness is worth it if you want to ease your stress on your vacation trip.
Address:434 Center Street Jim Thorpe, PA 18229, United States
Enjoy more time in Pennsylvania; check out our list of things to do in Lancaster, things to do in Doylestown, and things to do in Lititz for a memorable vacation.
Plan Your Trip to Jim Thorpe
You won't have a dull moment in Jim Thorpe, PA, as it's an all-year lively vacation destination. The variety of activities and numerous attractions will keep you busy throughout your stay.
Most of the town's attractions function throughout the year, regardless of the season. This small city brimming with entertainment is guaranteed to make you stay longer.
Start planning your trip to Jim Thorpe!