Lake Harmony is a non-CDP (census-designated-place) and unincorporated community in Kidder Township, Carbon County, Pennsylvania, United States.
The town, named after a glacier Lake with the same name, had 1,480 citizens in 2021.
The town features sports arenas, bountiful ski areas, state parks, restaurants, rental homes, beaches, etc. Visitors can explore the attractions and engage in numerous recreational activities, such as snowboarding and skiing.
Every place in Lake Harmony has something intriguing attached. So, whether taking a walk or riding in a vehicle through the exhilarating scenery, there is always a fantastic activity to enjoy.
Let's explore the top fun things to do in Lake Harmony, PA.
Things to Do in Lake Harmony, PA
1. Hawk Falls
This attraction is a small beautiful waterfall that drops at 25 feet.
When you get to the fall, it feels like walking into paradise. The Falls is hidden in the inner part of a compact forest but is worth finding.
The brilliant and clear water cascades smoothly run down, forming a little pool where one can swim. A calming sound accompanies the running of the water.
Due to the attraction's beautiful scenery, the place is crowded during weekends; do yourself a favor and come on time if you desire a peaceful experience while in this area.
Address: Lake Harmony, PA 18624, United States
2. Lake Harmony Cruises.
Cruising on Lake Harmony with Captain Wolf is a wonderful experience. It is an excellent way of savoring the surrounding areas and the mind-blowing view of Lake Harmony.
One will hear numerous stories concerning the harbor and the Lake, including many narratives concerning some notable people that made the adjacent summer harbor.
One of the popular features in the Poconos region is this forty-five-minute tour.
Get a peek at Lake Harmony's popular landmarks and houses as you relax and enjoy nature's sounds, views, and pleasant fragrances at their peak. Touring with Lake Harmony Cruises is one of the best things to do in Lake Harmony, PA.
Address: 20 S. Lake Drive, Lake Harmony, PA 18624, United States
3. Private Mount Pocono Observation Air Tour
Going on a tour with this agency is one of the fun things to do in Lake Harmony, PA. This brief, entertaining aircraft tour offers a beautiful outlook of Mount Pocono.
Join the flight with their FAA-certified pilot and enjoy the high view of Camelback Resort, Mount Airy Casino, Great Wolf Lodge Water Park, Kalahari Resorts Poconos, and lovely lakes.
The airplane tour is best for events like Valentine's Day, Mother's/Father's day, Weddings, Graduation, Birthday, and Holiday gifts.
Only individuals from 18 years and above are allowed on board. Underaged people are only allowed in the company of a guardian or parent.
A thrilling adventure awaits you!
Address: Lake Harmony, PA, United States
4. Split Rock Resort
Split Rock Resort lies on a 1,200-acre on Pocono Mountains' heavenly settings.
Adding to the villas, suites, and cottages, the Resorts also has lakeside cabins and cozy lodges with homelike amenities like televisions, fireplaces, and kitchens.
There is a movie theater, fitness center, Water Park, and a 27-hole golf course.
You will also find numerous sports facilities, such as a bowling alley, outdoor and indoor pools, and tennis courts.
Dining choices include an on-site Italian restaurant and sports bar. Visiting this Resort is one of the best things to do in Lake Harmony, PA.
Address: 428 Mosey wood Rd, Lake Harmony, PA 18624, United States.
5. Austin T. Blakeslee Natural Area
This attraction is also called Highland Trail Loop. This attraction is one of the best places to visit in Lake Harmony, PA.
You can use the trail for fishing, hiking, walking, and running. Dogs are allowed, so don't hesitate to come with your pets.
It sometimes gets muddy, so come with the appropriate footwear. The Natural Area also has a beautiful waterfall with picnic tables and pavilions for a wonderful experience.
If your traveling pace is moderate, the 3.5-kilometer trail will take about 1 hour and 30 minutes to hike. The time is sufficient to explore the attraction's perfectly tuned fauna and flora.
Address: 20 PA-115, Blakeslee, PA 18610, United States
6. Terra Cottage Cafe & Gifts
Terra Cottage Cafe & Gifts is a hidden gem of Lake Harmony, Pennsylvania.
This place can be described as an eccentric eatery, cafe, and boutique with small home goods that one can buy for their home.
You have to check out their amazing morning menu! Their Pa-Pa's Feast and Delicious Cream Pancakes are outstanding.
Their famous Cottage Salad and Italian Burger Bar are served during lunchtime, and you will love every bit of it.
It is known to be amongst the best locations one can eat in Poconos and a fantastic place to purchase gifts for any occasion.
The store, although artistic, is welcoming and comfy. Do visit!
Address: 291 Lake Harmony Rd, Lake Harmony, PA 18624, United States
7. Lake View Tavern
Eating at Lake View Tavern is a fabulous experience on Lake Harmony Shore.
The meal is tasty, and the view is great, especially when you visit during fall, spring, or summer.
When you check out the deck at the back, its landside view is brilliant regardless of whether it is daytime or night.
No visitor should miss out on the show of the Sun Setting on the shoreline of Lake Harmony.
Visitors are treated with drinks and meals from their vast back deck. Their amiable staff ensures you are well received and comfortable.
Address: 164 Lake Harmony Road, Lake Harmony, PA 18624, United States
8. St Peter the Fisherman Church
For Christians paying a visit to Lake Harmony, ensure that you take time off and pay a visit to this Church.
The parish has remained for so many years in Lake Harmony, existing past the mission status by multiple decades.
The Church was introduced at the time when the Jim Thorpe diocese joined the Allentown diocese.
At that time, it was seen as a dwindling congregation filled with travelers who attended Sunday Masses at the Split Rock harbor.
When the community grew, their Bishop realized they needed a devoted place to worship.
Thanks to the generous legacy of one of their faithful patrons, the establishment of the Church subsequently happened.
Address: 33 Trinity Circle, Lake Harmony, PA 18624, United States
Are you planning a road trip to Pennsylvania? here is a guide on things to do in Reading, things to do in Scranton, and things to do in Bedford for a fun trip.
9. Retreat in the Wild
Do you want to combine modern conveniences with a rural experience? Then, Retreat in the Wild is the best place for you.
The harbor is eccentric, with many particular amenities that align with its guests' needs.
You will find a sauna, an indoor Peloton bike, and an outdoor hot tub in the home.
The attraction has seven bedrooms and enough space for a big group so everyone can come along.
This isolated Poconos cabin can be said to be one of the beautiful Pocono Mountains' eye-candy.
Visitors can enjoy fun activities like gambling, wine tasting, and shopping. Visiting this destination is one of the top things to do in Lake Harmony, PA.
Address: 47 Pineknoll Dr, Lake Harmony, PA 18624, United States
10. Nick's Lake House Restaurant
Are you thinking of the perfect place where a large group of people can have a rustic hangout? The best option for you is the lovely Nick's Lake House Restaurant.
You will find a large outdoor and indoor bar with plenty of seating.
Whether you want a personal dinner date or a large birthday celebration, there is enough space to host guests. In line with its name, you will feel like you are in your lakeside house.
They have numerous dishes, including seafood, cocktails, chicken and steaks, and sweet treats. Don't miss the Bavarian Jumbo pretzel, a favorite among locals.
This restaurant is one of the best places to visit in Lake Harmony, PA.
Address: 20 S Lake Dr, Lake Harmony, PA 18624, United States
11. Pocono Whitewater Rafting
Every adventurer will find something soothing at the Pocono Whitewater Rafting. Visitors can choose from mild to wild dam release whitewater and family-style whitewater rafting trips.
Go on an exploration of more than 138 miles, a simple downhill Rail Trail Biking excursion, and battle it out above 750 acres of first-class paintball at the Skirmish.
They have several trips that meet all skill levels, like Dam Release Whitewater Rafting, Whitewater Rafting Trips, family-style whitewater rafting, and the Expedition and Pocono Whitewater Rafting experience.
Come with your friends to spend a one-day, full-day, or mini vacation. Here in Pocono Whitewaters, you can get an exclusive trip.
During the Big Day Out, you can come for a multisport adventure or be attacked by some pirates. For your safety and others, pets are not permitted during your trip or on the whitewater rafting property.
Address: 1519 State Route 903Jim Thorpe, PA 18229, United States
12. Shenanigans
Shenanigans is one of the best places on the Lake where you can get a drink.
The bar has remained amazing for over 30 years, with an atmosphere suitable for everyone.
Their famous treats include fried Calamari, Bacon-wrapped Scallops, and Crab Cakes.
This beautiful joint sits on the east side of Lake Harmony. The destination has a stage for musical performances, which visitors can enjoy. If you're a sports lover, you can watch a game on their big screen.
If you're partying, drop by their nightclub, Boomers, featuring modern lights and beats. Besides the club and Karaoke, Visitors can participate in their Burger Night every Thursday.
Address: 286 Lake Harmony Rd, Lake Harmony, PA 18624, United States
13. Split Rock Country Club
Found 25 miles Westside of Aberdeen, it features wide fairways, grass greens, and a task crick that plays on six of its nine holes.
A board of seven volunteers elected by the members governs the Country Club. Although the clubhouse can't be accessed during tournaments, one can still golf anytime.
Every Thursday and Wednesday evening, the course is closed starting from 5 pm for the golf leagues. Check the Club's schedule of events to know if the course is open or closed because of tournaments before coming.
Are you looking for what to do in Lake Harmony, PA? Go golfing in Split Rock Country Club.
Address: Run Road, 140 Wolf Hollow Rd, Lake Harmony, PA 18624, United States
14. Pocono Raceway
Suppose you prefer getting personal and up close with your sporting heroes; you can catch the NASCAR race in the flesh at the Pocono Raceway.
At Pocono Raceway, the racetrack comes alive for NASCAR family-friendly engagements and double-headers actions.
It only takes 5.3 miles or 8 minutes to reach this destination from Lake Harmony.
Suppose you desire to try out a NASCAR ride before your best driver in the coming season; you can race around the Poconos tricky triangle when there is a stock car experience.
The Pocono Raceway has many turns and twists, offering many opportunities as you enjoy the drive.
The Stock Car Racing Experience lies southwards, about 10 minutes from Lake Harmony.
Address: 1234 Long Pond Rd, Long Pond, PA 18334, United States
15. Hickory Run State Park
Hickory Run State Park, encompassing 15,990 acres in the center of Carbon County, has various features. It will take a 15-minute drive to arrive here.
It has above 40miles worth of hiking trails suitable for testing one's fitness limit, sitting, and relaxing. You will undoubtedly find beautiful scenery.
In addition, the Park features two lakes and many fishing spots.
When you move on the road towards the area for Day Use of Sand Spring, you will locate the bigger Sand Spring Lake. You'll see the smaller Hickory Run Lake on the road to Boulder Field.
This Park can be accessed by visitors all day.
Address: 3613 PA-534, White Haven, PA 18661, United States
Planning a trip to Pennsylvania road trip, don't miss our checklist of fun things to do in Easton, things to do in Bedford, and fun things to do in Williamsport.
16. Yeti WaterSports
Do you want to participate in an entertaining outdoor water game? Then, visit the Yeti WaterSports, as it's one of the fun things to do in Lake Harmony, PA.
You can take a leisure cruise on the 24″ pontoon boat and enjoy the tour of the beautiful Lake Harmony.
Visitors can try their canoes, standup paddle boards, kayaking, and tubing, or enter a rowboat or pedal boat to have a relaxing period during the journey.
Address: 1 Lake Dr, Lake Harmony, PA 18624, United States.
17. Hickory Run Boulder Field
In Poconos, there are so many fantastic recreational areas. However, not many are as satisfying to explore as the Boulder field.
The Boulder Field covers 16,000 acres and hides deep inside the woods in Carbon Country, PA.
The Boulder Field, found in the Park's northeastern corner, can be accessed through the hiking trail or by car. In 1967, the boulder field's peculiarity made it named a National Natural Landmark in Pennsylvania.
The field is unusual because it is located in the center of the woods and is somewhat flat. Still, many of the Boulder Fields of PA are on sloped hillsides.
Theories of how the boulder field came into existence are many. Suppose you want to know more about the geology and history of this place; you can check the signs close to the parking lot, highlighting the various theories surrounding the formation of the field.
The field is easy to locate and a short walk from the parking lot. Once you arrive at the field, take a 100 feet walk to the field's edge part, then look over it. You can also explore every area of the field.
Address: Boulder Field, Lake Harmony, PA 18624, United States
18. Pocono Manor Golf Course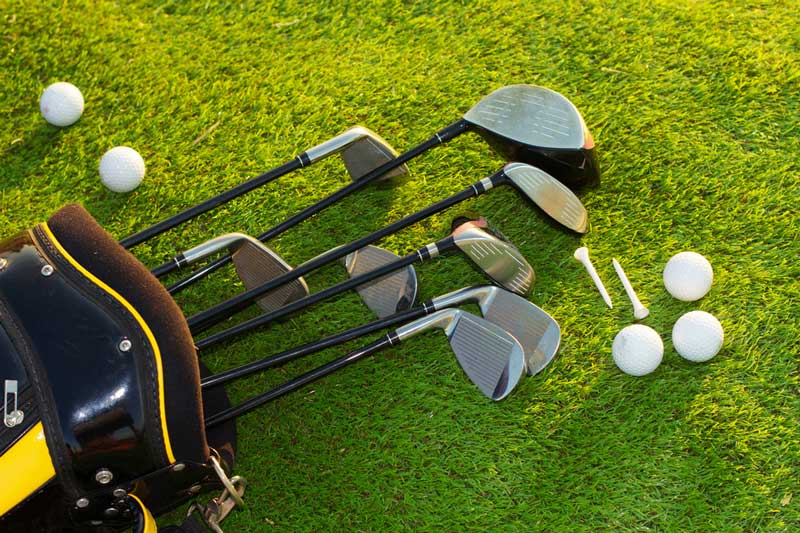 Are you searching for a good golf course with new playing stipulations and rare service for an upcoming golf event? Then, Pocono Manor is the best for you! Their professional PGA staffs are available to plan your entertaining and fulfilling event.
Not minding if it is an assembly of weekend warriors, a corporate retreat, or an NGO, the Pocono Manor team will ensure that your golf course experience is memorable.
The 18-hole golf course, designed by legendary architects Donald Ross and William Flynn, offers an exhilarating experience you have never experienced anywhere.
The destination has an expansive and fantastic layout and an old-school ambiance. You will come across quirky for every three holes that keep things challenging and fun as you progress.
Ensure that you warm up & then cool down on the 3-hole loop close to the practice range, which you can access at any time.
Stop in the clubhouse, get a snack and cold beverage, and then check out the golf shop with the needed merchandise and a comprehensive display of the course's lengthy history.
Address: 395 Manor Dr, Pocono Manor, PA 18349, United States
19. Boulder View Tavern
Come and dine at this family-friendly site in Lake Harmony, PA. The best setting for a casual outdoor or indoor get-together is on their lakeside patio.
Their menu has several customer favorites, and you can't afford to miss their weekly specials. Visitors can enjoy refreshing martinis & cocktails and nicely selected craft beers. In addition, every weekend, local musicians come to give a live performance.
Check their calendar to get more information about events. Boulder View Tavern is a fantastic location for celebrating with friends and family.
Address: 123 Lake Harmony Road, Lake Harmony, PA 18624, United States
20. Lake Harmony Watersports
If you're wondering what to do in Lake Harmony, PA, go on an adventure in this destination. Lake Harmony Watersports feature activities like tub rides for multiple persons, water skiing, wakeboarding, and wake surfing.
There are non-motorized boat rentals, such as standup paddle boards, row boats, canoes, and kayaks. Persons of any age are welcome here.
Enjoy their upscale Malibu Boats. Customers are picked up where they want or at their waterfront. Every needed piece of equipment is given without an additional charge.
So come with water bottles, sunscreen, and something that will protect your phone from getting wet so you can enjoy an hour or more cruising Lake Harmony's perimeter.
Address: 37 N Lake Drive, Lake Harmony, PA 18624, United States
21. Skirmish USA
If you are using four wheels, it will take about twelve minutes to arrive at Skirmish USA, which lies southeast of Lake Harmony.
This destination, spanning 750 acres, is a hub for paintball players.
Their fields have everything players need in any topography, such as forts, bridges, swamps, dense woods, creeks, rhododendron trees, and open fields designed to resemble castles and villages with planes, cargo containers, and tanks.
In addition, the destination features speedball arenas having inflatable bunkers.
Everything is being kept simple, and you will receive all you need before the game.
Address: 211 N Meckesville Rd, Albrightsville, PA 18210, United States
22. Pocono Outdoor Adventure Tours
The Pocono Outdoor Tours offers a touch of everything with a fun cruise in the woods trails. The task course and the outer part of the race track adjacent to the Long Pond Straight make the adventure adrenaline-filled.
Come along with a camera for this exciting tour to take nice shots of the grandstands of Pocono; if you are lucky, race cars will be on track.
Tours will be guided for 24 hours. When Walk in's are available, they are welcomed, but it is advised you make reservations because sometimes the tours are filled up.
Tourists must have a legal driver's license, and kids must be up to 5 years to participate in this activity.
Their 2022 model cars used are well maintained. But, when the vehicle is in your custody, you will be held entirely responsible for any damage.
Address: 1234 Long Pond Rd, Long Pond, PA 18334, United States
23. Pocono ATV Tours
Are you looking for a way of increasing your adrenaline to high gear? Then, Pocono ATV tours are the best off-road adventures for you.
Enhance your vacation by exploring the Pocono Mountains landscape with exciting UTV and ATV rentals.
As you are riding the four-wheel all-terrain or sitting in a caged terrain vehicle, you will experience a splash from overflowing streams, scale rocky terrain and speed down the dirt tracks. In all four seasons, the Pocono ATV tour is fantastic.
Not minding if you are relaxed in a passenger seat or roaring in the woods, there is the ATV ride Pocono adventure that you can join.
You will ride on a full-size old model off-road ATV because your safety is important. They begin by offering preliminary instructions on how to safely enjoy the ATV ride, then go ahead to equip you for the journey to the trail with the trail guide.
Address: 432 Grange Rd, Mt Pocono, PA 18344, United States
24. Jack Frost National Golf Club
This place beautifies Pocono Mountains with its elevation changes and magnificent vistas. Unlike most mountain courses, The Jack Frost National Golf Club provides wide fairways that you can identify as target areas, no existing blind shots, and little uneven surface.
It is a "big golf course" that spans over 200acres. The golf course occupies magnificent terrain and lovely landscapes, featuring striking views and vistas.
The golf club presents a Golf Shop that is fully stocked with a large selection of golf tools and apparel from Titleist, Oakley, Greg Norman, Cutter and Buck, Foot Joy, and Nike.
They have a good number of professional staff that can assist in purchasing and fittings.
Address: 1 Jack Frost Mountain Rd, Blakeslee, PA 18610, United States
Have more time in Pennsylvania; check out our list of things to do in Lancaster, things to do in Doylestown, and things to do in Hershey for a memorable vacation.
Plan Your Trip to Lake Harmony
The beautiful Lake Harmony town is an amazing playground for persons who enjoy outdoor explorations.
Do you love camping, fishing, or hiking around the beautiful wonders of nature, there is always something for everybody in this Pennsylvania town.
Explore this list of adventurous activities in Lake Harmony, PA, and you're assured of an incredibly fascinating vacation.