Sonora was founded in 1851 by Mexican miners from Sonora during the Gold Rush, when the city was a hub for many industrial and commercial industrial activities in California Mother Lode.
The town derived its name from the state of Sonora, Mexico. To achieve gold and quartz deposits, these miners had to depend on expensive and intricate mining methods other than standard methods, which could not bring out much gold.
This iconic gold rush town is seen on the base area of the Sierra Nevada mountain range and features numerous attractions that will pique your interest.
Are you in search of what to do in Sonora, CA? Here are the top fun things to do in Sonora, CA.
Things to Do in Sonora, CA
1. Tuolumne County Museum
Suppose you are a lover of history; one of the best places to visit is the Tuolumne County Museum. This destination previously was called the Tuolumne County Jail; it was later transformed into a museum to uphold the rich cultural heritage of this place.
The outdoor patio in the museum is where guests sit to relax and have a good time, which was once used as the prisoner's fitness yard. The exhibits showcased here are incredible, and they have a beautiful story to tell for themselves of how things have transformed over the years.
Exciting things to find here that will interest you include old photographs, antiques, and consumed mannequins. You can also check out their notable displays, such as the furniture used when the building was a jail, pioneer guns, and the Knights Templar.
Address: 158 Bradford St, Sonora, CA 95370,
2. Check out Firearms at The Sportsman
If you are a fan of firearms, one of the best things to do in Sonora, CA, is checking out the Sportsman's Firearms. It is the only California guns and liquor licensed store in Sonora.
The Sportsman has all you need to kick start your shooting journey. Here is an ideal place to visit if you intend to get a new firearm or still make an upgrade to an existing one.
The shop also has professionals on the ground that will guide you on everything you need to know about a firearm, its shooting mechanism, and others.
Address: 90 S Washington St, Sonora, CA 95370
3. Inner Sanctum Cellars Basecamp
Bookings are not needed to taste the wines at the Inner Sanctum Cellars. Healthy and hearty grapes are harvested at their prime of ripening from the vineyards of Tuolumne County by skillful winemakers.
The best wine is what you should expect when you visit this winery. You can also be a part of their wine club, which qualifies you for bottles of wines up to two, four, and six bottles.
Joining the wine club also allows you to choose unique edition wines; you can also have wines kept in stock whenever you need them. You can get one of the special editions as souvenirs for loved ones or friends.
Address: 22004 Parrotts Ferry Rd, Sonora, CA 95370
4. Dragoon Gulch Trail
Check out the Dragoon Gulch trail to experience a good time in Sonora. This destination is perched in the center of Sonora, Ca, and offers guests the opportunity to see Mother Lode oak trees.
Located in the heart of Sonora, California, the Dragoon Gulch Trail offers tourists the chance to meander amid the Mother Lode oak trees. The trail is more than three and a half-mile of a smooth and unpaved pathway.
While having a walk, you will be sure to experience the city's outstanding views, the seasonal waterways, the mountain ranges within, and extensive wildlife. If you wish to have a stroll, be sure to choose to form their various pathways from easy to the most challenging ones.
Address: 680 Woods Creek Dr, Sonora, CA 95370
5. Discover Columbia State Historic Park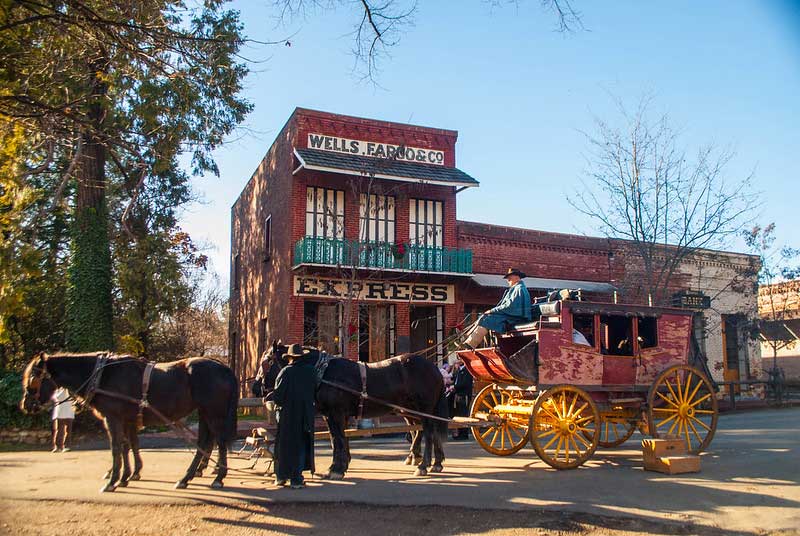 The Columbia State Historic Park is one of the cool destinations in this town to check out when you visit. The destination is eight minutes away from Sorona, and the neighboring Colombia Stars Historical Park is an ideal spot to have a good feel of the lovely weather without having to encounter mosquitoes.
Aside from being a historical park, this destination has a rich cultural heritage and is used as a commercial mall. If you want to go back in time, be sure to visit.
The park is family-oriented and fun-filled, and visitors can dig for gold, eat quaint ice cream, ride in carriages, and have a guided tour of this lovely town.
Address: 22708 Broadway St, Columbia, CA 95310
6. Historic Downtown Sonora
Sonora has a history stretching back to 1850 when it was established by miners from Mexico, who gave the city a name after a Mexican State.
Once, the city was a glorious city filled with people and numerous activities like other communities. However, it currently has a less dense population of residents who still love the rich history of this town.
An ideal way to have a feel of the history of this city is to have a stroll in the downtown area and check out the numerous shops on the streets. In addition, you can check out the many boutique restaurants and art galleries at your convenience. So be sure to enjoy yourself when you visit.
Address: Sonora, CA, USA
7. The Emberz
Another interesting spot to visit in Sonora, California, is the Emberz. It is a massive attraction in town and a relaxing place to be and enjoy foods like burgers, sandwiches, pizza, and lots more.
Embers also have a unique and extensive wine bar that features Classic Cocktails made fresh for guests to enjoy. Their handcrafted strips are ideal for a taste and classic cocktail.
Be sure to visit with your family and friends to have a fun-filled time while treating your stomachs to delicious meals. Here is also an ideal spot to have a romantic evening with your partner.
Address: 177 S Washington St, Sonora, CA 95370
8. Doug Olmsted
Do you love fishing or are an avid angler? one of the best things to do in Sonora, CA, this weekend is to visit the Doug Olmsted. Having a good time fishing in this place should top your list of Sonora activities.
The owner of this fishing company is a professional fly fisherman with so many water experiences in Alaska and different areas in California. He has been fishing in the Motherlode region for about 20 years, so be sure you learn from the best.
Visitors can come with these items to help make their fishing experience worth it, such as sunscreen, lip balm, a hat, a camera to take lovely photos, waders, and a raincoat depending on the season.
Address: Sonora, CA, USA
Are you considering more exploration of California, here is our list of things to do in Murrieta , things to do in Corona and things to do in Lancaster, for a fun vacation
9. Black Oak Casino
One of the best things to do in Sorona, CA, is to visit the Black Oak Casino, and if you are a lover of casino games, here should be the primary Itinerary for you on your checklist.
The Casino features a poker room in the main casino floor area, slot machines, and tables all in place to give you a tremendous colossal gaming experience.
Aside from gaming, you can also treat your stomachs to delicious foods from any of the nine restaurants, and you can have an epic evening with friends or loved ones.
You can also have a fantastic night out in the city after having a good time gambling at the Willow Creek Lounge, which features the Black Oak Casino's clubs, and hosts comedy shows and live music performances. There are accommodations in place if you intend to spend a day or two.
Address: 19400 Tuolumne Rd N, Tuolumne, CA 95379
10. Potato Ranch llamas
The Potato Ranch llamas are perched in the gorgeous foothills of Sierra Sonora, California. This destination has been in operation for about two years.
These Llamas are gentle creatures you will fall in love with. A scientific tidy stipulates that interaction with the animals helps to decrease blood pressure and augment cardiovascular health.
For visitors who will be visiting for the first time and do not know much about these animals, the destination hosts llama-themed activities, including Llama-themed hikes, holiday celebrations, and others.
Address: 15025 Potato Ranch Rd, Sonora, CA 95370, United States
11. Sierra Repertory Theater
Sierra Repertory came to be as a result of five actors who were affiliated with the university theater school and envisioned starting their performing art school.
The theater was restored into something much more magnificent after its old times. It is housed in a tin building that has rusted out. The Sierra Rep and Historic Fallon House is currently a place of abode for the Sierra Rep's primary stage production, which started operations in 1997.
Since its existence, the group has become a renowned art organization often acknowledged by CAC and the NEA. The
Sierra Repertory Theatre has over 100 actors annually, 25 staff members, and is part of the Actors Equity Association.
About 45000 individuals come to watch these performers, with a considerable number coming from a distance to watch the performance.
Address: 13891 Mono Way, Sonora, CA 95370
12. Diamondback Grill
If you love good foods, one of the best things to do in Sonora, California, is to check out the Diamondback Grill, where you get treated to delicious foods and should be on your checklist.
This eatery is a regular, family-oriented, and operated restaurant that provides visitors with varieties of savory dishes for visitors and locals alike. It is such an ideal spot to have a typical meal with family and friends in a lovely environment.
They have a great food menu that will leave you craving for more, including salads, burgers, and a great wine menu. Their delicious foods come in sizable portions and are affordable, coupled with a friendly staff. Other well-known dishes from their food menu to look out for include the grilled cheese sandwich, the Ortega burger, and the BLT with Applewood bacon.
Address: 93 S Washington St, Sonora, CA 95370
13. Art Celebration on 2nd Saturday Art Night
Every month, businesses in the iconic downtown area of Sonora are available every second Saturday for locals and guests to enjoy the synergy in the city.
These features to find when you visit this area are restaurants, galleries, and stores that showcase art presentations, musical performances, and art presentations.
Via the fact that these activities in this downtown area attract myriads of people yearly, it helps to increase the economy of the community and as well helps the locals to gain profits from various transactions.
Address: Sonora, CA, United States
14. The Peppery
One of the best things to doin Sonora, CA, this weekend is to visit the Peppery Bar and Grill. Here has an ideal environment setting for visitors to have a fun-filled moment with their family and loved ones and should be on your checklist of places to visit in Sonora, CA.
Visitors who check-in at the restaurants keep returning because of the restaurant's incredible service for its guests.
The unique thing about this restaurant is that everything used in preparing their dishes is locally sourced ingredients.
Foods to look out for on their menu when you visit include Louisiana-style gumbo, pepper jack poppers, mushroom, and swiss burger, BBQ tri-tip sandwich and chipotle mushroom,
Address: 13494 Mono Way, Sonora, CA 95370,
15. Sonora Farmer's Market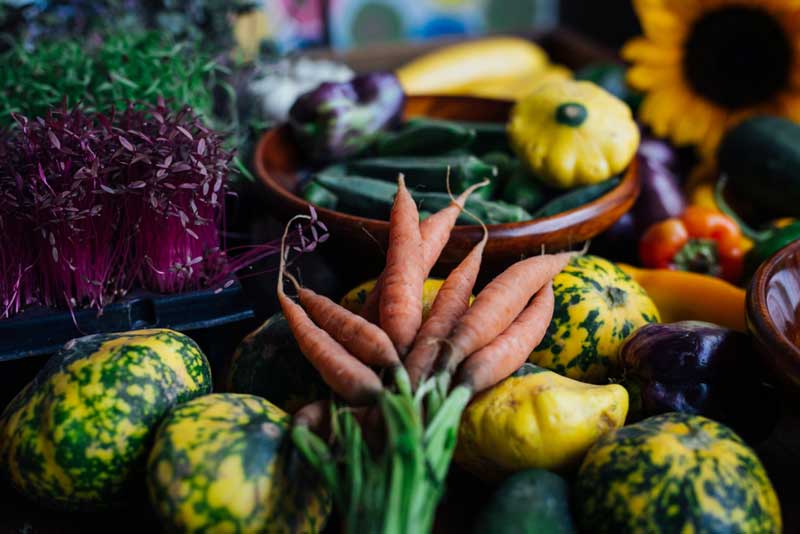 Another exciting thing to do when you are in Sonora is to check out the Farmer's Market. Different items are sold at this market, items from Farmer's produce and Fishermen's catch and bakers.
The exciting thing about this market is that they provide their guests and locals with different products for sale.
Info about various Farm products is available for your consumption, including where it was cultivated, their recipes, and varieties.
Over 70 different kinds of Apple recipes are readily available for purchase at the Farmer's market, and Russian and Tuscan varieties of Kale. You can find Thai and Lemon basil, two out of the many basils you can get in the market.
Address: 37 Theall St, Sonora, CA 95370
Check out the top things to do in Rancho Cucamonga, things to do in Glendale, and things to do in Idyllwild for a memorable exploration of California.
16. Indigeny Reserve
The Indigeny Reserve is an estate owned by the Watson family, and it is 80-acre apple farmland seated right across a street from their house.
It turns out that a vast number of the apples gotten from the farmland could not be sold; their alternative was to switch to cider production, which became a massive enterprise.
It did not take too long for them to decipher that the remnants from the cider production were ideal for producing alcoholic drinks such as vodka and brandy.
Families are welcome to check out this beautiful countryside distillery and cider, constructed from local oak and cedarwood grown and rechecked. Visitors can have an extensive tour of the facility and learn the various processes involved in cedar production.
Do add to your list of things to do in Sonora, CA, for a fun exploration.
Address: 14679 Summers Ln, Sonora, CA 95370
17. Courthouse Square
The Courthouse Square combines the Oak Street and Water Venue, which is the southern brother of this destination. The square was significant as it helped establish a county's local government.
The main construction of the courthouse began in 1853 and started deteriorating after several decades. Restoration of the building started in 1900, and it required about 300 wagon loads of gravel, 150 sand loads, and 500 barrels of cement for its foundation.
This historic site was built for a Wells Fargo agent in 1889 and had a beautiful lobby. There are pamphlet guides right in front of the courthouse to give you a self-guided tour.
18. Wild Shepherd
If you are in Sonora, CA, you might want to check out Wild Shepherd to have an undiluted nature adventure.
The company consists of adventurers and scientists who desire to share their great experiences with nature with others using this platform.
If you want to go hiking as a group or with friends, Wild Shepherd got you covered. Do add to your list of Sonora, CA, activities.
Address: 175 S Washington St, Sonora, CA 95370
19. The Mother Lode Fly Shop
If you intend to have an incredible fishing experience while in the city, check out the Mother Lode Fly Shop, and this item should be on your to-do list.
This destination is located on the scenic Highway 108, on the east side of Sonora. Be sure to experience a one-of-a-kind local trout fishing style in North Carolina.
The company has the very best when it comes to fishing supplies and equipment, which are readily available at their shop. The shop was founded in 1995 to study the demands of the community.
The shop is well-stocked to help anglers be able to pinpoint whatever item they need for a beautiful experience. Over twelve companies can be seen here, including,
Galvan Fly Reels, Umpqua Feather, and Merchants, Scientific Anglers. You can also find tools supplies and tools fly tying, including lines, fly rods, fly boxes, and snippets.
Address: Sonora, CA, United States
20. Teleli Golf Club Robert Muir Graves
Tell Golf Club was founded in 1990, and it is a Robert Muir Graves' scenic 18-hole golf course with incredible views of the surrounding mountains.
The golf course's name was derived from the language Me-Wuk known as Black Oak. The championship golf course was built by its owner while enjoying the foothills of the Sierra Nevada and Gold Country, which are still lovely areas to enjoy some golfing.
The golf course is fun and challenging for golfers of all skill levels, and the golf course is well maintained and cared for. Features such as its driving range, tea, and greens make golfing easier for golfers.
This answers what to do in Sonora for golf lovers, do add to your bucket list of things to do in Sonora, CA.
Address: 17566 Lime Kiln Rd, Sonora, CA 95370
21. Veterans Memorial Hall & Military Museum
Veterans Memorial Hall & Military Museum was established in 1993, and it has a vast landmark used as a place to remember the American WWI veterans.
You can enjoy different exhibitions on military arsenal and a tile that showcases their military strength during their serving times. You can look out for portraits of locals who dedicated their lives to serving the country.
You can check out the museum's anti-aircraft cannon, which is known to be a well-known exhibit; despite the visitor's not being allowed to go much closer to the weapon, it is for sure an exciting exhibition to see from a few meters away.
Admittance to the museum is free and is cared for by volunteers and funded by the public.
Address: 9 N Washington St, Sonora, CA 95370-4705
22. Mark Cottrell Fly Fishing Guide Service – Tours
Mark Cottrell Fly Fishing Guide Service – Tours is a California Licensed Fishing Company situated in Sonora, California. If you love fishing, there should be a primary item on your list of fun things to do in Sonora, CA.
No matter your skill level in fishing, it is ideal to go fishing with this company as the owner has garnered lots of experienced over time fishing in the local waters.
All the essentials and gears such as rods, fishing line, boots, and waders that you need to make this fishing trip an exciting one will be made available by the company.
Address: Sonora, CA, USA
23. Mountain Springs Golf Club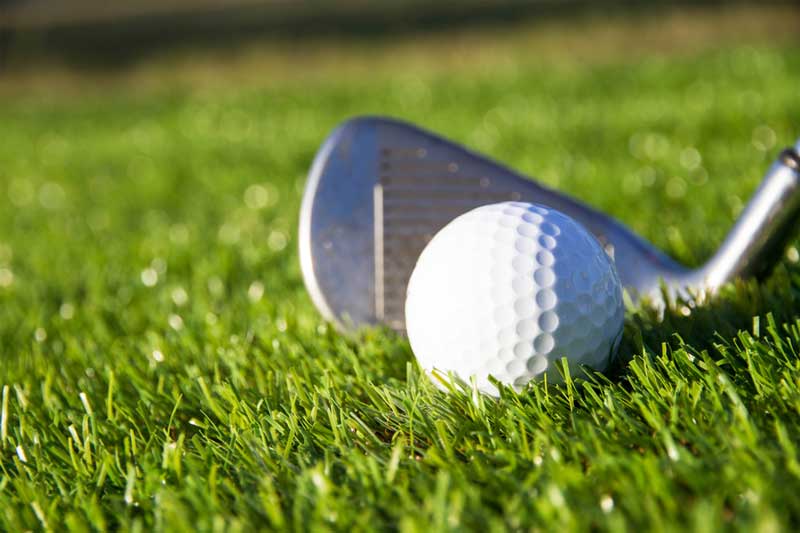 The Mountain Springs Golf Club is an 18-hole course located in the center of Sonora. This championship golf course was designed by Robert Muir Graves and is suitable for golfers of different skill levels.
The picturesque golf championship golf courses can be spotted in the center of the Gold Country and provide visitors with incredible views of the foothills of Sierra Nevada. This destination has become the most famous golfing facility since it started functioning in 1990.
Surrounding the golf club are other features that include a driving range, a complete pro golf shop, four sets of tees, putting greens, and a driving range.
Address: 17566 Lime Kiln Rd, Sonora, CA 95370
24. Llamas of Circle Home
Llamas of Circle Home started in 1983 and is a ranch in the beautiful city of Sonora, California. The idea of setting up a restaurant began when George and his wife read in a local paper the benefits of setting up a ranch for growing llamas and went on to build the facility.
For more than 30 years, this couple has served people and the state of California and beyond by providing therapy services based on IIama.
People tend to find solace in interacting with these animals and having fun. A study by UCLA shows that interacting with these animals can help increase cardiovascular health and decrease blood pressure.
George organizes IIama-themed activities for people that want to know about these creatures, and these activities include llama-themed holiday celebrations, llama-themed hikes, and others.
You can bring the kids along, so they learn and connect with these animals. George's idea is that the kids will be knowledgeable about how these animals will aid them in growing physically, mentally, and spiritually.
Address: 15301 Tuolumne Rd, Sonora, CA 95370
Have more time in California, check out our list of things to do in San Marcos, things to do in San Juan Capistrano, and things to do in Visalia for a memorable vacation.
Plan Your Trip to Sonora
If you plan on having a perfect trip to an exciting destination, plan a trip to Sonora, California. This destination features so many attractions to make your stay here an exciting one.
Start planning your trip to Sonora, and plan to explore its top attractions and activities for that fun-filled time you desire.
Happy Travels!