In search of the best and fun things to do in San Juan Capistrano, CA?
San Juan Capistrano is only a short drive away from Orange County and Los Angeles and has an array of interesting places to visit.
This city is filled with historic charm that will leave you captivated and boasts of diverse, unique attractions. Attractions in San Juan Capistrano to look out for include the Mission San Juan Capistrano, the Mission Basilica San Juan Capistrano, and the Los Rios Historic District.
There are also amazing restaurants to satisfy your culinary cravings. Let's explore the top things to do in San Juan Capistrano, CA.
Things to Do in San Juan Capistrano
1. Visit Mission San Juan Capistrano
Founded over two hundred years ago, Mission San Juan Capistrano exists as a historic chapel, landmark, and museum in San Juan Capistrano, CA.
The chapel, which still stands today and is considered "the birthplace of Orange County," was where Saint Serra once celebrated mass.
Visitors are welcomed to unravel this historic multi-cultural attraction which embraces its rich European, Spanish, Mexican, and Native American heritage.
Here, you would see unique paintings, rare treasures, and precious artifacts while also seeing the cultural richness of the iconic bell that honors Saint Junipero Serra.
Guests can spend their time relaxing in the tranquil gardens, learning directly and engaging Native American techniques in weaving their own baskets, or even attending one of their many events or festivals.
Address: 26801 Ortega Hwy, San Juan Capistrano, CA 92675
2. Culinary skills at Farm School
The Farm School on Los Rios is a property as rich in history as it is in elegance. The property features a circa 1903 board and batten cottage where the classes are held, as well a brick terrace, kitchen garden, lush lawn areas, fruit trees, an organic garden, and several quaint sitting areas.
Go, cook your traditions with "The Farm School on Los Rios" frequent schedule of firsthand cooking classes.
You will be delighted to see the rose-covered and abundant plant life as you stroll in the unique setting while enjoying cooking classes with family, friends, or your special someone.
The Farm School has a talented staff and a full commercial kitchen and celebrates the art of culinary learning. It has carved out a place where people can re-harness the simple pleasure of gathering and cooking.
Address: 31600 Los Rios Street, San Juan Capistrano, CA 92675.
3. Visit A Farm Or Farmers Market
California has this obsession with good food, and to make good food, you need top-quality ingredients. A visit to a local farm or farmers' market is simply the best way to taste these ingredients.
At The Ecology Center, there is a 28-acre organic farm where a large varity of fruits, vegetables, and herbs are grown. You will find the produce is grown on-site and other goods at their farm stand, which is open daily.
Additionally, they offer exciting events programming, from farm tours to dedicated dinners or feasts and more.
Next on is Farmakis Farms, an on-site farmers market that holds every Friday from 9:00 a.m. to 1:00 p.m
And finally, every Wednesday from 3:00 p.m. to 7:00 p.m, a certified farmers market takes place in Old Capistrano.
4. ZOOMARS Petting Zoo
ZOOMARS Petting Zoo is a unique attraction that offers you an experience in San Juan Capistrano.
Entrance into the zoo provides you access to the Petting Pens and a visit to the Bunny Patch, the Playground, the Guinea Pig Gully, and the Corn Box.
The zoo has been around for more than thirty years, and it is famously known as a family-friendly place where visitors can spend their day. You will see friendly animals such as bunnies, sheep, emus, cows, pigs, goats, and some lovable llamas that love to be hugged.
More activities and features include pony rides, a mini train, and searching for treasures at Miner's Gulch. Visitors are welcome to have a great time at ZOOMARS, irrespective of their age.
Address: 31791 Los Rios St, San Juan Capistrano, CA 92675
5. Play a round or two of golf at San Juan Hill Golf Club
If you are a golf fan, one of the best things to do in San Juan Capistrano is to head to San Juan Hill Golf Club.
San Juan Hills Golf Club is a Par 71 Championship golf course nestled in the rolling hills of San Juan Capistrano. It is open to the public, and there is always a game here every day of the week.
San Juan Hills is top-notch at providing quality events. As a result, San Juan Hills is in high demand, be it a small company outing, a full-course double shotgun event, or a tournament play.
They have event facilities that provide a great complement to the after-tournament experience. You would also love to meet their experienced staff, who would take pleasure in assisting you to host your next service club meeting, company event, or golf tournament.
In the end, head to the on-site Sports Bar and Grill – voted one of the best happy hours in Orange County. The course is open from Monday to Sunday between 6:30 am and 9 pm.
Address: 32120 San Juan Creek Rd, San Juan Capistrano, CA 92675, United States
6. Experience Art at Mission Basilica San Juan Capistrano
Built in 1986 over the ruins of the Great Stone Church, which stood there long before, the Mission Basilica San Juan Capistrano church is one of the interesting things to do in San Juan Capistrano, CA.
The church is a national shrine and a stunning place to explore. You will observe gorgeous motifs on the interior wall, and they took artist Dr. Neuerberg 18 months to complete.
If you are an art lover, you will be amazed at the religious and historic artifacts and paintings positioned at the basilica, many of which were assembled by the padres who dwelled there in the 18th century.
There is also a room devoted to several portraits, Native American art, and an astounding series of religious-like chalices, tabernacles, and vestments.
Address: 31520 Camino Capistrano, San Juan Capistrano, CA 92675
7. Participate in local festivals
One of the best ways to learn and acclimatize with the culture and history of a community is by participating in the local festivities.
San Juan Capistrano is not lacking in these at all, so visitors have a swell opportunity to interact with the locals and have fun.
The Annual Swallows Day Parade is the most popular celebration in San Juan Capistrano. This event celebrates the return of the swallows to the area. These migratory birds spend spring and summer in the region.
Another is the Summer night concerts from June to September at the Historic Town Center Park. It is usually beautiful.
Throughout the year, the Mission and Historical Society has mapped out ongoing events for the pleasure of residents and visitors of San Juan Capistrano.
8. See nature at Ronald W. Caspers Wilderness Park
Ronald W. Caspers Wilderness Park is next on our list of top things to do in San Juan Capistrano is Ronald W. Caspers Wilderness Park. This park is amazing as it comprises an 8,000-acre wilderness preserve nuzzled among the Santa Ana Mountains, sandstone canyons, and river terraces.
All through the year, members of the public can visit as it is perfect for exploring the stunning flora and fauna of the area, such as coastal live oak trees and California sycamore.
Several events and programs are held here including "Critter Talks" with local naturalists and ranger-guided nature walks.
You can spend hours hiking the trails through pastures filled with running streams and wildflowers. You can as well spend the night camping on their designated grounds as they are well-fitted with all the facilities you'd need for an awesome night under the stars.
Address: 33401 Ortega Hwy, San Juan Capistrano, CA 92675
California presents breathtaking attractions and activities, explore some of its cool cities, here are guides on things to do In Indio and La Quinta.
9. The Cottage Gallery And Nest
While taking a stroll through the historic district, you cant miss the Cottage Gallery. It makes our list of the best things to do in San Juan Capistrano.
Located in a light greenhouse built in 1890, the Cottage Gallery houses art created by Orange County artists, including ceramics, paintings, and sculptures.
It is not only a place where you can shop, it is also a place to get inspired. The gallery also has a public parking space on Paseo Adelanto, just a block west of Los Rios Street.
Just nearby is Nest, an amazing stop if you are searching for the best gift for a birthday or special occasion.
The Cottage Gallery is open Monday through Friday (11 am to 4 pm) and Saturday/Sunday (10 pm to 4 pm).
Address: 31701 Los Rios Street, San Juan Capistrano, CA.
10. Check O'Neill Museum
Formerly known as the Garcia/ Pryor Residence, the O'Neill Museum is one of the first-ever frame houses built in San Juan Capistrano.
It was constructed by Jose Garcia, a saloon owner, for his wife between 1870 and 1880.
The property has some haunted stories attached as Garcia was later murdered; future owner Albert Pryor also died some years later from a stroke, although many people have claims of seeing his 'ghost' on the porch he was so fond of.
Now, visitors can learn about the history, listen to other scary stories, and dig into the museum.
The museum is also the headquarters of the San Juan Capistrano Historical Society, and you will see several books, documents, photographs, records, and much more while you're there.
Address: 31831 Los Rios St, San Juan Capistrano, CA 92675
11. Ortega's Capistrano Trading Post
Located across the street from the historic Mission San Juan Capistrano, Ortega's Capistrano Trading Post is best known for its expansive offering of Native American Jewelry & Turquoise.
Here, you will find an extensive range of California and Mission San Juan Capistrano collectibles and a great collection of Native American jewelry.
The Trading Post also has San Juan Capistrano's biggest selection of San Juan Capistrano souvenirs, artwork, religious goods, artwork, crafts from California Mission Collectibles, and local San Juan Capistrano artists.
Opening hours are Monday through Friday: 11:00 am – 5:00 pm and Saturday & Sunday: 11:00 am – 5:30 pm.
So, if you want to go souvenir shopping, get down to Ortega's Capistrano Trading Post.
12. Los Rios Historic District
Situated across the Capistrano Depot and separated by the railroad tracks, the Los Rios Historic District is the oldest neighborhood in California.
There are more than forty homes here, including three foremost adobe structures where mission ranch workers and the builders of the mission were housed in the late 1700s.
You will come across structures, many of which are private residences, though some of them have been converted to businesses and are open for public access.
Walking through Los Rios alone would let you experience the quiet, calmer way of life that can only be felt there.
13. We Olive & Wine Bar
We Olive was born from a passion for locally sourced, delicious, healthy, artisan extra virgin olive oil! Upon noticing an increase in the demand for this kind of product, the first We Olive store was opened thanks to passion and knowledge.
This has created a place where chefs, local growers, and guests alike experience, learn about and buy their beloved California-made olive oil.
They sell Californian-made artisan wine, olive oils, and tapenades. If you want to purchase take-home gourmet food gifts, this should be your go-to place.
Another interesting feature is the combination of an educational "Olive Oil Experience" and a tasting-oriented wine bar, making We Olive a unique destination for foodies everywhere.
14. Have fun at Los Rios Park
Los Rios Park is a beautiful play area for younger children and is one of the main attractions in the Los Rios Historic District.
The park is located in an area boasting incredibly rich history and is encompassed by stunning homes and the area's train station.
The park's wood and iron accents would make the kids run wild with the feel as though they are in the Old West.
Amongst the many fun aspects of the park are huge boulders to climb, swings, and saddled 'horses' to ride.
Other amenities and facilities include drinking fountains, a designated picnic area, a restroom, a small parking lot, and shaded benches.
15. Eat fine at Sundried Tomato American Bistros & Catering
Sundried Tomato American Bistros & Catering is a gem of a restaurant that opened in 2003. It proudly makes our list of top things to do in San Juan Capistrano.
The restaurant is located in the historic downtown San Juan Capistrano. It has a charming early-Spanish atmosphere, partly because it's nuzzled into a jaw-dropping vintage Valenzuela adobe that goes as far back as the 1800s.
The restaurant is a fun and exciting place to have a meal. If you want to celebrate Happy Hour throughout the week, it is class and offers an unmatched weekend brunch capped with bottomless mimosas.
Their menu has items that you should not miss, including Bacon-Wrapped Fresh Jumbo Scallops, the Sesame-Crusted Fresh Ahi Tuna, the Blue Corn Duck Taquitos, and RQ's Lamb Cheeseburger.
Address: 31781 Camino Capistrano, San Juan Capistrano, CA 92675.
Are you considering exploring California, here is a guide on places to visit in Crescent City, places to visit in Avila Beach, and places to visit in Glendale for a fun vacation
16. Experience Capistrano Depot
Adding to our list of fun things to do in San Juan Capistrano is Capistrano Depot.
Established in 1984, the depot is a unique building that still stands today with gorgeous features such as a 40-foot-high dome, wonderful arches, a dainty old-time ticket office, a quaint, old-fashioned fireplace, and a mission bell.
It is an incredible art gallery and a wonderful place to immerse yourself in local, historic pieces that you can't see anywhere else.
You can take a ride on the trains to tour the neighborhood (kids often love this) or check Trevors at the Tracks, a restaurant situated within the depot which renders excellent services and cuisine in a historical setting.
While you are around, don't miss seeing the gorgeous Capistrano Depot, as it is one of the most iconic and outstanding features of San Juan Capistrano.
Address: 26701 Verdugo Street, San Juan Capistrano, CA 92675
17. Enjoy Italian delight at Ciao Pasta
Since opening in 1995, Ciao Pasta has been serving both the residents and visitors of San Juan Capistrano with the original flavors of Southern Italy's Puglia Region.
The restaurant emits an ambiance perfect for a friendly dinner with family and friends or even a romantic night out.
Here, you will find everything from dainty artisanal pasta to more local dishes with a twist of innovation. Popular choices from their menu include pizza made with homemade dough, homemade lasagna, and ravioli stuffed with portobello mushrooms.
Ciao Pasta also hosts many events throughout the year. For instance, is the '4-Course True Vegetarian Italian Dinner' where people attend from all over.
Address: 31661 Camino Capistrano, San Juan Capistrano, CA 92675.
18. San Juan Capistrano must-visit: Montanez Adobe
The Montanez Adobe was constructed around 1794. It is one of forty adobes built to cater to Native American Mission neophytes near the Capistrano Mission.
Taking a walk around the captivating adobe will allow you to see many aspects which display why the elegant structure is listed on the National Register of Historic Places.
It used to be the home of early mission carpenter, Tomas Gutierrez, and his wife, village midwife, and spiritual leader, Dona Poloninia Montanez.
Montanez Adobe houses several artifacts, a lovely garden, and a tiny chapel making a must-visit when in San Juan Capistrano.
Address: 31745 Los Rios Street, San Juan Capistrano.
19. Have a treat at Cedar Creek Inn
Located in San Juan Capistrano is a beloved local restaurant that serves American classics in a family home-style setting called Cedar Creek Inn.
If you hunger for a solid meal and a variety of beer to pick from, this restaurant is the best place to visit.
They have awesome lunch and dinner menus, filled with favorites such as prime ribs, lemon rosemary chicken, pot roast, swordfish paired with a raspberry chipotle sauce, and rack of lamb.
Their dessert menu features delicious homemade concoctions like chocolate ganache, warm bread pudding, and cheesecake which is the perfect end to any meal.
Address: 26860 Ortega Highway, San Juan Capistrano, CA 92675.
20. Learn about Esslinger Building
The Esslinger Building is a structural flair of around 1930s modern architecture embraced by mid-century design.
The building is listed on the National Register of Historic Places and was the brainchild of Dr. Paul H. Esslinger, who, during his travel to Buenos Aires, wanted to design his future medical office in special styles, which he came across there.
The building was completed in 1939 and what was supposed to be a simple private practice turned out to be more like a 23-room emergency room.
If you are a lover of architecture, you will love exploring the beautiful building and everything it stands for.
Address: 31866 Camino Capistrano, San Juan Capistrano, CA 92675
21. Satisfy your cravings at L'Hirondelle Restaurant
San Juan Capistrano has a delightful restaurant scene, and one staple name on the list is the L'Hirondelle Restaurant has been around for over thirty years.
The restaurant was opened in 1982, it has won many awards, including "People's Choice: Best Entree".
Get over for a tasty lunch or dinner or halt for their well-loved Sunday Brunch. Over time, patrons cherish a mix of mimosas or their signature Spicy Bloody Mary with crowd favorites like the Beef Bourguignon, Salmon and Egg Scramble, Chicken Curry Salad, or a Kobe Burger capped with caramelized onions.
There is no complete meal without dessert, so be sure to try their specialty offerings like the Callebaut Belgian Chocolate Torte or their L'Hirondelle Special Ice Cream.
Address: 31631 Camino Capistrano, San Juan Capistrano, CA 92675
22. Explore Arley Leck House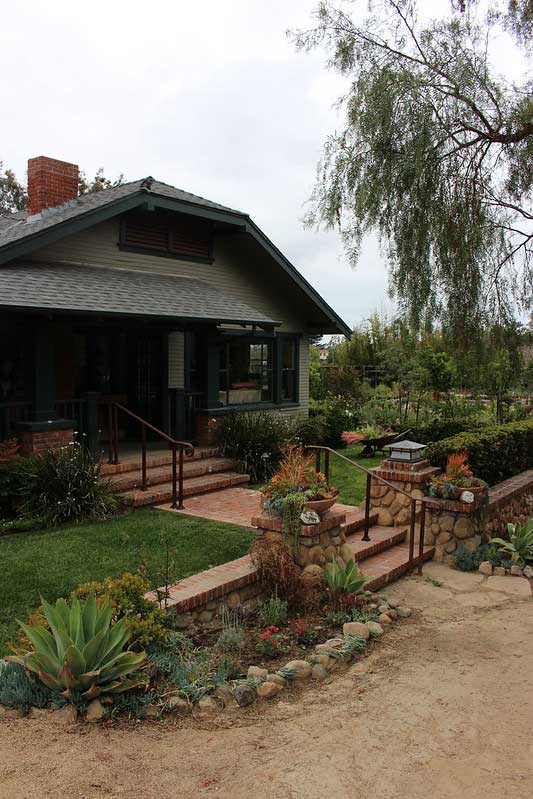 Existing as one of the most historic buildings of San Juan Capistrano, the Arley Leck House is a 1918 craftsman bungalow that displays the design and decor of architecture from the early 1900s elaborately.
You would meet historians there who are more than happy to lead you through the house and teach you about its history, how families lived their lives at that time, and even the kind of dress and clothing styles worn during that period.
Make sure you pay rapt attention to the intriguing details in the wood trim and the built-in cabinets, and many other aspects like an old piano with WWI-period sheet music and framed military posters.
Visiting Arley Leck House is one of the fun things to do in San Juan Capistrano, and should be on your bucket list.
Address: 31865 Los Rios Street, San Juan Capistrano, CA 92675
23. Ramos House Cafe
Do you want to go back to the old days? Have a meal at the Ramos House Cafe? It will leave you with an experience of wanting more.
Here, the wine is kept in the cellar, the herbs are grown in the garden, the ice cream is churned by hand outback, and the owners live right there in the house.
You can never guess what you are in for as the menu changes every day based on what is freshly available, but you can always count on the guarantee to be delicious.
Ramos House Cafe specializes in contemporary American cuisine but with much of a southern twist in their dealings. They're popular in the neighborhood for offering a hearty breakfast that will keep you energized for the rest of your day.
This answers what to do in San Juan Capistrano, CA for a good meal, do add to your bucket list of things to do in San Juan Capistrano.
Address: 31752 Los Rios Street, San Juan Capistrano, CA 92675.
Want more of California? do check out our list of things to do in Rancho Cucamonga, things to do in Calabasas, and things to do in San Mateo for a memorable vacation.
Plan your trip to San Juan Capistrano
San Juan Capistrano is one of the fun places to visit in California, as you are in for an exciting vacation experience.
The parks, the delightful restaurants, historical sites and structures, engaging museums, exciting galleries, local markets, petting zoo, and more promise delight.
Start making plans to visit San Juan Capistrano, feel free to pin this guide.
Have a fun trip!