In search of the best and most fun things to do in Millersburg, Ohio?
Millersburg is a small, peaceful village in Ohio and the county seat of Holmes County. It has a lovely history, boisterous agricultural heritage, and natural attractions.
The village had a population of 3,187 as of the 2020 census. This place is an entrance to the Amish Community of the state and has over 35,000 residents living in the community.
Enjoy the fantastic culture of the Amish community, go horseback riding on the slopes of their peaceful hills and enjoy a scenic trip on their country roads. This village is a lovely place to spend the weekend.
If you plan to explore Millersburg, Check out the top things to do in Millersburg, Ohio.
Things to Do in Millersburg, Ohio
1. Troyers Country Market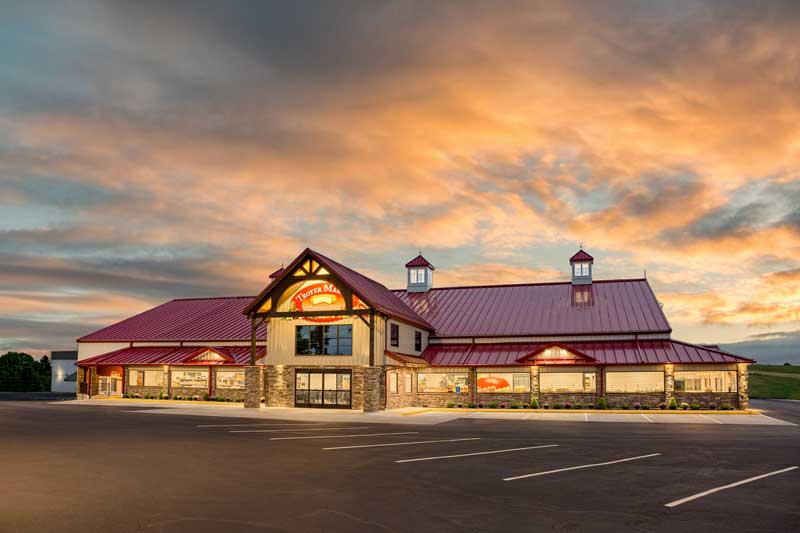 One of the best places to shop for your local grocery item is the Troyers Country Market.
Get yourself some Amish products like bread and butter pickles, peanut butter, salsas, beet pickles, and pie fillings. All these mentioned products have been the favorites of the residents since the market's inception in 2006.
Their locally produced ice cream is available in more than 16 flavors. There are other icy products to try on a crispy cone, ranging from chocolate peanut butter to butter pecan.
Food items such as pastries, meat, cheese, and sandwiches are the main food items in the market. Every product sold here is very fresh.
Address: 5201 Co Rd 77, Millersburg, OH 44654, United States
2. Holmes County Trail
If you love biking, visiting the Holmes County Trail is a must-do in Millersburg.
This course covers about 15.8 miles, beginning from Fredericksburg to Killbuck, but a significant part of this Trail is in Millersburg.
The most popular stop on the Trail is the Hipp Station, an old train station converted into a picturesque park that features foods and drinks to help you rejuvenate yourself as you go on your trip.
The Trail does not experience much traffic and is adequately paved and maintained with lush forested areas for your nature adventure and solo trips.
The Amish people use half of the road to carry out their activities, including riding horse-drawn vehicles to get to their farms and buggies.
The Amish community contributes chiefly to this Trail's development, transforming the local route into a gorgeous recreational area that splits through the state's central region.
Address: Millersburg, OH, USA
3. Hershberger's Farm and Bakery
Hershberger's Farm and Bakery is a massive attraction in Millersburg and a favorite spot that provides visitors with produce grown from the Amish Community.
Here visitors can see a produce market, store, petting zoo, and bakery that the people of Amish run. You can bring your kids along during springtime, as there will be goats, baby pigs, chicks, goats, and numerous farm animals for them to see.
Summer is the perfect time to visit, especially for people who want to buy fresh fruits and vegetables from the area's arid soil. During the fall season, Visitors can enjoy changing foliage, wagon rides, and the Fall Customer Appreciation Late Nights.
The ideal time to visit for a hot beverage and delicious baked products is during the winter. You can also shop for canned and preserved food items.
Address: 5452 OH-557, Millersburg, OH 44654, United States
4. Millersburg Brewing Company
If you love good liquor, one of the best things to do in Millersburg, Ohio, is to visit the Millersburg Brewing Company. It's always nice to taste a refreshing chill mug of beer after a long adventure.
This Brewery encompasses all you need to have a great beer tasting experience. The Millersburg Brewing Company produces its liquor using the best ingredients, including malt and hops. The Brewery is widely known for producing excellent beer.
For this reason, the brewery company is endearing to residents and tourists alike. You can opt for their specialty drinks, fruit nectars, barrel-aged ale, and others.
You can also try out their tasty dishes, which come with uniquely made beer. You can also bring home a pack of their drink for a special occasion at home.
Address: 60 E Jackson St, Millersburg, OH 44654, United States
5. Charged Ride
If you love biking, this destination should be a must-stop for you as they offer rentals of electric bikes.
They started as a bike shop known as the E-bikes of Holmes County, where they provided rental and sales services of electric bikes to locals and tourists. Currently, the shop is known as a famous dealer of E-bikes in the Amish Community and its neighboring areas.
This initiative was brought to reality because of the influx of tourists to this area. In 2020, the E-bike program was kicked off to help visitors have a fun-filled and easy way to tour the Amish community.
The establishment also has an excellent staff to help you enjoy your ride. To give their customers a pleasurable experience, they have two locations in Holmes County. They have their Main store in Mt. Hope and the other in Holmesville.
Address: 306 South Millersburg St, Holmesville, OH 44633, United States
6. Brightman House
Millersburg is filled with so much history and features a building with a long line of history from past centuries.
One of the many destinations to look out for during your visit, with a great history, is this beautiful Victorian-style home, which has existed since 1902. Holmes County Historical Society currently manages the attraction.
The House constitutes this peaceful and natural vibe that makes it look like people are inside. You can tour the 28 room-mansion and halls, which makes up for a fascinating experience, as it comprises numerous collections that display its history.
The Brightman House accommodates the famous Victorian House Museum. The Museum features beautiful furnishings and Victorian artifacts, including accessories and ornamentals.
The Museum gives you a beautiful and exciting glimpse into the past life of this village. The House was added to the National Register of Historic Places in 1974.
To view the artifacts, visit during the holidays and join the Victorian tea party hosted here. Due to the House's popularity, it has been used for various film productions, including a TV show known as the Hollywood film Love Finds You and Victoria America.
Address: 484 Wooster Rd, Millersburg, OH 44654-1150, United States
7. Holmes County Open Air Art Museum
If you are an art lover, one of the best things to do in Millersburg, Ohio, is to visit the Holmes County Open Air Art Museum.
The Museum is located in The Inn At Honey Run. It features art installations that can be likened to an alien universe and Alice in Wonderland movie.
The artworks were made by sound and talented artists from different parts of the state, which yielded excellent paintings.
At one point, you will see woven branches that seem like fairy portals and geometric sculptures that look like objects from some modern culture. Most of the works to find here are perfect to see at night, as lights are fixed to these artworks to create magic.
Address: 6920 Co Rd 203, Millersburg, OH 44654, United States
8. Deer Run Park
One of the fun things to do in Millersburg, Ohio, is to check out Deer Run Park. It is an ideal place to have some family fun time.
This beautiful destination features beautiful greenery surrounded by hills and forests in whichever direction you look; it is a secluded spot in Millersburg.
It is an excellent choice for picnicking with family and friends. Visitors can play disc golf at the properly built course beside the Park.
You can also check out the skate park, close to the Park's entrance, providing a one-of-a-kind skating experience for both avid and professional skaters. This place is furry-friendly as well.
Address: Millersburg, OH 44654, USA
Considering an Ohio road trip, check out our guides on things to do in Dublin , things to do in Athens, and things to do in Mason for a memorable trip.
9. Yoder's Amish Home
The Amish community is special because they traditionally choose to live and embrace modernity. Still, the people's way of life has helped them overcome the views of the Internet and social media.
Visiting this Ohio community will give you a deep insight into these people's peaceful and serene culture.
An ideal place to sit and converse with Amish people is the Yoder Amish Home. Interestingly this home has an expansive barn and blooming farms where people of the community cultivated the grounds for years.
You can get involved in a tour, which includes the buggy ride, to view several buildings and the people of this community as they work. You will be able to learn their history and culture while enjoying the countryside views and livestock.
Address: 6050 OH-515, Millersburg, OH 44654, United States
10. Starlight Antiques
If you don't know what to do in Millersburg, Ohio, but want something unique, visit the Starlight Antiques for fantastic antiques to bring back home as souvenirs from your adventure.
The Starlight Antiques is housed in an iconic building built in the 1900s. The store has lovely items such as oddities, beautiful trinkets, jewelry, and others.
It also features home decor, farm, and Amish-themed ornaments, old furniture, and jewelry. These items are well arranged to help you find your desired piece quickly.
Visitors can also purchase prints of Billy Jacobs. This famous Ohio folk artist made scenes of homesteads, the countryside of the state, and farms using watercolor.
Address: 66 W Jackson St, Millersburg, OH 44654, United States
11. New Towne Gallery
The New Towne Gallery is housed in a gorgeous 1873 building in the center of Millersburg. The Gallery displays indigenous art and works of local talents.
It comprises many subjects relating to Nature, Landscapes, Early America, and Current Life. It also features a changing collection of unique, locally crafted pieces.
Soak yourself in the great collection of local artwork. Make sure to get that particular piece to give your living space a new look.
It is also a venue for showcasing various modern works of Ohio artists involved in contemporary art.
Address: 55 W Jackson St, Millersburg, OH 44654, United States
12. Millersburg Glass Museum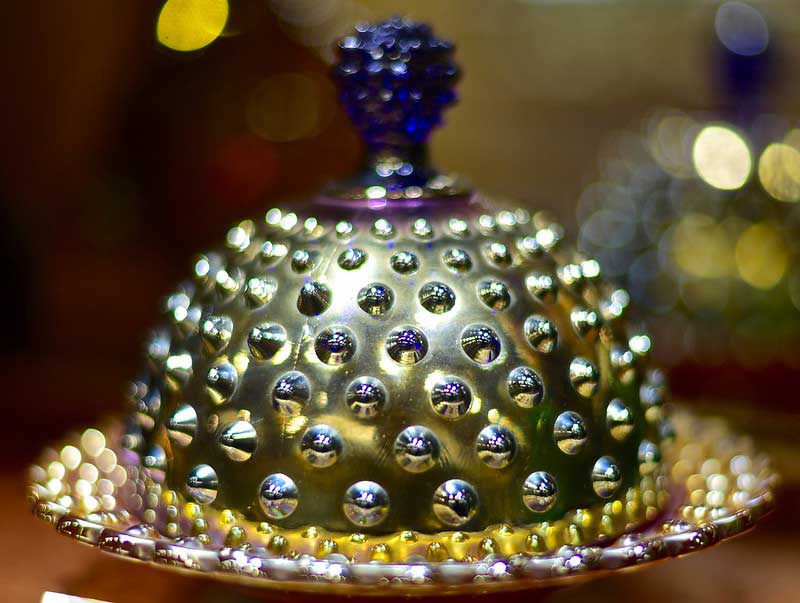 The Millers Glass Museum, opposite the Victorian House Museum, is an exciting destination for everyone to see and should be on your list of top things to do in Millersburg, Ohio.
During the 1910s, the Crystal Glass and Millersburg Carnival made plenty of every day and ornamental products. These items are showcased on protective glasses under LED lights at the Glass Museum.
Despite being just a single space, this facility has all the catchy stuff to keep you longer than expected. You will undoubtedly be attracted to what is showcased, so explore the intricate details of the glassware and its complex patterns, colorings, and metallic stains, which come together to make a beautiful piece.
Some of the glassware to find here shines yellow-green due to the radium used during the manufacturing.
Address: 10 S Clay St, Millersburg, OH 44654, United States
13. Turkey Hollow Campground
If you want to immerse yourself in nature, an alternative to lodging is camping outside.
The Turkey Hollow Campground is a perfect spot for visitors who need more of a secluded place to relax and take their minds off activities from home or the workplace.
This destination is nestled at the base of the Appalachian Mountains. This area is secluded from the busy and noisy city life, making it a perfect getaway spot from modernity.
The grounds are in their ancient and pristine state, featuring several forms of civilization apart from the docks perched on the ponds of the campground.
RVs are not permitted as they produce noise and need electricity to run, which can spoil the tranquil state of this place.
Address: 7836 Township Rd 102, Millersburg, OH 44654, United States
14. Fire Ridge Golf Course
The Fire Ridge Golf Course is an open 18-hole golf course on an equal level with many luxurious private clubs. It has a welcoming staff with adequately maintained facilities.
Golfing here is exceptional, including the beautiful grounds, the well-maintained fairways, tree-lined borders, and the sand and water hazards; all these come together to give you a splendid golfing experience.
Also, please do not get carried away by the beauty of this place as it could pose as being quite challenging, especially for golfers who are unsure of their abilities, as the course has some rolling hills that produce dramatic elevation changes.
Nevertheless, here is an excellent spot to golf for avid, novices, and expert players. The destination is revered as the course with the best greens in the state.
Address: 1001 E Jackson St, Millersburg, OH 44654, United States
15. Mohican-Memorial State Forest
Less than an hour's drive west of Millersburg, you will be able to find this beautiful and scenic place.
The Mohican-Memorial State Forest was once a place of abode of vast communities in Mohican.
Currently, the Mohican-Memorial State Forest is the third most visited destination in the state; as a result, it exhibits magnificent beauty and seclusion from noisy urban areas.
You can check out the verdant valley, rough trails that meander through the mountains, big swaths of thick forests, and the rivers and brooks.
The attraction also has numerous local plant species that you can spot. These plants thrive due to the splendid forest management, including experts and researchers that cater to the Park.
Address: 975 O D N R Mohican Rd 51, Perrysville, OH 44864, United States
Also, check out our list of things to do in Youngstown, things to do in Logan, and cool things to do in Chillicothe, if you are planning an Ohio road trip.
16. Heini's Cheese Chalet
One of the best places to visit in Millersburg, Ohio, is Heini's Cheese Chalet, one of the region's top cheese facilities.
What distinguishes this cheese company from others is the vast selection of dairy products it produces. This factory has existed since 1935, way older than the Guggisberg Cheese Factory.
The factory produces 12 tons of cheese daily and has 25 kinds ranging from tangy Swiss cheese wheels to classic Cheddar blocks. One of their favorite products you want to try is cheese fudge which is produced with distinctive flavors such as rainbow sherbet, seasonal pumpkin pie, and root beer.
Do well to taste their jellies and meats, which are as delicious and top-notch as the cheeses. It would help if you got involved in the tours which showcase the process of making cheese and see how the products are locally manufactured.
Address: 7836 Township Rd 102, Millersburg, OH 44654, United States
17. Olde World Bakery and Bistro
The Olde World Bakery and Bistro is a food company built by a team of intelligent food bakers and designers. They are dedicated to showcasing delectable creations by infusing the best ingredients available.
Their foods are freshly baked with the best recipes and ingredients to give you that great and delicious taste. The destination also fosters relationship building in the community.
Their customers are their primary priority, and everything to taste here leaves you wanting to come for more. Their amiable staff discharges their duties swiftly.
Address: 73 W Jackson St, Millersburg, OH 44654, United States
18. Holmes County Courthouse
Another famous site in Millersburg to look out for is the Holmes County Courthouse, which has a history traced back to the 19th century. The 0.8 hectares Courthouse is a three-striped building owned by the government.
The Courthouse building has a sculptural feel, as it is built with plastered ceilings and Stucco-clad columns. The middle tower of the Courthouse is the abode for a clock standing outside the building.
Close to the Courthouse is a parking space used for buggies and horses. In 1974, the Courthouse was added to the National Register of Historic Places.
Address: 1 E Jackson St, Millersburg, OH 44654, United States
19. Guggisberg Cheese Factory
A visit to Millersburg is never complete without visiting the cheese-making factory in Millersburg, known as the Guggisberg Cheese Factory. It is a popular facility in this area, producing delightful cheese for your consumption.
This factory is the abode for Original Baby Swiss, a top-notch and internationally known factory making the best dairy products.
Alfred Guggisberg, a swiss cheesemaker, established the factory to aid the Amish community in selling their milk products.
His ideas and techniques were embraced by the Amish community and have been their one secret in ensuring the production of quality and unique cheeses. To this moment, the factory is acknowledged with multiple awards.
When you visit, you can taste their moderate and Sweet Baby Swiss and other cheese products, including their Guggisberg cheese and Cheddar.
Address: 5060 OH-557, Millersburg, OH 44654, United States
20. Farmhouse Frocks
Farmrock is in the business of making women stand out in beauty due to their flowing farmhouse style. Their top-notch designs include shabby chic, prairie style, urban farmhouse, and boho.
The Farmhouse Frocks is spearheaded by a team of Amish seamstresses who produce top-notch handmade clothing for everyone, no matter their size.
If you are searching for summer staple cloth, you can visit them to check their stuff out. Visitors can see the Lucy Romper, which showcases soft, two-tie knot straps and large fabrics, and Tee-shirt Romper, which provides a unique feel and looks.
Address: 45 W Jackson St, Millersburg, OH 44654, United States
21. Spare Time Lanes Bowling Alley
Next on our list of fun things to do in Millersburg, Ohio, is to go bowling at the Lanes Bowling Alley. This destination is ideal for spending time and having fun with loved ones and friends.
Their Spare Time Concessions is open to the general public and offers rental services for shoes for those with the wrong type.
The bowling alley is famous for encouraging beginners to bowl and usually organizes standard leagues to accommodate everyone.
Address: 39 Logsdon Ave, Millersburg, OH 44654, United States
22. Amish Country Riding Stables
One of the best places to visit in Millersburg, Ohio, is the fascinating Country Riding Stables. Visitors can have a ride on the guided horseback trail to some of the gorgeous areas in Holmes County.
Get a new vibe of this place that you will not forget in a hurry. The number of persons per ride is 2 to 5; smaller group tours are preferred for a more personalized experience. It follows a 225-pound weight limit, and the starting age to ride is seven years.
You will enjoy this great activity regardless of your skill level in horseback riding. You can also bring along with you a camera to take lovely photos as you go riding.
The Amish Country Riding Stables is a perfect place if you love horseback riding or are an avid rider.
Address: Millersburg, OH, USA
23. Killbuck Marsh Wildlife Area
The Killbuck Marsh Wildlife Area, a 5,703-acre preserve, is just a few minutes' drive from Millersburg, Ohio.
This Killbuck Marsh Wildlife Area has the most extensive swamp and marshland habitat in the state of Lake Erie.
Waterfowl hunting is a common activity here, especially in flooded sites at specific times of the year. You can go hunting for mallards, Canadian geese, and wood ducks.
Visitors can also go fishing and hiking on the only walking trail that meanders through the valleys and forests. Enjoy exploring wildlife with local flora spotting in this preserve.
Address: 1691 Centerville Rd, Shreve, OH 44676, United States
24. Bag Sports Pub
If you're wondering what to do in Millersburg, Ohio, visit this energetic sports bar. The Bag Sports Pub has everything you could ever imagine to make your experience splendid and leave you coming for more.
The bar's interior design is wooden, making it a little rustic and beautiful. Aside from the drinks served in the Pub, patrons can also enjoy sandwiches, burgers, juicy steak, wings, and other tasty food items.
Their staff is very welcoming and friendly towards discharging their duties. There are many liquors for everyone. The Sports Pub is constantly changing its routine, expanding and adapting to new forms to give its customers the best treatment and service.
Address: 88 E Jackson St # A, Millersburg, OH 44654, United States
Check out more cities in Ohio, here is a guide on things to do in Cleveland, things to do in Columbus, and fun things to do Akron in for a fun time
Plan Your Trip to Millersburg
If you want to enjoy rural life in its purest form, this beautiful Millersburg village is the right place to be. Everything to find here is in a simplistic and natural state; therefore, it's a great place to be if you want to immerse yourself in nature.
Start planning your trip to Millersburg.