Kailua is a residential neighborhood in the Koʻolaupoko District in the state of Hawaii in Honolulu County, United States.
The city's population rose from 38,000 in 2017 to 40,514 during the 2020 census.
If you want unique boutiques, restaurants, galleries, pubs, markets, parks, nature preserves, and more in Hawaii State, visit Kailua City.
Kailua is an exceptional vacation destination that has been visited by many distinguished persons and celebrities, including Jessica Simpson, president Barack Obama, Rihanna, Beyonce, and Jay-Z.
You should visit Kailua Beach Park, KailuaTown Farmers Market, Kalapawai Market, Grace In Growlers, Royal Hawaiian Golf Club, Lanikai Beach, Kailua Beach Adventures, and more.
Here is a list of the top fun things to do in Kailua, Hawaii.
Things to Do in Kailua, Hawaii
1. Lanikai Pillbox Hike
Lanikai Pillbox Hike commonly referred to as the Kawai Ridge trail, is located at the back of Lanikai Beach.
It offers visitors a gorgeous but short hike through Kaiwa Ridge, following the coastline for precisely 1.8 miles.
It takes at least two hours to finish this trail, which has a rough climb before attaining the top of the ridge, even though the trail is relatively brief.
Lanikai Pillbox Hike features two ancient pill boxes launched during World War II; the second pill box is the spot where walkers get to return.
Just like the other unpaved trails within Kailua, do well to wear the proper footwear. It is advisable not to visit on a day with tremendous rain.
One thing that stands out in Lanikai Pillbox Hike is the beautiful scenery surrounded by a large part of windward Oahu and Lanikai and Kailua beaches.
Address: 265 Kaelepulu Dr, Kailua, HI 96734, United States
2. Lanikai Beach
Many individuals proclaim Lanikai Beach as the best Beach in Hawaii, and you will understand why the moment you visit.
The Beach is characterized by soft sand, sparkling waters, lush green areas encompassing it, and captivating vistas.
This public Beach is easily accessible through alley paths from the parking lots with a neighborhood on its shoreline.
Lanikai Beach is an excellent location for kayak trips which leads to the northern part of the various islets.
Address: Kailua, HI 96734, United States
3. Kailua Beach Adventures
If you're planning an adventure with your friends and family, visiting Kailua Beach Adventures is one of the fun things to do in Kailua, Hawaii.
Kailua Beach Adventures is one of the many tour companies in Kailua that offers numerous water-related sports.
On a cool day, why not take a canoe or kayak and paddle around Kailua Bay, which is considered a safe landing for canoes?
You can either embark on a self-guided tour or join a group tour through which you learn a lot about the region's local history, wildlife, and culture.
Look out for some water animals like sea turtles and Monk seals as you navigate through the crystal clear waters.
There are other watersports companies like Twogood Kayaks Hawaii, Island Canoe, and Kailua Ocean Adventures.
Address: Kailua, HI 96734, United States
4. Royal Hawaiian Golf Club
Royal Hawaiian Golf Club is the most outstanding golf course in the region.
Royal Hawaiian Golf Club was founded in 1993 and was the first ever golf course designed by Perry and Peter Dye.
This beautiful golf course, with gorgeous views, was recently redesigned by Greg Norman, a golf hall-of-Famer.
This par-72 course is excellent for both beginners and professionals, offering every individual a fantastic experience.
Royal Hawaiian Golf Club features a 45,000-square-foot clubhouse where players can enjoy a wide variety of meals and drinks with bathroom and locker facilities.
The stunning lush green is a great choice for different outdoor events, including weddings. Their indoor event spaces can comfortably contain groups of various sizes from fifty to two hundred persons.
The golf course also holds tournaments that feature about one hundred and forty-four golfers with the provision of merchandise to assist in organizing the game with custom logos.
Address: 770 Auloa Road Kailua, HI 96734 United States
5. Lōkahi Kailua Market
Whenever you want to prepare a delicious family dinner, stopping by Lōkahi Kailua Market is undoubtedly one of the top things to do in Kailua, Hawaii.
Michelle founded Lōkahi Kailua Market in a quest to provide a place where people can develop their spirits, minds, and bodies.
Lōkahi Kailua Market is located in the middle of Kailua as a unique farmers market, open from 9 am to 1 pm on Sundays.
The Market was established as a place where people set aside their disparities and come together to witness other people's talents or skills.
The Market has food vendors, health & wellness devotees, farmers, and many more. The Market is open for free and is a pet-friendly location.
Address: 340 Uluniu St, Kailua, HI 96734, United States
6. Ulupō Heiau State Historic Site
Ulupō Heiau State Historic Site is an interesting and significant section of history located close to downtown Kailua.
The Site takes you back to the 15th century when the city was the power base of the whole island due to the irrigated fields for production, safe landings for canoes, and a plethora of pond fish
, confirming the Site's significance.
Ulupō Heiau State Historic Site features an area of about 55 meters by 42 meters.
Ulupō Heiau State Historic Site required a large amount of work during its construction as an enormous platform with stone sourced from Kualoa.
In 1972, Ulupō Heiau State Historic Site was listed on the National Register of Historic Places, and in 1954, it was changed into a territorial park.
It was somewhat renovated in the 1960s, and in 1962 it was inscribed by the State Commission on Historical Sites with a bronze plaque.
Address: Kailua, HI 96734, United States
7. Kawai Nui Marsh Trail
Kawai Nui Marsh Trail, which translates to "water" (Kawai) and "big (nui), is home to a good number of conserved wetlands which extend through the path.
This property, encompassing 830 acres, is usually peaceful and calm, which is why it is popular among bicyclists, joggers, and walkers.
You will find several migratory and native waterbirds such as moorhen, duck, coot, and Hawaiian stilt.
Kawai Nui Marsh Trail is also home to numerous fish and other water animals, including rare species.
You can visit Kawai Nui Marsh Trail and enjoy the region's peacefulness and the rhythmic song of birds.
Address: Kailua, HI 96734, United States
8. Nori Kohana Massage Therapy/academy
Nori Kohana Massage Therapy/academy is the best place for anyone who has nurtured the dreams of becoming a certified Massage therapist.
The Company was established by Noriko, guaranteeing you a whole new experience by setting the guidelines for becoming a certified therapist.
This reputable brand has been known for over fourteen years for offering quality services for a pocket-friendly fee.
Nori Kohana Massage Therapy/academy makes available all the essential materials needed, including cushions, massage tables, water & tea, pillows, chairs, towel warmers, and more.
For the two-level apprentices, lots of time and action are put into advertising and marketing their efforts at no cost.
They help you realize that therapy skills cannot be lost and only requires passion and your touch; everything will fall in place.
Address: 1051 Keolu Dr, Kailua, HI 96734, United States
9. Olomana Three Peaks Trail
Olomana Three Peaks Trail is a cycle of three peaks extending 500 meters above the coastline as a vital part of Oahu's landscape located on the windward side.
This destination is the remains of the Ko'olau caldera, the western region which overlooks the horizon facing Honolulu.
Hiking through this trail requires effort and skill; although ropes are made available to help you navigate, you will have to get through a few distances without aid.
It is highly advised to avoid Olomana Three Peaks Trail on wet days. Olomana Three Peaks Trail stretches for 4.4 miles. You can stop at the first peak, where you enjoy an incredible 360° view.
This trail is the best place to hike, especially if you need a site with difficulty, technicality, and incredible views.
Address: 770 Auloa Rd, Kailua, Oahu, HI 96734-4648, United States
10. Manoa Chocolate Hawaii
For families with kids looking for fun things to do in Kailua, Hawaii, visit Manoa Chocolate Hawaii with your family for some treats.
Manoa Chocolate Hawaii obtains its cacao beans from producers worldwide, specifically local farmers.
The Company has been crafting delicious chocolate since 2010, becoming a popular choice for many families.
Their main aim is to prepare the most flavorful chocolate in the state and Worldwide. Manoa Chocolate Hawaii produces its chocolate on-site with nothing less than quality products.
Manoa Chocolate Hawaii makes some of its creations using coconut, whiskey, milk, ghost pepper, rum, banana, goat milk, and more.
Make sure you purchase their Cacao Nibs, chocolate tea, Rum Chocolate Macadamia Nuts, and Chocolate Macadamia Spread.
Address: 333 Uluniu St Suite 203, Kailua, HI 96734, United States
11. Lanikai Brewing Company
Lanikai Brewing Company is an outstanding craft beer company known for producing beers that shows the authentic tastes of Oahu Island and Hawaii.
The Brewing Company features local bacteria and yeast in the production processes and believes in having close relationships with local farmers.
They purchase passion fruit, pineapple, strawberries, guava, and yuzu directly from their partners ( local farmers).
Lanikai Brewing Company uses coconut, sugar cane, pikake, lemons, vanilla, taro, hibiscus, sage, poha, Surinam cherry, mango, and more.
They also use other products like jabuticaba, macadamia nuts, mandarins, milo, sea salt, jabong, orange, turmeric, lychee, white tea, etc.
The Company has a tasting room that is open every day of the week, offering a draft list that features varieties of seasonal brews.
Address: 167 Hamakua Dr, Kailua, HI 96734, United States
12. Kalama Beach Park
Kalama Beach Park is located adjacent to Kailua Beach and is one of the best places to visit in Kailua, Hawaii, with your loved ones.
This beautiful Beach, with silky smooth white sand, is not usually crowded, making it a perfect place to spend quality time.
The calmness and peacefulness of this Park, featuring several homes covered by a fence of beach cabbage, koas, and palms, will stand out for you.
Kalama Beach Park was rated as the country's number one beach in 1998 and 2011, which is why you should visit.
Windsurfers and kite-surfers frequently visit the Park in the bay; make sure you come on time, so you don't miss the sunset.
Address: 248 N Kalaheo Ave, Kailua, HI 96734, United States
13. Grace in Growlers
Grace in Growlers is Hawaii's first and only self-serve tasting room. It operates a serve-yourself pattern.
This craft beer destination solely focuses on finely brewed beers, cold brew coffee, mead, and kombucha.
They offer a rotational tap list which always features something new and fresh for everyone to enjoy.
Grace In Growlers allocates all the funds contained back to the community as a project set up to develop the town.
They offer drinks like Shake Yo Tail Feather, Pina Hoplada, the Abyss Coconut, Stoke the Kettle, Gulden Draak Classic, Baptist Wit / Blanche, African Amber, and more.
Address: 143 Hekili St, Kailua, HI 96734, United States
14. Maunawili Falls
Suppose you don't know what to do in Kailua, Hawaii; in that case, an excellent activity is to explore Maunawili Falls, found in the heart of Mount Olomana and Pali Cliffs.
Maunawili Falls is a family-friendly location that you can reach through a trail found in the Maunawili Valley.
Maunawili Falls is right at the bottom of a beautiful plateau from which the river falls into the dramatic swimming hole, and the brave at heart can decide to jump into the water standing on the rocks.
The trailhead can be easily spotted beside the Royal Hawaiian Golf Club in a residential region; from there, you can hike through the 2.8-mile trail.
Along the way, you will see rocks, herbs, and tree roots with irregular panoramas of the Windward side of Oahu's terrain.
You will also sight different species of trees and plants, including naupaka, mountain apple, lobelia, ohia, and more.
Address: Kailua, HI 96734, United States
15. ChadLou's Coffee Roasters
If you're a coffee lover, visit ChadLou's Coffee Roasters for a fine cup. This Company was established in 2010 and has continuously grown ever since.
ChadLou's Coffee Roasters is a privately owned local coffee enterprise focused on growing quality beans, brewing, and serving coffee.
They take pride in growing their coffee and source and process green coffee from local suppliers throughout the Hawaiian Islands.
This Company was created to provide a space for community people to meet and chat over good coffee and meals.
ChadLou's Coffee Roasters is also a strong member of the Specialty Coffee Association and the Hawaii Coffee Association.
Address: 45 Hoolai St Suite B, Kailua, HI 96734, United States
16. KailuaTown Farmers Market
For those who don't know what to do in Kailua, Hawaii, but want to integrate into the town, a visit to KailuaTown Farmers Market is a must-do.
KailuaTown Farmers Market is nestled in the downtown region of Kailua and is open on Sundays from 8 am-12 pm.
The Market offers the freshest and highest quality local farm produce, grass-fed meats, smoothies, artwork, clothing, and more.
You will also find monkeypod chopping boards, local fish, honey slushies, woodwork, brick-oven pizzas, bread, and more.
KailuaTown Farmers Market also offers live music entertainment, which patrons enjoy while exchanging goods and services.
While you shop, you can also ask locals questions about the community and how to prepare some of their local dishes.
Address: 1090 Keolu Dr, Kailua, HI 96734, United States
17. Ko'olau Distillery Tours
Ko'olau Distillery Tours is a locally owned and operated business in Kailua that produces the best-crafted spirits through pure artesian water.
The pure rainwater is filtered naturally using volcanic rock layers for many years before it reaches the point when Ko'olau Distillery utilizes it to produce spirits.
The distillery was founded in 2018 by committed individuals who want to serve the community and the country.
Address: 905 Kapaa Quarry Pl Building 50 Unit 14, Kailua, HI 96734, United States
18. Kailua Farmers' Market
Kailua Farmers' Market is the third of the three markets in Kailua; it doesn't matter if you want to shop; this Market ought to be on your Kailua to-do list.
This Market is an excellent choice for fresh and seasonal vegetables and fruits, including bananas, bitter melon, Asian greens, papaya, breadfruit, Manoa lettuce, and more.
You can visit some local vendors offering a wide variety of authentic Oahu delicacies and native treats, including Vietnamese bites, poke, empanadas, noodles, and more.
Kailua Farmers' Market offers you an opportunity to interact with the residents and learn more about the town's culture.
Address: 340 Uluniu St., Kailua, HI 96734. United States
19. Kailua Beach Park
Add a visit to Kailua Beach Park to your itinerary of the best things to do in Kailua, Hawaii. The Park is found not too far from Lanikai Beach.
Kailua Beach Park features all the necessary facilities as a public beach, although Lanikai Beach is considered higher.
White silk sands and glimmering waters are lined by green barriers of soaring coconut palms and ironwood trees.
The waves and breeze of the Beach attract kite-surfers and windsurfers annually, just like other beaches on the windward coast of Oahu.
The southern end of Kailua Beach Park is an excellent point for bathing and is usually used by many families.
Address: 526 Kawailoa Rd, Kailua, HI 96734, United States
20. The Kailua Town Pub and Grill
Are you searching for a place to hang out and chill with your friends? One of the best places to visit in Kailua, Hawaii, is the Kailua Town Pub and Grill.
The Kailua Town Pub and Grill is located in the middle of Kailua, offering a contemporary-style pub with a laid-back ambiance.
They offer a large collection of craft beers with thirty beers on tap and seven rotational crafts with a menu featuring American fares.
The food menu offers several varieties of appetizers, entrees, and sandwiches, including fish & chips, burgers, and more.
Kailua Town Pub and Grill also offers pizzas to complement the drinks and television screens showing the latest sports games.
The Pub is open from Monday to Wednesday from 12 pm-9:30 pm, Thursday from 12 pm-10 pm, Friday & Saturday from 12 pm-11:30 pm, and Sunday from 7 am-9:30 pm.
What could be better than sitting comfortably in a vibrant environment sipping a delightful drink and sumptuous meals?
Address: 26 Hoolai St #1100, Kailua, HI 96734, United States
21. TikiMaster.com
TikiMaster.com is owned and operated by Jerome Coudrier as a unit of Kamakani Enterprises and an online wholesale and retail establishment.
The Company, which currently occupies a 15,000-square-foot facility, is concerned with Hawaiian art, including tikis from different parts of the Polynesian Islands.
Jerome, a native of Paris, founded it. He relocated about eighteen years ago to Kailua due to his love for watersports.
Jerome has cultivated his passion for tikis for about twenty-five years by scouting flea markets, garage sales, South seas, and outer islands to create a unique collection of tikis.
He supported his passion by working for different high technology computer companies before establishing TikiMaster.com, including Cybercom and Communications Pacific.
TikiMaster.com has become a popular website for more than six years featuring Kamakani Enterprises on practically twenty websites, and it c
Address: Box 2804, 905 Kalanianaʻole Hwy Bldg. 28, Kailua, HI 96734, United States
22. Kalapawai Market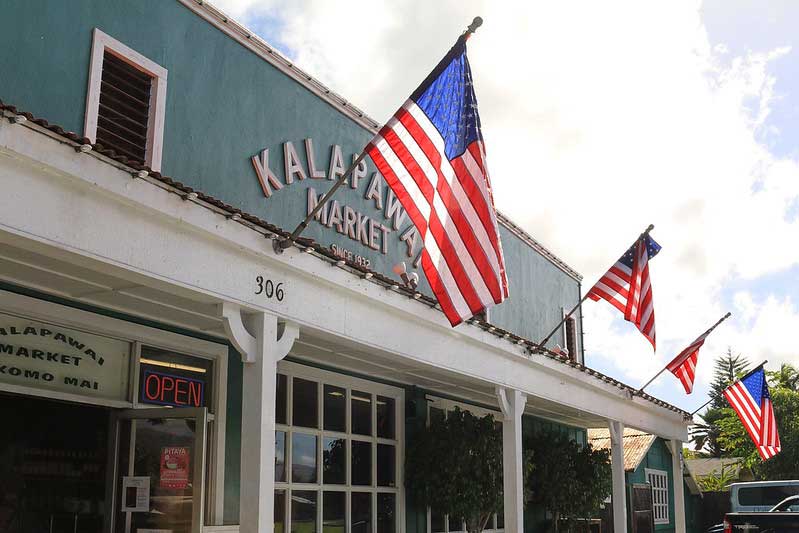 Kalapawai Market has been serving Kailua since 1932. Kalapawai is a family-owned and operated business that offers a laidback and welcoming atmosphere with comfortable seats.
Kalapawai Market offers an array of cafe fares, including wines, sandwiches, coffee, sirloin, and other delicious meals.
Their food is well crafted to showcase the local culture, including the American favorite, motivated by beach picnics, bbq, and homemade meals.
They also offer takeout services for house guava barbecue sauce & taro buns, roasted kalua pork, and so on.
The staff and owners showcase great acts of hospitality, treating everyone that walks in as family rather than strangers.
Address: 306 S Kalaheo Ave, Kailua, HI 96734, United States
23. BookEnds
If you're an academician or a research person, do well to include BookEnds on your bucket list of the best things to do in Kailua, Hawaii.
BookEnds is an independent bookstore in the city that features an enormous collection of recent and fairly used books.
This destination is one of the newly founded bookstores in the region and the only one-of-its-kind in Kailua town, with piles of books stocked up in the Hawaiian book category.
Most of the books in the Hawaiian section focus on folk tales, ancient Hawaiian history, Arts & Crafts, Pidgen English Joke Books, Colorful Island photography, and more.
BookEnds is owned by Pat Banning and has existed for more than twenty years. However, it has undergone some modifications, including expanding the book section for children.
Every book is arranged according to its category; you don't have to spend much time searching for a particular book.
Address: 600 Kailua Rd #126, Kailua, HI 96734, United States
Check out more cities in Hawaii. Here is a guide on things to do in Kaanapali and fun things to do Honolulu for a fun time.
Plan Your Trip to Kailua
Kailua is a coastal city recognized as a base for numerous outdoor activities, including hiking, swimming, fishing, sightseeing, biking, and more.
It doesn't matter if you're visiting alone or with your family and friends, there are many things for everyone.
In a city like Kailua, it is almost impossible to decide which attraction stands out more than the other; get ready to be blown away.
Whenever you want to visit Hawaii State, make sure you're heading directly to Kailua and be sure of having an amazing experience with your loved ones.