In search of the best and most fun things to do in Leesburg, FL?
Leesburg is a small city encompassing 24.4 square miles, in Lake County, Florida. The town, formed in 1875, is bordered by water bodies, Lake Griffin to the north, Lake Harris to the south, and Lake Denham to the west.
Due to this extensive water presence in the city, it is sometimes referred to as the Lakefront City. This city is a heaven for nature enthusiasts because of its beautiful scenery.
Leesburg has numerous recreational facilities worth exploring and unusual activities you can't afford to miss. The city is rich in historical buildings and natural lands, mainly used as parks or reserves.
This lovely city hosts the World's Largest 3-Day Motorcycle & Music Event, among other prominent events.
Are you planning to explore Leesburg? Here are the top things to do in Leesburg, FL
Things to Do in Leesburg, FL
1. Emeralda Marsh Conservation Area
This 7,089-acre conservation area was given by Florida's St. Johns River Water Management District. In 1974, Emeralda Marsh Conservation Area was made a National Natural Landmark by The National Park Service. Some parts of Lake and Marion Counties make up the Emeralda Marsh Conservation Area.
During the day, you can also check out the boat launch and observation deck, which possess sweeping marsh views. A unique characteristic of this Conservation Area is its seasonal wildlife drive which permits visitors to view animals, the marsh, and the district's restoration work right from their vehicle.
Different wildlife populations are found on the property especially wintering and migrating birds. This preserve is actively managed to restore the Lake Griffin and Ocklawaha River water resources. The wetlands and water bodies bordering the preserve have one of the highest numbers of alligators in central Florida.
Recreational activities visitors can enjoy here includes fishing, wildlife viewing, seasonal waterfowl hunting, hiking, canoeing, horseback riding, bicycling, and boating. An exploration of Esmeralda Marsh Conservation Area is one of the top things to do in Leesburg, Florida.
Address: Emeralda Island Rd, Leesburg, FL 34788, USA
2. Renew Day Spa
After visiting so many attractions, one might be stressed out. Renew Day Spa is here for you!.
The spa offers unique spa treatments which help alleviate stress and maintain a healthy lifestyle. The location has highly rated technicians who provide top-notch customer service to their clients in a relaxing environment.
Renew Day Spa 'Wet Room' should not be missed, as it offers a unique service to the Spa. You can also opt for a wrap or scrub to renew the mind and body. In addition to their services, you can purchase some of their natural products such as Farmhouse Fresh, HydraFacial, and Joico to enhance their services further.
A rejuvenated feeling awaits you after a stop in Renew Day Spa. A relieving experience in Renew Day Spa is one of the best things to do in Leesburg, Florida.
Address: 214 West Main Street, Leesburg, FL 34748, USA
3. Pat Thomas Stadium-Buddy Lowe Field
This destination is a baseball stadium that hosts different sporting events in Leesburg, Florida. The stadium, established in 1937, is the first lighted baseball stadium in Florida state. Buddy Lowe Field at Pat Thomas Stadium, situated on the shore of Lake Harris, currently an amateur baseball stadium, was initially a former minor league baseball stadium.
As of 1937, the stadium was known as The Ballpark at Venetian Gardens. Then, in 1972 the stadium was renamed Pat Thomas Stadium to commemorate the former Leesburg City Manager. Finally, in 2003, the stadium was renamed Buddy Lowe Field at Pat Thomas Stadium in honor of Buddy Lowe, the high school's baseball coach.
This historical stadium, with a 2,000 seating capacity, is the location for different major and minor league spring training camps. Tour around this unique stadium or catch a game during your visit to Leesburg, Florida.
Address: 240 Ball Park Road, Leesburg, FL 34748, USA
4. Two Old Hags Wine Shop
Old hags, situated in Historic Downtown Leesburg, is a treasure among locals. Visitors should not miss this location during their visit to Leesburg, Florida. The destination offers a wide selection of wines for all levels of wine fanatics
Two Old Hags Wine Shop offers excellent wines in their bar and live music every Friday night. These features make them a terrific drinking spot among locals and visitors. In addition, you can choose between outdoor and indoor seating.
The location is known for its friendly and competent staff who offer impressive services to their customers. Enjoy the varieties of wines sold at low prices in a foreign and exciting atmosphere.
Address: 410 W Main Street Leesburg, Fl 34748-5123, USA
5. Venetian Gardens Park
This natural attraction is one of the best family-friendly parks in Central Florida. Strolling through this incredible park is one of the best things to do in Leesburg, Florida. The Park, which is situated on the west shore of Lake Harris, encompasses an area of 100 acres.
The Park's name was gotten from Venice, Italy-looking canal and bridges in the attraction connecting different islands. The stunning Venetian Gardens Park has numerous features, including boat ramps, grills, picnic tables, pavilions, beach access, baseball and tennis facilities, etc.
Venetian Gardens Park is dog friendly, houses a cultural center, and allows access to their pool seasonally. There's also a gazebo in the lakefront park. The Park is a perfect getaway location for kids, adults, and pets. When creating your itinerary, don't hesitate to include it.
Address: 201 E Dixie Ave, Leesburg, FL 34748-5852, USA
6. Leesburg Heritage Museum
Leesburg has an interesting history, which can be discovered in Leesburg Heritage Museum.
The museum building was built in 1922 by the Leesburg Chamber of Commerce, making the building an artifact in itself. In 1976, Leesburg created an organization to staff the Leesburg Heritage Museum, and in 1990, the Museum was established.
The museum building formerly housed different businesses and organizations, such as the Leesburg Library and the Leesburg Library. Leesburg Heritage Museum showcases artifacts and memorabilia which explain Leesburg's heritage.
The artifacts originated right from when Citrus was king, the watermelon festival, and through the Leesburg Centennial in 1957. There's also an archive collection that gives a view of the town's history and its inhabitants. Exploring the city's history in
Address: 111 S 6th St, Leesburg, FL 34748, USA
7. Main Street Antiques
After visiting a new place, we need to get something native to the land to take back home as souvenirs for friends or ourselves to remember where we've been. Main Street Antiques in Leesburg, Florida, is the right place for that fabulous collection of antiques.
Main Street Antiques encompasses 9,000 square feet and is situated in downtown Leesburg. Browse through their alluring displayed booths for unique collections of vintage books, gifts, antique furniture, charming jewelry, orchids, among other collectibles.
The Mall also contains a working art studio and gallery for local artists. Marvel at the beautiful artwork. This location is a must-see for visitors as it holds numerous unique items
Address: 220 W Magnolia St, Leesburg, FL 34748-5875, USA
8. Leesburg Arts Fuse Festival
Leesburg Arts Fuse Festival, which started in 1978, is a two-day festival introduced by Leesburg Center for the Arts. The festival highlights the relevance of art in our lives. The Art Fuse Festival features interactive art stations, pop-up art shops, handcrafted jewelry, live demonstrations, circus arts, sculptures, and live performances.
Leesburg Arts Festival hosts visual artists from across southeastern and central Florida. Their artworks are showcased in unique ways. Some featured artists include Xiubo Pierce, Crystal Dombrosky, and Michael Bergeron.
Local poets, actors, dancers, musicians, circus performers, and filmmakers also showcase their work in the location. What's a festival without food? Various local food trucks serve Spanish food, shrimp tacos, pizza, Latin food, and calzones. Participating in this festival is one of the fun things to do in Leesburg, Florida.
Address: 501 Main St. Leesburg, Florida 34748, USA
Planning to explore Florida? Get the best of attractions and activities in Titusville, and Boynton Beach for a fun US vacation.
9. Via Entertainment
This Leesburg entertainment center is a splendid fun-filled location for family and friends. VIA Entertainment which covers an area of 90000 square feet, is filled with different fun activities everyone can enjoy regardless of age.
Via Entertainment features a comprehensive arcade, indoor Go-kart track, first-class bowling lanes, two virtual reality games, axe throwing, laser tag, a sports bar and grill, and an escape room. Children have an indoor playground with carefully selected games and fun features that are safe for them.
Several events can even be held in this destination, like private birthday parties. Why contemplate? Head to Leesburg, Florida, to enjoy these features. Playing in this center is one of the fun things to do in Leesburg, Florida.
Address:10401 US Highway 441 Ste 2004, Behind the Via/Port Mall, Leesburg, FL 34788-8787, USA.
10. Bourlay Historic Nature Park
This attraction is an outstanding historical park in Leesburg, Florida. The Park, which covers an area of about 88-acres, is located on the southern shore of Lake Griffin. The Park was formerly the homestead of Evander Lee, the founder of Leesburg. It was then passed down to different owners till it got to the Bourlay family. In 1999, Arthur Buddy Bourlay III donated the Park to Leesburg.
Bourlay Historic Nature Park holds so many Leesburg historical moments. The Park was the location for the first Methodist service and the first steamboat landing. The Park has six trails totaling 2.22 miles and different habitats you can select from, including Woodpecker Loop Trail, Waterfront Landing Trail, Pine Hollow Trail, Settlers Bend Trail, and Buddy's Bounty Trail.
Visitors can enjoy kayaking, hiking, off-road bicycling, picnicking, and birdwatching. There are also 10 exercise stations in the Park along the Buddy's Bounty Trail. All visitors must head to the cracker house by the parking lot to get information before exploring the Park. This exceptional Park is a must-see, therefore, one of the top things to do in Leesburg, Florida.
Address: 910 N Canal St, Leesburg, FL 34748-4492, USA
11. AMF Leesburg Lanes
For an enjoyable experience, AMF Leesburg Lanes is the place to be. The attraction offers several fun activities, including bowling and an arcade, which can be enjoyed by all members of the family regardless of age.
The excellent Lanes feature plush lounge couches, black lights, TV for watching sports games, music videos, and old family movies. The arcade section is rich in the latest video games and some old favorites. Some arcades include Jurassic Park Arcade, Mario Kart, and World's Largest Pac-Man.
After having fun, you can head to their bar for an excellent meal and drinks. Don't hesitate to visit AMF Lanes whenever you're in Leesburg, Florida.
Address: 2813 W Main St, Leesburg, FL 34748, USA
12. Palatlakaha Environmental and Agricultural Reserve – Pear Park
Palatlakaha Environmental and Agricultural Reserve (PEAR), covering 314 acres, is a natural land area great for nature enthusiasts. From 1958 to 2000, the Reserve was used as a study area for Watermelon and Grape research by The University of Florida Institute of Food and Agricultural Sciences (IFAS).
Other than for research purposes, the Palatlakaha Environmental and Agricultural Reserve is used for several recreational activities. The Pear Park features hiking trails along 1.5 miles of the Palatlakaha River, butterfly gardens, biking trails, a dog park, a softball field, and a kids' playground.
The location also has a tennis and pickleball court located on 50 acres within love oaks and natural wetlands in the Park. Exploring this land area is one of the best things to do in Leesburg, Florida.
Address: 4800 University Ave, Leesburg, FL 34748
13. Paquette's Historical Farmall Tractor Museum
Paquette's Historical Farmall Tractor Museum is a fascinating attraction, especially for machine and tractor lovers. The Museum's owner Stewart Paquette started the tractor museum in 2010 after seeing a Max Armstrong show tractor pulls on RFD-TV.
Paquette's Museum has a great collection of wonderfully restored Farmall farm tractors, pieces of machinery, and other farm implements. Since the Museum's inception, its collections have significantly increased. The Museum features over 100 foreign harvester tractors, all restored to their original state.
The restorer Stewart Paquette had restored tractors and other machinery from the 1920s to 1985, even when they were no longer being produced. The exhibits are arranged by dates and are all labeled; this helps novice tractor individuals to follow up quickly. A tour around this fantastic attraction is one of the best things to do in Leesburg, Florida.
Address: 615 S Whitney Rd, Leesburg, FL 34748-9479, USA
14. Leesburg's Night Market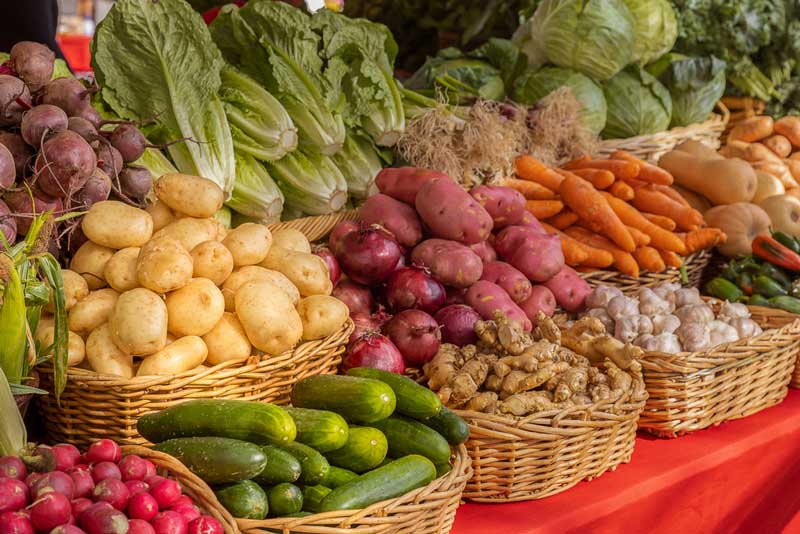 Eating healthy is very important. The city of Leesburg is concerned about its residents well being and therefore created Leesburg's, Night Market. The market opens only on the 3rd Friday of each month from 6 pm to 9 pm.
Growers are the major sellers of freshly harvested and cooked goods in the Leesburg Night Market. Fresh foods are sold because they have more nutritional value than preserved food. The Market also features artisans, artists, a children's mobile art studio, organic food, etc.
Have one of the best fresh food shopping in this location while enjoying other fun activities. Ensure to visit Leesburg's Night Market during your visit to Leesburg, Florida.
Address: 501 W Meadow St, Leesburg, FL 34748-5153, USA
15. Lake Harris
Lake Harris, located east and south of Leesburg, is the largest lake in Lake County, covering an area of 13,788 acres. It has an irregular shape when viewed from above. Lake Harris, called initially 'Lake Eustis,' was named after Ebenezer Jackson Harris (1815-1885), one of the first inhabitants of Yalaha (located south of the Lake) during the 1840s.
The adjoining gulf, Little Lake Harris, is a miniature version of the lake, visited mainly by Fishermen and kayakers. Collectively, the two lakes cover more than 15,000 acres. Cypress trees and sandhills which make up the Central Florida Ridge surround the amazing Lake Harris.
During the winter months, largemouth bass fishing is highly productive in Lake Harris. Visit Lake Harris and marvel at the large body of water while you breathe in the cool breeze. Ensure to come with a camera to capture the incredible sight.
Address: Lake Harris, Leesburg, FL 34748, USA
Are you considering more exploration of Florida, here is our list of things to do in Brandon , things to do in North Port and things to do in Spring Hill, and for a fun vacation
16. Adrenaline Rush Raceway
For a fun activity that every family member can participate in, Adrenaline Rush Raceway is the place to go. This state-of-the-art track, established in 2017, is the newest, largest, and best track in Lake County.
This family-friendly track features Indoor electric Go-kart, ax throwing, laser tag, Mega arcade, four escape rooms, kids' corner indoor inflatable park, and billiards. Their electric karts designed by Sodi engineers offer a thrilling, challenging technical course.
Adrenaline Rush also has an event space where events like birthday parties can be held. Get ready for an adventurous and exciting experience when you visit. An exhilarating adventure in Adrenaline Rush Raceway is one of the fun things to do in Leesburg, Florida.
Address: 10401 U.S. 441 #2004, Leesburg, FL 34788, USA
17. Lake Griffin
Lake Griffin is the last lake out of the nine lakes in the Harris Chain of Lakes. The eighth-largest lake in Florida is Lake Griffin, measuring 7 miles in length and 9,327 acres. This lake is the most natural among the Harris Chain lakes.
Lake Griffin is a perfect location for all-year farming. The lake is mainly populated with catfish, bluegill, largemouth bass, speckled perch, and crappie. Anglers worldwide visit Lake Griffin to fish the massive crappie and trophy bass found in Florida's Lake Harris.
You can enjoy kayaking and canoeing on this water body. Lake Griffin has a park covering 620 acres featuring hiking routes, wildlife, campsites, sandhills, swamps, and a 400 years old oak tree. This attraction is great for nature enthusiasts. Do stop by!
Address: Lake Griffin, Leesburg, FL 34748, USA
18. Frugals Vintage Boutique and Salon
This attraction, owned by Lindy Colvin, is a fascinating vintage shopping location and a beauty parlor for most females. They have helpful staff, making your shopping very easy. The downtown location features more than 3000 unique ladies' boutique items at affordable prices.
Some items sold here include prom, evening, and formal event clothing, pieces of jewelry, handbags, and shoes. You're sure to find something that draws your attention. The location also includes a salon offering the latest hair styling and coloring, and to crown it all; you don't need to break the bank.
Frugals Vintage Boutique and Salon hosts 'Girls Gone Shopping' Champagne Shopping nights for patrons can sign up. The program offers customers products at lower prices, and you get to hang out with friends. Stop by this location for a total makeover and shop for souvenirs to take back after you visit Leesburg, Florida.
Address: 700 W Main St, Leesburg, FL 34748-5129, USA
19. SIP Restaurant & Jazz Bar
Leesburg is rich in both foreign and local restaurants. SIP Restaurant and Jazz Bar owner Benjamin Moseley aims not to serve delicious meals and drinks only but also to help customers have a relaxing experience after a stressful tour in Leesburg.
In a great ambiance, the restaurant serves fantastic food, including Walnut Chicken Salad, Baked Brie appetizers, Prosciutto with Goats Cheese panini, etc. Patrons can also choose from their wide selection of drinks as they enjoy their meals.
To top it all, as the name implies, customers can also enjoy live jazz music in this fantastic restaurant from musicians like Paula Baker and Bobby Blackmon. While sipping your chilled drink, you can enjoy some laid black blues. A stop in this amazing restaurant is one of the best things to do in Leesburg, Florida.
Address: 707 W Main St, Leesburg, FL 3474, USA
20. Lake Square Mall
Lake Square Mall, formerly known as ViaPort Florida, is a large shopping mall in Leesburg, Florida. This 559,000 square-feet Mall was established on 24th September 1980. Exclusive Management and Properties runs the Mall.
All through the year, this destination organizes different educational and fun events for the entire family and local community regardless of age. The Mall has about 45 stores offering varying goods and services.
The Mall has two anchor stores, namely Via Entertainment and Belk. This location offers a retailing experience to remember.
Address: 10401 U.S. 441, Leesburg, FL 34788, USA
21. Leesburg Bikefest
This annual event is one of the biggest bike weeks in Florida. Joining the Bikefest is one of the fun things to do in Leesburg, Florida. The first Leesburg Bikefest took place in 1997 as a 1-day event featuring four vendors, canned beer, and a couple of local garage bands, with approximately 5,000 motorcyclists.
Over time, the Leesburg Bikefest has evolved into a 3-days event attracting more than 300,000 people, featuring numerous activities such as biker games, bike shows, live music, tattoo contest and expos, poker runs, stunt shows, food and goods vendors, demo rides, drill teams, a parade, and many others.
This Lake county event attracts over 250,000 people to check out the products and meals of goods and food vendors. The Bikefest takes place in different locations in downtown Leesburg. The Leesburg Bikefest is a significant form of fundraising for many charities and local civic groups, including the Leesburg Partnership.
Address: 1745 US Highway 441, Leesburg, FL 34748, USA
22. Magnolia's Oyster Bar and Cafe
The oldest bar in Leesburg, Florida, is Magnolia's Oyster Bar and Cafe. It was established in 1954 but started as a bar that opened only during the winter months. Seven years ago, the owner Chad Mansour decided to be opening it all through the year.
Magnolia's, a brilliant fresh seafood restaurant, is commonly referred to as 'The Mag' by locals, but the owners call it a 'dive bar.' The restaurant offers a critical west experience in its bright, oceanic theme and relaxed ambiance.
You can enjoy a beer or wine alongside a clam, oyster, shrimp, or crab specials. The restaurant serves dinner majorly to its customers. Some of the delectable dishes on its menu include the buffalo frog legs, shrimp, jalapeno crab bites, and award-winning Tony's Cedar Key Clam Chowder.
The dive bar is open from Monday to Saturday at 3 pm. Trying out one of the meals in this restaurant is one of the best things to do in Leesburg, Florida.
Address: 201 W Magnolia St, Leesburg, FL 34748-5836, USA
23. Mote-Morris House
Mote-Morris House is a late Victorian Architecture building constructed in 1892 by Edward H. Mote, Leesburg's eight-term mayor. The building's unique style includes a four-story turret with a two-story bay on the east portion of the House. In 1918, the Morris family became the owners of the house after the ownership passed through the Morrison family.
After purchasing the House, the Morris family owned it for 70 years. In 1974, the House was placed on the National Register of Historic Places. In 1990, the Mote-Morris House was moved to Magnolia street from West main street. The City of Leesburg, the current owners, gives a public tour of the House twice monthly.
In February 2018, the House was severely burnt but reopened in 2021 after being refurbished. This historic building is used for several events such as weddings, memorial services, baby showers, and ladies' tea and brunches. The self-guided tours are from Mondays to Fridays. Touring this historical building is one of the top things to do in Leesburg, Florida.
Address: 1195 W Magnolia St, Leesburg, FL 34748, USA
Meet the top attractions in Florida, here is a guide on the top things to do in Clermont, things to do in Palm Coast, and the best things to do in Lakeland.
Plan your Trip to Leesburg
Leesburg, Florida, is a bubbly town and a must-see destination in lake county, owing to its natural wonders and annual events. The city has dramatically developed over the last ten years.
Explore and enjoy the view of the lakes, conservation areas, and tasty meals, among other fascinating attractions in the city. A memorable experience awaits you in Leesburg.