In search of fun things to do in Hagerstown, MD?
Hagerstown is a lovely town located in Washington County. It possesses features of which are scarce in most modern cities nowadays. At Hagerstown, you could feel the vibrancy of nature all around you.
The feel of nature is just the tip of the iceberg of what Hagerstown has to offer. The history of this magnificent place has so many times to it sounds so terrifying and other times, very glorious.
One highlight that makes Hagerstown stand out is its topography, which adorns several parks in this modern city. The architecture of Hagerstown, from the residential buildings to monumental structures, are all beautiful to behold.
In addition, Hagerstown also offers a wealth of modern attractions and activities for the whole family. They can enjoy various shows and concerts at the Maryland Theatre and Performing Arts Complex.
Then move on to a great schedule of lectures, exhibitions, films, and concerts, at the Washington County Museum of Fine Arts .
Outdoor lovers are not left out as they can all enjoy thrilling outdoors hiking on Maryland's Appalachian Trail, or exploring one of the five national and eight state parks in the region
To fully enjoy your time in Hagerstown, here is a list of the top fun things to do in Hagerstown, MD.
Things to Do in Hagerstown
1. Visit Hagerstown City Park
Hagerstown City Park is a public park relaxed and blissful environment to its visitors. It has a lot of vegetative covers which are well maintained and also historic cultural attractions.
This unique park is located at the junction of Virginia Avenue and Memorial Boulevard near the city's central business district, and it is home to the Washington County Museum of Fine Arts, the Jonathan Hager House and Museum, the Hagerstown Railroad Museum, and the Mansion House Art Center.
The park also features walking trails, playing fields, playgrounds, softball fields, tennis courts, renting pavilions, and band shells.
Address: 501 Virginia Avenue, Hagerstown, Maryland, 21740, USA.
2. Mansion House Art Gallery
The Mansion House Art Gallery is a beautiful Georgian-style mansion house made from bricks and native limestone that is regarded as the headquarters for the Valley Art Association.
John Heyser built the magnificent mansion in 1846. From the villa, visitors can easily spot a lovely lake inhabited by swans. The estate also houses a beautiful art gallery that exhibits works of over 20 local artists.
The Mansion House Art Gallery is also seen as ground zero for all issues relating to Valley Art Association and a location for workshops and art classes.
The Mansion House Art Center is always open throughout the year and is regarded as one of the best picnic spots in the county.
Address: 500 Highland Way, Hagerstown, Maryland, 21740, USA
3. Fairgrounds Park
Fairgrounds Park is a passive recreation park that offers a variety of sports-related activities.
The wonderful park features a wide array of facilities used in various kinds of field sport. Some of these facilities include an inline-skating hockey rink, soccer fields, volleyball courts, basketball courts, softball fields, a youth baseball field, and an extensive area used as a dog park.
There are multiple walking trails and playgrounds also available at visitor's disposal.
Fairgrounds Park also hosts some community events throughout the year, and one of the most prominent is the annual 4th of July Fireworks Celebration, a beautiful sight to behold.
Address: 351 North Cleveland Avenue, Hagerstown, Maryland, 21740, USA.
4. Valley Mall
Shopping is usually a fun way to explore the beautiful spirit of valuables that Hagerstown has to offer. The Valley Mall is one place that makes this experience possible.
The Valley Mall is well situated at the busiest intersection in Washington County. It is well described as a super-regional shopping mall in the Hagerstown Metropolitan Area that offers retail and wholesale sale shopping, entertainment, and dining.
This impressive mall features premium brand stores and massive Regal Cinemas with stadium seating cinemas and a 40,000 square foot Tilt Studio arcade.
Visitors can also enjoy meals at eateries like Auntie Anne's, Tacos Carlitos, Primanti Brothers, and Noodles & Company, among others within the mall.
In addition to these facilities, the Valley Mall also features an 80,000 square foot One Life Fitness premier sports club equipped with cardio equipment, swimming pools, a kid's club, and personal training courses.
This makes what to do in Hagerstown for a fun time, consider an addition to your checklist of things to do in Hagerstown, MD.
Address: 17301 Valley Mall Road, Hagerstown, Maryland 21740, USA.
5. Jonathan Hager House
One of the top fun things to do in Hagerstown is Visiting The Jonathan Hager House, this will take you on a trip back in history. It is a historic building best described as a two-story stone house built in 1740.
The founder of Hagerstown owns this building. He was a German immigrant named Jonathan Hager. The house is regarded as a historical exhibit of life in the 1700s with unique features such as two spring-fed pools of water in the basement that provided fresh water.
The house is built with sound German architecture and has a large central chimney, 22-inch thick walls, and a large cellar and is filled with many restored antiques
Guided tours are offered at the Jonathan Hager House to visitors who would love to explore this historical marvel.
Address: 110 Key Street, Hagerstown, Maryland, 21740, USA
6. Things to Do in Hagerstown for Theater Lovers: The Maryland Theatre
The Maryland Theatre is a great place to explore the world of art and entertainment. It is a performing arts center that offers a wide variety of entertainment throughout the year.
Located in the District of downtown Hagerstown, the magnificent theater was built in 1915 as a 1,400-seat vaudeville and silent film house.
However, in 2019 the center was renovated into a performing arts complex and now has up to1 279 seats and has a fully restored Wurlitzer theatre organ.
Maryland Theatre hosts many types of shows, including orchestra concerts, music shows, recitals, country artists, stage shows, comedy nights, children's shows, and many others.
Address: 21 South Potomac Street, Hagerstown, Maryland, 21740, USA.
7. Washington County Museum of Fine Arts
Amongst the best things to do in Hagerstown is a visit to The
Washington County Museum of Fine Arts,
an art museum in Hagerstown that exhibits the works of local and international artists.
The museum was initially owned by Mr. and Mrs. William Singer but was later donated to the community in 1929. The museum has always been situated at the center of the prestigious Hagerstown City Park.
The museum is located in Hagerstown City Park. It houses a permanent collection of over 6,500 items, including paintings, drawings, prints, sculptures, and decorative arts, focusing on American art, 19th century European, and world cultures.
The museum hosts some very fun events throughout the year. Some of these outstanding events include a scavenger hunt in the park and educational programs for all ages.
Address: 401 Museum Drive, Hagerstown, Maryland, 21740, USA
8. Nick's Airport Inn
Nick's Airport Inn is located in the Hagerstown Regional Airport. It is a special kind of restaurant that serves as a welcoming present from Hagerstown to the world.
This restaurant features ten magnificent dining rooms that offer guests a variety of American cuisine and casual beverages.
The restaurant has a beautiful atrium-enclosed piano bar, which is great for pre-dinner cocktails
The Nick's Airport Inn menu features dishes prepared with locally sourced ingredients such as freshly baked bread, fresh seafood, savory desserts, prime meats, and farm-fresh vegetables.
The cuisine is accompanied by a bar list featuring local wines, craft, and draft beers, a delicious mix of cocktails, and dessert wines.
Nick's Airport Inn also offers catering services and has an in-house capacity of 100 people, and is open for lunch and dinner, every weekday and dinner only on weekends.
Address: 14548 Pennsylvania Avenue, Hagerstown, Maryland, 21742, USA.
How about meeting some of the best attractions in Texas, do check out our list of things to do in Wichita Falls and things to do in Amarillo for a fun time.
9. Turner's Skate Palace is one of the Fun things to Do in Hagerstown, MD
Skating is an entertaining activity to partake in, and it is even more thrilling if you do it with your family and friends as it creates a great bonding opportunity.
You could get a whole experience of skating at Turner's Skate Palace. It is a roller-skating rink in Hagerstown that offers a wide array of fun activities for the entire family.
Turner's Skate Palace is a family-owned business that offers a fun environment for children, teenagers, and adults to have good old-fashioned fun in a safe and secure environment.
Here, there is a wide array of dancing, skating, special events, and more.
Turner's Skate Palace rink also hosts private events such as parties and celebrations. The establishment is also open all year round.
This makes what to do in Hagerstown for a fun time, a perfect addition to your bucket list of things to do in Hagerstown, MD.
Address: 17333 Virginia Avenue, Hagerstown, Maryland, 21740, USA.
10. Just Lookin' Gallery
Just Lookin' Gallery The Just Lookin' Gallery is a multi-media art and framing gallery that will keep you looking that the beautiful exhibits of works by more than 50 black American, West Indian artists, and Africans.
The gallery has many original drawings, sculptures, hand-pulled prints, and paintings and exhibits a unique collection of these works from both well-known and unknown artists.
Just Lookin' does not only 'wow' people who visit the gallery but also educates artists and public viewers on the diversity of great art and the rewards of fine art with an impressive collection for both new art lovers and experienced collectors.
This gallery specializes in keeping its visitors in a state of awe while viewing various distinct art styles from diverse cultures worldwide.
Address: 40 Summit Avenue, Hagerstown, Maryland, 21740, USA.
11. Pretzel and Pizza Creation.
One lovely way of settling into the peaceful scenery at Hagerstown is by savoring some of the beautiful cuisines served at top-rated restaurants.
Pretzel and Pizza Creations is one of the top-rated restaurants in Hagerstown. The experience in this restaurant is just simply extraordinary and cannot be complete without being there with family or friends. This family-friendly restaurant combines the best pretzels and pizzas in a very fantastic way.
The eatery offers classic, contemporary Italian cuisine and various pastries in a welcoming and calm environment.
Some of these beautiful cuisines include pretzel sandwiches, hand-tossed, wood-fired pizzas made with pretzel dough, fresh salads, pretzel calzones, pretzel hotdogs, and their very own signature stuffed pretzels.
Pretzel and pizza creation does not only fill the stomach but will also quench your thirst with their variety of beautifully brewed beers, casual wines from around the world, and unique blends of non-alcoholic drinks.
Although breakfast is not served at the restaurant, it is always open for lunch and dinner every day. Do add to your list of unique things to do in Hagerstown.
Address: 20 West Washington Street, Hagerstown, Maryland, 21740.
12. Rose Hill Cemetery
The Rose Hill Cemetery is located on the Ocmulgee River banks in Macon. It is regarded as the oldest public cemetery in Washington County, established over 150 years ago.
The cemetery was designed by Simri Rose, a horticulturist who planned the graveyard for his burial. The cemetery covers over 102 acres and has over 10,000 burial plots in different sections of the park.
Although it is listed on the National Register of Historic Places, you might believe it is a strange place to visit concerning having fun.
However, the Rose Hill Cemetery has a phenomenal environment with numerous scenic views and a blissful and calm atmosphere.
The cemetery also features tall, blooming dogwood trees, and is the final resting place of over 43,000 individuals whose existing family and friends come to visit from time to time.
Address: 600 South Potomac Street, Hagerstown, Maryland, 21740, USA
13. Miller House Museum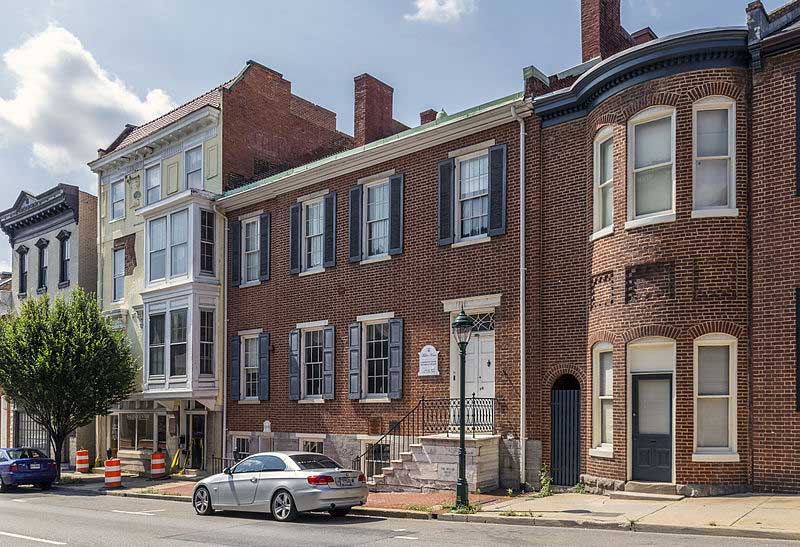 To take a trip down history lane, one of the top things to do in Hagerstown is a visit to the
Miller House Museum
, popularly known as the Price-Miller House.
This historic home and museum is also the headquarters of the Washington County Historical Society.
This monumental structure was built in 1824. It is also regarded as a historic house and local history museum since the 1960s. It is also home to all documents that contain historical facts about the growth and development of Hagerstown. These documents also describe the way of life in the mid-1800s.
This authentic Neoclassical-style townhouse is an original of the late Federal period with a hanging stairway spiral to the third floor.
It was only converted to a local museum in 1966 but had various artifacts and exhibits. This museum possesses a great collection of artifacts and exhibits. One exhibit section regarded as the museum's most valuable collection is the many local clocks collected over the years.
The theme reciprocates through the entire townhouse with its gas-powered chandeliers, hanging stairway, Victorian-style decorations, large bedrooms, and a fascinating collection of clocks from ancient local clockmakers.
This is one of Hagerstown MD attractions to consider a visit, makes what to do in Hagerstown for some museum time.
Address: 135 W Washington Street, Hagerstown, Maryland, 21740, USA
14. Schmankerl Bavarian Restaurant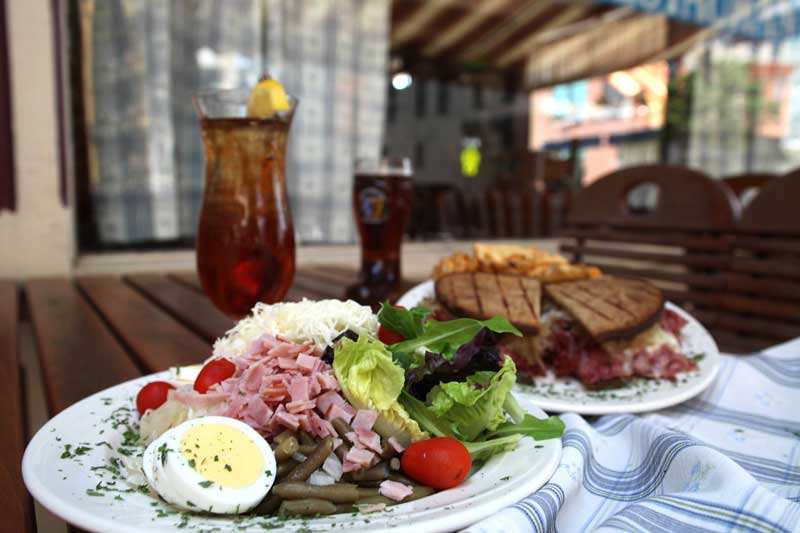 The Schmankerl Bavarian Restaurant, popularly called the Schmankerl Stube Bavarian Restaurant, illuminates Hagerstown with the dreamy flavors of German cuisine.
The Bavarian German restaurant has a blissful yet cozy interior decor, consisting of Bavarian memorabilia and beer steins.
Some of the dishes served at this restraint include sauerkraut, bread dumpling, apple-flavored red cabbage, pork shank with Rahm sauce, Bavarian bratwurst with spätzle and many more with variety of desserts
German wines, beers, and patrons are served with dishes by waitrons wearing traditional dirndls to create the perfect German feel. However, the restaurant is open from Tuesday through Sunday for lunch and dinner only.
Address: 58 South Potomac Street, Hagerstown, Maryland, 21740, USA
15. Hagerstown Suns Municipal Stadium
The
Hagerstown Suns Municipal Stadium
is home to the Hagerstown Suns minor league baseball team and is one of the city's hotspots to watch some exciting live games for all kinds of sports.
This massive stadium was built in 1930 and is a baseball stadium that has a seating capacity of 4,600 and a Hall of Fame showcasing the best league players
This multipurpose stadium also hosts various other sporting events like professional boxing, wrestling, and football.
Other Intriguing events held at the stadium include carnivals, festivals, model aircraft competitions, music concerts, and dog shows.
Visitors who are not sports fans can still visit the stadium to attend other events if they are being held at that time.
This is one of the fun things to do in Hagerstown, MD, for sports lovers, visit this stadium if you are in the area to watch some live sport.
Address: 274 East Memorial Boulevard Hagerstown, Maryland, 21740, USA.
Are you considering a road trip in Michigan? here is a list of things to do in Bay City  and things to do in Cadillac for a memorable trip
16. Premium Outlets
Hagerstown Premium Outlets is a style open-air shopping outlet mall that features name-brand outlet stores selling apparel and merchandise at well-discounted prices
Premium Outlets is located along Interstate 70, three miles east of Hagerstown. The outlet is lovely and airy is home to some of the best brand stores such as Coach, Tommy Hilfiger, Guess, Kate Spade New York, Banana Republic, Under Armour, and more.
The shopping outlets are also close to several other communities like Chambersburg, Frederick, and Martinsburg.
People can also visit it just for some relaxing window shopping, but you might not be able to resist the attractive discounts and sales offered at these Outlets.
Premium Outlets also has a food court that serves several dining options and offers an array of guest services, including modern restrooms, cash machines, 24-hour security, and other shopping facilities.
Address: 495 Premium Outlet Boulevard Hagerstown, Maryland, 21740, USA.
17. Bulls and Bears
Bulls and Bears is another fantastic restaurant that interprets the cultural atmosphere at Hagerstown.
This restaurant was established in 2008 by Jane and Don Bowman, and it has successfully grown to become one of the best in the region.
Bulls and Bears are well designed with a unique décor and are furnished with elegantly d ressed tables, and lovely lighting.
They offer some of the best, mouth savoring cuts of aged steak, free-range chicken, prime ribs, beef, and pork,
Vegetarians and seafood lovers are not also left out as the restaurant's menu is filled with a variety seafood and vegetarian options.
Bulls and Bears is a classy restaurant that depicts the American pub-style fare and libations in a warm and welcoming environment.
The full-service bar has a long list of exceptional wines on its menu, with brews of various drinks from all over the world. Visitors can enjoy these drinks at the bar.
Address: 38 South Potomac Street #1, Hagerstown, Maryland, 21740.
18. Things to Do near Hagerstown: Chesapeake and Ohio Canal National Park
The Chesapeake and Ohio Canal National Historical Park was built to preserve the neglected remains of the Chesapeake and Ohio Canal, which was regarded as a source of lively hood for the communities which were settled along with the Potomac Rivera for more than100 years.
President Dwight D. Eisenhower founded the park in 1961. The park covers over 185 miles of the landmass that offer endless adventure as it follows the canal, which is now a route for discovering natural, historical, and recreational treasures.
The Chesapeake and Ohio Canal National Historical Park has a profound and exciting history. In the mid-1800s, the channel's banks operated as a transportation route for hauling coal with the help of various historic structures, including aqueducts, lock houses, locks, and residences.
Visitors can enjoy tours at the canal and learn more about the significance of the canal's role as a transportation system during the Canal Era.
Address: 205 W Potomac Street, Williamsport, Maryland, 21795, USA.
19. The Discovery Station is one of the Top Things to Do in Hagerstown
This Non Profit run museum is sure to enthrall you with its stimulating science experiments. These provide some profound hands-on knowledge without the boring parts.
Suitable for all ages, various exhibits can interest people across all age groups. Complicated scientific concepts are explained through real-life experiments that you and your kids can actually work on to understand these concepts for your entire life.
Discovery Station charges a very nominal fee and is worth every penny. It remains closed on Mondays, though. Tuesday to Saturday is 10 AM-4 PM, while on Sundays, it is open only from 2 PM- 5 PM.
20. Fort Frederick State Park
This historic State Park houses one of the two colonial forts of Hagerstown and is a great place to visit.
It is located near the downtown part of the city and was built in the colonial period. It has stood testimony to many wars and battles waged on and across it.
Some of them were the very famous French and Indian war. Established in 1756, it has well stood the weather and other calamities. Recently, two of its barracks have even been re embellished back to their 1758 appearance.
It is the most fun to visit on Labor Day and Memorial Day when volunteers adorned in colonial clothing spend a day at the fort doing the daily chores from back then, giving it a great and lively feel.
The park itself is lovely too. It has many things in stores like fishing, hiking, camping, and boating as well. The fort is open to the public all days of the week.
Address: 11100 Fort Frederick Rd, Big Pool, MD 21711
21. Rik's Cafe
Rik's Café is a lovely restaurant that serves ecstatic and tasty American cuisines casually.
Rik's Café is administered by Chef Arik, who has led his team of chefs in the art of using locally sourced ingredients to make creative dishes. Some of these dishes include spinach and goat cheese on ciabatta, puttanesca meatballs pasta, ground lamb burgers with roasted red peppers, blackened unicorn tacos, and honey-smoked salmon cakes with cusabi sauce.
Rik's Cafe also features a bar where its visitors can enjoy the craft and draft beers, dessert wines, and local wines worldwide.
Address: 1065 Maryland Avenue, Hagerstown, Maryland, 21740, USA.
22. Good -Hartle Farm
The Good–Hartle Farm is a historic farm complex near Hagerstown, Washington County, Maryland, and United States.
The house has a unique architecture, with a log section built in the latter part of the 1700s, with limestone addition in 1833.
Suitable -Hartle Farm offers all its visitors the experience of blissful countryside scenery.
23. Hagerstown Aviation Museum
Aircraft lovers can have a fun-filled day at the Hagerstown Aviation Museum, where aircraft of various shapes and sizes
Although, great plans had been hatched since 1995 by a group of individuals including owners, Richard Henson and John Seburn.
However, after a few years, the museum was finally opened to the public in downtown Hagerstown, Maryland, on 14 July 2005.
Some of the aircraft which can be seen at this museum include Bellanca CE, Fairchild 22 C7D 922, Fairchild 24R-9 R9-405, Fairchild 24R-46 R46-129, Fairchild C-82A Packet 45-57814, Fairchild C-119G Flying Boxcar 22111, Fairchild C-123K.
This is one of the top things to do in Hagerstown, MD, consider an addition to your bucket list of Hagerstown attractions to visit.
Address: 18450 Showalter Rd., Dome Hangar, Hagerstown Maryland, 21742, USA.
Plan to visit Washington? here is a list of things to do in Spokane , and fun things to do in Tacoma bringing top attractions and activities to give you a fun time.
Plan to Visit Hagerstown
Hagerstown is a destination to visit and should top your bucket list of places to visit.
Here you will experience the abundant natural beauty of its numerous parks and its vibrant metropolitan atmosphere.
Hagerstown was literally in the middle of many civil wars. Home to many significant battlefields, including the July 1863 Battle of Hagerstown, the South Mountain State Battlefield, and the Antietam National Battlefield.
However, Hagerstown has grown to become a bustling metropolis in recent times, although it still maintains its vibrant cultural and historical scene.
So why miss out on an excellent opportunity to dive into a fun-filled holiday in Maryland. There will be great stories to tell and memories made.