Amongst all the cities of Florida, US, Punta Gorda is arguably the most beautiful.
Punta Gorda is located towards the south of Florida. It's about 181 miles from Miami and is about 133 miles from Orlando.
The route to Punta Gorda is the easily accessible U.S Routes 41 and 17 which runs through the city
Punta Gorda is a medium-sized town, with its population of about 16,000 and lots of  activities.
Extraordinary beautified by nature and man, it has natural attractions, birds with beautiful colors, waterside shopping slots, and renovated landmarks which tells of the cities heritage.
As you take a stroll along the harbor, you will find the Gulf Coast and the Fisherman's Village which are beautifully decorated with huge palm trees.
The surrounding reminds you of the "happily ever after" kind of love story.
On the right and left you will find street lamps, benches and old tin-roof homes. Which place is more suited to act a true love movie?
The foodies are not left out, in Punta Gorda, there are seven restaurants with highly skilled chefs, every food is carefully prepared with all artistry, a taste will surely keep you spellbound.
More interesting places to visit includes Punta speedway, octagon wildlife centers, Peace River, muscle car city and lots more! There are luxury villas too which will give you  taste of beauty and sweetness of life.
Visiting this town is an experience you won't stop talking about for a lifetime.
Let's explore the best things to do in Punta Gorda.
Things to Do in Punta Gorda (FL)
1. Visit Fishermen's Village
One interesting place to visit in Punta Gorda is the Fishermen's Village, this Village features a classic complete-service hometown market.
The Fishermen's village is the center of all aquatic event that occurs in Florida.
Regardless of what you desire, you will get it in maximum satisfaction. Is it entertainment, culture, fishing, dining, shopping? Name them!
For instance, you can dine at Harpoon Harry's then you shop. After shopping, you can rent a boat, enjoy the view of the ocean and cruise until sunset.
What better love story than that? You can visit Fishermen's Village anytime, quite one of the fun things to do in Punta Gorda.
Address: 1200W Retta Esplanade 33950 Punta Gorda, FL.
2. A Visit to Laishely Park
One of the beautiful spots in Punta Gorda. Laishley Park is a pet-friendly park and made this list of things to do in Punta Gorda Florida thanks to its gorgeous sights.
Here, you will find a parking and walking path of Punta Gorda Harbor, a fishing pier, a concert area, a fountain and a memorial garden.
You will also find the Laishley Marina. The Laishley Marina is located right inside the Laishley Park and this Marina is a lead to the Charlotte Harbour.
Laishley Park offers so many activities that will keep you occupied throughout your stay in Punta Gorda.
You need not bother about distance, assuming you plan to go shopping immediately after visiting the park.
The park is perfectly suited such that it is close to shopping centers, major hotels, cultural centers, and a lot more.
Address: 33950 Punta Gorda, Fl
3. Go Automobile at Muscle Car City Museum
For automobile lovers, this museum is on place you should not miss. Here was designed by a fellow car lover, Rick Treworgy, who drew his inspiration from four-wheel automobiles.
What he began to do was to collect Chevys. In the space of 40 years, he stacked up to two hundred vintage cars.
Today, this Muscle Car Museum is a house to the largest collection of GM cars in the whole of the United States.
Some of the things you will see when you visit this museum includes; artifacts, Camaros, Chevys, Corvettes, and lots more.
A visit to this museum will take you down memory lane. There, you can see all of yesterday today!
Are you a car freak? You can include this amongst your list of things to do in punta gorda fl.
Address: 3811 Tamiami Trail, 33950 Punta Gorda, FL.
4. Military Heritage Museum
Amongst the top things to do in punta gorda FL is visiting military Heritage Museum.
The military Heritage Museum located in Punta Gorda, as the name entails, tells the story of wars.
Although its a small museum, ancient artifacts and wonderful military items are displayed there. To crown it all, the tour guide who will take you around the museum is a captain. His name is Captain Arens.
Captain Arens is one of the best storytellers you would ever meet. As he guides you on the journey, he tells you his life story which spans his 38 years service, both in the navy and the army.
You will find it fun here!
All the items in the museum were donated by someone. As Captain Arens guides you, he will show you the owner's information alongside the artifacts.
Address: 1200W Retta Esplanade #48, 33950 Punta Gorda, FL.
5. Visit Octagon Wildlife Sanctuary & Rehabilitation Centre.
The octagon Wildlife has been up and running for the past 30 years. The number of animals saved within this period has been great.
It is managed mainly by the efforts of volunteers and it's funded by gracious donations by generous people.
These saved animals are placed in portions that allow them to move within their confinement majestically.
If you seek to admire a tranquil environment, this is the place to visit.
When the animals who reside in this wildlife center become sick, the officials send them to reputable universities where the nature of their disease is studied and the best treatment is offered to them.
If you long to see a giraffe, you can find one there.
Address: 41660 Horseshoe Rd, 33982 Punta Gorda, FL.
6. Peace River Wildlife Centre
Established in 1982 by local expert Dr. Jerry Gingerich, the Peace River Wildlife Centre is aimed at rescuing, protecting, and preserving natural wildlife.
More than sixty thousand mammals and birds have been cared for by this center. And after being treated, these animals are allowed to go back to their native habitat.
Due to the level of hospitality to these animals, some of them prefer to remain in the center.
Those beautiful animals that prefer to stay, in addition to those species that are incapable of returning to their natural habitat are allowed to remain in the center as a permanent resident.
so, if you want to watch birds like hawks, owls, pelicans, eagles, gulls, crows, cranes, cormorants, sandhills, songbirds, herons etc, then the peace river wildlife center is the place you are looking for.
A tour around the Centre is free as most of its cost is covered through gift shop sales, recycling efforts and donations.
Therefore, while coming, come with your loved ones. The center is open from 11 a.m to 4 p.m everyday.
Address: 3400 ponce de Leon okay, 33950 Punta Gorda, FL.
7. Ponce de Leon Park
Finding Ponce de Leon park is not tedious. You can easily locate it once you get to Ponce de Leon Avenue.
The park is quite spectacular and has the capacity to contain about 20,000 people comfortably.
One of the major attractions in the park is an ancient magnolia free which is situated right in the center of the field.
The story behind the free is that two celebrities, Eddie Mathews and Babe Ruth. Both had hit runs that got stuck in this tree and the tree still stands today.
There was a time this park was demolished in favor of a shopping center. Today, it's a strip mall.
The magnolia trees can be found at the rear of the shopping center. Visiting Ponce de Leon park makes one of the fun things to do in Punta Gorda FL.
Address: 3400 Ponce de Leon Pkwy, 33950 Punta Gorda, FL
8. Southern Speedway
The best place to try out your "Need for speed" car racing ability is the Punta Gorda Southern Speedway.
This speedway track was built by 1990 and it functioned as a car race arena up until 1995.
Today, many youths and adventurous men visit this speedway to win their latest model Sprint cars. Probably you may catch them having a car race.
This place can be very loud, so don't forget to come with your earplugs. The noise from those classy automobiles can deafen the ears.
As a plus to offering an opportunity to race, the speedway offers food to its visitors at a fair price. You can sit on the grassy walls of the track as you drink your Soda!
Address: 8655 Piper Rd, 33982 Punta Gorda, FL.
9. Alligator Bay Distillers
Alligator Bay Distillers began the production of rum in 2015. The operations in this Company is controlled by Alex and Bass Voss.
Rum made by this distillation company is made from 100 percent Florida molasses. These molasses are sourced from the Clewiston Sugar mill.
Everyone is allowed to come for an excursion in this Company. So upon your  visit to this place, you will be shown their rum-making process.
The rums are made in so many flavors. Thus we have the coconut and the dark rums.
You will be given some to taste if you are interested.
You can also buy a few bottles of rum and t-shirts as a souvenir directly from the company. It will serve as an everlasting proof of your visit.
Address: 25522 Nation Ave, 33950 Punta Gorda , FL.
10. Charlotte Harbour Preserve State Park
The Charlotte Harbour Preserve State Park is the third largest park in the whole of Florida.
It is one of the best places to take a hike, fish & paddle. Kissed by nature, it is also a wonderful place to observe wildlife.
Pine flat-woods, mangrove forests, and scrub habitat are some of the things that make up the park's natural community.
As you take a hike along the park, you will see wading birds, mocking birds, owls, nesting Eagles, mocking birds, woodpeckers, and great horned owls.
You can also watch dolphins and manatee in the harbor. Don't forget to bring binoculars and a camera while coming!, you will love this on your checklist of best things to do in Punta Gorda FL.
Address: 12301 Burnt Store Rd, 33955 Punta Gorda, Fl
11. Visit Sea Grape Artists Gallery
The Sea Grape Artists Gallery was founded in Punta Gorda 30 years ago. Today it's is arguably the place to come if you seek to see premium fine art.
The serenity and the level of creativity found in this art gallery makes it one of the most visited places in Punta Gorda, especially for those who seek to get out of the hustle and bustle of city life.
In addition to the serenity of the place, the art gallery is also a valuable establishment for art lovers.
The Gallery is also known for its philanthropic works. They are eager to support local artists by offering scholarships and commissions to them.
When the artist has developed his talent, he is invited to display his works at regular events sponsored by the gallery. The best artist for each month has his name and work published.
If you are an artist, this surely the place you want to visit. You can also attend "Thursday Wine Walks" held every Thursday to meet other people who are also interested in arts.
Address: 113 W Marion Ave, Punta Gorda, FL 33950, United States
12. Peace River Botanical and Sculpture Gardens
No garden holds a better collection of sculptures than the Peace River Botanical and Sculpture Gardens. The famous Steel Palm made by the artist Jacob Kulin from Boston can be found there.
Jacob Kulin made this palm as a symbol to represent the ancient Steel Palm fossil in the grounds.
This Steel Palm is so famous that it serves as the logo of the gardens.
Some other Sculptures which you would love to see when you visit there include the Metal Tree Trellises.
The metal Tree Trellises are about 20 feet tall! A look at it and its blend with the surrounding reminds you of the style of Marina Bat Sands resort located in Singapore.
Are you in search of what to do in Punta Gorda FL , it doesn't get more novel than a visit to Peace River Botanical and Sculpture Gardens.
13. A.C Freeman House
The A.C Freeman House is named after Augustus Freeman, he was a 19th-century business magnate and one-time mayor who once owned the house.
The house is peculiar because of the rareness of its style of architecture.
The Queen Anne style of architecture is quite uncommon in the whole of Florida, thus, the reason for the fame of the A.C Freeman's house.
Historic houses like this don't escape the scope of the National Register of Historic Houses.
When they commented on the house, they described it as having 'elaborate columns and interior finishes'.
It's worthy to note that the house is not in its original position today. In 1985, it was moved from its original position to its current position.
Today, this house serves as both a museum and a working house. It is also a home to the office of the local Chamber of Commerce.
14. Play Escape Rooms
I bet you must have seen one of the Escape Room movies. The thrill as you try helping the contestants decode the key to the lock within a time frame.
Will you love to try it out yourself?
I bet you do. Punta Gorda has a lot of escape rooms. You can come with your friends and family.
Definitely should be amongst your list of what to do in Punta Gorda FL.
In those rooms, you and your family or friends will be given 60 minutes to solve as many puzzles as you can. The more puzzles you solve, the closer you are to escaping the room on time.
You are allowed to choose a particular adventure, as each escape room is designed with an adventure in mind.
These seven adventures includes: Heist at the Grand Hotel, The great Movie Disaster, and The Hideout. Each telling a story of a great outlaw.
15. Linear Park.
This park was once alongside the former coastline railroad built-in 1886. Today, it is easily recognized by the canal that runs through it.
The park has three fitness zones. It is a nice place to get your body into the shape you desire. It has about 17 different machines that can help. You achieve that.
At Sunrise, the locals come out for their yoga sessions. Punta Gorda's are lovable people, you are free to join them if you want to.
Remember the Fisherman's Village we talk about early? There is a connection linking the linear park and the village. It is also close to the Visual Arts Center.
For these reasons, it is quite a popular place in Punta Gorda. Your tour is not complete if you don't add a visit to the linear park amongst your things to do in punta gorda this weekend.
16. Be Seen at Bayshore Live Oak Park
Another interesting place to visit in Punta Gorda is the Bayshore Live Oak Park. If riding a canoe into the sunset is your thing, then this is your home.
Apart from its little river, the Bayshore Live Oak Park has plenty of spots for picnics. It also has a playground for your young ones.
The park is relatively quiet. It is a recommended place for meditating. As an entrepreneur and artist in search of inspiration, this is the place you want to be.
This answers the question of what to do in punta gorda FL with loved ones.
17. The Hector House Plaza.
Famous for its historical significance, the Hector House Plaza is where the city was officially incorporated.
In front of it stands a plaque to immortalize that event.
Even thou the original house where the documents were signed have been demolished, the site is still a wonder.
The ground of the site is designed like a giant chessboard. The giant chessboard is placed there to completely capture the tell of Isaac Trabue.
Isaac Trabue was a local official who founded an annual chess tournament. He wasn't present on the day of the founding of the city, thus, the giant chessboard was included as a means of immortalizing his impact.
This giant chessboard is worth seeing, I assure you.
18. Swim at South County Regional Park
The South County Regional Parks provides a pool where swimmers can beautifully display their skills.
The competition pool is about 25 yards long and has about right lanes that is evenly heated.
These pools are equipped with five boards, and there is also a separate playing and splashing section for kids. This section is shallow.
You can keep your kids in the care of the readily hospital lifeguard eager to help.
19. Blanchard House Museum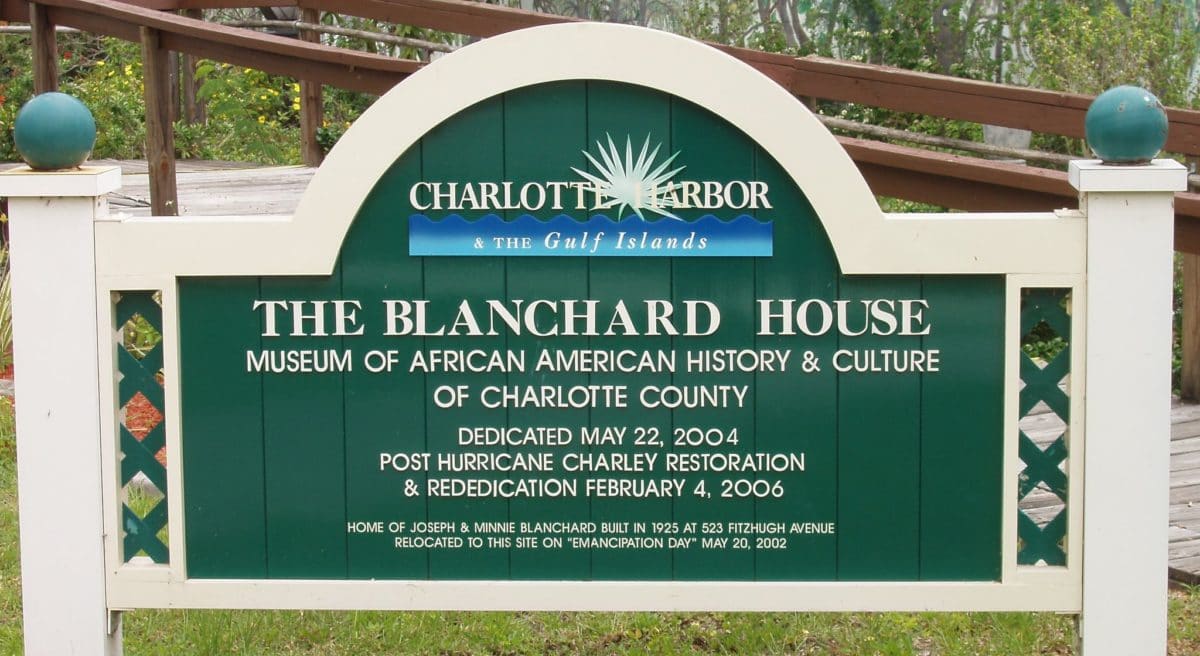 The Blanchard House Museum tells the story of the African American community.
Its location is exactly on Martin Luther King, Jr Boulevard.
Among the exhibit you will find in this museum includes artifacts that celebrate the earliest black history in Florida.
A tour around the Museum gives an idea of what working as an African American in Punta Gorda in those days was like.
20. Gilchrist Park
If you are a sportsman, the Gilchrist park was designed with you in mind.
Gilchrist Park is equipped with a tennis court and a basketball court.
Come with your basketball Kit! Everyone has an equal opportunity to play!
Roundabout it are comfortable seats. You can visit the park in the evening, as sunset looks quite spectacular from this park.
You also have playgrounds for kids.
21. Punta Gorda Train Depot
Another place that would interest you is the Punta Gorda Train Depot this train depot was built in 1928 by the Atlantic Coast Line Railroad.
They built it as a means to connect the people of Florida to their Rail station, all in the bid to earn their share of Gold during the Florida Land Boom of the 1920s.
It is worth noting that this is not the first passenger rail depot build in Punta Gorda. It is the third and surviving one.
The first one was built in 1886, and it wasn't as big as this surviving one. The old one was built by the Florida Southern Railway and it was located within the railroad's turning wye.
Another reason why you would love to visit the Punta Gorda depot (apart from its historical relevance) is its peculiar architecture.
Built on the Neo-Spanish architecture, it is one of only six depots designed like that by the Atlantic Coast Line. Out of these six, only the Punta Gorda depot and the other at Bradenton is still standing.
The use of passenger tail service to Punta Gorda has been stopped since 1971. After the Depot lost its relevance, in 1996 Fred Babcock, a local landowner bought it.
After, he donated it to the Punta Gorda Historical Society. Thus, the building today houses an antique mall.
The depot has not completely lost its splendor. You can still see it's platform within the railroad's right of way.
The operators of this rail line today, Seminole Gulf Railway, still used the platform as a visiting site for its Christmas Rail-Boat evening excursion every Christmas season.
22. Walk Through Harborwalk
The Harborwalk as the name implies is a concrete path that begins from Adrienne Street which is very close to the Bayfront Punta Gorda to the Peace River. You will surely come across this path as you head towards Lashiley Park.
You can also get to the Harborwalk from the "Spirit of Punta Gorda' monument, (which is just a sundial that was installed in commemoration of the landfall of Hurricane Charley in 2004).
Once you get to this point, u will notice this path as it runs on the north side of Laishley Park. You can't miss it.
This path covers the Laishey Park Marina and even down to the river bank.
From there, it passes underneath the Barron Collier Bridge, then the Four-point Sheraton Hotel.
At this point, you might decide to rest at the tiki bar operated by the Sheraton Hotel.
When you are rested, you may decide to continue along that part, as it passes by the Charlotte Harbour Event and conference center, and from there, the path finds its way underneath the Gilchrist Bridge.
The path continues down to the Gilchrist Park before it finally ends at the Fishermen's Village.
If you run through the Harborwalk, as most citizens of Punta Gorda do, that's all the exercise you need for that day!
23. Meet History at the History Park
Amongst the numerous parks found in Punta Gorda, one tell more tales of history. That park is the Punta Gorda history park which is owned and operated by the Punta Gorda History Society.
This Society maintains Historic Buildings and the Gardens surrounding them. The Punta Gorda History Park is free for everyone and you can visit it any time you want to.
The only places with restrictions are the Cigar Cottage, The Price House, and Trabue Land Office. These places are only open by appointment and I'm daily basis from 10 am to 2 pm.
24. The History Park Farmers Market
The History Park has a market where most sellers are farmers. Here the customer can purchase a variety of items as he learns about the history of the city.
Lined side by side by varieties of tropical and local plants and trees, this market is a wonder to behold.
The Historical Park Farmers Market is also operated by the Punta Gorda Historical Society.
In case you want to purchase some items, you can check out the market at 501 Shreve Street. It is just between Virginia Ave and Henry Street.
25. Punta Gorda Pathways.
Since the commencing of the Punta Gorda Pathways program, the bicycle infrastructure in the city has become enviable. All thanks go to the city government.
The Punta Gorda Pathways is expected to spans about 18 miles long. With about 8.4 miles completed, all just for biking, It connects neighborhoods, parks, and commercial areas all over the city.
The Harborwalk (2.4 miles) links with the Linear park Path (1 mile). From there, it connects to Shreve street shared-Use path (1 mile) before going down to the US 41 shared use path which is about 4 miles long.
Why don't you hire a bike during your stay in Punta Gorda, and ride along this path just for fun to have a taste of your childhood once more?
26. The Charlotte Performing Arts Centre.
The Charlotte performing arts center through a partnership between the Charlotte County School Board, Charlotte County in the City of Punta Gorda was founded in 2003.
It is a 900-seat theatre whose idea we're born by Charlotte High School who sought to replace a 1926 theatre at their school.
When this school brought their plan to the school district, the members of the community saw the need to build it. They say that building the theatre will bridge a cultural gap in the area.
Thus, with portions of sales tax referendum revenue, grants from the state, contributions from the county, school district and city, in 2002 the construction began
Today, the theatre stands on a 35,000 square-foot space. It consists of four classrooms one for drama, choir, dance, and band respectively. These four classrooms are used by the students of Charlotte High School.
On the walls of the lobby, artworks by talented art students of the school are displaced.
The main theatre is mainly used for meetings, award ceremonies, graduation ceremonies, production and concerts.
27. Free C. Babcock/ Cecil M. Webb Wildlife Management Area
The span of this Wild Management Area, which is also the oldest in the whole of Florida is exactly 80,772 acres. You can find it southeast of Punta Gorda.
The Wild Management Area is a habitat for so many species of animals. Some of these species include the Red-cockaded woodpecker, the Eastern indigo snake, and the bonneted bad.
If you love hunting, visiting Fred Babcock/Cecil M. Webb Wildlife Management Area is one of the things to do in Punta Gorda Florida.
Both the white-tailed free and the Northern bobwhite are of ever-rising in this area. Also, the opportunity to make a catch as you hunt mourning dove and feral hog is so high.
You can also train yourself at the shooting range located at the entrance of the place. You can be one of the hundreds that visit the Fred Babcock / Cecil M. Webb Wildlife Management Area every weekend.
28. Meet Animals at the Babcock Ranch Preserve.
This Ranch occupies 67,618.81 acres in southeast of Charlotte County. It's located at exactly 17.5 miles east of Punta Gorda and 34 miles west of Lake Okeechobee.
The preserve weeks to protect regionally important water resources, historic and cultural resources, scenic landscapes, diverse natural habitats e.t.c. in the SouthWest of Florida.
Do you have a hobby of going camping and would like to include that amongst your list of top things to do in Punta Gorda FL, you have that opportunity with Babcock Ranch Preserve.
It is also an excellent place for recreational opportunities like camping hiking, fishing, bicycling, hunting, horseback riding, and lots more.
Before it was bought by the state of Florida in the year 2006, the preserve was a part of Crescent B Ranch.
The Crescent B Ranch produced cattle, row crops, sods e .t.c and was an excellent place for ecotourism.
29. Peace River Beer Company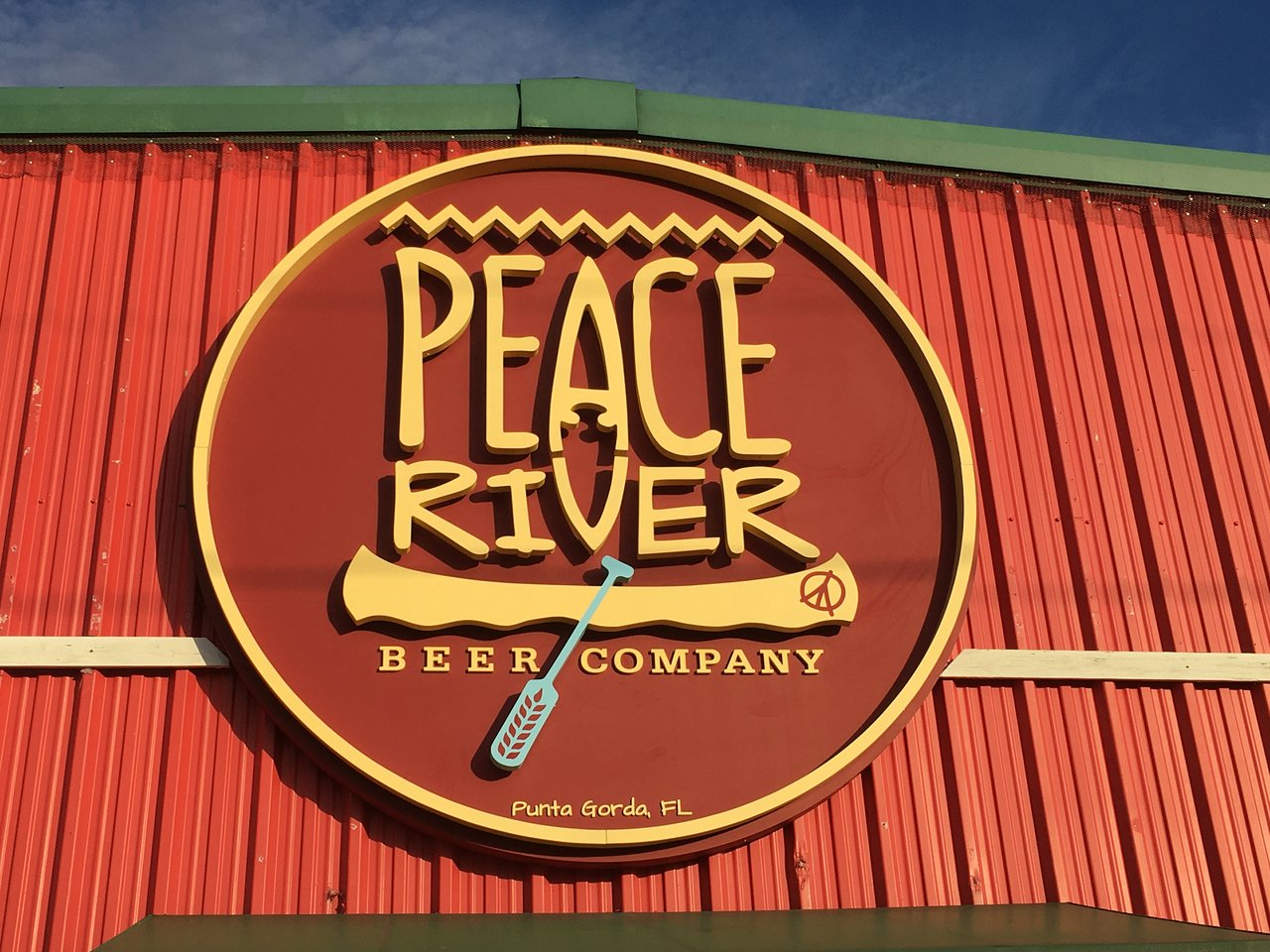 The Founders of Bury Me Brewing started the Peace River Beer Company to make a brand that would by loves by both the locals and the nation as a whole.
And that, they achieved. Buy yourself one of their beers as you visit their company. Your reward would be that true taste of beer as a reward. Visiting here should be amongst the top things to do in Punta Gorda FL on your checklist.
30. Fat Point Brewing
Would you like to know what to do in Punta Gorda FL on a weekend you can visit a brewing company.
Amongst the brewing companies to visit, I would recommend the Fat Point Brewings. They are makers of locally made fresh handcrafted beer
Due to the quality of their beer, their product is not just found in Punta Gorda, but also places like Naples, Cape Coral, Sarasota, Lakeland and Tampa
The production facility that makes up this brewery is about 10,000 square feet just east of downtown Punta Gorda.
This brewery produces 540BBLs of beer monthly. That's quite a lot of beer. I bet you would be fascinated by the production procedure of this so much beer.
31. Harbour Heights Park
This is another amazing park in Punta Gorda. Visiting Harbour Heights Park leaves you with varieties of fun things to do to get the best of your vacation. For a start, this park offers one of the best barbecue grills.
It features so many recreational facilities to choose from. You have a basketball court, a tennis and volleyball court and restrooms which can be just nice to cool your nerves.
Furthermore, you can decide to go fishing here as they also provide boats and canoes for those interested in that.
Are you looking for that perfect spot to spend with your loved ones, Harbour Heights Park should be added to your checklist of things to do in Punta Gorda FL.
Visiting Harbour Heights park makes one of the fun things to do in Punta Gorda Florida with kids.
Plan a Trip to Punta Gorda
Punta Gorda is a beautiful coastal city with no dull moment. From the calm nature parks to the boisterous race tracks. You will truly enjoy every bit of your stay here.
As you take a stroll to the nature park and then a tour of the ocean on a boat, you would realize that there is no better place to spend your vacation than Punta Gorda.
This checklist of things to do in Punta Gorda FL would guide your visit to Punta Gorda as it brings some activities, attractions and things to do in the beautiful city of Punta Gorda, Florida.