Decatur is located in Georgia, USA. It is the county seat of DeKalb county, which is also a part of the Atlanta metropolitan area. As of the 2020 census, the city was said to have a population of 24,928 people.
Decatur was established at the intersection of two natives of the American trails; these towns are Sandtown and Shallowford, which is now called Clairmont avenue. On the 10th of December in 1823, the city of Decatur was incorporated.
As time began to evolve, the expansion of Atlanta began to stray into the unincorporated DeKalb county, causing so many comfortable and rich people, especially white Americans, to relocate out of the city to other suburbs.
Sherman's Atlanta campaign made Decatur a strategic site during the American civil war. This is because there was so much drop in property value during the 1960s and 1970s.
However, on recent account, there have been records that Decatur have partially had an increase in economic activity due to the plans from downtown development corporations which has made Decatur a small mixed-use area.
The city houses some fantastic attractions and features various fun activities, which you will get to know about as you read on.
Let's explore the best and fun things to do in Decatur, GA.
Things To Do In Decatur, GA
1. The Stone Mountains
A place where you can enjoy outdoor activities of all kinds is Stone Mountain. This beauty is about 20 kilometers from the Eastern part of Decatur, surrounded by the popular woodland of Georgia, where it seems like the only sight of upthrust rock around.
This elevation offers an excellent opportunity for hiking because of the hiking trails in and around the hill, which is about 25km long. Some parts of the tracks can be a little bit difficult, but other paths are easy and suitable for beginners.
The mountain's summit gives a beautiful view over Atlanta and the surrounding Appalachian mountains through the walk-up trail. In contrast, the base of the hill through the oak forest and streams is estimated to be about 8 kilometers long and is ringed by the Cherokee trails.
You can also get to the mountain's summit through a cable car offered by Skyride. Exploring the Stone Mountains is one of the best things to do in Decatur, GA.
Address: 1000 Robert E.lee Blvd, Stone Mountains, Decatur, GA 30083, United States.
2. The Three Taverns Brewery
The Three Taverns Brewery has been a thriving industry among many other brewery industries in Northern Georgia over the years.
If you are looking for a place that offers an excellent beer menu, you should check out the taprooms of The Three Taverns Brewery. The Brewery's menu consists of flavored beers, such as wheat beers, Belgian-style IPAs, and German-style pilsners.
Their taproom is designed for singing hardwood furniture and brickwork with a combination of rural and urban touches in a comfortable and relaxing manner. A place like this helps you unwind and ease yourself from stress while enjoying the refined taste of craft beer.
Address: 121 New St, Decatur, GA 30030, United States.
3. The Mason Mill Park
The city of Decatur has another wonderful public park called Mason Mill Park. Like every other park, it has an extensive playground for children to enjoy sliding and climbing. It also offers a wide range of wooded trails that is miles long, which is a perfect area for visitors to go jogging and hiking.
The Park is graced with a land mass of approximately 120 acres of forested area. It is a nice place to have your outdoor activities. A community garden, facilities for tennis, a picnic area, a recreation centre, and a pickleball court are available at Mason Mill Park.
Several DeKalb county locations, such as the Decatur waterworks, the Leaf More neighborhood, Emory University, and Medlock Park, are linked to this Park through the wooden trails. Exploring this Park is one of the fun things to do in Decatur, GA, with friends and family.
Address: 1406 – 1458 McConnell Dr, Decatur, GA 30033, United States
4. The Decatur Arts Alliance
The Decatur Arts Alliance hosts an arts festival yearly with a strong alliance with the indigene and the city of Decatur, which has always been a fantastic experience.
Almost all the entertainment venues, local artists, exhibits, theatre groups, dance groups, and galleries in Decatur are promoted by this organization.
Other festivals, like the Decatur book festival, Decatur wine festival, Decatur annual festival, not forgetting the Oakhurst Arts and Music Festival, are anchored and sponsored by them.
They are the brain and mastermind behind Decatur's thriving arts culture and public beautification along its streets. They also help young and aspiring artists showcase their talent and work.
Address: 113 Clairmont Ave, Decatur, GA 30030, United States.
5. The DeKalb History Center Museum
Your vacation is not yet complete without visiting The DeKalb History Center Museum, as it's one of the top things to do in Decatur, GA. This Museum is a historical attraction housing a Decatur-covered backstory.
It hosts a comprehensive range collection of antiques and artifacts from other backstories like Atlanta and DeKalb counties through its exhibits.
You would be amazed and wowed by the galleries and exhibitions, especially if you are a history lover, because it shares many fascinating stories and records of DeKalb county. The DeKalb County Courthouse houses this Museum itself.
Historical stories and topics like the pioneering families of DeKalb county, historical sites, civil rights movement history, the civil war, historic homes, cemeteries, natural attractions, and genealogy are available to browse through. If you are curious enough to dig deeper, you could discover more unknown facts about the county.
Address: 101 E Court Square, Decatur, GA 30030, United States.
6. The Woodlands Garden of Decatur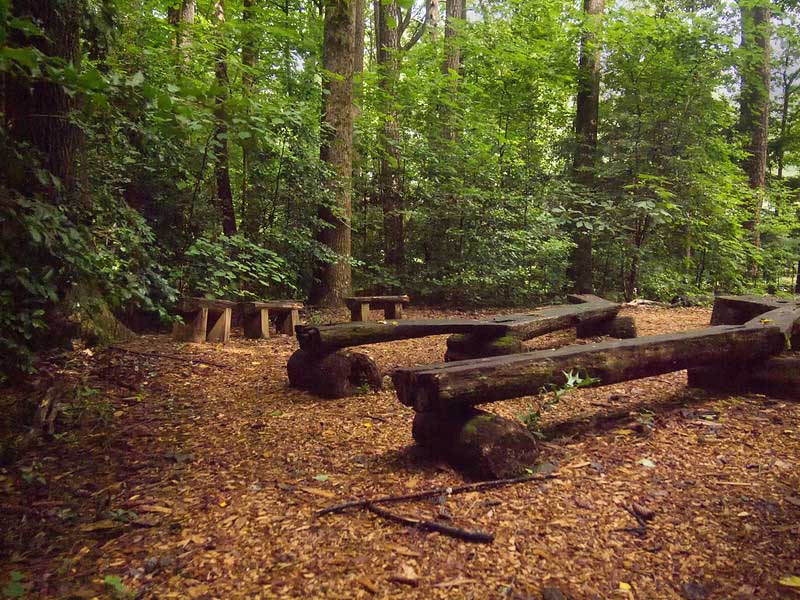 Are you wondering what to do in Decatur, GA, with your significant other? Check out the Woodlands Garden of Decatur. It is the perfect spot for a romantic atmosphere.
Just as its name implies, different flowers and native plants of Georgia are housed here and are also sized around 8 acres of land, which is open to the public.
The Woodlands Garden of Decatur has an accessible entrance policy, making it easy for lovers and family members to explore this beautiful garden. The Garden comprises colorful exotic plants and flowers and creatively manicured lawns.
Tours of the Woodlands Garden of Decatur are led by friendly volunteers. The Garden trails are also covered in mulch and have a traverse winding network directed through a wooden site.
Address: 932 Scott Blvd, Decatur, GA 30030, United States.
7. Iberian Pig Restaurant
The Iberian Pig restaurant is a restaurant that has a reputation for its delicious and indigenous Spanish menu. It has a beautiful and cozy interior.
It is known for its well-prepared modern tapa cuisine with the combination of indigenous Spanish tradition and a touch of culinary art.
Adding to the menu are exquisite wines from counties like Argentina, Chile, and Spain.
The Iberian Pig is an excellent place to visit and enjoy a delicious Spanish meal.
Address: 121 Sycamore St, Decatur, GA 30030, United States.
8. The DeKalb Farmers Market
The DeKalb Farmers Market gives the local farmers an avenue to offer various wonderful farm produce like fruits and vegetables of different kinds.
Farm products like meat, indigenous fruit and vegetables, and farm-raised animals like wild-caught fish are available at this Farmer's Market. They also offer a separate selection of dairy products, having over 400 varieties of cheese from around Europe and America.
Another side attraction to this market is that it has an impressive selection of vendors that serve cakes, bread, pastries, and cookies that are freshly baked.
You can't be looking for what to do in Decatur, GA, when you haven't visited The DeKalb Farmers Market because it offers everything you would love.
Address: 3000 E Ponce de Leon Avenue, Decatur, GA 30030, United States.
Planning to explore Georgia? Get the best attractions and activities in Alpharetta, Calhoun, and Warner Robins for a fun vacation.
9. The Eddie's Attic
Eddie's Attic is one place that shows the uniqueness of Decatur's art community. This destination features an entrainment hub, a restaurant, and a bar. It entertains you with Decatur's flourishing art of music. Visiting Eddie's Attic is one of the best things to do in Decatur, GA, especially as a music lover.
Eddie's Attic is where the locals and foreigners enjoy sensational musical live performances. Since this is a place to enjoy and share a passion for music, most musicians, singers, and local bands from DeKalb county and Decatur always show up here to have a good time.
Many famous singers and musicians like Dana Cooper, Michelle Malone, Sheryl Crow, Justin Bieber, Tyler Childers, and Eric Taylor, to name a few, have performed at Eddie's Attic, placing it above the par of your regular bar.
Address: 515 N McDonough St, Decatur, GA 30030, United States.
10. The Revolution Doughnuts
The Decatur Revolution Doughnuts is a place that produces sweet and delicious doughnuts. This place is a growing store offering handmade, naturally baked doughnuts from modern recipes.
Maria Moore Riggs, the prestigious owner of Revolution Doughnuts, was inspired during her short stay in a California resort to use fresh ingredients to make doughnuts. In addition, the ingredients used for pastries and sweets are obtained from farms.
They have a series of delicious doughnut menus like Cinnamon Apple and Maple Glazed with Bacon doughnuts. This doughnut shop is located along the street where restaurants are, making it the perfect spot to eat a dessert.
Address: 3506, 908W College Ave, Decatur, GA 30030, United States.
11. Callanwolde Fine Arts Center
Callanwolde Fine Arts Center
features captivating art exhibitions in its gallery. This Arts Center offers training classes in a vast selection of art courses for everyone, irrespective of age.
This Center was constructed in 1917 with an impressive architectural structure that looks like a mansion. Coca-Cola's President during the 1920s and the drink formulator's son once lived in this place, which was constructed for their dwelling.
Many Hollywood movies often have this Mansion-like building as a location in their films, and several prestigious delegates have recently been hosted at this place, including Monaco's Prince "Prince Albert." The Center is open year-round.
Address: 980 Briarcliff Road NE, Atlanta, GA 30306, United States
12. The Glenlake Park
Glenlake Park is one of the best places to visit in Decatur, GA. It is an open green land of 17 acres, often visited by locals and foreigners. This Park is close to historic downtown Decatur and is one of the best places to host a picnic or an outdoor event.
Glenlake Park is equipped with many things, just like your regular public park. It has excellent amenities like a swimming pool, tables, chairs, a pavilion, barbecue pits, and a playground for children.
It also comprises sporting amenities like a baseball diamond, volleyball court, basketball court, tennis court, and a pet park. It is evident that Glenlake Park is a top spot for relaxing and having fun in Decatur.
Address: 1121 Church St, Decatur, GA 30030, United States
13. The Decatur Ghost Tours
The Decatur Ghost Tours are the midnight walk tours around the city. If you are bored of the usual time around DeKalb county, this Ghosts tour is for you.
This tour company has a reputation for its expeditions across DeKalb county because of how spooky the tours are on Decatur's streets.
This tour comprises activities of visiting places that have horrifying and creepy stories surrounding them, like cemeteries, old abandoned houses and buildings, and haunted places.
Seeing the old passenger railway report is one of the company's captivating moments of the tour, where, back in the days during the civil war, agonizing cries of soldiers who died during the battle were heard from there.
Since most places visited are old, they have historical lessons and stories apart from spooky and creepy stories. It is also a way of learning about Decatur's history. Joining the Decatur Ghost Tours is one of the fun things to do in Decatur, GA.
Address: Decatur Ghost Tours, Decatur, GA 30030, United States.
14. Secret Doors Decatur
Decatur has a good reputation as an artistic city. This place is known for having unique tiny doors, which are 32 in number, called the Fairy doors. These little doors are scattered around Decatur. It was a product of The Secret Doors of Decatur project, a creativity group.
Some time ago, these doors were installed by 24 local artists, and they were not visible across the streets of Decatur. This unique artistic work was funded with a seed grant by the Decatur Art Alliance led by a local artist Larry Holland.
In adding more light and beautification to the streets of Decatur, several shops and business owners have taken it upon themselves to showcase these tiny doors in front of their buildings.
This makes strolling down the street of Decatur an exciting experience for tourists and photographers.
Address: Tiny Doors of Secret Doors, Decatur, GA 30030, United States
15. The Clyde Shepherd Nature Preserve
The Clyde Shepherd Nature Preserve offers visitors wildlife and lush vegetation at the heart of DeKalb county. It is a 28-acre property located in the northern part of the city limits of Decatur.
The Preserve features more than 300 species of flora and fauna that are related to Georgia's history.
Outdoor activities like hiking, animal sightseeing, nature photography, etc., are worth doing at the Clyde Shepherd Nature Preserve. Animals like turtles, flying squirrels, beavers, warblers, river otters, raccoons, and red foxes are most likely to cross your Path whenever you visit.
The Clyde Shepherd Nature Preserve was commissioned and opened in the year 1995. It is managed by The South Peachtree Creek Nature Preserves, Inc., with the sole responsibility of providing and preserving the wildlife and plants to grow.
Undoubtedly, The Clyde Shepherd Nature Preserve is one of the best places to visit in Decatur, GA, as it is among the most visited places in DeKalb county in recent times.
Address: 2580 Pine Bluff Dr, Decatur, GA 30033, United States.
Meet the top attractions in Georgia. Here is a guide on the top things to do in Woodstock, things to do in Dahlonega, and the best things to do in Canton.
16. Fernbank Museum Of Natural History
Fernbank Museum Of Natural History has fascinating front views, having a beautiful flower bed surrounding models of dinosaurs.
One of the fascinating dinosaur fossils has an Argentinosaurus skeleton of 37 meters. The Fernbank forest by the museum's glass courtyard also draws visitors' attention.
This courtyard can be explored thanks to the walkways linked to one another, especially the surviving old-growth woodland station at the foothill of the Piedmont mountain.
The Fernbank Museum of Natural History is just a 10 minutes drive from Decatur square.
Address: 767 Clifford Rd, Atlanta, GA 30307, United States.
17. Hampton-Beecher Nature Preserve
Hampton-Beecher Nature Preserve is located from the metro line going west, downtown Atlanta.
This place houses keeping remains of civil war. The greenspace allows visitors to explore hidden areas because of the trail option used for hiking.
The fortifications and defensive ditches that the union troop built were preserved after the Ezra church battles and part of the campaign of Atlanta. A portion of the north is named after a local jazz musician called Lionel Hampton, while the lower region is called Beecher hill.
Address: SW Connector Trail, Atlanta, GA 30311, United States.
18. Zoo Atlanta
The Zoo Atlanta was formally called Grant Park Zoo, which now houses many animals that once lived at the Briarcliff Mansion.
This Zoo is categorized as one of the oldest United States zoos. It offers one of the best veterinary care for animals, making it one of the country's top-rated conservation centers for endangered species.
About 2,000 individual animals originating from 250 species dwell on the Zoo's territory. It houses over 450 venomous and non-venomous dangerous creatures, primarily reptiles, in a section called the Reptile's world.
In contrast, the Australian species, not excluding cassowary and kangaroos, are housed at the Oakbank station.
Some of the Zoo's animals are rare, like the Malaysian sun bears, a family of gorillas, and two giant pandas.
Address: 800 Cherokee Ave SE, Atlanta, GA 30315, United States.
19. The Micheal C Carlos Museum
This Museum, found in the Southeast region, is one of the museum spaces in which the United States prides itself. The
Michael C Carlos Museum
is located at Emory village, approximately 5 kilometers Northeast of Decatur.
It has a collection of artifacts and antiques from indigenous cultures worldwide. The wonders of indigenous Greece, Rome, and Egypt are housed in this Museum, making it a must-visit for learning and history lovers.
The Michael C Carlos Museum also houses artifacts from Asia and Africa. In addition, sketches from Europe drawn in Renaissance are added to their collection list.
Address: 571 South Kilgo Cir NE, Atlanta, GA 30322, United States.
20. Decatur Historical District
Numerous historical structures have been a blessing to Decatur, and this district, due to its importance, has a place in the National Register of Historical Places.
Due to the craft style structure, like the American homes of the twentieth century, the zone is very recognizable. Around the King's high way, Adams and McDonough, you can find more Historical District of MAK nearby.
There is so much history to be explored at Decatur Historical District.
Address: Decatur Historical District, Decatur, GA 30033, United States
21. Martin Luther King Jr. National Park
This park is one of the newest national historical parks in the United States. However, it is not a public park like other regular parks known for having a large land mass.
This is a province with buildings that are historical, created with the help of the civil rights fights that Martin Luther King led. This area also has his childhood home and facilities of his home church, where his father was a minister and where he was baptized, known as The Ebenezer Baptist Church.
This prestigious National Park also contains the grave where his remains were buried after his assassination in 1968 at the age of 39.
Visitors can learn more about Martin Luther King's fight and the civil rights movement at the museum hosted with a visitor centre there in the park.
Address: 450 Auburn Avenue NE, Atlanta, GA 30312, United States.
22. The Briarcliff Mansion
This Mansion, built in 1992, was once the home of the co-founder of Coca-Cola, Asa Briggs Candler's son. This Mansion also tells a beautiful story of how riches can change.
It has a nice and classical interior decoration, comprising a tub door gall, solarium, paneled library, and a ballroom. The exterior has a touch of class, having a Georgian Revival style. This building has housed animals with six elephants—two of them were named coca and another cola and a Bengal tiger.
Nobody has occupied this Mansion, although it has been sold for the benefit of tourists, and it is now the Briarcliff Campus of Emory University.
This property is an excellent place to take photographs because of its beauty.
Address: 1260 Briarcliff Road NE, Atlanta, GA 30306, United States.
23. Decatur's Square
Decatur Square
is an important place in the city. It is the downtown's heart, where the DeKalb County Courthouse is centered.
This district hosts several commercial activities, including local and international restaurants and several unique retailers.
This place offers an opportunity to walk and explore, as it is accessible to commuters on foot.
Many of the city's activities are governed at the country house located in the square.
Address: 509 N McDonough At, GA 30030, United States.
Planning a road trip in Georgia? Explore this list of things to do in LaGrange, things to do in Buckhead, and things to do in Marietta for a memorable road trip.
Plan Your Trip to Decatur
Decatur is a wonderful location worthy of a vacation. You'll certainly be glad you visited, as it has various unique features that will excite you.
Ensure to come along with your loved ones to maximize the experience. A wonderful getaway experience awaits you in the lovely city of Decatur!