Buckhead is an upscale neighborhood for commerce and housing in Atlanta City in the state of Georgia, United States.
The District is the third most populous business neighborhood in Atlanta after the Downtown and Midtown district.
Buckhead is one of Atlanta's flourishing districts, if not the most prosperous neighborhood. Most of its citizens have continuously advocated for it to become a city.
The District is filled with unique regions offering different kinds of luxury, themes, fun, and entertainment, great for both young and old.
There are many places to visit in the District, such as Atlanta History Center, Blue Heron Nature Preserve, the Southern Beer Tours, Johnny's Hideaway, Buckhead Grand Spa, and more.
Are you planning an exploration of Buckhead? Here are the top things to do in Buckhead, GA.
Things to Do in Buckhead, GA
1. Blue Heron Nature Preserve
Are you a nature enthusiast? If yes, add a visit to Blue Heron Nature Preserve to your bucket list.
Blue Heron Nature Preserve is a 30-acres nature area featuring natural amenities such as woodlands, wetlands, meadows, and riparian regions.
There are trails open for everyone to explore. You can also visit with your furry friend if it remains on a leash.
The Blueway trail is a great and popular spot for many visitors, leading to beautiful natural resources.
The preserve is decorated with meadows featuring herbaceous plants, including wildflowers and grasses. The riparian regions comprise rivers, floodplains, creeks, and streams.
Blue Heron Nature Preserve is a perfect place for those who want to stay away from all the noise and buzz of the world.
Address: 4055 Roswell Rd NE, Atlanta, GA 30342, United States
2. Atlanta History Center
Atlanta History Center should to be on the list of places to visit in Buckhead, GA, if you wants to learn about the history of Atlanta.
The Center was established as the Atlantic Historical Society in 1926 to collect, preserve, and promote Atlanta's history and surrounding areas.
Later, in 1990, after several decades of researching and collecting historical data and artifacts, the Center was inaugurated as the Atlanta History Center on a 33-acres property.
Atlanta History Center houses a massive garden with historic buildings and expositions. While inside the facility, you will find interactive screens, memorabilia, paintings, and more.
The Center is home to the most extensive collection of the United States Civil War relics and sports equipment, including athletic equipment, medals, and more.
Address: 130 West Paces Ferry Rd NW, Atlanta, GA 30305, United States
3. Lenox Square
Do you want to go on a shopping pilgrimage? Do well to add shopping at Lenox Square to your checklist.
Lenox Square occupies a four-story building with three gigantic anchor stores such as Neiman Marcus, Macy's, and Bloomingdales.
This shopping center contains 250 stores, making it the third biggest mall in the state.
With the presence of all these stores, you will find what you need and the highest quality materials.
Lenox Square offers luxurious accessories, beauty products, symbolic brands, handmade items, designer attire, and more.
The Square has a beautiful array of stores that is a combination of designer, high-end, and department stores.
Address: 3393 Peachtree Rd NE, Atlanta, GA 30326, United States
4. Chastain Memorial Park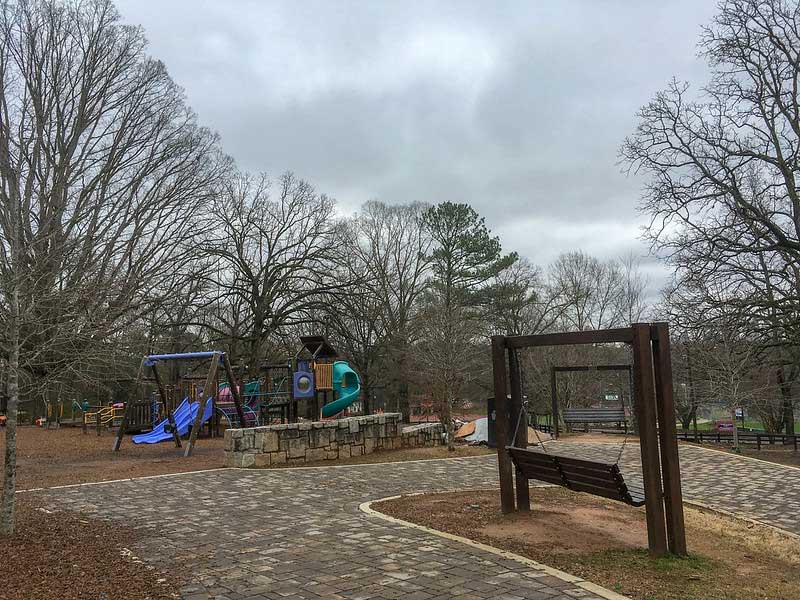 Chastain Memorial Park is known as the largest Park owned by the city, with a massive land space that extends for 268 acres.
The Park features trails, which are great for jogging, and horseback riding. There is a public swimming pool where you can relax and cool off on a hot summer day.
How about testing your skills in the Park's sports facilities such as the golf course, tennis courts, a horse park, and a gymnasium?
Chastain Memorial Park features a gigantic playground featuring various kinds of play equipment for little ones.
The Park consists of ball courts and picnic areas where you can relax on the beautiful grounds with your companions and grab some snacks.
You can also stop by the Chastain Arts Center and join any of the various educational exhibits, classes, and workshops.
Address: 140 Chastain Park Ave NW, Atlanta, GA 30342, United States
5. Buckhead Art and Company
Buckhead Art and Company is an art gallery that helps to promote the amount of creativity in Atlanta and places the city on the map when it comes to art.
The art gallery is dedicated to showcasing contemporary artworks made by numerous prominent artists within the country.
Buckhead Art and Company is owned and operated by Katie Jones, passionate about creating a favorable environment for artists and art viewers.
Buckhead Art and Company is housed in a facility of 4,000 square feet featuring paintings displayed in an ample open space.
The Gallery is distinct from others of its kind due to its unique environment and the beautiful artworks showcased, even though it is a privately owned gallery.
You will find unique, timeless paintings, pop works, bold brushwork, nicely crafted designs, melodic backdrops, harmonious landscape, and more.
Address: 288 Buckhead Ave NE, Atlanta, GA 30305, United States
6. Atlanta Fish Market
A lively public market, Atlanta Fish Market is considered a favorite place for lovers of seafood in the region.
Atlanta Fish Market is a place in Buckhead where you can enjoy mouthwatering lunch or dinner and leave with some takeaway.
There are delicious meals for you, such as oysters, shrimps, crabs, lobsters, salads, sushi rolls, steaks, and many more.
The Market doesn't only offer dine-in, but they also offer takeaway, delivery, and pre-order; all you have to do is get a call across to them.
Address: 265 Pharr Rd NE, Atlanta, GA 30305, United States
7. LEGOLAND Discovery Center
For those looking for fun things to do in Buckhead, GA, visit LEGOLAND Discovery Center with your little ones.
LEGOLAND Discovery Center is an excellent place for children and the young at heart.
LEGOLAND Discovery Center offers a fun, interactive, and educative indoor experience for children to explore.
Some of the attractions in the Center include A 4D cinema, MINILAND, Pirate Adventure Land, Kingdom Quest, Merlin's Apprentice Ride, Lego Racers Build and Test, Pirate Adventure Land, Lego Master Builder Academy, Lego Factory Tours, and more.
Occasionally special events are held in the Center. Only adults with children are allowed into the facility during regular hours.
Don't deprive your kids of this spectacular experience.
Address: 3500 Peachtree Rd NE, Atlanta, GA 30326, United States
8. PATH400 Greenway
PATH400 Greenway, a multi-purpose trail, heads toward the GA400 freeway before going through Buckhead.
Add a visit to PATH400 Greenway to your list of best things to do in Buckhead. The trail is part of the Buckhead Collection project, founded to form more green areas and parks within Buckhead.
This project features a chain of trails network of 106 acres throughout Buckhead.
PATH400 Greenway provides easy access to the middle of Buckhead through a greenway of 5.6 miles long and to offices, streets, etc.
Take a quiet stroll down the path and enjoy the views of artworks showcased publicly in different kinds, including large bright walls, shadow panels, murals, birdhouses, painted picnic tables, and more.
PATH400 Greenway is surrounded by beautiful tall trees, neighborhoods, and more. Make sure you visit this path.
Address: Midtown 781 Peachtree St
Georgia holds some cool attractions and activities, check out our guides on things to do in Woodstock, things to do in Cartersville as well as things to do in Valdosta for a memorable time here.
9. Vinings Gallery
Vinings Gallery is recognized as the platform for more than thirty widely distinguished and arising artists who positively impact the art industry.
The Gallery features timeless pieces and original graphics made by famous and emerging artists.
Their staff is highly knowledgeable and experienced in searching for remarkable artworks.
Vinings Gallery has beautiful artworks from an extensive collection of designs and artistic styles placed on display that will catch your fancy.
The staff and owners create a more intimate relationship with their artists, enabling them to explain every piece's style or story to their clients.
Address: 4687 S Atlanta Rd SE #114, Atlanta, GA 30339, United States
10. The Southern Beer Tours
Are you bored or just simply clueless about what to do next? Why not join the Southern Beer Tours as you get to explore the entire neighborhood?
The Southern Beer Tours offers visitors opportunities to try out some of the highest quality brews and appreciate Atlanta's Brewery industry.
During the tour, you visit at least three breweries and try out samples from each company with complimentary snacks and water.
Your tour guides take you to only the best breweries in the region, such as Monday Night Brewing, Atlanta Brewing, and Sweetwater brewery.
You also learn new things, including the processes involved in producing the beers and many more.
Address: Atlanta, GA 30308, United States
11. Cadence Bank Amphitheatre
Cadence Bank Amphitheatre, located at Chastain Park, is the oldest outdoor music center in the area and can be unquestionably called a historical landmark.
The Amphitheater has existed since 1994 and has continuously attracted people from different parts of the country for amazing entertainment.
Nearly 200,000 people visit this Amphitheater every season, being a host to several musicals and live stage performances.
Cadence Bank Amphitheatre offers you an incredible experience through the best rock bands, entertainment by classic artists, and R&B & hip-hop artists.
Check their website for any event, book your tickets online, and be guaranteed of having a terrific music night.
Come with your snacks and chilled beers to enjoy as you also appreciate the energetic atmosphere and music.
Address: 4469 Stella Dr. NW, Atlanta, GA 30342, United States
12. Alan Avery Art Company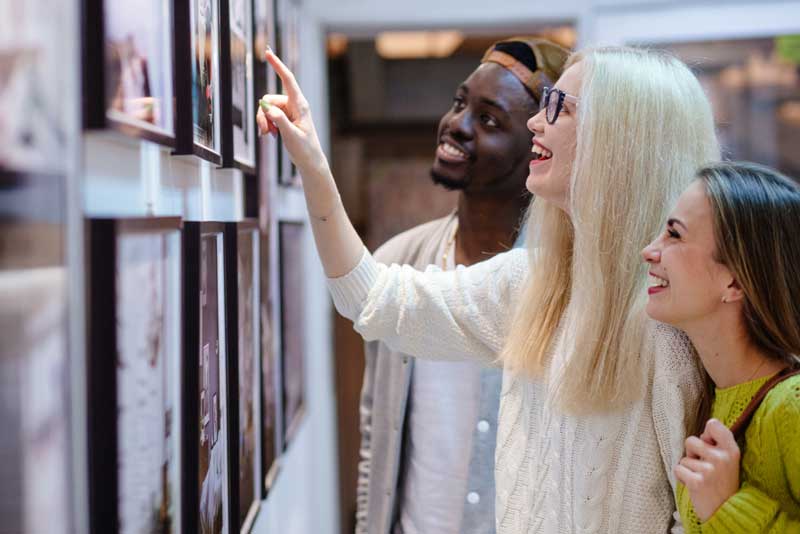 If you claim to be an art lover and haven't visited Alan Avery Art Company, you're backward in exploration.
Alan Avery Art Company is an excellent addition to your bucket list. The Art Company was initially known as Trinity Gallery.
The destination was established in 1981, making it the oldest surviving art gallery in Atlanta, GA. It has been in the Buckhead neighborhood for over thirty years after moving to the area in 1991.
The Gallery showcases artworks of different categories of artists, including Internationally based, upcoming, and advanced artists.
You will find the works of artists such as Robert Kipniss, Jim Dine, Chuck Close, Kara Walker, Roy Lichtenstein, David Hockney, Helen Frankenthaler, Louise Nevelson, and more.
Address: 656 Miami Circle NE, Atlanta, GA 30324, United States
13. Moondogs
Of course, every neighborhood must have a spot where locals and visitors can unwind and chill after a hectic day. So if you're searching for a place to rejuvenate, visit Moondogs.
Moondogs is a local tavern where you can share some delightful bottles of chilled beer with your friends or colleagues.
Put on your dancing shoes and show off some great dancing moves with your companions on the dancing floor.
This pub has been offering visitors an exceptional experience since 1993, featuring four mini full-service bars. You can also play darts or pool while sipping a drink.
Moondogs is only open to individuals from 21 years.
The tavern is open on Wednesdays and Thursdays from 8 pm-3 pm, and Fridays & Saturdays from 9 am-4 pm (closed from Sunday to Tuesday).
Address: 3179 Peachtree Rd NE, Atlanta, GA 30305, United States
14. Swan House
Swan House is a historic building in Buckhead listed on the National Register of Historic Places.
The House was designed in 1928 by PhilipTrammel Shutze as a family residence of Edward and Emilly Inman.
After the Civil War, Edward Inman contracted Hentz and Alder's architectural firm to design a home on his large property in Buckhead.
In 1928, they relocated into their new residence, just a year before the tremendous depression began; Edward Inman died three years later at forty-nine.
Emily insisted that Hugh, her eldest son, and Mildred, his wife, and their two little kids move into her home.
Emily passed on in 1965 at eighty-four. The home was sold to the Atlanta Historical Society with a significant part of its authentic furnishings from the 18th century to the 20th century.
Address: 130 W Paces Ferry Rd NW, Atlanta, GA 30305, United States
15. Peachtree Road Farmers' Market
Are you planning a nice family dinner? And you require a close-by spot to shop the best food items Peachtree Road Farmers' Market got you covered
Peachtree Road Farmers' Market is a diverse market that offers different classes and categories of items.
Here, you can be sure of purchasing only naturally grown products from the food dealers focused on locally produced items.
The vendors offer grass-fed meats, fruits, vegetables, homemade baked goods, fresh juices, spices, jams & jellies, milk, and more.
The Market also has culinary equipment, pottery, designer bags, bohemian jewelry, charcuterie boards, and more.
Peachtree Road Farmers' Market is only open from March to December on Saturdays. Visit the Market, and you will see why it is the most visited Market in Georgia.
Address: 2744 Peachtree Rd NW, Atlanta, GA 30305, United States
Also check out our checklist of fun things to do in Marietta, things to do in Clayton, and fun things to do in Thomasville, if you are planning a Georgia road trip.
16. The Painted Pin
The Painted Pin is a family-friendly fun center and an excellent place to spend quality time with your family and friends.
There are twenty modern bowling lanes. You can also engage in a friendly competition against your friends in a bowling tournament.
This destination is a paradise for gamers as it features exciting games like basketball throw-a-shot, ping pong, Jenga skeeball, and darts.
The Painted Pin also has a concession and bar where you can enjoy delectable pizza, signature cocktails, and so on.
Address: 737 Miami Cir NE, Atlanta, GA 30324, United States
17. Buckhead Grand Spa
You will need a break from the exploration and fun to relax and rejuvenate your body. Buckhead Grand Spa is the best place for that relaxation.
Buckhead Grand Spa is unapologetically one of the best spas in Atlanta, with an elegant European environment that will wow you the moment you step in.
The Spa is known for its soothing and relaxing atmosphere, where the best healthy and relieving treatments are given.
Every single treatment the Spa offers are given by highly experienced therapists and estheticians who understand what is perfect for every individual.
Buckhead Grand Spa uses the highest quality natural products, which are beneficial to well-being, to cater to the needs of every client.
Personal consultation and thorough analysis of your skin kind will be carried out before any treatments to ascertain the best products suitable for your skin.
Address: 3338 Peachtree Rd, Atlanta, GA 30326, United States
18. Bobby Jones Golf Course
Bobby Jones Golf Course is an outstanding golf course and a top destination for numerous golf players in the country.
This Golf Course features the Murray Golf House, the Dan Yates Putting Course, the Grand Slam Golf Academy, the Cupp Links, and Bonne's restaurant.
Bobby Jones also consists of a reversible course designed by Bob Cupp and state-of-the-art facilities with programming targeted at enhancing the game of golf amongst emerging talents.
Bobby Jones Golf Course offers you a magnificent natural surrounding with many natural resources, making it more exceptional.
The Golf Course features vast double grasslands and numerous tees, offering players the expected kind of thrills and challenges.
The Bonnes restaurant, which directly overlooks the Bobby Jones Golf Course, is known for offering the best customer service and delicious cuisine.
You can stop by the restaurant before or after your tee time and try out some sumptuous meals served with a glass of wine or beer.
Address: 2205 Northside Dr. NW, Atlanta, GA 30305, United States
19. True Food Kitchen
For food lovers searching for a place that serves delicious foods, visit True Food Kitchen.
True Food Kitchen offers patrons a menu featuring meals that are well crafted, ensuring they get the desired level of satisfaction needed.
The restaurant thoroughly examines every ingredient used in preparing the meals ensuring they are of great freshness and quality.
They also offer an impressive list of handcrafted beverages dependent on quality ingredients, easy procedure, and season.
So you can pick from their selection of beverages to match with your dessert, brunch, lunch, or dinner.
Address: 3393 Peachtree Rd NE Ste 3058B, Atlanta, GA 30326, United States
20. Museum of Contemporary Art
The Museum of Contemporary Art is an organization committed to collecting significant and recent works from different parts of the state.
This location is a paradise for every artist or art lover. So, if you fall into any of the two categories, add a visit to the Museum of Contemporary Art to your list of things to do in Buckhead, GA.
The Gallery initially began with 250 artworks made by 110 artists, but it now showcases over 1,300 artworks.
The Museum of Contemporary Art showcases a permanent collection of fifty to a hundred pieces annually.
There is a resource or educational Center that is used as a spot for students to study the history of art in the state.
The Center offers programs concerned with enhancing visual arts and simultaneously developing a means for effective relationships or interaction between the artists and the community.
Address: 75 Bennett St NW, Atlanta, GA 30309, United States
21. Bennett Street
Bennett Street began as a country road and developed into a warehouse region before transforming into a scene for 1970s singles.
Art galleries and studios began to establish themselves here in the mid-1970s. Today, the Street is one of the most visited places in the neighborhood.
You will not only find galleries and studios, but you will also find lovely shops, restaurants, music centers, health & fitness centers, and so on.
Bennett Street has a fascinating history of offering clients an amazing experience and keeping a good relationship with them for decades.
Address: 55 Bennett St NW, Atlanta, GA 30309-1264. United States
22. The Miami Circle cul-de-sac
The Miami Circle cul-de-sac is one of the active regions in Atlanta with the most energetic and vibrant spots.
This destination is a must-visit for anyone on a shopping spree and an excellent place for sightseeing. The attraction also features Eclipse di Luna, a spot for food buffs.
The Street goes along the northern part of the Lindbergh Marta station through Piedmont Road before crossing Sidney Marcus Boulevard.
The Miami Circle cul-de-sac consists of over eighty shops spread throughout the Street. The destination was named after one of the early occupiers in the area, Miami Window Co.
After the large furniture wholesaler settled in the area, it attracted many smaller businesses to the site. His settlement also began the transformation of the warehouses in the streets into decor stores.
Address: 707 Miami Cir NE, Atlanta, GA 30324, United States
23. Johnny's Hideaway
Whenever you feel drained and worn out, your next destination should be a place that will help you relax and chill. Johnny's Hideaway is a place that takes you back in time to the 50s.
Johnny's Hideaway is an authentic smoke-free night spot in Atlanta. Their DJs offer visitors the best hits from way back in the 50s.
Different genres of music are played for your listening pleasure; therefore, get ready to rise and dance to the beats of the music.
The destination serves meals like Johnny cheesesteak, chicken tender sandwiches, Johnny's club sandwiches, cheeseburgers, baskets of fries, salad, soups, and more to complement the drinks.
Address: 3771 Roswell Rd NE Atlanta, GA 30342, United States
Want more of Georgia? do check out our list of things to do in Statesboro, things to do in Tifton, and things to do in Cleveland for a memorable vacation.
Plan Your Trip to Buckhead
Buckhead is an upscale district that is a perfect ground for tourists because of its spectacular attractions and lively ambiance.
The District's lovely stores and attractions directly impact the city's economy and tourism industry, as it attracts numerous visitors annually.
Explore the Buckhead attractions in this list and be sure of having a memorable experience.