Providence, the capital city of Rhode Island is one of the best places you can go on a vacation.
This city is one known to have quite some historical stories to back up some places here and in this article we will be looking at some of the best and fun things to do in Providence RI. This would help give you that perfect trip you so much wish for.
Ranging from historical sites to a vast number of cultural sites, Providence is a place to go if you are in the mood to see some buildings which will just leave you thrilled.
Though most parts of this city is known to be historical districts, the place also features some of the best views of a modern city.
There are quite a lot of Providence attractions and things to see in Providence RI which could make your checklist.
these would involve either taking a walk, going on boat tours, visiting unusual places as well as some of the fun things to do in Providence with kids.
Let's explore the best things to do in Providence RI:
Things To Do In Providence, RI.
1. Roger Williams Park
Would you like to know what to do in providence RI with loved ones?
How about a visit to one of the beautiful spots of Providence, the Roger Williams Park.
This Park covers quite a large expanse of land which spans about 435 acres. The park is made up of lakes, breathtaking gardens and greenhouses hence referred to as one of the best spots in Providence.
In this Park, you do not only have to meet floras and faunas, but you could also see the best of periodic buildings which date back to early 1915.
You can also have to meet the likes of the Betsy Williams Cottage which is a building dating back to 1773.
This is also one of the best things to do with kids in Providence as your kids have the opportunity to play with carousels as well as play in playgrounds and ride trains.
You can't get bored in this park with lots of options of cool things to do.
It will also please you to know that this park is home to the Roger Williams Zoo and the Museum of Natural History.
2. Tour With Providence River Boat
One of the best things to do on a vacation is to take a boat tour. This is fun to do, and Providence River Boat Company got you covered on that.
Providence River Boat offers boat tours to both tourists and locals through the Providence River and around the harbor as they try to give participants a good view of the city with its architecture as well as its history.
Through the Providence River, this tour is normally done using a passage pontoon known as the MV Proud Mar. This boat offers a comfortable seat for about 14 passengers and is also equipped with some modern facilities to make your tour luxurious.
Going on this tour offers you the flexibility of quite some river tour options available. It could be through bonfires, flickering bridges and floating braziers. Or you can undergo a relaxation tour which gives an afternoon or evening cruise through the river.
Patrons may decide to go on a tour to the Pomham Rocks Lighthouse, which will give you a view of some of the restored lighthouse which dates back to 1871
Address: 575 South Water Street, Providence, Rhode Island.
3. WaterFire
Are you in providence in the period of May to November? You did visit at the right time as you will get the best of providence activities in this period.
Being here within this period will allow you to meet providence attractions such as the WaterFire.
This is a view of 80 bonfires across the river.
To have a good view of this, make your way to Downcity region of Providence and look across the water, the amazing view made by more than 80 Bonfire made on braziers over the river will keep you in amazement.
This view covers from Waterplace Park and go down to the South Main Street Park.
Around this area, there are also some major events. A good place to check out for these is the Providence city mall.
Visiting Providence within this period, do not miss the view of WaterFire.
4. John Brown House
Amongst things to see in Providence RI is the John Brown House.
This house dates back to the early days of 1786 and belonged to a former merchant.
Known as the John Brown House, it is one of the major tourist views of Providence, sitting on the rolling hillside.
A trip to this house just for the view will definitely be worthwhile.
This view tries to show tourists what staying in Rhode Island was like in the 18th century.
You not only have to look from the outside, but you can also decide to tour this house to take a look at the interior decorations and antiques which have been in the possession of the Brown family over these years.
Visiting the John Brown House is one of the best things to do in Providence and should make your checklist of things to do.
5. The Providence Athenaeum
This is one of the best independent cultural centers and libraries in Providence offering all related to books as well as literature for appreciation.
Located in a Greek architectural building dating back to 1836. The Athenaeum is a center that tries to encourage those who have a deep passion for books and literature.
They also engage in lots of programs to create the communication between individuals with this passion as they help inspire themselves through the reading of literature.
Also offered amongst providing these literatures are community events such as quiz evenings, reading and salons which tries to open the area for individuals to come around more. You would definitely like this!
If you are one who loves literature, then this is a must-visit in Providence.
Address: 251 Benefit Street, Providence, Rhode Island.
6. Benefit Street 'Mile of History'
A mile next to Brown University's campus is the beautiful Benefit Street.
Are you in to be wowed by some of the best of providence architecture? Taking a trip to Benefit Street is one experience you should never miss.
Here is what you will find:
A visit to the Benefit Street will introduce you to different styles of aesthetic architecture ranging from Victorian to federal homes. You will also get to meet providence attractions such as Art Deco which is a styled residence to add to the diverse building you will meet in this area.
When visiting here, you should also lookout for the Providence Preservation Society. They have a tour booklet which you can pick up to get a perfect self-guided tour in this area.
Benefit Street is where to go if you are the type to marvel to an amazing building.
7. Providence Performing Arts Center
Located in Weybosset Street, this is one place known for nearly a century to make this area a lively one.
The Providence Performing Arts Center is an art theater designed by George and C.W. Rapp. They are popular in the design of some of the best-known theaters of the early days.
History has it that this center sits on what was once the Loew's Movie Palace.
According to historians, its interior as at when constructed in 1928 was a very sumptuous one, making use of marble columns, ornamented ceilings and a well-detailed plaster finish to its walls.
Over the years, renovations have been made to bring this center into a modern one hence it is known to have changed greatly compared to its early designs.
This center is used for all related arts such as musicals, films, plays and lots more.
If you take interest in this, you may also love to check out Trinity Repertory Company which is another place of the arts in Providence.
Address: 220 Weybosset Street, Providence, Rhode Island
8. RISD Museum of Art
RISD, an acronym for Rhode Island School of Design is one of the top places to be if you take an interest in arts and wish to explore that interest in Providence.
This is a museum that houses some of the best of exhibits in the art world, ranging from Asian Arts, French Impressionists even towards art collections from the early ages in Egypt.
Housing in this building is an impressive array of arts of all forms, cutting across Sculptures, Paintings and textiles.
You should also do well to look out for the vintage Federal rooms. These rooms are packed with some of the best antiques you would find.
9. Museum of Natural History
Are you one who enjoys historical stories? Then, the Museum of Natural History is a good place to go on a trip.
This museum was founded in 1896 in the city of Providence and has since been committed to helping individuals understand the world they are through giving educational information about the natural world.
They engage in making exhibitions, presentations displays and organizing educational programs to educate attendants.
Do you want to know what to do in Providence RI with kids? This museum should make your checklist of top things to do in Providence RI.
This museum is home to more than 250,000 objects which relate to the natural world.
They do well to preserve both plant and animal remains (with a compilation of over 175,000 preserved). They also have a compilation of about fifteen thousand earth specimens, twenty thousand archaeological objects and four thousand ethnographic objects.
They also house some good informational resources which are in the form of photographic archives and documents which you can learn quite a lot from.
When visiting the Museum of Natural History, do well not to miss the collection of decayed plants from the Coal Age of Rhode Island. These plant fossils dates back longer than 350 million years.
Address: 1000 Elmwood Ave, Providence, Rhode Island.
10. Gun Totem
Just like the Game of thrones movie where we saw a throne built with swords; This is a pillar of guns, amazing right?
This is one amongst many things to see in Providence RI.
Artist Boris Bally created this pillar and referred to it as the "Gun Totem" and in 2001 this gun pillar was constructed through a fire-arm program which held in Pittsburg.
You might not have heard, but this pillar was made with as much as 1000 guns gotten from this program and it was commissioned by the Park department of Providence.
Its construction saw lots of guns being fossilized into the concrete pillar and bits of the pillar chipped out to give a view of the deadly weapons within, hence creating quite an art.
After the construction of this, life has seen Bally taking up another project as he partners with gun archers who make use of disable handguns in the area.
11. Brown University
Here is a University in Providence which dates back to the early days of 1770, the Brown University.
Sitting on the College Hill, Brown University is quite an amazing university to visit.
Just like other universities, this university sees students pass through it in the pursuit of their various careers.
Aside from visiting to see some of the amazing structures presented by this university, you can also decide to take a trip to its Gallery to have a look at the displayed exhibition. They are always open to the public.
One Library you will enjoy is the John Hay Library. This library is famous for its vast collection of stamps, you could also visit John Carter Brown Library which is known for its collection of maps.
How will you love to view exhibitions?
Visiting the David Winton Bell Gallery will introduce you to art exhibitions of various kinds. This gallery is a historic one featuring quite a lot of historic pieces as well as modern artworks.
You could also decide to have a tour of the university landmarks. You will need a student to guide you through this.
During your tour, there are some amazing conservatory which you just can't miss here at Brown University. It would will make your tour worthwhile.
12. See The Crook Point Bascule Bridge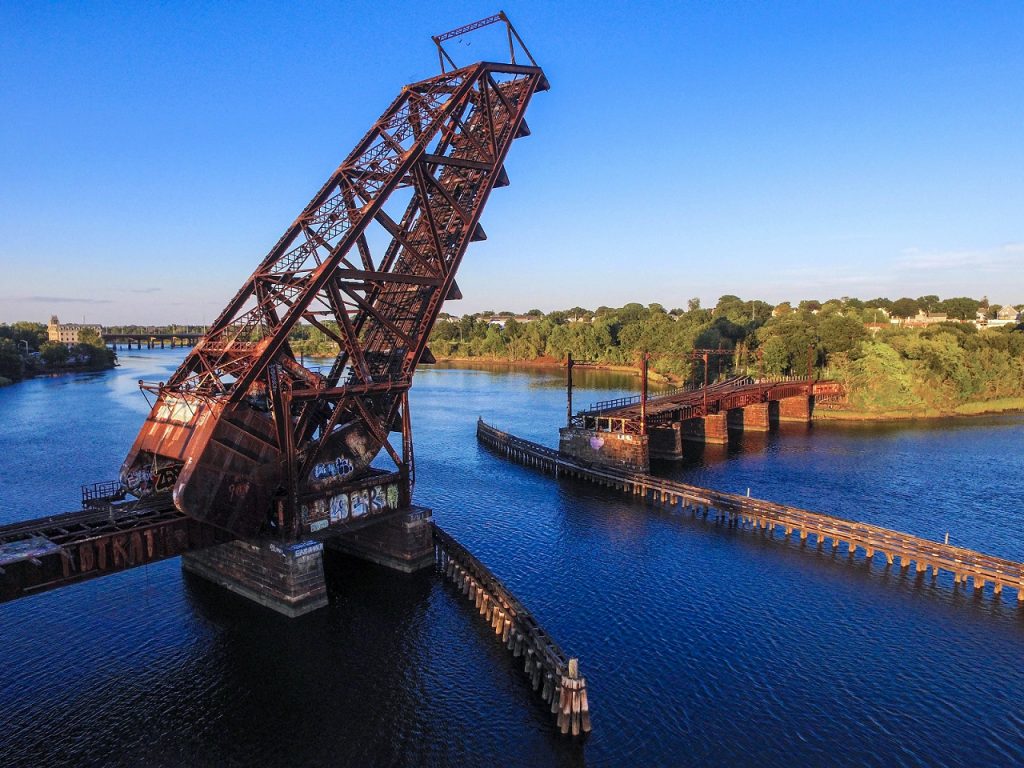 You can't imagine, but an abandoned bridge made this checklist of things to do, the Crook Point Bascule Bridge.
This drawbridge bridge was built in the early days of 1908 and since 1976 its been left uncompleted and abandoned. Many would say, in a "stuck up" position.
Its history has it that this project began as part of a railroad project in the age of railroads in the United States. It was one needed to connect railroads between New Haven, Hartford and the New York railroad all to the Union Station.
This bridge saw lots of traffic in its early days but as the age of railroad came towards an end in the mid-1970s, running through this bridge became a costly one and as other means of travel became more efficient and cheaper.
Hence, traffic through this bridge died down and rather than dismantling of this bridge, its draw was pulled up and has since been left that way.
It's been more than 40 years now and this bridge has not only vexed many around but has also become a sort of inspiration to the dwellers and tourists who visit to behold its sight.
13. Governor Henry Lippitt House
Amongst the historic houses in Providence is the Governor Henry Lippitt House which its construction is known to date back to the year 1865. This should make your checklist of things to see in Providence RI.
Standing on a historic region of Providence, this is quite a huge mansion which has about 30 rooms. It has its architecture to be the Renaissance Revival style with some beautiful decoration touches such as the Italian palazzo and some touches of marble.
If you are one to take a liking to aesthetic architectural designs, then the Governor Henry Lippitt House should be added to your checklist.
The Governor Henry Lippitt House is popular amongst locals and tourists alike as it is known throughout Providence to be one of the most ornate houses around, special thanks goes to its amazing wood carvings.
14. See The Tallest Building In Providence
The Industrial National Bank Building or "The Superman building" as referred to by locals is the tallest building in Providence and is one worth seeing.
Similar to the Daily Planet Building (hence the term Superman), this building is an iconic building in Rhode Island and a very distinct building.
With regards to height, the Industrial National Bank Building measures 428ft tall which counts to be the tallest in the area.
Having the Art Deco style architecture, it bears a good similarity to the Daily Planet movie seen in the Superman movie. History has it that its construction dates back to 1928.
Though empty, it remains one with a difference. Its last occupant was the Bank of America which was seen to vacate the premise in 2013 and since, this building remains empty.
Efforts made to convert the building to a luxurious housing by its owners, High Rock Development was denied with the notion it required quite a lot of public funding.
This would make a go add to your list of top things to do in Providence RI.
15. Roger Williams Park Zoo
Are you considering what to do in Providence RI with the kids? A visit to Roger Williams Park Zoo is just perfect.
Visiting Providence, you do not want to miss out on the opportunity to visit a zoo known to be one of the oldest in the United States, the Roger Williams Park Zoo.
This zoo is located in the Roger Williams Park and unlike many other zoos, this occupies a vast area of land stretching more than 40 acres of land in this area.
Though one of the oldest, its managers are doing a great job in bringing this zoo up to modern standard with constant renovations, building the area to perfectly reflect the home of animals in conservation.
Visiting this zoo is one of the fun things to do in Providence with kids.
Children, as well as adults, enjoy looking at attractions of the animal kingdom. In this zoo, you will find some of the best providence attractions such as having to view wildlife such as elephants, giraffes, snow leopards, zebras, and lots more.
Here you will also get to meet animals from several parts of the world such as the red pandas and kangaroos.
Kids will love the interactive nature of this zoo as they have lots of play opportunities such as visiting tree houses, camel rides, and playing in playgrounds.
16. Don't Miss The Big Blue Bug
Many refer to this as the Providence Statue of Liberty as it sits on the roof of a pest control company to welcome visitors entering Rhode Island.
The Big Blue Bug statue is a mascot of the New England Pest Control or now called the Big Blue Bug Solutions (they are acclaimed to killing these bugs).
Rising to prominence over the years, this is a 5 foot long, blue termite made with fiberglass. Its construction dates back to the year 1980 and has since been used as a means of marketing for its owners.
Since its construction, it has stood as a marketing means for its company and now is one of Rhode sites of attraction.
Naming the bug, a contest was made to determine what it would be called, this contest saw to this bug being referred to as "Nibbles Woodaway".
It is known that the blue color has not been the color of Nibbles Woodaway when constructed. It was purple as that is the color of termites under a microscope.
However, due to the action of weather on it, its purple color faded to display this blue hue signature and since then, it caught the eyes of many and has remained so since then.
During the holidays, providence activities around here will see Nibbles Woodaway all dressed up, this brings the surprise to visitors as they see a huge dressed up termite greeting them as they enter Rhode Island.
Watch out for the Blue Bug when on a visit to Providence.
17. The Arcade
This is a famous shopping mall, one which is known to be one of the first malls built in the year 1828.
After closing down for about five years, the Arcade shopping mall is now brought to modern standard following some refurbishing work aimed to restore its former glory.
Though you might notice a clash of style of its building which might entail that its constructors had difficulty deciding what they want, this structure is one unique one in the environment.
There are rumors that two architects took to share the design of its two parts and each coming up with a different design which led to the lack of correlation in the design.
Do take a visit to the Arcade when on your trip to Providence, it's one 'must-see' center in the area.
18. Providence Biltmore
Launched in 1992, the Providence Biltmore is one place built for the luxury and relaxation in Providence but it however comes with some unusual stories.
This is a hotel owned as part of Bowman-Biltmore Hotels chain assets. It features a Beaux-arts design as made by Warren and Wetmore.
Supporting the construction of this hotel is Johan Leisse Weisskopf who is however rumored by many to be a Satanist.
Locals have some unusual stories to tell about this hotel selling the idea that this is a hunted hotel.
Some funny stories have been told, stories of parties which cannot be found, locks turning with no one in the room, and some other ghostly stories which you might mostly see in the movies.
These however have gained this hotel the title of the most hunted hotel in all of the United States.
Stories told of this hotel have been used to inspire some fictional hunted houses such as the Bates Motel.
If you are not one to be afraid of the hunt, you could take a trip to this hotel to have a sight of the most hunted hotel in the United States.
19. Culinary Arts Museum
Are you one that takes interest in cooking or love to see good meals? Visiting this unusual museum is one of the top things to do in Providence RI.
Just like other museums that are focused on their collections of items in different fields, the Culinary Arts Museum is focused on all food-related collectibles.
In this museum, you have the opportunity to see more than 250,000 food and cookery related exhibits
These collections include food cookbooks and some famous food interiors such as memorabilia and diners.
Furthermore, you have here a stagecoach tavern which dates back to the early days of the year 1833 showing visitors how food was cooked and eaten in the ancient city of Rome.
20. Turk's Head Building
Though not easily seen by many, I would recommend you look out for the face of a 19th-century soldier on the Turk's Head Building.
This is known to be a homage to the lost landmarks of Providence.
When crossing the Weybosset and Westminster junction of downtown Providence, take a look upward towards the skyscraper which dominates the area, there you will get to see the stern stone face.
This has gotten this building its name, "Turk's Head".
Its history dates back to the 1800s, when a shopkeeper by the name Jacob Whitman made a wooden head shaped like that of a Turkish guard and hung it over his store.
With time, this became known to be a rendezvous amongst locals in the area.
Years went by and the wooden head was lost in time. However in 1913 when plans were made to build a skyscraper in the spot where was once Jacob Whiteman's shop, they thought it wise to commission the Art to give tribute to its original design.
21. Downcity
Just like its name implies, this area is known to be the downtown Providence which has its providence activities in this area as that of a medium city.
This area has quite some buildings of old which you will have a good time having a look if you decide to go on a tour in this area.
In Downcity, you also will not miss some late Victorian house which has been preserved. This is due to their wooden facades which act as a shield to protect and keep them over the years.
You will also not miss sights such as the Art Deco structures which are quite the sight to behold. Other buildings in this city include those designed with the Beaux-Arts style of architecture.
The oldest building in this area is the Beneficent Congressional Church which is a place worth taking a look at, possessing quite an impressive portico and dome.
22. Walk The Neutaconkanut Hill Park
Here is another park in Providence worth paying a trip to.
The Neutaconkanut Hill Park is one known to be home to many flora and fauna in Rhode Island.
This is a wilderness measuring about 88 acres and was once a boundary which was a result of a land agreement between the Narragansett Indians and Roger Williams (known to be the founder of Rhode Island).
Climbing this hill will get you to about 296 feet above sea level which is a good spot to have a good view of the Narragansett Bay and Downtown Providence.
This area has been owned by several people. History has it that it was owned by Borden family up until 1829 and then the Kings Family until 1892.
This park today is owned by the Providence city and is today being preserved by both the Neutaconkanut Hill Conservancy and the Providence Parks Department.
In this Park you will meet glacial boulders, ravines, freshwater springs, and trails for walking created by the WPA in the 1930s.
23. Federal Hill
How about a visit to an Italian American community? The Federal Hill is the place to go.
This area poses some of the fun the best things to do in providence RI. and should make your checklist of things to do.
Atwells Avenue also known as Federal Hill is one which steep upwards to the west region of Downcity, this is one great Italian American community area where you have the best of Italian culture.
Here, you will meet the varieties of Italian restaurants, shops for Italian foods and cafes.
This community emanated from the days where immigrants groped themselves with regards to their language and related traditions, now today Atwells Avenue and adjacent streets are one with Italian culture.
Here,byou could decide to visit an Italian cook shop to have some of the best Italian meals such as freshly made mozzarella, cured meats as well as golden pantones.
You could also decide to eat other Italian meals such as spaghetti and red sauce also referred to as gravy amongst locals.
This is also a place to enjoy some of the best cappuccino or you can decide to get yourself a dish of gelato.
A good time to visit is the Columbus Day where you can also join the crowd as they fill the streets.
24. Edna Lawrence Nature Lab
Popularly referred to as a Library of dead things is Edna Lawrence Nature Lab.
This Library (rather than a collection of books and maps as you will meet in most) holds in its collections of parts of dead animals.
Here you will meet parts like blowfish hanging from the ceiling, zebra skull and springbok horns at doorways and different treasures at several corners.
If you are up for an adventure, the Edna Lawrence Nature Lab should make your list of fun things to do in Providence RI.
This lab was founded by Edna W. Lawrence, a member of the RISD faculty in 1937. It aims to introduce students to nature's beauty.
Locating the famous red brick building will introduce you to a merge of both science, arts, and history for educational purposes.
This is a place of curiosity, hanging on its wall are body mounts of black bear, bobcat, deer, wild sheep and various animal specimen.
They also have a collection of plant specimens collected around the world.
25. Pomham Rocks Light
This is one attraction you won't want to miss in Providence.
Dating back to 1871, Pomham Rocks Light is one which has brought quite some positive reviews to make a good place to visit in Providence.
Also referred to as the Pomham Lighthouse, Pomham Rocks Light is one which stands in the languid Providence River, East of Providence.
Though after a long halt of this lighthouse, it was relighted in 2006.
Taking this tour on a boat, you will also have a view of more than twenty lighthouses located in the area. Tourists did gave the review that this was some of the best moments they had on a tour and hence quite one to add to your checklist for Providence.
26. Haven Brothers Diner
This is a burger wagon known to be part of the history of providence as one of the oldest diners in the country and one of the best things to look out for in Providence.
History has it that this diner thrived in the days of horse wagons and today is a stainless steel truck serving late-night demands in Providence.
Its origin dates back to 1888 when Anne Philomena Haven and her brothers opened her launch center in a horse-drawn wagon with funds from her late husband's insurance policy.
This wagon survived time with lots of modifications and today is now the known stainless steel trailer you will meet in Providence.
Focused on late-night demands of food during the night up till the early hours of the morning, this diner has seen to last quite a decade.
You will find this truck parking in Kennedy Plaza, though having given quite a lot of parking tickets for illegal packing and have seen authorities try to shut down the business this truck still thrives.
According to a reporter, it was written that this truck has more friends in high places than enemies.
27. Fleur-De-Lys Studio
This building signifies one of Providence's architectural taste.
It is one of Providence historical buildings known to be built in 1885. Unlike other historical buildings, this one sells itself as a hub for artists.
Founded by Sydney Burleigh, this once served as his workplace and a meeting place for members of the Providence Art Club. Hence, you will meet a place filled with artworks of members.
Its interior is decorated with handmade furniture's which were made by members of this club, thereby creating a welcoming environment.
28. First Baptist Church of America
Amongst the historical buildings of Providence is the First Baptist Church of America, also known to be the oldest congregation in all of the United States.
This church is known for its monument, dating back to 1638. The First Baptist Church is known through Providence to be one tourist Landmark in the city.
Many come to have a view of this historical building, take tours, as well as stay for a service or two. It is known that meetings in this church began as early as 1775.
Would you like to have a view of this church? Do take a tour to this landmark.
29 Eat At Al Forno Providence.
Would you like to get the best of Italian food in Providence, Al Forno is the place to be.
Located in South Water Street, this restaurant is the best at what they do, bringing the best meals from southern Europe to Providence.
Owners Chef Johanne Killeen and his partner George Germon control the operations of Alforno, giving a simple menu with delicious and breathtaking meals from the Italian classics meals covering different regions of Italy.
With the use of Wood-burning grills and ovens, they produce meat dishes as well as pizzas having specially placed mouthwatering toppings.
They also serve baked pasta with sauces, added with a good flavor burst. For dessert, you can get a perfect one to conclude a perfect meal.
Italian wines can also be used to pair your dinner as you enjoy incredible restaurant service in a comfortable, warm and relaxing environment.
Address: 577 South Water Street, Providence, Rhode Island
30. East Side Pockets
Another great Restaurant is East Side Pockets. One you can locate to get the best of meals in a friendly, comforting environment.
This is a family-owned restaurant located in Thayer Street. They have been serving some of the best meals in Middle Eastern fare for a very long time and to date, still have their credibility.
You could apt a visit to this place anytime within the week as they are opened every day from 10am to late at night.
Here you get a vote which has stacked some of the best of traditional Mediterranean meals which include tzatziki, gyros, hummus, dolmades, falafel and fresh soups.
You can decide to have either your lunch or dinner here. Also you may decide to have your meal in their conducive environment or you may decide to take home, but regardless you will get the best out of your meal.
If you would like a large amount of this meal, probably for a group or family, you can also order a large platter of these meals.
Address: 278 Thayer Street, Providence, Rhode Island.
31. Rhode Island State Capitol Building
A visit to Rhode Island State Capitol is a visit to one of the largest self-supported domes in the world.
This building was designed by McKim, Mead & White architectural firm and it was known to be completed in the year 1904.
You can decide to pay a visit to this building as part of the top things to do in Providence RI.
On its walls are some amazing paintings and portraits.
Visiting here you should look out for the painting by James Allen King with title "The Four Freedom".
Portraits you will meet are portraits of Gorge Washington and one of Gilbert Stuart. You will also see a gun from the Gettysburg battle and a Liberty Bell replica.
Address: 82 Smith Street, Providence, Rhode Island
32. Providence Children's Museum
How about we wrap this checklist with one of the fun things to do in providence with Kids: visiting the Providence Children's Museum.
This is a unique museum known to be the only of its kind in Providence and it is a place built for kids to explore the world through varieties of fun mediums.
Within the year they host several events and programs for kids between the age range of 1 to 11 to show them the world of science, arts, engineering, culture and lots more.
Visiting Providence RI with your family is one of the fun things to do.
On a visit here, kids will also have the opportunity to go on exhibits such as "Play Power", "The Children's Garden," and Waterways all aimed to give your kids a good time.
Address: 100 South Street, Providence, Rhode Island.
Plan a Trip to Providence
Providence is one nice place to be, as you have noticed there are a lot of fun things to do here. Exploring these areas in Providence will make your trip here worthwhile.
Select from your interest and make a checklist of things to do in Providence during your visit, you can always refer to this article as a reminder.
Would you want to take the trip alone or go with your loved ones, start planning your vacation today?
It's is a historic city, an awesome place for a vacation!