Colorado Springs is the county seat of El Paso County, Colorado, United States. It is the largest city in El Paso County.
Colorado Springs has been a prominent tourist destination for over 100 years.
It offers a plethora of outdoor recreational activities, gift shops, sandstone sculptures, vast valleys, ruddy red rock formations, and stunning waterfalls.
While nature enthusiasts will undoubtedly fall in love with all the different and dramatic landscapes, Colorado Springs has other sights, funky shops, and attractions.
Will you like to get a gift in Colorado Springs? Here are the best gift shops in Colorado Springs, CO.
Gift Shops in Colorado Springs, CO
1. Meraki Springs
Meraki Spring is a lovely shop in the center of Old Colorado City. The shop is filled with handcrafted items by various artists. They also provide different classes for all ages and interests.
Meraki Springs is designed to provide people with a place where they can come to shop for unique handcrafted gifts, take an art class, or hang out with pals.
The store is tidy and lively, and the store owner Megan is incredibly accommodating.
Stob by this small cute local store and check it out.
Address: 2708 W Colorado Ave Suite B, Colorado Springs, CO 80904, United States
2. Crafted Colorado Handmade Market
Are you searching for a unique gift for someone special, or perhaps you want to treat yourself to something gorgeous and handmade?
If you answer yes, you should head to the awe-inspiring Crafted Colorado Spring Handmade Market. It is one of the top gift shops in Colorado Springs, CO.
The Crafted Colorado Handmade Market is a handcraft market with unique treasures. It is home to over 60 vendors.
There is always something fresh to see and explore at Crafted Colorado. Their inventory is almost always changing, and no two booths are the same.
The Crafted Colorado Handmade Market, "Made in Colorado by people who live and work in Colorado," houses numerous modestly priced and shockingly affordable items, including different signs, home décor, and other thoughtful gifts for yourself and loved ones.
It will take an entire afternoon to browse everything at the Handmade Market, so ensure you set aside plenty of time to explore.
Additionally, Crafted Colorado hosts many DIY, tasting event and cooking, making it a must-visit shop for everything fun.
You can visit Crafted Colorado Handmade Market from Wednesday to Saturday, 2 pm to 6 pm, and Sunday from 11 am to 2 pm.
Address: Colorado Springs, CO, United States
3. The Poor Richard's Bookstore and Toys Store
The Poor Richard's bookstore and toys store are great places to shop during the holiday season. You could get a second-hand book for your dad, an exquisite candle for your mum, and adorable wooden toys for the kids in your life.
The linked shops seem to have unlimited nooks and crannies, so give yourself enough time to browse the hunt for the perfect gifts.
Also, don't forget to get a holiday greeting card; they have one of the best selections in the area. The store is one of the fun gift shops in Colorado Springs, CO.
Address: 320 N Tejon St, Colorado Springs, CO 80903, United States
4. Ladyfinger Letterpress
Ladyfinger Letterpress is an owned and operated managed stationery and gift brand established by Arley Torsone and Morgan Caladerini, a designer + printmaker couple.
They started their business when their wedding invitation blew up. They quickly became swamped, producing unique invitations for the most creative and amazing clients.
After the weddings, the patrons would come back and ask if they had any letterpress cards to celebrate birthdays, holidays, etc.
As a result, they were determined to begin a humble line of greeting cards at the National Stationery Show in 2013, and to their pleasant surprise, the line took off. Their products are now featured in over 800 stores around the world.
If you are looking for an endearing collection of gifts, cards, pens, and candles, this is where you will find them
Address; 113 E Bijou St, Colorado Springs, CO 80903, United States
5. The Heartshake Studio
With a likeness for natural materials, bold colors, and a bohemian sensibility, the Heartshake Studio is artistic, mystical, and feminist.
They sell stationery, a full range of kit art, vintage wares, and a curated blend of goods from various brands and makers.
At this store, you will find home goods, art, plants, bath + body, metaphysical offerings, jewelry, books, greeting cards, and more.
The Heartshake Studio has two unique shops in the historic old Colorado City neighborhood of Colorado Springs.
The stores are two blocks from each other, filled with top-tier goods at affordable prices.
The Heartshake Studio's offerings are influenced by nature, from the front room featuring outdoor gear and earthy home goods to the kid area at the back of the store with an extensive range of toys, books, and apparel for children and babies.
Address: 2627 W Colorado Ave Ste 100, Colorado Springs, CO 80904, United States
6. Island Touch Gift & Basket
Island Touch Gift & Basket is a veteran-owned and operated business in Colorado Springs, established in 2019. It is one of the top gift shops in Colorado Springs, CO.
The owners wanted to carry a piece of the Caribbean lifestyle to this beautiful mountainous state.
To do so, they created a gifting shop that makes a balanced mix of both places in their gifting process.
Like a lot of businesses, they began this humble beginning in the attached sunroom of the founder's house.
However, they now have their store in the center of Old Colorado City and an expansive warehouse to make their signature products in the center of downtown Fountain.
Island Touch Gift & Basket believes a gift should be exquisite, reflective, and personal to create an emotional experience.
So whether you are celebrating a milestone or special day or just trying to brighten someone's day, they want to aid you in achieving a sense of happiness in your gifting experience.
With pocket-friendly prices, you can find the perfect gift or product to suit your needs.
Island Touch Gifts & Basket provides unrivaled customer services. They know what it takes to provide superior quality gift baskets and products for anyone or any occasion.
Address: 14 S 25th St, Colorado Springs, CO 80904, United States
7. Terra Verde Boutique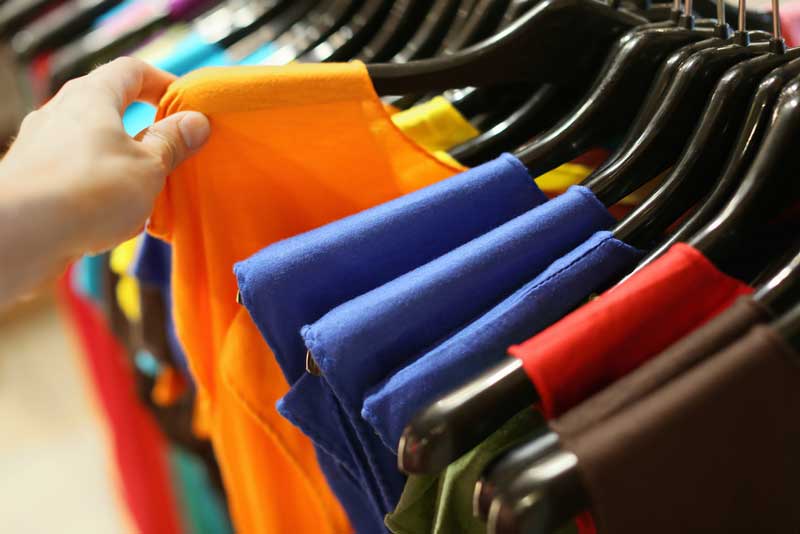 Terra Verde Boutique is filled with a comprehensive inventory of gifts, casual wear, accessories, and jewelry in an airy environment.
This award-winning fashion and lifestyle boutique has provided over 25 years of services.
You can find the latest in women's jewelry, clothing, handbags, accessories, gifts, and home décor, all creatively merchandised and designed in the desired trends and styles.
As one of the most prominent boutiques in Colorado Springs, they pride themselves on providing trustworthy service.
Other products that Terra Verde Boutique offers include dresses, body products, wallets, women's clothing, totes, books, necklaces, loungewear, skirts, home fragrance, home décor, jackets, bath products, roman glass, handbags, scarves, and wraps.
The shop welcomes you to visit for the complete Terra Verde experience and full product selection.
Address: 208 N Tejon St, Colorado Springs, CO 80903, United States
8. Rocky Mountain Soap Market
Rocky Mountain Soap Market is a family-operated local business established in 2014.
The brick-and-mortar shop is situated in the center of downtown Colorado Springs. Various types of bath creations are produced, bottled, and labeled by hand at their ranch in the suburbs of Colorado Springs.
Rocky Mountain Soap Market specializes in gourmet, natural, organic bath and body products using only high-grade ingredients.
Although the "soap market" is in the name, Rocky Mountain Soap Market produces baths and varieties of body products.
You will like their unique in-house Body Bar, where you will be pampered with spa water and treats while you customize your desired products.
Their body bar menu provides a broad spectrum of products to personalize with over 80 distinct essential and fragrance oils.
Address: 212 N Tejon St, Colorado Springs, CO 80903, United States
Considering a vacation in Colorado, do not miss out on these attractions in Fairplay, and Gunnison for a fun time here.
9. Buffalo Ridge Trading Post
Buffalo Ridge Trading Post is a fantastic gift shop for T-shirts, gifts, and souvenirs with the most extensive selection of hard-to-find Hot Sauces in Colorado Springs.
This gift and souvenir shop has been open since 2005. Select from over 60 different glasses, coffee mugs, sunglasses, personalized key chains, treats for your furry friend, and more.
The owners of Buffalo Ridge Trading Post, Doug and Cindy, are a humble couple passionate about the Colorado Lifestyle.
They are always happy to share their knowledge and city history with every tourist who steps into the shop.
Doug is an outdoor lover. When he's not fly fishing, you can see him making detectable meals to share with loved ones.
Cindy has been involved in the T-shirt business since 1986, and her passion for it is displayed.
Drop by Buffalo Ridge Trading Post and check out all the Colorado gifts and souvenirs it offers.
Address: 2430 W Colorado Ave, Colorado Springs, CO 80904, United States
10. Jen's Place Boutique & Gift Shop
Jen's Place is a lovely casual boutique and gift store in Historic Old City. At this store, you will discover a wide variety of cheap and comfortable ladies' clothing ranging in size.
There are also jewelry, accessories, handbags, baby gifts, greeting cards, children's activities, soaps, scents, tea towels, garden flags, mommy & me apron sets, entertainment dishware, and locally made items.
Profit made from Jen's Place Boutique & Gift Shop is given back to the community or organizations like the American Cancer Society, the United Disabilities Services Foundation, Pediatric Cancer, Humane Society, Triangle Therapeutic Riding Center, American Heart Association, and much more.
Address: 2514 W Colorado Ave #101, Colorado Springs, CO 80904, United States
11. Mountain High Gallery and Gifts
Mountain High Gallery and Gifts is a must-visit while exploring the neighboring city of Manitou Springs.
Stroll through their art gallery featuring local artists and modern Native American Jewelry.
They also offer souvenirs, collectibles, T-shirts, and unique home décor items.
Mountain High Gallery and Gifts was initially the Navajo Gallery and Gifts.
The Navajo was constructed in 1923, close to the Manitou Spring Spa Building and the Cliff House Hotel.
Today you can still see Native American-themed artifacts, souvenirs, T-shirts, and jewelry.
Additionally, you can get other items, such as paintings, sculptures, gift items, ice cream, and fudge.
Mountain Gallery and Gifts is open daily but closed on Thanksgiving and Christmas Day. You are free to take your pets to the store.
Mountain High Gallery and Gifts are in Manitou Springs, 12 minutes away from Colorado Springs.
Address: 11 Arcade, Manitou Springs, CO 80829, United States
12. The Manitou Outpost
The Manitou Outpost is a historic shop located in downtown Manitou Spring. This shop is the most extensive gift shop on the main avenue in Manitou Spring.
The Manitou Outpost contains hundreds of gift options ranging from t-shirt sizes to collectible souvenirs, pocketknives, hats, and postcards.
Other items include delicious ice creams, fresh homemade fudge, modern Native American Jewelry, and souvenirs.
The Outpost was initially constructed in the 19th century as a stock stable. After it got burnt, it became the Navajo Geyser Pavilion Cafeteria in 1913.
The Cafeteria boasted unrivaled meals, quick services, and no tips were paramount.
The Navajo Geyser inside the Pavilion was among the main attraction at the Cafeteria. Every 34 to 45 minutes, it would shoot out into the air.
Subsequently, the Hiawatha Tours and Navajo Garage took control of the Cafeteria.
In 1951, through purchase, the Barker Manufacturing Company acquired the Garage. It became a leather goods store that also sold Western apparel.
It was in 2003 that this leather store came to be the Manitou Outpost that guests can visit.
The Manitou Outpost is open daily throughout the year but closed on Thanksgiving and Christmas Day.
The store is also dog friendly, so if you have a dog, you can bring it along.
Address: 807 Manitou Ave, Manitou Springs, CO 80829, United States
13. All About Colorado
All About Colorado gift and Souvenirs shop has been operating since 2008.
It is a locally owned business among the best souvenir shops in Old Colorado City.
All About Colorado offers Colorado-themed and Colorado-made products for all your needs.
The gift shop stocks unique items that reflect the great Colorado state. They also offer patches, bookmarks, stickers, toys, candy, and clothing.
They carry hats, clothing, key chains, cups and mugs, magnets, food items, handmade gifts, maps, Colorado books, knives, and postcards at budget-friendly prices.
Address: 2508 W Colorado Ave, Colorado Springs, CO 80904, United States
14. Pasty's Candies and Gift Shop
Pasty's Candies and Gift Shop has been popular for its gourmet popcorn and the finest salt-water taffy since 1903.
This destination provides gift boxes, Colorado Souvenirs, and a variety of specialty hot sauces.
Their Dips N Dots will leave you feeling rejuvenated after a sweltering day.
Visitors with dietary restrictions are not left out at this gift and candy store; the shop provides gluten, sugar, and lactose-free treats.
Their gift shop is perfect for all gift needs, so if you want something to buy for a particular person, head to Pasty's Candies and Gift Shop.
Address: 930 Manitou Ave, Manitou Springs, CO 80829, United States
15. Garden of the Gods Trading Post
Garden of the Gods Trading Post is at the southwest corner of Gadern Park. It is the most extensive art gallery and gift shop in the state.
If you are searching for something to carry home as a souvenir or need the perfect gift for a family member or friend, look no further because the Garden of the Gods Trading Post has something to offer.
The Trading Post contains numerous thoughtful gifts, unique items, personal tokens, and local Colorado and U.S- produced products.
Visit their art gallery for local artists, traditional and modern Native American jewelry, Pueblo pottery, and handmade Navajo rugs.
If you have questions about their artwork or products, the polite staff is there to assist and help you find what you are searching for.
After exploring the Garden of the Gods, treat yourself or your loved ones to lunch at the Balanced Rock Café.
Their café serves buffalo burgers, salads, wraps, and buffalo chili. You can try one of their rejuvenating local beers or a glass of wine.
This café also serves breakfast, so you can sit down with mouth-watering breakfast sandwiches and a steaming cup of Starbucks coffee before shopping.
Do you have a sweet tooth? Their coffee corner serves Starbucks coffee.
Get some of their fresh homemade fudge or an ice cream cone for the little ones; you can even ask for a free sample.
The Garden of the Gods Trading Post opens daily but is closed on Thanksgiving Day and Christmas Day.
Take your four-legged friend along because the shop is a pet-friendly store.
Address: Garden of the Gods Park, 324 Beckers Ln side, Manitou Springs, CO 80829, United States
Planning a road trip in Colorado, check out our list of things to do in Lakewood, things to do in Telluride, and things to do in Buena Vista for a memorable trip.
Plan Your Trip to Colorado Springs
General William Jackson Palmer Founded Colorado Springs in 1871, and since then, it has evolved into something more.
The city maintains and provides visitors with the feel of a tiny town even though its population today is almost half a million.
Colorado Springs still holds on to the vibe of the Old West while embracing the modern and hip culture.
There's something for every visitor in Colorado Springs, regardless of the time you visit or the duration of your stay.