Looking for the best and fun things to do in Puerto Plata?
Puerto Plata is the eighth-largest city in the Dominican Republic. This city serves as an essential trading port in the country.
Every tourist will be left dazed the moment they step into Puerto Plata as the city offers everything one needs during a vacation.
From the amazing white-sand beaches to the historical museums to thrill-inducing adventures to classic restaurants, you can't ask for more.
Would you love to know more about this fun city? Let's explore the top things to do in Puerto Plata, Dominican Republic
Things to Do in Puerto Plata
1. Fun at Playa Dorada
Playa Dorada, Puerto Plata's main hub for tourism, is a stretch of golden-sand beaches where you'll discover the majority of the region's all-inclusive resorts, as well as the hustle that goes with these resorts.
Cabanas and lounge chairs packed with sunbathers line the beach here, which makes it one of the top beachfront in the Dominican Republic.
Live Merengue music is almost inevitable, and that only visiting for a day will never need to go away from the beach to purchase drinks, food, or souvenirs.
The warm water is ideal for swimming and other water sports. There are several rental shops in the area where you can hire equipment.
Tourists will find more beaches nearer to the center of town, on the three-kilometer Malecon, which is a beautiful picturesque road that runs along the ocean.
The Malecon begins with Long Beach and proceeds northwest to Costa Rica Beach and then Acapulco Beach and has numerous sections of a walkable boardwalk.
2. Relax at Key Paradise
Located about a twenty-minute boat ride off the coast, Key Paradise promises a beautiful day trip on a stunning tropical island.
The name Key Paradise comes as it appears to be a piece of paradise surging up from the center of the sea in a splendor of white sand. This sand is in sharp contrast to crystalline teal seawater lapping at its shores.
A lot of persons visit the water surrounding the island as it is one of the best places to go sightseeing and snorkel in the Dominican Republic.
Go on a boat ride, enjoy food and fruits and watch schools of fish swim around the coral reefs. You can also relax at the bar, a small hut where you can buy alcoholic drinks, pineapple, and coconut.
Address: Puerto Plata, Dominican Republic
3. Amber Museum of Puerto Plata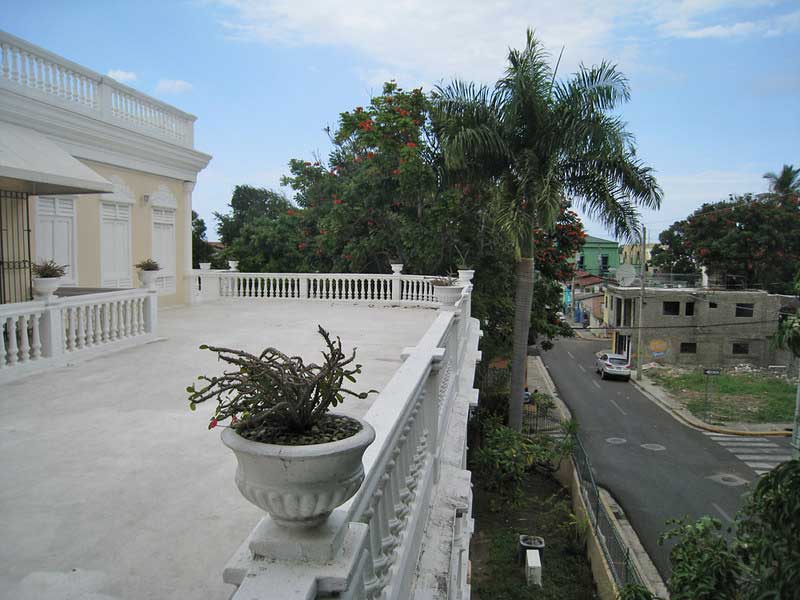 Puerto Plata and its surrounding areas are known for mining some of the oldest and clearest amber specimens in the world, and this can be seen in the Amber Museum of Puerto Plata.
Amber, while not a real stone, is the Dominican Republic's official stone of national significance.
Alongside its use in jewelry, many people are curious about amber for the treasures it holds within.
The majority of the pieces in the museum include insects, plants, and other creatures which were caught by the sticky sap and frozen, then fossilized.
One of the most impressive of the museum's collections is the largest lizard, which is almost 16 inches long, completely preserved, and encased.
There is a large range of amber jewelry specimens in the gift shop of the museum and also information about excursions to local mines.
This is one of the fun things to do in Puerto Plata, do consider an addition to your list of Puerto Plata attractions to visit.
Address: 61 Duarte Street, Playa Dorada, United States
4. Visit Isla Bonita Deluxe
Amongst the top things to do in Puerto Plata is a visit to Isla Bonita Deluxe, it is a paradise of turquoise blue water, with live brightly colored tropical fish and coral reefs.
Take a road tour of the beautiful country landscape of Castillo de la Isabela by boarding the catamaran "THE OCEAN KING" DELUXE with solarium.
It is a journey along the coast of La Ensenada beach, where you will see a natural pool with crystal clear water, enjoy Caribbean music, slide down the slide and drink cider.
At the La Isla Bonita (Cayo Arena), you can do snorkeling, swim with the corals and colorful fish, and enjoy the island for about two hours.
There is a lot for you to do and enjoy at Puerto Plata and Isla Bonita Deluxe is one of them.
Address: Puerto Plata, Dominican Republic
5. Outback Adventures Puerto Plata
An exciting activity for couples and families visiting Puerto Plata is an outback safari trip that takes in certain of Puerto Plata's top attractions.
It's a fantastic opportunity to experience the diverse landscape of the region and its people.
In the 5.5-hour Outback Cultural Adventure Tour, passengers can enjoy uninterrupted views from the safari truck in the open air, and the guide will provide an account of the countryside surroundings.
Aside from Making frequent stops for photographs and sightseeing, the tour also includes trips to picturesque vistas such as the mountain slopes that make up Mount Isabela de Torres.
Other places to visit include a farm that cultivates coffee, chocolate, and fruits; a local house; schools as well as a wildlife reserve that allows visitors to interact with several of the wildlife, such as the endangered rhinoceros Iguana.
The final excursion of the day takes place on a private beach where you can unwind or swim in the ocean.
Embarking on this tour is one of the best fun things to do in Puerto Plata, do add it to your checklist of Puerto Plata activities to take on.
Address: Kilometer 6, 1er de Muñez, doral-muñoz Calle, Puerto Plata 57000, Dominican Republic
6. Mount Isabel de Torres
Overlooking Puerto Plata, the 2,600-foot Mount Isabel de Torres (also called Pico Isabella de Torres) affords stunning panoramic views of the city, beaches, and the Atlantic Ocean.
The majority of tourists choose to travel up the mountain using a cable vehicle (the only cable car that is located within the Caribbean) and enjoy the views as well as airborne photos, but more active visitors can walk up to the summit.
The summit houses an image of the Christ Redeemer that presides across the town below, reminiscent of the famous landmark located in Rio de Janeiro.
Near his feet, vendors are gathered to create a bustling market in which you can buy refreshments as well as souvenirs such as amber jewelry, handmade items, and more.
There is also an eatery in the area and a botanic garden with beautiful native flowers and greenery that is worth adding to your list of things to do in Puerto Plata for nature lovers.
Address: Manolo Tavarez, Puerto Plata, United States
7. Damajagua Waterfalls
In addition to beaches, Damajagua Waterfalls are the most popular natural attraction in the Puerto Plata area, and visiting them is an exciting experience for those who love nature.
Wearing lifejackets and helmets, visitors are able to explore the river by jumping, swimming, and sliding, usually through stone water slides that were created by the water's rushing.
The most thrilling is drops of 20 feet at la Tinajita and the twisty Corkscrew waterfall that are not suitable for the faint-hearted.
Other highlights include the Jaiba pool located at Jaiba, named after the freshwater crabs living within the rocks and a strange pool that has the water layered in two ways, cold on top and warm on the bottom. It also houses an eatery and visitor center.
An excellent way to get a glimpse of the popular natural wonder is by taking an organized excursion to the waterfalls of 27 in Damajagua in Puerto Plata, which includes the round-trip transport, lunch security equipment as well as an expert guide.
Visitors have the option of having a rest stop halfway up or continue hiking until they reach the top of the waterfall to experience a thrilling experience down the natural water park.
Address: Damajagua 57000, Dominican Republic
8. Zipline Adventure and Eco-Tour
Are you in for an adventure? If yes, add Zipline Adventure and Eco-Tour to your list of things to do in Puerto Plata.
A zipline ride throughout "Monkey Jungle" is a thrilling experience for adrenaline junkies and people who love nature.
The jungle is named for the forest's vibrant population of squirrel monkeys, and it is near the border of El Choco National Park near Cabarete. You can visit the jungle through the guided zipline tour, which starts from Puerto Plata.
This five-to-six-hour tour includes transportation to and from the park, where you'll see two suspension bridges and seven ziplines that offer an unforgettable view of the forest below.
Alongside the thrilling ride through the trees, visitors will visit Monkey Jungle with a professional naturalist as they interact with friendly primates as well as discover the ecology and local fauna and plants.
This is one of the best fun things to do in Fort Porta Plata for nature lovers.
Are you planning a road trip to South Carolina and wondering what to do? here is a guide on things to do in Spartanburg, things to do in Summerville, and fun things to do in Anderson for a memorable vacation.
9. Damajaqua Cascades (27 Waterfalls)
The Damajaqua Cascades (27 Waterfalls) is the peak of natural beauty. And its blend with the lovely, kind people of the Dominican Republic is something you will never forget.
A visit to this site is one of the best excursions on the island and can be achieved using cruise ships. First, you will be picked up from the terminal gate if you desire, and everything required is provided at the tour price.
You will be given life jackets, climbing gear, helmets, etc. The tour guides are very friendly and will provide you with thorough information about the falls.
At the top, you can choose to slide or jump down the waterfalls if you aren't scared of heights. The 27 waterfalls (27 Charcos de Damajagua) are one of the best attractions in Puerto Plata.
Address: Puerto Plata, Damajagua 57000, Dominican Republic
10. Samana Bacardi Island
Visit the charming Samana fishing village in Puerto Plata before setting off on a full-day excursion to the ocean.
If you're lucky, you might also see a magnificent whale. You'll be amazed by the stunning island that is surrounded by stunning white sand.
Other attractions worth a visit on the island are coconut trees, coconut palms, and turquoise blue waters.
It's the ideal spot to unwind, relax and forget about all anxieties. Do add a visit to this beach to your checklist of things to do in Puerto Plata enjoy what it has to offer.
11. Samana Bay
If you are looking for a place to go whale watching in Porta Plata, add a visit to Samana Bay to your checklist.
The Sanctuary of Humpback Whales in Samana is among the most well-known excursions to take part in the Dominican Republic or the lovely Samana Bay.
Each year, about 22,000 humpback whales visit these regions to reproduce in the warm Atlantic Ocean waters between December and March.
In reality, Samana is regarded as one of the best spots to go whale watching.
It's the perfect place to be amazed by some of the most amazing wonders of the natural world.
12. Explore Puerto Plata's Historical Center
Parque Central is a Historical Center in Puerto Plata . Here, lovely Victorian architecture is lined up where people visit the cathedral, watch and feed the pigeons.
Parque Central is one beautiful place to relax and synchronize into the slow-paced mood of the Dominican Republic.
Take a short walk to the Amber Museum from here and then the malecón. Walking down a couple of blocks is the Kaffe restaurant, where you can have lunch and dinner. It is a beautiful colonial house with its tables lined on a tree-covered patio.
13. A Day Trip to Cabarete
Surrounded by a 4-mile stretch of white sand beach, Cabarete is a hotspot for young, hip, and physically healthy, and adventurous retirees.
Restaurants line the edge of the beach, and you can dine in the sand or just kick back and unwind. Behind, along the main road, are shops as well as other stores.
With its warm waters and constant winds, this area is regarded as one of the most desirable locations anywhere in the world for kiteboarding.
Cabarete's famed Kite Beach is a good place for novices looking to learn about the sport as well as professionals looking for a bit of fun.
The beach is well-known among surfers who visit the nearby Playa Encuentro. Surfers can enjoy the surf early in the day and kite later in the afternoon.
The drive duration between Puerto Plata to Cabarete is less than one hour, and visiting the area is definitely worthwhile.
14. Off-Road Tours
The miles of trails along the coast create the area around Puerto Plata an excellent place to take off-roading while taking in the stunning views.
An ideal daytime excursion is the 4.5-hour Outback Terracross adventure from Puerto Plata, which gives tourists the opportunity to drive their own ATV on the country trails with the assistance of a guide from the local area.
This is a very popular activity for couples to do and includes plenty of stops to take photos, as well as stops to enjoy a dip in the river or an excursion to Don Chi's for a refreshing coconut drink.
Drinks and snacks are provided to help keep you going and hydrated throughout your day in the sun.
15. A Day Trip to Fortaleza San Felipe
For some history, add a visit to Fort San Felipe to your list of things to do in Puerto Plata. The Spaniards built Fortaleza San Felipe in the 16th century.
Fort San Felipe (Fuerte San Felipe) is Puerto Plata's sole remaining colonial building and among the first European forts built within the Americas.
Its original mission was to defend the north coast from the Dutch and British and even from the French pirates who at that time were in search of the gold and silver in the area.
It was constructed between the years 1564 and 1577 in order to protect the city against colonists from other European nations as well as pirates who were looking for gold and silver.
Its main use over the ages was for a prison, and most specifically as a jail for political dissidents under Trujillo's regime.
Today, the fort stands as a museum, and visitors can see the original canons facing the Atlantic. There are ancient weapons and various hidden chambers in this place too.
The walls are eight feet thick, and visitors can find interesting historical artifacts from the war along with a modest museum.
For history enthusiasts, this fort is fascinating, to say the least. To cap it off, you will capture panoramic views over the Puerto Plata coastline. They are appealing, especially at sunset.
Planning a road trip in Missouri, do not fail to check out our list of things to do in Joplin , things to do in Kansas City and things to do in Branson.
16. A Day Trip to Sosua
Sosua, about 15 miles to the east from Puerto Plata, is known for its tranquil beaches and cosmopolitan feel that is influenced by its history as a place of refuge to Jewish Europeans fleeing persecution who came to the area in the 1940s in search of their new lives.
The area today is home to a variety of guesthouses and hotels, villas, and cafes.
A circular Sosua Beach is lined with shade trees and bustles with vendors. It is one of the most popular spots to go for SCUBA divers and snorkeling. If you're there in the winter months, you might also spot whales migrating in the bay.
When you visit Sosua, make sure to check out the Casa De Arte in the downtown area, where there are exhibitions of local artists, including paintings and drawings, jewelry, and sculpture. It is also home to a sculpture studio.
Casa de Arte also functions as a school that offers local children and teens various artistic and performing arts and also organizes cultural occasions.
17. Casa de la Cultura
Another architectural wonder in Porta Plata is Casa de la Cultura, and it is worth adding to your list of places to visit.
Casa de la Cultura is a stunning three-story building situated across Puerto Plata's Parque Central (Central Park).
The structure first gained its cultural importance as the place of gathering of the revolutionaries under the time of dictatorship under Ulises "Lilis" Heureaux.
It is now home to an art gallery that showcases local artists, as well as a historical library.
It also organizes various cultural events throughout the year. Visitors can enjoy a spectacular view of the parks as well as the surrounding region by stepping out onto the large wraparound patios, as well as the third-floor verandas.
Another excellent local history museum is Casa Museo General Gregorio Luperon, dedicated to the time and life of the 20th president of the United States.
Exhibits include photographs and other personal items along with authentic depictions of late 19th-century life.
Address: Parque Central, Calle Separation, Puerto Plata, United States
18. Paradise Island
One of the best fun things to do in Puerto Plata is visiting the gorgeous Paradise Island, and it is definitely worth adding to your checklist.
As the name implies, the island is an oasis, and it has a lot to offer its visitors.
Snorkeling is among the most sought-after activities that you can participate in to view the reef of coral.
It is recommended to take a few moments of peace on the island before heading towards Monte Cristi National Park.
Address: Punta Russia 57000, Dominican Republic
19. Ocean World Adventure Park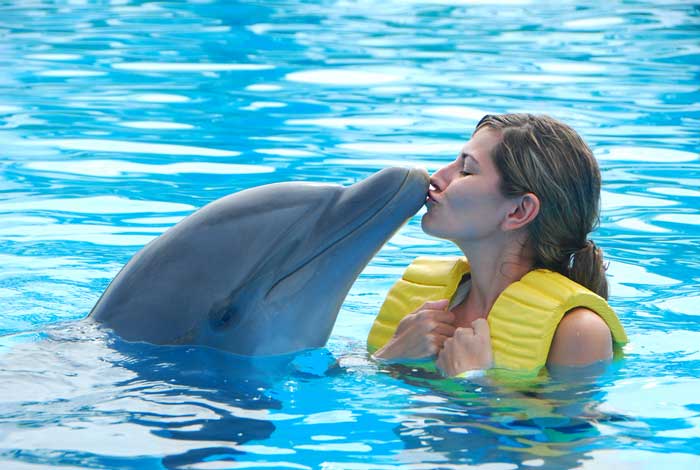 If you are interested in Marine life, add a visit to Ocean World Adventure Park to your checklist of things to do in Puerto Plata.
Ocean World Adventure Park, 3 miles away from Puerto Plata, is a well-known attraction for couples and families due to the quality of its engaging marine life experiences.
The admission fee includes access to attractions in the water park, including waterslides and pools, as well as accessibility to Tropical Reef Aquarium, where you can go snorkeling and learn about animal species; as well as the educational animal shows that include sea lions, dolphins sharks, tropical birds.
Visitors can also choose to purchase access-only programs that include sea encounters with lions and stingrays, petting them and swimming with sharks, and many other opportunities to interact with dolphins.
From petting and feeding to swimming and spending the whole day working with trainers to take care of the animals.
Address: Calle Principal #3, Cofresi, Puerto Plata, United States
20. Visit Cofresi
The Western part of Puerto Plata is a relaxing secret of golden sand that does not actually experience the tourist invasion of Playa Dorada.
According to recent visitors, the beach is has a review rank of the top attractions on Puerto Plata.
The waters at Cofresi are calm and pleasant for swimming, and you will enjoy the plenty of shade choices available. You could choose between a hut, umbrella, or trees when setting up a camp.
A few restaurants are flanking Cofresi Beach for you to relax and enjoy the dishes. Cofresi Beach is totally free to the public, and it is open every day of the week.
Address: Puerto Plata, Dominican Republic
21. Puerto Plata must-visit: Casa Museo General Gregorio Luperon
If you want to truly learn some of Puerto Plata's histories, there is no more quality chance than at Casa Museo General Gregorio Luperon.
Casa Museo General Gregorio Luperon is a museum that provides information about the history of Puerto Plata by telling the story of General Luperon.
It is well managed, and the guides here are incredibly enlightening. You can also watch an educational film to help expand the knowledge you amassing in this museum.
Do well to visit Casa Museo General Gregorio Luperon, as it makes the list of top things to do in Puerto Plata.
Address: Calle 12 de Julio 54, Puerto Plata, Dominican Republic.
22. Taino Bay Puerto Plata
Puerto is filled with many interesting sites, and one of those places is the Taino Bay Puerto Plata; it is the most recent port in the Caribbean with lots of adventures and an entirely new tourist experience.
Every area of Taino Bay was built in such a way as to offer a fantastic and unforgettable experience to tourists, blending the warmth of Puerto Plata with comfort.
There are three berths for accommodating massive cruise ships, which can contain about 140,000 passengers. Upon arriving at Taino Bay, visitors can see delectable restaurants and beautiful shops.
Taino Bay is an amazing cruise port, and if you are searching for a place to relax and have a great time visiting, Taino Bay is your sure bet.
Address: Av. Antigua Via Férrea Muelle Turístico entre Av. Penetración Portuaria y, Calle Duarte, Puerto Plata 57000, Dominican Republic
23. Golden Beach (Playa Dorada)
One of the best things to do in Puerto Plata is to check out Golden Beach, also known as the Playa Dorada. It is a well-known destination amongst tourists and is the most famed beach in the region.
Playa Dorada is on the Dominican Republic's popular Amber Coast and a quick drive from Amber Cove. The beach is encircled by plenty of beautiful attractions.
The main highlights of Playa Dorada are its clear waters. It has one of the gorgeous sea beds in Puerto Plata, allowing visitors to see coral reefs and various species of marine life. You can also choose to stroll under the palm trees or sunbathe.
The Golden Beach features a vast selection of resorts, bars and pubs, and restaurants where visitors can explore the traditions and culture of the Dominican.
This beach provides visitors with plenty of outdoor opportunities. If you are around town, do well to visit this place.
Address: Puerto Plata 57000, Dominican Republic
24. Amber Cove
Another super amazing location to check out when you visit Puerto Plata is Amber Cove. It offers a limitless number of outdoor opportunities for your pleasure.
Amber Cove is an independent 30-acre port attraction situated in Maimon in Puerto Plata. The beautiful resort is owned and run by Carnival. It also serves as a famous port for large cruise ships.
Amber Cove was open to the public in 2015 and featured two berths accommodating roughly 8,000 passengers. This destination is dotted with watersports activities, shopping, fun attractions, shopping venues, dining attractions, and shore adventures.
The largest pool in Amber Cover comes with a swim-up bar where guests can have cold drinks and other refreshments. It is a 300,000-gallon pool featuring waterslides, many lounge chairs, and a Lazy River.
Address: Maimón, 57000, Dominican Republic
25. Fun City Action Park
Fun City Action Park is the largest go-kart racing park in Puerto Plata, having different tracks for everyone to have fun. This destination is the escape that every traveler needs to help us recall that physical activities are much better relaxing than recent digital activities.
Bring your friends and loved ones to challenge each other for the checker's flag and first position. The tracks in Fun City include bumper cars, Sprint 500, Grand Prix, and Cyclone, and each comes with its challenge.
Apart from the different tracks in the GoKart Center, it features a kiddies' playground, a shaded terrace in the cafeteria, restrooms, and a pitcher challenger having a radar display.
Address, 5 57000, Dominican Republic
Planning a vacation in Mexico? do check out our list of things to do in Rosarito, things to do in Puerto Vallarta and fun things to do in Tijuana for a memorable vacation.
Plan your trip to Puerto Plata
Puerto Plata is such a beautiful city to visit. It guarantees you a great time with various sights to see and activities to engage in as a tourist.
The water bodies, historic museums and buildings, exquisite restaurants, and adventurous topography makes it a place to see.
Why not plan your next vacation to be in Puerto Plata? There be no regrets after that. If you need some guidance, feel free to come back to this article anytime.
Have a great experience!