In search of the best and most fun things to do in Yucca Valley, CA?
Yucca Valley is undebatable evidence that California's desert is not lifeless and devoid of natural beauty. It is located in San Bernardino County and has over 21,000 inhabitants.
The little town is mainly referred to as the entranceway to the famous Joshua Tree National Park, only two and a half hours east of Los Angeles.
Yucca Valley is famous for its regional attractions and outdoor recreational opportunities. The beautiful natural and artificial attractions, museums, historical sites, and bubbling community makes Yucca Valley feel like an oasis at the center of the desert.
The Mormons say that the town's name spawned from the Joshua Tree or Yucca palm, which resembles the prophet Moses raising his hands.
The town was a famous getaway location for celebrities who felt the need to be away from Hollywood and the limelight, which was the aim of its establishment at first.
Yucca Valley is the perfect weekend destination, a day trip for those who want to relax and set out on an outdoor adventure, or perhaps a shortstop for those driving cross country.
Let's explore the best things to do in Yucca Valley, CA.
Things to Do in Yucca Valley, CA
1. Joshua Tree National Park
Joshua Tree National Park is a popular tourist destination in the region. Visitors spend the night at Yucca Valley after having a fun and adventurous day at the famous Joshua Tree National Park.
The Western entrance gate is usually filled with tourists waiting their turn to get in, so it would be best to go there as early as possible to avoid the hassle.
The Park features over 500 campsites available on request, and the area is dog friendly. Some areas of interest are the back dam, hidden valley, cholla cactus garden, skull rock, arch rock, keys view, and more.
The distance from downtown Yucca Valley to the Western entrance gate is 11.5 miles. Ensure to go to the National Park with packed water, additional clothing, and other trekking requirements.
Address: North entrance(74485 National Park Dr. Twentynine Palms, CA 92277)/West entrance(6554 Park Blvd. Joshua Tree, CA 92252)
2. Knob Hill Ranch
Seated 1.5 miles away from Black Rock Canyon near Joshua Tree National Park's Western entranceway is the Knob Hill Ranch. It is one of the best places to visit in Yucca Valley, CA.
A 35-mile stretch of the California Hiking and Riding Trail transverses through the park's Western edge, starting at the Ranch.
Marvelous views of the Salton Sea and Coachella Valley are available from the viewing spot at Keys View, located south of Joshua Tree National Park.
Knob Hill Ranch provides horseback excursions, vacation rentals, and lovely trail rides into the stunning Joshua Tree National Park.
If you would like to experience a little bit of what it feels like to live in, the Ranch offers an impressive octagon-shaped guest house with all the amenities you need.
You will find amenities in the guest house, including couches, bedrooms, a bathroom and shower, a dining area, a barbecue, and lots more.
Address: 57840 Cortez Dr, Yucca Valley, CA 92284, USA
3. High View Nature Loop Trail
Yucca Valley is close to Joshua Tree National Park, so it would be a fabulous idea to put your stamina and hiking prowess to the challenge there on the High View Nature Loop Trail before going to the latter.
The 1.3 miles of the natural track is ideal for a family hike or expedition. According to outdoor enthusiasts, hiking this trail is among the fun things to do in Yucca Valley, CA.
You will see stunning views of San Gorgonio Mountain, Yucca valley, and the horizon from its modest elevation of approximately 100 meters.
Among the most straightforward routes for visitors arriving from Los Angeles is the loop, which begins close to Black Rock Campground, west of Joshua Tree National Park.
To get the most out of the High View Nature Loop Trail, you can acquire a trail guide with details of the local plants corresponding with twenty-one markers along the trail.
Address: Yucca Valley, CA 92284, USA
4. Panorama Loop Trail
The Panorama Loop Trail is a well-known hiking route in Joshua Tree National Park. It is about a 10-minute drive south of the center of Yucca Valley.
The trail transverse through a distance of roughly 6.25 miles. It is kid- and beginner-friendly. You can spend the night camping at the Rock Canyon Campground trailhead to round up your trip there.
The trek immerses you in flora and fauna of Joshua Tree National Park. The Warren Peak and Black Rock Spring are accessible further along the hike.
You will have a beautiful view of the San Bernardino Mountains and Mount San Jacinto after you reach Warren Peak. The Panorama Loop Trail is accessible around-the-clock. If you're wondering what to do in Yucca Valley, CA, hike this spectacular Trail.
Address: Yucca Valley, CA 92284, USA
5. Stone Adventures-Day Tour
Since 1993, Stone Adventures has been a locally-based, family-run rock-climbing guide business in Joshua Tree National Park.
Stone Adventures' Joshua Tree climbing guides aim to provide customers with unforgettable outdoor experiences while assisting them in achieving their rock climbing objectives. Climbers of all skill levels are welcome to join Stone Adventures and explore the region.
Aron and Annie, the co-owners of stone adventures with over 15 years of experience In rock climbing, now design rock climbing courses to help new climbers reach their full potential.
There are more than 10,000 climbing paths to select from, bouldering excluded, which guarantees excellent climbing for all who visit.
Address: 61325 Twentynine Palms Highway E, Joshua Tree, CA 92252, USA
6. John's Place
In addition to serving excellent Mexican food, Yucca Valley is home to many eateries specializing in American cuisine, such as John's Place.
The restaurant is a local favorite due to its home-cooked food and, in particular, its warm, straightforward restaurant.
Popular American fare, including sandwiches, steaks, and burgers, are available on their menu. In addition, Mexican specials such as tostada, burritos, and quesadillas are also available at the restaurant.
John's Place is a great location to eat if you've worked up an appetite, spending all day touring the Joshua Tree National Park and Yucca Valley. They are available from 7 am to 9 pm daily.
Address: 56249 Twentynine Palms Highway, Yucca Valley, CA 92284, USA
7. Acme 5 Lifestyle
The Acme 5 Lifestyle Has Beautiful Furniture to Explore. The establishment has two branches, one of which is located in Yucca Valley.
The Owner of Acme 5 Lifestyle is Anton Goss, a famous designer renowned for creating large television sets for favorite TV shows such as Oprah Winfrey and The Voice.
In 2017, Anton Goss constructed the studio, displayed his well-known pieces, and started selling them.
Now, the business has developed into a well-known lifestyle brand that sells custom-made furniture items with mid-century and bohemian modern influences.
Do you want to upgrade the interior of your home with a luxurious furniture piece? If yes, you will need to go shopping at Acme 5 Lifestyle in Yucca Valley, CA.
The establishment starts welcoming customers from 11 am until 5 pm and runs all week through.
Address: 55870 Twentynine Palms Highway, Yucca Valley, CA 92284, United States
8. Desert Christ Park
If you are a Catholic, Christian, or someone who has a keen interest in religious activities and attractions, visit Desert Christ Park.
The location is a famous destination for introspection and, of course, photography. The area is home to over 40 white stone statues of Christain Martyrs, disciples, saints, and angels.
The 4.572 meters tall remake of the famous Christ the Redeemer statue in Rio de Janeiro, Brazil, is the area of attraction of the 3.5-acre Park.
Visit the Desert Christ Park for some prayer and meditation time or simple relaxation in a peaceful atmosphere.
Address: 56200 Sunnyslope Dr, Yucca Valley, CA 92284, USA
9. Hoof & The Horn
Hoof & The Horn is a souvenir shop in the Joshua Tree National Park where visitors purchase tastefully made retro clothing.
The stunning sunsets, sunrise, unpaved roads, mountain peaks, trees, and expansive vistas of the well-known park inspired the designs and logos, which are fantastic.
Hoof and The Horn features a great range of shirts for men, women, and children, in addition to other gift options.
The store is ideal for people who want to go shopping for clothing gift items to take home to loved ones. They are open daily from 11 am – 6 pm.
Address: 55840 Twentynine Palms Highway, Yucca Valley, CA 92284, USA.
Also check out our list of things to do in Redondo Beach, and cool things to do in Lake Elsinore, if you are planning a California road trip.
10. Hi-Desert Nature Museum
A trip to Hi-Desert Nature Museum is among the top things to do in Yucca Valley, CA, to acquire knowledge about the beauties of its natural environment.
It serves as a storehouse for the Majority of Yucca Valley's geologic data. The Hi-Desert Nature Museum, having been running for the past 60 years, now holds a particular position in the small town's history.
Visitors can find the best information regarding the town's arid environment and the culture of Native Americans in the California desert at the Nature Museum.
Visit the Hi-Desert Nature Museum because to explore a location thoroughly, it would be best to understand its past first.
Since the Museum's operating hours vary, it would be best to browse its website before visiting.
Address: 57090 Twentynine Palms Highway, Yucca Valley, CA 92284, USA
11. Algoberto's Taco Shop
When enjoyment is mentioned, one of the first things that come to mind is food, which is what Allgobert's Taco Shop is all about.
If you enjoy Mexican food, you should not hesitate to visit Algoberto's Taco shop to taste their delicious Tacos.
Take a bite of their famous, delicious tacos, nachos, quesadillas burritos, and other Mexican classics.
Algoberto's Taco Shop serves only genuine Mexican cuisine. Although it appears minor, the establishment is often crowded with customers queueing to get their customers' best choice.
Every day from 9 am to 10 pm, the Taco Shop starts offering its delectable Mexican cuisine so that you can stop by for breakfast, lunch, or dinner.
Address: 56143 Twentynine Palms Highway, Yucca Valley, CA 92284, USA
12. Coachella Valley Music and Arts Festival
The Coachella Valley Music and Arts Festival transforms Palm Desert's Coachella Valley each year into world music and art hub. Every year in the middle of April, it lasts for over ten days in a row.
Please go to Coachella Valley to attend this event every April when traveling to Yucca Valley from Utah, Arizona, or Las Vegas.
If you love music and hope to see celebrities in person, attending this festival would be your priority.
This yearly music festival features live performances, concerts, afterparties, and eye-catching side events. From Yucca Valley, it takes 42 minutes to go to Palm Desert.
Address: 81-800 51st Ave, Indio, CA 92201, United States
13. Palm Springs Aerial Tramway
Riding Aerial Tramway in Palm Strings is among the numerous fun things to do in Yucca Valley, CA.
The Palm Springs Aerial Tramway is the most extensive revolving Aerial Tramway in the world. It is located in Palm Springs, California, south of Yucca Valley.
The Tramway opened for business and has been running since September 1963. Its entranceway is a 41-minute drive away from Yucca Valley in the southwest direction.
With a total ascent of 8,516 feet, it transports tourists from the Coachella Valley's floor to San Jacinto Mountain's summit.
Reviews and the large influx of customers indicate that people love this place, so you should check it out if you're in or around Yucca Valley.
You'll find eateries, a small museum, and a gift shop at the summit. Depending on the season, snowshoeing, skiing, and hiking are some of the well-liked activities here.
Although the Tramway is typically available, it temporarily closes from September to October for annual repair. So it would be wise to check its website for a schedule.
Address: 1 Tram Way, Palm Springs, CA 92262, United States
14. Climbing Life Guide Service
If you're up for an adventurous experience, go rock climbing with the supervision of the Climbing Life Guide Service.
Climbing Life Guide Service is a family-run establishment that offers supervised climbing sessions for tourists.
Rock climbing sessions, tuition, classes, and courses suitable for people of all ages are available, so feel free to bring the kids along.
For those who want to take it easy rather than go active, they also provide Joshua Tree nature walk excursions.
Go to their office to make reservations for rock climbing or nature walks. Their service hours are from 7 am to 7 pm every day.
Address: 61117 Navajo Trl. Joshua Tree, CA 92252, USA
15. Joshua Tree Distilling Company
Going on an excursion at Joshua Tree Distilling company is a must-do, especially if you're a drinker.
Joshua Tree Distilling Company is seated outside Joshua Tree town in a quiet environment with a small parking area.
The Distilling Company crafts spirits and sodas using local organic ingredients such as pure cane sugar. The staff are friendly and good at explaining the production procedures.
You will be amazed by the caliber of spirits (vodka) and whiskey made at the distillery. The products are acetone free yet have a very smooth taste.
The cocktails are great too, and would appeal to a wide range of drinkers! They also make their sparkling water, which is refreshing. You can taste some of their cocktails.
Spencer, who mounts the counter, also does a great job showing visitors around the distillery and breaking down the production process, making it easy to take in.
Address: 58945 Bus Center Dr., Suite G, Yucca Valley, CA 92284, USA
Considering a California road trip, check out our guides on things to do in San Rafael, and things to do in San Clemente for a memorable trip.
16. Yucca Valley California Welcome Center
There are 16 Welcome Center headquarters dispersed all over California, one of which is the Yucca Valley California Welcome Center.
The Desert Regional Tourism Agency (DRTA) runs the Welcome Center in Yucca Valley, so it would help if you visited the Center first before beginning your adventure.
The friendly and lively emissaries at the Center will help you fill out and organize your schedule with the best things to do in Yucca Valley, CA.
To make things easier for you, the Center offers free maps of the town, the attractions within the area, and the outskirts of the site.
Yucca Valley California Welcome Center also has a gift shop where tourists and visitors can find a broad collection of souvenirs to take home as mementos.
The Welcome Center starts welcoming visitors from 9 am to 4 pm daily. The facility is open every day from 9 to 4 in the evening.
Address: 56711 Twentynine Palms Highway, Yucca Valley, CA 92284, USA
17. Vecege Escape Games
Engaging in escape games at Vecege Escape Games is necessary for a unique, fun experience in the town.
You will be given 60 minutes to finish a selected scenario with a group of your choice. So please bring your friends along.
You will need to find some keys, solve a few puzzles, decode hints, and more to accomplish your goal.
Remember that communication and teamwork are crucial if you want to complete the escape courses before the time runs out.
Address: 57675 Twentynine Palms Highway 102, Yucca Valley, CA 92284, USA
18. Zen Spa Massage
Are you planning a honeymoon getaway to eradicate the stress of a wedding? Then, include a trip to Zen Spa Massage in your list of top things to do in Yucca Valley, CA, for a relaxing and stress-eliminating experience.
Zen Spa Massage is a Standard Asian spa in Yucca Valley with highly trained Massage therapists who offer different kinds of body massages.
Like any other wellness business, the establishment aims to relieve stress by putting your tensed muscles and nerves to rest, thereby making you relax better.
Zen Spa Massage offers a broad range of services such as Foot Massage, Couples Massage, deep tissue massage, and lots more.
The Spa is always available and willing to help you feel better, so feel free to drop by at any time, or you can book an appointment to save time.
Address:28 Palms Hwy., Yucca Valley, CA 92284, USA
19. Black Rock Canyon Campground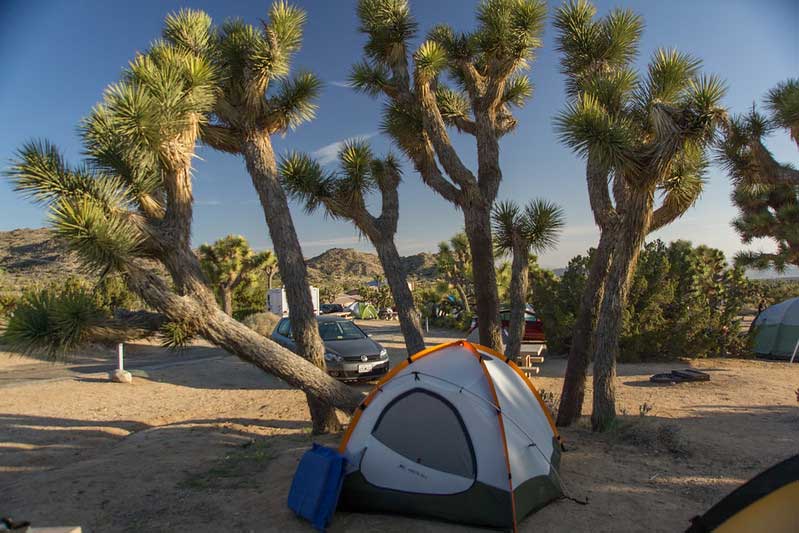 The Black Rock Canyon Campground is located outside Yucca Valley in Joshua Tree National Park; only a 15 minutes drive from Palm Springs.
The Canyon is home to many species, and if you observe, you might see a desert tortoise hiding amid the trees.
Black Rock Canyon Campground is the finest spot to stay if you're visiting Joshua Tree National Park.
Despite being close to civilization, Black Rock Canyon has a remote vibe. The region has a romantic ambiance at night, and the stars in the park are breathtaking.
It would be helpful if you packed something for the weather because the area can occasionally become windy, especially at night.
Address: 9678 Black Rock Canyon Rd, Yucca Valley, CA 92284, USA
20. Joshua Tree Falconry Adventures
If you are a wildlife enthusiast or fascinated by birds, seize the opportunity at Joshua Tree Falconry Adventures to learn more about Birds and their habitats.
You can bring your kids along to witness Master Falconer Lorrie Agnew, and his three birds hunt like a pack of wolves or even pet them at the Joshua Tree Falconry Adventures.
The establishment organizes tours within Mojave where you can see birds of prey such as Cooper Hawks, Prairie Falcons, Barn Owls, Great Horned Owls, American Kestrels, and more.
When you visit, you might see large flight birds such as turkey vultures with wings spanning 6feet or ravens, which are the most common and can be seen displaying their prowess.
There's a lot more to see at JTFA; the education gained from visiting this location is always worth it, especially if you hope to get a pet bird soon.
Address.Joshua Tree, CA 92252, USA
21. The Giant Rock
Taking a trip with friends or family to take photographs of the Giant rock and its beautiful scenery is an excellent way to capture your vacation memories.
The Giant Rock is probably the most fantastic rock formation you will ever see in your life. It is located north of Yucca Valley near Landers, California, and it takes only 20 minutes to drive there.
With a height equivalent to a seven-story structure, The Giant Rock in Landers is the highest stand-alone boulder in the world.
Native Americans use this natural landmark in Landers as a place of spiritual retreat and a famous location for UFO conventions. Additionally, this attraction was formerly said to be a covert German spy nest.
Whatever its reputation, obtaining a close-up view of the Giant Rock ensures you will have a different kind of experience.
Address: Landers Lane, Landers, CA 92285, USA
22. Hawks Landing Golf club
Are you a golfer looking for what to do in Yucca Valley, CA? Then, go golfing at Hawks Landing Golf club, an embodiment of uniqueness in the world of Golf.
The astonishing Hawks landing Golf Club at blue skies in the Hi-desert 30 minutes from Palm springs was designed by famous Architect Cary Bickler.
Bickler's design incorporated desert scenery and rolling greens to create a pleasant yet demanding golf course.
The 12-hole course is ideal for charity and business golf tournaments since it will allow players to complete the round in a shorter time, leaving more time for lunch and awards.
To save water in this arid environment and preserve the area's natural beauty, Bickler and the course's owners, Bill and Mona Brehm, developed native zones all over the system.
You'll be amazed by the lovely water hazards, and if you look closely, you might notice some wildlife. Bill and Mona named some of the holes after the animals.
Address: 55100 Martinez Trail, Yucca Valley, CA 92284, USA
23. Sky Village Outdoor Marketplace
The local market in Yucca Valley is known as The Sky Village Outdoor Marketplace, where most residents and guests assemble on weekends from 5 am to 3 pm.
It is one of the best places to visit in Yucca Valley, CA if you want to find fantastic treasures and high-quality deals.
On weekends, locals of Yucca Valley and other artisanal and farming communities gather at the market to offer their affordable new and used goods, food, and vegetables.
It also features a café where you can get renowned Country pastries and casserole all day long.
Additionally, while the renowned Bob's Crystal Cave is currently closed, the outside of it is fantastic for taking good photographs.
Address: 7028 Theatre Rd, Yucca Valley, CA 92284, USA
Check out more cities in California, here is a list of things to do in West Hollywood, things to do in Yuba City, and things to do in Valencia for a fun time in this city.
Plan Your Trip to Yucca Valley
You won't regret visiting Yucca Valley. It is one of California's hidden roadside treasures. It's a site full of delights that merits your exploration. The little desert oasis contains everything you might want, including restaurants, parks, and stores.
It makes sense why it was once a renowned getaway spot for Hollywood celebrities. Check out any of the locations highlighted when you visit the town.