Looking for the best and fun things to do in Tri-Cities, WA?
The Tri-Cities are three closely linked cities ( The Tri-Cities region is comprised of the cities of Kennewick, Pasco, and Richland) even other surrounding towns. It even includes West Richland and other surrounding towns.
These cities are at the confluence of the Columbia, Snake, and Yakima Rivers in the Columbia Basin of Eastern Washington. They share the same borders making them look like an unbroken mid-sized city.
There are plenty of golf courses, top-notch restaurants, expansive parks, historical sites, unique vineyards, and more. It is the perfect location for a beautiful family vacation.
Let's explore the best things to do in Tri-Cities.
Things to Do in Tri-Cities
1. Turn the hands of time at REACH Museum
If you love to celebrate history and culture, here is another good thing to do in Tri-Cities. The REACH Museum is the place to go, especially for history lovers.
The Museum has a visually stunning façade that you would admire even before going indoors. When inside, this interactive museum will expose you to the forces that made the Tri-Cities and its environs, like the Manhattan Project and Ice Age Floods.
There are four permanent galleries and one rotating gallery with exhibits to feast your eyes on.
The museum is also an outdoor performing arts area – a 500-seat amphitheater – where you can see shows portraying the history of Tri-Cities.
Don't forget to admire the view of the Columbia River from the entry hall and solar patio. And you can take a guided tour if you want to have a fully engaging experience.
Address: 1943 Columbia Park Trail, Richland, WA 99352
2. Enjoy nature at Chamna Natural Preserve
Located adjacent to the Yakima River, the Chamna Natural Preserve occupies 276 acres and offers a satisfying experience for the entire family or group of friends.
This preserve is home to over two hundred bird species, including pelicans, waterfowls, cranes, owls, hawks, and more.
Not only will you see birds, other wild animals are inhabiting the preserve, like minks, river otters, and coyotes, and you can also spot different species of butterflies.
All you need is to soak yourself in the lush greenery of this preserve. Take advantage of the different flora, as it offers a perfect background for your souvenir photos.
There is an 11-mile trail that you can explore through biking, hiking, and horse-riding.
Chamna Natural Preserve is situated in the riverbank, hence the availability of fun water activities. You can try canoeing, fishing, or even kayaking at the Yakima River.
The place is never lacking in things to explore, even during the snowy months. If you are around in the winter, you can attempt cross-country skiing and snowshoeing.
Address: Richland, WA 99352
3. Get advanced in gardening at WSU Master Gardener Demonstration Garden
There are three Master Gardener Demonstration Garden at Washington State University. A visit to any of them would make your day.
You can choose between McCollum Park Demonstration Garden, Jennings Park Demonstration Garden, and Evergreen Arboretum Demonstration Garden Border.
Here, you have the opportunity to learn different gardening techniques which you can integrate into your terrain.
You will also learn which shrubs, trees, and other plants are suitable for your location at any specific time of the year.
The serenity of the park would make you appreciate the garden more.WSU features over 24 specially-themed gardens that alter from time to time.
There is a 2-acre Children's Garden for the younger ones, which is also great for them to learn and cherish gardening at an early age.
Address: 1620 S Union St, Kennewick, WA 99338, United States
4. Go on a Winetasting Tour in Benton City
Tri-Cities is called the "Wine Country," It does not bear the name for no just reason. One of the top things to do in Tri-Cities, especially for wine enthusiasts, is embarking on wine tasting.
There are over 200 wineries to explore within an hour's drive, and there is no way you won't feel tipsy before the day runs out.
Beston City alone has dozens of wineries you can visit, such as MonteScarlatto Estate winery, the Anelare, Native Sun Wines, Muret-Gaston Wines, and Purple Star Wines.
The last offer premium hand-crafted wines, which range from $7-$15 for wine tasting. In addition to their fine wines, you can also loosen up with their fantastic views overlooking the Red Mountain and Yakima Valley.
Another feature to admire is the indoor setting, with the rustic-themed tasting rooms reeling out excitement.
Just do well to note the wine tasting hours as some of them are open on selected weekdays while others are only on weekends.
5. Let your kids enjoy Playground of Dreams
Located in Columbia Park, Kennewick, it is referred to as Playground of Dreams or Toyota of Tri-Cities Playground of Dreams by the locals.
If you are looking for a place to take the kids for a stretch after a long day, the Playground of Dreams is that place to visit.
This playground is associated with some humble beginnings, and it has a reserved spot in the heart of the locals.
This playground was completed in 1999 from the donations of residents but was engulfed by fire in 2003. However, the locals mustered courage and rebuilt it.
Their community effort took only a year for the playground to back alive, and it is still meticulously maintained to date.
Playground of Dreams is full of different equipment like interactive chimes, a zip line, different types of swings, and panels with sounds imitating trains and trucks.
It is one of the best things to do in Tri-Cities as the kids and even kids at heart would never lose sight of things to enjoy here.
Address: Columbia Park Trail, Kennewick, WA 99336, United States
6. Ride a Kayak along the Columbia River
One of the best things to do in Tri-Cities is to take a kayak tour along the Columbia River. It offers a fascinating experience and a glance through history.
Several years ago, Native Americans employed the kayak as one of the dominant transportations used for conveying goods between the Coast of Oregon and British Columbia.
This practice continued until today to engage the visitors in an exhilarating experience as they row along the quiet waters of the river.
There are well-equipped kayak shops close to the river to ensure you have everything needed to enjoy the experience safely.
You can go for a half-day guided tour from Scappoose Bay to St. Helens or a full-day tour starting from Dalton Point and ending at Rooster Rock.
There are professionals in the area, and you could also get kayak lessons from them if you are a beginner.
7. Water2Wine Cruise
If you want to celebrate a special climax in your life, there is a great way to do that in Tri-Cities. The Water2Wine Cruise provides an exclusive and classified treatment and is one of the best things to do in Tri-Cities.
Relish the engrossing sunset as you plod along the Columbia River while on a luxury yacht. You would enjoy the local wine of Tri-Cities and the lovely dinner made by the yacht's resident chef.
Some various amenities and facilities complete this vessel, and you and your loved one can enjoy them throughout the three-hour tour.
On the top deck is a full-service bar setup with flat-screen televisions. It boasts an overhead sound system that plays good music wherever you are.
Address: 591 Stevens Dr, Richland, WA 99352
8. Ride the Gesa Carousel of Dreams
Originally designed and launched in Silver Beach Amusement Park, Michigan, the Gesa Carousel of Dreams has passed through generations to different owners and locations in the country before its final home in Washington State.
Gesa Carousel of Dreams exists as the restored 108-year-old Charles Carmel hand-carved merry-go-round. It took ten years for each of the horses in this ride to be completed.
The carousel is very safe to ride, though it may seem antique. And taking a ride of this historic carousel is free of charge. However, the owners would accept and appreciate donations for its operational and maintenance cost.
Gesa Carousel of Dreams can host all kinds of events with a capacity of up to 100 people.
This attraction also offers various food choices like pizza, nachos, burgers, and more. You may choose to buy drinks and food from its concession kitchen or the nearby food shops.
Address: 2901-F Southridge Blvd, Kennewick, WA 99338, United States
Also, check out our list of things to do in Sioux Falls if you are planning a trip to this part of the United States
9. Pay your respect to the fallen heroes at the 9/11 Memorial
If you would be visiting Tri-Cities, then this spot should be on your bucket list of things to do in Tri-Cities.
Without stepping your foot on the actual ground of occurrence, you can pay your respects to the 2,977 lives lost during the September 11, 2001, terrorist attack in Twin Tower.
Located in Kennewick, the memorial was unveiled in 2011, five years after its first construction.
There is an actual piece of the World Trade Center here in The 9/11 Memorial. It places a sober reminder in the heart of any visitor to live each day as if it's the last.
Address: Washington
10. Recall the dark past of Tri-Cities in Hanford Nuclear Reservation Site
The Hanford Nuclear Reservation Site is a 580-square mile site that was formerly a nuclear production complex.
Currently, it has nine nuclear production reactors, of which six have been sealed up in interim safe storage (ISS).
On this site, you will see "Project B," the world's first full-scale plutonium production reactor. This reactor is noted for producing plutonium used in making the atomic bomb, which resulted in the tragedy of Hiroshima and Nagasaki and brought an end to World War II.
However, this facility is currently used for positive reasons. It is a living document of the success of the Manhattan Project and the bravery of our war heroes.
Address: Washington
11. Bechtel National Planetarium
If you are an astronomy enthusiast, this place would perfectly match your imagination.
Bechtel National Planetarium is located at Columbia Basin College and features high-definition projected images and life-like exhibits, making you feel as though you're exploring outer space.
This Planetarium also has a way of inspiring your kids to be future scientists, thanks to its educational presentations about the universe.
Amongst its features are shown with topics on the solar system and constellations, amongst others.
If you plan on visiting this place, you can place a reservation ticket online or purchase at the venue upon walk-in.
Bechtel National Planetarium advises you to come earlier before the show commences. This is to make sure you have seats ready and available.
Address: 2600 N 20th Ave, Pasco, WA 99301
12. Bike the Badger Mountain Road
Badger Mountain Road is not good alone for hikers; bikers can also enjoy trailing this road. This trail fits the adventurous, and it ranks 10th among the bike climbs in terms of difficulty in the whole state.
The trail promises to pump your adrenaline, as most of it is an uphill climb. Although the road is largely smooth, there are still some bumpy areas.
You will love the picturesque view of the Columbia Basin as you pedal your way in this path. There are lovely plants which you would admire along with this trial. They include balsamroot and purple sagebrush.
If you looking for what to do in Tri-Cities, ensure you try this trail as it is an interesting thing to do.
Address: Washington
13. Howard Amon Park
If you desire to learn paddle boarding, do well to pay a visit to
Howard Amon Park
.
This park offers you an opportunity to meet with locals who offer lessons in stand-up paddleboarding, including community paddles and paddleboard yoga.
These professionals will inscribe the proper paddling technique in you, including the basics such as getting in and out of the board safely, adjusting your paddle to match your height, kneeling and standing on the board, and getting back after a fall.
It is best to learn how to paddleboard in a group because fees tend to be subsidized as more people join the class.
They also offer one-on-one classes if you want to learn alone.
And if you have kids with you, note that they must be within age 12 to qualify for the classes. Overall it is usually an awesome experience.
Address: 500 Amon Park Dr, Richland, WA 99352, United States
14. Jet Ski in the Columbia River
What about going on an enthralling water adventure in the Columbia River? Riding a jet ski is one means to do that!
One of the most recognized rentals in this area is Pacific Shortz Watersports. They are superb in their services.
Apart from the ride itself, Pacific Shortz provides you with extensive safety equipment such as life vests such that you are safe as you enjoy the waters of the river.
In addition, you will be required to watch a 15-minute safety film and must meet the State Watercraft Safety Commission protocol of being at least 18 years of age.
There are nearby food shops for your gastronomic delight. Be sure to check in at weekends because this is when rentals are usually open.
Address: Washington
15. Visit the Sandollar Farms Alpacas & Pyrs
Do you mind meeting furry, wooly friends in Tri-Cities? If yes, Sandollar Farms Alpacas & Pyrs is there for you!
Located in the heart of Wine Country, this farm rears Suri alpaca. It is a rare breed of alpaca famous for its top-quality, luxurious fleece.
Sandollar Farms Alpacas & Pyrs also have Great Pyrenees dogs acting as guardians to their livestock animals.
It doesn't stop there! The farmhouses house some bird and bee species in addition to these fluffs. You will also see beautiful gardens and lovely orchards from where you can pick and eat fruits directly from the trees.
And before you leave the farm's demesne, you can buy souvenir items from their boutique. A good number of them are made using alpaca fleece.
Address: 2001 S Washington St, Kennewick, WA 99337, United States
Have Texas on your list of places to explore? be sure to check out our guide on places to visit in things to do in Bastrop, things to do in Odessa, and things to do in Boerne.
16. Gesa Carousel of Dreams
Standing for more than a century, the Gesa Carousel of Dreams is one of the most historical landmarks in all of Kennewick.
This carousel was originally constructed at Silver Beach Amusement Park in St. Joseph, Michigan. Several generations loved it until it was taken apart and moved entirely to Roswell, New Mexico.
At the dawning of the new millennium, in 2002, the carousel was purchased to Kennewick. It has every one of its intricate details well preserved over the years, making it one of the most beautiful and talked about carousels that still stands functional in the United States.
Go and have fun with your entire family in the Gesa Carousel of Dreams. It is one of the best things to do in Tri-Cities.
Address: 2901-F Southridge Boulevard, Kennewick, WA 99338.
17. East Benton County Historical Society and Museum
The East Benton County Historical Society and Museum were opened back in the 1980s and are notably an interesting museum in downtown Kennewick.
The museum features all kinds of historical artifacts and exhibits, focusing on ancient Indian petroglyphs that were seen along the Columbia River back in 1939.
You would also see old-time farm tools on display, with the museum painting a picture of the history, culture, and heritage of Benton County.
There are various photographs from the years gone by lining the walls. The museum staff is also welcoming and hardworking as they are always on the lookout for new photos, artifacts, and other items to add to the ever-increasing collection of the museum.
A visit to East Benton County Historical Society and Museum is one of the best things to do in Tri-Cities. The museum is open from Tuesday – Saturday (12pm to 4pm), but it is closed on Sundays and Mondays.
Address: 205 W Keewaydin Drive, Kennewick, WA 99336.
18. Columbia Park
Columbia Park is a public park that spreads out 400 acres along the banks of the Columbia River. It is one of the most famous and largest in the area.
There is some fascinating history attached to this location, with the famed Lewis and Clark Expedition navigating here many years ago.
These days, both locals and visitors alike are attracted to Columbia Park every day for all kinds of recreational activities like biking and hiking.
And if you are looking to get out on the river itself, the park also features several boat launches. It also offers large grassy spaces, a disc golf course for the whole family to enjoy, a fishing pond, and a private golf course.
Location: Benton County, Washington, United States
19. Toyota Center
The Toyota Center is one of the main event epicenters for the city of Kennewick. This multi-purpose venue was opened in 1988 as the Tri-Cities Coliseum and added to our bucket list of top things to do in Tri-Cities.
Toyota Center has the Tri-City Americans hockey team play here and can have a seating capacity of about 6000 people for hockey games.
The center is also used for live shows and music events, having played host to major rock artists and bands over the years, including Alice Cooper, Slipknot, and KISS.
For concerts, the venue can seat over 7,7000 people. Every year, professional wrestling events and religious and children's events are hosted here too.
Address: 7000 W Grandridge Boulevard, Kennewick, WA 99336
20. Calvary Chapel Tri-Cities
One of the many churches in the city, the Calvary Chapel Tri-Cities, is situated west of downtown Kennewick.
This chapel offers a serene, homely space for the community and visitors to assemble in worship. The chapel organizes regular services and sermons.
Various special events, including live Christina music performances, retreats, kids camp, and bible study groups, are also held here.
This Chapel aims to bring the community together. It is always open and welcomes new members and visitors into the fold, making it a perfect location for anyone seeking spiritual guidance or wisdom in Tri-Cities.
Address: 10611 W Clearwater Avenue, Kennewick, WA 99336
21. Badger Mountain Vineyard
Washington is known for its fine wines and attractive vineyards, and Badger Mountain Vineyard is located in Kennewick as it exists as a perfect example in Tri-Cities.
Badger Mountain Vineyard was established in 1982 as the first Certified Organic wine in Washington State.
This vineyard was founded by Bill Powers, who was inducted into the Legends of Washington Hall of Fame for his excellent work. Currently, the winery is operated by his son.
Badger Mountain Vineyard features a tasting room and gift shop, where various wines are sampled, and the vineyard can also host special events like weddings.
Address: 1106 N Jurupa Street, Kennewick, WA 99338.
22. Sacagawea Heritage Trail
Let's move to something so loved by the locals, the Sacagawea Heritage Trail. The Sacagawea Heritage Trail is a multi-use trail that runs through all the Tri-Cities area, linking the three cities of Kennewick, Pasco, and Richland.
This trail is named in honor of Sacagawea. Its route starts from the Sacagawea State Park and passes by landmarks like the Blue Bridge, the Cable Bridge, Batement Island, Chiawana Park, and Columbia Park.
Both cyclists and hikers can enjoy the trail as it offers an amazing experience to people of all ages. You will see the pool walking and riding up and down it daily.
If you want to explore the full beauty of the Tri-Cities, then add Sacagawea Heritage Trail to your bucket list of top things to do in Tri-Citie, WA.
Address: Pasco, WA 99301
23. Columbia Center Mall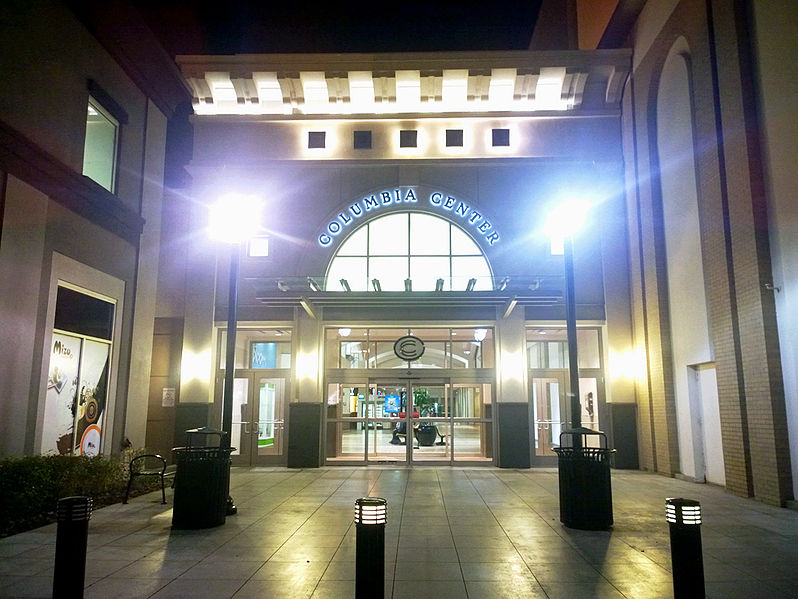 Located in the northwest part of Kennewick, the
Columbia Center Mall
is the city's main shopping destination.
Columbia Center Mall is part of the Simon chain, and it is the largest mall in all of Southeast Washington, boasting over 120 stores in total.
You can browse through various clothing stores, including sporting goods, footwear, video games, and gifts.
They have a massive play area for the kids and over a dozen eateries ranging from coffee shop chains and snacks to full restaurants.
Address: 1321 N Columbia Center Boulevard, Kennewick, WA 99336
24. Bartholomew Winery
One of the best things to do in Kennewick is wine touring at Bartholomew Winery.
Bartholomew Winery is located in downtown Kennewick.
This winery sources its grapes from the best growers and makes unique wines.
The winery's specialties include Tannat, Carmenere, Counoise, Malvasia Bianca, and Sagrantino.
You don't have to worry if these grapes seem foreign to you because you can sample them in the tasting room before buying.
Bartholomew Winery is focused on producing unique bottling that can't be found anywhere else worldwide.
If you desire to make the most of your visit, you can join the wine club for free.
If you buy a bottle of wine, you don't have to pay the fee for the wine tasting.
So visit Bartholomew Winery and treat your taste buds to fine-tasting wine.
You can also get a gift card for your friends and family.
Address: 421 E Columbia Dr, Kennewick, WA 99336, United States
25. The Southridge Sports and Event Complex
Spanning 52 acres, the South ridge Sport and Event Complex is a wide playground for sports enthusiasts and families searching for a little bit of exercise.
You can participate in some friendly contests at the open gym, where you can play volleyball, soccer, basketball, and pickleball.
If you visit with kids, you can take them to the fun zone and have a fantastic time at the playground or splash pad.
You can so practice your swing at the softball and baseball fields.
If you feel like taking a break, go to the HUB Building, which is furnished with a concession stand and restrooms.
The Numeric Pavillion is also located here. It has lots of sports and recreational facilities.
Additionally, there's a memorial to the victims of the September 11 attack located at this center.
Address: 2901 Southridge Blvd, Kennewick, WA 99338, United States
Have more time in Washington?, take to exploring other cities, here is our list of things to do in Yakima, things to do in Tacoma, and things to do in Ocean Shores for fun exploration.
Plan your trip to Tri-Cities
Tri-Cities presents every tourist an opportunity to experience peak satisfaction in any area. Like we've seen, it comprises three wonderful cities that gel seamlessly to offer the best in entertainment, luxury, shopping experience, relaxation, history, and more.
This is a great place for your next vacation, plan your trip, and do have a fun vacation.