In search of the best and fun things to do in Minocqua, WI?
Minocqua is an exciting city in Oneida County, Wisconsin. U.S. Minocqua rests on a peninsula on Minocqua Lake 21.5 miles (34.6) northwest Rhinelander.
The city got its beautiful name from the word "Minocqua," an Ojibwe name defined as the "noon-day-rest." Minocqua is home to Minocqua Winter Park, a cross-country skiing venue, a sledding hill, the world's oldest amateur water ski teams, the Min-Aqua Bats, and many more.
Here are the top things to do in Minocqua, Wisconsin.
Things to Do in Minocqua
1. Wildwood Wildlife Park & Nature Center
Explore the Wildwood Wildlife Park and Nature Center to experience and enjoy the wonders and beauty of nature found through the park with wildlife from and around the world.
Explore the Wildwood Wildlife Park and Nature Center offers experiences that last a lifetime for all ages, both for kids and adults. You will enjoy the petting zoo, feeding the bears with bear juice, hand-feeding critter crackers to the camel, sheep, whitetail deer, goats, and others.
The park features more than a thousand animals and over 200 species. Visit the Giraffe Serengeti as it brings you closer to one of the tallest animals in the world.
You can sit and relax in the quiet area or enjoy petting the animals. You can as well learn about the unique wildlife at the outdoor amphitheater. In the park, other animals you will discover are tigers, leopards, zebras, Bongo, Arabian Oryx, Eland, Nyala, and many others.
Address: 10094 State Highway 70, Minocqua, WI 54548-9002
2. Bearskin State Trail
One of the best fun things to do in Minocqua, WI, is exploring The Bearskin State Trail
The Bearskin State Trail is the former railroad corridor named for the Bearskin Creek that flows alongside the trail's southern portion. Visiting the Bearskin Trail is an excellent opportunity to experience the Northwoods of Wisconsin.
You will discover several historical sites along the trail with over a dozen interpretative signs that provide brief descriptions of the history of the railroad plus the local surroundings.
The north trailhead is situated on the shore of Minocqua Lake close to downtown Minocqua; at Bearskin State Trail, you will enjoy bicycling, walking, jogging, and other outdoor recreational activities.
Bicyclists will discover an excellent, shaded ride through a lovely Northwoods forest of pine, spruce, oak, elm, birch, and maple. The scenic state trail consists of lakes, creeks, natural springs, many spruce/tamarack bogs, and lots of wildlife.
Address: 199 Front St, Minocqua, WI 54548
3. Minocqua Winter Park & Nordic Center
The Lakeland Ski Touring Foundation manages Minocqua Winter Park and Nordic Center. Minocqua Winter Park and Nordic Center are dedicated to providing a quality and enjoyable sports experience for outdoor enthusiasts of both children and adults through the maintenance and protection of the trails system.
The Minocqua Winter Park welcomes skiers, snow tubers, ice skaters, snowshoers, and other recreational people to come and enjoy a wonderful time. The park hosts over 86km of pristinely groomed trails for skating and striding.
You will also enjoy the dense forests, expansive wetlands, picturesque overlooks, and myriad vistas in Minocqua Winter Park and Nordic Center. Your kids will also love to play in the Chip Wolff Memorial Ice Pond.
Address: 7543 Squirrel Lake Rd, Minocqua, WI 54548-8880
4. Northern Waters Distillery
The Northern Waters Distillery offers high-quality, amazingly crafted spirits locally made in small batches. The Northern Waters Distillery is a great place to explore, enjoy great drinks, and spend time with your friends or family.
Northern Waters Distillery features an evident and inviting environment, with lots of opportunities to educate their guests on the unique aspects of their production process.
The tasting room is open all year round, and visitors can come sample and buy the products at Northern Waters Distillery while observing the entire production operation.
The Northern Waters Distillery provides a detailed list of craft distillery, farm distillery, Craft Distillery, and distillery tours in their easy-to-use Distillery Directory.
Address: 8136 U.S. Highway 51 South, Minocqua, WI 54548
5. Lake Tomahawk
Tomahawk Lake is home to a 3462-acre lake in Oneida County with a maximum depth of 84 feet. Visitors can access the lake from public boat landings or a public beach. A visit here is worth adding to your list of things to do in Minocqua, WI.
At Lake Tomahawk, you will find fishes like the panfish, musky, smallmouth bass, largemouth bass, walleye, and pike. Anglers will discover different species of fish to catch in the lake.
Miles of open water are available for boaters to cruise, and water skiers can also enjoy the open water. The Tomahawk Lake is a beautiful destination for fishing during the fishing season, and it also provides fantastic angling all year round.
Hunting is perfect in the Lake Tomahawk area, including hunting for large bucks and others. There are fun events during the summer in Lake Tomahawk, such as snowshoe baseball games and the Fourth of July parade with an incredible fireworks display and many others.
6. Northwoods Wildlife Center
Northwoods Wildlife Center offers daily guided tours that display varieties of Wisconsin-native raptor species.
Explore the Northwoods Wildlife Center with the wildlife educators and tour guides to learn exciting things about the spectacular works of hawks, falcons, eagles, and owls. You will also meet dooms of the wildlife center's ambassador raptors while you're in the area.
The guided tours in Northwoods Wildlife Center are available for all ages. You can also go in groups, maybe on a school field trip, family reunion, or community group meeting, as the center organizes extensive group tours.
Northwoods Wildlife Center strives towards providing an excellent and better future for wildlife through education, rehabilitation, and research.
Address: 8683 S Blumenstein Rd, Minocqua, WI 54548-9026
7. Stiegler Artworks
If you're on vacation in Minocqua, Wisconsin, and you're searching for the perfect place to explore and purchase beautiful and quality artworks for your home, office, and others. Add a visit to The Stiegler Artworks on your list of things to do in Minocqua, WI.
The owner of Stiegler Artworks has been offering custom interior art and commissions for works for more than 28 years; the artworks are all over the country and worldwide.
There are lots of beautiful and unique things to discover in the store. The owner's original artworks are diverse as the cover is watercolor, oil paintings, pen and ink, and wood ornaments with authentic images on them.
You will also find wood carving, nautical antique boat renderings, t-shirt designs, and many more. The Stiegler Artworks can get that done if you need portraits worthy photos of your family members, pets, and home.
Address: 7502 U.S. Highway 51 S, Minocqua, WI 54548-9202
8. Northwoods Zip Line, Aerial Trekking, Argo ATV & Kayak River Tours
The Northwoods Zip Line, Aerial Trekking, Argo ATV, and Kayak River Tours are some of the Midwest's biggest and best adventure companies; visit the area to experience one or all of their world-class, premium tours.
The Northwoods Zip Line, Aerial Trekking, Argo ATV, and Kayak River Tours featured 13 zip lines, five adventure bridges, and 14 aerial trekking obstacles. You will also find a rappel, cargo net climb, and others which are all built-in ad around the amazing north woods pine trees, making it a real canopy tour.
The Argo ATV tour is a unique way to experience northern Wisconsin, like the one-of-a-king 8-wheeled Argo, etc.; the tour features both riding and driving in an Argo on both water and land.
The kayak river tour is home to a relaxing and beautiful float tour down the clear Tomahawk River.
Wisconsin makes one of the top vacation spots in the United States, check out our guide on things to do in Green Bay , and things to do in Milwaukee for a memorable vacation.
9. Minocqua Pontoon Cruises
Minocqua Pontoon Cruises offers informative, relaxing, and safe boat cruises to visitors on the scenic Minocqua chain of lakes.
Enjoy cruising on the chain of lakes all day with your family and friends while you enjoy a relaxing and great time aboard the pontoon boat. You can as well take lovely and good pictures while exploring.
Established in 2004, Minocqua Pontoon Cruises has organized many boat cruises many times out on the lake. Minocqua Pontoon Cruises also offers reservations and rentals. You will also enjoy a good time with the nature guide.
Chad Bierbrauer is an experienced guide and nature interpreter as he explains the amazing things about nature, including the surroundings, birds, wildlife, fish, glacial geology, and others.
10. Holiday Acres
The Holiday Acres is a family-owned recreational park situated in Minocqua, Wisconsin. You will enjoy hours of enjoyment at Holiday Acres as it is for all ages, both kids and adults.
Holiday Acres offers pony rides for the children, horseback riding, miniature golf, and 3-go kart tracks which is fun and interesting for the whole family.
Holiday Acres is the best place to visit to enjoy a great time with your family and friends, as their guided trail rides through the lovely forty-acre woods can build a close connection with you and the group throughout the ride.
The kids can enjoy a pony ride through a scenic trail while being led by an adult. The 18-hole miniature golf course features a beautiful landscape alongside a gorgeous backdrop, making it perfect for family pictures and selfies.
Address; 7994 U.S. Highway 51 S, Minocqua, WI 54548-9145
11. Surf SCONSIN
Do you love surfing? Are you in search of the best destination to go enjoy surfing with your friends or family? Be sure to visit Surf Sconsin as they make sure to have an enjoyable surfing experience.
Surf Sconsin is dedicated to teaching people that enjoy surfing how to wake-surf, and wake-surfing is a kind of sport that uses a boat to create a wave large enough to surf.
Surf Sconsin introduces you to the incredible sport of wake surfing. This kind of sport is fun for both kids and adults. As soon as you feel the push coming from the wave and throw the rope in the boat, you will be captivated.
You will also get the chance to speak with the locals there and make new friends. Visiting Surf Sconsin is a great way to enjoy your evening and have some drinks and delicious food after surfing.
If you are a lover of the sea, add a visit to Surf Sconsin to your list of things to do in Minocqua, WI.
12. Wild Side Flyboarding
If you're on vacation in Minocqua, the Wild Side Flyboarding is one of the exciting things to do in the beautiful city. Wild Side Flyboarding is a whole lot of fun for your family and friends.
If you're a beginner and you do not know how to Flyboarding, the owner Jeremiah and the instructors at WildSide Flyboarding will teach you how to fly. The owner is amiable, helpful, and knowledgeable.
As soon as you get to Wild Side Flyboarding, you will be given instructions and tips by the flying experts at Wild Side Flyboarding, and then you're allowed to go soaring like a bird and swim like a dolphin.
After the instructions from the professional instructors, you will be allowed to fly around, hovering mid-air in minutes. You will leave the marina at the Boathouse up to Lake Minocqua, where you will be taught how to fly.
13. Settlers Mill Adventure Golf
For a memorable golfing experience, add a visit to Settlers Mill Adventure Golf to your list of things to do in Minocqua, WI
Settlers Mill Adventure Golf is designed for everyone, both kids and adults, and was newly remodeled in 2010.
Visit the Settlers Mill Adventure Golf to enjoy their 18 beautiful holes that meander through a park-like setting of lush landscape. Put your way through about 50,000 gallons of spectacular waterfalls and babbling brooks flowing between each hole.
Since 1987, Settlers Mill Adventure Golf has been an excellent place for family fun and the most enjoyable 18-hole adventure as it continues to top the list of up-north family traditions.
After golfing in Settlers Mill Adventure Golf, you can also treat yourself to a scoop of velvet-smooth frozen custard or test your abilities and skills in their video game room.
Address: 7940 U.S. Highway 51 S, Minocqua, WI 54548-9145
14. Rock Falls Riding Stable LLC
Rock Falls Riding Stable LLC offers a guided 40 minutes horseback trail ride through the 26-acre of scenic wooded trails.
Explore the Rock Falls Riding Stable LLC with your family or group of friends for an enjoyable ride through the trails, and discover the natural beauty of the Northwoods. The horse experts at Rock Falls Riding Stable are friendly and helpful as they will fit you to horses suitable for your height and age.
The Riding Stable welcomes all levels of riders, from beginners to professionals, to enjoy a fantastic ride.
There are also a challenging 18-hole miniature golf course and Go-Karts in Rock Falls Riding Stable. You also enjoy playing golf or riding the karts; Rock Falls Riding Stable has single and double karts.
A visit to this spectacular stable is one of the best fun things to do in Minocqua, WI.
Address: 10829 State Highway 70 E, Minocqua, WI 54568-9705
15. Min-Aqua Bats
Go with your family and friends to watch the Min-Aqua Bats Water Ski Club, the oldest continuously operating amateur water ski show in the U.S.
Min-Aqua Bats happen from the middle of June till the end of August on Lake Minocqua every Sunday, Wednesday, and Friday as they have for many years.
The Min-Aqua Bats Waterski Club originated in 1950 with local young people water skiing every Sunday afternoon. The club has participated in several shows and performances.
Min-Aqua Bats Waterski Club competes in state, regional, and national tournaments. The club won many trophies and medals in jumping, water skiing, trick, barefooting events, and slalom.
The Min-Aqua Bats Waterski Club show is fun, exciting, and enjoyable and a visit here is definitely worth adding to your list of things to do in Minocqua, WI, for a memorable experience.
Planning a road trip in Illinois? do not miss our guide through Peoria, Rockford, and Naperville for a fun trip in Illinois.
16. The Angler's Choice Guide Service
John Andrew is licensed and an expert in fishing. He has over 39 years of fishing experience; he also has two documented freshwater World Records in the Freshwater Fishing Hall of Fame accompanied by three Outstanding Angling Achievement Awards.
So you're sure to enjoy a tremendous and exciting fish experience at the Angler's Choice Guide Service; some of their services include pick up and drop off, every equipment including gas and bait.
Whether you want to fish for part of the day or all day, you can get fish at a reasonable price. Some fishes you will find there are bass, crappie, walleye, panfish or Northern pike, trout, and others. You can also enjoy winter fishing at the Angler's Choice Guide Service.
Explore the place with John Andrew to create the complete Minocqua, Wisconsin holiday. Couples, kids, and anglers are welcomed at Angler's Choice Guide Service. They also offer snowmobile trail guiding, ice fishing services, and daily guided hunting trips.
17. Minocqua Party Cruises
Minocqua Party Cruises offers a great pontoon boat adventure. If you're on holiday in Minocqua and you enjoy having fun in the sun with your loved ones or in a group, the Minocqua Party Cruises is the right place.
Minocqua Party Cruises is dedicated to offering a fun and memorable experience to anyone wishing to enjoy the fantastic lakes of northern Wisconsin; they make sure that their passengers want the pontoon rides.
Minocqua Party Cruises caters to each of their cruises to suit your needs. Whether you have an all-day sandbar party, bar crawl, or sunset cruise, your trip is customized to maximize your experience.
Each crew of Minocqua Party Cruises travels the waters of the Lake Minocqua Chain, and the chain includes Lake Minocqua, Lake Kawaguesaga, Lake Tomahawk, and Mid Lake. Every lake explored has something exciting and fun to offer.
Lake Kawaguesaga is a perfect place to bask in the sun, kick back a few, make new friends, meet and chat with the friendly locals in the area.
18. Imaginuity
If you're searching for an excellent store to have a great shopping experience, the Imaginuity is a great place to visit.
The Imaginuity sad tore is a specialty toy store that is independently owned and managed, with two northern Wisconsin locations. The unique store is your source for special toys, exciting games, and challenging puzzles.
Be sure to visit the Imaginuity store with your kids as they will love this store; there are many unique toys to select and buy. They also offer appropriate play options for all ages.
There is friendly and knowledgeable staff in the store, and they help explain to your kid what they can do with the toy and not just what the toy can do for them.
19. Timber Ridge Golf Club
Timber Ridge Golf Club is popularly known as one of the top golfing experiences in Northern Wisconsin. Timber Ridge Golf Club features a par 72, Championship layout which is an exciting challenge for all levels of play.
Timber Ridge Golf Club has five separate tee boxes per hole, and it is sure to thrill both casual and skilled golfers alike in Timber Ridge Golf Club.
You will enjoy a scenic view on every hole while challenging your game on the perfectly carved fairways and undulating greens in Timber Ridge Golf Club.
The golf club rests amongst the beauty of the north woods and bears a private community class.
The club also consists of a fully-stocked pro shop, an attached bar and restaurant, hand-held GPS laser links, a full driving range with a putting and chipping area, and others that are sure to bring you back again. So get ready for an enjoyable golfing experience as the club's course is pleasurable for golfers of any skill level to play.
You can also test your capabilities with the fairways, sand traps, and water hazards, as they have all the things you need to challenge and improve your game.
If you want the best of a golfing experience, do add this attraction to your list of things to do in Minocqua, WI.
Address: 10030 Timber Ridge Rd, Minocqua, WI 54548-9125
20. The Christmas Chalet
Established in 1971, the Christmas Chalet is situated in Minocqua, Wisconsin, and it offers gifts, cards, party supplies, and an exciting shopping experience.
If you're on a trip with your friends and family in Minocqua, Wisconsin, it does well to visit the Christmas Chalet as they have precious gifts, party supplies, and many other things you will love to purchase.
In the Christmas Chalet, you will find many beautiful ornaments to select from and others with local flavors like bears and loons. You will also find fantastic decor items for your home or as a gift.
Address: 7502 US Highway 51 S, Minocqua, WI 54548-9202
21. Earth Goods
Earth Goods is an exciting place you will love to visit with your friends and family as it is an entertaining and creative spot where people are welcomed with their friends and enjoy making memories together.
You will enjoy painting your pottery in Earth goods studio as it is dedicated to providing everyone with a fun and stress-free environment which facilitates their creative process. You're sure to leave the Earth Goods Studio happier than when you arrived.
Earth Goods is a great place where you can easily paint your pottery by selecting a piece, painting it, and leaving it with the studio. They will fire it and make it ready for pick-up in a few days.
You will find various unique items to paint in a relaxing and fun environment. You can make it for yourself or as a gift to your loved ones. If you love painting and being creative, the Earth Goods is the perfect place to explore.
Address: 301-07 Front St, Minocqua, WI 54548
22. R & R Rentals Ski & Tackle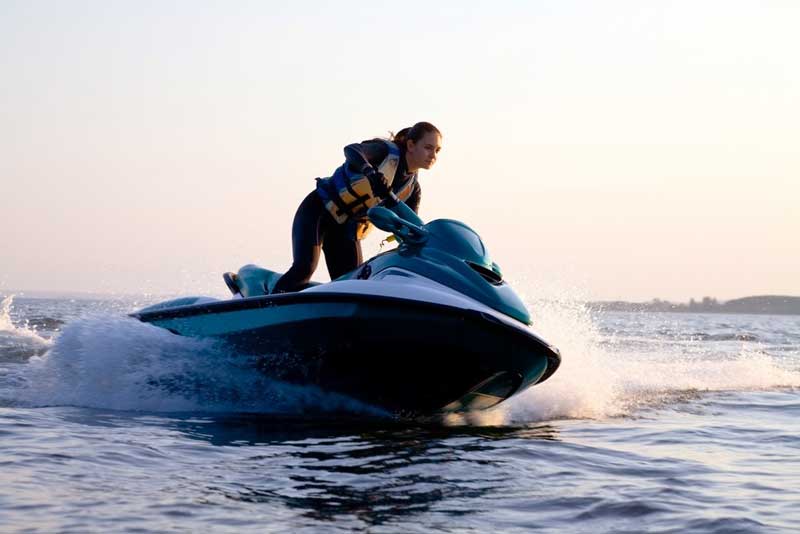 R&R Rentals Ski and Tackle are situated in downtown Minocqua next to the Boathouse restaurant. R&R Rentals Ski and Tackle specialize in pontoons and ski boats.
R&R Rentals Ski and Tackle have been in the business of renting boats since 1997, so if you're in Minocqua and you are in search of a place to rent boats, pontoon, and their likes, for a fun adventure, do well to visit the R&R Rentals Ski and Tackle.
R & R Rentals offer sales and service of all road vehicles, fishing boats, PWC's, ski boats, and they also sell riding gear and parts, oil, and accessories.
R&R Rentals Ski and Tackle prides itself on offering its customers the highest level of customer service. Visit the R&R Rentals Ski and Tackle to rent your boat and others to have a good time in the city.
Address: 305 W Park Avenue, Minocqua, WI 54548
23. Kurt's Island Sport Shop
One of the best things to do in Minocqua, WI, is fishing, and Kurt's Island Sport Shop is committed to offering the area's most comprehensive selection of fishing supplies and fresh live bait for different fish species.
In Kurt's Island Sport, you can also shop the extensive collections of rods, lures, jigs, reels, and accessories from the vast and best brands to the local area's favorites.
Kurt's Island Sportfish consists of different species of fish, including the leeches by the pound, minnows by the hundreds, crawlers by the flat, and many others. Kurt Justice is in charge of the fishing abs he welcomes anglers of all ages and different experience levels, even large groups.
Visit the Kurt's Island Sport to experience the waters of Northern Wisconsin and enjoy an exciting and exciting fishing trip with professional guides.
Address: 824 Hwy 51 North Minocqua, WI 54548
24. Thirsty Whale
The Thirsty Whale is a beautiful setting for family dining located above Lake Minocqua's water.
The facility has been entertaining people of all ages for 110 years. Thanks to its location, you will directly view the neighborhood water ski shows or other boaters cruising.
You can eat a tasty char-grilled burger or take advantage of a Friday Fish Fry while dining on the veranda, whether you arrive by land or by the lake. Fresh meals are served for lunch and dinner.
You can opt to eat outside or inside the covered deck while overlooking the ocean. Take a bite from their savory Cajun chicken sandwich or luscious mushroom Swiss burger. Try some deep-fried cheese curds from Wisconsin.
Enjoy yourself at Thirsty Whale by watching the passing boats or a loon if one happens to pass.
Address: 453 E Park Ave, Minocqua, WI 54548, USA
25. Norwood Pines Supper Club
One of the oldest and best supper clubs in Northern Wisconsin is Norwood Pines which offers a casual style of that establishment.
You will enjoy the views of Patricia Lake and whitetail deer regularly stopping by for a quick meal as majestic red trees surround you.
Depending on the season, the freshly renovated screened-in porch or a comfortable chair next to the fireplace are both great places to eat at the facility.
The outstanding menu at Norwood Pines has something that will undoubtedly please you. While at Norwood, you can try out their Filet Portabella and extraordinary BBQ Ribs. You might also choose to have the best seafood, such as seared Ahi Tuna, with a glass of wine from their comprehensive wine list.
What would Friday night be like without one of Northern Wisconsin's top fish fries? You can choose deep-fried lake perch broiled cod, cajun baked cod, or deep-fried fish. Original Norwood Pines corn cakes are served with every fish fry.
You can book a reservation at Norwood Pines for a group of two or more people. They are open from Mondays through Saturdays from 5 pm to 10 pm.
Address: 10171 WI-70, Minocqua, WI 54548, USA
26. Minocqua Brewing Company
The family-owned business was purchased in 2016 from Dan and Laurie White by Kirk Bangstad and his late wife, Elizabeth Smith.
Before becoming a brewery early in the new millennium, the space was formerly used as a school, library, and church.
Because Mitch McConnell allowed eateries to operate according to their own rules and their belief that Covid-19 was for political purposes, Minocqua Brewing Company began producing progressive beer after their brewpub was closed.
Despite the Republican County Board's threat to penalize them, they erected a Biden sign in the reddest area of Wisconsin; they were the victors in the conflict.
Their attention is now directed into producing fantastic beer for individuals who care about helping the most favored and making Wisconsin politics as clean as the lakes and streams "Up North."
Minocqua Brewing Company features a variety of hand-crafted beers that you and your pals can sit and enjoy while in Minocqua.
Address: 329 Front St, Minocqua, WI 54548, USA
27. Beef-A-Rama
On the final Saturday of September, the air is usually filled with beef aroma as Minocqua's downtown streets are crowded with people.
Beef-a-Rama has been a leading event in Minocqua for more than 50 years, luring guests back year after year to partake in the unique fun.
Before dawn, roasters start to prepare their famous kinds of beef. Hundreds of imaginative festival-goers come to participate in the festival dressed in cow costumes.
There is live music, Rump Roast Run, kid-friendly activities, and the Prime Choice Craft Show with over 70 vendors.
Check out the Beef Eating Contest supported by Associated Bank while at the festival. Don't forget to buy your deed for the Cow Pie Plop competition!
Address: Torpy Park 806 US Highway 51. Minocqua, WI 54548, USA
28. Island City Lanes & Lounge
Island City Lanes & Lounge is your go-to place for fun family and friends time. The facility has a fantastic ambiance with 12 lane bowling alley where you can participate in an exciting game and take turns bowling with your pals.
Aside from bowling, you can enjoy other attractions, such as playing video games, billiards, and darts.
There's a grill, food, and a bar section that offers excellent delicious varieties of craft beers, soft drinks, alcohol, mouth-watering food, and snacks such as pizza, chicken wings, shrimp, and so much more.
Tuesdays in Island City Lanes & Lounge are tagged Taco Tuesdays. Pull up on Tuesdays, order, and enjoy their specially-made Tacos.
In addition to all these fascinating facts about them, they also have lots of terrific amenities, like bathrooms that are neat and clean, wheelchair accessibility, free wifi, takeout, televisions where you can watch your favorite games, and much more.
Address: 8085 Hwy 51 South, Minocqua, WI 54548, USA
Meet the top attractions in Wisconsin, here is a guide on the top things to do in Eau Claire, and things to do in Hayward. and the best things to do in Sturgeon Bay.
Plan your Trip to Minocqua
Minocqua, Wisconsin, is an exciting city you need to explore on your next holiday. It welcomes visitors it all ages and offers incredible and memorable things to do in the city.
There are lots of enjoyable and interesting things to do and places to visit in the city, such as the theatre, art galleries and studios, parks, wineries, bars and restaurants, beautiful trails, and many others. You also enjoy special outdoor activities like biking, hiking, jogging, running, basking in the sun, water sports, fishing, picnicking, camping, parties and reunions, and many others.
The places mentioned earlier will help guide you to the best places to visit in Minocqua, Wisconsin, in the United States. So plan your trip to the city as it is worth your visit.