Looking for the best and fun things to do in Boerne, TX?
The city of Boerne, situated in the Texas Hill Country near San Antonio, derived its name from a German author Ludwig Borne. The city was established with the ideals and norms of the Forty Righters, a German group that believes in human rights.
Boerne is home to some of the oldest known caverns in the U.S. This city's restaurants, breweries, and winemakers are dedicated to preserving the land, its history, and its natural resources for generations.
Boerne is indeed a fun city to visit, and here are the top things to do in Boerne, TX.
Things to Do in Boerne
1. Cave Without a Name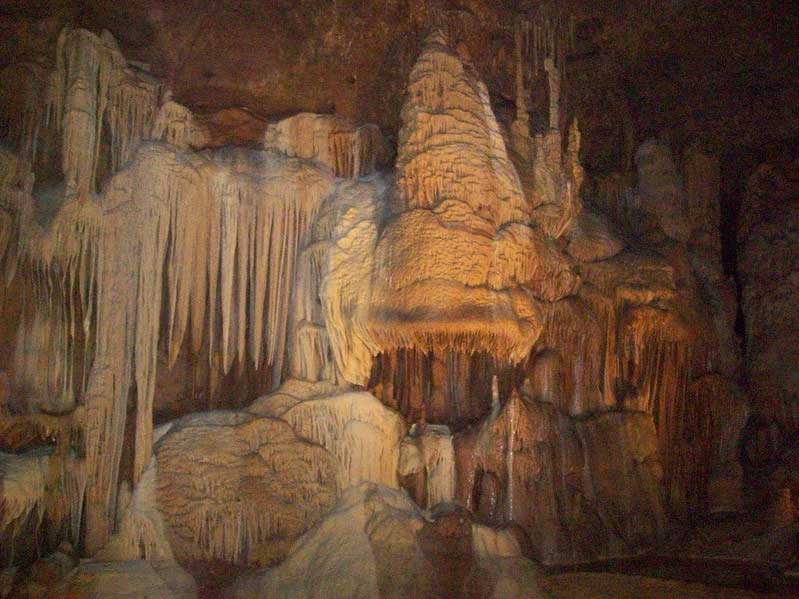 Cave Without a Name, an ancient wonder in central Texas, is located just north of San Antonio.
The limestone chambers were not explored by the human race until a small animal entered the cave's sinkhole in the early 20th century.
Jim Horn, the landowner, opened the property as a tourist attraction in 1939. Visitors can descend to the cave's bottom which is almost 90 feet below the surface.
The Cave Without a Name consists a number of well-lit rooms and the first six are open to the public.
Stalagmites hang from the ceiling of the cave and climb down to the stalagmites on the cave's floors.
Address: 325 Kreutzberg Rd, Boerne, TX 78006, United States
2. Old West Christmas Light Fest
The Old West Christmas Light Fest is best visited during the Christmas season. If you want to have a great fun time with family, colleagues, or friends at this time of the year, you should add the Old West Christmas Light Fest to your checklist of things to do in Boerne, TX.
Make your Christmas holiday magical with family fun activities, flavors, delicious foods under the lights at Old West Christmas Light Fest.
Visitors can also engage in fun activities like Mechanical Bull Rides, Scavenger Hunt, Laser tag in the lights, DIY S'Mores roasting at the campfires, and children light hay maze, walkthrough light tunnel, and lots more
The environment here is filled with so much fun and excitement and is visited by many people every year.
Address: 242 TX-46 unit c, Boerne, TX 78006,
3. Saint Tryphon Vineyard and Farm
Saint Tryphon Farm and Vineyard are family-owned businesses where love for Texas and passion for wine bring great people together.
The Bradford's purchased the property in 2013, and after three years, they started planting their first vineyard.
Saint Tryphon Farm and Vineyard was opened to the public in 2018. Guests can now taste the delicious wines made from a variety grapes grown in the Texas Plains and Hill Country.
For individuals or small groups, reservations are not required. However, the family encourages guests make a call to let them know about the event before they arrive.
Saint Tryphon welcomes you to their charming tasting area, located next to their homestead. It is open every day.
Address: 24 Wasp Creek Road, Boerne, TX 78006, United States
4. Hill Country Mile
There are many shops and boutiques that serve the needs of the many people who visit Boerne.
This store stocks a wide range of products, from high-end brands to local goods.
If you want to purchase collectible antiques, visit Flashback Antiques. Many boutiques and stores selling home decor are located on the Hill Country Mile.
For a tasty snack, stop by The Epicure Gourmet Marketplace if you are tired of shopping.
5. Kronkosky Tower
The Kronkosky Tower has a long history line, and the tier was built in 1911 by a man named Albert Kronkosky. It is situated inside the Benedictine Sisters Covent.
7 During the autumn season, the tower is surrounded by red oaks marking the environment a lovely scene to behold.
The weird architectural building is on 27 acres of land, built with native limestone and cedar eaves in a distinctly Japanese pagodas a la Texas. You can also find pools, gardens, dance hall, and fountains.
The estate where this building is located once had a bridge that linked both ends of the estate. From the top of the bridge, you can view the whole of Boerne. There are parking lots available for visitors
Address: 206 W Highland Dr, Boerne, TX 78006-2620
6. Kuhlmann-King House
Kuhlmann-King House was the home of a prosperous German man known as William Kuhlmann, which was sold to the family that owned the King and King Lumber Company.
This historical treasure shows the architectural beauty of these homes built in the second half of 1880s.
This two-story home consisted of two rooms. Each level had an exterior staircase.
The home's front yard features an elevated and lower porch, which offers outdoor space for relaxation after a long day reading.
This historic site is open to the public every Saturday for a chance to see the lives of the families who have lived there over the years.
Address: 402 E. Blanco Road, Boerne, TX 78006, United States
7. Agricultural Heritage Museum
Visit the Agricultural Heritage Museum for more information on the history of agriculture and rural life in the Texas Hill Country.
The museum houses a large collection of antique agricultural equipment and tools such as tractors from years past.
The museum regularly hosts workshops in woodworking and blacksmithing to keep things interesting.
The museum also has other events, such as art classes, Blue Grass Jams and Antique Tractor Pulls. There is also an annual Handcrafted Market and a Pumpkin Patch.
The Agricultural Heritage Museum is a must-see for anyone interested in agriculture.
Address at 102 City Park Rd. Boerne, TX 78006, United States
8. John's Road Antique Mall
One of the best things to do in Boerne is to visit the Marketplace antiques. The Marketplace antiques are adorned with various unique items that'll interest you.
Most of the items to find here are handcrafted. There are wooden items decorated with wood burned materials, hand-painted accessories and vinyl, vessels, and many others.
The Antique store is perfectly arranged in such a media that picking out visitors' items will be easy and without stress.
There is something for everyone who loves antiques. You can also bring your kids along, as there is a section for kids to collect their most treasured vintage toys.
Address: 850 Johns Rd, Boerne, TX 78006, United States
Planning a trip to California, don't miss our checklist of fun things to do in Marina del Rey, things to do in Palo Alto, and things to do in Solvang for a memorable vacation.
9. Old No. 9 Trail
Old No. 9 Trail is a walking and biking trail that runs for approximately one mile through central Boerne.
The original trail was a dirt road used by Native Americans to cross the Texas Hill Country. The railroad was built by the San Antonio and Aransas Pass Railway Company, a few years later.
Old No. 9 Trail was named after the highway 9 and not the railroad.
The trail has been paved. There are informational signs at each end of the trail, and a water feature that is a shaded rest area near the halfway point.
Water misters can also be found at the Esser road trailhead to help you stay cool in the Texas summer heat.
Address: 358 S Esser Rd, Boerne, TX 78006, United States
10. Boerne Community Theatre
For some theatre time, add a visit to Boerne Community Theatre to your list of things to do in Boerne, TX.
Deloris Littlejohn, with the support of the local theatre community, created Boerne Community Theatre.
Theatre's purpose is to offer an educational experience through the creation and advancement performing arts.
The emphasis on musicals, drama, and cultural aspects of live theatre is intended to get the residents of Boerne involved in all aspects of performing arts.
Boerne Community Theatre presents many musicals and plays every season. The theatre also offers acting classes for adults and has a talent showcase that is divided into two age categories: 18- and over.
Address: 907 E. Blanco Rd.Boerne, Texas 78006, United States
11. The Patrick Heath Public Library
The Patrick Heath Public Library is an ideal place for you to visit when you're in Boerne, Tx, and should top your checklist of fun places to be.
The library offers visitors free books to study without a library permit, public computers with printers, free WiFi, and many others
This place has gotten awards for its profound work ethic and outstanding performance. Also included in the awards are gold certification for its prolific leadership in Environmental and energy design.
Part of its goals is to imbibe and inculcate the passion for reading through cultural exploration and lifelong learning and create a friendly environment for people to meet and connect.
Address: 451 N Main St, Boerne, TX 78006, United States
12. Adventure Tower & Zipline
Are you up for an adventure? If yes, add a visit to the Adventure Tower & Zipline to your list of things to do in Boerne, TX.
The Alpine Tower at Don Strange Ranch was named the best entertainment in Kendall County.
The challenge tower is located at ground level but can be climbed up to 60 feet (18.29m) in the air. The rope tower was designed for adventure seekers who want to face different challenges.
These challenges will improve your teamwork skills as well as communication skills and increase your confidence.
You can also enjoy their quick zip lines.
Buy your tickets early to conquer your fear of heights.
Adresse: 103 Waring Welfare Rd. Boerne, TX 78006, United States
13. Cibolo Creek Brewing Company
Cibolo Creek Brewing Company, a family-run pub, is devoted to serving great beers and delicious food from local farms for friends, family, as well as visitors.
They create seasonal beers that are refreshingly light in summer and warm in winter.
They offer small-batch beers made from seasonal fruits that provide a variety of delicious tastes throughout the year.
Cibolo Creek Brewing Company offers brunch on Sundays as well as dinner every day.
They are made with local suppliers who practice sustainable farming. They are also made with high-quality, consistent ingredients.
Address: 448 S Main St, Boerne, TX 78006, United States
14. The Carriage House Gallery
The Carriage House Gallery is situated in the downtown area of Boerne Texas, it was established in 2003 and had since then been providing diverse and outstanding works of fine art.
The environment is super friendly and welcoming as you can regularly visit, even on second Saturday evenings, and on special occasions such ad festive events for art exhibition and appreciation.
The art pieces to find here are beautifully made and will leave you awe-struck, artworks ranging from watercolors to oil, sculpture to scratchboard, fused glass to cold wax, and from mixed media to photography.
You can have a friendly work with any of the artists to show you all you can find in the art gallery, and hopefully, you'll find a piece, that ideal piece that'll pick your interest.
Address: Address: 110 Rosewood Ave #2314, Boerne, TX 78006, United States
15. Rodeo Show
A short distance from Bourne, just a few miles away, the Tejas Rodeo Company is an amazing place to visit.
One of the most exciting rodeo shows in Texas showcases Texas' authentic western heritage.
Shows are performed every Saturday throughout the year, starting in March and ending in November.
They also offer lessons in riding horses and horse-boarding. Rodeo shows are followed by live music and dancing.
Don't forget to stop by Tejas Steakhouse and Saloon. The restaurant serves a variety of delicacies such as Texas barbeque, steaks, and hamburgers. Drink down your food and drink with local liquors, cold beers, and delicious drinks.
For a fun time in New York, take to exploring our list of things to do in Sturgeon Bay, things to do in Hayward , and fun things to do in Milwaukee for a fun vacation time.
16. Po Po Restaurant
For a memorable dining experience, add a visit to Po Po Restaurant to your list of things to do in Boerne, TX.
Po Po Restaurant serves southern-style classics like fried chicken and barbecued pork chops.
In 1929, the restaurant was opened as an entertainment venue. At that time, hamburgers were priced at one nickel and moonshine was only a quarter for a shot.
It was transformed into a restaurant in 1932.
Po Po Restaurant has a selection of over 2300 dishes displayed on its walls. This tradition was started in 1950 by Luther and Marie Burgon.
Address: 829 FM 289, Boerne, TX 78006, United States
17. Cascade Caverns
Cascade Caverns was an archeological site discovered in the Lower Cretaceous Period. It contains prehistoric artifacts from The Lipan Native American tribes.
The cave was first opened for tours in 1932. It was temporarily closed during World War II, but reopened in 1940.
Visitors can now explore the caverns via the half-mile of passageways and chambers that lead down to The Cathedral Room, which is 132 feet below surface.
In the beginning, the cave had seven waterfalls. However, droughts in 1950 led to the drying out most waterfalls.
Due to unpredictable floods, the final waterfall was submerged. An artificial waterfall was built to recreate the natural scene.
Address: 226 Cascade Cavern, Boerne, TX 78015, United States
18. Main Plaza
The Main Plaza was built in 1852 and was popularly known to be a Common Area, and this is one of the first places set aside to be used as a community park in Boerne.
The Park is situated in the center of Boerne and is used for various celebrations, concerts, festivals, and act shows. The park also has a gazebo, which is always used for concerts and weddings.
You can also visit during their market days to do some shopping, which is at every second Saturday and Sunday of the month (June and October are exempted as it is held in the courthouse).
The parking lot here is spacious. You might want to add the Main plaza to your checklist of things to do in Boerne, TX.
Address: N Main St, Boerne, TX 78006, USA
19. Valeria Ristorante Italiano
Valeria Ristorante Italiano offers a long-standing, traditional Italian menu that uses the best local ingredients.
Every ingredient, from pork, beef, eggs, to seasonal fruits, as well as spices, herbs and herbs, is grown in the region through a partnership. This ensures only the finest ingredients.
Summer months are a great time to enjoy fresh seafood like Alaskan-caught salmon, instead of farmed salmon or fish trout.
Valeria Ristorante Italiano prides itself on serving organic and healthy dishes, as well as fries, at a low temperature and with all-natural fats and acids.
Pair the wines with handcrafted foods and desserts using traditional recipes.
Address: 109 Waterview Pkwy #105, Boerne, TX 78006, United States
20. Farm and Nature Center at Cibolo
One of the best things to do in Boerne, TX, for individuals interested in nature is visiting the Cibolo Nature Center and Farm.
Cibolo Nature Center and Farm was established in order to preserve the marshlands at Cibolo Creek, Boerne, Texas.
It has since developed into an environmental stewardship program encouraging the preservation of the natural environment.
The programs show visitors how important it can be to learn in-depth about natural phenomena and to use sustainable farming practices to preserve our environment.
Every year, more than 100,000 people visit Cibolo Nature Centre and Farm to experience outdoor activities that entertain and teach about living in harmony and nature.
The farmers market is open from March to December. There are also sessions at the farm on basic farming techniques that can be used at home.
Address: 140 City Park Rd.Boerne, TX 78006, United States
21. Winery Tour
There are many wineries around Boerne. It is a pleasant and easy way to sample their local beers.
Bending Branch Wineries uses organic produce to create their signature Crimson Cabernet Red Wine. Saint Tryphon Winery is the best place to get authentic Texan flavors.
Wines such as Tannat and Aglianico are made from native Texas grapes. Visit the Singing Waters winery for a more intimate experience with live music.
22. Boerne City Lake Park
Boerne City Lake Park is filled with water sports of all types.
Boerne City Lake Park should be on your list. The scenery is lush and beautiful, and the lake is welcoming.
You can swim in the lake or the municipal pool or fish from the fishing pier.
You can also ride a kayak or boat on the water or have a family-friendly picnic at the park's grills.
There is a tennis court and playground, as well as a disc golf course and bird observation area. The park also has the butterfly garden which is dedicated to nature-based activities. Walking trails can also be found in the park.
Address: 21 Upper Cibolo Creek Rd, Boerne, TX 78006, United States
23. Kendall County Courthouse
One of the great attractions to see in this area is the Kendall Historic County Courthouse.  The Courthouse was constructed in 1870 as a two-room and one-story building. It got its current appearance in 1909.
Through the Texas Historical Commission, grant funds were released to enable the revamping of the Court House in 2009/2010. The Courthouse was rededicated on April 10, 2010.
The offices of the Justice of the Peace Precinct 1, The County Health Officer, County Commissioner Precinct 3 are all in the Kendall County Courthouse.
The building is listed on the National Register of historic places because of its importance to this region in terms of its politics and government. Critical and vital decisions carried out in this courthouse helped in shaping and redefining Kendall County. If you're a fan of history make here a sure visit when you're in Boerne
Address: 204 E. San Antonio Ave. Boerne, TX 78006
24. Performing Arts and Theatre
Boerne Performing Arts is entirely run by volunteers. Each year, they bring Boerne world-class live music and dance performances.
There are many performances, from orchestral groups to rock and roll to Siberian dance recitals.
Boerne is visited by artists from many countries, including Australia, Russia and India.
It also offers activities for children. The organization has helped more than 21,000 students.
Another non-profit arts organization can be found in Boerne Community Theatre. Boerne Community Theatre. They present wonderful musicals and theatre performances on stage every year.
25. Farmers Market
Each Saturday, Herff Farms allows local producers, ranchers, and artisans to take up their spaces and sell their local products and produce.
This farmer's market in the open air is situated on the historical German Farmstead that is part of Herff Farms.
Other attractions include meadows, walking trails that lead to fenced gardens and the Herff house. Regular events are also held at the site.
Classes include Yoga, fitness lessons, gardening workshops and live music performances.
Address: 33 Herff Rd, Boerne, TX 78006, United States
26. Gallery 195 of Boerne
Gallery 195 has a venue that shows some of the most beautiful artworks you could find in this area. You can find anything ranging from past to current gallery artworks in this gallery.
Gallery 195 was established in February 2017 to harness and create a network of amazing artists in the area to showcase their artworks in an ideal setting that is filled with rich cultural heritage.
The artworks to find here are super amazing. The various art pieces to find here are showcased in acrylics, mixed media, oils, and many others.
If you're looking for that ideal art piece to gift someone, keep at home, or even add to your collection of artworks,  Gallery 195 is a sure place to be.
Address: 195 South Main Street, Boerne, TX 78006
Want more of Texas? do check out our list of things to do in Bastrop, things to do in Victoria, and things to do in Temple for a memorable vacation.
Plan Your Trip to Boerne
A visit to Boerne is for sure an ideal destination to be. It welcomes you with nature's best attractions ranging from historical attractions to shopping, wildlife, and many more.
If you're looking to have a fun, thrilling outdoor adventure, activities in Boernd are perfect for making your travel journey adventurous and memorable.
Make your bucket list of things to do in Boerne, TX, and pin this guide to have handy Boerne attractions and activities.