Riverhead is a simple, historic town with a plethora of attractions for guests. It is situated on the north coastline of Long Island in New York, United States. The town's name is derived from its location, as it sits on the Peconic River's mouth.
This ancient town of Riverhead has been the seat of Suffolk County since 1727. The town recorded a population of 35,902 in 2020.
The main family-friendly attractions are the Long Island Aquarium and the Riverhead Raceway. In addition, picking apples at one of the region's two orchards is popular in September and October.
Adults can brush up on their historical knowledge at the Hallockville Museum Farm or visit several regional craft brewers, vineyards, and distilleries.
The Suffolk Theater and the Vail-Leavitt Music Hall add culture to the mix. Of course, the town also has excellent restaurants with different settings. The town's attractions are pretty exciting, enjoyable, and relaxing.
Here are the best and fun things to do in Riverhead, NY
Things to Do in Riverhead, NY
1. Indian Island County Park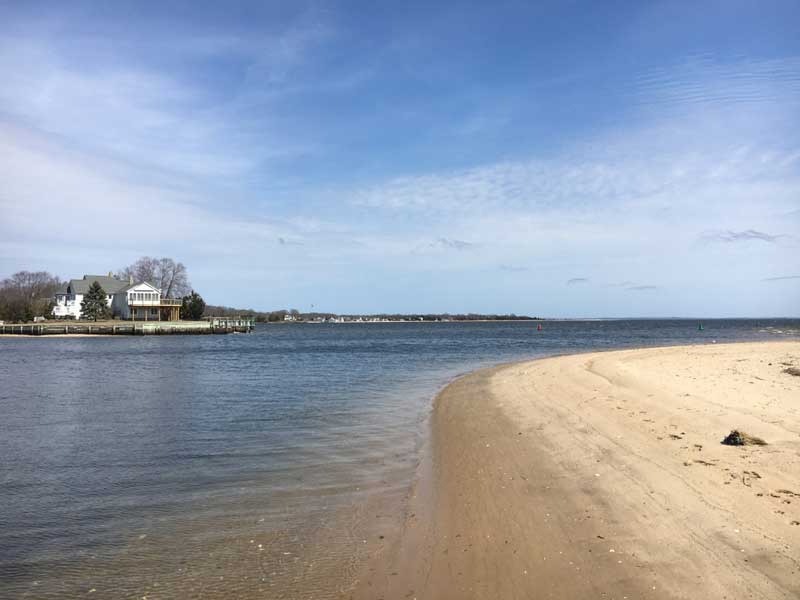 Indian Island County Park is a beautiful destination that highlights the beauty of nature. This 275-acre area is located near the estuary mouth of the Peconic River, which flows through the town.
This Park is accessible to the general public all year long and includes facilities for a wide range of activities.
You can camp here at one of the Park's trailers or tent campsites. There are also bathrooms and showers accessible for your convenience.
Spend the night in this magnificent nature park to experience all that Riverhead has to offer in terms of the great outdoors.
Address: Indian Point Rd, Riverhead, NY 11901, United States
2. Railroad Museum of Long Island
Numerous locations in the United States have significantly benefited from the construction and growth of railroads and locomotives.
Long Island
is included in this. It is inside a Long Island Rail Road freight house built in 1892.
The goal of this location is to preserve and restore the history and artifacts that would inform visitors about the value of the local railway network.
This fascinating Museum is also located in Greenport. The railroad has several displays and exhibits that show how these railroad networks functioned in the past.
Address: 416 Griffing Avenue, Riverhead, NY 11901, United States
3. Cranberry Bog
Don't miss exploring Cranberry Bog Nature Preserve if you enjoy the outdoors, as it's one of the top things to do in Riverhead, NY. This undiscovered treasure is situated among the wetlands of Riverhead.
In essence, the Park is all that's left of a defunct cranberry farm. The 165-acre nature reserve is part of the drainage system for the Peconic River.
It also acts as a natural reservoir for Long Island's freshwater supply. You can choose from various hiking trails when you visit this area. The trails will take you to locations where you will soak in breathtaking views of the Little Peconic River.
Following these routes will also allow you to see various local fauna, plants, and birds. Seasonal changes in the flora produce different sights and smells, all of which are pleasing.
Discover this undiscovered treasure in Riverhead, and ensure to take advantage of all it has to offer.
Address: 1601 Factory Rd, Harwich, MA 02645, United States
4. Harbes Orchard
The Harbes Orchard is a well-liked seasonal destination for the whole family that is only accessible in September and October.
The Orchard uses a magnificent trellis framework to train its apple trees, ensuring that even younger children can reach much of the fruit.
Children will love having the opportunity to pick their juicy apples; there are no fewer than 27 varieties to choose from.
Picking apples and pumpkins, taking hayrides, and navigating corn mazes are enjoyable fall pastimes and part of the fun things to do in Riverhead, NY.
For the kids, there are pony rides as well. Bring the family along to experience the Harbes Orchard Spooky Night Maze event on Saturday nights in October when the corn mazes transform into creepy mazes.
Address: 5698 Sound Ave, Riverhead, NY 11901, United States
5. Jamesport Farm Brewery
There seems to be a craft brewery in every town and village. If you are a good beer lover, you must visit the Jamesport Farm Brewery.
The Jamesport Farm Brewery stands out because they make excellent beers with only premium ingredients, most of which are grown on the farm itself.
The Jamesport Farm is the only "Farm to Pint" brewery on Long Island. It is a cutting-edge working farm that supplies nearly all fresh hops, barley, and wheat used in the brewing process.
At their smell and taste room in the former potato barn, guests are welcome to stop by and discover the difference. Following your tasting, you can stock up on various farm-grown goods.
Address: 5873 Sound Ave, Riverhead, NY 11901, United States
6. Riverhead Raceway
The first race was held back in 1944 in this thrilling attraction. Therefore, Riverhead Raceway is among the nation's oldest racetracks.
The only NASCAR track in New York as of this writing is this raceway in Riverhead. It draws lots of racing fans to its stands.
When you visit, you will see a wide variety of auto-related entertainment. These include school bus racing, go-kart racing, and NASCAR events. Watching the races is among the best things to do in Riverhead, NY.
The racing season, which runs from April through October, offers entertaining family enjoyment. But you can also see monster trucks and demolition derbies here. On July 4th, you may also catch the Kids Big Wheel Race and some spectacular fireworks.
Throughout the summer, races are held every week. Visit Riverhead Raceway with your family to feel the excitement of ultra-fast racing.
Address: 1797 Old Country Rd, Riverhead, NY 11901, United States
7. Long Island Aquarium
A fantastic attraction that guarantees hours of family-friendly learning is the Long Island Aquarium. It contains a 120,000-gallon shark tank, many touch tanks, and more than a hundred static and interactive exhibits.
Along with the standard viewing tanks, the Long Island Aquarium also provides a variety of thrilling adventures and excursions, like the Shark Dive and the Penguin Encounter.
The exhibit of an entire living coral reef at this 120,000-gallon is one of the largest on this side of the globe.
Numerous thousands of vibrant reef fish can be seen going about their daily lives in one of the most extensive living coral reef exhibits in the world, which is housed in the facility.
Multiple touch tanks and the exciting Sea Lion show will surely be a hit for younger guests. You can also roam through the magnificent butterfly garden at this aquarium.
A trip to Riverhead, New York, can be considered incomplete without a visit to the Long Island Aquarium, as it's one of the best places to visit in Riverhead, NY.
Address: 431 East Main St, Riverhead, NY 11901, United States
8. The Big Duck
Near Riverhead, there is a bizarre yet well-known roadside sight in the form of a duck.
As the name suggests, the Big Duck is an attraction that lies 6 minutes from Riverhead in Flanders. The Collin Brothers, Broadway set designers, were in charge of designing the attraction.
However, locals built it in 1931. This tourist attraction started in Riverhead and has since relocated three times before settling on its current site.
The Big Duck is now situated in the appropriately titled Big Duck Ranch. The Big Duck is a fantastic location for a photo op with your traveling companions because of its charm.
When you're nearby, stop for a moment at this odd roadside sight.
Address: 1012 NY-24, Flanders, NY 11901, United States
Also check out our list of things to do in Oneonta, and things to do in Yonkers, for a fun vacation in New York.
9. Vail-Leavitt Music Hall
The venerable Vail-Leavitt Music Hall has been standing strong since 1881, making it the longest-surviving theater in downstate New York.
The grand old dam had a complete restoration between 1978 and 2003 and escaped the wrecker's ball for several decades.
The quaint old theater is a well-liked gathering spot for Riverhead residents and tourists. Check out the Vail Leavitt Music Hall of jazz music and its significance to Riverhead's past.
The location often holds Thursday Coffee and Jazz sessions in addition to a year-round schedule of cultural events, music nights, and concerts. In addition, you can participate in any of the several musical performances held at this location when you visit.
Visit the Vail-Leavitt Music Hall if you want to take in some live music hall entertainment done the way it was in the past, as it's one of the top things to do in Riverhead, NY.
For information on upcoming productions, visit their website. Then, experience some classic Music Hall entertainment.
Address: 18 Peconic Ave, Riverhead, NY 11901, United States
10. Hallockville Museum Farm
Since the middle of the eighteenth century, farming has been a way of life in the North Fold of the Long Island community.
Hallockville Museum Farm is a location in Riverhead where the history of this aspect of the neighborhood is preserved. It is among the best places to visit in Riverhead, NY.
The goal of the community at Hallockville Museum Farm is to preserve and present the way that early pioneer farmers lived in the 18th century.
The 1765-built Hallockville homestead is located here. The location was occupied up to 1985. You can visit this place and tour the farmhouse with a guide, discovering more about the way of life of the early farmers.
The Museum also hosts seminars and artisan exhibitions, so consider attending one for a fulfilling experience.
Address: 6038 Sound Ave, Riverhead, NY 11901, United States.
11. Woodside Orchards
In 1982, Woodside Orchards began as a little apple farm run by a family.
The apple farming operation of the Gammon family expanded as they did. Today, tourists can look forward to savoring various homemade apple treats.
When the harvest is in full swing, from mid-September through Columbus Day weekend, you must visit if you want to participate in the U-Pick apple picking.
You can visit the tasting room any time of year to sample a flight of 4 distinct hard ciders if you're interested in trying their delicious hard cider.
Once you've settled on a favorite, you may purchase a growler. Then, during the harvest season, there are delectable baked products available.
Address: 729 Main Rd, Aquebogue, Riverhead, NY 11931, United States
12. Twin Stills Moonshine Distillery
Twin Stills Distillery is carrying on a family tradition by producing authentic old-fashioned small-batch whiskies, and delectable flavored spirits from locally grown New York corn, precisely like Pops and Granddad did during the gloomy Prohibition era.
The public is welcome to visit the distillery's tasting room on Fridays, Saturdays, and Sundays from 2 pm to 6 pm.
You can join the Shine Club and assist them in perfecting their limited edition seasonal moonshines if you live nearby and want to be invited to their exclusive monthly members-only tastings.
The cocktail recipes on their website will give you ideas if you're unsure how to serve the Twin Stills line of flavored spirits.
Address: 5506 Sound Ave, Riverhead, NY 11901, United States
13. Suffolk Theater
Nearly 90 years after its initial opening in 1933, the Suffolk Theater still receives a steady stream of theatergoers.
Most of the theater's original art-deco interior is still present, despite numerous renovations and restorations, giving visitors a nostalgic backdrop of an utterly modern performing arts venue.
Today, the location is capable of hosting small-scale dinner theater events. In addition, it can be converted into a conventional theater to hold larger crowds for events like concerts and musical productions, among other things.
Pre-show dinners or cocktails are perfect at the on-site Noah's restaurant, which also handles the catering for regular evening theater events.
Address: 118 East Main Street, Riverhead, NY 11901, United States
14. Paumanok Vineyards
The Paumanok Vineyards and Winery welcome visitors to Riverhead to sample some delectable Long Island wines.
The 127-acre property, founded in 1983, is heavily covered with a range of well-liked wine varieties.
All the wines are produced on-site in a converted barn that serves as the fermentation tank. A family manages the vineyards.
The estate's spacious tasting room and open deck with views of the lovely vineyards are the ideal places to unwind with a glass of wine and a cheese or charcuterie board.
Address: 1074 Main Rd, Aquebogue, NY 11931, United States
15. East End Arts
A non-profit group called East End Arts has received numerous honors for its art school, galleries, year-round events, and programs.
The East End Arts & Humanities Council has worked to promote a healthy art scene on the eastern end of Long Island ever since it was founded in 1972.
East End Arts annually holds 22 gallery exhibitions and about 150 art, music, and theater classes, showcasing regional talent.
It offers private music classes and networking opportunities for prospective and seasoned musicians in addition to public concerts.
Address: 133 E Main Street, Riverhead, NY 11901, United States
Planning to explore New York? here is a list of things to do in Cooperstown, things to do in Tarrytown, and fun things to do in Greenport for a memorable vacation.
16. Tweeds Restaurant and Buffalo Bar
Your trip to Riverhead would be incomplete without enjoying at least a meal at Tweeds Restaurant and Buffalo Bar, a historical Riverhead landmark since 1896.
Order your preferred bourbon from the extensive selection available at the spectacular ebony and marble bar, which was transferred to the restaurant from the 1983 Exposition in Chicago.
Both residents and visitors swarm to this location to sample one of their many delectable dinners.
The restaurant has its bison herd, and you can choose from a variety of mouthwatering distinctive bison meals on the menu and many other alluring selections.
At Tweeds, every Wednesday is "Date Night," and live music usually plays on the weekends while you eat.
Don't hesitate to check this business out if you're looking for a fantastic location to eat or hang out with your friends in Riverhead.
Address: 17 East Main Street, Riverhead, NY 11901, United States
17. Downtown Riverhead Historic Trail
Don't know what to do in Riverhead, NY? Learn about Riverhead's colorful past by taking a journey down memory lane along the Downtown Historic Trail.
Visitors can use their smartphones and QR codes to navigate the Downtown Riverhead Historic Trail.
The Suffolk County Historical Society serves as the trail's destination and is located where Main Street and Roanoke Avenue meet. Visit each location to view historical portraits and first-person accounts of famous people.
The narrative voices are those of merchants, bankers, spouses, children, and employees. You can stop by "Judge" Taft's candy shop, Tammany Hall member J.J. Sullivan's hotel, or Republican county leader Harry Lee's office.
Meet Syrena Stackpole as well—she's the first elected female official in the city. Become acquainted with the folks behind some of the town's most notable buildings, including the First Congregational Church and the Suffolk County Historical Society.
You'll also learn about the Greek-born Riverhead Grill proprietor Tzanos Moustakas's life.
Address: 125 East Main Street Mailing, 200 Howell Ave, Riverhead, NY 11901, USA
18. Long Island Science Center
The entire family can enjoy learning about the wonders of science. The tremendous educational institution, Long Island Science Center, is located in Riverhead.
This facility prepares children for a future primarily based on innovation and technological advancement.
This living Museum seeks to foster young people's intellectual curiosity and creative imagination through its STEAM-focused curricula, interactive displays, and numerous programs.
Nevertheless, this place offers exciting times for guests of all ages so that children won't be the only ones enjoying fun here. So bring your whole family to the Long Island Science Center in Riverhead.
Address: 401 Tanger Mall Dr, Riverhead, NY 11901, United States
19. Peconic Riverfront Park
The Peconic Riverfront Park is one of Riverhead's most well-liked recreation spots. It has a lot of amenities you may use to have a great time.
Here, your kids can run around and play on a sizable playground and grassy area. You can unwind at the Park's pavilion, close to a peaceful river.
Through the Park's numerous walking routes, you can learn more about the unusual plants and trees found there.
If you are hungry, you can get delectable food to eat at a neighboring restaurant. Don't hesitate to check out the remarkable Peconic Riverfront Park.
Address: 40 Peconic Ave, Riverhead, NY 11901, United States
20. Gingerbread University
Everyone would enjoy visiting Gingerbread University. This location, which lies in Baiting Hollow, was once a barn.
It has been transformed into a confectionery shop where visitors can decorate an edible structure in a festive setting.
The year's busiest month at Gingerbread University is naturally December because gingerbread houses are seasonal decorations.
This store is over 4,000 square feet. The aroma of cookies immediately draws visitors when close to the destination.
The hour-long cookie decorating activity will be fun for visitors of all ages. Families can gather here and strengthen their bonds over cookies and candy.
Address: 3225 Sound Ave, Riverhead, NY 11901, United States
21. Safari Adventure
Safari Adventure is another fantastic family destination in Riverhead. It is the only children's entertainment facility in Suffolk County using a mix of the most popular pastimes.
A sizable soft playground that is 18 feet tall, as well as several excellent inflatables, can be found here.
Additionally, this location has an arcade section where you and your children can spend numerous hours playing fantastic video games.
Also, there is a hands-on play area where your children can learn while amusing themselves. If you or your children are hungry, you can go to the establishment's on-site cafe, which serves gluten-free and organic food.
Consider visiting here throughout the holiday season with your family because it is among the fun things to do in Riverhead, NY.
Address: 1074 Pulaski St, Riverhead, NY 11901, United States
22. Stotzky Memorial Park
Are you seeking what to do in Riverhead, NY, with your travel companions for a beautiful afternoon? When visiting Riverhead, be sure to check out Stotzky Memorial Park.
Numerous amenities are available for you and your friends or family in this beautiful 12-acre Park.
Check out the different sporting facilities here if you wish to stay active. It features several softball and baseball diamonds and tennis, handball, bocce, and basketball courts.
In addition, it has a street hockey rink, a playground, and horseshoe pits. You can go to the picnic area and purchase refreshments from the concession stand if you want to hang out.
Stotzky Memorial Park, Riverhead, is a beautiful spot to unwind during the day.
Address: Columbus Ave, Riverhead, NY 11901, United States
23. Sandy Pond Golf Course
Golfing can be exhilarating and soothing at the same time. Sandy Pond Golf Course has a 9-hole course that is difficult enough for people to have a good time. Both novices and seasoned players will enjoy playing there.
In addition, Sandy Pond Golf Course offers stunning vistas of the surroundings. The well-maintained fairways and greens will enhance your experience.
Additionally, beginners can ask for assistance from the helpful staff members here, who can aid and provide advice on how to play the sport.
Don't think twice about playing golf at the Sandy Pond Golf Course when you are in Riverhead.
Address: 1495 Roanoke Ave, Riverhead, NY 11901, United States
Explore other parts of New York, check out our list of things to do in Ellicottville, things to do in Alexandria Bay, and things to do in The Hamptons.
Plan Your Trip to Riverhead
With so much for one to do while in Riverhead, a fun vacation is promised in this city.
Also, Given the variety of attractions Riverhead provides, everyone will be able to enjoy something.
Consider making Riverhead your next vacation destination if you want to experience both natural and historic appeal.