Oneonta is a city situated in southern Otsego County, New York state, United States. The luring city of Oneonta is huddled in the south of Cooperstown. It is positioned at the northern perimeter of the Appalachian Mountain territory, giving the reason for its nickname "City of Hills '.
In 2020, it had a population of 13,079. Back in time, before Dutch, French and German settlements grew up in the Hudson River Valley, this lovely town was inhabited by the Algonquin and Iroquoian tribes.
It was formerly known as Milfordville in the early 1800s but was renamed Oneonta in 1832. This lovely city parades the mixed combination of metropolitan lifestyle and natural domains, giving a vast order of research opportunities.
The city is renowned for once being home to the world's largest locomotive roundhouse. The city of Oneonta possesses, in abundance, spectacular destinations and stunning recreation, all for the leisure of guests.
Check out the top things to do in Oneonta, NY
Things to Do in Oneonta, NY
1. Robert V Riddell State Park
Two patriot citizens, Steven and Patricia Kent, gave the state 1036 acres of land in 2005 to be used as the State Park.
The Park was named after Patricia's father because the land has been in her family since 1871.
Hartwick College sold the Park an additional 840 acres in 2008. However, they kept the right to utilize them for research and outdoor education.
The Park's southern region is covered in trees, while its northern portion was once farmland. Schenevus Creek, a tributary of the Susquehanna River and a trout stream, is located further north.
The Park also has a swamp called Mud Lake. It has floating sphagnum moss mats and carnivorous plants and is abundant in peat.
Address: St Hwy 28 & Cty Hwy 7, Oneonta, NY 13750, United States
2. Joseph L. Popp Jr. Butterfly Conservatory
At the Joseph L. Popp Jr. Butterfly Conservatory, wander by many flying butterflies while being embraced by lush vegetation and colorful flora.
This indoor tropical garden in Oneonta will astound you with the magnificent biodiversity in the city, saving you from traveling for miles to obtain a close-up encounter with exotic species.
In addition to the butterflies, the staff will let you feed the local wildlife, including birds, tortoises, and other creatures.
This quaint retreat in New York is ideal for entertaining both children and those who are still children in the heart. Exploring this habitat is one of the best things to do in Oneonta, NY.
Address: 5802 State Highway 7, Oneonta, NY 13820-3654, United States
3. Delaware Otsego Audubon Society Sanctuary
Audubon Society, introduced in 1968, became a member of the national body in 1970. This distinguished society helps to educate the public on the importance of birds and how to interact with different bird species.
The Audubon Society carries out a monthly birth census according to their species and location to keep track of the birds and their healthy being.
The society also houses varieties of resident mammals, amphibians, and reptiles in their 100-acre refuge with noted pathways for visitors to see. Thus, if you're an animal lover, here is one of the best places to visit in Oneonta, NY.
Enjoy the spectacular scenery of the town from Mt Franklin, which is also the best location for a hawk watch.
Bring your family and friends to partake in the annual Open Day and Summer Day Camp at the animal's refuge.
Address: 52 Grange Hall Rd. Spur, Oneonta, NY 13820, United States
4. Bear Pond Winery
Bear Pond Winery, established in 2000, is six acres of wooded land with lush trees and green fields situated at the Susquehanna River.
The Winery manufactures up to 27 distinct wines, from dessert to dry red. The Bear Pond Winery offers various flavor selections you can choose from, as they provide a supervised tasting of six wines and three appetizers.
The Winery also runs a restaurant that serves a range of light meals like pizza and more.
This fantastic Winery on the Cooperstown Beverages Trail presents guests with the unique choice of eating inside or picnicking outdoors and walking around.
Hang out with friends on a sunny day at the Bear Pond Winery and enjoy a glass of wine at this comfortable location with an incredible ambiance.
Address: 2515 State Highway 28, Oneonta, NY 13820, United States
5. Oneonta Sports Park
Every member of the family can have fun outside at Oneonta Sports Park. Golf enthusiasts can improve their abilities at the driving range by purchasing a one- or two-hour Endless Play voucher and bringing their clubs.
If you're not prepared for the driving range, try Wedge, Foot, or Disc Golf instead. They're all family-friendly fun activities.
A skillfully constructed 18-hole mini-golf course is another amenity in the park that provides an entertaining game for players of all ages and skill levels. Exploring Oneonta Sports Park is among the best things to do in Oneonta, NY, especially for sports lovers.
Plan a tour of the Oneonta Sports Park with family and loved ones to witness this place's delightful leisure.
Address: 132 County Highway 47, Oneonta, NY 13820, United States
6. Neahwa Park
Weekend getaways must include a picnic day trip, so don't forget to gather the family for an enjoyable day at Neahwa Park.
The picturesque park offers a variety of recreational attractions, including play areas, tennis courts, numerous pavilions, a skate park, and numerous baseball fields. Therefore, visiting Neahwa Park is one of the fun things to do in Oneonta, NY.
Neahwa Park, Oneonta's biggest neighborhood park, is close to the city center and hosts various community events, including baseball games, fireworks displays, and live music concerts.
You may set up a barbecue in the pavilion and watch the kids have a great time on the playground, or you can rest by the tiny lake and take in the park's peaceful surroundings.
This location has everything you need, whether you're going to Neahwa Park for a delightful picnic day with the family or a peaceful place to unwind.
Address: 15 James Georgeson Ave, Oneonta, NY 13820, United States
7. Oneonta's Historic Main Street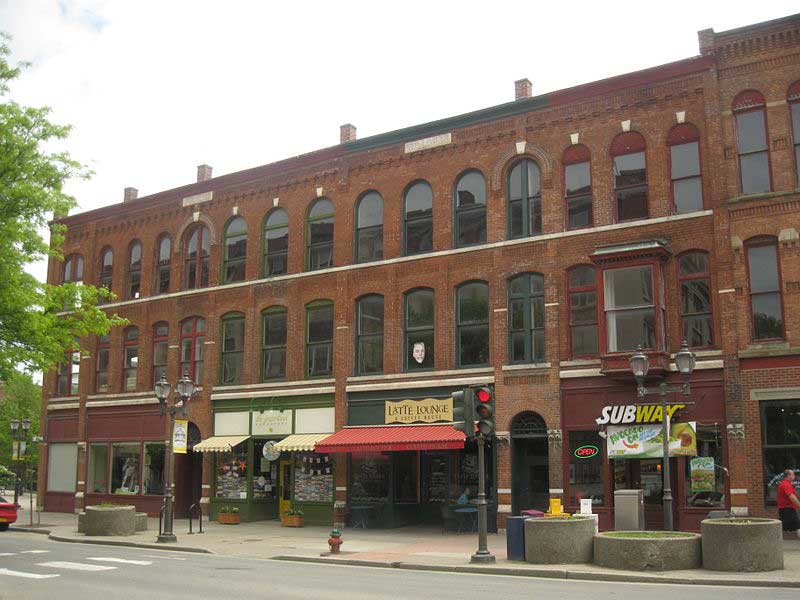 A visit to Oneonta wouldn't be perfect without dining and shopping on the town's famed Main Street. Stroll around the quaint downtown's red brick sidewalks, surrounded by Victorian structures that house specialty stores and eateries.
As you stroll down the main street, take in the small-town atmosphere and a peek at Oneonta's daily life. As you browse the city's retail center, you may see a diverse range of one-of-a-kind things.
Have a cozy meal experience on Main Street, as it has a variety of eateries and cafes serving filling meals and snacks. This district is one of the best places to visit in Oneonta, NY.
Address: 183 Main Street; Oneonta, NY 13820, United States
8. A.J. Read Science Discovery Center
A.J. Read Science Discovery Center was established in 1990 by a former physics professor named Albert Read.
Albert Read served as the director of the Discovery Center until 2005. The Center features a free science museum for both children and adults.
The Center is located in the Physical Science structure at the State University of New York, with about 80 science experiments that narrow down the line of physics.
You can visit the Center as an individual or group. Schools are also welcome to visit the facility. The Center also organizes intriguing events for guests, such as the annual Nano Day.
Address: 108 Ravine Parkway Oneonta, NY 13820, United States
Planning to explore New York? Here is a list of things to do in Yonkers things to do in Greenport and things to do in Cold Spring for a memorable vacation.
9. Yager Museum of Arts and Culture
You can view a diverse collection of fine arts, archaeology, and ethnography at the Yager Museum by taking a stroll.
The Hartwick College campus in Oneonta serves as a learning facility for students and visitors and is home to the Yager Museum.
The Museum houses a variety of artistic creations, from Renaissance paintings to contemporary pieces.
The archaeological and anthropological treasures that highlight the history and culture of early America will also astound you.
The Museum has permanent displays and rotational exhibits; the collection occasionally changes to give the chance to display a wide range of art and antiques.
On your vacation to Oneonta, stop by for an engaging and instructive experience, especially if you're an art enthusiast.
Address: Yager Hall – Library and Museum, Oneonta, NY 13820, United States
10. Fortin Park
If you want a peaceful environment to enjoy slow family time, take some snacks and go on a picnic day excursion to Fortin Park.
This 95-acre Park, tucked between the Susquehanna River and Charlotte Creeks, provides a beautiful perspective of the shimmering waterways, particularly during the golden hour.
Fortin Park has a lot of open fields and play areas, so you won't run out of fascinating events to do when taking the kids there.
If you want to do some exploring, there are paved hiking routes surrounded by lush forests, or you may cast your lines on their handicap-accessible fishing pier.
This undiscovered gem in Oneonta offers an excellent opportunity for family bonding amid lovely surroundings. Ensure to check out this destination when you visit Oneonta.
Address: 101 Youngs Road Oneonta, NY 13820, United States
11. Swart-Wilcox House Museum
The Swart-Wilcox House, Oneonta's oldest surviving building, is the perfect way to cap off your visit.
The German Palatine Vernacular House, erected in 1807 by a Revolutionary War soldier named Lawrence Stewart, lies tucked away on the Susquehanna River's banks.
Oneonta's Swart-Wilcox House, an important historical site, is also home to several antiques and old photos that chronicle the family's history.
Every Sunday during the summer, the community house museum is accessible for tours and scheduled events. If you want to tour the historic home, call ahead of time.
Address: Wilcox Ave, Oneonta, NY 13820, United States
12. Emmons Pond Bog
Over 11,000 years ago, the last glacier that was melting carved a hole in the earth that quickly filled with water to form Emmons Pond.
Today, the bog draws outdoorsy people who enjoy taking the loop trail that circles it and leads into a forest.
You may take in the variety of bog plants and the animals they attract as you stroll along the 1.4-mile loop walk.
The trail is divided into two sections: the first part travels along a boardwalk and brings you to the bog's boundary; the second circles the pond counterclockwise. You can be looking for what to do in Oneonta, NY, when you are yet to explore this place.
With a valid permit during the hunting season, Crossbow hunting is permitted.
Address: Emmons Pond Bog, White Hill Road, Oneonta, NY 13820, United States
13. Oneonta Susquehanna Greenway
You can have a quiet private time away from the rush of the city on the Oneonta Susquehanna Greenway.
Explore the greenway's designated routes while hiking beneath a canopy of thick trees to take in the beautiful view of Susquehanna Lake. Visitors will also learn more about the local flora and animals.
The trip via the greenway is suitable for all ages, so you don't have to worry about the difficult work of navigating exhausting elevations.
Skiers and snowshoers frequently travel to the Oneonta Susquehanna Greenway in the winter to take in the tranquility of the frozen river.
You can go on group hikes with neighborhood educators who will lead you through the path with informative and historical facts. Don't miss out on this experience, as it's one of the fun things to do in Oneonta, NY.
Address: Oneonta, NY 13820, United States
14. Foothills Performing Arts Center
At the Foothills Performing Arts Center, spend the evening enjoying performances by regional and international artists.
The Foothills Performing Arts Center has a lot to offer if you're searching for something unique on your trip to Oneonta.
Keep up with their activities calendar because this performing arts complex is home to various performances.
The Foothills Performing Arts Center is where you want to see live operas, comedy acts, or musical performances.
Joining the town activities held here is another way to get to know the locals, so be sure to stop by while you're in Oneonta.
Address: 24 Market St, Oneonta, NY 13820, United States
15. B Side Ballroom & Supper Club
In keeping with Oneonta's goal of being a regional center for arts and entertainment, the B Side Club provides live music and an adult-only drinking and dining experience.
Customers are usually asked to provide proof that they are above 21. Seasonal American cuisine prepared with the finest ingredients is served from the kitchen. Dining in this restaurant is one of the top things to do in Oneonta, NY.
Their menu offers vegetarian and gluten-free alternatives, steaks, burgers, seafood, small plates, and salads. Coffee and homemade treats can either conclude a dish or be eaten separately.
The bar offers a wide selection of liquor, wines, and artisan beverages. The destination can also be rented for personal events.
Address: 1 Clinton Plaza Drive, Oneonta, NY 13820, United States
Planning to explore New York? here is a list of things to do in Watkins Glen, things to do in Cooperstown, and fun things to do in The Hamptons for a memorable vacation.
16. Damaschke Field
This field, also known as Dutch Damaschke Stadium, is generally used for baseball.
Babe Ruth and Rogers Hornby have played on the field since its inauguration on Memorial Day in 1905.
Numerous small league teams, including the Oneonta Red Sox, Yankees, and Tigers, have called it home over the years.
The grandstand was built in 1938, and the arena was given Ernest "Dutch" Damaschke's name in 1968.
For 30 years, Dutch served as a coach, official, advisor, and recreation commissioner for Oneonta.
Visit the Damaschke field to admire its beautiful scenery and glorious architecture.
Address: 15 James Georgeson Ave, Oneonta, NY 13820, United States
17. Cooperstown and Charlotte Valley Railroad
The Cooperstown and Charlotte Valley Railroad, established in the 1860s, is located 20 minutes from Oneonta.
Catch a historic train through the Susquehanna River Valley, departing from a Historic station that has been rebuilt.
Additionally, during the year, the Cooperstown and Charlotte Valley Railroad offers themed train rides, including the Easter Bunny Express, Dinner Express, Christmas Trains, and others.
Don't forget to take the historic train ride and buy your tickets in advance for a trouble-free trip.
Address: 136 East Main Street St Rte 166 · Milford, NY 13807, United States
18. Table Rock Bouldering
If you're unfamiliar with bouldering, it is a type of rock climbing that doesn't include ropes or harnesses.
Beginners can quickly learn everything about bouldering at Table Rock Bouldering in a secure setting.
The climbing walls provide a tough new kind of overall workout that is great fun and good for your mind and body.
Soft mats are laid on the floor to safeguard you while practicing all the moves. Everyone is welcome to come and try this great activity; beginners will quickly pick up the necessary skills to begin climbing and advance.
Address: 6 Market Street, Oneonta, NY 13820, United States
19. Interskate 88
Visit Interskate 88's skating arena for an unforgettable roller skating experience with loved ones.
Since 1981, the 20,000-square-foot facility has served as a destination for family amusement. Interstate 88 draws attention to the skating rink's hardwood maple surface.
Amid colorful lights and upbeat music, this location is a perfect hangout spot for a pleasant bonding experience.
Additionally, you can play a few games in the arcade, compete in a little laser tag, or have fun in the indoor jungle gym.
If you're new to roller skating, don't worry since Interskate 88 offers lessons and a pro shop where you may rent skating equipment.
Include Interskate 88 on your plan if you want to make the most of your trip to Oneonta with fun experiences.
Address: 5185 NY-23, Oneonta, NY 13820, United States
20. Community Arts Network of Oneonta
The Community Arts Network aims to connect artists, support the arts, and inform the local population.
They operate three galleries where they provide a yearly members' show, solo and group displays, and monthly exhibitions.
Every Tuesday of the month, there are music events with an open mic and a guest musician.
Every Thursday, the Art Network invites writers to read from their works and interact with one another at the Writers' Salon.
The network conducts regular fundraising, the yearly Painting and Music Festival, and beginner-level after-school art and music instruction. This destination is worth visiting, so ensure to drop by if you're wondering what to do in Oneonta, NY.
Address: Wilber Mansion, 11 Ford Ave., Oneonta, NY 13820, United States
21. The Green Toad Bookstore
If you are looking for a modern standard bookstore in Oneonta, the Green Toad Bookstore is the right destination.
This great autonomous bookstore is located on Main Street, Oneonta. This book store is famous for its excellent book selection.
The Green Toad is also known for its numerous fascinating articles, like gift cards, jewelry pieces, souvenirs, and many more.
The bookstore also helps its customers order books unavailable at the store. With its very hospitable staff, this bookstore is one of the best in town.
The bookstore also has an open path to a coffee shop, just in case you wish for one. The Green Toad is a must-stop by destination if you are in the Oneonta area.
Address: 198 Main St, Oneonta, NY 13820-2678, United States
22. Sloan's New York Grill
Sloan's grill restaurant offers a variety of local, farm-fresh cuisine, craft beverages, and wines from New York wineries.
All meals are prepared from scratch utilizing a combination of unique cooking techniques. Dry rubs, marinades, roasting, smoking, and grilling all enhance the rich country flavors to their full potential.
Quality fresh herbs and veggies from the neighborhood are used to make vegetarian choices.
There are menus for lunch, supper, the bar, and catering. The bakery sells pies, cakes, biscuits, bread, and seasonal fruit pies and flans, while the butchery sells beef and poultry pieces for retail.
Address: 337 Chestnut Street, Oneonta, NY 13820, United States
23. Tino's Pizza and Restaurant
Pizza Land, funded by the Garufi family, is well known for its pies. Tino's Pizza split off from the parent company.
At the back of the Black Oak Tavern in the city center, slices of pizza were being sold. Agatino and Nancy launched their restaurant in response to rising demand.
At Tino's Pizza, they can transform any food into a pizza, providing a variety of exciting salads as side dishes.
Customers frequently burned their mouths while rushing to eat the food; thus, they created the cold cheese pizza.
Customers can dine in, order food to go, or have it delivered. If you are a pizza fan, you must not miss out on this.
Address: 180 Main Street, Oneonta, NY 13820, United States
24. Annutto's Farm Stand
Annutto's Farm Stand, which offers farm-fresh produce and all your nursery needs, has been serving locals and tourists of Oneonta since 1984.
It is much more than just a farm stand. Seasonal fruit, vegetables, delicious bread, cookies, muffins, and the freshest local food from neighboring farms, are all available at the farm stand.
In addition to a great range of furniture and presents, their greenhouses have everything you could need for your backyard garden.
Fall is the perfect time to watch the apple press in action and get delicious apple cider doughnuts and freshly squeezed cider. Every year, the farm stand is accessible from April until December.
Address: 5396 State Route 7, Oneonta, NY 13820, United States
New York presents breathtaking attractions and activities, explore some of its fun cities, here are guides on things to do in Alexandria Bay, Flushing, and Canandaigua.
Plan your Trip to Oneonta
Oneonta's astonishing array of attractions ensures that a visit there will never be boring. Use this list as a guide if you're considering a weekend getaway to this exciting city.
It promises an adventurous, scintillating, and memorable experience. Start planning your trip to Oneonta.