The historic city of Globe is the county seat of Gila County, located in Southern Arizona. It is also located in the middle of the Tonto National Forest, bringing visitors and residents close to some of Arizona's most breathtaking canyons and views.
The city's population was 7,351 as of the 2020 census. The city is renowned for its mining past.
Spanish conquistadors swarmed the region in the 1820s because of the city's vast mineral richness, which has a long history.
Mining is still a primary industry, but tourism and farming also contribute significantly to the region's economy. Many seniors have chosen Globe as their retirement home since the area in Arizona offers the perfect ambiance.
Some breathtaking natural beauties encircle Globe. As a result, it has grown to be a well-liked location for people who want to enjoy the outdoors and its pleasures. It is located 100 miles east of Phoenix at 3,500 feet.
Are you planning an exploration of Globe? Here are the best and fun things to do in Globe, AZ.
Things to Do in Globe, AZ
1. Seneca Lake
Seneca Lake, located just to the north of Globe, is a potential location to explore if you are seeking fantastic fishing.
This artificial Lake is a beautiful location to enjoy a picnic lunch, go for a stroll, or simply unwind and take in the scenery.
Various fishes abound in the Lake, making it a fantastic site for fishing. However, you will need a permit to enter and fish there because it is part of the San Carlos Reservation.
One of the earliest dams in Arizona is the Seneca Lake Dam, which was constructed in 1894.
The Seneca Lake spillway, one of the largest in the state, is a sight to behold. However, the Lake is not too far from Globe and is accessible by car. Exploring the Lake is one of the top things to do in Globe, AZ.
Buildings that have been abandoned are nearby. They were initially planned by the Apaches in the 1970s when they wanted to build a resort with a hotel, bar, restaurant, trading post, and rental cabins.
Address: Seneca Lake, Arizona, United States
2. Salt River Canyon Scenic Drive
Driving is an excellent method to gain an overview of some local features near Globe. The magnificent Drive displays the breathtaking Salt River Canyon formed millions of years ago. The Canyon is one of the best places to visit in Globe, AZ.
Wildlife from around the world, such as eagles, hawks, and ospreys, call the Canyon home. Some locations along the road will undoubtedly pique your interest, but that can wait for another day.
Pull over at the Canyon Overlook on this journey so you can park near the Canyon's rim and observe the gorge below.
You will be treated to breathtaking views of the area's rivers and mountains. Visitors can engage in additional activities in the Canyon, including hiking, picnics, and fishing.
You will require permission from the White Mountain Apache Tribe if you choose to hike there later.
To fish in the river, you will also need permission. It takes around an hour to finish the approximately 30-mile drive.
Address: Route 60, Globe, AZ 85501, United States
3. Round Mountain Park
Round Mountain Park is an excellent area to go hiking or enjoy the landscape.
The circular paths in this Park are something to think about if you're seeking some hiking inspiration. Five options might work for you, whether you are a seasoned hiker or want a casual stroll.
Amazing views may be seen from the mountain's summit. At the hill's peak, a few tiny lakes are ideal for a picnic lunch. However, the West Trail, which leads to the flag, is considered the most spectacular.
You will enjoy a fantastic view of Globe and distant mountain ranges from the summit. Lovely hiking trails lead through the woods and to the mountain's peak.
The longest hike is slightly over three miles long, but because they are interconnected, you can walk parts of several trails in a single day.
The Park is a fantastic location for bird-watching. The woods and lakes are home to a wide variety of bird species. Spend a day or two at Round Mountain Park, as it's one of the best things to do in Globe, AZ.
Address: Round Mountain Park, Globe, AZ 85501, United States
4. Hollis Cinema 4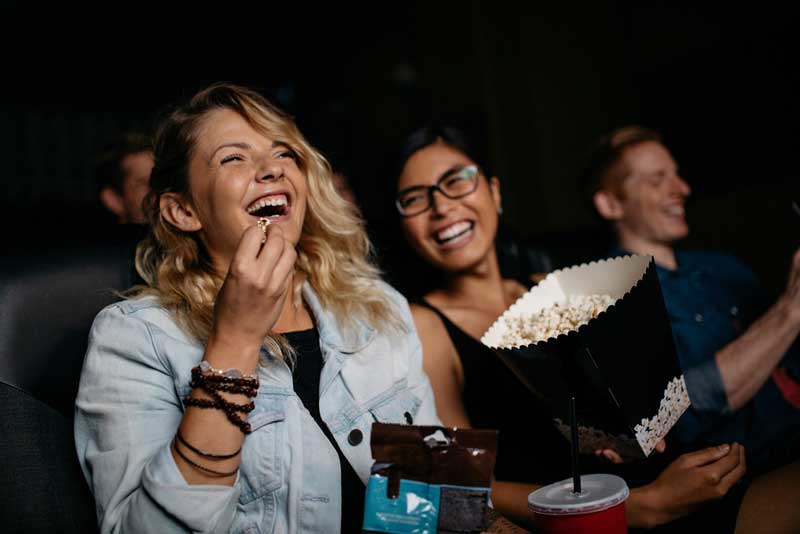 Hiking and exploring Globe's streets are always enjoyable ways to spend a holiday in the city but don't forget to catch the newest releases in theaters.
One of the fun things to do in Globe, AZ, is to spend the day at Hollis Cinema 4, watching movies and enjoying popcorn.
Alongside your friends and family, enjoy watching the newest movies on a massive screen while having fun.
You might want to look up the movie's playing times before you go to make sure they are available.
Address: 161 N Broad St, Globe, AZ 85501, United States
5. Historic District of Globe
Exploring Globe's Historic District is a pleasure and one of the top things to do in Globe, AZ. Numerous historic homes and buildings have been conserved and are available for visitors.
Globe residents take great pride in their city's past, and on specific historical tours, it's easy to observe that not much has evolved for many years. You will quickly understand if you stroll along Broad Street.
The 1918-opened Holy Angels Catholic Church is situated in the Historic District. Twenty years after it was first opened, it was added to the Register of Historic Places. You can enter when there is no service and discover it is a fascinating location inside and out.
A few stores and eateries are also nearby. You'll also appreciate public art while visiting Globe's Historic District. Small side streets can be found, and a clock boldly displays Globe's age.
The neighborhood has several sculptures and murals that have been installed. Additionally, there is a ton of street art on the buildings and walkways.
Address: Globe, AZ 85501, United States.
6. The Huddle
Nothing like hanging out at your neighborhood bar with your buddies, downing a few drinks, and chatting the night away to unwind after a long day.
Go to The Huddle on North Broad Street to unwind after a hard day exploring Globe's streets and sip on a few cold ones while singing along to the jukebox.
The Huddle is reportedly housed in one of Globe's oldest structures and was designed in the vernacular commercial style.
The 1898 construction of the one-story brick structure included a cafeteria and a store for men's furnishings in its early years. Tracy and Steve Quick bought the tavern in 2004 and renamed it The Huddle.
After a few years in operation, the sports bar underwent a renovation by having the outdated carpets and paneling removed.
Some traces of the bar's ancient interior are still visible today, particularly the lower half of a mural created in the 1950s.
Address: 392 N Broad St, Globe, AZ 85501, United States
7. Cobre Valley Center for the Arts
Are you indecisive about what to do in Globe, AZ? Visit the Cobre Valley Center for the Arts, especially if you are interested in art or culture. It is a fantastic location to see changing artwork exhibitions by regional and Native American artists.
Since this institution launched in 1984, its volunteers have worked on various initiatives and given local artists a platform.
The Center also provides a wide range of workshops and classes for people of all ages. Even better, you can attempt your hand at creating some artwork.
The setting will make an impression on you. It's the Old Gila County Courthouse, which people have renovated so that events and exhibitions can be held inside.
Rose Mofford, a local heroine who was the first female governor of the State of Arizona, is honored in one permanent installation.
Her career began at the building's predecessor, the Courthouse. She currently resides in Globe as one of the retired residents.
Address: 101 N Broad St, Globe, AZ 85501, United States
8. Globe Public Library
You should check out the Globe Public Library if you enjoy reading. There is something for everyone to appreciate in their collection of more than 50,000 books.
Additionally, the library has free WiFi, allowing you to finish reading while you're there.
The Globe Public Library is guaranteed to have a peaceful area where you can unwind.
It's the ideal location to unwind for a while, with a ton of cozy sitting and a wide selection of books.
Address: 339 S Broad St, Globe, AZ 85501, United States
Also, check out our list of things to do in Payson and cool things to do in Maricopa, if you are planning an Arizona road trip.
9. Old Dominion Historic Mine Park
If you're interested in discovering more about the region's mining history, this is a fantastic location.
It is impossible to overstate the importance of copper to Globe's economy. The metal extracted from this mine between 1880 and 1930 was crucial to Globe's prosperity.
The choice to establish this Park as a piece of the city's history was made locally, and it has turned out to be wise.
A blacksmith shop, an assay office, and a miners' barracks are the reconstructed structures in the Park.
Other exhibits and mining machinery are also on display. You can either go on a self-guided or ranger-led tour of the Park.
Visitors may envision what it was like when the mine was still operating, thanks to the efforts of the Gila County Historical Society and the City.
From October to April, guided excursions are offered. The most admirable aspect is that exploring the entire park does not require much time. As a result, if you only have a little quantity of time in Globe, Arizona, it makes a fantastic activity.
Address: 161 N Murphy St, Globe, AZ 85501, United States.
10. Gila County RV Park & Batting Range
An episode at the batting range allows kids to showcase their talents. Bring your kids to Gila County RV Park & Batting Range to enjoy themselves in the batting cages, as it is among the fun things to do in Globe, AZ.
The players only need to swap their tokens for the balls in the family-run batting cage to start using the fantastic batting gear.
Even complete beginners can have fun because the three cages are equipped to deliver the ball at various speeds.
Players can rent the cage for 30 minutes or an hour.
The top speed in softball is an astonishing 70 mph, with average speeds of about 50 mph. If they choose, visitors are free to use their equipment.
You can bring your RV to the location after your activities at the batting cages are finished for a weekend escape with your family.
You can also hire grassy tent sites if you like to engage in outdoor activities and stroll through the Globe Historic District
The recreation spaces, picnic spots, and concessions further enhance the family-friendly activities offered here.
Address: 130 W Ash St, Globe, AZ 85501, United States
11. Splash of Copper
Check out the goods at Splash of Copper on North Broad Street if you're searching for something distinctive to buy as a gift or souvenir.
When you walk into the store, you'll see a wide variety of vases, bowls, tree sculptures, and other items. However, don't assume that these are your typical store displays.
The family that owns Splash of Copper has a long history in mining, notably in copper mines.
You'll see that each product is created by splashing molten copper on steel plates after being mixed with iron ladles.
This method produces a polished, abstract design that makes a lovely house centerpiece.
Address: 656 N Broad St, Globe, AZ 85501, United States
12. Gila County Historical Museum
Visiting local museums is an excellent opportunity to fully immerse oneself in a location's history and culture.
Visit the Gila County Historical Museum in Globe to learn more about what awaits tourists like you.
Explore Arizona's mining and rural origins at the Museum. As part of the Museum's Arizona Memory Project, you may even read accounts of the most famous infrastructures in the state and city.
Numerous displays and exhibits showing famous people and timelines of important events can be seen as you walk the corridors.
At the Gila County Historical Museum, you may see, among other things, displays on Arizona governors, including Rose Mofford, a racing exhibit room, newspaper exhibits, Native American antiques, and a mine rescue room.
Address: 1330 N Broad St, Globe, AZ 85501, United States
13. Tonto National Monument
To learn more about the local history, you should go to Tonto National Monument. The monument has a great perspective of the area because it is situated on a hilltop.
The monument is a popular tourist destination since it creates a beautiful photo backdrop. Additionally, ranger-led excursions are an excellent chance to discover more about the monument and the surrounding area.
If you're looking for a spot to hike, check out the Tonto National Monument. Numerous paths range in difficulty from easy to moderate.
There is a picnic spot at the monument where you can eat outside while admiring the scenery. It is one of the best places to visit in Globe, AZ.
Address: 26260 AZ-188, Roosevelt, AZ 85545, United States
14. Casa Reynoso
Visit Casa Reynoso on East Ash Street to sate your appetite for Mexican food. The best part about the authentic Mexican restaurant is that everything on the menu is produced from scratch.
The kitchen's Wild West theme, classic Mexican color schemes, and arches will also appeal to you.
You can be confident that everything, from enchiladas and quesadillas to chili platters and tamales, is made with the finest and freshest ingredients.
Since 1938, Casa Reynoso has provided excellent food to Arizonans utilizing traditional family recipes that have been passed down through the generations.
Address: 5865 W. Ray Rd Chandler, AZ 85226, United States
15. Historic Gila County Sheriff's Office and Jail
Arizona's oldest active law enforcement facility is the Historic Gila County Sheriff's Office and Jail, which dates back more than a century.
The structure, formerly used as the county jail until 1969, is now a public museum.
Many tourists visiting the Old County Sheriff's Office and Jail are persuaded that ghosts are still present because they have been seen extensively throughout the years.
Many of the Museum's displays highlight Gila County's law enforcement history.
Additionally, there is a gift shop where you can get souvenirs. Learning about the history of this structure and seeing how well the jail cells have been preserved are both quite interesting.
Address: 177 E Oak St #171, Globe, AZ 85501, United States.
Considering an Arizona road trip, check out our guides on things to do in Tombstone, and things to do in Bullhead City for a memorable trip.
16. Besh-Ba-Gowah Park
Nearly 800 years ago, the Apaches lived in a historic settlement, now the archaeological park and Museum.
You'll be exposed to various Salado Civilization-influenced antiques, pottery, and botanical gardens as you stroll around the Park.
The Salado, farmers and hunters who resided here for many centuries, was previously called the village in this Park home.
There must have been a sizable population because the pueblo has 200 rooms spread over two stories.
Besh-Ba-Gowah, often known as the "place of metal," is renowned for housing the most extensive collection of Salado ceramics and antiques.
According to estimates, issues started in the 14th century when food supplies became more scarce. They eventually abandoned their community as a result, and it became a ghost town.
The Museum offers exciting artifacts and more details about living back then. There is a display of stone tools, household items, ceramics, jewelry, some textiles, and a replica of a Salado Room.
Explore the ruins thoroughly and take in the breathtaking vista of Pinal Creek.
The Besh-Ba-Gowah Park is open from dawn until dusk. There is no cost to enter the Park; however, there is a parking cost.
Address: 1324 Jesse Hayes Road, Globe Community Center, Globe, AZ 85501, United States
17. The Serenity Room
The tour of the city can be exhausting when it's hot outside. Popular locations for yoga and meditation classes include The Serenity Room. This is the location for you if you want to unwind and revive.
After a long day of exploring, one way to unwind is to come here and choose from various treatments.
The instructors are pretty educated, and the classes are appropriate for students of all skill levels.
How much fun you will have at this location will surprise you. Yoga, meditation, and even dancing courses are available in the Serenity room.
The instructors have great passion for what they teach and are always eager to assist you.
Don't be concerned if you are a beginner because the classes are appropriate for all skill levels. You will be capable of following along without any problems.
You can also get a massage and pamper yourself with a facial at this location. You can choose from various skin treatments and body scrubs; as a bonus, you'll get tips on taking better care of your skin.
After a session at the Serenity Room, you will undoubtedly look your best for dinner.
Address: 1177 E Ash St, Globe, AZ 85501-1407, United States
18. Ghosts of Globe Paracon
The untamed west is rich in ancient history and legends passed down through many generations, so it wouldn't be surprising to learn that some of the first settlers' souls may have lingered a little longer than they would have wished.
Searching for evidence of the afterlife has grown so popular in the region that a special occasion was created for a night of paranormal research.
In search of evidence of paranormal activity, investigators comb the city during the Ghosts of Globe Paracon paranormal conference, paying particular attention to old jails, train depots, and structures.
If you are wondering what to do in Globe, AZ, to liven up your trip, join the group and find out if you have what it requires to be a paranormal investigator.
Additionally, Ghosts of Globe Paracon has famous hosts who participate in ghost-hunting activities with all the appropriate equipment; sure, it's just like in the movies.
Address: 1565 E South St, Globe, AZ 85501, United States
19. Pickle Barrel Trading Post
While you may purchase souvenirs like shirts and keychains elsewhere, you might also want to try out the Pickle Barrel Trading Post if you're looking for something unique.
This Trading Post, which housed supplies and equipment over a century ago as the Old Dominion Commercial Co. Warehouse, is the best place for souvenir shopping.
It's your one-stop store for unique trinkets, food, and specialized goods in downtown Globe. The Old Dominion Copper Co.'s former warehouse was an 8,000-square-foot shop.
Former owners converted it into an art and antique shop with lodging. An enormous lit sign on the roadway makes it impossible to miss it. Despite having nothing to do with pickles, it was given the name it uses today at that point.
As you walk in, you'll be mesmerized by the enormous displays of items you may take home, many of which have a nod to the old world and the Globe.
Pick from various Native American arts and crafts, like kachinas, weavings, and beadwork, or Pickle Barrel Trading Post products, including conchos, enamelware, and sunrise dance gear.
Check out the store's assortment of Native American jewelry, especially the Sleeping Beauty or Specialty Turquoise pieces, if you're looking for something more unique.
Even if you choose not to make a purchase, you will be impressed by the 8-foot by, 10-foot original pencil drawing of Geronimo that is shown there.
If you're shopping for gifts or souvenirs, you should have a peek at the Trading Post's many Native American handicrafts and artworks.
Address: 404 S Broad St, Globe, AZ 85501, United States
20. Bravo Americano Moderno
There are many fantastic restaurants in Globe, but if you want to sample some of the best fares in the area, head to Bravo Americano Moderno on North Broad Street.
Take a mouthful of contemporary American cuisine that draws inspiration from classic European and Asian cooking methods.
You're sure to enjoy your time at Bravo Americano Moderno while spending quality time with your loved ones because they only use the best ingredients.
Before going on to classics like the Butcher's Block, garlic lobster ravioli, stuffed portobello, and a plate of wings and tenders dressed in the restaurant's trademark sauces, start with a Caesar salad.
The restaurant's relaxed ambiance and exposed brick walls make you want to linger out there.
Address: 333 N Broad St, Globe, AZ 85501, United States
21. San Carlos Apache Indian Reservation & Golf Resort Casino
The well-known Apache Gold Casino and many other fantastic attractions are located on the San Carlos Apache Indian Reservation.
There is a ton of entertainment available every day of the year. There is a casino with various games, a pro shop, a huge driving range, and a putting green at the Stronghold Golf Course. You can reserve a place to stay.
In addition to blackjack, poker, and other table games, the casino has approximately 500 slot machines. The resort also features a spa and a variety of dining options.
You may explore many Apache-owned territories surrounding Globe, but some of the walks require permission.
Additionally, an Apache Cultural Center on the reserve is worth a visit.
Permits for camping, fishing in one of the area's four lakes, and hunting can be purchased at this office.
Address: 777 Geronimo Springs Blvd, San Carlos, AZ 85550, United States
22. Holy Angels Church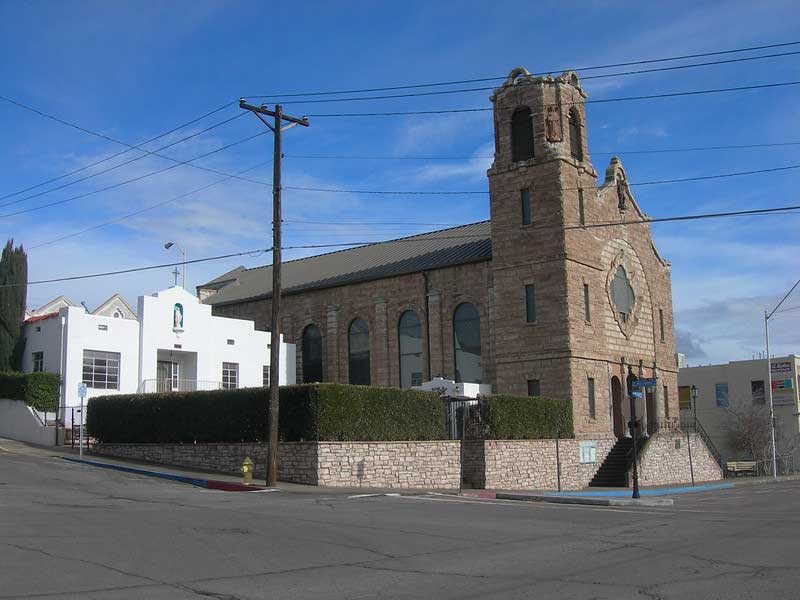 Holy Angels Church is one of Globe, Arizona's most picturesque and peaceful locations.
The Church, constructed in 1881, is a superb illustration of Gothic Revival design.
A stunning stained glass window erected in the Church in 1884 is also housed there.
The window, which portrays Christ's life, is an exquisite artwork. When you visit, you'll recognize the beauty and tranquility of this Church.
Address: 201 S Broad St, Globe, AZ 85501, United States
23. River Of Life Pentecostal Church of God
Most people traveling through the region stop by the River of Life Pentecostal Church of God.
The Church is one of the few structures from the old era still standing. It is situated in an old mining village.
The Church is a stunning sight and has a long history. The church welcomes visitors and gives tours of the interior.
If you take the time to attend this Church, you won't be sorry. It's a wholly distinctive experience.
Address: 5667 E Golden Hill Rd, Globe, Arizona, 85501, United States.
Check out more cities in Arizona, here is a guide on things to do in Peoria, things to do in Tempe, and fun things to do Buckeye in for a fun time
Plan Your Trip to Globe
Globe city offers so many adventures and exciting experiences. These attractions will surely pique your interest, as they are unique and captivating.
There won't be a dull day while you're here because the city is truly a distinctive, historic, and culturally rich destination.
So get ready for a spectacular experience by making travel arrangements to Globe, Arizona, right away.