Montclair a very vibrant and active town in New Jersey, it is home to various writers, media professionals, artists, musicians, students, and media professionals.
There are a good number of things to do in Montclair and its surrounding cities, these include activities to engage in, places to visit, which are all aimed for a fun time in this town.
The super theatres, eclectic boutiques, historical preserves, educational centers, charming restaurants, art galleries, exciting parks, and museums are some of the things you would never exhaust in Montclair.
For a fun time, here are the best things to do in Montclair, New Jersey.
Things to Do in Montclair, NJ
1. Alonzo F. Bonsal Wildlife Preserve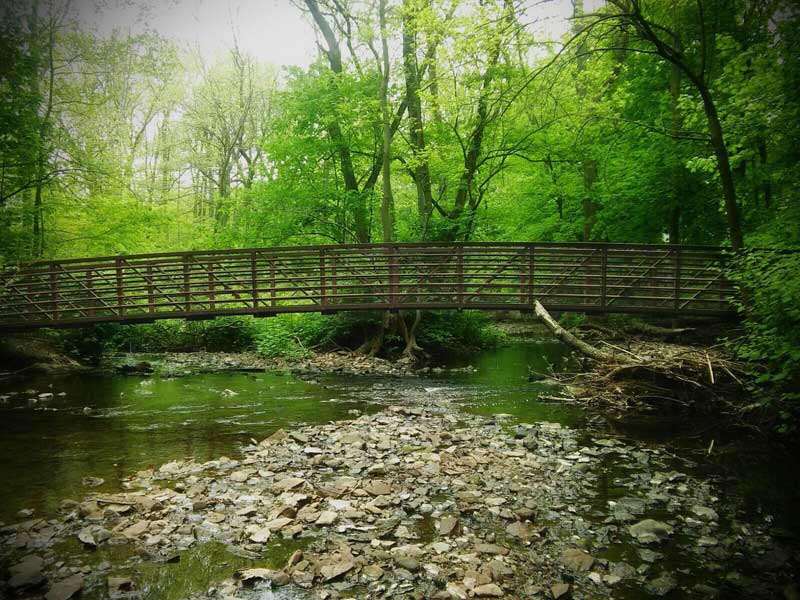 The Alonzo F. Bonsal Wildlife Preserve is owned by the Township of Montclair and spreads across 20.68 acres of space.
This preserve is quite historic after a citizens group lobbied to protect the woodland in the 1970s, it was bought using NJ DEP Green Acres funds and had its name after a resident, Bonsal. Bonsal's family contributed to the Green Acres funding of this site.
This preserve has been in its natural state apart from an old sewer line built in the early 1900′s. There are remnant uplands and wetlands which encircle the Third River (a tributary of the Lower Passaic River watershed). You can also explore these wetlands.
To get to the Bonsal Preserve, you can use the main entrance which is on the right way off Riverview Drive. Afterward, cross the bridge over the Third River and head northward to Daniels Drive.
Additionally, check up the adjacent lands in the north of the preserve, about 9.12 acres. These lands are under the control of the North Jersey District Water Commission and its Wanaque Reservoir Balancing Tank provides another habitat for wildlife.
They are open every day of the week, 6am-7pm
Address: 23 Riverview Dr W, Montclair, NJ 07043-2608.
2. Montclair Public Library
The Montclair Public Library was founded in 1893, it provides quality service to the people of Montclair, visitors inclusive.
This library had its beginnings with the starting up of the Montclair Library Association in 1869. This was a 30-person subscription-based organization led by Israel Crane.
On April 12, 1893 citizens of Montclair cast their votes to set up a free public library. This library began on the second floor of Dr. John J.H. Love's office at 16 Church Street.
They went on to purchase an abandoned inn -the Munn Tavern- which became the new home for the Library in 1898. Since then, more progress has been the order of the day.
The Montclair Public Library has two facilities through which services are rendered. They are the Main Library and the Bellevue Avenue Branch.
Visit to enjoy extensive opportunities for lifelong learning, discovery, and community engagement.
Address: 50 S Fullerton Ave, Montclair, NJ 07042-2629.
3. Alexander Kasser Theater
Alexander Kasser Theater
is owned and managed by Montclair State University. This theatre is a venue for awesome contemporary performances, allowing students to present dance, drama, and music performances.
The theatre has a Spanish mission style design similar to the historic buildings in the University. Such an intimate and modern venues boasting of a massive arcaded loggia and a sweeping plaza.
Visitors can access the lobby (4,600 sq ft) containing the gallery, nice exhibition arena, and classy grand staircase, flowing into the 500-seat auditorium – the center of the theatre.
In the auditorium, there is an orchestra pit, a very large stage, and world-class technical features. The standout acoustics, various suites, and extra rooms.
There is also a scenery/props construction shop, an electric shop, a control room, a guest artist suite, a makeup and wardrobe room.
They also have a green room, a special recording studio, and the exceptional Harry Parch Institute.
Address: 1 Normal Ave, Montclair, NJ 07043, 973-655-5112
4. Montclair Historical Society
The Montclair Historical Society (MHS) was originally established in 1965 to appreciate, preserve, and promote the local history of Montclair.
There are two weighty historic sites which make up the MHS, which are the 1818-built Nathaniel Crane House and the Isreal Crane House (a Federal Revival style landmark home) built in 1796 by a local entrepreneur.
Both Crane Houses are historic museum houses opened for public visits and exhibits the history of the surrounding town and the buildings in it.
There is also space provided for lectures, classes, and educational workshops for students and the public alike.
Managed by MHS is the Clark House which was built in 1896. It is a great research library which has provided worthily resource for local teachers, historians, and scholars. Another owned by the society just on North Mountain Avenue is the Charles S. Schultz House.
In general, the Montclair Historical Society is an interesting museum to visit while in Montclair.
Address: 108 Orange Road Montclair, NJ 07042, 973-744-1796
5. Montclair Film Festival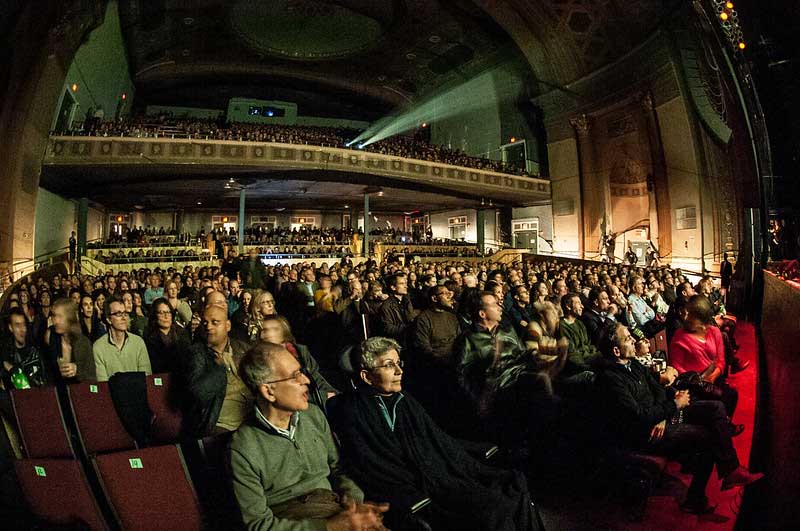 The Montclair Film Festival is a community-targeted film festival that promotes filmmakers from around the world as well as exposes Montclair on the map.
This film festival started in 2012 and is currently in its 8th year.
Montclair Film Festival also attracts film-lovers in their thousands, aficionados, and also critics into the town as they try to take in over 80 films screen at different venues in and around Montclair.
The festival also provides an opportunity for the increasing schedule of changing public events and educational programs for both kids and students. This includes the Free Summer Series Under the Stars, free African American Heritage Month screenings, and Kidz Shortz Filmmaking Competition.
6. Van Vleck House & Gardens
The Van Vleck House & Gardens started over 142 years ago as a personal estate of Joseph Van Vleck Sr, a successful businessman. This dream came to reality after he had relocated to Montclair in 1868.
Though there have been significant changes and modifications to this property for the past decades, the landscaped grounds and the exceptional U-shaped Italianate villa has not changed.
In these gardens are mostly ericaceous plants that have matured over several generations, like hybrid species of azaleas and rhododendrons.
You can always visit this private garden any day, as it is open for public access (dawn to dusk) all through the year. The garden also hosts diverse kinds of special events and occasions all through the year, this includes fundraisers.
Address: 21 Van Vleck Street, Montclair, NJ 07042, 973-744-4752
7. Our Lady of Mt Carmel Church
If you are in Montclair and need a place of worship, Our Lady of Mt Carmel Church is one to attend. Opened in 1939, the church is an old worship center for all Christians.
They are a faith community that celebrates everyone irrespective of age or race, they also embark on humanitarian projects as they are relentless in affecting lives positively. As they call themselves the "Small Parish with a Big Heart."
You will love the church structure built in a delightful Italian Gothic style. The open nave, which is strengthened by scagliola columns, gives an open view of the sanctuary.
The high altar is beautified with light tan Italian marbles and captures one's attention and the light of the beautiful stained glass windows here is enhanced by the soft colors of the church.
Address: 94 Pine St, Montclair, NJ 07042-4812
8. Watchung Booksellers
Established in 1991 by Kathy Linsk, Watchung Booksellers is the favorite bookstore of the Montclair community.
This bookstore is situated just above Bradner's Pharmacy, it is particular about general collections of biography, history, fiction, and nonfiction volumes.
Their selections are focused on poetry and arts, travel books, and educational. With the contribution of local readers, the choice of books here is guided meticulously, to reflect the values, ethics, character, and norms of the Montclair community.
You will find displayed on the shelves, published works of over 60 local authors, thus making here the epicenter for the literary community of New Jersey.
There is an enticing children's room that provides reading space for families as well as an exciting Teen corner.
Watchung Booksellers hosts special events all through the years which includes children's storytime events, author signings, poetry readings, and book groups.
The bookstore is open every day of the week, from 10am to 7pm but on Saturdays and Sundays, they close by 5pm.
Address: 54 Fairfield St, Montclair, NJ 07043.
9. Prudential Center
Though not in Montclair, the Prudential Center is a place to visit just some few miles in the neighboring Newark.
Opened in 2007, the Prudential Center is a multi-purpose indoor arena designed by HOK Sport (now Populous) and its exterior by Morris Adjmi Architects.
Prudence Centre is the official home of the men's basketball program of Seton Hall University, the Seton Hall Pirates, and the New Jersey Devils of the National Hockey League (NHL).
This arena has 16,514 seats during hockey games and close to 18,711 during basketball.
It is nicknamed "The Rock" by affectionate sports writers and fans, referring to Rock of Gibraltar, the corporate logo of Prudential Financial.
Some of the activities and events held here are live music, concerts, entertainment, Seton Hall basketball, New Jersey Devils Hockey, and exciting family shows.
Address: 25 Lafayette St, Newark, NJ 07102-3603.
Are you planning a fun vacation in Helsinki? we bring you 33 of the best things to do in Helsinki, Finland for a fun vacation.
10. Wellmont Theater
The Wellmont Theater originally started as a theatre in 1922, but in 1929, it was transformed into a motion picture theater. This had the likes of the famous inventor, Thomas Edison feature as one of its haloed guests.
Starting first at Bloomfield Avenue and later moving to Seymour Street, Wellmont theatre had a triplex in the 70s with the original now used as a restaurant.
The Wellmont Theatre witnessed renovation running into multi-million of dollars and is now a famous concert venue. This place features a dance floor, flexible seatings, and new bars in the mezzanine and orchestra area.
This makes what to do in Montclair for some theater time. The Wellmont Theatre is currently the biggest venue for standing shows in this area with a seating capacity of 2,600. Go visit this theatre as it adds to the best things to do in Montclair.
Address: 5 Seymour Street, Montclair, NJ 07042, 973-783-9500
11. Exit Strategy – Last Minute Escape Montclair
Exit Strategy is a real-life whodunit run game which keeps the players focused until they find a solution. Formally called Last Minute Escape, the game is fun-filled and is played out in well-detailed settings.
The game is designed to be played out by groups, having a range of 2 and 8 persons. With different scenarios, concepts, classic themes, missions, and teams, the teams are left to think of a way of getting out in just an hour.
There are clues on how to escape with your friends/team.
Exit Strategy helps in building and developing team spirit. It's normally fun with Exit Strategy, so what are you waiting for?, plan a visit today.
12. Branch Brook Park
Situated in the North Ward of Newark is the nation's first county park, Branch Brook Park.
This park is placed between the neighborhoods of Roseville and Forest Hill. You will also find a port of the park within the Belleville township.
Known famously in the United States for having the largest collection of cherry blossom trees, Branch Brook Park does not lack in activities.
Remarkably the Newark Light Rail runs through this park, on the west side thus adding to the multiple access points leading to this park.
This park is about 4 miles in length and on average, 1.4 mile wide. It occupies 360 access and is recognized as the biggest developed park in the entire County. It also has a combination of small patches of woodland and open meadowland on slow-flowing terrain.
Branch Brook Park had its name from a branch brook which flowed into the Passaic River from the valley. This river is still in existence, so is the surrounding landscape which still retains its natural condition from the beginning.
The park is open 24 hours every day of the week.
Address: Lake St & Park Avenue, Newark, NJ 07104, United States
Crewe(Cheshire, England) meets you with a number of fun attractions and activities, check out our list of things to do in Crewe for a fun time.
13. Thomas Edison National Historical Park
Thomas Edison National Historical Park protects and maintains Thomas Edison's residence and laboratory in Glenmont, West Orange, New Jersey.
Edison's home and laboratory take us back in time. The laboratories were operational for over 40 years, when music was played on phonographs and the driving mechanism of machines were belts and pulleys.
This was where the improvement of phonographs began, motion picture camera, silent and sound movies, sound recordings, and Ni-Fe alkaline electric storage battery all had their origin here.
The kids will enjoy this as they are given access to training materials, videos, and existing inventions, they are further challenged to create something too.
Address: 211 Main St, West Orange, NJ 07052-5612.
14. Presby Memorial Iris Gardens
The Presby Memorial Iris Gardens was established in 1927 in honor of the famed horticulturist Frank Presby.
Covering more than 6.5 acres, it is the world's biggest non-commercial garden full of irises. The garden which has its setting similar to that of a park is situated on Upper Mountain Avenue in Montclair.
The Presby Memorial Iris Gardens shows a world-class collection of more than 10,000 plants covering 6 different species and more than 3,000 individually named varieties of irises.
You will also find the Walther House, positioned adjacently to the gardens. This building perfectly takes the Victorian architecture style and it is the headquarters of the Citizens Committee in charge of the garden as well as home to a museum shop.
This makes what to do in Montclair for garden lovers, visiting this unique garden makes one of the free things to do in Montclair, so do not hesitate to schedule a visit.
Address: 474 Upper Mountain Ave, Upper Montclair, NJ 07043, 973-783-5974
15. Edgemont Memorial Park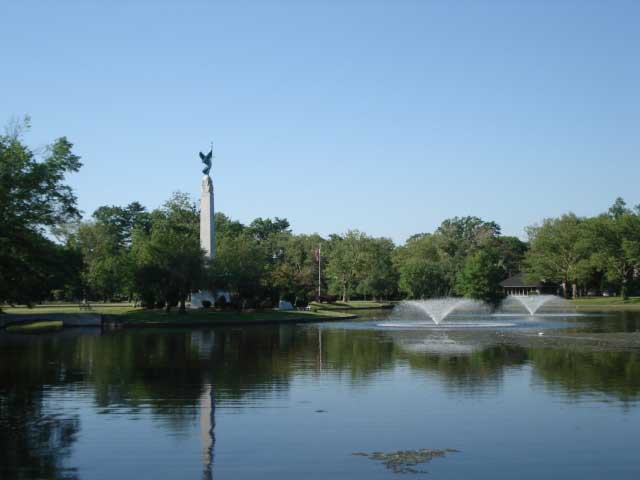 Edgemont Memorial Park is a favorite place for kids. They have a very big children's playground having structures that provide maximum entertainment for kids of all ages.
For the little ones, a rubber ground set up for their safety and another kid's favorite is a gigantic spider web structure which features various slides
Moving to the eastern section of this park, you will find a tranquil pond. This pond receives from the fountains and gives out to the Toney's Brook.
Edgemont Memorial Park is known for its popular memorial from World War I. This monument was erected in 1924 by Charles Keck and is positioned on an island that is in the middle of the pond.
This monument is an obelisk having bronze sculptures about it with names of those who lost their lives in WW1 engraved on them.
There are smaller plaques placed in remembrance of those who fell in the Korean, the Vietnam war, and the World War II
Extra park facilities are ice-skating in winter, bikeways and footpaths, and a concert pavilion where bands perform in the summer.
16. Greek Taverna
While in Montclair, go on a culinary journey to Greece by visiting the Greek Taverna, situated in the buzzing Bloomfield Avenue, Montclair.
This classic restaurant transmits the feel of this magnificent Mediterranean country through the dishes they prepared. It is an open-air kitchen with a specialization in meals, making you get the feeling you are in Greece already.
Prepared using fresh ingredients, some signature dishes are Kalamarakia Sharas, Lamb Glovetski, and Ouzo Keftedes.
Greece boasts of some of the best desserts in the world, sure you want to taste the homemade Baklava, Galaktoboureko, and Greek Bougatsa.
Address: 292 Bloomfield Avenue, Montclair, NJ 07042, 973-746-2280
17. Vanillamore
A very lively Cafe, visiting Vanillamore makes this lost of fun things to do in Montclair.
In 2007, the executive chef Risa Magid Boyer opened this restaurant out of her passion for injecting vanilla as a flavor enhancement in unexpected spectacular ways.
This restaurant is also an art gallery space, exhibiting the works of artists like Aldo Luongo, Amy Nedler, and Carrie Graber in its beautiful dining space.
As a diner (whether lunch or dinner), you can enjoy tasty entree options like crispy skin barramundi, quinoa-infused buddha bowls, and red wine-braised short ribs.
You can complement these with any of the restaurant's signature desserts and cakes.
Address: 349 Bloomfield Ave, Montclair, NJ 07042.
18. Yogi Berra Stadium
The Yogi Berra Stadium was opened in 1998, it is the official home of the New Jersey Jackals and Red Hawks.
The New Jersey Jackals is a professional baseball team plying their trade in the Northeast League while the Red Hawks is the Montclair State University' senior team.
This stadium, named in honor of Yogi Berra -a catcher for the New York Yankees and Hall of Fame inductee- has an absorbing capacity of 5,000 persons with 3,784 people taking permanent seatbans and 1,500 taking the lawn seats.
The stadium has the Yogi Berra Museum on its adjacent side and has earned the tag name of "the home of champions."
You will observe dimensions marked in the fuel of this stadium ends of the number 8. This is to give respect to Yogi Berra because he wore the jersey number during his playing career for New York Yankees.
The stadium features two picnic areas, a game arcade, an outdoor birthday party area, a souvenir shop, and a Kid's Zone area.
Visiting the Yogi Berra Stadium is simply one of the top things to do in Montclair.
Address: One Hall Drive, Little Falls, NJ 07424, 973-746-7434
19. Yogi Berra Museum and Learning Center
Sitting in the Montclair State University is the Yogi Berra Museum and Learning Center. This museum was built in recognition of the career of a world-class famous baseball player, Yogi Berra. He was also a National Baseball Hall of Fame inductee.
The Yogi Berra Museum is the home of various items and artifacts from Berra's illustrious career, his input to baseball, and the history he had with the game.
The museum organizes three days of sports and business academy as well as summer camps for college and even high school students. This is designed to give them advice and insights geared at positioning the sports career in the right direction.
The Learning Center is established to promote and as well preserve the principles guiding sportsmanship.
They also offer a variety of sports-based educational programs that impart the students and also encourage amateurs to develop an interest in sports.
Next to the museum is the Yogi Berra Stadium where you can watch a game.
Address: 8 Yogi Berra Drive, Little Falls, NJ 07424, 973-655-2378
20. Montclair Art Museum (MAM)
One of the fun things to do in Montclair is a visit to The Montclair Art Museum (MAM), this is a museum established to inspire and engage the public with art through the astonishing collection of Native American and American art.
There are over 12,000 articles assembled in this museum comprising of sculptures, drawings, prints, and paintings traceable from the present back to the 18th century.
This museum displays different contemporary artworks that highlight life on the global stage.
The museum houses George Inness Gallery – the gallery which Honor of George Inness, a 19th-century American painter who dwelled in Montclair from 1885 to 1894.
The private gallery, set apart to showcase the works of George Inness features selected etchings and paintings by the artist and also some works done by popular sculptor, William Couper.
This makes what to do in Montclair for lovers of arts.
The Montclair Art Museum in alliance with other local organizations supports vast educational programs and formal trainings for birth amateurs and students at the Yard School of Art.
Address: 3 S Mountain Ave, Montclair, NJ 07042, 973-746-5555
21. Kips Castle
Kip's Castle is a grand mansion which occupies 9,000 sq ft, it is a replica of a medieval Norman castle.
This castle though not in Montclair is worthy of a visit. It is only a few miles to Verona, NJ.
Built originally as a private estate, it spans 11 acres on First Mountain's ridges, bordering Montclair and Verona towns.
There is also a two-story carriage house here and the exterior of both buildings are built using local trap rock trimmed with sandstone.
Internally, the castle has 30 special rooms of varying sizes and shapes, furnished with 6 ornate fireplaces and vaulted ceilings.
Be sure to visit, this makes one of the fun things to do in Montclair.
Address: 22 Crestmont Rd, Verona, NJ 07044-2902.
Take to exploring other parts of the United States, check out our list of things to do in Jonesboro AR, and things to do in Danbury CT for a fun vacation.
Plan a Trip to Montclair
Montclair is a place you would want to be as there are lots of prospects in this town. You would be missing a whole lot if you do not fulfill this set goal of having your vacation in Montclair.
You can engage in any of these things to do in Montclair, start now to plan a trip to Montclair, you can also include the kids for a vacation here.
Do pin this guide as you create your Montclair bucket list, have a fun vacation.