Looking for the best and most fun things to do in McDonough, GA.
McDonough is a famous town in Georgia. It has an average headcount of about 9,000 people. The city is just 30 minutes from Atlanta, the state's capital.
In 2020, McDonough was acknowledged by The National Council for Home Safety and Security as one of the safest cities to live in Georgia.
Apart from being a safe zone, the town has been an important tourist site hosting numerous unique events like the Geranium Festival, Christmas, live music, New Year's Eve, and Ladies Night Out.
The city is an incredible and exciting place to be and enjoy everything it offers. With our list of fun things to do in McDonough, be sure to enjoy your road trip. Let's get started!
Things to Do in McDonough
1. Heritage Park Veterans Museum
Many wonder at the growth of this city and how it grew into a glorious metropolitan. This was all due to the earnest contribution of the armed forces.
Despite being small, the Heritage Park Veterans Museum was constructed perfectly to showcase to visitors the rich military heritage of McDonough.
Several military vehicles from the 1910s can be seen here, including military uniforms, equipment, and ration boxes. The various exhibits related to the military are exactly as they were from years ago, which makes the museum very interesting.
The museum was built to honor these veterans' legacy and selfless service. A library is also available in the museum where guests can relax, learn, heal and reflect.
Address: 99 Lake Dow Rd, McDonough, GA 30252,
2. Shanes Hot Shots Paintball and Airsoft
One of the fun things to do in McDonough, GA, is to check out this center. It is one of the most prominent and contemporary fun spots in the Southeast of the United States.
This site has everything you need to enjoy quality fun time ranging from safety equipment to guns, be sure to enjoy your every stay here exploring the facility with family and friends.
Visitors can also check out the airsoft, a lookalike of standard weapons used in shooting small plastic pellets.
The staff to find here are excellent at dispensing their duties and would help you enjoy a fun-filled time all through your stay here. An indoor field is built to acknowledge this sporting activity, and they share a similar type of play.
Address: 100 Ronnie Stewart Dr, McDonough, GA 30253
3. McDonough Downtown Ghost Walk
Do you want to try something different on your next road trip? The McDonough Downtown Ghost Walk should be an ideal place for you to visit.
Visitors can have a 90 minutes tour exploring several sites that are haunted by ghosts, such as a town square and restaurants.
One out of the many locations to be visit was once used as a mortuary for the Camp Creek Train Wreck disaster, and another so ghostly that it was premiered on most psychic shows.
If you get frightened easily, you need not worry as you will be accompanied by an expert while exploring the area. The tour is secure for everyone.
4. Camera Museum and Escape Room
The exciting thing about McDonough is that it is adorned with many extraordinary attractions; things to explore here are out of your regular bucket list for a getaway.
The Museum showcases different types of cameras for visitors to see, especially the vintage and antique ones. If you are a camera enthusiast, this should be a must-see for you.
The total headcount of cameras to find here is 1,200, and other items are related to imagery and vintage advertisements.
The museum has all the exciting stuff to make your tour worth it, but the last thing you would ever expect to see that captivates guests' minds is that the museum still has from 150 years ago the history of this attraction chronicled in digital photography.
Address: 369 Macon St, McDonough, GA 30253
5. Peachtree Peddlers Free Market
For a fun-filled weekend in McDonough, it is ideal to visit the Peachtree Peddlers Free Market & Antique Mall and enjoy a great deal of antique shopping with friends and family.
However, don't miss out on special occasions like holiday celebrations and free music performances every month. During lunchtime, guests can check in the food court to fill their stomachs with varieties of dishes.
The Peachtree Peddlers Free Market is more of an indoor and outdoor antique mall and flea market and will give you the best shopping experience.
Address: 155 Mill Rd, McDonough, GA 30253
6. C.O. Polk Interactive Museum
The C.O Polk Interactive Museum is located in the central part of McDonough and displays recent technology geared towards showcasing the city's history from 200 years ago.
The museum is a collection of physical and digital art presentations that try to showcase McDonough's early formative years.
The museum also displays the names of individuals that contributed significantly to the building of the city and the notable companies that put out their resources towards raising an iconic McDonough.
If you are a history lover, here should be a significant item on your checklist of things to do in McDonough, Ga.
Address: 34 John Frank Ward Blvd, McDonough, GA 30253
7. Willowick Farm
The Willock Farm is situated in a picturesque landscape outside the historic McDonough, GA. Here is a perfect spot for your special events such as weddings, birthday parties, business meetings, and many more.
The farm provides guests with the finest horse stable, pastures with oak trees about 100 years old, a watering hole, man cave, bridal cottage.
Guests can have a ride on their beautiful horses. Their picturesque barn is surrounded by 70 acres of neatly kept pasture with undulating hills blessed with ancient oaks.
Many of the outdoor weddings carried out in the Willock Farm are done in front of the lovely gazebo or under the ancient Oaks. The farm is situated just 30 miles of Southeast of Atlanta Hartsfield-Jackson Airport in McDonough, GA.
Address: 246 Cronan Dr, McDonough, GA 30252
8. Sky Zone Trampoline Park
One of the many things to do in McDonough is to visit the Sky Zone, Trampoline Park. Here is a perfect place to enjoy fun activities with friends and family.
The park is chiefly focused on ensuring a safe environment where kids, teens, and adults can enjoy playing every day—the kind of play that our bodies would love and be fit for our brains.
The park is situated in the Mill Road area of the city and attracts myriads of people. No matter your size or age, be sure to visit and enjoy the many indoor Trampoline Park activities like dodgeball, fitness programs, and bouncing.
Their staff is excellent at discharging their duties and is readily available to help you enjoy all the fun you need. Visitors can also host special events here, such as fundraisers, parties, birthday parties, meetings, and other celebrations.
Have Georgia on your list of places to explore? be sure to check out our guide on places to visit in things to do in Newnan, things to do in Duluth, and things to do in Kennesaw.
9. Hood Street Arts Center
Without disbelief, McDonough can be seen as one of the many cities in Georgia that celebrates its cultural events annually. The exhibitions to be carried out in the cultural events are held at the Hood Street Arts Center.
The Arts Center has a land area of 1,800 square meters, with various art organizations making up for the formation of the art center.
The Hood Street Arts Center holds regular art events with partnerships with Henry Arts Alliance, making the city blossom in its rich cultural and artistic heritage.
The Hood Street Art Center was constructed as a hosiery mill in the 1930s and is a place of abode for a ballet school, a naturally illuminated art gallery, and the Henry players actors.
Address: 136 Hood St, McDonough, GA 30253
10. Watch the Henry Players
One of the top things to do in McDonough, GA, is watching the spectacular performance of the Henry Players as they display every form of their talents such as singing, dancing, acting, and lots more
The talented group was formed by local volunteers who could fit into different categories of the band like an orchestra, acting, singing, and lots more and can carry out 4-5 shows every season.
They carry out their shows from Thursdays to Saturdays, performing their family and adult presentations every night. Be sure to get your tickets ready, so you don't miss out on the fun.
11. The Southern Belle Farm
The southern Belle farm situated in Mcdonough is one place you do not want to miss out on and should be on your list of things to do in McDonough, GA.
The Southern Belle farms is a lovely spot to shop for your quality and fresh fruits and vegetables like strawberries, corn maze, pumpkins, and many others.
The practice of collecting strawberries has been a tradition for many people. Everyone loves indulging in this activity, even the kids.
The Southern Belle Farm is not focused only on providing healthy, fresh vegetables and fruits, and visitors can also find beautiful flowers and animals on the farm. Visitors might as well bring a camera along to take spectacular photos of the farm while still readying their big basket for harvesting.
Address: 1658 Turner Church Rd, McDonough, GA 30252,
12. Toast to Art
If you are a lover of Arts, one of the cool things to do in McDonough, GA is to visit one of the most iconic painting studios in McDonough and see what it offers as it attracts myriads of people from all over the country.
The interesting stuff about this attraction is that despite having lots of lovely exhibitions inside of it, you can carry out paintings of your own as they provide you with the necessary items and guides that you need.
You do not need to be an experienced artist before you paint; a class for painters is available for a fee of 25$ to tutor you on how to.
Address: 2086 Jodeco Rd, McDonough, GA 30253
13. Unwind at True Rest Float Spa
The Rest Float Spa is a famous place in McDonough, Ga. It offers the very best to matters relating to keeping the body fit and should be a must-stop for you when you visit.
Visitors can enjoy float sessions which involve immersing in a 10-inch depth pool with Epsom Salt filled inside. Be sure to enjoy maximum relaxation here as you let your body and soul float significantly in water.
After long hours of touring, make sure you visit this spa to enjoy all of its packages. You will love the serene nature and cozy ambiance of the place, even as they give your body a nice treat.
Address: 80 Vinings Dr suite 90-94, McDonough, GA 30253
14. Sweet Ashley's Chocolate
Satisfy your cravings for sweet chocolate at the Sweet Ashley's Chocolate located in McDonough. This place is not like your regular chocolate shop as it attracts lots of people daily.
There are different products to purchase, especially handcrafted chocolate bombs, roasted nuts, gourmet apples, and turtles.
You can also bring the kids along to enjoy their favorite chocolates and have something planned for them from our store for their birthdays and other celebrations.
Due to how lovely these chocolates are showcased, you might be disheartened to eat them, but they need to be eaten anyway.
Address: Inside Thompson Market, 218 John Frank Ward Blvd, McDonough, GA 30253,
15. Clayton County International Park
The Clayton International Park is about 30 minutes NorthWest of McDonough and close to Atlanta. The park's legacy started after it hosted the Olympic Games.
Various communities close to the Clayton International Park benefit immensely from its establishment.
The Park was built to host the Atlanta Games' beach volleyball competition in 1996; there are other sports facilities to check out like the sports field, lakes, biking trails, and others.
On your way to the park, you will enjoy the views from the giant water slides. It is such a beautiful sight to behold.
Check out the top things to do in Oak Park . things to do in Quincy and things to do in Peoria for a memorable exploration of Illinois.
16. Martin Luther King Sr Heritage Trail
This Atlanta region is connected closely to the Civil Rights Movement in the 1960s, and it took most of its ideas from the fascinating teachings of pastor Martin Luther King Jr.
The clamor for equal rights started with the emergence of Martin Luther King. He was raised and nurtured in nearby Stockbridge. In honor of his elegant strife for freedom emancipation, a heritage trail that cuts through downtown McDonough is named after him.
Visitors can also stop by at the Floyd Chapel Baptist Church, where Pastor Martin Luther King Jr gave his first teaching after his ordination.
On a different site, a historical marker is built on City Hall, where detailed information of his lifestyle is explained, and the place is just 15 minutes north of McDonough.
Address: M.L.K. Senior Heritage Trail, Stockbridge, GA 30281, Amirka
17. Sandy Ridge Bike Park
The Sandy Ridge Park is home to the Sandy Ridge Bmx track, a state-of-the-art racing facility commissioned by the current USABMX Association.
The track to find here features a starting hill with an elevation of 50 feet and three high-banked turning points linked by 800 feet of setups, jumps, rollers, and whoops.
The track is always available for everyone that wants to ride on it when there is no racing. Moreover, a helmet is required to be put on to maintain safety. Visitors can check out the racing schedule on their website.
Here is an exciting place to be with much fun and excitement and should be on your bucket list of fun things to do in McDonough, GA.
Address: 1200 Keys Ferry Rd, McDonough, GA 30253
18. RE-taking History Tour
If you are planning to have an in-depth tour of the history of this region, the best approach towards it is to RE-taking the history of metropolitan McDonough.
The tour is centered within the historical square of the region and the streets that run through it. Visitors can also check out the city's pavement by exploring the 15 iconic plaques situated here.
The tour is named the Re-taking to give visitors the ample opportunity to retake historic pictures before making comparisons with the originals—the before and after photos.
Address: McDonough, Ga, United States
19. Heritage Park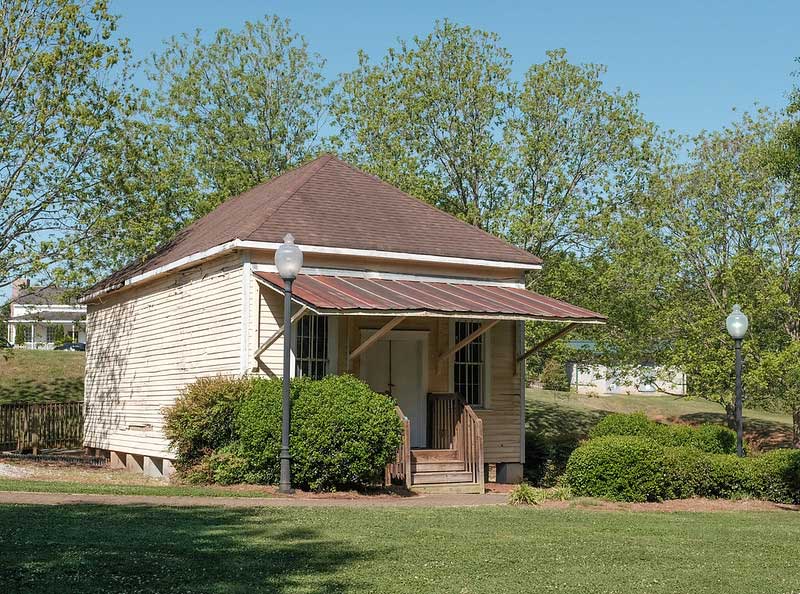 If you wish to explore extensively about the historic village of McDonough rather than checking in the Veterans museum, the one place to be is the Heritage Park.
The interesting stuff about this place is that almost everything one can find in the park can be traced back to the 1800s. They include a schoolhouse, Henry County's first library, settler's log cabin, schoolhouse, and many other attractions.
The kids are not left out of the fun as there is a children's playground, picnic tables, and benches available. You will be glad to hear the steam of a locomotive engine that has a history stretching back to 1934 and the renovation of a passenger depot.
Address: 99 Lake Dow Rd, McDonough, GA 30252
 20. Nash Farm Battlefield
The Nash Farm Battlefield is perched on the western side of Henry County and occupies a land area of 80 hectares.
In 1864, the parkland was engaged heavily with activities from the military as the Confederate forces and the Unionists were up against each other during the civil war.
The Battlefield was one of the bases for troops of the Confederate General Lee's Army Corps and a site for infantry wars that subsequently brought the Battle of Atlanta to an end.
Visitors can have a self-guided tour of the Nash Farm Battlefield via the historical markers situated here. The Battlefield is located close to the city of Hampton and is just 20 minutes from McDonough.
Address: 100 Babbs Mill Rd, Hampton, GA 30228
21. LilyBell and Grace
The LilyBell and Grace is a huge attraction for women who have a good taste for quality home decor and styles, all at an affordable price.
If you wish to make purchases of ottomans, large clocks, beautiful mirrors, or home decors, here is the best place for you to be.
The clothes to find here at LilyBeli and Grace are of high and good quality, while the home decors are unique and at a price affordable for everyone. There is also jewelry available for purchase.
The exciting thing about the items to find here is that despite having products with ostentatious quality, everything to see here is not above 50$.
If you intend to have a ladies' night out with close friends, do not fail to add the LilyBeli and Grace to your list of attractions to visit.
Address: 1623 Highway 20 W, McDonough, GA 30253-7311
22. The Creativity Cafe
The Creativity Cafe is a family-owned and operated business. They are a current D.I.Y Arts & Craft Studio that offers everyone creative and affordable fun experiences.
There are more than 300 pottery works that visitors can choose from and even more than 60 different types of paint colors that you can draw with, using a stencil, rubber stamps, and silkscreens.
The tools to use in creating your paintings are free to use. The Creativity Cafe is focused on creating a creative, exciting, and relaxing center for artistic purposes; if you are an avid artist, no need to worry as there is everything available for you to be knowledgeable about paintings.
If you are a lover of art, here is an exciting place to be and should top your bucket list of fun things to do in McDonough, GA.
Address: 2005 Jonesboro Rd, McDonough, GA 30253
23. Stone Mountain Park
Stone Mountain Park is one of the many most visited attractions close to McDonough, GA, and is seated on terrain with a mountain rising from it.
The mountain's elevation is 250 meters from its base or more than 500 meters from water level, and it has a base circumference of eight kilometers.
The hiking trails to the mountain provide lots of exciting scenery, and tourists can reach the summit via the Skyride cable car.
Moreover, the mountain is well known to be a place of abode for the largest bas-relief in the world, which represents the three Confederates South most iconic leaders.
Address: 1000 Robert E Lee Blvd, Stone Mountain, GA 30083
Want more of Georgia attractions and activities? do check out our list of things to do in LaGrange, things to do in Gainesville, and things to do in Valdosta for a memorable vacation.
Plan Your Trip to McDonough
There are quite some fun things to do in McDonough, GA, and if you intend to have a unique getaway experience with family and friends, McDonough got you covered.
Aside from being a hub for quality excitement and fun, McDonough is also committed to upholding the historical legacies of the City. Start planning your trip to McDonough, GA.