Looking for the best and fun things to do in Lima, Ohio? Lima is quite a city filled with lots of adventures, with its beautiful streets and parks.
There are a lot of fun and interesting activities here that will keep you engaged all through your stay.
The city is located in the seat of Allen County Ohio, United States. The people of Lima are lovely and accommodating, and they also welcome diverse groups of people and investors to the community.
Lima has intriguing museums, thriving nightlife, and beautiful parks that make it a place filled with activities bubbling from sunrise to sunset.
LIMA also boasts lots of historical events and beautiful views of ancient arts, making it a perfect place to visit for history buffs.
For a fun vacation, here are the top fun things to do in Lima, Ohio
Things to Do in Lima
1. The Historical Society and Museum
The Historical Society and Museum
is a tourist attraction center in Lima, which marks one of the most visited places in the city.
While in the area, Visitors are allowed to tour the museum and enjoy beautiful views of the well-preserved history of past industrial sites that operated years back.
The exhibition in the city is significant, the railroad and train company highlights in different locations, and this defines most of the history in Lima
The museum has a historic train with an efficiently functioning engine that carries visitors, including children and adults, around the museum.
The excitement of a ride offered here on an ancient traditional train gives a wonderful and memorable experience.
Another exhibition that is well captivating in the museum is the MacDonnell House, a Victorian building with a stained-glass window, having beautiful carved furnished frames and artifacts of historical events from the past.
The facilities have many other engaging exhibition collections to showcase aside from these two significant attractions.
You might have to visit this museum twice as if you are a history buff as it features artifacts of different historical events and structures, which cannot be explored in a day.
Address: 620 W Market St, Lima, OH 45801, United States.
2. Johnny Appleseed Metropolitan Park Distruct-Office
Johnny Appleseed Metropolitan Park Distruct-Office is the headquarters of rangers and naturalists that run the affairs of various parks in Lima and its surrounding areas.
The administrative works and data of the parks are kept in this park. However, not many activities happen in the Appleseed Metropolitan Park districts office.
The park features nature exhibits, trails, nice trees, and lots more
Visitors get to be enlightened on matters regarding rescue animals facts about the various parks, local flora, and fauna under the administrative authorities' supervision. It is an experience for both young and old.
Special events are hosted and organized in the park, featuring various interesting topics discussed and showcased in the parks.
The facility of this place serves as an open door to all other recreational facilities of Lima. It is a place to stop and see and experience all the wonderful sites and stores in the surrounding.
The locals of this place are friendly and will love to show you around the premises.
Address: 2355 Ada Rd, Lima, OH 45801, United States
3. Veteran Freedom Flag Monument
This is a symbol that reminds the people of Lima of the sacrifice of the past heroes. It is a culture for the Lima people to celebrate at the Veteran Freedom Flag Monument.
There are five towers built in this place, and they are arranged to create the star-spangled kind of banner.
The five towers represent the five branches of the Armed Forces, such as the Coast Guard, Navy, Marines, Air Force, and Army.
The tower was built to appreciate the bravery of the American veterans of the past, present, and future.
There are various soils collected from different battlefields and sites of wars to remind them of where their brave soldiers had conquered.
Address: 1161 Buckeye Rd, Lima, OH 45804, United States
4. Faurot Park
Faurot Park is a beautiful attraction filled with pleasurable activities, which is worth adding to your list of things to do in Lima, Ohio, for some outdoor recreation.
The park has been in operation since 1935 and still stands to date. Tourists and locals are attracted to the beautiful park, making it one of the most visited locations in the city.
The park has recreational structures with beautiful green spaces that serve as playgrounds and, there are lots of activities visitors can enjoy.
There is a relaxation center formed under the shady trees. The park is close to a lake, and you can stand by it and see the city's landscape.
The park also features good paved and unpaved trails for hiking games. For lovers of sport, there are a volleyball court, baseball diamond, and a skate park.
Additionally, Faurot Park hosts events like the annual Stay Spangled Spectacular, which holds every 4th of July of each year.
Address: S Cole St, Lima, OH 45805, United States
5. Visit The Alter Ego Comics
Alter Ego Comic has the largest pop culture, and it's located in West Central Ohio. This destination is filled with lots of activities. Add to your list of things to do in Lima, Ohio.
They have sections for movies, comic books, TV series, and many more that will interest you.
The shop offers collections of packages that you will love, such as action figures, games, posters, toys, collectibles, and many other products.
Here you will see the new Marvel and DC Comics, Star Wars memorable arts, and other limited movie collectibles in the shop.
With their charming smiles on their face, the working staff welcomes you as a special.
There is free Wi-Fi, so you can connect to the internet to search for favorite series of your choice.
Address: 230 N Main St, Lima, OH 45801, United States
6. Westgate Entertainment Center
This is an entertainment world where visitors can have great times with families and friends.
There are about 24 lanes in the center, including a synthetic lane and 6 wood lanes. The center is accessible by many because of the subsidization of price.
The lanes have available bumpers that are in place to keep the bowling balls out of gutters, putting smiles on your kid's faces. Ramps are available to help the ball go down.
Address: 721 N Cable Rd, Lima, OH 45805, United States
7. The Hidden Creek Golf Club
The Hidden Creek Golf Club is an accessible course frequented by tourists and locals alike. The golf club features about a 17-18 holes golf course.
This is an interesting place, especially for golf lovers. Playing this game is exciting, and there is room for beginners to learn how to play golf here.
There are other facilities and amenities that will keep you engaged here, and you have the opportunity to meet other good players of the game.
There is a spacious pavilion, golfing equipment shops, a restaurant, and a bar within the premises.
The Young family are currently the owners of the golf club, and it has been their duty to maintain the club and make sure the facility is in good shape for the use of the public.
8. Airspace/Limbs
Are you a lover of art? If yes, add a visit to Airspace/Limbs to your list of things to do in Lima, Ohio.
Airspace/Limbs is a spectacular home for arts in Lima, boasting several beautiful works of art.
Visitors and locals frequent this attraction because of its beautiful artworks.
The building is located at the northwest quadrant of the city, and it also serves as the rally point of all the artistry works in the area. It is housed in an old brick building.
The walls of the halls in the building feature various artworks designs, and there are also beautiful collections of galleries of artifacts in the building.
There are many interesting events for visitors to enjoy, including music nights, limited exhibits, and film showing—giving rooms for the invited participant to participate in the events.
It is an educative site, and it gives room for having more knowledge about the various type and forms of arts.
Visitors are inspired by the mind-blowing creative works of art here, go see for yourself. Airspace/Limbs is a place worth adding to your list of things to do in Lima, Ohio, if you are interested in art.
Are you visiting Ohio and wondering what to do in Ohio? here is a guide on things to do in Akron for a memorable vacation.
9. The Old City Prime
One of the most popular restaurants in the city is the Old City Prime. This is a recommended kitchen to visit to have a good delicacy. It is a place you will not want to miss during your trip to the city.
With its delicacies and special recipes, this restaurant has gained popularity and has been seen as one of the modern-day American steakhouses, serving aromatic delicacy that will quench your hunger.
You can also try their USDA gourmet appetizers, fresh oysters, and prime-aged steaks, a fresh-baked bread that is baked in an in-house bakery.
There are various premium boutique cocktails and wines that will nourish your meal.
At the upper section is a lounge that features some nice events. We have the piano ballads, country music show, live band and, other talented or upcoming artists performing at the show.
The swiftness of the show makes a wonderful and fun-fill day for tourists and visitors in Lima.
Address: 215 S Main St, Lima, OH 45801, United States
10. THE MET
Food at The Met is a place that is worth visiting during your stay in Lima for a memorable dining experience.
The Lima Institute is a place that is highly visited because of the beautiful surroundings, palatable dishes, and lovely staff that will give you first-class treatment.
There are lots of delicacies on the menu list, which include: creamy cheesecakes, shrimp tacos, Korean fries, pull-porked burgers, and other different dishes from various parts of the world.
There is always something for you!
After having a satisfying and delicious meal, there are fresh cocktails to digest the incredible meal.
11. Buttonbush Wetland Preserve
The wetland preserve is a recreational location filled with beautiful works of nature and lots of fun. For lovers of nature, it is an ideal destination to visit.
It covers over 5 acres of preserved space and has a 700 square-foot observation deck. Visitors take advantage of the deck to have a scenic view of nature, bird watching, and read books.
Buttonbush Wetland preserve is situated along the Central Point Parkway, west of st. John's Avenue.
Address: 2319 Central Point Pkwy #2303, Lima, OH 45804, United States
12. Piatt Castles
The Piatt Castles are two magnificent Logan County homes called Mac-A-Cheek and Mac-O-Chee.
The castle has been a tourist attraction, and it has been in existence for centuries. The Piatt is the 6th generation of the family living on the land.
It is a historic castle, and visitors are taken around the castle by the Piatt family.
They have lived out of that state for 30 years, and they have returned home since 2002 to keep the home and family history alive.
Address: 10051 Township Rd 47, West Liberty, OH 43357, United States
13. Lauer Historical Farm
For lovers of agricultural history and practice, Lauer Historical Farm is an ideal place to visit to learn the way of life of Lima.
This place was established in the 1830s and has been in operation even after World War II.
The farm has an adequate storage system and a good farm space with a standardized silos system.
The facility of the farm is well-developed and maintained. It serves as a great example of the Midwest's successful agricultural inheritance.
Visitors can take pictures of the landscape gardens and sunflowers. You can move around the surroundings, have a beautiful view of nature, and visit the resorts' structures.
The farm also serves as a venue for events and celebrations because of its beautiful and peaceful environment.
Address: 800 Roush Rd, Lima, OH 45801, United States
14. Lincoln Park Railway Exhibit
The Lincoln Park Railway Exhibit is another pleasurable location in Lima that celebrates the locomotives and adores the historical activities of the rails.
The real steam engines, cabooses, railroad artifacts, and passenger cars manufactured and produced centuries ago are kept in this facility.
The view of the great engineering design and constructions is mind-blowing and captivating.
The facility houses real steam engines, passenger cars, cabooses, and other railroad artifacts manufactured and produced more than a century ago.
Seeing the amazing engineering design and constructions keeps you wondering and marveling because of the astonishing arrangement of the works.
This is an experience you will not want to miss in Lima. There are also open ground and shady spots for visitors, tourists, and families to eat and relax.
If you are a lover of knowledge and want to know more about Lima's history and past events, stopping by will be a good idea.
15. Allen County Farm Park
One of the places you will not want to miss when on vacation to Lima is the Allen County Farm Park. This is a favorite destination for both old and young because of the exciting moment and activities here.
The Farm is a unique location with a barn and conducive grounds, serving as a farm heritage in Lima. They offer many engaging activities that keep you busy even as an adult and are safe for kids.
With its beautiful surrounding, you have a picturesque view of the park, and you can also hop on hayrides and horseback to have a good time.
Another event that will blow your mind is the Biennial Apple Festival. This is an event where you can patronize several apple products that the local firm in Lima produces.
If you are looking for a nice location to host special occasions or events, the Allen County Farm Park's barn is an ideal place for you, with its beautiful scenic grounds.
The farm has a beautiful interior with large space and accommodating staff that attends to your need at all times.
Do add a visit to this wonderful attraction to your list of things to do in Lima for some fun time.
Address: 1582 Slabtown Rd, Lima, OH 45801, United States
For a fun time in Ohio, take to exploring our list of things to do in Cleveland, and fun things to do in Columbus for a fun vacation time.
16. Kangaroo Cave
This is a play center with many indoor activities such as bouncing, jumping, birthday parties, and other exciting events. Kangaroo cave is the largest indoor party center with lots of themed party rooms.
Being the largest indoor party site, it covers over 10,000 square feet of fun-filled amusement attractions, a zoo Creation Station, and two private rooms called "The Cheetah and Zebra rooms".
There are sections where kids can create their zoo animals with the stuffing facility. There is always something new for you to engage in.
Some of the cave features include exciting slides, a bounce house, and obstacle courses. There is always no dull moment in the Zoo Reaction Station because it has a lot of fun to offer.
While in the cave, feel free to view animals in their cages and choose friendly pets to adopt and take home. The cave also has other games that keep you engaged with the games, such as Air Hockey, Skye ball, and more.
Address: 4747 Good Rd, Delphos, OH 45833, United States
17. Schoonover Park
The Schoonover park is a fun-filled location, and it features lots of activities that will keep visitors engaged with lots of fun.
In the middle of the park lies a 25-acre lake, where visitors can see aquatic animals swimming in the water.
If you are not comfortable with the deep waters, a shallow pool within the park is safer to swim.
There are also beautiful picnic grounds surrounded by shady trees and other local flora in the park.
There are also scenic relaxation sites to chill out and have nice relaxation time with families.
Visitors can visit Lima's Schoonover Park and have an Observatory in the park. Additionally, There are astronomic events hosted yearly in the park that is worth watching.
Address: 670 North Jefferson Street Lima, OH 45805
18. Toledo Zoo and Aquarium
The Toledo Zoo and Aquarium is quite a place with adventure, and it is worth adding to your list of things to do in Lima.
The Toledo Zoo and Aquarium Association recently accredited the zoo. The Toledo Zoo and Aquarium houses 10,000 individual animals that cover 720 species all in the facility.
The Zoo staff bottle-feed the two younger cubs between 11:30am, and 12:30pm, as the case may be. Visitors can closely look at the animals from an indoor viewing area.
Cougars are mostly found in North America, but it has been sighted in Ohio for more than 100 years.
Address: 2700 Broadway, Toledo, Ohio and 2 Hippo Way, Toledo, Ohio United States
19. McLean Teddy Bear Park
The McLean Teddy Bear Park is located near Johnny Appleseed Metropolitan Park District-Office.
This is a beautiful and peaceful park with a well-maintained facility and many spots for chilling, relaxing, and having a great time with family, friends, and colleagues..
It also has little ponds where you can catch freshwater fish with your friends and kids without the need for a fishing license. The park has various winding trails for walks, featuring beautiful trees and chattering birds' whispers.
Another exciting event you don't want to miss during your visit is the Maple Syrup Festival. The festival is a fun-filled event that gives you a memorable experience. Many of the Locals participate and showcase the Swift maples product of Ohio.
If you want to prolong your stay in Lima for a longer period, then be ready to set up a camp at Ottawa Metro Pack campground.
The park covers a large area with its facility having over 30 sites, with good amenities, and each of them is comfortable and convenient to stay for visitors.
You can rent a boat and go for a boat cruise and fishing at the Lima lake reservoir or swimming and having fun with your families and friends.
They are lifeguards and park rangers all around the lake, it is perfectly safe for kids.
Address: 2004 N Dixie Hwy, Lima, OH 45801, United States
20. Visit The Vino Bellissimo
One of the bubbling parts of Lima is the Vino Bellissimo. The grooving nightlife in this destination is what you will love to experience.
Vino Bellissimo is a well-known popular location, and it is known because of the loud cruising events that happen at night.
The club has many drinks in stock in their bar for customers—different brands of expensive premium wines and alcoholic beverages such as beer and cocktails.
It is a nice place to hang out with friends to drink and have a fun time.
With their warm, welcoming treatment, the locals of this beautiful environment make you feel at home. Do add to your list of places to visit in Lima, Ohio.
Address: 2412 Cable Ct, Lima, OH 45805, United States
21. Edgewood Skate Arena
Edgewood Skate Arena is a home for all lovers of skaters. If you love skating, add this attraction to your checklist of things to do in Lima.
Skaters from different parts of the country come to the Arena to have a lot of fun with friends and families.
The family roller rink has been in control of this business for 37 years because they have truly believed in their motto: We Care for Our Kids.
Skaters are all welcome to the rink. Some skaters bring their skate pairs from home, while others rent a pair.
There are many activities to keep you indulged in this destination, and it is a place you would love to have a nice time with loved ones.
If you domt know how to skate, there are instructors in place who are professionals and experienced to patiently take you by your arm and teach you.
If you also want extra classes for kids, there is a section to handle that. Is your kid having challenges skating? There are group lessons available for children of all age grades.
Roller skating is a fun exercise, and it features some great activities for school trips, birthday parties, and day-camp trips. They offer special packages like drinks, food, and possibly cakes for all the events in the Arena.
Stop by Edgewood Skate Arena lnc, for vacation and have a nice time with families and friends.
22. Bruckner Nature Center
Are you a lover of nature? If yes, add a visit to Bruckner Nature Center to your list of things to do in Lima, Ohio.
The Brunner Nature Center is surrounded by over 165 woodland acres and boarded by the state's beautiful Stillwater River. It is dedicated to wildlife rehabilitation, environmental education, and preserving its beautiful natural area.
This Center is known for its nurturing and warm treatment of injured or sick wildlife. The few animals that can not be taken back to the wild will be given a home at the Bruckner Nature Center.
Bruckner Nature Center has lots of interesting features, including an interactive environmental education, all-season visit rooms, live native wildlife exhibit, 6 miles of hiking trails winding through an ecological environment including rolling hills, thick pine forest, the tower above the visitors and deep ravines.
Address: 5995 Horseshoe Bend Rd, Troy, OH 45373, United States
23. Collett Street Recreation Area
This is a unique park that boasts various fascinating activities. It has about 19-20 acres of green surrounding.
This is a large space to play and learn a new sport. The area features three soccer fields, eight lightened tennis courts, and a fenced-in ball diamond. It is a park that combines education and recreation.
While in the park, visitors get an opportunity to bike, skate, walk, and jog over the few miles of paved paths connected to various areas in the park.
Visitors can also access the Ottawa River Bikeway during their visit. The park shares land with Safety City, a city that hosts a community program that provides youths with information on safety
Collet Street Recreation Area is located at the south Collet street, connected with parks that provide something for the public.
Address: 900 S Collet St, Lima, OH 45804, United States
24. Artspace/ Lima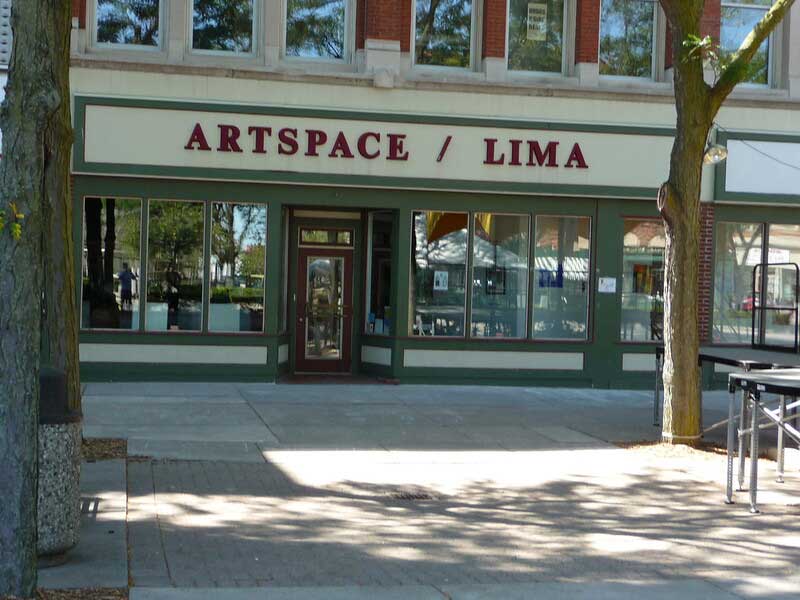 ArtSpace/Lima is an excellent destination for art enthusiasts and should also top your list of the best places to visit in Lima, Ohio.
This art gallery is housed in an ancient brick building in the Northwest quadrant of Lima, Ohio. The gallery is a home for artworks made by artists from Lima and its surrounding areas.
Visitors can see amazing art galleries, a vast collection of artworks, and classrooms on every floor. They also hold special events like film showings, exhibitions, music nights, and community engagement activities open for all and sundry.
You will be delighted by the different art mediums in this place as you check out the fascinating displays of the gallery.
Address: 65 Town Square, Lima, OH 45801, United States
25. Lippincott Bird Sanctuary
The land inhabited by the Lippincott Bird Sanctuary was donated in 1998 by Bill Lippincott to the Park District. Bill Lippincott was a former forester who loved to discuss nature and trees with anyone who cared to listen.
The preserve has different habitats, from wetlands to upland prairies and forests. These habitats serve as homes for varieties of animal and plant species.
The Park District provides guests with numerous activities in the sanctuary, such as bird banding, our Walking Through Autumn series, butterfly walks, bird walks, and others. The sanctuary is a perfect place to relax, stroll, and explore the natural beauty inherent in Northwest Ohio.
Address: 3093 Bellefontaine Rd, Lima, OH 45804, United States
26. Lima Mall
One of the best things to do in Lima, Ohio, is to go shopping at the Mall. It is an enclosed shopping center that provides retail services to areas within Augazie, Putnam, and Allen counties.
Lima Mall is a perfect destination for shopping, entertainment, dining, and many more. It is ideally located at the meeting point between Elisa and Cable Road.
It houses over 40 retailers, such as JCPenney, Aeropostale, The Children's Place, Old Navy, and many others. No matter your fashion style, this place has you covered.
After your shopping binge, you can have a delectable meal at Lima Hall by visiting restaurants such as Chopsticks Express or Golden Corral.
Address: 2400 Elida Rd, Lima, OH 45805, United States
27. The Hero Day & Glow Golf
Recall your childhood days when you visit the Hero Day & Glow Golf. It is an indoor inflatable Theme Park perfect for hosting your loved ones and friends.
Hero Day & Golf is the world's largest indoor inflatable Ninja Park. It covers 20,000 square feet of land area, which makes it a perfect location for families, children, or a couple of nights out.
It would help if you were not scared about the weather anytime you choose to visit, as the facility is indoors. Hero Day & Gold is also an ideal venue to plan for your kid's next birthday.
Have their party planners assist you in creating that memorable celebration you intend to host, whether it is a school trip, company outing, or birthday party. This place has got you covered.
Come with your family, so you all have a great time bouncing like a ninja or participating in their improved inflatable obstacle courses.
Address: 2400 Elida Rd #918A, Lima, OH 45805, United States
Ohio has some of the best cities in the United States to explore, here is a list of fun things to do in Mansfield , things to do in Findlay .and things to do in Athens for a fun exploration
Plan your trip to Lima
Were you in thoughts of where to spend your vacation? Lima is indeed an amazing place to visit.
With all the beautiful Lima Ohio attractions waiting for you to explore, plan a trip to Lima today for a fun time with family or loved ones.
Do well to pin this article as a guide for you to easily fall back to while making your list of things to do in Lima, Ohio.