Guam is a beautiful unincorporated island territory in Micronesia, United States. The territory is Micronesia's largest Island, having a population of 166,200 as of 2019.
Guam is home to various exotic, breathtaking leisure destinations and famous historical sites.
This outstanding Island features a vast mind-blowing destination suitable for exotic vacations for individuals and groups alike, all at a pocket-friendly rate.
This territory features many unique spots like the huge Pagat caves, golden beaches, World War monuments, and more, offering adrenaline-pumping adventures, entertainment, and knowledge.
If you want to visit this beautiful territory, be prepared to experience endless moments of entertainment, relaxation, and adventure.
Do you want to visit Guam? Here are the top things to do in Guam, Micronesia.
Things to Do in Guam, Micronesia
1. Talofofo Beach
Talofofo beach is another exciting destination in Guam, named after its origin, the Talofofo River. This beach also has other sub-beaches.
One of Talofofo's sub beaches is visible from the exotic Tongan Resort, which is also an ideal fun hub.
This destination is also ideal for golfers as it also features a lovely Golf Course, the Onward Talofofo Golf Club course, famous for its stunning looks.
Experience the mix of adventure and entertainment at the Talofofo Falls Resort Park, featuring kids' playgrounds, waterfalls, and caves.
Exploring this destination for its glamor is one of the best things to do in Guam, Micronesia.
Address: 8QVC+3HH, 4, Talofofo, Guam
2. Mount Lamlam
Mount Lamlam is one of the most captivating hiking destinations in Guam. Projecting 37,830 feet from the lowermost point of Mariana Trench, this natural wonder is said to be the most incredible elevation on Earth.
Hiking to beat a good record has never been this easy. The mountain is 1,332 feet above sea level, about 2 hours of an easy climb to the top.
This destination is an excellent choice for any hiker, as it is an easy hiking trail to be added to your hiking record.
Sunglasses, hydration, and food are essential requirements for this hike. This hiking trail is located south of Tumon Beach so that hikers can cool down at the Beach after the climb.
If you are a fan of hiking, do not miss the chance to visit this lovely hiking trail when you visit Guam, as it's one of the best things to do in Guam, Micronesia.
Address: 96915 Santa Rita, Guam, Guam
3. Two Lovers Point
Two Lovers Point is a famous and unique site that offers guests the opportunity of a beautiful Ocean view from the edge of a 400 feet cliff.
This destination is famous for its legend of two lovers, a Chamorro Warrior and a girl, who threw themselves down this cliff to avoid being separated by marriage.
This destination has become a love point for other lovers, as it features a beautiful chill-out balcony that offers excellent ocean views.
Most guests still believe that writing out partners' names on this iconic site's walls brings about stronger bonds in a relationship.
Two Lovers Point also owns a gift shop where they can purchase gift articles. If you need a romantic moment with your partner, visiting Two Lovers Point is one of the top things to do in Guam, Micronesia.
Address: GRM2+XXQ, Tamuning, Guam
4. Ritidian Point
Ritidian Point is a beautiful northern Guam destination in the Yigo area. This place is a typical example of a paradise.
Ritidian Point is one of the most visited fun destinations in Guam because of its vast lovely beaches that encircle northern Guam.
This breathtaking Paradise is open to the public daily and closes by 4 pm to control the population.
Ritidian Point also features sparkling clean, shallow water suitable for kids.
The beauty of this place will leave you in awe as this destination still maintains its natural elegance with the help of the Guam National Wildlife Refuge.
Address: MV36+G3F, Yigo, Guam
5. Guam's Beaches
As an island, Guam is home to a few beautiful beaches with sparkling white sand. This attraction is one of the best places to visit in Guam, Micronesia.
Guam is home to Gun Beach, Family Beach, Cabras Island, Piti Bomb Holes Marine Preserve, Coral Gardens, Haputo Beach, Double Reef, and lots more, with Tumon Beach and Ypao Beach being prominent.
These beaches make an excellent destination for swimmers, divers, and those who wish to chill out and enjoy the lovely view.
Activities on the beach include free diving, coral reef diving, swimming competitions, beach soccer, and lots more. Make sure to come along with your swim goggles, fins, and snorkels.
Be sure to join the underwater exploration team for a superb experience like reef sharks spotting, jackfish, clownfish, and the eye-catching beauty of the reef.
Make sure not to miss the chance to have a memorable experience at one of Guam's exotic beaches.
Address: GQ3R+46P, Tamuning, 96913, Guam
6. Cetti Bay Overlook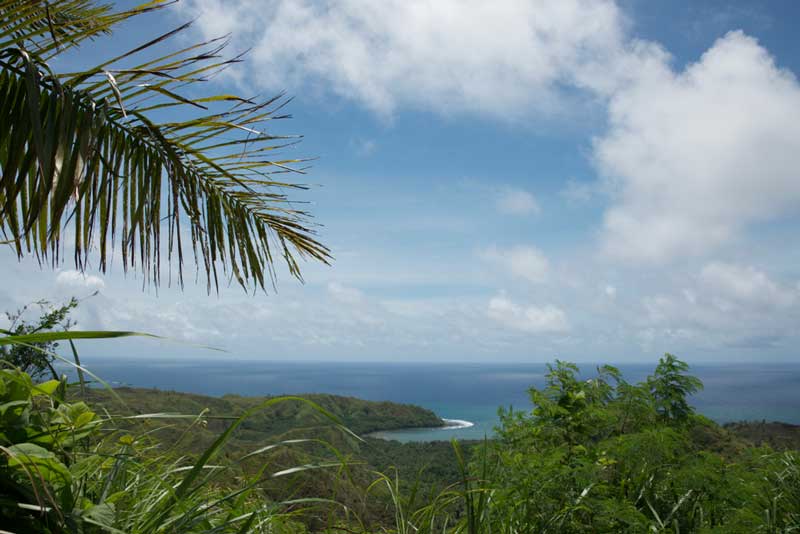 The Island of Guam is home to thousands of small hills. These hills can be found at Guam's Territorial Seashore Park.
These thousands of small hills are of great importance and, as such, should be a site of concern to tourists.
The formation and existence of these hills give essential justification to geologists for the appearance of the volcanic Island of Guam.
Cetti Bay Overlook provides tourists with an incredible view of Guam's distant mountains and the surrounding ocean.
On the Overlook, tourists can also observe other like-hills like the Attelong Acho, pillow lava north of the Overlook formed from an underwater volcanic eruption.
Address: 96915 Santa Rita, Guam, Guam
7. Guam Museum
If you are a fan of history and wish to learn about Guam's historical and cultural background, make sure to stop at the Guam Museum when you visit the town.
This outstanding Museum portrays ancient history and culture by showcasing historic antiques, illustrations, and handicrafts.
The Museum shows tourists a short video of how Guam came to be, alongside a display of pictures that gives a detailed explanation of life on Guam before the Spanish arrived at the Island.
All of the Museum's antiques are 90% local and provide only typical island history. The Museum also discounts senior citizens, students, and military personnel.
Address: 193 Chalan Santo Papa Juan Pablo Dos, Hagatna, Guam 96932 Mariana Islands
8. Magic Show by Encore
Guam is not only known for its beautiful attraction sites but also for the unique entertainment of magic.
This region is home to different magic shows happening day and night, starting with the Chamorro Village's Wednesday night market to the Nikko Magic show and SandCastle Guam.
The best magic show in Guam happens in Tamuning Village at the Crowne Plaza Resort by the Encore.
Encore anchors jaw-dropping creative comedic magic tricks and death-defying stunts that leave you in awe and entertained for the rest of the moment.
Marvel at the good interactive magic performances by a magician, a comedian, and a circus performer, featuring a white lion named Rio. Do not miss these shows for anything because attending this show is one of the fun things to do in Guam, Micronesia.
Address: 801 Pale San Vitores Rd, Tamuning, 96913, Guam
9. Guam Premier Outlets
If you are in Guam and wish to shop at discounted prices, visit the Guam Premier Outlets.
This Outlet is an island outlet that possesses a mall attribute but sells out products at a discounted rate. U.S. national brands are always available at the Outlet.
The Guam Premier Outlets also features a food court, an ice cream stand, and a movie theater.
The Outlet also houses a branded fashion collection that sells bags and clothes at an affordable rate.
Address: 199 Chalan San Antonio Ste 200, Tamuning, Guam 96913-3560 Mariana Islands
10. Fish Eye Marine Park
Fish Eye Marine Park is a unique tourist attraction in Guam located in Piti Bay Marine Reserve, where guests enjoy a close view of aquatic animals.
This facility has managed to conserve thousands of aquatic species in a protected area which has become a recreation as guests get to see even endangered species.
The facility features an observatory compartment at the bottom of this enormous aquatic habitat, giving guests a good view of this natural wonder.
This aquatic habitat has sharks of different species, fishes, sea turtles, crabs, shrimps, lobsters, and more. The facility also features underwater recreational games for guests who would be interested.
If you wish for a magnificent underwater view of the aquatic habitat, do not hesitate to add a visit to Fish Eye Marine Park to your list of fun things to do in Guam, Micronesia.
Address818 North, Marine Corps Dr, Piti, 96915, Guam
11. DFS T Galleria
DFS T Galleria is a classic boutique in Guam that showcases a variety of top-notch luxury brands in an exclusive sales setting, offering the best services to guests.
This famous boutique is known for selling big-name luxury trademarks such as Prada, Louis Vuitton, Omega, Gucci, and lots more.
The staff of this iconic boutique are very hospitable and trained to speak a few Asian dialects to ease communication with foreign tourists.
DFS T Galleria also offers a 50% discount on products during Black Friday sales. Tourists can also visit at night for shopping as the boutique closes by 11 pm.
If you are a tourist in Guam, make sure to stop at DFS T Galleria and pick a lovely outfit for yourself.
Address: 1296 Pale San Vitores Rd, Tumon, Guam 96913-4252, Mariana Islands
12. Micronesia Mall
Guam is home to Micronesia Mall, the largest mall in Guam.
This vast mall captions varieties of smaller shops that sell varieties of items at a reasonable rate and hospitable staff.
The Micronesia Mall also captions an assortment of stores, theaters, eateries, and indoor amusement parks.
The mall offers free bus rides to different destinations within the town. Isn't that great?
The Island is home to other outstanding stores like Acanta Mall, T Galleria by DFS, The Plaza Shopping Center, Kmart, Agaña Shopping Center, and S.M. Island Guam, Guam Premier Outlets.
Shopping on an Island can not be easier having all these fantastic stores around.
Address: 1088 W Marine Corps Dr, Dededo, Guam 96929-5538 Mariana Islands
13. The Pacific War Museum
Guam is not just home to vast exotic destinations and natural elegance but also features important historical sites. The Pacific War Museum is one of the best places to visit in Guam, Micronesia.
The Pacific War Museum was established by John Gerber, a Vietnam War veteran.
This destination is a World War II Museum that houses key relics that best tell the story of the war in Guam.
The Museum also holds other important information about the Marines. If you are a fan of history, this is a place for you.
The Museum also owns a gift shop for guests that wish to pick up souvenirs.
Address: 135 Murray Blvd, Guam 96910-5104, Mariana Islands
14. Magellan Monument
It was built in the village of Humatak in memory of Ferdinand Magellan, a Portuguese explorer, to mark Guam's first communication with the westerners.
This historic relic was a tribute to Magellan, who showed up at Guam while on a Royal adventure to navigate the globe.
The Island of Guam was added to the map by this explorer. This monument today sits in a beautiful park where people visit and learn about its history.
Address: 7MX7+H5G, 2, Umatac, Guam
15. The Piti Guns
The Piti Guns are historical relics at the Pacific National Historical Park. These Guns are leftovers of an intense military era on the coastal part of this Island many years back.
In 1914, the Japanese population was the primary occupants of this Island and was responsible for building the Piti Guns.
The pioneer occupants of Guam Island worked hand-in-hand to manufacture these coastal defense weapons.
Guests are given free access to this historical location today to see these ancient military defense weapons.
Make sure to visit this history-rich location to learn about this beautiful Island's past.
Address: 135 Murray Blvd. Ste. 100. Hagatna, GU 96910
16. South Finegayan Latte Stone Park
South Finegayan Latte Stone Park is a historical site located at Golden Shower Lane in Dededo.
This destination is fascinating because of the lingers of an old latte stone house that can be found on the site.
These archeological antiques are present at this location due to the ancient extension of Chamorro village to the site.
This Chamorro village extension only prevailed for a century but left their signatures on this historical site.
If you are a historian or a fan of history, ensure you visit South Finegayan Latte Stone Park in Guam, Micronesia.
Address: 74 Golden Shower Lane in Dededo,
17. Tarza Magical Adventure Zone and Water Park
Tarza Magical Adventure Zone and Water Park is an excellent destination to spend the day relaxing and enjoying the view of the glamorous surroundings.
This lovely Water Park features eight diverse water slides where guests can get their adrenaline pumping. It also features a lazy river with a slow current for a simple slide.
Tarza Park is not just an exotic, fun destination but also houses a historical site. This Park houses the historic cave where the Japanese soldiers took shelter during the war.
If you wish to overlook the entire fall, the Park has cable cars available for guests. Don't hesitate to check out this destination when you visit Guam, Micronesia.
Address: 132 Pale San Vitores Rd, Tumon, Guam 96913-3613 Mariana Islands
18. Emerald Valley
Don't know what to do in Guam, Micronesia? Explore the magnificient Emerald Valley. This attraction is a beautiful waterway creased at the back of the Guam Power Authority.
This incredible canal advances into the ocean body and is surrounded by eye-catching green vegetation to entice your spirit.
The enchanting environment, calm atmosphere, and cool ocean breeze can put you to sleep as you sail gently across the canal.
Address: FM8P+C6M, Piti, Guam
19. Alupat Island
Alupat Island is a small, beautiful, peaceful destination, making it ideal for relaxation.
This small Island is quiet and peaceful for guests who wish to rest, meditate, or even take a break from the busy society.
This destination is accessible by walking or swimming across it. As a result of the scenic nature of the Island, most guests visit the Island for picture purposes.
Alupat Island, known for its great water activities, is just a few distances away from the main Island.
Address: Tamuning, Guam, Guam
20. Fort Soledad
Fort Soledad is an iconic Spanish model structure located on the west coast. This historical site is one of the most visited places in southern Guam.
This historic relic was built in 1810 and named Our Lady of Solitude. Out of the four towers constructed around Umatac Bay, Fort Soledad is the only one still standing.
This structure offers exceptional surrounding views, like the village, bay, coastline, and distant mountains.
The glamor of this famous site has made it a favorite photo spot for guests and locals alike. You can get to capture the spectacular distant mountains or the sandy shores and bay.
Fort Soledad is a fantastic place to visit as you can also get to inquire into the highlands alongside the village's numerous historic locations.
Address: Umatac Bay, Umatac, Guam 96915 Mariana Islands
21. T. Stell Newman Visitor Center
If you are wondering what to do in Guam, Micronesia, this Center should be among your top destinations.
T. Stell Newman Visitors Center has varieties of attractions and leisure for guests. The Center features a museum, which is one of its key attractions, filled with exhibits for tourists.
This destination is always open to the public, offering multilingual support for guests.
The T. Stell Newman Visitor Center is an excellent destination for every tourist as you can get to watch The Battle for Guam in a top-notch theater interpreted in five languages.
There is a sophisticated bookshop at the Visitor Center with many fascinating books and journals.
Address: 1657-B, Santa Rita, Guam
22. Chamorro Village
Chamorro is a small Guam village famous for its market and high economic activity.
This famous market is the central point of attention in this village. It has attracted tourists from different destinations to this village, thus, making it a multicultural habitat.
The vibe here is so energetic that the market holds an active night section of buying and selling every Wednesday evening.
This remarkable village also holds different dances by locals and immigrants at the village's center court at night for leisure.
Take a walk across the charming streets of this destination and feed your eyes with the captivating beauty of its Spanish-modeled structures, or pick a local Chamorro jewelry as a gift for your collection.
This village is surrounded by attractions like the San Antonio Bridge and Paseo De Susana Park. Make sure to stop by Chamorro when you visit Guam.
Captivating dance performances, intriguing cultural presentations, and kid-friendly water buffalo rides make your visit memorable.
Address: 153 W. Marine Corps Dr., 96910 Hagatna.
23. Apra Harbor
If you are a Scuba diver longing for a superb diving experience, do not hesitate to visit the Apra Harbor.
This submerged historical amusement is home to two unforgettable shipwrecks that lie relatively close to each other on the sea bed.
One of the shipwrecks is the SMS Cormoran, a German vessel that was sunk into the sea by the noble U.S. Navy at the time of the first world war.
The second wreckage at the sea-bed is a Japanese passenger cargoship that sunk at the same position as the German vessel by the U.S. Navy during World War II.
These shipwrecks sit side-by-side below sea level giving divers the rare opportunity of diving two wrecks from different World Wars at a time.
This underwater destination also features colorful and breathtaking coral reefs, which offer divers stunning views of aquatic life.
Address: 1026 Cabras Highway Suite 201. Piti 96915. Guam
24. Pagat Cave
Pagat Cave is a well-known tourist destination in Guam that attracts numerous hikers from different parts of the country.
When you visit the Pagat Cave, you should take some time to enjoy the awesome views it offers, and you can also take a dip in the pool inside the cave after a long day of hiking.
It has an out-and-back moderately challenging trail that covers a distance of 2.7km and is close to Yigo.
During your hike, you can see numerous stone artifacts and tiny trees. You might also want to hike up the cliff, as the view from on top is magnificent with the surrounding natural blue waters.
The trail takes about 1 hour and 14 minutes to finish. Since the trail is quite famous, you might meet other tourists like yourself exploring the area. The trail is open all through the year.
Address: Yigo, Guam
25. Starts Guam Golf Resort, Inc
If you are a golf enthusiast, visiting the Starts Guam Golf Resort should make your list of the best things to do in Guam, Micronesia. The beautiful resort has a scenic golf course perfect for any skill level type of golfer, including families and children.
Architect Chohei Miyazawa designed the resort golf course. It was the first course in Guam to be licensed by the United States Golf Association as a tournament golf course.
The 27-hole golf course, which has Bermuda grass, satisfies all standards and requirements for international golf tournaments. There are hazards like breadfruit and coconut trees, which makes golfing here a bit challenging but fun.
When you get famished, you can rejuvenate yourself by visiting their clubhouse and the hotel's restaurant.
The hotel in the resort is situated in the central area of the golf course. It features spacious rooms that are well equipped, with free wifi, air conditioning, a kitchenette, and a refrigerator. They also have ample parking spaces.
Address: 2991 RT.3 NCS Road, Dededo, 96929, Gwam
26. Inarajan Natural Pool
Inarajan Natural Pool is a great place to hang out with friends and family. You can enjoy the natural beauty of this place and the water activities it offers.
One unique thing about this place is that it is preserved from the waves using natural corral barriers, offering a safe area for snorkeling and swimming.
The Pool is also located on the island's southern corner, offering incredible scenery. This destination has different picnic tables where visitors can unwind and have lunch. There are areas in the park where you can sit and watch the tropical fishes and other marine life.
Visitors can bring swimsuits for swimming, sunscreen, and snorkel gear. There is a large parking area in this place.
Address: 4, Inarajan, Guam
Plan Your Trip to Guam
Guam is a magnificent island with golden and white sand beaches, exotic destinations, and eye-catching natural beauties.
This Island offers one of the best vacation experience, which is why countless tourists visit the Island annually.
Take a trip to this beautiful destination and experience a one-time luxury treat and relaxation with friends and family.