Are you in search of the top fun things to do in Honolulu, Hawaii today? you are sure to have a great time in Honolulu with this guide.
With its white sands, pink umbrella drinks, blue skies, Hawaii exists in its world and is one of the most sought after tourist destinations across the globe. The state records close to 10 million annual visitors, and most of them head straight for Honolulu, the capital city and heartbeat of Hawaii.
You may know Hawaii for its high-rise hotels and sun-soaked beaches. And while this is not wrong, there are more to these city's tourist attractions.
Pearl Harbor's likes, historical monuments, the Iolani Palace, the Bernice Pauahi Bishop Museum, Diamond Head, and Coco Crater lay emphasis on the rich vein of history and culture of its kind. The landmarks have stories with diverse themes attached to them, making Hawaii to standout.
Do you wish to spend your dream vacation in Honolulu? Do you want to know the best things to do while there? Let's explore the top fun things to do in Honolulu, Hawaii!
Top Fun Things to Do in Honolulu
1. Diving at Corsair Wreck Dive Site
There are many diving sites in Honolulu, but few of them aren't natural. Some have had coral transplanted, and fish moved into them, or human-made wrecks turned into interest spots for divers and swimmers.
The Corsair Wreck Dive Site is an aberration. This comes after a WWII plane crashed into the ocean with its original remains attracting the native population of garden eels, stingrays, and jacks around it.
Beginners often resist the temptation of trying to dive. It is 115 feet beneath the surface, so to get there, you will need a boat and the service of a local Honolulu port guide. But, if you are skillful, you might be drawn into the exploration of the remnants of this WWII plane.
The Corsair Wreck Dive Site is one of the interesting things to do in Hawaii. It is no cheap attraction; it is more of a challenge.
2. Get Wet at Waikiki Beach
One of the most famous beaches across the globe is Waikiki Beach. This sandy beach spans two-mile in length on the island of Oahu and is situated on the south shore of this island, close to the iconic Diamond Head.
You will see many luxury hotels, beach bars, shops, and restaurants. Also, the beautiful and capacious Kapiolani Park is just before Diamond Head. It is well-known for picnics, jogging, or ball-throwing with friends.
Then, there is a more private spot where the children can swim safely – Duke Kahanamoku Lagoon.
Waikiki beach has gained popularity for snorkeling, swimming, and surfing and now tends towards being a busy attraction.
3. Art is Fun at Shangri La Museum of Islamic Art, Culture & Design
Though "Shangri La" is a fictional land, the Shangri La Museum is a very much real site situated just outside of Honolulu.
Shangri La was licensed by the popular heiress Doris Duke and began as a mansion where she could assemble and showcase Islamic artwork. This caught her interest during her honeymoon to the Middle East, hence a place she could save every of her jewelry, tile, wood carvings, portraits, and embroidery.
Now, the Shangri La Museum is allowed public access thanks to the Doris Duke Foundation. For anyone with an interest in Islamic art and culture, this has become a Mecca.
This museum is one of the most special places to visit in all of Hawaii, so do well to reserve your ticket!
Address: 4055 Pāpū Cir, Honolulu, HI 96816, USA
4. Honolulu Places to Visit: Manoa Falls
Manoa Falls is a gorgeous 150-foot waterfall nestled in the center of a tropical rainforest. This Falls empties itself into a glinting rock pool.
It is the pride of a two-mile hike trail – Manoa Falls Trail – which leads you through canopy trees. Sometimes you can only see sunlight in their dappled rays because the leaf shades; however, it is a worthy journey.
Visiting the waterfall would bring to your realization the reason it is just one of the fun things to do in Honolulu. Manoa Falls has featured in movies like The Hunger Games: Catching Fire and Jurassic Park, so you might just recognize it by mere pictures. It is also believed to be the wandering grounds of the Nightmarchers – a group of mystic olden Hawaiian warriors that still spook the grounds even till today.
You might come across the Manoa Falls Trail if you are on your way to the closeby botanical garden – the Lyon Arboretum. Several visitors tick both locations for nature touring or day sightseeing.
You shouldn't miss Mania Falls, as it is one gorgeous place to visit while in Honolulu. So iconic is it that it has a place in the history of cinemas, but even the movies fail to do justice to it.
Address: End of Manoa Road, Honolulu, Oahu, HI 96822, USA
5. Honolulu Must See: Hanauma Bay
One of the best places to see in the entire state of Hawaii is Hanauma Bay. More like a tropical heaven, you will love the clear waters, the sights of sea turtles, the incredible schools of parrotfish, and the sands full of seashells and flashes of coral.
There are diverse kinds of aquatic fun to participate in while at Hanauma Bay. You may want to swim, dive, surf, snorkel, or just relax under a beach umbrella holding your fruity cocktail in one hand and a good book in the other.
Hanauma Bay is a popular tourist destination in Honolulu, which sees thousands of tourists visit every year. One drawback, however, is, it can be crowded and have has issues of marine life displacement. So, to manage this scenario, the bay is closed every Tuesday.
Hanauma Bay is just one of the top things to do in Honolulu!
6. Explore the Mornach Era at Iolani Palace
Hawaii has got this little fact of previously being a monarchy. It was recognized as "The Kingdom of Hawaii," where its rulership was on the shoulders of kings and queens until a coup d'etat overthrew them in the late 19th century.
Shortly afterward, it became integrated into the United States, and Iolani Palace is a remnant of Hawaii's ancient way of life.
Iolani Palace is situated in downtown Honolulu and stretches some acres. This special building is filled with artifacts and decors from deluxe political offices to the ornate throne rooms. As a visitor, you can take a tour here, listen to audio clips and get views of vintage displays of artifacts, clothes, furniture, and fixtures of royalty.
Iolani Palace is one of the top places to visit in Honolulu, especially if you have an interest in history. It doesn't only bring tangible lessons of the culture of Hawaii to visitors; it is one of the most special landmarks in the whole of the United States.
Address: 364 S King St, Honolulu, HI 96813, USA
7. Things to see in Honolulu: Aloha Tower
The Aloha Tower is a 184-foot lighthouse located on the Honolulu Harbor. Since its initial construction in the 20the century, this lighthouse has receives millions of explorers and sailors.
This tower is of uttermost significance to the history of the island, such that it is regarded as the Statue of Liberty of Hawaii. Aloha Tower still functions as a lighthouse today, but its main purpose is now diverted to tourism.
You can join other visitors in climbing the summit for magnificent panoramic views of the Honolulu coast. There is also a marketplace set up at the base of this tower for dining and shopping.
Aloha Tower takes a gothic architectural style, so at night, the interior lights which come on give it a touch from a spine-tingling monster tale.
Address: 155 Ala Moana Blvd, Honolulu, HI 96813, USA
8. Kiss a Dolphin with Dolphin Quest Oahu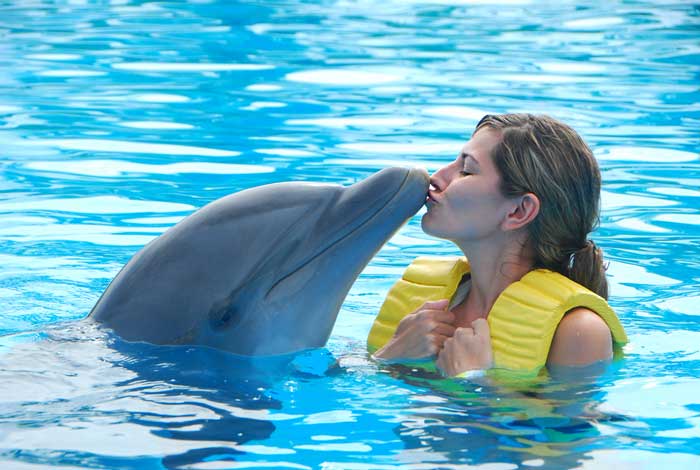 On numerous bucket lists is "swimming with dolphins," so Dolphin Quest Oahu brings this tourists' dream into a slick, slimy reality. The Kahala Hotel and Resort offers you this in many different packages.
Basically, most of these "encounters" see one wade in the dolphin pool while capturing some memorable photos. The advanced package includes petting, feeding, and socializing with these dolphins, and when everyone becomes familiar, you can snorkel underwater with them swimming around you for company.
You see why Dolphin Quest Oahu is easily one of the best attractions in the Hawaii state. For animal lovers, this is a must-see act because of the unforgettable experience it offers.
You can only get a handful of people who boast of swimming with dolphins. Do place Dolphin Quest Oahu close to the top of your activity shortlist in Honolulu.
Address: 5000 Kahala Ave, Honolulu, HI 96816, USA
9. Appreciate Art at Honolulu Museum of Art
The Honolulu Museum of Art is the biggest art museum in Hawaii. With over 50,000 pieces of artwork, which are not just sculptures and paintings, this museum foes stand out.
It houses everything from hand-painted dolls (mostly restored from indigenous tribes) to knitted yarns. There are also exhibitions and special events hosted at the Honolulu Museum of Art.
If you are lucky to visit on an eventful weekend, you could attend printmaking workshops, take pottery classes or watch films. In fact, the lectures, courses, exhibits, and social meetings provided by this museum is unlimited.
For anyone who is a history enthusiast, the Honolulu Museum of Art is a must-visit. It is a rare tourist attraction that combines both entertainment and education, so brace up to learn something exciting.
The museum is closed every Monday and open every other day (except for cogent reasons) so pay them a visit.
This makes what to do in Honolulu for art lovers, consider an addition to your list of Honolulu attractions to visit.
Address: 900 S Beretania St, Honolulu, Oahu, HI 96814-1495, USA
10. Extreme Fun Honolulu Activities: Hike a Volcano (Diamond Head)
Diamond Head is one of the most famous volcanoes in Hawaii, the "land of volcanoes." It is, however, known by several different names.
It is called Le'ahi ("Tuna Brow") by natives for its resemblance to a fin, while sailors of the 19th century named it "Diamond Head" because they interpreted its shiny calcite crystals as diamonds.
That notwithstanding, Diamond Head is surely is one of the top things to do in Honolulu.
You can hike to the peak of the crater, where you'll enjoy fantastic aerial views of the sky, water, and land. You can as well have some snacks and souvenirs at some of the local restaurants and shops. And upon conclusion, you can say you've had lomi-lomi while on a volcanic crater!
In fact, you can't be in Honolulu without heading to Diamond Head. It is simply one of the best attractions in Hawaii and even earns a spot as one of the most beautiful places in the US.
Address: 18th Ave., Waikiki, Honolulu, Oahu, HI 96815, USA
11. Cast a Spell in Magic Island
There is no wand required at the Magic Island, but you a sure of a spellbinding experience when you visit! Actually, Magic Island is not a natural island like its name says.
It is a human-made headland situated a few distances away from Honolulu and lies adjacent to Ala Moana Beach Park – another recreational area. The Magic Island is full of fun activities to see and do.
Notably is the beach; it's well shielded by big rocks that break off high waves, thereby making its waters mild and calm. You jog or join a beachside yoga class.
Close to Magic Island are some shops, movie theaters, and restaurants. So, you can free your flip-flops and take a walk. The ideal cycle is this: during the day, you work out on the beach, and at sunset, you relax with a shrimp platter.
Magic Island is definitely one of the top fun things to do in Honolulu.
Address: 1201 Ala Moana Blvd, At the end of Ala Moana Beach Park, Honolulu, Oahu, HI 96814-4205, USA
12. One of the Best Things to do Honolulu: Ala Moana Center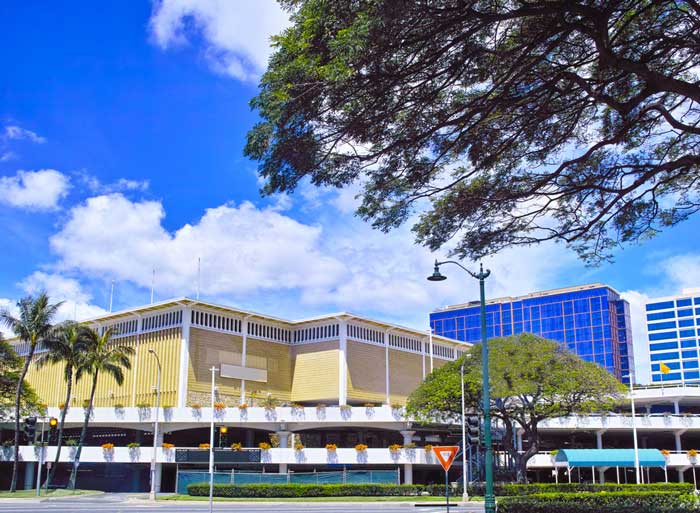 Honolulu has lots of malls, but there is just one Ala Moana Center, one of the best in Hawaii. Ala Moana Center is a four-story shopping complex that stands out as being the biggest open-air shopping center all over the globe.
Walking into the Ala Moana Center has the same feeling as though you walked stepping into an autonomous city. The stucco architecture creates the aura of residential buildings rather than the supposed commercial businesses, with its staircases and sidewalks passing you through the land.
It has got booming businesses there, from cheap kiosks to expensive boutiques. There isn't a thing lacking here. What about the public amphitheater which sees bands come to perform?
You can shop, lounge, drink, eat and groove to nice music without stepping out of the mall.
Consider a visit to the Ala Moana Center if you need to ease yourself of some pocket loads. You could get some nice trinkets to take home as a souvenir.
Address: 1450 Ala Moana Blvd, Honolulu, HI 96814, USA
13. Taste Hawaiian Traditional Meals with Hawaii Food Tours
Sightseeing can be a bit exhaustive in places like Honolulu; thanks to Hawaii Food Tours, you are able to recharge and refuel your appetite while on tour.
Hawaii Food Tours, which was started by a former celebrity chef, takes you on a trip to the best eateries in Honolulu. They provided guided tours throughout the city, but the most popular of them is their "Hole In the Wall" tour, which aims at passing tourists through the beaten path and taking them to a diner and dives only known by locals.
Would you want a juicy pineapple pizza, or would you want to try a bowl of poke? Are you in the mood for a powdered doughnut or homemade ice cream, or do you crave salty crack seeds?
No worries, Hawaii Food Tours will get your belly filled with lovely Hawaii cuisine. Of all, since it's a modest activity, it is just one of the non-touristy things to do in the city of Honolulu. Enjoy originality and amazing tastes!
14. Get Malasada from Leonard's Bakery
Leonard's Bakery is a small establishment nestled between many other businesses in a non-stylish part of Honolulu. It's got a candy-striped awning, which gives it a kind-of-vintage look.
It might not be what you thought it to be at first sight, but you just need some chills to recognize Leonard's Bakery as a local active spot. Here, you can get some great malasadas – fried doughnut engulfed in powdered sugar.
Malasadas are hole-less doughnuts that everyone eats. They've got a cultural significance in Hawaii, with everyone having a favorite filling or flavor. So, if you want to have a native experience of Hawaii, consider Leonard's Bakery.
Hope you don't mind getting some sugar all over your face? Yea, because for you to enjoy this island like a native would, you have to eat what they eat!
Address: 933 Kapahulu Ave, Honolulu, HI 96816, USA
15. Arts & Culture at Kaka'ako
Kaka'ako is recognized as one of the most trendy neighborhoods in Honolulu and is a must-see see for lovers of arts and culture. This environment is so vibrant that young fellows gather for everything from food truck competitions to outdoor concerts.
Kakaako was not always attractive. Historically, it was an industrial ghost town known for auto body shops and empty warehouses. The transformation came when artists began using the bridges and buildings for outdoor murals.
People picked up interest in this neighborhood, with more creative individuals coming on and other businesses quickly following. Currently, Kakaako is a massive different from old Kakaako.
It is beautiful and modern, and you can hardly go some distance without seeing a microbrewery, bistro, or bar.
If you are thinking of where to go for a cup of tea in Honolulu, you have the answer.
Are you considering what to do in Missouri? here is a guide on things to do in Kansas City for a fun time here. Also, check out our guide through Oklahoma City and Ohio.
16. Peak the Fun at Polynesian Cultural Center
Hearing the name "Polynesian Cultural Center" might raise your expectations of a dull, museum-like establishment. But, you'd be absolutely wrong about this Honolulu attraction.
The Polynesian Cultural Center is a lively theme park that has everything from spear throwing to hula dancing. The park is grouped into six villages, which represent the different Polynesian island regions, including Hawaii, Fiji, Samoa, and Tahiti.
There are exciting activities in each village, all coming from its homeland. An instance is the Tonga village, where you paddle down the water in a canoe, with painted drummers giving you a lifetime performance.
In the Samoa village, natives climb coconut trees that are as high as 40-foot with bare feet. The Aotearoa village is known for dances and games with poi balls.
If you are in need of some fun things to do in Honolulu, check out the Polynesian Culture Center. You will not only learn more about Hawaii and its neighboring districts, you will have unique stories to remind you of your Honolulu vacation.
Address: 55-370 Kamehameha Hwy, Laie, HI 96762, USA
17. Shopping can be Fun at Royal Hawaiian Center
Most times, when you plan for a trip, you try to know about a very good spot for shopping.
The Royal Hawaiian Center is not the only shopping complex in Honolulu; we've already talked about the biggest shopping mall in Ala Moana Center
However, the Royal Hawaiian Center is in another world unlike its bigger-than-others counterpart; it concentrates on luxury brands. In fact, it deals with exotic and dear items.
The expensive boutiques, the five-star restaurants, and everything here drip with luxury. You can enjoy your time at the Royal Hawaiian Center without dropping much money
It is a great point of interest in Honolulu not only because of its ultra-modern architecture, layout, design, and environment. You can still go on a cool obsolete window shopping by roaming its corridors, and maybe?
You could find a bobble-head on sale.
Address: 2201 Kalakaua Ave, Honolulu, HI 96815, USA
18. Feel the Vibe of Downtown Honolulu
With its lively streets, downtown Honolulu is recognized as the pulse of Hawaii. This place is so thriving and bustling that you'll find everything from cheap food trucks to luxury resorts.
The sidewalk is the confluence point for people of diverse genders, social classes, ages, and nationalities. It is indeed a crucible in Oahu.
The kind of trip you choose influences your experience in the downtown area of Honolulu. For stylish traveling, you might need Hilton Hawaiian Village, where you can enjoy swimming in infinity pools on either side of golf games and spa sessions.
For kids they could burn some calories at Children's Discovery Center or the Wild Tiki Fun Zone. If you are visiting on a budget, you can enjoy street music, pose for Instagram photos with homemade ice cream with beautiful, locally-painted murals as background.
Downtown Honolulu offers something to everyone and is a must-see during your vacation in Honolulu.
19. Sans Souci Beach Park
For some people, wave-skimming or cliff-diving is not their thing. They rather enjoy a cool, relaxing time at a sunny beach than jetting adrenaline. If you fall in this category, Sans Souci Beach Park is the place for you.
Sans Souci Beach Park has clear shorelines and shallow waters so that you can enjoy the waterfront without a helmet, board, or oxygen tank. The waves here aren't harsh, and the palm trees provide enough shade. It is an amazing place to relax in Honolulu.
If you are searching for a list of the best things to do in Honolulu, consider Sans Souci Beach Park. There are no critical experiences; all it is offers is a wonderfully revitalizing environment for your relaxation on the Hawaii coastline.
There is no need to travel to a distant area like Aruba for the sake of tropical beaches!
Address: 2863 Kalakaua Ave, Honolulu, Oahu, HI 96815-4016, USA
20. Snorkeling at Shark's Cove
Hawaii has got over 1,200 feet of coral reef, so being one of the greatest destinations in the world for scuba diving and snorkeling should not be a surprise. If ever you've wanted to explore the coral with an oxygen tank strapped to yourself, Shark's Cove offers you that opportunity.
Do not mind the sobriquet because there are no sharks at Shark's Cove. This handle stems from the fact that when you view this coastline from above, it has the resemblance of a shark head.
Personally, you can get this view by taking a helicopter tour of Honolulu. But, you will get its best view when underwater. It's between 15 – 45 ft below the surface, giving every diver something to do, not minding the skill level.
The wave of frond with every ripple, the dashing of fish right before your googles, the series of caverns and caves (thanks to previous volcanic eruptions) all make it a worthwhile experience.
One of the best things to do in Honolulu is snorkeling, so do grab these aquatic opportunities which Shark's Cove provides. Get your wetsuit and move!
21. Explore Chinatown Historic District
The "Chinatown Historic District" is widely regarded as one of the four renowned neighborhoods of Honolulu, and it is as well one of the most ancient Chinatowns in all of Hawaii. This district spreads over 10 acres and booms with stalls, shops, and markets that honor the Chinese culture.
If you have an appetite, you just need a few Yuan to relish dishes like lazi ji (stir-fried chicken with chili) and dazhu gansi (tofu soup). You can still get some keepsakes as a reminder of your Honolulu vacation.
Go shopping for some lucky charms.
Chinatown also boasts of some amazing landmarks peculiar to this district alone. An instance is Kuan Yin is a Buddhist temple famed for its green roof and red columns. It is filled with statues, artifacts, and flowers, which gives the interior and beaming vibrance like its exterior.
You just need to see Chinatown Historic District believe more!
22. Experience the Animal Kingdom at Honolulu Zoo
The Honolulu Zoo is home to over 900 species as it exhibits varieties of exotic and rare animals. All kinds of creatures, including giant lions and tree frogs, are here. It is one place the entire family can get closer to or personal feel of nature's critters.
Other cool things to do at the Honolulu Zoo include joining their seasonal camps and attending some special events organized during the holidays.
Tours like the "Twilight Tours" take place after the zoo closes, while the "Snooze at the Zoo" program allows you to sleep overnight at the zoo and then wake up the next morning to a hot breakfast.
A trip to the Honolulu Zoo will keep you in awe of the numerous wildlife of Hawaii. Don't wait any longer; you would not want to miss out on one of the coolest attractions of Honolulu!
Address: 151 Kapahulu Ave, Honolulu, HI 96815, USA
23. Get some Shaved Ice from Wailua Shave Ice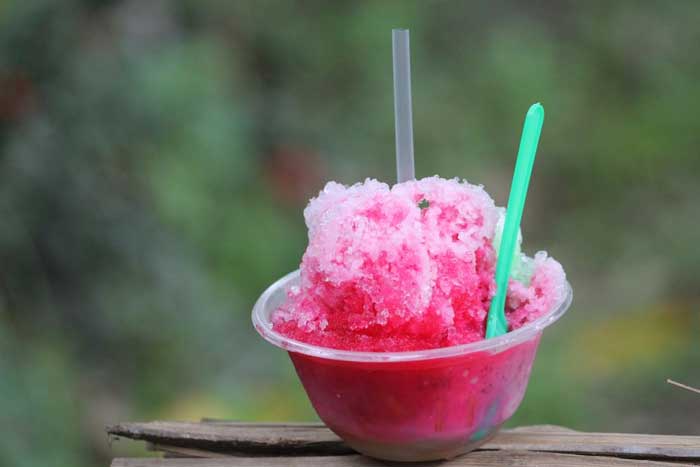 One of those typical Hawaiian snacks spotted on every street corner is shaved ice. It is so loved that locals have taken it up as a form of art. This snack is not only ice with a dump of red syrup on top, it is a unique dessert that blends thousands of flavors, juices, and toppings.
Wailua Shave Ice is regarded as one of the top places to visit in Honolulu because they serve ice desserts with so much creativity. It has in it all the regular flavors like mango, passionfruit, and cheery, but it still mixes it with green tea, chocolate, margarita, haupia, and mochi.
You can also combine flavors if you desire some crazy combination time papaya seeds on top of your watermelon ice and both on top of some salty plum sauce.
If you want something cool to see in Honolulu, then you should consider a visit to Wailua Shave Ice. Even if you decide to go for well-tested flavors, it's usually fun to watch others egg one another by trying a new concept!
Address: 4-1306 Kuhio Hwy, Kapaʻa, HI 96746, USA
24. Pearl Harbor
Amongst the exciting resorts and beaches of Honolulu is a sober shadow called Pearl Harbor. This site was the location of the December 7, 1941 attacks, and it's "a date that lives in infamy" till today.
There are diverse ways one can prove their honor of Pearl Harbor while in Honolulu.
The USS Arizona Memorial is the most popular; this was established over the remnants of the bombed battleship, which recorded the death of over 1,700 lives.
You can also check several other visitor centers and museums around. They all sum up the series of memorials and monuments referred to as the Pearl Harbor Historic Sites.
It's never easy to look back on such a painful history, but you would be happy with yourself if you miss out on Pearl Harbor while you're in Honolulu. It's a wonderful destination to visit, so do relish this opportunity while on the island.
25. Horse Lovers won't Miss Kualoa Ranch
There is a possibility you've seen Kualoa Ranch, even if you haven't been to Hawaii. This ranch has played the set-piece role for almost everything from Hawaii Five-O to Lost, so it is probably a familiar sight of cliffs, fields, and hills.
Its vegetation extends to as much as you can view. You need not roam it on foot too. Kualoa Ranch will allow you to examine its grounds through a number of engaging ways, including a landrover expedition, riding an ATV, and ziplining through the trees.
You can as well go biking, horseback riding, or kayaking if you wish.
Though Kualoa Ranch is about 30 minutes drive away from Honolulu, it is worth the distance and should be on your list of best things to do in Honolulu because technically, it is. If you are mobile, wind down the windows and put your foot in the gas; Kualoa Ranch is not something you should miss.
Address: 49-560 Kamehameha Hwy, Kaneohe, HI 96744, USA
Visiting Florida and wondering what to do? here is a guide on things to do in Tallahassee, things to do in Destin, and fun things to do in Fort Lauderdale for a memorable vacation.
26. What to do in Honolulu for Adventure Seekers: Atlantis Adventures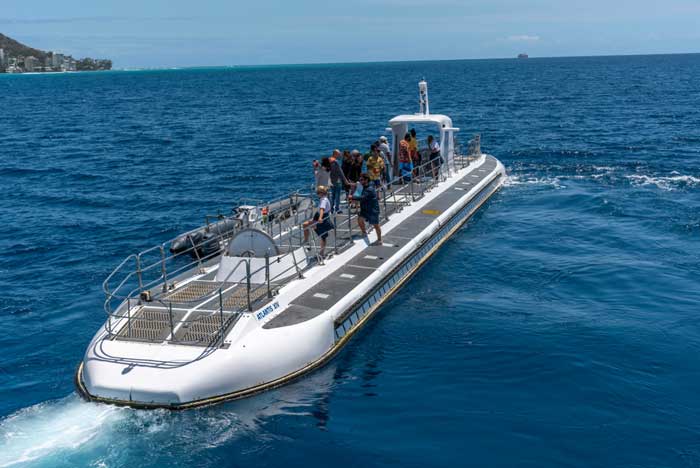 Anyone can roam the streets of Honolulu, but just a handful can say they have views of Honolulu through a submarine's porthole. You have that opportunity in Atlantis Adventures – a tour company that provides underwater submarine trips to visitors of Honolulu.
You would want to test your bravery by climbing into their cruiser and then go deep down the ocean. The 48-seat cruiser, which submerges into the ocean, has eels, fish, stingrays, sharks, coral reefs, and other aquatic friends for company.
You might even spit one or two shipwrecks!
If you are a bit nervous about taking an underwater trip, you can as well join the Atlantis Adventures regular cruise. Both tours (underwater and on-water) have got lots of fun!
Atlantis Adventures would assure you of a great time in Hawaii, irrespective of the trip you choose. That is one reason they are considered as one of the best things to do in Honolulu!
27. Sea Life Park, One of the Must-See Honolulu Attractions
Sea Life Park is situated some miles north of Honolulu and is an amazing place for aquatic adventures. It combines constituents of an aquarium, wildlife sanctuary, zoo, and natural park, such that the results are a lively, cool time for all.
Sea Life Park is full of activities, but its best is dependent on what you seek. Its most famous feature is its "ocean theater," which allows you to watch shows and tricks from penguins, sea lions, and dolphins.
If you wouldn't mind getting soaked, there are areas you can associate with live marine animals. You can wallow right into the feeding pool of the sea turtle, splash with sea lions and swim with dolphins. If you are a lover of land animals, you can stop by the penguin habitat or the bird sanctuary.
Sea Life Park has something for everyone who walks past its gates, not minding age level. It makes our list of top family – fun things to do in Honolulu.
28. See Scary Tides at Halona Blowhole
One of the most terrifying landmarks in Hawaii is the Halona Blowhole.
It is called "blowhole" because beneath the cliffs are violent currents that can drag innocent divers to the sea, coupled with the waves that strike against the boulders.
The water builds up pressure and forces such that it shoots past the rocks like a geyser. However, the Halona Blowhole is very much safe when viewed from afar.
Aside from its beauty, it is a natural fantasy of Hawaii, with many television shows, films, and music videos shot, using the jetting geyser as the background.
Visiting the Halona Blowhole is best in the summer, that is when the tides are stronger. The hot, windy days push the water higher than usual. The winter is a great time too. This is when humpback whales go past the cove in their annual migration. You can as well look out for sea turtles and nesting birds.
Hardly would you find the Halona Blowhole on travel brochures lists, but it still makes the count of top places to visit in Honolulu.
29. Hike the Makapuu Lighthouse Trail
Think about leaving the Honolulu beach to hike close to two hours on a dry and hot trail, where you have low growing cactus and kiawe for company and also fighting against the prevailing gales. This makes little sense until you see the views from the top.
The Makapu'u Point trail makes part of the Kaiwi State Scenic Shoreline, and the moment you get over the usually steep hike, you have the reward of amazing views of the Koko Crater, Koko Head, and O'ahu's coastline.
From where the trail ends at Makapu'u Head, you'll be able to see lesser offshore islands from a distance. These include seabirds wildlife sanctuaries such as tropic birds and frigate birds.
You can as well spot the famous historic 1909 Makapu'u Lighthouse with its corresponding red roof as it standouts against the surrounding deep blue sea. On a clear day, you may be lucky to see Moloka'i and Lana'i.
Also, there is a possibility of you seeing migrating humpback whales between November and May. A hike through this trail makes what to do in Honolulu for a fun time, consider an addition to your bucket list of best things to do in Honolulu.
30. Pictures at Kuhio Beach Park
There is no way you throw a stone in Honolulu without it landing on a beach. It's such a well-known vacation destination that it might be challenging to locate a stretch of sand not booming with joggers, dog walkers, and surfers.
The Kuhio Beach Park is situated off the shores of Honolulu and is known for its tranquil, clear, and relaxed environment. It is one place you can stretch out freely on a beach towel, under the sun, without the fear of getting a volleyball smacked on your head.
Kuhio Beach Park features several local landmarks, including the statues of Duke Kahanamoku, the "Wizard Stones of Kapaemahu" and Prince Kuhio stand, which have great significance in the history of Hawaii.
Some are known for healing, and the former a fantastic spot of photoshoots in Honolulu.
Kuhio Beach Park is an awesome way of enjoying the leisure associated with beach life without having to struggle with tourists for your spot in the sand. Considering all factors, Kuhio Beach Park should be top of your list of best places to spend your vacation in Hawaii.
Address: Kalakaua Ave, Honolulu, Oahu, HI 96815, USA
31. A Memory Trip at USS Missouri Memorial
Battleship Missouri Memorial is historic because it was the last battleship built by America and the last to retire.
As you may know, the Second World War effectively ended when the Japanese succumbed on the Missouri deck. This massive vessel, which is 58,000 tons in weight and 900 feet long, sits in Ford island dock off the Hawaiian island of Oahu.
It guards Pearl Harbor and acts as a subtle reminder about the three wars used in and the American soldiers (about three generations) who fought on board.
You can join other visitors in climbing aboard Missouri while creating General Douglas MacArthur's image dishing commands to the Allied Powers. You will visit the crew's quarters, see the large 16-inch 50-caliber guns or even sit on the captain's chair.
Address: 63 Cowpens St, Honolulu, HI 96818
32. Amongst Top Things to Do in Honolulu: Explore Honolulu Botanical Gardens
In the real sense, the Honolulu Botanical Gardens are a chain of botanical gardens dotted across the city. Each garden has its unique landscape, trees, and flowers to match its geographic biodiversity.
Like the Koko Crater Botanical Garden has a high temperature, desert-like climate because of its location in a volcanic caldera, so you'll see shrubs and cacti here.
The Wahiawa Botanical Garden, located on a high plateau, has mild temperatures; therefore, you'll find colorful flowers and lush greens around.
Others include the Ho'omaluhia Botanical Garden (which lays focus around a lake) and the Liliuokalani Botanical Garden, which contains a waterfall.
Lovers of nature would want to be the Honolulu Botanical Gardens. You can even challenge yourself to visit all of them. That is one cool way of spending your weekend in Hawaii!
Map of The Top Fun Things to Do in Honolulu, Hawaii
Here is a map to aid you to get around the top fun things to do in Honolulu.
California makes one of the top places to visit in the United States, check out guides through Santa Cruz, Irvine, Chino Hills, and Pacifica.
Plan Your Trip To Honolulu
If you've been in thoughts of what you can do in Honolulu, there are a lot. And just as we've seen together, these are some of the main points of interest in this city.
There are so much fun and more places, so don't be limited to what you see here. For everyone (kids, family, loved ones), there is something. So, while making plans of where to spend your vacation, you can do well to include any of them.
Go on, make the most of your vacation by taking a trip to Honolulu. You can craft into whatever you like!