Cromer is a traditional coastal town on the north coast of the English county of Norfolk. It is 116 miles from north-northeast of London, about 23 miles in the north of Norwich county and 4 miles to the east of Sheringham.
Because of its waters, Cromer is famous for its pier and high-quality crabs. But, that is just the least of things to do in Cromer Norfolk.
In Cromer, you will find lifeboat stations, theatres, museums, shops, gardens, landmarks, galleries, and many other attractions.
Some activities would make each day a memorable one and in extension your vacation.
For a fun time here, here are the top things to do in Cromer.
Things to Do in Cromer
1. Felbrigg Hall
One of the best things to do in Cromer, Norfolk is a visit to Felbrigg Hall, this is one of Cromer attractions you should not miss.
Felbrigg Hall is a historic country house in Cromer, going as far back to the 17th century. This gorgeous building has Baroque west wing built in 1680 and a Jacobean East wing a further 1624.
The estate where it is sited is a bit older, it goes back to the Medieval times where the Wyndham family had ownership from the 15th century.
The interior of this house was built in the Georgian style and has a luxuriant and homey feel. There is a motif of a lion and fetterlock which appeals to everything within the house.
You would enjoy this tour which takes you through Drawing Room, Library and Chinese Bedroom, Cabinet Room, the Great Hall which has 15th-century windows fixed. These rooms are decorated with Chinese block-printed wallpaper.
Felbrigg has over 500 acres of woodland as a walk-in, a walled garden an orangery, and some orchards.
2. Hillside Shire Horse Sanctuary
The Hillside Shire Horse Sanctuary is guided by the opinion against factory farming hence it takes in all horses set free from farms.
In 2018, Hillside recorded a population of over 3,000 animals. They included horses, ponies, mules and donkeys and also sheep, goats, alpacas, pigs, and turkeys.
They are all kept securely in stables and paddocks where they are not tampered with.
You can visit here with the kids, they'll love this tour. Would you want to know about any of these animals and how they are cared for? such information is given out.
This makes what to do in Cromer with the kids, Hillside also has a gift shop, a museum, a vegan cafe, and a children's playground.
3. Little Gems
Little Gems is one of the best well-stocked gem shops in England. They are often portrayed by the customers as 'Aladdin's Cave.'
This shop specializes in selling and supplying crystals, gemstones, and fossils. Both in wholesale and retail quantities.
Do you have a kid fascinated by rocks, this is one attraction in Cromer to bring a fun time.
Their crystal and fossils are all handpicked. With some, imported from South America and other parts of Europe. You can purchase gifts such as unusual and unique gifts such as crystal eggs, crystal specimens, crystal jewelry, stone eggs, and more.
If you are interested in geology or crystal healing or just wish to have special natural items then Little Gems covers you.
This makes one of the fun things to do in Cromer, as you will meet the sights of fascinating natural gems.
4. Cromer Boating Lake
This is an attraction in Cromer that has always been featured (since the Victorian times) as an English seaside resort.
The Cromer Boating Lake is found on the north end of Evington Gardens. You will see it across the road looking from the Esplanade on the cliff.
This lake has some beautiful Victorian houses above it and though small, the lake still hires out single & double canoes and pedal boats.
This is one of the unique things to do in Cromer for a family fun time, there is also a café and a terrace where you can be served light dishes.
5. The Albion – Cromer
This is one of the best ways to enjoy the nightlife in Corner.
Situated in Church Street, Cromer, the Albion offers a wide menu, from sandwiches to daily roasts.
Most of the produce eaten and used here is locally sourced. This includes sausages, vegetables, burgers, and crabs.
There is also an extensive selection of beers and wines. You can make your choice of Real Ales too!
This pub is family-friendly and you can also come with your dog. Enjoy the free WiFi, jukebox, pool table, dartboard, quiz, and gaming machines.
6. Cromer Lifeboat Station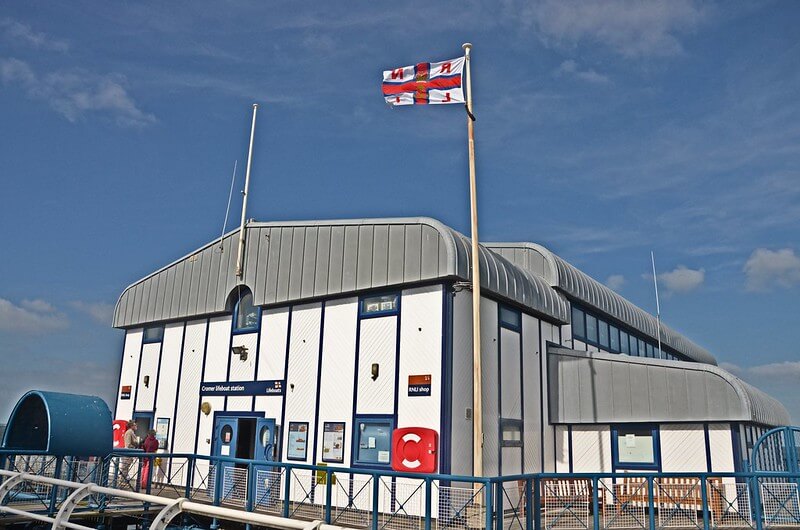 Cromer is home to the waters and Royal National Lifeboat Institution (RNLI) has made a big statement in this town since 1804. This institution has had its lifeboats make bumper 1266 rescues at the time.
You may have heard of Henry Blogg. Henry Blogg is the most popular lifeboatman the institution has ever had. He is from Cromer and there is a museum dedicated to him, just at the seafront east of the pier.
The major lifeboat station in Cromer is also situated on this pier. It was opened in 1923 and had a reconstruction in the late-1990s.
In this station, you will find Lester – a Tamar-class lifeboat. This vessel was built in 2008 and is completely watertight. Even with 60 persons onboard, this lifeboat can right itself within seconds. Flying down its slipway, it also has a record of 12 rescues a year.
It will be more exciting if you visit on the Cromer Lifeboat Day in July. Then, you'll get to see how the Lester is launched, listen to live music, enjoy the lifeguarding demonstrations and check the market stalls.
7. Glide Surf School
One of the top things to do in Cromer is to enjoy some surf time with The Glide Surf School.
Glide Surf School is situated overlooks the North Sea, just to the right of the pier, East Promenade.
They offer diverse top-notch group and private surfing lessons in addition to the water and beach activities and surf lifesaving skills.
Here, you get lessons of high standard to learn, improve or get excited about surfing no matter your level.
I bet you would enjoy the SURF and SUP (Stand Up Paddle Board) lessons here.
8. RNLI Henry Blogg Museum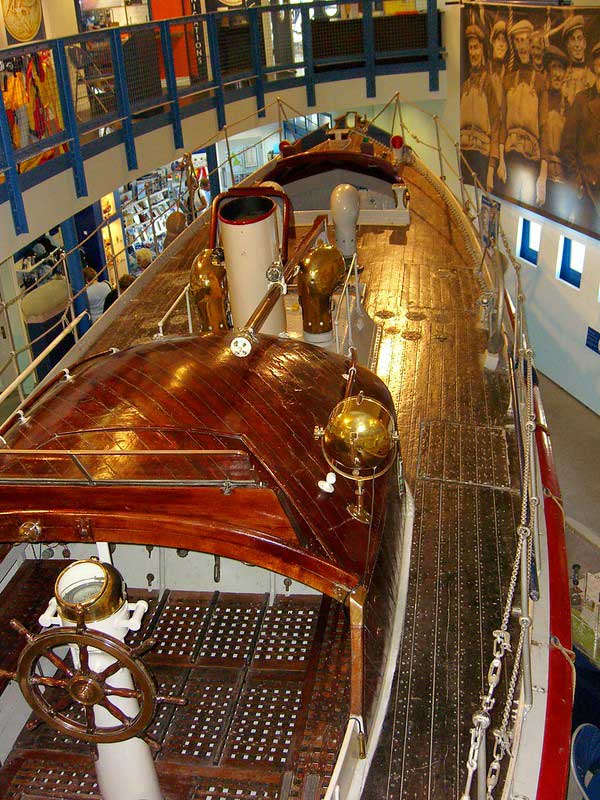 We already introduce Henry Blogg some moments ago, a visit to his museum makes one of the best things to do in Cromer.
The RNLI Henry Blogg Museum is a museum dedicated to the most decorated lifeboatman to have ever graced the Royal National Lifeboat Institution. It is situated in the Rocket House, East Esplanade.
Henry Blogg lived from 1876-1954 and spent 53 years of his life with the RNLI. He made 387 rescues out of which he saved 873 lives.
Blogg had a glittering career, filled with honors. They include Gold and Silver Medals from the RNLI, the George Cross, and a British Empire Medal. All of these are on display at the museum.
This makes what to do in Cromer Norfolk for the museum lovers.
You will also learn the history of lifeboats in Cromer (over 215 years) documented in paintings, archive footage, models, and photographs.
9. Cromer Museum
Another museum you should not miss is the Cromer Museum. Situated just behind the Parish Church, this museum delves into the rich geology and social history of the town.
As part of the museum is a Victorian fisherman's cottage which is skillfully beautified with furniture and utensils.
You can learn about the emergence of Cromer as a seaside recreation spot and the debacle which led to it becoming the first in the entire Britain to permit "mixed bathing".
You would also learn about Cromer shoal chalk beds (the biggest chalk reefs in Europe) and some interesting fossils taken from the area.
What about the bones of the West Runtown Mammoth? This mammoth was the oldest and purest specie of a Steppe Mammoth. It was found in 1990, at the base of the cliffs in West Runtown.
What an intriguing experience you will have, do consider adding to your list of fun things to do in Cromer, Norfolk.
10. Go Crabbing
Cromer is given the nick "crab", Yes, the town is renowned for crabs and all restaurants and eateries have it on their menu.
Cromer has waters and these crustaceans are sufficiently in them especially around Cromer Pier. So, catching them has been one activity taken up by families over one century now.
Crabbing makes one of the fun activities in Cromer, would you want to go crabbing by the side of the pier? Why not! It's free. All you need is a length of line, a bucket of water, and a bait. The trick is you gently lift your line off the water once you notice a pinch.
The motive of the game is not catching the most crabs but the largest. And at the end of the games, it is expected of you to return the crabs into the water (habitat) safely.
11. Amazona Zoo
The Amazona zoo is situated in a little bit secluded parkland. This zoo has more than 200 native animal species of tropical South America.
These animals include the peccaries, tapirs, rheas, spider monkeys, jaguars capuchins, and macaws, also are birds of prey, reptiles, and spiders.
The children are allowed hands-on experience with guinea pigs couple with the fun fact program "Education Yurt" about the geography and wildlife in South America.
Categorically, the under-12s have two play areas: an indoor 'Jungle Tumbles' ground and the other set outside.
12. Cromer Beach
One place you should not fail to visit is the Cromer Beach. This beach is quite extensive in length as it goes on for miles. Characteristically sandy and flat with some fine bands of smooth pebbles
Some beach time at Cromer beach makes one of the fun things to do in Cromer you should consider for your checklist.
This beach is intercepted by a pier which divides it into two: the East Beach and West Beach. They are both very beautiful and offers great swimming experience on a clear sunny day.
From the East beach, you take a view of the Victorian properties in Cromer like the Hotel de Paris. It's so picturesque.
Adding to this beauty are remote stretches of high grass-covered cliffs. This chalk cliffs climb to a height above 60 meters and are located further in the east.
And then in the town, just at the end of the promenade, you will see meet the gangway. Here, you can watch tractors towing crabbing boats on and off the beach.
Would you like to know what to do in Cromer, Norfolk with the whole family? Do visit here Cromer Beach. You will love the crystal clear waters and the tidal dance especially the soft sand exposed by the low tide.
13. Cromer Lighthouse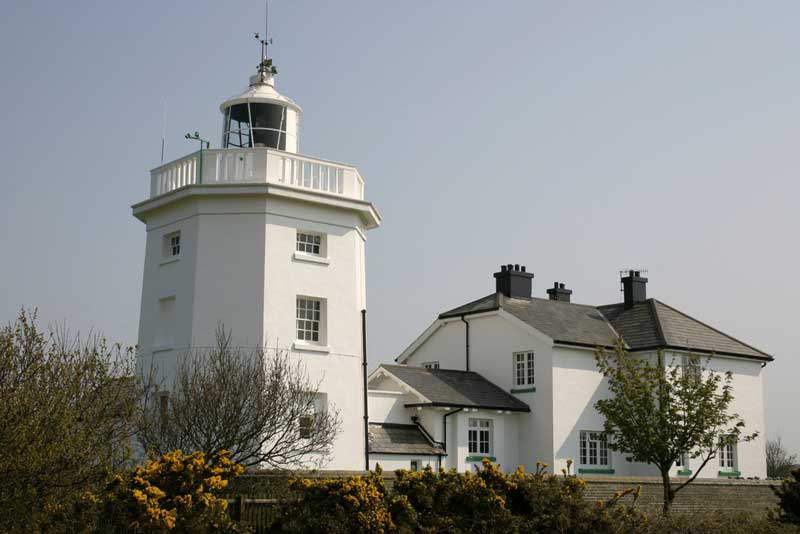 There is a lighthouse at Foulness, the eastern side of Cromer. It is situated on the top of the cliff, the number 3 of the lighthouses and it goes as far back as 1680.
This light reached completion in 1833, a few years before its predecessor (1719) was washed away by cliff erosion.
Upon construction, the distance of the Cromer Lighthouse from the sea was half a mile. Fast forward 200 years, it is now much nearer.
After the automation of the lighthouse, the cottage was made open for holiday accommodation. So, you can get close and have a good look, you are not allowed to enter the lighthouse.
14. The Massage Hut
The Massage Hut is a purpose-built therapy studio. Sitting on the nestled in the grounds of The Grove hotel in Cromer and surrounded a leafy clearing in a serene 'secret garden' spot.
This secluded wooden cabin is surrounded by trees, bringing bird songs and the sounds of the breeze thus creating a calm atmosphere inside.
This cabin has a triple insulation and is also heated. Giving you a cool feel in the summer and a cozy one in the winter. You will love the simple and beautiful decoration. The window blinds and divider curtains also ensure your privacy as you get ready for treatment.
The Massage Hut has a team of qualified therapists at your service. They deliver holistic massage treatments to visitors all through the week.
Visit this place to get a treatment tailored towards reducing stress, relieving aches and pains, or giving a perfect relaxation moment.
Ibiza is a city in Spain which will meet you with an amazing vacation, here is a list of things to do in Ibiza for a fun vacation.
15. Karttrak Cromer
One of the cool Cromer things to do is a fun Karting time at Karttrak Cromer.
Karttrak Cromer is a family-run 500m karting circuit. With operations from Northrepps, this company provides the best possible karting experience to her clients throughout the UK.
Karttrak Cromer was established in the late 1990s and 2017, they came under a new management of the Tritton family.
With over 30 years of experience in motorsport, enthusiasm, and passion, the company has grown in leaps and bounds and also in their services.
You will love their extensive range of exciting events, ranging from practice sessions to exclusive track hire to main Grand Prix events to Stag and Hen packs to Birthday parties to Youth Clubs, race Leagues, and more.
There are karts for all levels and ages beginning from 8. Even specially built karts for the disabled. They are designed with the handlebars bearing the brake and throttle on them instead of the usual pedals and steering wheels. This has proved particularly helpful for persons with mobility issues.
Visit Karttrak Cromer, have some fun on the wheels!
16. St Peter & St Paul
Originating from the 1300s, St Peter and Paul's Church is one place you should visit while in Cromer.
In the 18th century, the church was in an impaired condition was about to be destroyed. However, in the late 1800s, Arthur Blomfield (an architect) completely restored this church to a nice state.
We might not be interested in the history of this church but I'm sure you'll be wowed by the stained glass, the wooden ceiling, and the heights of the arcades in this place.
The artistic designs will also impress you. You will see the modern Post-War designs devoted to the crews of Cromer's lifeboat and the Gothic-style imagery.
Would you love to admire historic architecture during your visit to Cromer, do not miss this unique spot amongst many Cromer attractions.
Feel free to reach the top of the tower through the stairs. I hope you aren't scared of heights because it is the highest in all parish churches in Norfolk.
Go have a view of Cromer's rooftops, North Norfolk countryside, and in extension, the coast.
17. Brisbane Antiques
Located in the town center, Brisbane Antiques is a shop where you can purchase antique items. They are a family run business and has been in business for 15 years.
Purchase your fine jewelry, glass, metals, and any object of value. They even operate a "Wish List" service, so you can also order them to search for items of your choice if they don't have them in stock.
They also run jewelry repair services and even buy unwanted times like gold, silver, coins, and jewelry.
18. Golfing
Would you love to add a round of golf to your holiday activities? If yes, you are pretty lucky to be in Cromer. This town has got one of the best cliff-top courses in England.
There is the Royal Cromer Golf Club which entertains visitors all day in a week. Though you may need to select your tee time early enough.
Fees for the Greens are mild. Even at the highest point of the summer, they are placed at £40 per individual, maximum.
Royal Cromer has all distinguished characteristics you would think of in a coastal course. Having bracken and furze rough, grass decked valleys, sandhills, and distance views of the North Sea.
Now, Here is a bonus. You are offered a 10% discount on the original price for playing 18 holes for lodging at a local hotel. An exciting one, isn't it?
One of the best things to do in Cromer is to enjoy golfing at one of Cromer golf centers, this is a perfect addition to your checklist.
19. The Garden House Gallery and Shop
The Garden House Gallery and Shop is located in the famous Garden Street. This place, which used to be a fisherman's cottage, is built with old brick and is flint-listed.
For art lovers, this Cromer attraction spot should not be missed during a visit.
The gallery is quite spacious (doesn't look it though) with its facade hiding at least six rooms. These rooms house a blend of gifts and artwork.
On display are artwork and handicrafts made by locals artists. They are showcased with a heterogeneous mix of home and garden accessories and gift sourced around the UK and further away.
You will love the jewelry, art, sculpture, and gifts. One thing is you'll never see are the same displays because more products are sourced and new artists brought to continue the evolution.
Do check up their good works while in Cromer.
20. Cromer Pier
The Cromer Pier was opened in 1901, it is highly recognized as one of the showpieces in the Cromer resort. In 2015, the pier won the "Pier of the Year" award from the National Piers Society.
If you would want to admire the beauty of the sea, this is one of Cromer attractions you should not miss.
This pier, a feature of the Cromer's seafront is loved massively by locals and visitors. Having come through a series of repairs and refurbishment these few years, it is unarguably one of Comer attractions.
There is also a Pavilion Theatre there. It is still traced to 1901 as well though there was a rebuild after a storm in the 1950s.
This theatre stages variety shows, concerts, comedians, touring tribute act and has had cultural figures feature in talks. Popular broadcaster (and former politician), Michael Portillo was here in 2018.
There is a café at the landward end where you can have coffee, tea or even take a light meal. The seats here are sheltered from the wind. So, relax and watch the events unroll.
This makes what to do in Cromer for a fun time, do consider and add to your checklist of things to do in Cromer for a fun time.
21. North Lodge Park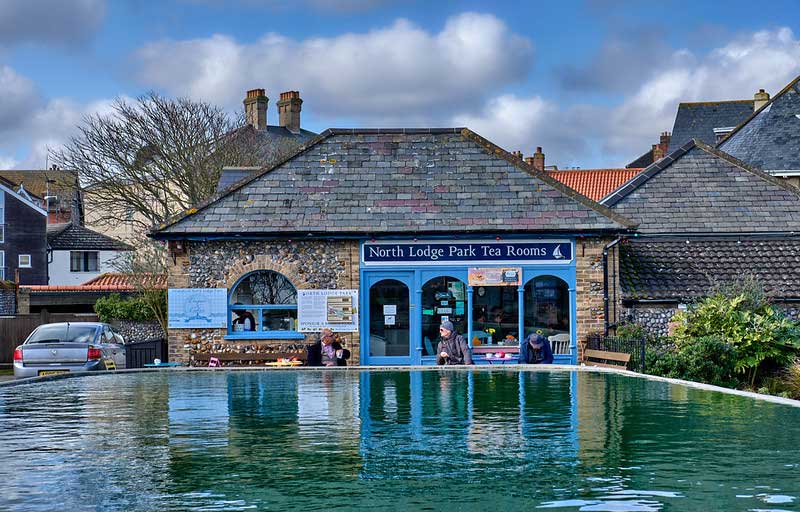 One of the best things to do in Cromer is a visit to North Lodge Park.
The North Lodge Park is a serene place to enjoy the sun and the sea breeze. Located on a clifftop, you can see the Parish Church tower and even the Cromer Pier from here.
There is a putting green, a pond with model yachts, and a bowls green. There is a corner mapped out for your kids.
Other attractions include a small tearoom where you can be served a variety of coffees, crépes, and tea. They are highly recommended for this service.
Sometimes, amazing theatre shows are organized by the park, often in the Summer. The Children watch likes of Treasure Island while Adults see works on Shakespeare, Do check out for this.
22. Beacon Hill
Located some distance away from Cromer, Beacon Hill is one place you should visit during your vacation. It takes only 6 minutes to get to West Run town from Cromer by train and this would mark the beginning of an awesome 2.5-mile walk.
Norfolk is generally known as being a low-lying area, but this path has some lively inclines, like the Beacon Hill, standing at 103 meters (the highest in the county).
This trail is managed by the National Trust and is a revitalizing way of getting past some hours. You will pass through meadows, beech woodland, and some mature oaks.
The West Runtown Circular walk personally will keep or aid your fitness level. You can go through the Norfolk Coast Path and arrive back to Cromer on foot if you aren't exhausted.
23. Pavilion Theatre
The Pavilion Theatre is situated on the Cromer pier. Created in 1901, this place used to be a bandstand originally but in 1905 it got converted to an enclosed pavilion.
Popular known for its one-of-a-kind 'End of the Pier' show, where the audience gets by a string of traditional variety performers. The show runs for three months during the summer.
This Theatre has about 450 seats thereby giving one an intimate experience and keeps drawing quality performers who always long to return to the stage.
Cromer Pier Pavilion Theatre also shows a top-notch mix of music, comedy, musicals, community shows, dance, and opera.
Some of the names to have featured here include Pam Ayres, Julian Lloyd Webber, Michael Portillo, Sooty, The Manfreds, Jim Davidson, Lyn Paul, Pasha Kovalev, Roy Chubby Brown, and many others.
Your vacation in Cromer would be a more memorable one at Pavilion Theatre.
Would you like to explore other parts of England during your visit? do check out our list of things to do in Basildon and things to do in Amersham for a fun time.
Plan a Trip to Cromer
Were you in thoughts of where to spend your vacation? Cromer is indeed an amazing place to visit.
I'm pretty sure you've had a great tour through this list of Cromer attractions, now its time to do the real deal.
Start making plans for your trip to Cromer, do well to prepare ahead of time as you get ready for a fun exploration in this friendly and accommodating town in England.