Ibiza which is located at Spain has a well deserved reputation of being the most famous party Island in Spain, and probably the world as a whole.
This island has been at the most advanced when it comes to recreational scenes, partying and clubbing for more than 25 years now, It's recreation center, clubs and bars are legendary and is frequently visited by tourists.
There are lots of things to do in Ibiza all of which are fun-filled. You may decide to visit this island to relax at its beach or be part of the parties held at the beach.
You may also come visiting just to explore its natural landscape or have a taste of their delicious fresh seafood paired with wine. Regardless of which, there is something fun for you to do in Ibiza
To help you plan your trip to this Island, below are the best things to do in Ibiza.
Things to Do in Ibiza
1. Explore Dalt Vila
During your stay in Ibiza, you can visit the famous Ibiza's historic quarters which is located at the Old Town.
This historic quarters is called The Fortified Old Town of Dalt Vila, It is an interesting section of the town and is recognized by UNESCO as a World Heritage site. A visit to this place is one of the best things to do in Ibiza.
Dalt Vila was built in the 1500s by the Spanish Emperor Charles V who constructed this impressive site as a fortification worthy of the Renaissance Era.
Charles V built the walls of the island's major town to ward off attacks from the neighboring French Forces and the Berber Pirates.
Among the many things to do here, taking a short tour around this fortification is fun and best be on your list of things to do.
Things you will find as you explore the fortification includes the seven individual bastions, each of these bastions tells a story different from that of the other. For instance, there is the Santa Lucia bastion which contains the 1700's era powder magazine.
Apart from the bastions, you will get to enjoy fascinating views of the harbor and the Old fishing quarters as you enter the Dalt Vila that is after you have passed through the gate of the fortification
Some of the things you will get to see inside the main Vila includes shimmering whitewashed structures, enormous cacti, and beautiful flowers.
Come along with a camera, cause you will wish to take a picture of the perfect scenery here and it will help you to have a long lasting memory of your Tour.
2. Es Vedra Island
Es Vedra Island is a beautiful small rocky island off the south western seaboard of the Spanish island of Ibiza which is uninhabited, you can get to this Island from Ibiza Town and also through San Antonio by boat.
Some of the fun things you could do on the Island, especially if you are visiting under a water sports company includes snorkeling and jet skiing.
Es Vedra Island has a mystical air about it which will make you feel that you are in another world. The monolithic limestone slab that has a height of more than 1,250 feet which can be found in this Island must be a contributing factor.
Don't forget to come with your camera, for you will find lots of wildlife like lizards, falcons and goats, along with incredible landscapes to document.
3. The Ibiza Cathedral
Ibiza Cathedral
is located in Ibiza's Old Town, The Old Town contains lots of sites which are interesting, It also has a maze of alleys that will take you more than a day to explore.
Some of the attractions you will find in the Old Town include galleries, boutiques, local shops, bakeries, and so on. You will also find some historic squares like the Plaza de la Vila and the Plaza de Sa Carrosa in this area.
As beautiful as all these places are, they all pale when you compare them with the Ibiza Cathedral.
Ibiza Cathedral itself is situated at the highest part of the old city. This cathedral occupies a good outlook spot that allows you to see the beautiful waters in this part of the Island.
Inside the walls of the cathedral, you will find ancient Gothic silver monstrance and gold interiors.
Some of the things you will find in this cathedral dates back to 1399, an example is the Gothic style panels painting which are from the 1300s and the 1400s.
4. Go on a Food Tour
Ibiza has some of the best local dishes in the world. One of these local dishes is called Sobrasada which is loved by most cities in Spain, it's a dish you will enjoy.
The dish Sobrasada is a pork delicacy which is more like a cured sausage consisting of ground-up soft pork and seasoned using paprika, Sobrasada originated from Ibiza.
Another local dish you should try out in the restaurants around town is Bullit de peix which is a wonderful fish stew, you will find this one in almost all the restaurants in the city.
Bullit de peix is prepared with potatoes and grouper along with shrimp and lobster, the stew normally goes with Aioli.
5. Cala D'Hort
Cala D'Hort is not just another beach in Ibiza there is more to it, you will find it in front of the magical Es Vedra.
It is believed by the locals in Ibiza that once you make a wish while standing on this beach and looking off to Es Vedra, your wish will come true.
The legend seems to be true, for years you will find people trooping into this beach for this very reason.
If you do not believe in this legend, you can just visit Cala D'Hort to enjoy and also get inspired by the magical views of the area.
You can relax as you take in the beautiful view which emerges when the sun sets on this gorgeous beach.
6. Water Sports in Ibiza
The sea at Ibiza is perfect for water sports and other fun activities.
Since each of the principal resort beaches in Ibiza has its center for water sports, nothing should stop you from engaging in a fun activity while you are here.
Some of the fun activities you can engage in include jet skis, water skiing, kayaking, paddling, and so many others.
In case you don't plan to enjoy this water sports under a water sports company, with your sailing experience you can charter a yacht at Ibiza Town and go on a solo sail.
If you do not have sailing experience there are sailors on the Island who will be glad to take you to any coastal place in Ibiza on their boat.
7. San Antonio
San Antonio is the second biggest town located on the Ibiza Island, In this place you will find beautiful beaches.
Apart from its beaches, Ibiza has been known even far back as the 1980s and 1990s as the very center where the best beach night parties hold.
If what you are seeking to have some fun at night, then I suggest you come to San Antonio.
Other things to do in San Antonio beaches aside parties include strolling with a loved one, swimming, kayaking, and so on.
While you take a stroll about the beaches you will stumble on the egg statue dedicated to Christopher Columbus.
Although all the beaches are not situated in the same area, you can get on a bus in town to whichever you wish to visit.
8. Aquarium Cap Blanc
One of the best things to do in Ibiza is to visit Cap Blanc. Cap Blanc is the most unique aquarium that you can see in the region.
You will find Cap Blanc just a few minutes away from San Antonio inside a sea cave which was once an area where the locally based fishermen do place their lobster traps.
If you are looking for something you and your household can do on a vacation, a visit to this aquarium is what you are looking for.
When in the aquarium, you will get to see amazing marine life like rays, morays, conger, and grouper.
Apart from being a home to marine life, this aquarium also serves as a place where injured sea turtles are taken care of till they recuperate.
9. Horse Riding in Ibiza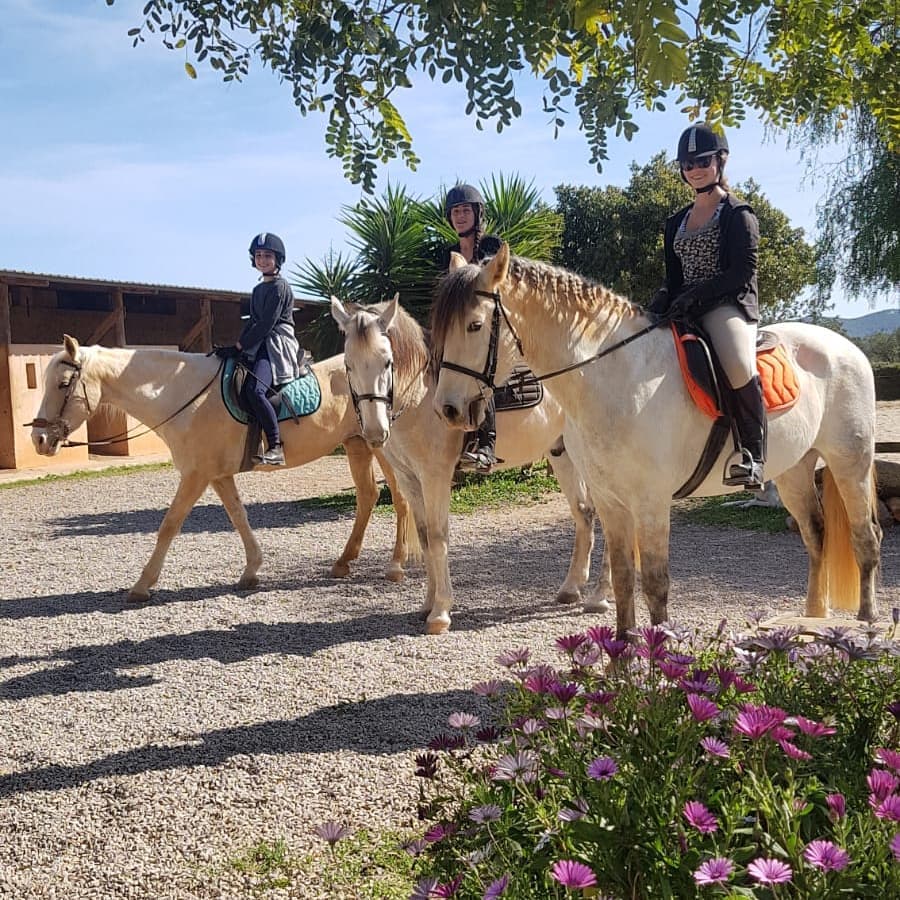 Ibiza offers activities that the whole family would love. Most of these attractions are not so flashy but they are nature-based.
Instead of the family going to carnivals and water parks, they could explore the Horse Valley which is located just outside of Ibiza Town.
At Horse Valley, you will find ponies and horses which can be rented for a variety of excursions around the island's rugged northern area.
If you or your kids prefer go-karts, you will find them in places like Santa Eulalia and San Antonio. You can ride them along the go-kart tracks in Ibiza.
10. Formentera
Formentera is a little Island situated outside Ibiza. Since you are in the region, you may as well visit here, you will find it at the South Coast of Ibiza Island.
Formentera is a place of beauty, it is different from every other part of the region.
A tour in Formentera should begin with its beautiful beaches like Calo des Mort and Playa de Ses Illetes which appear to be tropical. The sand at Calo des Mort and Playa de Ses Illetes are sugar white while it's waters have a turquoise appearance.
Apart from the beaches, you will be impressed by the interior of the Island.
Consider renting a bike and then riding through the little tracks which leads through the tiny hamlets in this Island.
11. Beaches of the Northeast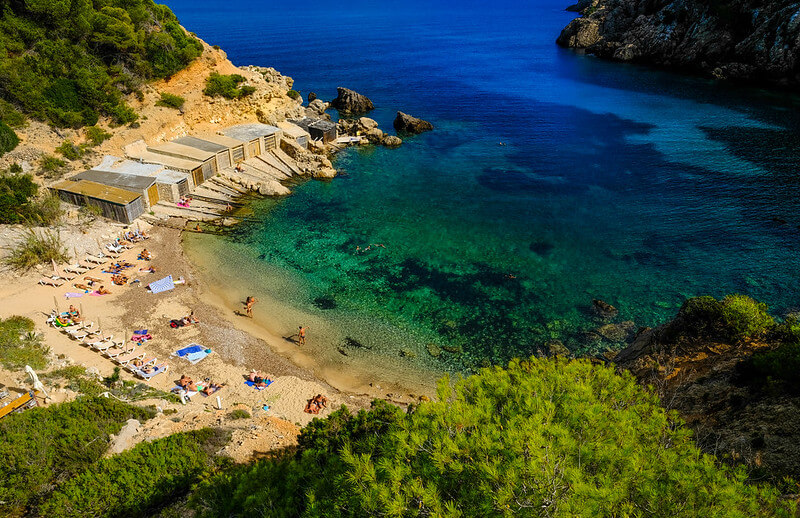 In the northeast of Ibiza, you will find a line of beaches which are situated very far from the noisy town.
If you are seeking a place to meditate when you are in Ibiza, then try visiting the very quiet beaches found in this part of the Island.
The visit takes only an afternoon, you may decide to go from one of these beaches to the next. It's best to begin the tour from Playa Cala Xarraca. There you can get a sunbath on the stone pier.
Also, move up to Playa de La Cueva (De Portinatx) which is a rocky beach, let your final destination be the blissful Sandy stretches of Cala D'En Serra.
12. Cafe Der Mar
Cafe Der Ma is an institution that you should not fail to visit while in Ibiza. You will find this famed sunset bar which has been around since 1980 on a beach in San Antonio.
Cafe Der Ma is a great place to relax and have a nice drink. The bar is visited by both the locals and tourists who come to watch the sunset from here and most times it is filled up. If you wish to get a sit you have to arrive early.
Add a visit to this place on your list of things to do in Ibiza.
13. Playa d'en Bossa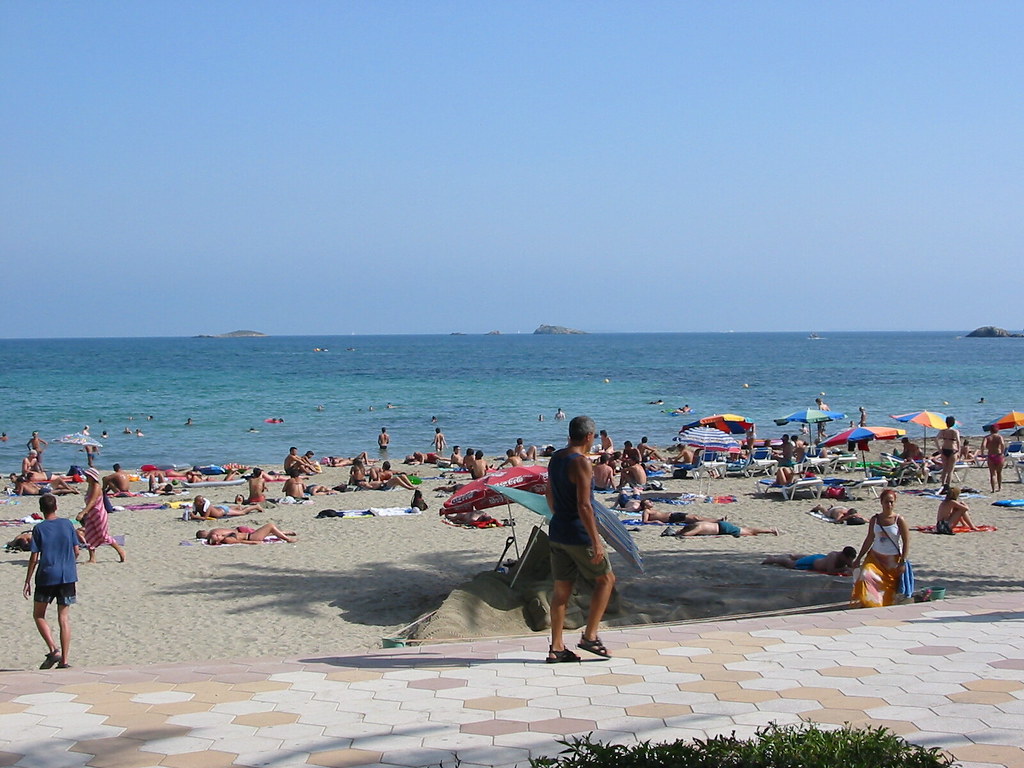 One of the primary resorts you should not miss while in Ibiza is the Playa d'en Bossa. It is situated close to the island's longest beach.
Playa d'en Bossa is a paradise which filled with both the young and the Old during the summer.
You will definitely find lots of 'previous night's party partakers here trying to sleep or sleeping already to rest for the next night party. This is because parties hold almost every night at the beach front close to it.
If you get hungry while you are in the beach resort there are many choices of places where you can eat food, if you don't wish to eat there you can buy takeaway food and enjoy it along the beach.
Apart from partying and eating there are other fun things to do in Playa d'en Bossa during the day which includes boat racing and skiing. You can rent skis and boats at the rental shops along the beach.
If you wish to stay overnight then go partying in any of the two largest nightclubs in Ibiza which are the inSpace and the Ushuaia for they are both within Playa d'en Bossa.
14. Talamanca Beach
Talamanca Beach is one of the largest beach located in this Island. The beach is frequently visited by both locals and the visitors of the Island, this must be because the beach is situated just minutes away from the marina.
When you get to the beach, you will find a snow white-colored sand one of the finest you have seen, the sand here is peculiar to this place alone.
You will love the scenery of the Talamanca Beach because its surroundings consist of hills which are covered in pines, from the beach you will be able to see the little holiday complex which is at Cap Martinet.
If you plan on coming on a vacation to this place with your kids, this family friendly beach is a nice place to spend time with them.
Other fun things to do while you on the beach include checking out the food stalls around the beach known for their culinary prowess, you may try out some of the local Balearic specialties such as the seafood stew called Bullit de peix.
Set out a day or half a day to spend on this beach for it is one of the best things to do in Ibiza, Spain.
15. Punta d'es Moscarter
If you are looking for an excellent place to trek or hike, Punta d'es Moscarter is the best place to do that.
The northern part of this Island boasts of forests of pine trees, farms, and a spectacular coastline that is sprinkled with deep coves normally used by the holiday communities.
To enjoy all these scenes, it is best if you put on the best walking shoes you got and hike through the trail which runs along the cliff even to the top.
The trail you will most likely explore here starts from the Portinatx and runs to the lighthouse, so be prepared for it.
At the end of the trail, take out time to explore the lighthouse which was built in the year 1970.
You can't miss it for it is 150 feet high and also the highest structure in all of Ibiza which was built by a man.
While returning, do well to take pictures of the juniper and pine forest. This is what makes things to do in Ibiza adventure for tourist.
16. Santa Eulalia
Santa Eulalia is the best family resort to stay if you plan to visit Ibiza with your family.
Santa Eulalia is located about 10 miles to the northeast of Ibiza Town.
Truly one of the best things to do with your family in Ibiza is visiting Santa Eulalia, what makes it the best option for a family vacation is the fact that it is both peaceful and quiet.
At the seafront in the resort you will find a glorious golden beach of sand you may decide to host a picnic with your loved ones in this place.
If you don't want to host a picnic, you can eat in any of the several restaurants in the area.
Other fun things to do in this resort aside relaxing and picnicking include exploring the scenic promenade which runs behind the beach.
This area of the resort is partially shaded by Palm tree fronds and charmingly decorated using lamp posts.
Santa Eulalia also has a golf course, you are free to play in this course.
Check out also the hill of Puig de Missa which is very close to the resort. At top of this hill, you will find an old charming church.
17. Scuba Dive in Ibiza
Since Ibiza has incredibly clear water and lots of caves and drop-offs beneath the water, it is not surprising that scuba diving is one of the most engaged sports in the city.
If you don't know how to scuba dive, you can enroll in one of the 17 scuba diving schools which are in Ibiza.
These classes are tailored to suit families and first-time divers. As you enroll, you will be assigned an instructor who will pay attention to you and also make sure that you become a professional in scuba diving.
After that, you will be given a guided tour of the reefs by a divemaster while in the water, you will get to see beautiful schools of fish, octopus and dolphins. Let scuba diving be on your list of things to do in Ibiza, Spain.
18. Cala Comte
Cala Comte is the best-kept beach secret in Ibiza, it is one of Ibiza points of interest.
Regarded as one of the finest beaches on Ibiza, Cala Comte can be found lying very close to San Antonio. There are lots of buses and ferries which can take you from any part of the Island you are to this beach.
Cala Comte beach is about 2,500 feet long, the beach has an amazing view of nature blessed it with beauty, you shouldn't miss visiting this place while you are in Ibiza.
As you explore this beautiful beach, you will notice a wedge-shaped island which lies offshore, this little island has little colored pools that look like lagoons, the view is quite beautiful, do take a picture for the memory.
When done exploring the beach, visit one of the bars around the area for some cool drink.
19. Spas in Ibiza
https://www.youtube.com/watch?v=PwtCU3yFDZ0
Apart from being known as the center of nightlife and parties, Ibiza has a reputation for having some of the best spas in the world. The number of spas in the city equals it's party clubs and music dance scenes.
Some of these spas are situated within places like hotels and apartment complexes you will also find some of them in clubs.
One of the best spas in the city is the Atzaro Spa, It is a part of a peaceful agritourism compound which is enclosed by citrus and olive groves, this lovely spa can be found in the countryside of Ibiza.
When you get to this spa, you will be asked to select from the range of incredible treatments and activities. The spa also features a yoga class, a cutting edge gym, and a 130-foot long pool.
Some of the treatment options which you can select from include mani-pedis, peels, facials, and a range of different massages.
20. Benirras Beach
Every Sunday night, there is an unusual drumming ceremony which is held at the Berrinas Beach, if you plan on staying in Ibiza on a Sunday evening you are free to join in this ceremony.
The Berrinas Beach venue for this ceremony can be located in the northern part of the Island, this area experiences sunsets that are remarkable.
During the ceremony, you will get to dance but if you don't wish to you can just sit and watch the upbeat hippie drumming ritual.
21. Elrow at Amnesia
Elrow at Amnesia is known as the king club of all night clubs, it should be on your list of fun things to do in Ibiza, Spain.
This club is the place to go if you are looking for what to do in Ibiza at night.
Elrow at Amnesia is famous for its Sunday night events in which the craziest parties on earth are held.
Some of the party related things you will find in this club includes costumes, confetti, trapeze, inflatables, and so on.
Don't forget to wear your dancing shoes when coming to this club, you will not be able to resist dancing to the songs played by the DJs.
22. Ibiza Festivals
Ibiza host some of the world's most colorful festivals within the year. If you wish to attend any of these memorable events to make your trip to Ibiza memorable, all you need to do is to plan your visit to coincide with one of these festivals.
Among these festivals, two should not plan to miss during your vacation is the Festa de Nostra Sayonra (de la Victoria) and Festa de Maig Festivals.
Festa de Maig is the spring flower festival which is held on the first Sunday of May. The venue of this festival is Santa Eulalia, this festival is one of the most colorful festivals in all the Balearics.
The Festa de Nostra Sayonra (de la Victoria) occurs also in May but actually on the second Sunday, this festival is held at Port de Soller and Mallorca.
During this festival, you will be thrilled by the reenactment of the impressive battles which took place between the Island and the Turkish pirates back in 1561.
23. Ibiza Medieval Fair
Ibiza Medieval Fair is attended by more than 100,000 visitors and locals every year, this makes what to do in Ibiza, Spain for festival lovers.
The visitors of this fair comes from all parts of the globe to enjoy all the fair has to offer.
Ibiza Medieval is held for three days at the Old Town Dalt Vila. During the fair, Dalt Vila is turned into a huge open street theatre.
The reason for the festival is to celebrate the rich Medieval history of the Island and the anniversary of Dalt Vila as a UNESCO World Heritage Center.
Some of the things you will get to watch in the Fair includes dance shows, musical shows, and singing performances of street theatre which are being showcased in every alley.
You will also get to see fantastic exhibitions by chocolate makers, silver jewelers, handcraft artists and so on, you too can be a part of this great festival.
24. Hippy Market
Hippy Market which covers more than 300 feet space takes place in Ibiza between May to October every year, it is a market which Ibiza boasts about.
In this market, you will find more than thirty different craft stalls which sell exhibit, There are also bars, cafes, and restaurants in this market.
If you wish to visit this market, you will find it overlooking the walls of the historic Old Town Dalt Vila and Playa D'en Bossa.
Check out the craft stores, you will find things like bags, costume, jewelry, ceramics, and other decorative items that will interest you.
25. Marina De Ibiza
The great reputation of Ibiza began in this very place. The Marina De Ibiza area is made up of two neighborhoods, these neighborhoods are in the Port and La Marina.
When other places in Ibiza were not fully developed, Marina De Ibiza was where visitors to this great Island come.
Till today, you can still see the beautiful narrow streets that mark Marina De Ibiza, some of these streets have white-washed houses with time-worn roofs in front of them, you might perceive the smell of salt petre and smoke from the chimneys in the area.
If you wish to know how Ibiza became a den of fun, let this place be one of the top places on your list of things to do in Ibiza.
When you are done exploring this colorful district, you can as well catch a boat to other sides of the Ibiza Town.
26. Seafood in Ibiza
Situated in a place surrounded by water bodies, it is expected that this Island should have restaurants to serve some of the best seafood in the world.
If you wish to try out some of the freshest seafood in Ibiza, you should head down to the end of Talamanca Beach.
Though the restaurants situated in this area doesn't look so classy like the Fish Shack which consists of tables, plastic chairs, and umbrellas, the fact remains that they make the best seafood in town.
When you get there, the waiters will get you to choose between a list of various fishes caught that day which you want them to prepare for you.
Fish Shack serves their seafood along with potatoes. All meals sold here are both delicious and affordable.
27. Paloma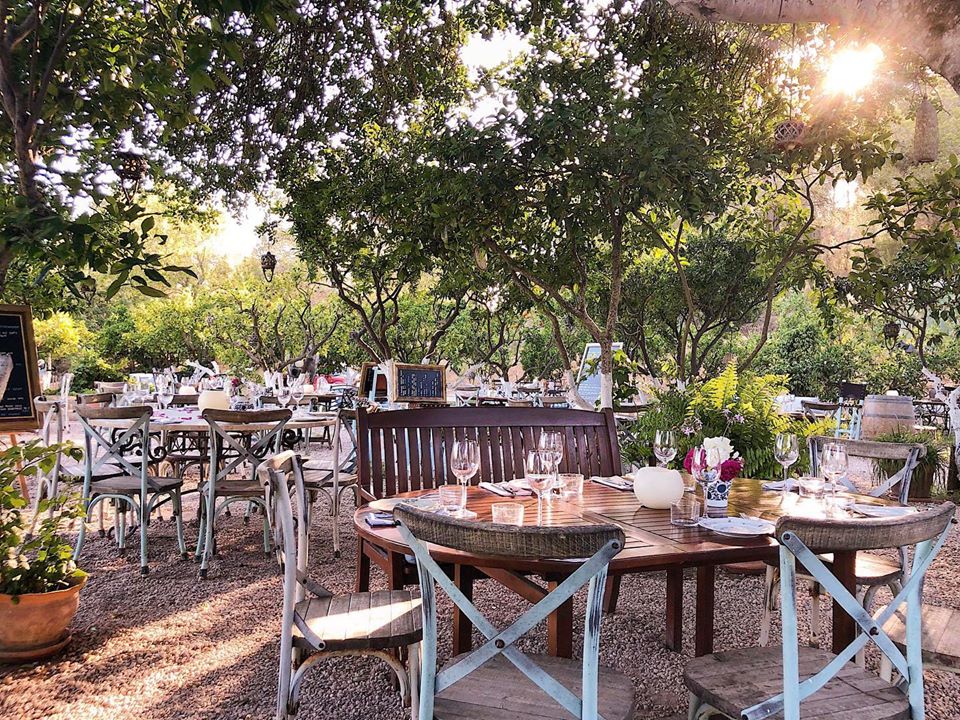 Paloma a restaurant hidden in the interior of Ibiza, it features homemade Mediterranean dishes that are made using locally source produced and ingredients.
Paloma has an outdoor dining space, which allows her customers to enjoy their delicious meals beneath the stars in the evenings.
Don't be surprised if you see one or two celebrities who are on a vacation to Ibiza eating here.
The restaurant also had an extensive wine collection which you can choose from while enjoying your homemade Mediterranean dishes.
28. Cala Salada
One of the clear 'water beaches' in Ibiza is the Cala Salada, it is located within a distance close to San Antonio, at about 10 minutes drive.
Apart from being a clearwater beach, it is also a rocky one, therefore wear good walking shoes while coming.
Some of the fun things you can do while you are in Cala Salada include skiing, swimming, paddling, snorkeling, kayaking, and so on.
29. Pikes Hotels
Pikes Hotel has been given the title the home of hedonism by the residents of Ibiza.
This is a luxurious hotel, at its compound you will find a pool, a restaurant, and several other bars. All these features contributed to the reason it was given a ridiculous title.
Pikes Hotel is situated in a stone mansion built in the 1400s. When you get to Ibiza, the locals will surely tell you lots of amazing tales about the hotel.
One of them is that of Freddie Mercury who threw many notorious parties here back in the days.
You will also hear about how the hotel was used by the party band Wham! to shoot their music video "Club Tropicana".
Plan to stay on one of its famous 29 rooms, or be part of one of the parties held at its pool.
30. Sant Joan Craft Market
Sant Joan Craft Market is a market in Ibiza. This market takes place every Sunday all year long, it opens at 10am and closes around 4 p.m.
Some of the items sold in this craft market are produced locally, while others are gotten from around the globe.
If you are looking for a place in Ibiza where you can pick up nice souvenirs which will save the memory of your trip to Ibiza, this market has it all.
Things you can purchase from this market include wood carvings, jewelry, leathers, and so on.
You will also find organic items like vegetables, fruits, honey, and so on, all of which were produces locally.
Sant Joan Craft Market is situated at Sant Joan de Labritja
31. Sa Talaia
When you get filled with clubbing and dancing in Ibiza, you may wish to stretch your leg and also get some fresh air exploring this area.
If you wish to engage in this activity, I would recommend you take a hike to the tallest natural point in Ibiza called Sa Talaia.
Sa Talaia is located in Sant Josep, it is an easy uphill covering about 2.4km walk.
To begin this hike, get to Sant Josep, walk up a Street which bears the same name as the hill till you get to the area with vegetations on each side of the road.
As you walk through this path, you will spot one or two Jineta ( a cat/ferret-like creature which is native to the Balearic Islands) resting on nearby trees.
Not too far off, you will see Sa Talaia, hike up to the top, from the top of Sa Talaia, you will get to see a wonderful view of the whole Island.
32. Cliff Jumping at Cala Tarida
Cliff Jumping is one of the fun activities visitors to Ibiza engage in. A worthy addition to your checklist of things to do in Ibiza, Spain.
There are some great spots in Ibiza where one can engage in Cliff jumping, the best spot is Cala Tarida.
Cala Tarida is a white sand beach. It is situated at a distance 20 minutes drive from San Antonio.
Here you will find lots of rock formations which are great for Cliff jumping.
The rocks here are not too high, this and the fact that the Mediterranean water is cool makes cliff jumping in this place so much fun.
Plan Your Trip to Ibiza
Ibiza is more of a place of fun than a place of historical importance. An Island filled with so much nightlife, it's a wonder why wasn't it dubbed the title "The city that never sleeps"?.
This island answers to all dreams and fantasies of a tourist and luckily, that's all that is required when choosing where to go for a vacation.