Cortez, Colorado, is an elegant town and the county seat of Montezuma County, Colorado, United States, with many lovely site attractions.
The city's name comes from the Spanish conquistador Hernán Cortés. Cortez, Colorado, is the way to go if you plan on having a fun trip with friends and family.
‌Being a self-governed town with a population reaching about 8766 as of 2020, Cortez, CO is recognized as the highest populated municipality in the county. The town is one of Southwest Colorado's largest towns.
There are many rejuvenating things in Cortez, CO, as this town features education, rich culture, outdoor activities, and utopic sightseeing spots.
One feature that makes the town famous is its archeological structures, such as the Mesa Verde National Park, the Anasazi Heritage Center, Crow Canyon Archeological Center, and many more.
Planning to explore Cortez? Here are the top things to do in Cortez, CO.
Things to Do in Cortez, CO
1. Historic sites at Mesa Verde
A well-known American national park is Mesa Verde National Park; this makes seeing the Park one of the best things to do in Cortez, CO.
The Park maintains over 5,000 archaeological sites, giving visitors a fascinating look at Mesa Verde's former Cliff homes.
The Park in Cortez was created in 1906 by Congress and President Theodore Roosevelt. Why the ancient Puebloans left these enchanting mesas beneath the Rocky Mountains remains a mystery.
On the mesas and cliffs of Mesa Verde, the ancestors of the Pueblo people resided for about 700 years in flourishing towns.
By preserving the cultural heritage of 26 Pueblos and tribes, the Park today offers a breathtaking window into the past.
The most famous buildings at Mesa Verde are Cliff Palaces, the largest cliff Abode in North America.
Going on a soft to Wild Rafting and Jeep Tour guide reassures guests that they will get a better insight and appreciation of the original Southwestern culture.
Address: 928 E Main Street Cortez, CO 81321, USA
2. Colorado Welcome Center-Cortez
When exploring a new environment, it is always nice for one to feel comfortable once on the premises of the area, and that is the aim of the Colorado Welcome Center.
Aside from welcoming tourists and visitors, the Welcome Center is the most advised place to visit as a visitor, as it is where you get all the much-needed information required to help you plan your stay in Cortez, Colorado.
Pick up brochures containing a detailed list of all the facilities you will have access to during your stay in Cortez, CO, as well as the varieties of planned indoor and outdoor events and what time they take place.
The Welcoming Center puts tourists' physical well-being and safety as their number one priority; as such, the environment is always neat and conducive. Facilities have also been put in place to ensure the comfort of all visitors at every point in time.
For proper planning and maximum use of the time one plans to spend in Cortez, CO, visiting the Colorado welcoming center in Cortez should be on your list of top things to do in Cortez, CO.
Address: 928 E Main St, Cortez, CO 81321, USA
3. Denny Lake Park
Denny Lake Park is a stunning location for outdoor sporting events and family outings such as picnics.
The Park offers picnic areas where you can relax and enjoy the sweet natural breeze, safe play areas for the little ones, and restrooms.
Kayaking and pond fishing are two other well-liked recreational activities in Denny Lake Park, Cortez, CO.
You can walk or run on the lake's trails if you need a break. There is plenty of parking at the Park, so you won't have any trouble finding a spot.
The Park's features make it easy to understand why Denny Lake Park has become one of Cortez's most loved tourist destinations.
Take advantage of all these attractions for a small entry fee, and be assured that you will like to make a second visit.
Address: Cortez, CO 81321, USA
4. Canyon Trails Ranch
Do you like riding on horses, or is it something you have always wanted to try? Going on organized horse riding at the Canyon Trails Ranch would undoubtedly be one of the fun things to do in Cortez, CO.
Guided equine excursions to the scenic sites of Four Corners and McElmo Canyon are organized by Canyon Trails Ranch in Cortez, allowing you to explore the Canyons of the Ancients.
The Canyons of the Ancients National Monument has winding paths that offer views of numerous archaeological sites.
There is a supply of wagons and buggies upon request. This attraction is budget-friendly, great for dates, and kid-friendly.
Address: 13935 C R G, Cortez, CO 81321, USA
5. Cortez Recreation Center
This Center, which comprises 46,000-square-foot, offers services that promote the community's health and engagement.
Visiting Cortez Recreational Center is one of the best things to do in Cortez, CO. The Center features a monolithic climbing wall, a natatorium, a tot slide, a 145-ft long enclosed tube slide, and a lazy river.
This facility is suitable for all age groups, as there are children's areas. So, it is a perfect destination for the entire family.
The recreational facilities in the Center include two full-sized racquetball courts and an 8,036-square-foot gymnasium for a wide range of sports.
There is also a track for jogging and weight lifting machines. Visitors can also play a game of pool and hold picnics in the picnic shelters.
Visitors can apply for membership in this excellent establishment. Cortez Recreational Center has classrooms that can be rented to host various events.
Address: 425 N Roger Smith Avenue, Cortez, CO 81321, USA
6. Notah Dineh Trading Company & Museum
Are you looking for something unusual, something beyond the ordinary? If yes, don't hesitate to check out Notah Dineh.
Notah Dineh, founded in 1961, celebrates the cultural contributions made by Native Americans to the US.
This place takes pride in showing off its sculptures and other artistic representations of early Native American life and culture, presenting a medium to educate tourists/ visitors on the Native American lifestyle.
Among the exhibits are vintage swords and beaded leather clothing showing the beautiful arts and craftsmanship displayed in the ancient times of America.
Notah Dineh is one of the best Western museums in Colorado, according to USA Today's 10 Best Readers' Choice Awards.
Address: 345 W Main St, Cortez, CO 81321, USA
7. Hovenweep National Monument
The Hovenweep National Monument is an ideal spot for admiring Cortez owing to its altitude, which gives visitors a comprehensive view of the landscape in its entire splendor.
You can view the aged multi-story structures built on top of stones displaying ancient architecture and civil engineering works dating from 1200 AD.
Although this location is halfway between Cortez, Colorado, and Blanding, Utah, it has a similar culture and attitude that you will find very enjoyable. Hovenweep is 42 miles from Cortez, CO, and approximately 48 miles from Blanding, UT.
Begin your journey at Square Tower for the best views. Touring the Hovenweep National Monument is one of the best things to do in Cortez, CO, if you are keen on taking good photographs of adventures.
You can continue exploring this historic area on foot or by car with your friends, depending on which you find more insightful or enjoyable.
Address: County Road 268A, Cortez, CO 84534, USA
8. Crow Canyon Archaeological Center
Anyone interested in archaeology and history must stop by Crow Canyon Archaeological Center. Exploring this site is one of the top things to do in Cortez, CO.
The facility offers hands-on research programs and interactive educational activities so that visitors can experience archaeology and indigenous knowledge firsthand.
Aside from working with experts and archaeologists in the field and in the lab, you can travel with top academics, take the Field School, receive college credit, and more.
Utilize their free weekly Discover Archaeology webinar series to be ready for your trip, or watch the recordings on their YouTube channel by subscribing.
Address: 23390 C R K, Cortez, CO 81321, USA
Planning to explore Colorado? Here is a list of things to do in Westminster, things to do in Telluride and fun things to do in Greeley for a memorable vacation.
9. Cortez Cultural Center
Taking part in a pottery class at the Cortez Cultural Center is an exciting experience you don't want to miss. The site features early American Indian Culture exhibits, traditional dance, and literary works.
Tourists can find the treasures of Pueblo at the Cortez Cultural Center, especially those belonging to the Ute mountain tribes.
The primary aim of the Cortez Cultural Center is to promote and preserve the Native American culture rather than let it fade away; as such, most of the art found here is not for sale but simply for exhibition purposes.
Bring your family to a festival over the summer to enjoy free native American dance shows and other enjoyable activities from Monday to Saturday at 7 pm.
Give your kids a memorable experience by signing them up for the pottery class at the Cortez Cultural Center.
Address 25 N Market St, Cortez, CO 81321-3212, USA
10. Sutcliffe Vineyards
Enjoy Fine Wine at Sutcliffe Vineyards. The distinctive microclimate of McElmo Canyon enables Sutcliffe Vineyards to produce outstanding wines.
Sutcliffe Vineyard started their first vineyard in 1995. They started selling their first wine bottles six years later.
Since then, they have created wines that have won awards; you can buy them in their tasting area. Among other activities in Cortez, CO, is tasting a fine wine at Sutcliffe Vineyards.
Visitors can tour the vineyards and take in the expansive vista of the countryside, in addition to tasting four different wines daily.
The Sutcliffe Vineyards tasting room is open all year long. It provides guests with a serene atmosphere that will entice them to return.
Address: 12174 Road G, Cortez, CO 81321-9570, USA
11. Kojihirano's Famous Cajon Group Ruins
Cajon Group is seated within the Hovenweep National Monument at the head of a narrow canyon. The attraction was built similarly to the communities of other monuments, such as Hackberry and Holly.
On the western side of the canyon, the prehistoric Puebloans, who were the forerunners of Hovenweep, left behind a magnificent circular tower as a testament to their exceptional craftsmanship.
Three buildings are all that is left: an oval pit house with an underground room attached to a platform, another pit house with a sizable square kiva, and what appears to be an "outside" kiva or plaza area.
Address Cortez, CO 81321, USA
12. Sunflower Theater
A community theatre in Cortez that welcomes families and puts on various performances is the Sunflower Theater.
For instance, you can attend musical performances, movie screenings, and educational events.
The 119-seat Sunflower Theater also serves as a multifunctional space for various events.
Modern LED lighting, top-notch audio and video recording, and transmission technology are available at the Sunflower Theater.
Sunflower Theater is available for rent if you want to host events like weddings and celebrations.
Address: 8 E Main St, Cortez, CO 81321-3209, USA
13. Cortez Quilting Company
Picking up quilting skills at the Cortez Quilting Company is a remarkable feat, especially if you have always wanted to learn to sew but aren't sure where to begin.
The Cortez Quilt Company is very accessible to both locals and visitors due to its central location in the charming town of Cortez and being one of the best sight attractions in Colorado.
Leading quilt retailer The Cortez Quilt Company has shops that sell BERNINA sewing machines and provide repair services.
You can create a unique gift for your loved ones with the skills you can acquire during your visit to the Cortez Quilt Company.
The establishment provides a wide range of seminars on basic quilting, advanced sewing techniques, and a vast collection of fabric and accessories.
Address 40 W Main St, Cortez, CO 81321-3141, USA
14. Farm Bistro
Ever been to a restaurant where every food is cooked fresh out of the farm where it was grown? Trying it out at Farm Bistro of Cortez is one of the best things to do in Cortez, CO, especially if you love food.
Though it is named "Farm" Bistro, it operates a direct farm-to-restaurant system- a distinctive and delicious dining experience in an excellent combination of a farm and Restaurant setting.
Imagine having the luxury of eating meals made from farm produce without preservatives that might harm your health; great, right?
After sampling the farm-to-table cuisine at this rustic-chic setting restaurant with a cozy lounge, you'll feel satisfied and willing to return. The restaurant is a very relaxing environment to have a lovely meal with family and friends.
If you were wondering, Farm Bistro has a full bar with a wide selection of craft beers made by small breweries, inexpensive wines, and quality spirits. So if you need a drink at any point during your visit, feel free to stop at The Farm Bistro.
The unique features of this multi-purpose Farm qualify it as the place to go if you are looking for something uniquely outstanding.
Address: 34 W Main Street, Cortez, CO 81321, USA
15. Conquistador Golf Course
Are you looking for a course to test golfing skills? If yes, visiting Conquistador Golf Course, an 18-hole par 72 championship course.
The golf course features large trees, small undulating greens, rolling hills, and magnificent views of Mesa Verde, Ute Mountain, and La Plata Mountain.
At the height of 6,200 feet, whether for practicing the sport or sharpening your skills, the golf course welcomes both activities, and the atmosphere is just right for a game.
There is an education and fitness program for young, middle-aged, and old golfers with skills of different Hierarchies at the Conquistador Golf Club.
Provision is made for golfers to keep track of the many tournaments hosted for important holidays and celebrations by the Conquistador Golf Club to prevent you from missing out on the fun.
Address: 2018 N Dolores Rd, Cortez, CO 81321-8848, USA
Planning a trip to Colorado, don't miss our checklist of fun things to do in Crested Butte, things to do in Trinidad, and fun things to do in Lakewood.
16. Canyons of the Ancient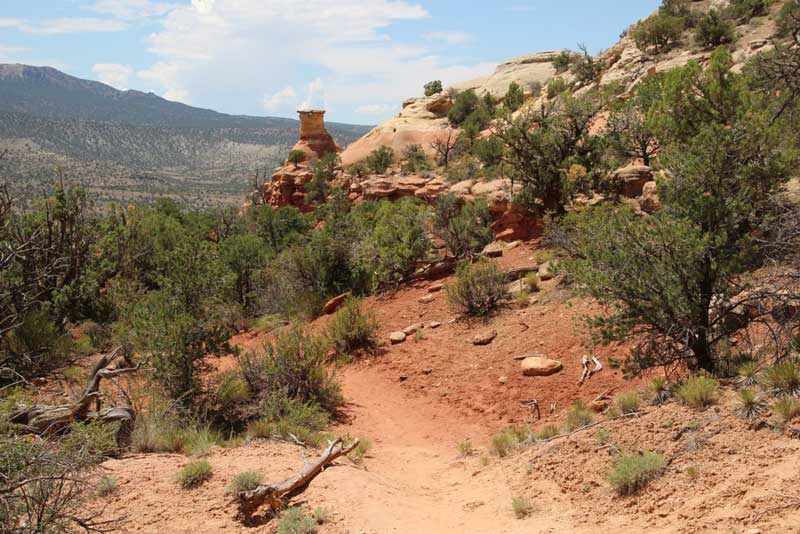 Visit the Canyons of the Ancients National Monument, seated just 21 minutes away from Cortez in Dolores, Colorado, to get a sense of how people lived in the ancient Southwest.
On June 9, 2000, President Clinton initially proclaimed the area a national monument. The monument's size encompasses tens of thousands of locations, many of which are still in use by Native Americans today.
Additionally, you can see some magnificent specimens of Ancestral Puebloan cliff dwellings and other structures.
Learning about the Ancient Southwest is one of the best things to do in Cortez, CO. There are many trails, hiking paths, and picnic areas for you to enjoy after a full day of sightseeing.
Address: 27501 Highway 184, Dolores, CO 81323-9217, USA
17. Deer Creek cottage
On the roadside here, about 2.5 miles outside of Cortez, in a rural setting with nearby homes, the cottage is situated on a sizable parcel of land initially intended to house and support working families. It is close to Highway 160 on the South side.
The view from the windows of this cottage may offer you a glimpse of wildlife, such as a deer or possibly a coyote, as well as agricultural activity at various times of the year. For example, spring is the time of year when calves are in the pastures, and you may also be able to see a horse or two.
A mile from the house you would be staying at, there is easy access to the Phil's World bike paths across from the Montezuma County Fairgrounds. You could also go fishing at McPhee Reservoir if you prefer- ten kilometers north, around Dolores.
The vast majority of visitors to the community go to Mesa Verde. The entrance is roughly 7 minutes away, and the nearby Walmart is 6 minutes away.
Just a friendly reminder that if you're interested in guided tours and intend to visit Mesa Verde after exploring this cottage, you can get tickets and maps at the building before entering the Park, which will help you make the most of your trip.
The standard norm for tours is from Memorial Day to roughly Labor Day. My favorite attractions, Cliff Palace and Balcony House, are well worth the extra effort and expense.
Address: 29300 Hwy 160, Cortez, CO 81321, USA
18. Thai Cortez & Sushi
Thai Cortez & Sushi, which opened in 2015, brought real Thai food to the Four Corners area.
Eating at Thai Cortez would probably be item one on your list of top things to do in Cortez, CO. Thai Cortez & Sushi provides a variety of selections if you are a sushi lover or just a hungry customer.
Among the most well-liked menu items at the restaurant are nigiri, sushi rolls, curries, pho, pad Thai, and lots more.
Thanks to the encouragement of regular diners, Thai Cortez & Sushi was allotted the "Best Service" award. Don't hesitate to visit this location with friends and family.
Address: 1430 E Main St, Cortez, CO 81321, USA
19. Pie Maker Bakery
Thanks to the regionally owned Pie Maker bakeshop in Cortez, breakfast is now available to diners. The ideal place to spend the morning with a friend or loved one is this bakery.
Handmade bagels and savory and sweet pastries are their areas of expertise. Each of their baked goods is made by hand using top-quality ingredients.
Cortez Milling produces their all-purpose unbleached flour. As such, the bakery only uses Organic and unprotected bread flour.
They only bake their pastries with hand-formed dough and organic butter; with this, it is safe to say it is an all-natural bakery. You might buy some of their products as gifts for your loved ones or friends.
Address: 17 N Harrison St, Cortez, CO 81321, USA
20. San Juan Gems Rock Shop
The Colorado Rock shop in Cortez is the biggest and most loaded in the area. San Juan Gems has access to various rocks of different qualities ranging from rough stones to smooth slabs, various collectibles, and minerals.
Most locals and visitors, who are searching for precious stones, cutting supplies, and ideal gift items, tend to refer to the shop as a museum. The services rendered by the shop are renowned in all of Colorado as it owns almost everything needed by people who are into silver and goldsmithing, sculpting, panning, and even rockhounding.
If you need insight on polishing, cutting of rocks and gold, and silversmithing, you can bank on San Juan Gems Shop in Cortez, CO. The rock shop also has an online sales site that is updated regularly.
One of the unique features of this rock shop is the Jurassic collection, where dinosaur bones are displayed; for this reason, San Juan Gems Rock Shop is commonly considered a museum.
Making a trip to the San Juan Gems should be one on your list of top things to do in Cortez, CO if you are an archaeology lover.
Address: 11523 CO-145, Cortez, CO 81321, USA
21. La Casita de Cortez
Tequila and traditional Mexican cuisine are on La Casita de Corte's menu.
Locals and visitors who wish to enjoy authentic Mexican food can explore La Casita de Cortez- a Mexican eatery on Main Street.
Try out their Aperitifs and meals like shrimp ceviche, camarongos, tampiquena, chorizo steak fajitas, Azteca pollo Colorado, and nacho campechana are among the special treats.
Try any steaks on the La Casita Chef Creations menu, such as the Cortez steak.
Take in the breathtaking views of southern Colorado while having a relaxed outdoor meal.
Address: 332 E Main St, Cortez, CO 81321, USA
22. Dolores River Canyon
The Dolores River Canyon is a stunning natural wonderland with enjoyable outdoor activities, with a length of approximately 241 miles (388 km).
Tourists can find the Dolores River Canyon in Dolores, CO, just 15 minutes from Cortez; this distance gives a good view of the area and builds your anticipation just before it appears.
The 30-mile length of the red rock canyon known as the Dolores River Canyon is a beautiful place to go hiking, canoeing, or kayaking.
The land area spanning a solid 26,000 acres of pristine nature surrounding this beautiful canyon in Cortez makes it the perfect place to go hiking.
The magnificent red sandstone canyon that the Dolores River Canyon Trail traverses has a modest inclination making it slightly less stressful but just enough to break a sweat.
Adventure-seeking hikers may choose to keep exploring the Dolores River Canyon.
Address: 29211 Highway 184, Dolores, CO 81323, USA
23. Yellow Car Country Wines
Everybody likes wine. The difference is that it could be an alcoholic or non-alcoholic; whichever of the two you want is available at the Yellow Car Country wines.
A selection of fruit wines and meads-honey-based beverages are available for tasting and purchase by bottle or case.
Try flavors like strawberry, pumpkin, apple cinnamon, peach pineapple, tutti frutti, cherry, honey, chocolate mint wine, etc.
Just so you know what you are getting without wasting your money, the winery provides tastings so you can sample numerous types before purchasing one of your choices.
There is an open invitation to sip on some of the wines. Yellow Car Country Wines is a must-visit if you are a wine lover.
Address: 1345 S Broadway, Cortez, CO 81321-9505, USA
Explore other parts of Colorado, check out our list of things to do in Buena Vista, things to do in Castle Rock, and things to do in Montrose for a fun vacation time.
Plan Your Trip to Cortez
Cortez is a beautiful municipality bound to capture tourists' attention. The town's unique features offer everyone a memorable experience, regardless of preference.
The archeological sites are worth capturing as their sights are magnificent. Don't enjoy all the town features alone; ensure to come with a friend or as a family.
Don't hesitate to make Cortez, CO, your next vacation destination, as it promises to be worthwhile.