In Knox County, Maine, lies the beautiful seaside town, Camden. The town had a population of 5,232 in 2020.
Camden is famously known as the "Jewel of the Maine Coast." During summer, the town's harbor is always busy and packed due to the influx of tourists.
During the autumn season, when the trees of Camden, Maine, put on their most vibrant display, the city is even more stunning.
Outdoor adventurers, ocean lovers, shoppers, and food buffs will have a fantastic time in this tourist destination.
For up-to-date information on hours of operation, ensure to call the restaurants and attractions before your visit.
Here are the top things to do in Camden, Maine.
Things to Do in Camden, Maine
1. Megunticook Lake
The tranquil Megunticook Lake is nestled at the foot of the Camden Hills, a short distance from Camden's quaint and tourist-friendly community.
Located 3 miles from the Camden coast at the eastern side of the Lake is Barrett's Cove Beach, an excellent location for swimming and picnics; it is hardly ever congested.
The Beach contains a kid-friendly section and a floating diving platform in the lake. This destination has no lifeguards on duty, so swimmers must take caution.
For those who would like to kayak or boat around the cove and experience the world around the lake, there are plenty of available boats at the premise and a nearby boat launch. There is also a lovely grassy picnic area with tables and grills to enhance your experience.
Address: Barrett's Cove Beach, Beaucaire Lane, off Route 52, Camden, ME, United States
2. Mount Battie and Camden Hills State Park
This Picturesque Park is among the best places to visit in Camden, Maine. Reaching the lush 5,700-acre Camden Hills State Park takes a delightful two-hour climb up the Camden Hills, which towers above Camden's picturesque coastal village.
This Park is the ideal location for an outdoor recreation day, as it has 30 miles of hiking paths that wind through forests, providing spectacular scenery of the highlands and lakes in the area.
Guests can bring lunches to the Park and picnic with friends and family in the large picnic area.
The Maiden's Cliff Trail gives stunning lookouts of Megunticook Lake. At the same time, Mount Battie- the Park's 800-foot rocky pinnacle, offers beautiful sights of Penobscot Bay and the surrounding islands.
For great views, hiking trails, picnic areas, and Mount Battie, you'll want to check out this destination when visiting Camden, Maine.
Address: 280 Belfast Road, Camden, ME 04843, United States
3. Barrett's Cove Public Beach
Barrett's Cove Public Beach, a tranquil and pleasant site near Camden's freshwater lake, has been drawing families with children of all ages because of its picturesque aspect. It also offers a view of Camden Hills.
Families can enjoy some time outdoors and freshwater swimming at this lakeshore getaway.
Barrett's cove is one of the local areas that transforms into a refuge of solitude on hot days, despite the high visitor traffic throughout the summer at several Camden beaches.
This coastal gem gives you access to Mount Battie, a somewhat curled peak rising on the western edge of Camden Hills State Park, where you may take in its spectacular magnificence.
There are parking places available to access this welcoming town-owned property. Exploring this Beach is one of the best things to do in Camden, Maine.
Address: 104 Beaucaire Ave, Camden, ME 04843, United States
4. Windjammer Festival
The Camden Windjammer Festival honors the city's long maritime heritage. Attending this Festival is one of the fun things to do in Camden, Maine.
Boating and sailing have historically been essential parts of life in Camden. The locals use a range of watercraft, including yachts, schooners, and sailboats.
Visiting the city without having to attend this remarkable occasion, see their watercraft, and participate in it is like not visiting. All participants, including tourists, have fun at the Festival by partaking in a simple sail exercise.
They can also pick up new skills like how to tie knots, judge the direction of the water, raise a sail, and more.
With the aid of resources offered by local establishments, you can even construct your watercraft. Be sure to check out this destination when you visit Camden, Maine.
Address: Camden, ME 04843, United States
5. Christmas By the Sea
Christmas by the Sea is a well-known festival held in the winter(the first week of December) and a singular yet ideal way to spend your vacation in Camden if you visit during winter.
People from Camden and the adjacent towns of Rockport and Lincolnville get together and engage in various activities like designing, singing, dancing, exchanging foods, and more throughout the week.
Even though Camden's winters might be fairly chilly, everyone who visits this event will feel a sense of warmth.
Address: Camden, ME 04843, United States
6. Camden Harbor Park and Amphitheatre
In 1931, Mary Louise Curtis Bok, a philanthropist, gifted the two facilities to Camden to complement the remodeled Camden Library.
Prominent designers Fletcher Steele designed the Amphitheater while the Olmsted Brothers designed the 2-acre Harbor Park.
The two attractions are on the National Register of Historic Places and were made a National Historic Landmark in 2013.
From the Parks, visitors can enjoy the majestic view of white steeples, New England village, and sailboats. The Parks have been the destination for festivals, picnics, weddings, fairs, and other events because Park's setting is suitable for anything.
Exploring this destination is one of the top things to do in Camden, Maine.
Address: Atlantic Avenue, Camden, ME 04843, United States
7. Small Wonder Gallery
Small Wonder Gallery is a stunning destination of art in Camden. This Gallery is located near the public landing and is well known for its unique paintings and prints.
The Gallery is a small family-run gallery that gives the best when it comes to customer satisfaction.
Admire the beautiful artworks in this Gallery if you're searching for what to do in Camden, Maine. This destination showcases various mind-blowing art pieces and beautifully framed works at an affordable rate.
The Gallery also offers limited-edition prints by local artist Abe Goodale. Suppose you wish to shop online from a distant location; Small Wonder Gallery can arrange for shipping and have your package delivered to you.
Small Wonder is a friendly, professional, and highly recommended destination when you are in Camden. Ensure to pick up a souvenir from this Gallery.
Address: 1 Public Lndg, Camden, ME 04843-1748, United States
8. Camden Snow Bowl
For fantastic winter outdoor entertainment, head to the Camden Snow Bowl. Tourists can enjoy skiing, snowboarding, tobogganing, and snowshoeing during the wintertime on 5 miles of trails and 20 ski runs with different difficulty levels.
The Snow Bowl transforms into a warm, lush mountain forest in the summertime, making it ideal for hiking, bicycling, tennis, baseball, and softball activities.
Additionally, Hosmer Pond in the destination features boating and fishing. In addition, The Snow Bowl hosts summer camps for kids.
The Snow Bowl Lodge comfortably seats 100–150 guests for wedding receptions, parties, and family reunions,
Address: 20 Barnestown Rd, Camden, ME 04843, United States
Check out other cities in Maine, check out our list of things to do in Rockland for a fun time in Maine.
9. Camden Harbor Cruises
You can explore the stunning Penobscot Bay coast on the "Lively Lady," a wooden boat docked in lovely Camden, Maine.
A range of excursions is available from Camden Harbor Cruises, including harbor tours and breathtaking sunset cruises.
Kids love early trips, and the ship staff loves letting youngsters explore the boat and see what's in the lobster traps in a cozy, secure setting.
Visitors can take eco-tours to witness intriguing wildlife like seals, eagles, porpoises, and other fish species in a secluded habitat in the bay.
Additionally, the Lively Lady can be rented for special excursions and wedding celebrations.
Address: 9 Brandy Brook Rd, Camden, ME 04843, United States
10. Camden Opera House
History, art, and culture come together at the Camden Opera House to provide an unforgettable experience.
This 500-seat theatre, over 120 years old, has lovely Victorian-era accents like ancient moldings, gilded stenciling, and substantial chandeliers.
This stunning destination features shows like ballets, operas, comedic performances, movies, and classical music performances.
The Camden Opera House, owned by Camden, is a notable attraction on the hour-long guided tour of the town.
Address: 29 Elm Street, Camden, ME 04843, United States
11. Project Puffin Visitor Center
New England's coast is home to puffins, a unique seabird with lovely, long, vibrantly colored beaks. Since the early 1970s, fewer individuals of this threatened bird species have been found.
The Project Puffin Visitor Center is committed to informing and teaching guests about the value of birds, ecology, and the ecosystem in everyday life.
The center features numerous related exhibits, displays, and documentaries.
You can take a boat excursion to admire the bird habitats and learn more about these lovely creatures.
Address: 311 Main St, Rockland, ME 04841, United States
12. The Schooner Surprise
Camden, Maine, is home to the historic schooner ship
Schooner Surprise
. Before being listed on the National Register of Historic Places in 1991, this 57-foot racing vessel designed in 1918 had an outstanding record in sailing and racing.
Today, during the summer and early autumn season, Schooner Surprise is accessible for visits lasting two hours.
While on board, tourists will encounter diverse species, lighthouses, and stunning vistas of Penobscot Bay.
Even a sunset sail is offered in the late evening. Surprise can also be hired for single groups of up to 18 people.
If you are a lover of adventure, you need to join this historic vessel for a sail, as it's one of the fun things to do in Camden, Maine.
Address: 1 Bay View St, Camden, ME 04843, United States
13. Uncle Willy's Candy Shoppe
Uncle Willy's Candy Shoppe is where you can relive your childhood memories of bygone eras. This lovely sweets store is housed in a historic structure with a retro aesthetic.
Both youngsters and grownups can spend their leisure time in the store. Numerous types of candy are available at this Candy Shoppe.
You can experiment with and indulge in both contemporary and classic candies. Additionally, you can sample their delectable handcrafted fudge and chocolates.
The most well-known candies in the establishment are gumballs, lollipops, bubblegum, taffy, jellybeans, and bubblegum.
This Shoppe is a destination you would love to bring your kids to see.
Address: 57 Bay View Street, Houlton, ME 04730, United States
14. Mike Kinney Maine Guide
If you want to maximize your time spent in Maine's wonderful outdoors, Mike Kenney is your man. He offers services to guests such as picnicking, fishing, and canoeing throughout northern and coastal Maine.
His objectives include teaching guests about Maine's seas, hills, and woods and assisting them in landing colossal fish.
If you're searching for a trophy fish, trout, or pike or want to try fly fishing, Mike provides a variety of fishing trips for all ages.
You'll have the opportunity to reel in a variety of fish, such as smallmouth and largemouth bass, salmon, pike, brook, brown and rainbow trout, perch, and pickerel while taking in the breathtaking scenery.
A classic canvas and cedar freighter canoe cruise of the calm Megunticook Lake lasts three hours.
Address: 508 Hope Rd., Camden, ME 04843, United States
15. Aldermere Farm
Aldermere Farm is a cattle farm that provides educational, agricultural initiatives, and neighborhood events all year. It offers distinctive, enjoyable, and intellectual knowledge.
The Maine Coast Heritage Trust is in charge of running the farm, which spans 136 acres.
The farm is well-known for its breathtaking scenery, recreational activities, and scenic attractiveness.
It was preserved in 1991 and has since gained recognition as one of the world's most illustrious Belted Galloway cattle ranchers.
The area is quite stunning and covered in lush vegetation. Visiting this farm with family and friends is undoubtedly entertaining.
Children can learn much about cows and their various breeds at this location, making it an excellent choice.
Address: 20 Russell Ave, Rockport, ME 04856, United States
Explore more cities in Maine, check out our list of things to do in Augusta , things to do in Old Orchard Beach, and things to do in Kittery for a fun time
16. Merryspring Nature Center
Merryspring Nature Center, a 66-acre park, is the ideal destination for nature enthusiasts, as the Park is nothing short of a paradise.
The Park is accessible from 7 a.m to 6 p.m., allowing guests to stroll around its lovely sophisticated gardens. These gardens contain various regular and recurring plants, flowers, and herbs.
MerrySpring Nature Center, a non-profit educational and recreational facility, also hosts a variety of weekly seminars about nature and the ecosystem.
These lectures are excellent for learning about gardening, beekeeping, conserving the environment, and more.
This Park is the ideal location for tourists and researchers who wish to discover Maine's native plants and creatures.
30 Conway Road, PO Box 893, Camden, ME 04843, United States
17. Curtis Island Light
How can you be looking for what to do in Camden, Maine, when you've not seen this great Lighthouse?
This Lighthouse offers a fantastic view of the surrounding Bay and Camden. Finding this unique destination can be difficult, but using a map will lead you straight to it.
A small sign is nailed to a tree across the road that points to the short path to the overlook. Due to the limited parking space in a residential area, ensure to take caution when parking.
At the overlook, there is a bench. Keep your kids close by because it's a high cliff.
Address: 1 Beacon Ave, Camden, ME 04843-2205, United States
18. Natalie's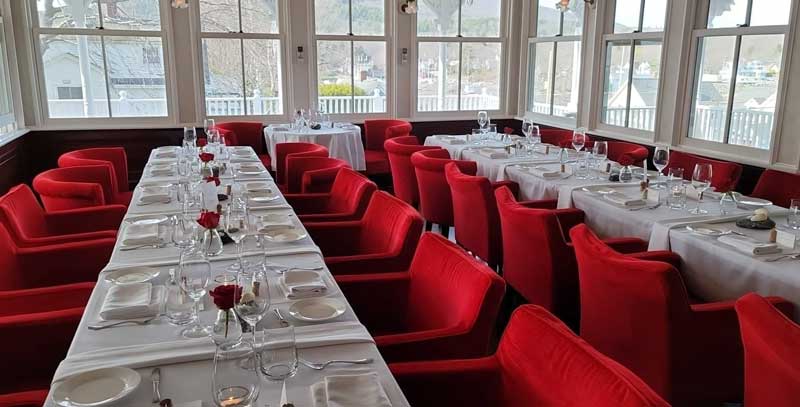 Natalie's is a chic restaurant that pictures opulent Parisian dining rooms. It is housed in a stunning New England Victorian inn with breathtaking views of the vintage Windjammers that rock in Camden's sparkling bay.
The exquisite, vibrant red dining room with glittering white linens and polished wood is spectacular and inviting, and the classy bar shines with classic lighting.
On the large, open porch that looks out over the bay, there is the most excellent seat in the house.
Executive chefs Chris Long and Shelby Stevens serve modern cuisine with international influences using seasonal ingredients, concentrating on locally caught seafood and shellfish, greens, herbs, fruits, and berries from adjacent farms, including cheese and butter from nearby dairies.
This restaurant is one of the best places to visit in Camden for sophisticated fine dining and an array of international wines.
If you plan on going on a romantic date or treating yourself to a good meal, ensure you visit.
Address: 83 Bayview Street, Camden, ME 04843, United States
19. Schooner Olad Windjammer Cruise
Schooner Olad, an illustrious sailing vessel, was constructed in 1927. The Olad is located in Camden, Maine, and gives daily two-hour tours during the summer and autumn seasons.
Visitors to Penobscot Bay on deck the Olad will witness sights like bald eagles, lighthouses, small islands, other ships, and the stunning, rugged coastline of Maine.
The wooden sailboat Owl, which can accommodate up to six guests, is another option for visitors.
The Olad and the Owl are accessible for exclusive charters and dedicated lobster bake voyages. Do not miss out on this remarkable cruise.
Address: 1 Bay Vw Lndg, Camden, ME 04843, United States
20. Golfer's Crossing Miniature Golf
Golfer's Crossing Miniature Golf, an 18-hole course that welcomes families, is the ideal location to participate in a casual golf match.
The 2005 construction of the golf club by Harris Miniature Golf included a curved natural design, several streams, and a waterfall.
The location also sells ice cream, drinks, soft beverages, and golf balls as souvenirs along with the golf course.
Thanks to its topography and holes of varied complexities, the location is ideal for all players, from amateurs to professionals. Ensure to stop by for some fun.
Address: 7 Country Inn Way, Rockport, ME 04856., United States
21. Spirit Soaring Glider Rides
Taking a trip with Spirit Soaring Glider Rides is among the most exciting and fun ways to enjoy the sights in Camden.
Based on the specifications of the consumer, this service provider offers a variety of flights. The company's pilot has more than 30 years of flying expertise.
You can even attempt to take direct control of the flight if you're up for a little more adventure.
Stop by this destination when you visit Camden for a breathtaking flying experience.
Address: 174 Mountain St, Owls Head, ME, United States
22. Traditional Wooden Tobogganing
The top snow sled competition worldwide, the United States National Toboggan Championships, features a highly competitive and thrilling race.
The first and one of the first chutes in America was erected in 1936 by volunteers who also built a ski lodge and ski hill.
Local Coast Guardsmen built the chute until 1964 when carelessness caused damage.
The competition is annually held in the Camden Snow Bowl. The local community owns this popular year-round skiing destination.
Each year, the US National Toboggan Championships in Camden help thousands of skiers develop while generating money to support the Snow Bowl's operating expenses.
Regardless of age or skill level, anyone is welcome to compete in the US National Toboggan Race and win the champion title.
Address: 20 Barnestown Rd, Camden, ME 04843-1748, United States
23. Mt. Battie Tower
The Mt. Battie Tower was created by Parker Morse Hooper, a well-known native of Camden, and could be seen as a tribute to Rhode Island's Newport Tower. Exploring this destination is one of the best things to do in Camden, Maine.
Inhabitants of Camden are acquainted with Mt. Battie since it has mythical and legendary tales. Traditions and festivals held here frequently draw on its legacy.
On the northeastern tip of Mount Battie, where there had once been a clubhouse for locals, a 26-foot-tall stone memorial was erected in 1921.
As a permanent memorial to the founding members who died while defending the nation, specific stones from the magnificent building were utilized in the erection of this tower.
On the tower's wall is a board of bronze with a written inscription.
280 Belfast Rd, Camden, ME 04843, United States
Want to check out other cities in Maine? here are guides on things to do in Bangor and things to do in Ogunquit for a fun Maine exploration.
Plan Your Trip to Camden
Camden, Maine, one of the oldest and most beautiful seaside towns in the US, offers a scintillating vacation experience.
You won't be disappointed when you visit this quaint town, which offers exciting activities and a classic coastal holiday.
Don't forget to refer to this list for the best ways to enjoy your Camden vacation so you don't miss out on any must-see attractions.