In search of the best and fun things to do in Butte, MT?
Butte is a charming town nestled in the heart of Southwest Montana. It has a colorful mining past and is known to have once been the pulse of the American West.
The town is referred to as the 'richest hill on earth' due to its plenteous copper deposits and was the biggest city west of the Mississippi in the late 1900s.
Today the city is the county seat of Silver Bow County, with a populace of 34,494 according to the 2020 census.
It has one of the biggest National Historic Landmark Districts with thousands of beautifully preserved Victorian buildings, historical structures, stately mansions, engaging galleries, and museums.
The town also offers a bank of recreational activities such as hiking, boating, Butte Trolley tours, mountain biking, horseback riding and fishing, and cross-country and downhill skiing during the winter.
Let's explore the best things to do in Butte, Montana.
Things to Do in Butte
1. World Museum of Mining
The World Museum of Mining is devoted to Butte's mining history to preserve the town's rich history and heritage.
The museum was established in 1963 and featured several displays and exhibits depicting Butte's mining industry, the various equipment used, and those who lost their lives in mining-related accidents.
Enjoy a guided tour that takes you into the depths of the Orphan Girl Mine. There are also a variety of educational programs, children's summer camps, and field trips that feature exciting adventures like treasure hunts and many more.
World Museum of Mining has a gift shop that sells books, souvenirs, and toys.
Address: 155 Museum Way, Butte, MT 59701
2. Explore Thompson Park
Thompson Park is a civic recreation area with 25 miles of non-motorized trails where visitors can go hiking, mountain biking, picnicking, snowshoeing, horseback riding, and many other recreations.
It offers a great view of the backcountry with its unusual rock formations, mining history, scenic vistas, and verdant wildlife.
The 4.5-mile trail of the Milwaukee Railroad passes through a 600-foot steel trestle bridge and two tunnels. It is the scenic spine of the park.
Go to picnic areas such as the Lower Eagle's Nest, the Sagebrush Flats, and the Lion's Den. They are accessible to trails and fully equipped with restroom facilities and cooking grills for the convenience of families on an outing.
There is the 18-hole Eagle's Nest Disc golf course, where you can play. It is one of the three in Butte and stands as one of the country's first registered disc golf courses.
If you wish to escape the city bump, Thompson Park a great place where you can grind for a while and walk the heart of the Rockie.
3. Learn Cultural History at Mai Wah Museum
One of the top fun things to do in Butte, MT, is spending some quality time at
Mai Wah Museum
.
Located at West Mercury Street, Mai Wah Museum is situated at the Wah Chong Tai building and Mai Wah Noodle Parlor building
It focuses on research, documentation, and public education about the history, culture, and present conditions facing the Asian community in the Rocky Mountains.
The development of Montana, to a large extent, had the input of the Chinese communities and the
The Mai Wah Museum is located at the Mai Wah Noodle Parlor building and Wah Chong Tai building and 17 West Mercury Street in Butte.
Its mission centers on documentation, research, and public education about the culture and history. In addition, the Mai Wah Museum provides exhibitions of their experience while inhabiting the Rocky Mountain West during the late 19th century.
The museum has displays and collections of artifacts that tell about the ancient lives of these dwellers, with newspapers and relics that date back to 1897.
You would also see the Wai Chong Tai Mercantile and the flanking noodle parlor with around 2,500 artifacts traceable to 1905.
4. Pay tribute at the Granite Mountain Memorial Overlook
The Granite Mountain Memorial Overlook is a historic site and viewpoint over Butte with striking panoramic vistas of the 10,000-foot Highland Mountains, the remains of the once-booming mining industry, the Continental Divide in the distance, and Summit Valley.
The Granite Mountain was essential to the mining industry of the town during the 1900s. Unfortunately, it was also the site of a tragic fire that engulfed the area in 1917 and consumed 168 lives.
Today, visitors of the city can increase their knowledge about the history of the town through interpretive plaques and can also buy a 'brick ' to promote the memorial.
The Butte trailhead is available for hiking if you are an outdoor enthusiast. It bends around the south and west of the Granite Mountain Memorial site and links the restored historic mine site of Mountain Con Park to the Top of the World trail.
Address: 1000 George Street, Butte, MT 59701
5. Go Underground at Lewis and Clark Caverns
Located about 45 minutes east of Butte on Interstate 90 is one of the best state parks in Montana, Lewis and Clark Caverns.
The state park has several natural resources that attract visitors, including more than 30 miles of multi-use trails. However, the main bone to Lewis and Clark Caverns is the colossal underground world to explore.
You can see the caverns on a guided tour between the end of May and September. Guests can choose any of the available two cave tours: the two-hour Classic Tour (about two miles) and the easier Paradise Tour (about half-life trek).
All the tours leading to the cave follow a paved walkway with lighting, there are no dark spots. However, the Classic Tour does involve guests going up and down some stairs.
There are also 40 campsites at the state park, and they support RVs and tents for those who want to spend the night.
Address: 25 Lewis & Clark Caverns Road, Whitehall, Montana
6. See the charms at Copper King Mansion
Built by William Andrews Clark in 1884,
Copper King Mansion
is a privately-owned mansion owned and managed by the Cote family.
Copper King Mansion, also known as the W. A. Clark Mansion, was built in the Romanesque Revival Victorian style by Clark – one of Montana's three famous Copper Kings, who advanced Butte into a thriving city.
The magnificent mansion features 34 rooms with superbly preserved detailing, such as hand-carved woodwork, frescoed ceilings, antique furnishings, and stained glass windows.
You will see a grand ballroom, a billiard room, a quaint chapel, and a fully stocked library, amongst other notable features of the mansion.
Visitors are welcomed to enjoy guided tours of the mansion or sleepovers in the bed-and-breakfast section of the house museum.
This is one of the fun things to do in Butte, MT, do add to your list of places to visit in Butte.
Address: 219 W Granite St, Butte, MT 59701
7. Visit Anaconda
Anaconda is located on the southeast end of the Pintler Veteran's Memorial Scenic Highway, just about a half-hour drive away. Like Butte, the city has many sites on the National Register of Historic Places.
The most popular historical artifact in Anaconda is Anaconda Smelter Stack. Standing nearly 600-foot in height, this interesting piece of masonry city stands above the city and can be seen from almost all vantage points.
If you want to learn about this copper smelting remnant, Smelter Stack State Park is an excellent place to visit.
The smelting history of Anaconda is visible throughout the rest of town. With places like the Old Works Golf Club and the historic Washoe Theatre pocketed by deep bunkers filled with black slag.
A visit to Anaconda would certainly capture your interest.
8. Have a drink at Headframe Spirits
Located in the heart of uptown Butte is Headframe Spirits – a locally owned and operated micro-¬distillery that produces top-quality spirits and the manufacture of distillation equipment for other distilleries.
The distillery was established in 2010 and is based in the historic Schumacher Building. It has numerous awards crediting its small-batch, micro-distilled spirits such as gin, vodka, and whiskey.
Join other visitors to tour the distillery on guided tours. In addition, you would have some of the spirits produced during tasting sessions throughout the week.
For fun things to do in Butte, MT, add this to your checklist of places to visit in Butte.
Address: 21 S Montana St, Butte, MT 59701.
Also check out our list of things to do in Murfreesboro, things to do in Kingsport and cool things to do in Fairfield Glade , if you are planning a Tennessee road trip.
9. Join a Historical Walking or Trolley Tour
Amongst the top things to do in the Butte is participating in Old Butte Historical Adventures. During the year, the Old Butte Historical Adventures renders three different two-hour walking tours of uptown Butte.
The family-friendly tours are sometimes backed with dramatic narration and cover the decades from the 1890s through the 1950s.
Guests are given engrossing view info the past time with stops at places like the Old City Jail and Hotel Finlen, having some rooms in a tower constructed in 1924.
Another is the Roaring 20s Rookwood Speakeasy hotel. It was built in 1912 and features hardwood moldings and stained glass skylights.
Address: 117 N Main St #9331, Butte, MT 59701
After an exploration of Montana, take to explore Idaho to the west, check out our list of things to do in Meridian, things to do in Moscow, and cool things to do in Rexburg.
10. See the mineral collections at the MBMG Mineral Museum
Based on the campus of Montana Tech, the MBMG Mineral Museum is an educational institution devoted to the geology and minerals of the Butte and Montana region and the mining history of the area.
The facility contains more than 1,350 specimens of gems, minerals, and rocks. It includes a 27.49-ounce gold nugget and a 400-pound smoky quartz crystal with the former found in the Highland Mountains in 1989.
MBMG Mineral Museum boasts of notable attractions like the Earthquake Studies Laboratory and the Fluorescent Room, where minerals radiate vibrant shades of pink, orange and blue when let under ultraviolet light.
The museum organizes a variety of field trips and educational workshops, and lectures. It is open to the public for all ages.
A visit here will open you to history, definitely one of the top things to do in Butte, MT, for history lovers.
Address: 1300 W Park St, Butte, MT 59701
11. Celebrate at Butte's Many Fairs and Festivals
Butte holds diverse kinds of enjoyable special events throughout the year, many of which celebrate the city's rich Irish heritage.
In March, you can see the St. Patrick's Day Parade and have fun alongside kilt-wearing bagpipers. Another event to anticipate is the Montana Folk Festival. It is held outdoors each July and loved by families.
Among other festivals is the An Ri Ra Irish Festival which takes place in August. It is also free and celebrates everything Irish with music, dancing, a 5K run, and other festivities.
The Covellite International Film Festival holds every September, where more than 100 films worldwide are shown, including everything from feature-length to documentaries and short films.
Address: 66 W Park St, Butte, MT 59701, USA
12. Be marveled at Our Lady of the Rockies
If you are in Butte, Montana, this is one thing you should not miss out on checking.
Resting on top of the Continental Divide is Our Lady of the Rockies, a 90-foot statue dedicated to women worldwide.
It was constructed by resident Bob O'Bill in 1979 as a project of love after promising the Virgin Mary he would make a statue in her image if she helped cure his wife of cancer.
The statue stands 3,500 feet above the town and is lighted at its base at night. It is the third-largest statue in the country and pays tribute to the contributions of all women across the globe.
Address: 5970 Montana 2, Butte, MT 59701
13. Enjoy the Great Outdoors
Butte is located in the Rocky Mountains on the Continental Divide has four million acres of state and federal lands encompassing it.
Here, you can where you can enjoy biking and hiking trails for all user levels including other outdoor activities like fishing, camping, and hunting.
However, here is another interesting attraction to check out while in town.
The Ringing Rocks is an unusual natural formation that knells when tapped lightly with a hammer. It is situated about 29 kilometers (18 miles) east of Butte.
Make time to see this Butt attraction, and don't forget to add to your bucket list of best things to do in Butte, MT.
Address: Ringing Rocks, Montana 59759, USA
14. Get fascinated at Berkeley Pit
The Berkeley Pit used to be an open-pit copper mine that measures a mile in length and half-a-mile in width and is over 1,700 feet in depth.
The open pit contains 900 feet of highly acidic water that causes heavy metals and chemicals like zinc and arsenic to transude into the surrounding rocks.
As of 1980, over 290 million tons of copper ore have been extracted from the pit. The town of Butte earned its nickname thanks to the richness of the minerals found here.
Address: Butte, MT 59701
15. Eat fine at M&M Bar & Cafe
M&M Bar & Café was first opened in 1890 and is a long-standing establishment in Butte. It operated as a 24-hour café and served miners coming off their shift with an ample breakfast at any time of the day or night.
During the Prohibition Era, the cafe later turned into a cigar store with a discreet alehouse in the back room and sold liquor.
It was restored to its original glory in the 1940s with vintage décor, Art Dec elements, and an eye-catching neon sign.
Currently, the café is listed in the National Register of Historic Places and continues to serve delicious, all-day fare and fresh coffee.
Address: 9 N Main St, Butte, MT 59701
Considering a South Dakota road trip, check out our guides on things to do in Spearfish, and things to do in Sioux Falls for a memorable trip.
16. Unravel the stories of Dumas Brothel Museum
The Dumas Brothel Museum is devoted to telling people the story of the Dumas Brothel.
Established in 1890 by French Canadian brothers Joseph and Arthur Nadeau, this bordello is the only surviving, three-story Victorian brothel in the United States today.
The Dumas Brothel was named after Joseph's wife, Delia Dumas' maiden name, and was popular with the men working in Butte's copper mines. It continued operation until 1982 when prostitution was banned.
The brothel's rooms are open for visitors to explore on guided tours.
This makes what to do in Butte, for some fun, quite a perfect addition to your bucket list of fun things to do in Butte, MT.
Address: 45 E Mercury St, Butte, MT 59701
17. Have a good meal at Casagranda's Steakhouse
Situated with the historic Bertoglio Warehouse, Casagranda's Steakhouse and Guido's Bar is an elegant restaurant and full-service bar that serves highly endorsed cuisine and fine wines in a stylish setting.
It boasts traditional steakhouse décor with wonderfully dressed tables, leather accents, dark wood, and soft lighting.
The steakhouse offers award-winning prime steaks, chicken dishes and fresh seafood, homemade soups, freshly baked bread, and crisp house salads with house-made dressings.
The full-service bar has a big menu of fine wines from all parts of the world, which can be taken by the glass or bottle, handcrafted cocktails, and craft beers on tap or by the bottle.
You can check Casagranda's Steakhouse and Guido's Bar for dinner only; they open seven nights a week.
Address: 801 Utah Ave, Butte, MT 59701
18. Take a tour of the Historic Clark Chateau Museum & Gallery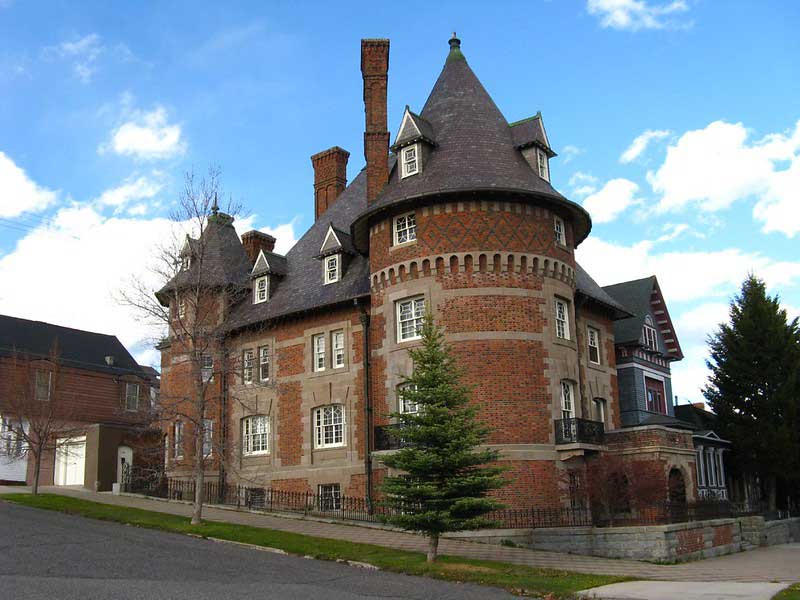 The Historic Clark Chateau Museum & Gallery is a wonderfully preserved mansion built in 1898 for local copper magnate Charles Clark. He was the eldest son of the famous Copper King W.A. Clark.
The mansion is set on Broadway Street and was erected over ten years between 1898 and 1899. It is two houses built by the Clarks, with the other set on Granite Street.
This 26-room mansion is currently a house museum and arts center. It contains an interesting collection of art, artifacts, and literature recording the life and times of Charles Clark and his popular family.
Address: 321 W Broadway St, Butte, MT 59701
19. The Piccadilly Museum
If you are a car enthusiast, then this is for you. The Piccadilly Museum should not be missing from your list of things to do in Butte, MT, as it celebrates everything about transportation, including art, license plates, street signs, and classic cars.
The Piccadilly Museum is devoted to Roy Alan Carson, a reputable transportation collector. Different individuals created the collection while traveling all parts of the world for 25 years.
Although Piccadilly is free, it is suggested you donate $3 if you enjoy the experience. Do well to place a reservation during the off-season for a tour as the museum only accepts appointments during this time.
Address: 20 W Broadway St, Butte, MT 59701, United States
20. Catch a show at Covellite Theater
Built as the First Presbyterian Church in 1896, the Covellite Theater is a community center that hosts various events and functions throughout the year.
The building features detailed sandstone, granite stonework, striking Gothic architecture, giant timber trusses, and high vaulted ceilings.
All these including the spectacular space make Covellite Theater a choice location for all types of events.
The theater has an accommodation capacity of up to 300 people. It has a courtly lounge area with a full-service bar, and comfortable indoor and outdoor space for graduation ceremonies, weddings, and more.
This makes what to do in Butte for theater lovers, quite a recommended addition to your bucket list of things to do in Butte, MT, for fun.
Address: 215 W Broadway St, Butte, MT 59701
21. Take a Trolley Tour
Going on a trolley tour is one of the rules that make a good city trip. By this, you have some knowledge about the place and learn a bit of its story.
Hosted by a local history expert, the Butte Trolley is a two-hour tour that introduces riders to many of the locales that feature later on its list. It runs daily during the summer and covers more than this.
Some visitors take walking tours while others appreciate the trolley aspect of the trolley tour. They go up and down the streets of the uptown Butte and there is a bonus: a special stop at Butte's famed Berkley Pit.
22. Read at Butte-Silver Bow Public Library
Located on Broadway Street is the Butte-Silver Bow Public Library, an education-focused institution that offers a wide range of services.
The library has an impressive collection of reading and research material, including fiction and non-fiction books, large-print books, audiobooks, audio-visual titles, and eBooks.
The Children's Library contains all kinds of materials for children of all ages, including books, videos, DVDs, and audiotapes. It is also a host place for storytimes and other special events for younger library users.
The public has daily access to the library, and it also offers services like access to the Internet, printing, word-processing, and research.
Address: 26 W Broadway St, Butte, MT 59701
23. Get entertained at Mother Lode Theatre
Mother Lode Theatre is a courtly and fully equipped performing arts center located in the center of Historic Uptown Butte. For a fun time, one of the best things to do in Butte, MT, is visiting Mother Lode Theatre.
It has a thrilling calendar of performances running throughout the year, including conferences and conventions.
The building was built in 1923 as the Temple Theatre before being converted into the Fox Theatre during the Great Depression. It was renamed The Mother Lode to honor Butte's mining heritage as the 'Richest Hill on Earth.'
Presently, the theatre is home to the Western States Opera Company, the Butte Symphony, Missoula Children's Theatre, the Community Concert Association, the San Diego Ballet Company, and the DR Chorale.
You would also love the Orphan Girl Theatre children's theatre, a 106-seat auditorium that was added in 1997. It offers an artistic and culturally boosting space for the children of Butte.
Address: 316 W Park St, Butte, MT 59701
Would you love a fun exploration of Montana? we have compiled a list of things to do in Montana ,featuring top Montana attractions and activities.
Plan your trip to Butte
Learn about the rich history, awesome attractions, and many opportunities at Butte.
This city boasts of rare sights, so grab the opportunity now and check out what it holds for you. You would enjoy the wonderful museums, parks, natural beauty, history, restaurants, theatres and a lot more.
Don't forget to take this list along so as not to miss any highlights of this Montana destination.
Have a nice experience.