Pompano Beach is a Florida city in Broward County. It is situated along the coast of the Atlantic, north of Fort Lauderdale.
This city, set 35 miles north of Miami, is a gorgeous spot more private than its more energetic and much noisier counterpart.
Despite its laid-back allure, there are many exciting things to do in Pompano Beach.
Visitors can pick from various activities in Pompano Beach, from snorkeling in the warm water around the colorful coral reef, sunning your body on the golden sand. scuba diving and swimming.
Are you planning a vacation in Pompano Beach? Here are some of the places to enjoy the best snorkeling in Pompano Beach, FL.
Snorkeling in Pompano Beach, FL
1. Pompano Dive Center
Pompano Dive Center, centrally situated in the Sands Harbor Marina on the Intracoastal Waterway, offers an unrivaled inventory selection.
Their professionally trained staff is knowledgeable and always around to help you plan all your gear purchases and next adventure.
Pompano Dive Center's Sea Dog Diver boat is a custom-crafted Newton dive board licensed to carry 22 passengers.
It runs approximately 20 knots, allowing it to explore different dive sites. It is stable, dry, and explicitly constructed with local diving in mind.
The Center offers plenty of amenities, including a table, a large camera, a heavy-duty dive ladder with an expansive platform, custom tank racks for safe storage, a large ice cooler for drinks and snacks, and much more
Address: Pompano Beach, Florida
2. Unforgettable Boat Tours
Unforgettable Boat Tours is a small family-operated business in sunny Pompano Beach, FL. They strive to provide a private and friendly experience.
Unforgettable Boat Tours offers snorkeling, sunset cruises, Intracoastal cruises, and trips to Lake Boca.
Their private tours are perfect for small groups of up to six who want a private experience.
Make special events memorable with a custom private cruise, such as engagement parties, work outings, anniversaries, birthdays, bachelor and bachelorette parties, and more.
Guests are allowed to carry their beverages, including lunch and alcoholic drinks.
Address: Pompano Beach, Florida
3. DH Scuba
DH Scuba offers many activities, such as snorkeling and diving. These activities provide insight into the things that happen beneath the sea. It is one of the best places to enjoy fun snorkeling in Pompano Beach, FL.
DH Scuba owner Captain Kenny is a resident of Pompano Beach, so he knows all the best places where you can go snorkeling and be shocked at the vibrant atmosphere and activity in local waters.
They have up-to-date equipment to ensure your snorkeling expedition is exciting, fun, and safe.
DH Scuba also shares its knowledge and tips to aid novice snorkelers in having a wonderful and rewarding time.
Since they keep their snorkeling trips to just a few people at a time, you will enjoy a private experience where everyone has ample space to explore the vista underneath the surface and get the one-on-one attention required for an outstanding experience.
DH Scuba's certified US coastguard captain is knowledgeable about this area's fish and aquatic life, so you are free to ask questions about what you encounter while snorkeling.
Address: 840 SE 22nd Ave, Pompano Beach, FL 33062, United States
4. AquaLife Divers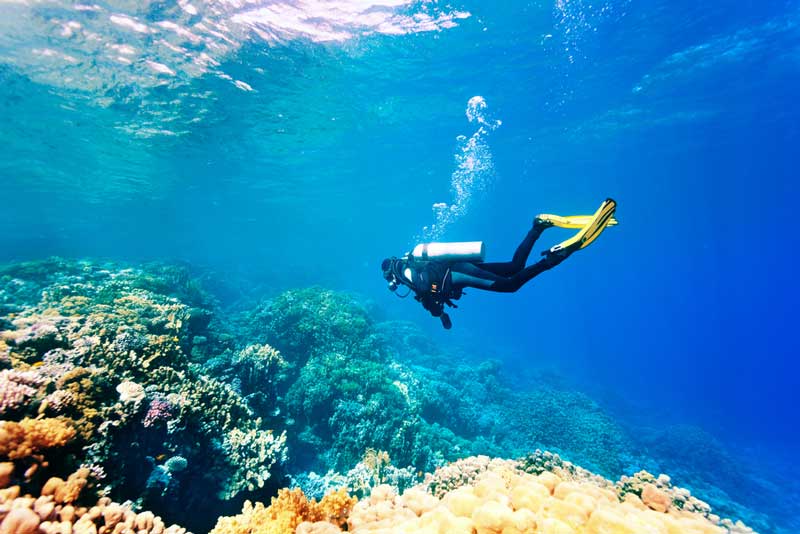 AquaLife Divers is more than just a scuba diving business contesting for the next customer.
They feature state-of-the-art technology, safety, security, and white-glove services to create an extraordinary experience for all divers, whether you are a beginner or an expert.
AquaLife Divers offer scuba dive expeditions for everyone ranging from novices to dive masters.
They have experienced and friendly staff to take you to the finest dive spots on their modern super dive boat.
AquaLife Divers is fully certified and inspected by US Coast Guard
Address: 2705 N Riverside Dr, Pompano Beach, FL 33062, United States
5. Miss Conduct
Miss Conduct departs up to 2 times from Pompano Beach, FL, at 8:30 am and 12:30 pm every day.
This 30′ Custom Dive Vessel races a maximum of six scuba divers and a minimum of two or three divers to all the well-known wrecks and reefs from Boca Raton to Fort Lauderdale.
They also know the less visited spots, which are fantastic for spearfishing or catching some Florida spiny lobsters.
Scuba divers should come to the dock at least 15 minutes before departure so they can unpack your gear at the dock.
Divers decide where to go based on their experience level and interest.
That means that if you and your dive pal want to dive into a shipwreck, you can do so or decide to drift dive into one of the numerous reef sites.
If you feel like diving on a shallow wreck, they could put you on several from 70 feet.
If you prefer deeper shipwrecks, they have a ton to pick from in the 110 to 130-foot range.
Tourists will find Miss Conduct dive charter fun and less formal than bigger dive boats.
Address: Pompano Beach, Florida
6. Parrot Island Scuba Adventure
Parrot Island Scuba Adventure is a family-run and owned-operated dive charter. What makes them unique is that they are passionate about what they do.
They offer over 30 wrecks, night diving, drift diving, spearfishing, technical diving, snorkeling, and more. You are bound to have the best snorkeling in Pompano Beach, FL, with them.
Parrot Island Scuba Adventure derives satisfaction from showing patrons their first shark or witnessing the wonder-filled eyes of a kid experiencing underwater for the first time.
Every staff that works here loves their job. It is evident in the way they treat their visitors.
Parrot Island Scuba Adventure has one of the best crews in the area, and their divemasters are knowledgeable and valuable.
Their coast guard and vessel are certified and maintained; even the restrooms function.
Because they want you to have a delightful experience, Parrot Island Scuba Adventure limits the number of divers on their boats.
Some of the underwater creatures you will find when you go snorkeling with them include turtles, tropical and sport fish, eels, rays, and many different species of sharks and even whale sharks.
Although Parrot Island Scuba Adventure may seem more laid-back compared to others in the industry, they are always alert to any potential issue that may come up.
They are always proactive in resolving problems before they worsen. Their approach is to be hands-on with their patrons and work with them to make their tour memorable and safe.
Address: 2974 NE 14th St., Pompano Beach, FL 33062, United States
7. Beach Ventures
Beach Ventures offer a SEABOB snorkel experience straight off Fort Lauderdale's beach. The SEABOB is a machine identical to an underwater jet ski.
On the surface, it lugs you through the water, where you can look at fish, and underwater, where you can swim with the fish.
Beach Ventures also provide visitors with a safety harness linked to the machine, so no swimming skills are needed. Additionally, they equip guests with a mask and optionally with wetsuits.
The electric water toy also drifts on the surface and is positively lively, so you don't have to be scared of anything.
Beach Ventures's guides will carry you on a reef tour where you will see various sea life, including Parrotfish, Angelfish, sea turtles, Sergeant Major fish, Hogfish, and more.
It is a unique kind of tour and should be experienced by the young and the elderly. They also have visitors as small as 12 years of age up to 60 years of age.
They also offer SEABOBs with video cameras, so you are allowed to record your experience and share it with your family and friends.
Address: 701 E Sunrise Boulevard, Fort Lauderdale, FL 33304, United States
8. The Tuff Gong
When visiting the neighboring city of Fort Lauderdale, the Tuff Gong is the maximum escape from everyday stress.
Experience the tropical vibes while listening to sweet reggae music and admire the mansions and yachts that define living in South Florida.
Soak up the fun on this reggae-influenced boat with many spots to anchor and swim in shallow water.
The tour spans the Fort Lauderdale area north to the lighthouse. Ocean Snorkeling is the best way to appreciate this stunning area; all gear is included.
Schedule your trip today and enjoy four hours on the water vibing to sweet reggae music.
You will take in the views of the yacht and mansions of Fort Lauderdale, and for those interested, snorkel the breathtaking ocean reef.
Address: 2928 N Ocean Blvd #2, Fort Lauderdale, FL 33308, United States
Florida is one of the top places to visit in the United States; check out the list of things to do in Plant City, and things to do in Indian Rocks Beach for a fun time.
9. South Florida Diving
If you want to have fun snorkeling in Pompano Beach, FL, an excellent dive center to use is South Florida Diving.
Their dive center can accommodate big groups with their expansive 45′ power cats or small private charters. They can even tailor six-pack charters on their less big 34′ dive boat.
If you are alone, that is not an issue because they will hook you up with someone on one of their daily dive trips.
South Florida Diving has something for all skill levels and ages.
Address: 101 N Riverside Dr # 111, Pompano Beach, FL 33062, United States
10. Stardust Sailing Charters
Stardust is a gorgeous 30′ Classic Newport Sailing Sloop designed to conveniently carry up to 12 guests in 6 suites with two VIP cabins.
She is also able to carry up to 13 crew onboard to guarantee a comfortable luxury yacht experience.
Stardust offers a wide variety of snorkeling, sailing, Intracoastal, and sunset cruises. You are sure to enjoy one of the top snorkeling in Pompano Beach, FL, with this Charters.
They also offer customized private charters specializing in anniversaries, birthdays, marriage proposals, bachelor/bachelorette parties, vow renewal, and wedding ceremonies.
Address: Pompano Beach, Florida
11. Square Group So Flo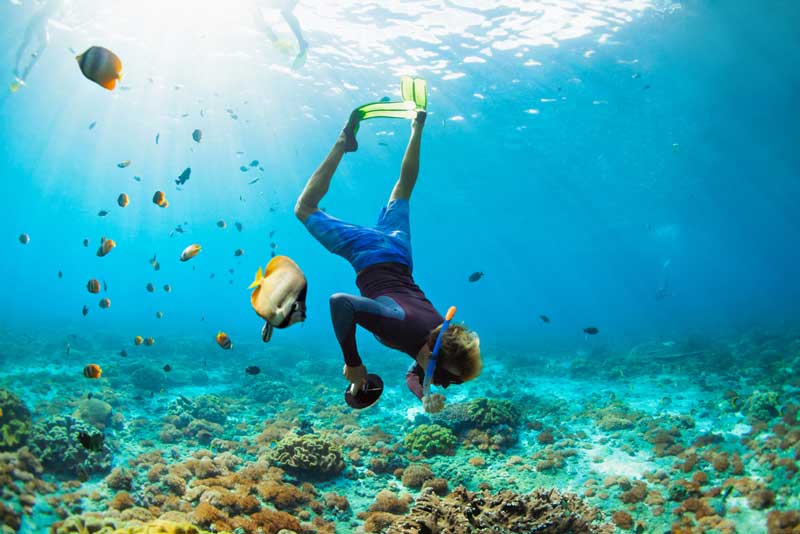 Discover the charm of snorkeling South Florida coral reefs with Square Group SoFlo.
Their nearness to the shore means easy access to the magnificence of the ocean and its colorful coral reef that offers a unique and stunning view of the ocean with different underwater landscapes.
Snorkel into the center of the ocean and experience the charm of the Fort Lauderdale reef with their expert guide.
Square Group So Flo's guided snorkel excursion is ideal for visitors who want to experience the variety of marine life up close and personal with the extraordinary experience of snorkeling straight from the beach to the reef off the shore Lauderdale-By-The-Sea.
Their knowledgeable guide will take you to the most fantastic snorkeling spot, showcasing this delicate ecosystem's different and colorful array of marine lines.
Along the way, you will be educated about the essence of coral reefs and the effect of human activities on these environments.
Your snorkel guides are properly furnished to provide comprehensive instructions and information about the reef and fish in the area.
They are passionate and knowledgeable about the underwater world and will ensure you have a secure and memorable experience.
With their deep knowledge, they will provide precise information about the various species of fish and the distinctive feature of the reef.
Whether you are a professional snorkeler or a novice, your tour guide will ensure you have all the information you need for the best time.
Address: Lauderdale-By-The-Sea, Florida
12. Tropical Sailing
Tropical Sailing, established in 1999, started as a simple business leasing small Hobie Catamaran kayaks and jet skis on the beach.
Thanks to their patrons, they have expanded through the years while still maintaining their dedication to excellent customer service and outstanding excursions.
Tropical Sailing is now the deluxe sailing company in South Florida. They look forward to sharing their passion for water sports and sailing with you, your friends, and your family.
They provide Florida Yacht Charters for people, small and big private and corporate groups.
Enjoy South Florida's spacious and cozy fleet of catamarans like their 40-foot Power Catamaran "Tranquility, "the world-famous sailing catamaran "Caribbean Spirit" or "Spirit of Lauderdale."
Visitors can snorkel on warm crystal Floridian waters and enjoy the gorgeous white sand beaches on the abandoned cays off South Florida's east coast.
Tropical Sailing also offers a wide variety of professionally crewed boat charters and luxury rentals.
Address: 801 Seabreeze Blvd Dock B, Fort Lauderdale, FL 33316, United States
13. Perfect Timing Tours LLC
Perfect Timing Tours offers custom and private charters aboard their 26-year Glacier Bay power catamaran.
You can experience exhilarating year-round sport fishing and explore the gorgeous coral reefs and active shipwrecks with fish, sea turtles, and other astonishing sea life.
You can also tour the intercostal, catch your own lobster, admire the stunning waterfront homes of the wealthy and famous, and take pictures of the fantastic beauty of the water.
Private charters allow for a bespoke experience for an unforgettable day on the water with your pals or family.
Whether you enjoy snorkeling beautiful coral reefs or diving shipwrecks, fishing, catching your lobster, or dining at one of the numerous restaurants while touring the picturesque intercostal Waterway, Perfect Timing Tours LLC can make it happen.
Address: 2529 NE 15th St, Pompano Beach, FL 33062, United States
14. Sea Experience
Sea Experience offers glass-bottom snorkeling trips to some of the most beautiful sites in South Florida, scuba training, and diving. It is one of the best places to visit for top snorkeling in Pompano Beach, FL.
Sea Experience is situated on Fort Lauderdale Beach at the popular Bahia Mar Beach Resort.
Join them for scuba training, diving, or glass-bottom snorkeling trips, where they will go to some of their favored dive sites.
The water temperature is warm throughout the year, making snorkeling or diving enjoyable for everyone.
Sea Experience is more than happy to provide snorkeling tips for first-time snorkelers. Scuba trips are also available for students and certified divers.
Their scuba diving site varies as there are several of them to be visited. You will see different Atlantic tropical fish, such as Blue Parrot Fish, Queen Angelfish, Sergeant Major, and Trumpet Fish.
Address: 801 Seabreeze Boulevard, Fort Lauderdale, FL 33316, United States
15. Fort Lauderdale Snorkeling Tours
Fort Lauderdale Snorkeling Tours offers the most inclusive and unforgettable tours in South Florida.
Their professional guides have snorkeled and dived these reefs for more than 20 years.
Fort Lauderdale Snorkeling Tours provides a fun experience for visitors. Also, it helps to conserve the natural landscape and underwater beauty.
They specialize in safety, marine conservation, and unadulterated excitement for locals and tourists to feel safe on their hour-long tours.
The staff is highly professional, and visitors are always known to have a great time.
Additionally, they are exceptionally knowledgeable about local marine life, so feel free to ask about any creature you encounter underwater.
The staff also takes time to explain everything about the equipment and answer all burning questions.
Address: 222 Commercial Blvd, Lauderdale-By-The-Sea, FL 33308, United States
Florida has some of the best cities in the United States to explore. Here is a list of fun things to do in Largo, things to do in Wellington, and Parks in Palm Bay for fun exploration.
Plan Your Trip to Pompano Beach
When life gets too draining, a wholehearted invite for a holiday to a sunny place might be just the thing to put some happy spirit back in you.
Pompano Beach has some of the most pleasant residents, and the locals will tell you that the city is among the best places to rejuvenate your soul.
From snorkeling to scuba diving, fishing, peaceful beaches, and breathtaking views, you can't go wrong in coming here for a vacation.