In search of the best & fun things to do in Texarkana?
Though not very big, Texarkana is a large city in Arkansas, large enough to be 12th in the state. It is the county seat of Milner County and one of the best places for a vacation in the country.
The town is situated just off Interstate 30 near the Louisiana, Oklahoma, and Texas borders. It is surrounded by a thick oak-hickory forest called the Pine Woods overhead the flat Gulf Coastal Plain.
Texarkana is popular for its variety of activities, making it a top outdoor recreation destination. You can fish on Lake Millwood, explore the haunted streets of Texarkana or relax at the Holiday Springs Water Park.
Here are some of the best things to do in Texarkana.
Things to Do in Texarkana
1. Visit State Line Post Office and Federal Building
The United States Post Office and Courthouse, also referred to as Texarkana U.S. Post Office and Courthouse or Texarkana U.S. Post Office and Federal Building, is a courthouse that is located on the border between Texas and Arkansas.
This building was built between 1932 and 1933 and currently acts as the courthouse for the United States District Court for the Eastern District of Texas and the United States District Court for the Western District of Arkansas.
The United States Post Office and Courthouse are listed on the National Register of Historic Places and exhibit historical artifacts on the second floor. It is open to the public for a visit.
Address: State Live Avenue, Texarkana, AR 71854.
2. Take a walk in Bobby Ferguson Park
Being one of the biggest in Texarkana, Bobby Ferguson Park is a favorite destination for families who want to enjoy some time outdoors and have a stretch.
The park contains many well-marked walking trails, wooded areas, and a sizeable lake. Though it is a great place at any time of year, this park is distinctly particularly attractive in the fall and spring.
Cyclists, runners, and walkers can access the trails while the kids would have a nice time feeding the ducks and splashing in the lake.
Dogs are permitted, but they must be kept on leashes at all times as part of the stipulated regulations.
Address: 3400 U of A Way, Texarkana, AR 71854.
3. Buy at the Gateway Farmers Market
"If we did not raise it, we would not sell it." – that's the theme guiding the Gateway Farmers Market. It makes our list of interesting things to do in Texarkana.
The Gateway Farmers Market is a group of local farmers and growers within a 75-mile radius of the city.
The market offers a great selection of locally grown, seasonal, healthy fruits and vegetables, fresh flowers, jelly, eggs, honey, soaps, and crafts.
You'll also see New Potatoes, greens, onions, carrots, zucchini, radishes, squash, beets, fried pies, banana nut bread, zucchini bread, and many more.
It is the place to go if you want to browse lots of amazing products that are not seen anywhere else, associate with the locals, or have an overall good time.
The market is open on Tuesday, Thursday, and Saturday from 7:00 am to 12:00 pm. So, go pick up some stuff.
Address: 9th Street and Jefferson, Texarkana, AR 71854
4. Check out the P. J. Ahern Home
The P. J. Ahern Home is a Classical Revival Style mansion that dates back to 1905. This beautifully preserved mansion hosts cultural programs and an array of exhibits relating to the history of Texarkana.
The P. J. Ahern Home is situated in the Quality Hill Historic District hub in Downtown Texarkana.
Based on a floor plan design made by Mr. and Mrs. Ahern, this home was designed in the Classical Revival style by the Burdsal Company.
Features of the mansion include a central hall, a parlor, a music room, a dining room and kitchen, two bathrooms, and four bedrooms, all of which are well lighted by authentic gas and electric combination chandeliers.
You would enjoy the docent-led tours here, and this home can also be rented as a venue for events, meetings, and weddings.
Address: 403 Laurel St, Texarkana, AR 71854.
5. Arkansas must-visit: Four States Auto Museum
Formerly referred to as Tex-Ark Antique Auto Museum, the
Four States Auto Museum is a museum
in Texarkana.
It is dedicated to preserving and showcasing the history of the automobile. This museum is one of the top places to visit in the city, and its location is a site previously used for automobile body and wagon construction.
Four States Auto Museum was established in 2004 and is guarded by a mission to 'preserve, collect, exhibit, operate, and interpret a collection of antique automobiles.'
You will find a massive collection of automobiles that include more than twenty cars and motorbikes spanning 100 years of automotive history, tagging various automobiles. Amongst the collection is a Civil War vintage horse-drawn hearse, a Ford Model T and Model A, a Studebaker dragster, a Nash Metropolitan, and a 2015 Chevrolet Corvette.
The museum hosts various educational functions and events as it keeps in place automotive-related books, newspapers, and periodicals.
This makes what to do in Texarkana for auto-enthusiast, consider an addition to your bucket list of fun things to do in Texarkana.
Address: 217 Laurel St, Texarkana, AR 71854.
6. Haunted Texarkana Ghost Walk
Starting with a free tour of the Lindsey Railroad Museum, the Haunted Texarkana Ghost Walk is a walking tour that twists through old Texarkana.
The journey is led by Brandy Aaron, the owner of the museum. It takes visitors into the bloody heart of Downtown Texarkana to learn the original local history filled with ghastly crimes, dark shadows, whispering ghosts, eternally lost souls, cutthroat murders, and historically accurate stories along the tour route.
Before the tour commences, participants are urged to explore the area and observe some of the historical offerings residing in the Lindsey Railroad Museum.
Address: 100 E Front Street, Texarkana, AR 71854-5907.
7. Holiday Springs Water Park is one of the Fun Things to do in Texarkana
One of the top fun things to do in Texarkana is a visit to Holiday Springs Water Park. It is one of the top attractions in Texarkana.
Holiday Springs Water Park is a leisure center and seasonal water park with various exciting water slides, wave pools, swimming pools, private cabanas, and the last river.
The Texas Sky Fall, the Green Monster, Neptune's Revenge, the Ozark Cliff Hanger, and Blue Beast are some of its features.
Other attractions include River Rapids, Paradise Lagoon Pool and Spa, a wave pool, two children's pools, and a sandcastle area for the kids.
You can also rent private cabanas, and the center also has a lifeguard station with well-trained lifeguards on duty.
Address: 5501 Crossroads Pkwy, Texarkana, AR 71854.
8. Listen to Great Music of Texarkana Symphony Orchestra
As a performing arts initiative directed by Marc-André Bougie, Texarkana Symphony Orchestra is a top-class place to visit in Texarkana.
Texarkana Symphony Orchestra plays host to performances in the historic Perot Theatre and was set up so that through its live performance and education, the transformative power of symphonic music can be spread across the community.
From September through May, the Orchestra runs its season and performs a series of classical masterworks, symphonic pops, family, and varying educational audiences.
Recently, the Texarkana Symphony Orchestra took an expansion stride by forming the Texarkana Youth Symphony Orchestra. It is open for both middle and high school students between ages 10 and 19.
Address: 421 Hickory St, Texarkana, AR 71854.
9. Wright Patman Lake
One of the most visited lakes in the region is Texarkana's Wright Patman Lake. Anglers especially do come to test their luck and skills with the many species of gamefish.
The white bass is perhaps the most popular. It is seemingly easy to catch, good to eat, and a good fighter too.
The lake also contains crappie, largemouth bass, and Flathead catfish. But, please be reminded that you will need a proper fishing license or face a hefty fine, be you a native of Arkansas or a visitor from another state.
If you aren't the fishing type, you can try other activities at the lake like boating, camping, and swimming.
10. Have fun at Holiday Entertainment Center
Holiday Entertainment Center is an indoor entertainment center known as Holiday Bowl by locals. But, the new laser tag area, an arcade, and available party rooms for rent mean there is more to bowling here.
Bowling birthday parties are always fun for the little ones because Holiday Entertainment Center put up some of the best!
Holiday Entertainment Center has something for more experienced bowlers – the pro shop where you can have your old equipment tuned up or purchase bowling equipment.
This makes what to do in Texarkana for a fun time, a perfect ddition to your checklist of things to do in Texarkana Arkansas.
Address: 3408 N State Line Ave, Texarkana, AR 71854
Considering a vacation in Illinois? Do not miss to explore this list of attractions in Bloomington, if you are in the area.
11. Stop by Hopkins Icehouse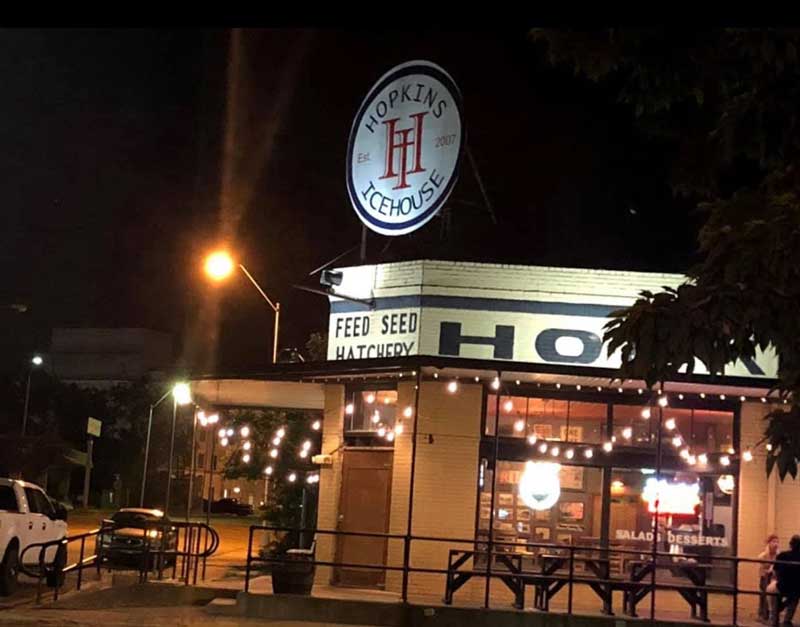 Hopkins Icehouse is a locally-owned, managed, and operated eatery that is situated in downtown Texarkana. If you have an appetite, walk in and get filled.
It is housed in a historic building that has stood since the early 1900s. They are open seven days a week and serve imaginative freshly prepared dishes for both lunch and dinner.
Aside from their delicious homestyle meals, the restaurant offers daily specials, including hand-tossed pizzas, Sunday brunch boasts mimosas, old-fashioned burgers, chicken and waffles, eggs Benedict, traditional biscuits and gravy.
In addition to catering services offered by the Hopkins Icehouse, you would also enjoy open mic nights hosted on Friday nights and live bands hosted on Saturday nights.
Address: 301 E 3rd St, Texarkana, AR 71854.
12. Watch Performances at Perot Theatre
Located on the Main Street of Texarkana, the Perot Theatre is another great place to visit in Texarkana, especially for theatre lovers.
It was built in the year 1924 and was formally known as Saenger Theatre. Currently, it is a fully restored Italian theater that has played host to Douglas Fairbanks shows.
The Perot Theatre hosts ballets, concerts, off-Broadway shows, and other productions. You will love the intricate gold-gilded designs on the exterior.
Perot Theatre is the 'jewel' of Texarkana and is a must-visit whenever you go there. They also offer free tours to guests.
Address: 221 Main St, Texarkana, TX 75503.
13. Texarkana must-visit: Arkansas Municipal Auditorium
The Texarkana Municipal Auditorium was built in the 1920s and saw its prime in the mid-twentieth century. It is one of the most remarkable sights in the city.
This auditorium was the major stop along the Louisiana Hayride Circuit – an instrumental factor in the formation of contemporary rock & roll and country music.
Currently, one of the most historical buildings in Texarkana, Arkansas Municipal Auditorium has been on the National Register of Historic Places since 2004.
A visit to the Municipal Auditorium will see you learn more about the history and architecture of the building.
Don't forget to take a stroll through the nearby Walk of Fame Park and read about the various artists who have performed in the auditorium, like Johnny Cash, Jerry Lee Lewis, and Elvis Presley.
Address: E. 3rd & Walnut St, Texarkana, AR 71854
14. Millwood Lake
Millwood Lake is only a short drive from Texarkana, Arkansas, and provides a variety of outdoor activities. The lake covers more than 29,000 acres and has many surrounding recreational parks offering boat ramps, campsites, hiking trails, and picnic areas.
Millwood State Park is a choice spot for nature lovers situated at the southern point of the lake due to its bird-watching opportunities.
There are more than 300 recorded Arkansas's 400 bird species to have been sighted in the park. It is therefore mapped out as an Important Bird Area by the National Audubon Society.
There is other commonly seen wildlife around the lake, which includes armadillo, beavers, fox, and white-tailed deer. Millwood Lake is also a top fishing destination in addition to the wildlife on land.
15. Have Fun at the Spring Lake Park
Spring Lake Park exists as the pride of Texarkana. It is a top attraction in the city and should not the missed by any visitor in town.
The park boasts green spaces with an 18-hole disc golf course, playground units, a spring-fed lake, and picnic areas.
You'll see a walking track that glides throughout the park, named in honor of Philip McDougal. There is also the Swanger Sports complex inside it.
This is one of the fun things to do in Texarkana TX. Recently, the park added two new inclusions; one is the Kylee Sullivan pet safe dog park -to accommodate pets visiting with the owners, and the other is a Rotary Splash Pad.
Address: 4303 N Park Rd, Texarkana, TX 75501.
16. What to Do in Texarkana for Lovers of Art: 1894 Gallery
The 1894 Gallery is situated in Texarkana's 1894 City Market and is highly regarded by many as one of the finest galleries in town.
Formerly a grocery warehouse that served as stores in the area, the historic building houses this gallery and other businesses and shops.
You will see many displayed items gotten from local and regional artists, though a good number of them are popular and nationally known as well.
From paintings and carvings to blown glass and sculpture, the gallery boasts of a bit of everything. So, why not stop by and check out some stuff.
Looking for what to do in Texarkana for art lovers, be sure to add a visit here to your list of things to do in Texarkana, AR.
Address: 105 Olive St, Texarkana, AR 71854
17. Owl's Nest Flea Market
Whether you are after a set of used dishes to put in your home or an unusual item, the Owl's Nest Flea Market is probably one of the few places you can find both.
Owl's Nest Flea Market is situated on Texas Boulevard, and from 1-30, you can get it so easily. And if you were only passing through, you are not going to go off track.
Though from the outside, it doesn't look too spectacular, the inside is full of a wide range of items, including housewares, antique furniture, and many other keepsakes and knick-knacks that make good gifts and home decorations.
Previous visitors have attested to the prices being reasonably moderate compared with similar markets elsewhere.
Address: 4720 Texas Blvd, Texarkana, AR.
18. Take the kids to Discovery Place Children's Museum
The Discovery Place Children's Museum is a kid-friendly museum in Texarkana that features history and science-related exhibits.
The permanent exhibits here include a costume theater, sound wall, an old-fashioned theatre, biology laboratory, sound experiments, and dental exhibit.
The exhibitions in this museum are mainly focused on visitors from kindergarten to 6th grade. There is a Tesla show also held here.
You are sure to have an overwhelming experience in this museum, with every exhibit here teaching visitors something new.
Address: 215 Pine St, Texarkana, TX 75501.
Planning a road trip in Ohio? We have made a list of things to do in Athens, things to do in Columbus, and things to do in Cleveland for a fun Ohio road trip.
19. 1894 City Market
1894 City Market is another treasure in the city, and you wouldn't mind adding it to your checklist of things to do in Texarkana.
The 1894 City Market was built in 1894 and is listed on the National Register of Historic Places. It boasts one of the most unique architectural structures found in the Four States area.
This is the place where both professionals and the locals take their pictures, with more photos taken here in comparison to other sites in the area. The contrasting old and new views paint pictures of as far back as 123 years ago.
With a current renovation for art galleries and retail space as well as offices and loft apartments, all floors of the building are such a delight to explore. Visit to take a tour of a building that has lasted two turns of the centuries (1900 and 2000)
Address: 105 Olive St Corner Of Front And Olive Streets, Texarkana, AR 71854-5929
20. Texarkana must-visit: Arkansas Welcome Center
Whenever you get to a new environment, you would require someone or a place to welcome and guide you through.
On this premise, Arkansas Welcome Center be up there on your list of top things to do in Texarkana.
There are thirteen Arkansas Welcome Centers situated at strategic entry points to the state.
And just like other Arkansas Welcome Centers, that of Texarkana serves the traveling public by offering a short respite to travelers.
Tourism in Arkansas is well promoted by travel consultants who share their wealth of knowledge with close to a million annual travelers.
Arkansas Welcome Center is open from 8 am to 5 pm all through the week but is closed on major holidays, including Thanksgiving Day, New Years Day, Easter, Christmas Eve, and Christmas Day.
You might even enjoy free Westrock coffee and WiFi, so don't miss out!
Address: 10000 I-30, Texarkana, AR 71854
21. Eat a Good Meal at Cattleman's Steak House
Located on a functional ranch in Fabens, Cattleman's Steak House is a cowboy-style chophouse that offers tasty cuisine, including fresh seafood, traditional barbecue, and prime steaks.
This locally owned and operated steakhouse was established over fifty years ago and had been serving famed cuisine in a calm atmosphere
Their signature dishes include Broiled Red Snapper, Stuffed Crabs, Grilled Tilapia, Frog Legs, and Quail.
All dishes are offered with fresh garden salad, homemade soup, and a choice of potato (fried, baked, or twice-baked).
Walk into Cattleman's Steak House for lunch or dinner from Monday through Saturday.
Address: 3450 S Fabens Carlsbad Rd, Fabens, TX 79838.
22. Visit the Front Street Festival Plaza
Another interesting spot in Texarkana is the Front Street Festival Plaza, referred to by some people as the heartbeat of Downtown Texarkana.
This plaza is home to exciting events, historic buildings, and unique businesses, so it is natural to see Front Street Festival Plaza make the list of best things to do in Texarkana.
Located in the center of the historic district, Front Street Festival Plaza is a venue for Texarkana's outdoor arts and entertainment.
Come see events including "Mardi Gras: Parade from the past" and "RailFest." You would also see the historic caboose, "Blessed be the ties that bind" sculpture, Front Street stage, and train mural at this venue.
This is sure to give you a thrilling vacation experience in Texarkana.
Address: 400 E Front St, Texarkana, AR 71854
23. Texas Travel Information Center at Texarkana
While you are in Texarkana, you may need the services of a professional travel guide. This is why Texas Travel Information Center at Texarkana is an interesting place in Texarkana.
They offer services through certified professional counselors who provide professional assistance with current information and routings on events, points of interest, and road situations in the state.
Facilities here include a photo area, picnic tables, two sets of men's and women's Restrooms, vending machines, diaper changing stations, air-conditioned lobby, and restrooms.
Other features security surveillance, wireless internet access, weather information, handicap access, video theatre, group picnic facility, and services of a professional travel counselor.
The center is open from 8:00 am – 6:00 pm every day of the week. That is from Memorial Day weekend through Labor Day, but it is closed only on Easter Sunday, Thanksgiving Day, Christmas eve, Christmas Day, and New Year's Day.
Address: 1200 I-30, Texarkana, TX 75503
24. Museum of Regional History
The Museum of Regional History boasts of artifacts, displays, and exhibits covering a wide range of eras, spanning from the time before the country was settled up to World War II and beyond.
It is situated in a historic theatre building, which has gone through difficult times over the years. This Texarkana house is iconic and featured many musical presentations, plays, and other live acts before the emergence of movies.
Although the museum is relatively small, your little time spent here is well worth the visit. It is a special morsel of Americana.
Address: 219 N State Line Ave, Texarkana, TX 75501.
25. Walk the Nix Creek Trail
Would you want to go hiking in Texarkana, maybe with your pet? Then, you should add Nix Creek Trail to your list of places to visit in Texarkana.
Nix Creek Trail is a 7.2-kilometer trail that is witnesses moderate out and back traffic. Made with asphalt from start to end, this trail is relatively smooth and is suitable for all skill levels.
It cuts a north-south path for a relatively flat meander along school grounds and through the neighborhoods. It is popular amongst runners because of its long straight always and appropriately marked mileage points.
The path hardly ever holds water, such that low spots dry quickly even after very heavy rains. Dogs are also allowed on this trail but must be kept on a leash.
Nix Creek Trail offers diverse activity options and is open for public access all through the year.
Address: 2001 Arkansas Blvd on the south side of Arkansas Blvd is a parking area, Texarkana, AR 71854-1615
26. Things to Do in Texarkana at Night: 67 RoadHouse
Texarkana is not void of any sphere! And for nightlife, don't forget to add 67 RoadHouse to your list of must-do activities.
There are fun competitions and activities here at 67 RoadHouse. They include potluck, shuffleboard tournament, 8 ball tournament, and more!
Others are Steak night Saturday, Scottish doubles pool tournament, burger night, Gish fry, steak and shrimp night
67 RoadHouse is one of the best things to do in Texarkana at night, this spot is open from Thursday to Sunday, do avail yourself of this opportunity.
Address: 1019 E Broad St, Texarkana, AR 71854-5401
27. Visit the Draughon-Moore Ace of Clubs House
Built in 1885, the Draughon-Moore Ace of Clubs house takes the shape of a club drawn on a deck of playing cards.
It is rumored that it was purchased and paid for with winnings gotten from gambling. It has got a great touch of Americana architecture and is worth taking a look.
Many of the home's furnishings are authentic, and by the standards of the day, they were considered luxurious.
The home is very popular, and this has seen it feature on some television shows like America's Guide to Historic Homes and The Antiques Roadshow.
This is one of the top things to do in Texarkana TX, consider an addition to your list of must-visit attractions in Texarkana.
Address: 420 Pine St, Texarkana, TX 75501
28. Perot Leadership Museum
Located in the lobby of Texarkana College library, the Perot Leadership Museum is another interesting site in Texarkana.
The museum has a replica of Gabriel Ross Perot's cotton office as its permanent exhibit. There are also descriptions and pictures of H. Ross Perot, covering his business and political career.
You will observe a life quotes section placed on the left wall inside the cotton brokerage building. It is very empowering to read.
You will also love a timeline mural feature of the exhibit, which represents events of the personal and professional life of H. Ross Perot.
29. Unique Things to Do in Texarkana: See Antiques at Olive Street Vintiques
Olive Street Vintiques is one of the best things to do in Texarkana that would interest visitors of the city, especially antique lovers.
Established by antique experts and enthusiasts who brought their keen eye and enthusiasm to Texarkana with the intention of uniting seekers of that "special thing," Olive Street Vintiques is situated on the second floor of 1894 Market.
Run by three partners: Sherilyn Cotten, Jennifer Davis, and Michael Stephenson, this outlet seek and collect vintage antiques from various locations to match their research.
Items here include furniture, American, British, European, and French antiques. They are open on the second Saturday of every month from 10 am-4 pm and also during special downtown events.
Address: 105 Olive St, Texarkana, AR 71854-5929
30. Visit Turner's Framing Gifts-Gallery
Turner's Framing, Gifts & Gallery is the Texarkana top location for Arkansas Razorbacks décor and apparel. The establishment features custom framing, Arkansas Razorbacks apparel, collegiate merchandise, and Texarkana souvenirs.
Turner's has more than 30 years of experience in framing. Your personal belongings can be custom-framed, including Medals, pictures, heirlooms, trophies, etc. Shadow box framing is also available.
Their collegiate cloth shop features Arkansas T-shirts, decorations, accessories, hoodies, and decals. In addition, Texas Longhorns, Oklahoma Sooners, and Texas A & M merchandise are available.
Turner's Framing, Gifts & Gallery souvenirs include postcards, magnets, bottle openers, etc. With assorted clothing options and knickknacks, you're bound to find something you love to remember your visit.
Address: 310 Arkansas Blvd, Texarkana, AR 71854, United States
31. See Model Trains at Lindsey Railroad Museum
Lindsey Railroad Museum is a recent museum that houses model trains and memorabilia making it an excellent place for train fanatics.
The Museum features a knowledgeable and friendly curator, offering visitors of various ages a great experience.
There are model railroads in the Museum, and the facility is open only on weekends, but visitors could book a mid-week tour.
Address: 202 E Broad St, Texarkana, AR 71854, United States
Take to exploring more cities in Arkansas, here is a guide on the top things to do in Little Rock and fun things to do in Jonesboro to aid your exploration.
Plan your Trip to Texarkana
Texarkana promises a lot of excitement for any visitor. You, too, can be a partaker of these thrilling opportunities by spending your next vacation in the city.
Visit the engaging museums, interesting galleries, beautiful parks, resourceful libraries, and more. Don't forget to cool off in the waters; it is so relaxing.
Safe travels.