In search of the best and most fun things to do in Frankfort, MI?
Frankfort is an adorable town in Benzie County, on Lake Michigan's Shore, Michigan, United States. Its aesthetic make is a beauty to behold. The town's low population of about 1,300 people makes it unique and serene – just what you need for good relaxation.
As you will soon discover, this city was specially and tactically built to entertain those who look out for unexplored and not very popular sites around the shore.
This city offers a place outside every form of modernization, pollution, and disturbances.
Whatever you set out to do, be it learning how this beautiful town's maritime got to be, sunbathing, or exploring the serene beaches, you will have the opportunity to do that and more in this fun-filled city.
Restaurants and attractions open at specific times. Try to confirm the opening hours before you arrive.
If you're planning an exploration of Frankfort, here are the top things to do in Frankfort, MI.
Things to Do in Frankfort, MI
1. Lake Michigan
The thrill and fun linked associated with this Lake are immense. Lake Michigan is next to the largest Lake in Frankfort.
Visitors can enjoy fun-filled activities like swimming, wakeboarding, jet skiing, and parasailing at the attraction.
However, to explore the deeper areas, you will have to arrange with a home-grown fisherman and arrange a charter with them for about a 12-hour or 24-hour exploratory journey.
While with them, you will not only get to see the finest fishing areas in the Lake but can also attempt to catch a fish.
Some of the games you will enjoy observing in the freshwater includes catfish, lake whitefish, Salmon, and brown trout.
Exploring Lake Michigan is one of the top things to do in Frankfort, MI.
Address: Frankfort, MI, United States.
2. Crystal Gardens
This location of this Garden was initially for a lawn maintenance business. On the northern part of Frankfort – a place visited seasonally.
Crystal Gardens, in northern Frankfort, has existed for many years. This seasonal attraction is loved and visited by plant enthusiasts and horticulturists.
Tourists from within and outside the city visit the Garden during spring and summer breaks to enjoy the view or purchase garden materials, plants, etc.
Blooming flower beds and pots fill the greenhouses and other areas under the sun.
Farm animals, tortoises, and peacocks can also be found at a Nature House close to the Gardens.
Various rock polishing services and minerals can also be found in another part of the Garden, the Rock Shop.
Unique items that could serve as souvenirs and presents for your loved ones can be obtained in their antique shop.
Address: 1299 Pilgrim Hwy, Frankfort, MI 49635, United States.
3. Crystal Lake
Crystal Lake, which was named after its water, forms one of the heartwarming water bodies that brighten the heart of tourists. It has become the best summer view for many people.
When counting the largest lakes in Michigan, it comes as number 9. It is about 165 feet deep and covers a total area of about 9,854 acres.
This depth, though, is much lesser than what it used to be before it was connected with Lake Michigan. The connection was averted after Crystal Lake lost over 20 feet of depth, exposing beaches in different areas.
The beaches are now used for water-related activities by tourists.
Crystal beach has small piers, boat launches, and a sandy coastline, which are very useful for walking and sunbathing. One of the best things to do in Frankfort, MI, is to visit Crystal Lake.
Address: Frankfort, MI, United States
4. Point Betsie Lighthouse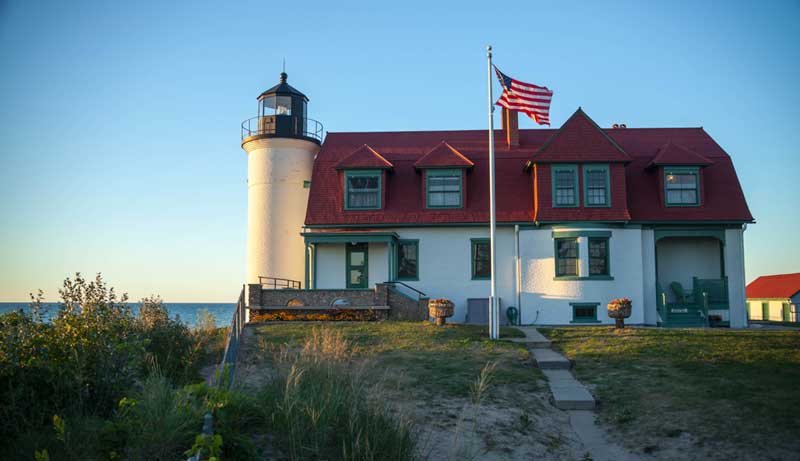 One of the few historic areas recorded in the National Register of Historic Places is Point Betsie Lighthouse. Point Betsie Lighthouse is one of the best places to visit in Frankfort, MI.
Among all the lighthouses caught on camera, it is recognized and accorded the title of "most photographed lighthouse in the entire nation."
Since the 1850s, this Lighthouse has been a source of direction for many boats navigating Lake Michigan. The importance of its historical value is now public, thus, resulting in a large number of tourists visiting the attraction annually.
Due to its top position in the list of the most sought-out spots in Benzie, care and attention have constantly been put in place to preserve its heritage since its discovery.
Many artists have taken quite a liking for it as its white sands, a magnificent structure, and enchanting blue lakes form unique and memorable images on everyone's mind. The attraction also features museums and galleries containing many paintings, needle-point artworks, and photographs of the Lighthouse, displayed in a manner that gets you smiling in appreciation.
Address: 3701 Point Betsie Rd, Frankfort, MI 49635, United States.
5. Hooked Sportfishing Charters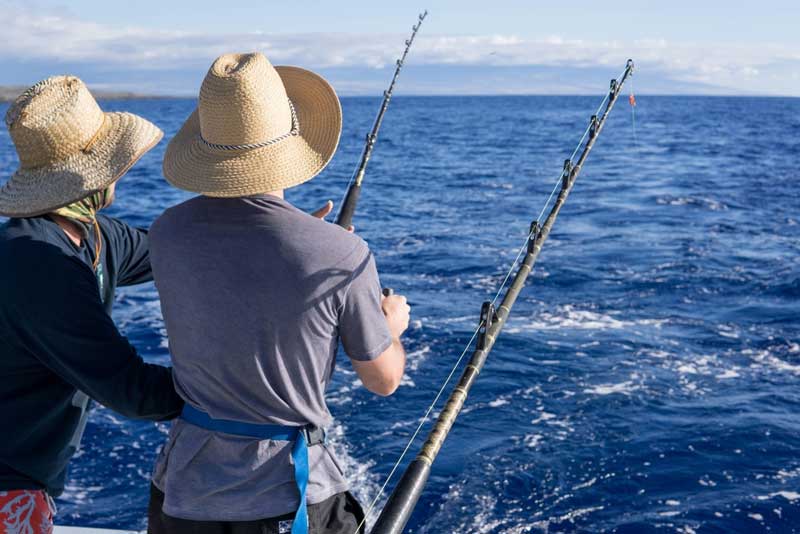 This Charter is led by Captain Todd Schrouder, who has been fishing in Lake Michigan for more than 25 years. Going on an adventure with this Charter is one of the fun things to do in Frankfort, MI.
The Hooked too, an aesthetic 31′ Tiara Open Boat, is your ride on the waters. The boat was technically constructed in a way that would not only gift you a productive fishing experience but would also make you very comfortable and relaxed.
In addition, all the fishing stuff you may need would be made available, including some marine electronics that would help launch you into spots with the most satisfactory fishing experience and quickly too.
This adventure is a great opportunity to get a big catch from Lake Michigan. You wouldn't want to miss it!
Address: 15 4th St, Frankfort, MI 49635, United States
6. Betsie River
Once in Frankfort, you will encounter many natural attractions, including the Betsie River. Betsie River, which encompasses 54 miles, is located in the southern part of the city and touches almost all of its boundaries.
From the Green Lake, it spans north and then blazes out to form the Betsie Lake before pouring forth and enjoining the MI Lake.
Migratory birds, waterfowl, local animals, colorful insects, etc., are some creatures tourists are likely to see. In addition, there are charters in the city that conduct kayaking and boating getaways, allowing visitors to see Frankfort.
Fishing is a great experience on the River. Fishes like brown trout, Chinook salmon, and steelhead are found in the same River and categorize the different parts of the River in a way that makes it beautiful.
For those who want to relax and take in the air, the serenity made available by the river banks surrounded by blooming trees and even the River itself makes it a good site.
Address: Frankfort, MI, United States.
7. Crystal Downs Country Club
Everyone will enjoy this Club, whether experienced or not. The Lakeside 9-hole golf course, revered as one of the region's hidden treasures, was designed by Alister MacKenzie, a highly praised Architect.
The Club became famous when Ben Crenshaw, an American golfer, gave a speech about the good time he had playing.
This speech, till today, has kept Crystal Downs Country Club among the highest courses in the United States. They took the 10th position in 2007 and are now 19th worldwide.
Many golfers now visit this place, even though it is not as modernized as so many other centers. The rolling landscapes, the amazing sight of Lake Michigan, and the cool breeze sweeping the entire arena, among others, contribute to the wonderful time the golfers have in the Club.
Address: 249 Crystal Downs Dr, Frankfort, MI 49635, United States.
8. Stormcloud Brewing Company
The Stormcloud Brewery is another place you should visit before leaving Frankfort, MI. Their specialty is Belgian-style beverages, which have an exclusive fruity taste, and will leave you craving for more. So, if you're a beer lover, don't hesitate to taste it!
The Brewery won a silver medal in 2020 during the Great American beer festival. That's how unique their beer is!
Various drinks like craft beer, flavored stouts, and delicious ales are equally accessible. But, to get the best out of the drinks, you have to gulp them with their signature dishes which include savory flatbread pizzas, specialty popcorn, pretzels, etc.
Don't enjoy these alone; ensure to take some home to your loved ones!
Address: 303 Main St, Frankfort, MI 49635, United States.
Explore this list of things to do in Escanaba, things to do in South Haven, and things to do in Wynwood for a memorable Michigan road trip.
9. Frankfort North Breakwater Lighthouse
Frankfort North Breakwater Lighthouse, constructed as early as 1912, symbolizes the area's maritime heritage.
Its steel structure is recorded on the National Register of Historic Places.
As the name implies, it was initially located in the North before it was relocated to its current location.
Address: off main St, public Beach, Frankfort, MI 49635, United States
10. Betsie River Campsite
This attraction is called Betsie River Campsite even though it isn't located beside the River; however, they aren't too far away. Lots of tourists have grown to make this place their favorite, especially those who look out for a cool place from where to carry out their exploratory journey.
One could easily find this beautiful place even when they aren't headed in its direction as it is very close to River road, which is the major road that leads to Frankfort's city and also a major connection to many other places in the area.
The area set out for camping is attractive and large enough to accommodate many tents. The trees at the strategic borders of the tents combine with the beauty of the Betsie River, which flows close by, making the area more aesthetically appealing.
The campsites are also equipped with modern amenities, such as water hookups and electricity for the freezing stations, cafes, machines for making ice cream, fish cleaning, and R.V.s. Kayaks and rental bikes have been put in place to make your stay worthwhile.
Betsie River Campsite is one of the best places to be in Frankfort, MI, to enjoy the freshness of nature as you camp.
Address: 1923 River Rd, Frankfort, MI 49635, United States.
11. Garden Theatre
This Theater, owned by the non-profit Friends of the Garden Theater, was incepted in 1923, though it has been under renovation since 2008.
The Garden Theater features Independent and International movies. Visiting this Theater is one of the fun things to do in Frankfort, MI.
This glamorous Theater is also the venue for the yearly Frankfort film festival, the dark and Stormcloudy Film series, and the Frankfort 48 Film Contest.
This place can also be rented for wedding receptions, charity events, business, private parties, etc.
The upgrades in the Theater include new seats, better sound, and state-of-the-art heating and conditioning systems, bringing the Theater back to its previous glory.
Address: 301 Main St, Frankfort, MI 49635, United States.
12. Ellie Harold Art Studio & Gallery
Vibrant oil paintings of the locals' life, landscapes, and abstracts are found in the Ellie Harold Art Studio and Gallery.
The establishment, set in a lovely Victorian home constructed in 1895, showcases the works of Ellie Harold, a self-taught, award-winning artist.
Visitors can also purchase a few exceptional products, such as note cards and calendars.
The Studio enlightens people on the profound intuitive area, which is the origin of all creative pieces.
The compliments from those who saw her work in her house prompted her to speak to the people about this way of art presentation and sales.
Lots of people now visit there every year for that cause.
Address: 402 Forest Ave, Frankfort, MI 49635, United States.
13. Elizabeth Lane Oliver Centre for the Arts
Elizabeth Lane Oliver's Center for the Arts is the city's center for creativity. The attraction aims to promote and awaken the love for arts amongst the youths.
In alignment with their mission, they conduct workshops and educational programs and display local artists' artwork.
All forms of art, be it literature, culinary, wellness, or textile, are all accommodated. Their exhibitions are always an adventure with many beauties to behold – don't forget to check them out.
Address: 132 Coast Guard Rd, Frankfort, MI 49635, United States.
14. Frankfort Public Beach and Playground
Are you looking for what to do in Frankfort, MI? Then, visit Frankfort Public Beach and Playground. This attraction in Frankfort is the perfect waterside view and a special destination for anyone who wants to experience a sandy beach. And guess what? It is open to the public!
The Beach's enchanting views, windswept landscape, and soft sand grains have kept tourists flowing in and out.
The twin piers that form the Frankfort Harbor are one of the most outstanding features of the Beach.
The incredible view of the pier beside Frankfort and the Lighthouse that forms its border is enough to make your day.
The top of the pier is a good sight for anyone who wishes to appreciate the city from the sea – something you will be happy you did.
Frankfort Public Beach is an amazing place to visit during the summer holidays. Activities like long walks, sunbathing, games, etc., can be enjoyed in this location.
Address: Frankfort, MI 49635, United States.
15. Focus Gallery
This amazing Gallery was established in 2015 in a picturesque lakefront community in Michigan. The dunes that line Lake Michigan surround the Gallery.
It displayed pictures of Drew Smith, the owner, and Carl Freeman's artwork on wildlife.
Visitors can check out Carl Freeman's selection of watercolor artwork, ink artwork, creative pen, and original watercolors.
Carl has always been seen either learning about natural treasures or painting.
Address: 402 Main St, Frankfort, MI 49635, United States.
Considering a Michigan road trip, check out our guides on things to do in Midland , things to do in Grand Haven, and things to do in Manistee for a memorable trip.
16. Betsie Dunes Nature Preserve
Also, check out the iconic sand formation at Betsie Dunes Nature preserve.
Spectacular dunes, just like the ones in Sleeping Bear Dunes Nation Lakeshore, are found here, except they aren't as tall.
Floras and faunas that thrive in Sandy and windswept landscapes are mostly found in this area.
Blossoming spring flowers, insects, and waterfowl on the low trees and shrubs that dot the compound are usual sights.
Address: 3860 N Long Lake Rd, Traverse City, MI 49684, United States
17. Frankfort Mineral Springs
Don't know what to do in Frankfort, MI? Explore the magical Frankfort Mineral Springs. Frankfort Mineral Springs, situated in the middle of a tiny park anterior to Betsie Lake, was discovered in the 1800s by miners looking for salt.
The attraction has a legendary reputation amongst town dwellers. The miners who discovered it bored into an aquifer – a water source till today. The legends began after the creation of the water source, which they considered a miracle.
One of the myths is that drinking from the spring improves health – a myth that has caused the residents to visit the spring every day to fill their bottles; you could decide to do that too!
The villagers even encourage visitors to drink the water because they want them to see what it can do. There are other beautiful views aside from the well, like the mind-blowing lakeside.
Address: 630 Main St, Frankfort, MI 49635, United States.
18. Rock's Landing
Rock's Landing, a small waterfront eatery with outdoor and indoor dining rooms with breathtaking views of Crystal Lake, was once a modest resort snack bar that closed in the 1950s.
Executive Chef Joe Meyers is in charge of the kitchen. He creates main courses with international effects and flavorful tapas-style dishes, like crispy Brussels sprouts and Porchetta with polenta.
These dishes go well with the list of Michigan craft beers and wines. Seasonal hours for the restaurant are from May to October. It is advised to make reservations.
Address: 1577 Crystal Drive, Frankfort, MI 49635, United States
19. Hotel Frankfort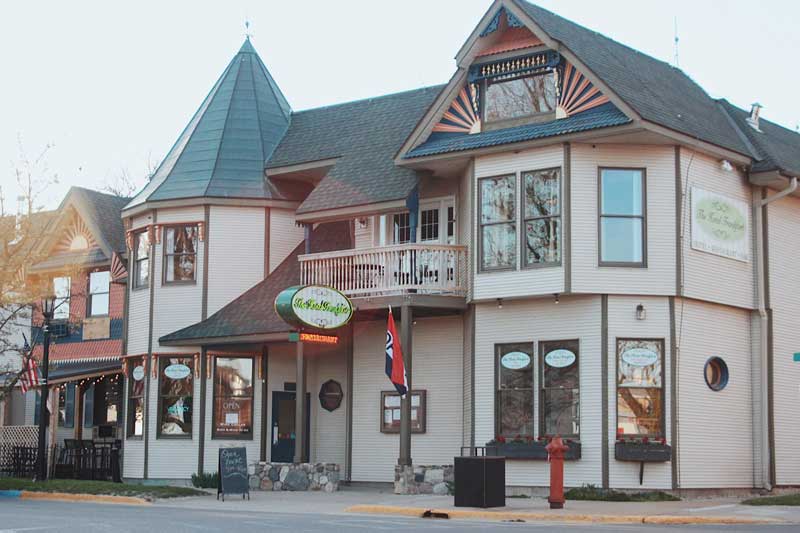 This amazing Hotel is at the center of Frankfort's major street, two blocks from one of the breathtaking beaches in Lake Michigan.
The Hotel, which has been in place for 88 years, comprises 17 specially decorated guest rooms, independently regulated air conditioning and heating, and a private bathroom.
The bigger rooms, with their saunas or whirlpool tubs, are what you need for your peculiar Northern Michigan getaway!
You will also enjoy superb internet speed and a 43- inch T.V.
An exclusive restaurant with a bar and dining area is present if you get hungry. Do enjoy yourself!
Address: 231 Main St, Frankfort, MI 49635-9048, United States
20. Bear Dunes National Lakeshore
The Sleeping Bear Dunes National Lakeshore, whose admirable sight has been listed as one of the most exquisite views in the nation, is instituted in North of Frankfort.
Its sweeping landscape, pristine dunes, and magnificent glacial formations have also contributed to its beauty. It has expansive slopes of pale white sand as high as 450 feet.
The attraction gets lots of tourists during the summer break, camping and soaking themselves in the awesomeness of its view.
Manitou island campgrounds, Platte River Campground, and D.H.D.H. Day Campgrounds are the three main grounds from which visitors can choose.
Address: 9922 W Front St, Empire, MI 49630, United States
21. Dinghy's Restaurant & Bar
Dinghy's is a casual restaurant with retro decor and booth seating, specializing in smoked meats and American classics. One of the best things to do is to dine in the excellent Dinghy's Restaurant and Bar.
The nautically themed restaurant offers a laid-back and pleasant setting for eating ribs, sirloin, pork barbecue, other savory items, sweet cornbread mac & cheese, potatoes, and many others.
Everything in the restaurant is created from scratch and examined to absolute perfection.
Their award-winning ribs, pulled pork sandwich, the most incredible smoked chicken wings in town, and fantastic in-house smoked meats are among customers' favorite dishes.
Many other outstanding meals are included on the menu, including the Friday fish fry, the sandwich of your dreams, and the French dip sandwich.
Address: 415 Main Street, Frankfort, MI 49635, United States
22. Interlochen State Park
Between an isthmus that divided Duck Lake and Green Lake lies the Interlochen State Park.
It covers about 187 acres and is also recognized as the first-ever park owned by the state of Michigan.
Due to its peculiar location between two lakes, kayaking, fishing, and swimming, amongst other water-related activities, are carried out here.
Being among the few spots in the whole state with old-growth forests, it has become a great spot for exploration.
Address: 4167 J. Maddy Pkwy, Interlochen, MI 49643, United States
23. Arcadia Dunes: The C.S. Mott Nature Preserve
Arcadia Dunes is another place where you will have a blast should you be in search of adventure! It is being looked after by the Grand Transverse Regional Land Conservancy and is the largest facility under their care.
This attraction is a 60-minute drive from Frankfort and close to Lake Michigan.
Lots of trails can be explored here. But the most famous among them is the Scenic Outlook Trail. It brings one to the summits of the dunes.
The rigorous terrain and problematic routes make biking on the mountain challenging – hence, a favorite activity by tourists.
Address: Gilbert Rd, Arcadia, MI 49613, United States
24. Crystal Lake Alpaca Farm
This Farm is located in Northwestern Michigan, specifically in the Lower Peninsula.
Their mission is to grow healthy and happy alpacas with fine and dense fleece.
They pride themselves in attending marvelously to their customers, coaching them, offering veterinarian assistance, and the likes of them.
The Farm also owns Crystal Lake Alpaca Boutique, which was opened in 2012. The wood with which the store is built gives it a typical Northern Michigan feel.
Address: 4907 River Rd, Frankfort, MI 49635, United States
Would you like to know some of the best attractions in Michigan?, here is a tourist guide on things to do in Port Huron for a fun time, also check out things to do in New Buffalo and things to do in Charlevoix if you have more time in Michigan.
Plan Your Trip to Frankfort
As you prepare to visit Frankfort, MI, anticipate a fun-packed adventure. If you are in awe of nature, get ready to be amazed by Frankfort's natural attractions.
Start planning your trip today! Have a great time!