In search of the best and fun things to do in Brattleboro, VT?
Brattleboro, a famous four-season tourist destination, is located in Southern Vermont on the bank of the Connecticut River.
Brattleboro is endowed with amazing parks for a good time out with friends and family, a good playground for kids to play and have fun. You can also go swimming, great restaurants, cinemas, biking, nice spots for games like tennis, hiking, golf, baseball, and others, snowshoeing and skating in winter, and other exciting places to discover.
Are you planning a vacation to Brattleboro? Here are the best things to do in Brattleboro, VT
Things to Do In Brattleboro
1. Explore the Brattleboro Museum and Art Center
In Brattleboro Museum and Art Center, its focus is on displays of crafts and works by regional and international artists to educate and inspire tourists.
Brattleboro Museum and Art Center was founded in 1972 and it was built in the former Union Station in downtown Brattleboro.
Some segments make up the Brattleboro Museum & Art Center. First, the museum portion which displays traditional art, antique glass, and vintage toys. Secondly, the art center focuses on local fine arts legends and regional artists.
It organizes educational programs for learning, art displays, guided tours, and gallery walk through the museum. You can also rent Brattleboro Museum and Art Center for special programs and events.
The museum showcases work by artists, including works by Janet Fish, Chuck Close, Andy Warhol, and Wolf Kahn. There are also times for special exhibitions from community organizations and local school groups.
Address: Art Museum10 Vernon St., Brattleboro, VT 05301
2. Take a Walk in Retreat Trails
One of the top things to do in Brattleboro, VT, is exploring Retreat Trails which has a stone tower that gives tourists a scenic path in a wilderness, and is home to deer and eagles.
One of the best spots is an Olympic ski jump named the Harris Hill Ski Jump. There are accessible networks of trails that wind through the forested and hilly area north of the Massachusetts border on the Retreat Trails.
Retreat Trails is located in the South of Green Mountain National Forest.
Varying from old jeep roads to looping single tracks, the Retreat Trails provide few trails up to the peak of the town's ski jump. The sight gives an incredible view of the surrounding countryside.
There are easy trails for beginners and challenging single tracks too. The Retreat trail system is measured over nine miles long.
Many of the trails still bear the names given to them 175 years ago when they were created to be used by the "Vermont Asylum" staff and the patients and still working as the Brattleboro Retreat to date.
Address: Hiking TrailsCedar Street, Brattleboro, VT
3. Visit the Creamery Covered Bridge
The Creamery Covered Bridge built in 1879 can also be called the Crystal Springs Covered Bridge or the West Hill Covered Bridge. It was named after a creamery that was situated adjacent to the bridge site.
The Creamery Covered Bridge is listed on the National Register of Historic Places as one of the best popular tourist attractions that attract tourists from far and near to the pleasant place.
Creamery Covered Bridge gives a scenic view of the creek and forests all around it as a historic covered bridge. Tourists can use the bridge for an excellent photo shoot opportunity.
The Creamery Covered Bridge is a beautiful place covered with a wooden bridge within the town of Brattleboro.
Address: BridgesGuilford Street Off Route 9 west, Over whetstone brook, Brattleboro, VT 05301
4. Have a Good Time in Brattleboro Area Farmers' Market
The Brattleboro Area Farmers' Market is a top-ranked farmers market that constitutes over 50 vendors selling several products and things like; agricultural products, animals, live music, arts and crafts, and ethnic foods from around the globe.
The market, which is Southern Vermont's prominent farmers' gathering, provides both locals and visitors with a course in Vermont food.
The foods offered are the free-range beef and lamb to cheeses, honey, freshly baked pastries, fruit and veggies and, maple syrup.
The Brattleboro Area Farmers' Market opens every Wednesday at Whetstone Pathway off Main Street between 9 am – 2 pm. The Saturday's market is held in West of town by the Creamery Bridge same time.
Address: Farmers MarketsRoute 9 West, Brattleboro, VT
5. Go to the Retreat Farm
The Retreat Farm is a historical site and a non-profit center concentrating on recreation, conservation, education, and sustainable enterprise.
The Retreat Farm is an outdoor amusement and recreation area located on 475 acres, and the farm consists of a variety of animals that tourists can play with and pet. The farm also has a trail network.
The Retreat Farm is a dwelling place to one of the five trailheads that make up the nine-mile Retreat Trails recreation network, which is open for skiers, hikers, horse riders, and bikers.
The farm is an actual reflection of the cultural and rural way of life in Vermont. It also gives hands-on farming experiences for the family, including playing with chicks, petting goats, feeding sheep, and playing in the corn.
All these encourage kids to interact with different animals and know more about life on a farm. There is a gift shop that offers an order of souvenirs to take home.
Address: Farms & Ranches350 Linden St Route 30, Brattleboro, VT 05301
6. KidsPLAYce: Southern Vermont Children's Discovery Center
Are you in search of fun things to do in Brattleboro with kids? KidsPLAYce is a beautiful place to visit.
The KidsPLAYce: Southern Vermont Children's Discovery Center is an indoor play-space that provides educational play structures, interesting, engaging, and fun environment where kids can play and learn new things.
It is also family-friendly and a party location for the kids.
There are fantastic and creative displays designed to educate, inspire, and encourage discoveries, such as a life-size castle, the musical marimba bench, zoom tubes, a pirate ship, art stations, and a train.
There are spaces available for babies and toddlers, consisting of soft play areas, a unique puppet stage, and colorful murals by local artists.
Children can enjoy their lunch and snacks during lunchtimes as there is a comfortable and inviting area. There are different programs and events to be enjoyed throughout the year, such as the 'Fine Dining Raffle,' 'Visit with Santa', and many others.
Address: 20 Elliot St, Brattleboro, VT 05301
7. Twice Upon a Time
Twice Upon a Time is a shop situated in a beautifully restored historic turn-of-the-century department store.
It is a family-owned business that sells various vintage and collectible items from the 18th Century to date.
Twice Upon a Time offers an extensive selection of collectibles, glass, china, home décor furniture, and vintage clothing from over 100 dealers and 4,000 consignors.
It also provides rental spaces, local deliveries, and pickups, as well as consignments. It covers 10,000 square feet of space with the actual mezzanine level.
Address: 63 Main St. Brattleboro VT, 05301, Phone: (802) 254-2261
Planning a vacation and wondering where to visit in the United States? Here are a list of things to do in Reno Nevada, things to do in Sioux Falls, SD and fun places to visit in Chattanooga, TN for fun exploration.
8. Historical Society of Cheshire County
Historical Society of Cheshire County was established in 1927 as a non-profit. It is committed to conserving and promoting the history of the local area.
The Historical Society of Cheshire County utilizes a 13,000 square-foot museum filled with historical documents and displays.
It has the commission to collect, maintain and communicate the history of Cheshire County.
To achieve the commission of the Historical Society of Cheshire County, it shares and interprets the materials of Cheshire County history with people who are interested in its past and present.
The Historical Society of Cheshire County works as an educational center consisting of artifacts, archives, manuscripts, research collections, public information, etc. It also sponsors educational displays and publications.
Address: Specialty Museums246 Main ST., Keene, NH
9. Top of the Hill Grill
The restaurant is family-friendly and serves real barbecue food, including beef grilled chicken, smoked turkey, freshly ground, pure beef burgers, brisket and ribs, and hickory-smoked pork.
Top of the Hill Grill also serves tasty prime-cut meats accompanied by various freshly made salads and sides such as roasted potatoes, cornbread, baked beans, root vegetables, and coleslaw.
Vegetarians are also catered for, with a range of non-meat dishes and pasta made available for them.
Also, premium exclusive Children's Menu offers mac and cheese, hot dogs, chicken fingers, burgers, and sloppy joes.
The beautiful wooden deck with picnic tables provides fantastic outdoor dining in the summer, alongside an indoor heated deckhouse that provides warmth in the winter.
Address: Williamsville, VT 05362.
10. Learn New Things at Estey Organ Museum
The Estey Organ Museum, which was named after Jacob Estey, was established in 2002 to celebrate the heritage of the Estey Organ Company of Brattleboro.
Jacob Estey founded a giant Estey pipe, reed, and electronic organ manufacturing establishment best of its kind.
The Estey Organ Museum is dedicated to sharing historical information about the company, its practices and, its products, all done through magnificent collections and displays of Jacob Estey and other organs.
Estey Organ Museum is a fascinating and educational place and a must-see center for organ lovers to visit, alongside nicely arranged antique organs with photographs and Estey family genealogy on display.
The museum inspires tourists to discover and learn about music, arts and crafts, histories, and others by collecting artifacts in Estey Organ Museum.
Estey Organ Museum organizes essential events and other activities, including historical re-enactments, musical concerts, and organ workshops.
This makes what to do in Brattleboro, VT, for a fun time, do consider an addition to your bucket list of things to do in Brattleboro, VT.
Address: History Museums 108 Birge Street, Brattleboro, VT 5301
11. Hermit Thrush Brewery
Christophe Gangné and Avery Schwenk founded Hermit Thrush Brewery in 2014. It is a local brewery that creates Belgian-inspired and fruit beers.
It offers special tours and beer tastings. Hermit Thrush Brewery also displays works of art by local artists.
Hermit Thrush Brewery has quickly gained a reputation for amazing sour and wild ale recipes using renewable energy and sustainable processes.
The beautiful brewery exudes old-world style with exposed brick, elegant archways, and a quaint tasting room made out of reused wood. Tourists can enjoy several beers in the tasting room, including the Party Guy, Brattlebeer, Brooks Brown, Dizzy Vicar, and Silly Friar.
Address: 29 High Street Suite 101C, Brattleboro, VT 05301
12. Have a Sumptuous Meal at Dosa Kitchen
Dosa Kitchen is located at the Grafton Cheese Village in the heart of Brattleboro. It serves a creative and tasty menu of South Indian cuisine.
It is a food truck owned by Leda Scheintaub, a cookbook author.
One of the cuisines made and served from the truck's tiny kitchen is the dosa- a crispy, tangy fermented rice and lentil crepe.
They also serve made-from-scratch dosas like the traditional masala dosa and the non-traditional kimchi bacon dosa pancake, the signature dosa dog – a slice of large pork and beef accompanied with a wrapped hot dog stacked with tangy homemade mustard, Grafton cheddar cheese, and masala sauerkraut, and
Dosa Kitchen provides for all types of dietary requirements from vegetarian to gluten- and dairy-free. Dosa Kitchen is also available for personal events and parties.
Address: Grafton Cheese Village, 400 Linden Street (on Route 30) in Brattleboro, Vermont,
13. T.J. Buckley's Uptown Dining
T.J. Buckley's Uptown Dining is located in a restored Worcester Dining Car from 1925, T.J. It is headed by Chef-Owner Michael Fuller.
T.J. Buckley's is always open for dinner Thursday through Sunday, occasionally on Wednesdays.
T.J. Buckley's is a family-friendly restaurant that offers seasonal organic cuisine made with ingredients gotten from local farmers and producers.
Its menu serves various New American cuisine with a European touch sourced from Chef Fuller's classic French training across different foods, consisting of poultry, vegetables, meat, gluten-free foods, and fish.
There are compelling and freshly prepared salads served in T.J. Buckley's Uptown Dining.
Including the winter vegetables, the rabbit loin wrapped in Serrano ham and Maine heirloom beans, Poached Bosc pear, Crispy Pork Belly with Diver Scallops accompanied with gritty polenta cake, black trumpet mushrooms and steamed winter greens, and many others.
Address: 132 Elliot Street, Brattleboro, VT 05301
14. Peter Havens
Thomas Dahlin and Gregg Van Iderstine started Peter Havens.
Peter Havens restaurant offers an inviting atmosphere, a fantastic menu of wonderfully prepared cuisine accompanied with wine and warm service.
The restaurant houses ten tables where people can enjoy romantic dinners in a casual and cozy ambiance. It has a bar where signature cocktails are served and enjoyed before or after dinner.
The menu consists of a nicely arranged list of foods, of which, for a start, you can begin with the Sesame Crusted Ahi Tuna, brandy, vermouth marinated escargots sautéed with garlic Wild Maine Mussels steamed in white wine. You can also try the entrées of pan-roasted duck breast with French greens, grilled lamb chops in a rosemary marinade, and salmon steak with ginger soy vinaigrette.
You can end your meal with something tasty from the dessert menu, such as the warm apple tart or the Nantucket oatmeal spice cake and the chocolate mousse, and then wash it down with the finest in the impressive wine list.
Address: 32 Elliot Street, Brattleboro, VT 05301
15. Molly Stark State Park
Molly Stark State Park has a hiking trail that leads up a local mountain, and it gives a scenic view of an area that was settled before the American Revolution.
Molly Stark State Park is named after the popular wife of General John Stark of the Revolutionary War. Along with the Molly Stark, the park is built Trail Scenic Byway, the main east-west route in Southern Vermont.
Different campsites are provided; there is a restroom with flush toilets with hot and cold running water. There is a playground and a hiking network that leads to the Mt. Olga fire tower.
Molly Stark State Park has a picnic space that is available for rent. The pavilion is enough for up to 60 people, three charcoal grills, ten picnic tables, and electricity with nearby restrooms.
Address: National & State Parks705 RT 9 E, Wilmington, VT, 05363
Planning a road trip to Ohio? Do check out our list of things to do in Findlay , fun things to do in Athens and things to do in Columbus for a fun Ohio road trip
16. Fort Dummer State Park
One of the best things to do in Brattleboro, VT, is a visit to Fort Dummer State Park, it is one of Brattleboro VT attractions you should not miss out on.
Fort Dummer State Park was built in 1724 in a town called the Town of Brattleboro in southeastern Vermont. It is a park known as the first permanent European settlement in Vermont.
Fort Dummer State Park is located in the Connecticut River Valley outside of Brattleboro. It has is a 217-acre state park overlooking the site of Fort Dummer.
It was built during the Dummer's War by the colonial militia of the Province of Massachusetts Bay which took place under the command of Lieutenant Timothy Dwight and was named after Lieutenant-Governor William Dummer, who was the acting governor of Massachusetts at the time of the fort's construction.
The park is occupied by forest land, and it provides different hiking trails and a campground. It consists of forests in Brattleboro, Vernon, and Guilford.
The red, white, and chestnut oaks dominate the Southern tree species, and this also contains yellow birch, white birch, beech, and maple.
Several oak trees offer food and shelter for turkeys, squirrels, and deer. Ruffed grouse also lives in these woods, attracted by the dense woody cover.
The campground has 50 tent sites and ten lean-to sites, which are located in two adjacent areas. It has restrooms with hot showers.
Address: National & State Parks517 Old Guilford Road, Brattleboro, VT 05301
17. Naulakha
Naulakha is a national historical landmark called the Rudyard Kipling's home on Kipling Road in Dummerston, Vermont, a few miles outside Brattleboro.
Naulakha was built for Rudyard Kipling in 1892. The popular actor wrote some of his famous books, such as The Jungle Book and other exciting works.
It also contains a library of Rudyard Kipling's work and an original desk where he wrote his books.
Several outbuildings and facilities are built by the Kiplings, such as the carriage barn, a tennis court, a greenhouse, and some artifacts belonging to the family.
Naulakha is open for tours, family and friends reunions retreats and is also available for rent.
Address: Naulakha, 481 Kipling Rd, Dummerston, VT 05301
18. Gallery in the Woods
Amongst the top fun things to do in Brattleboro, VT, is Gallery in the Woods. It is one of the museums that celebrate some creative and visionary artists worldwide.
The Gallery consists of furniture, glass pieces, paintings, jewelry, and sculptures with a religious undertone with several displays.
Gallery in the Woods offers fine and folk arts, crafts, hand-made lighting, and a home.
It hosts exhibits of featured artists throughout the galleries and receptions for Gallery Walk every first Friday of the month.
One of the artworks is "The Roots To Resistance," painted by Denise Beaudet. It features 13 four by eight-foot well-sourced portraits of grassroots women activists. It is designed to inspire and educate women from all walks of life.
The exhibit is related to the organizations founded and influenced by these women, and all goes to them. Postcards of these images and fliers can be sent worldwide for free if requested.
Address: ArtGgallery145 Main Street, Brattleboro, VT 05301
19. Stonewall Farm
Stonewall Farm was founded over 300 years ago and has been a working dairy farm for more than 200 decades. It is a notable farm located in Keene, NH.
Stonewall Farm is a farm that runs a working organic dairy farm and educational center. Guest and tourists can visit the grounds and barns, relate with the animals, watch a milking, or go for a hike on a network of trails on the farm.
Stonewall Farm Products offers ice cream, fresh organic milk, and vegetable, all made on the creamery farm.
It sells scooped ice cream by the cup or cone you can take home. The ice cream is made with milk and cream from the organic dairy farm.
It also has varieties of eggs and beef from the organic dairy herd.
Other farm products include fermented veggies, cooking oils, coffee, pastured raised meats, cheese, miso seasonings, salsas, honey jams, crackers, gourmet sauces, and many others.
Stonewall Farm provides the southeast corner of New England farm education programs for adults and kids, organic dairy products, fresh fruits, and an excellent event center.
Address: Farms & Ranches242 Chesterfield Road, Keene, NH 3431
20. Enjoy a Good Meal at Whetstone Station Restaurant and Brewery
Whetstone Station Restaurant and Brewery is a great restaurant that serves creative and delicious cuisine food, refreshing drinks in a picturesque riverside setting, and local craft beers.
Take a walk from downtown Brattleboro; Whetstone Station boasts year-round indoor and outdoor dining against a backdrop of breathtaking views.
Whetstone Station Restaurant and Brewery's menu serves traditional pub grub-style fare and pub pretzels, grilled sirloin tips, and crab cakes as starters.
There are Lighters meals like sandwiches and burgers that are available from the 'Brew Bar' menu. You can enjoy varieties of handcrafted beers from the brewery with the served meal.
The main foods offered are basil encrusted salmon, pub meatloaf, classic fish, chips, and spiced cider ribs.
You can explore the brewery with guided tours and tastings on the first Sunday of every month at noon; it can also be done by appointment.
This is one of the top places to visit in Brattleboro for a meal, do add to your checklist of cool things to do in Brattleboro, VT.
Address: 36 Bridge Street, Brattleboro, VT 05301
21. Cheshire Children's Museum
Cheshire Children's Museum is located at the center of Keene. It is created for children of all ages as the museum encourages dramatic and exciting play.
It is a fantastic center for birthday parties. There is a separate area for toddlers and older children, and you can supervise your kids while they are playing.
In Cheshire Children's Museum, there is a camping area, grocery store, automotive section, log cabin, post office, space ship, a classroom, and others.
Are you in need of a place to visit in Brattleboro with your kids for a fabulous and fun time? Cheshire Children's Museum is one of the best centers to visit.
Address: Children's Museums149 Emerald Street, Keene, NH 03431
22. The Superfresh! Organic Café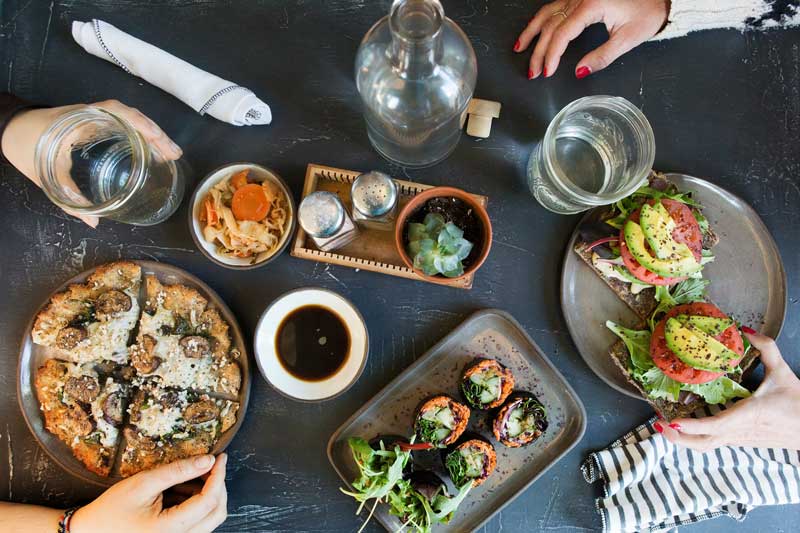 Superfresh! Organic Café is located at the base of Mount Wantastiquet on the banks of the Connecticut River.
It is the only restaurant in southern Vermont that serves 100% vegetarian/vegan cuisine. It encourages commitment to an irresistible, affordable, and healthy menu.
Superfresh! Organic Café is a family-friendly eatery that offers an array of the menu of homemade soups, burritos and quesadillas, wraps, delicious sandwiches, freshly prepared salads, pizzas, and other body-nourishing meals.
For a fantastic meal, you can add a beverage from the range of freshly squeezed vegetable juices, and fruits, coffee and tea, smoothies, and enjoy your meal in the warm and welcoming restaurant alongside a backdrop of local artworks and live music.
To encourage regional producers and farmers, the Superfresh! Organic Café supports sustainable models of distribution, production, waste and recycling and small retail space that sells herbal apothecary goods, and artisanal shelf-stable food products and
Address: Main St. Brattleboro, VT
23. The Art of Humor Gallery
The Art of Humor Gallery is created in 2001 to serve as a comprehensive walk-through portfolio for patrons and art students.
The Art of Humor Gallery is a 3000-foot gallery is built on 14 acres of a scenic mountainside situated in the Green Mountains of Vermont.
It centers on exhibits of humorous fine art, and it also contains the work of an artist and a cartoonist named Skip Morrow.
There are giclee prints, watercolor originals, books, prints, and cards on display. The works of Skip Marrow are the center of the collections.
Skip Morrow has illustrations published internationally, including New York Times best-selling books, magazine articles, cards, etc.
The Art of Humor Gallery opens every Friday through Sunday from 10 am-5 pm or by appointment, and there is a $5 admission charge which can be applied to select items for purchase.
Address: Art Gallery#30 Not-a Road, Wilmington, VT 05363
Want to have more fun in Vermont? check out our list of things to do in Vermont for a fun exploration of this State.
Plan your Vacation to Brattleboro
Brattleboro is a great and exciting place for a family or friend's vacation. Brattleboro is a fantastic place to explore and discover amazing things.
There are attractive parks, fantastic museums, great restaurants, playgrounds, and many other fun things to do in Brattleboro.
So you can start planning a visit to this place on your next vacation. The things listed here will guide you to know the best things to do in Brattleboro, VT, and great places to visit.