Are you planning a fun outdoor time? Would you like to know the best parks in Milpitas, CA?
The city of Milpitas is in Santa Clara County, California, USA. It is considered one of the largest cities in the county. In 2021, its population was 79,066.
Milpitas is often referred to as the "Crossroads of Silicon Valley" because most of its land lies between a County expressway, State Route 237, and I-880 and I-680 freeways.
Known for its lovely small-town feel that captures the interest of many, Milpitas is worth a visit. In addition to its appealing vibes, the area has excellent restaurants, fantastic shopping centers, and fun attractions.
Milpitas also has numerous parks with sophisticated amenities for fun, including soccer, tennis, or volleyball court, trails, barbecues, playgrounds, and other features. They are also kid and dog-friendly.
All parks are open from dawn to dusk. These Parks are one of the city's top attractions and are perfect hangout locations for friends and family. Here are the top parks in Milpitas, CA.
Best Parks in Milpitas, CA
1. Ed Levin County Park
Ed Levin County Park is one of Santa Clara County's best parks, highlighting various scenic and multi-purpose features.
Ed Levin County Park sits on a 1,558-acre landmass, blending the traditional elements of a city park, including a playground, fishing, and picnicking, with the complex trail system of regional parks.
If you want a perfect spot to take your family for a picnic, this park has got you covered. Those looking for a back-to-nature experience can roll on the grasslands or Oak woodlands.
Also, the San Francisco Bay overlooks the park, and you can enjoy the picturesque view of the valley floor.
Another admired feature is an expansive dog park with space for large and small dogs. The park is more charming during winter when the grasses are lush. One more thing, the park charges a small fee before the entrance.
Address: 3100 Calaveras Rd Milpitas, CA 95035, United States
2. Cardoza Park
Cardoza Park is a distinct community park with sports facilities, a swimming pool, playgrounds, picnic areas, and gardens. You can play soccer or any game with friends or relax at one of the picnic tables, watching others do their thing.
On Independence Day, the park holds annual fireworks and other exciting events. If you love dancing, they play live music where you can jog it with other happy people.
In addition, the play structure is customized for kids with diverse choices so they can enjoy every bit of it. The park also provides summer and fall movies for free. This is an ideal local park to spend the weekend.
Address: Kennedy Dr & N Park Victoria Dr, Milpitas, CA 95035, United States
3. Hidden Lake Park
Hidden Lake Park is located on North Milpitas Boulevard and sandwiched between Jacklin Road and Escuela Parkway. The place is excellent for relaxation, having charming views with free entrance.
There are picnic tables around the park and free parking, which means you have a lot to gain by visiting this lush park. They also have two barbecue units, tables, and a lake with ducks.
Although this 6.5-acre park is a cute small place, it is safe to walk, sit around, and enjoy seeing birds.
Address: Milpitas, CA 95035, United States
4. Jose Higuera Adobe Park
This quaint neighborhood park of Milpitas is one of the city's charms. Jose Higuera Adobe Park is a historic location with buildings, a lovely play area, lush lawns, and picnic tables. It is free to use and best for strolling with friends for fun.
Children will enjoy the park due to its kid-friendly features. They have lovely barbecue areas and picnic tables for family lunches. You can also bring your dog along, so they can have fun while you hike or trail.
Of late, some renovations went on in the park, giving it an inviting, relaxing ambiance. You will enjoy the views of the mountain, cacti, and cattle. It is best to visit during the day to enjoy the new walking paths.
Address: Wessex Pl, Milpitas, CA 95035, United States
5. Peter D Gill Memorial Park
Regarding nature preservation and outdoor recreation, the Peter D Gill Memorial Park is one place to trust. It is a public park offering a laid-back feel, where anyone can come for relaxation.
You may visit with friends or come alone for a quiet moment. The park offers training and sports facilities and hosts some special events all year round. Kids will love coming around, as there are facilities available for playing.
If you want to go for a picnic, Peter D Gill Memorial Park is a good spot. Enjoy the charming scenes as you walk around or hike through the trails.
The views of the hills are also lovely, leaving something in your memory. Additionally, the park offers a free parking lot for your car.
Address: Santa Rita Dr & Paseo Refugio, Milpitas, CA 95035, United States
6. Creighton Park
Creighton Park is a must-visit sightseeing spot in the quiet neighborhood of Milpitas. It allows visits during the day while offering something for all classes. This park has numerous features.
In the back are picnic tables and good BBQ grills with sunshades, which you can reserve. Another reason to visit Creighton Park is its large open grassy area, dog park, and bathroom for convenience.
The large children's playground has younger and older children, including toddlers. Children who love climbing will enjoy the rock in the park, where they can exercise their feet. Above all, the place is fenced to keep children from heading to the road.
Address: Creighton Ct, Milpitas, CA 95035, United States
7. Ben Rogers Park
Glowing with charming flowering trees and extensive lawns, Ben Rogers Park is a fantastic place for a greenery hangout. It is large, with a playground, a walking pathway, and diverse getaways from the park.
You won't need to look elsewhere when you want to host a group of people, whether friends or family. It is also ideal for kicking back after a hectic day or sharing an intimate moment with your significant other.
What's more, the park provides a fond memory to visitors, who would always stop now and then to unwind.
Some people visit in summer evenings to enjoy a view of the park when the sun sets. But if all you need to do is to walk your dog.
Address: Grand Teton Dr & Sequoia Dr, 2056 Seacliff Dr, Milpitas, CA 95035, United States
8. Augustus Rathbone Park
Augustus Rathbone Park is an excellent spot for planning a nice picnic. It is located at the border of Milpitas and San Jose, offering every comfort to its unique visitors. The park allows sun and ventilation, which blend with the green surroundings to give it a welcoming feel.
Instead of always staying indoors, why not visit this fantastic spot, and have fun while enjoying the views? Besides, the park is relatively new, giving it a fresh look. It also has some sculpture art, which adds color to the environment.
There is a small walking trail, tent, playground, and a bench here for visitors' comfort. It is an excellent option for those who live around because it does not have all the features of a big park. Hence, if you have to drive, you may as well look elsewhere.
Address: 386-402 Expedition Ln Milpitas, CA 95035, United States
Are you planning a road trip to California and wondering what to do? here is a guide on things to do in Yucca Valley, and fun things to do in Alameda for a memorable
9. The Dragon Mountain Thien Long Son
The Dragon Mountain Thien Long Son, established in 2014 on private land, is remarkable. It has pleasant views for those who love sightseeing. Plus, if you want a good place for exercising, the park provides enough space.
Some activities and events occur in the park, making it an exciting spot. Those looking for a serene place to get away to clear their mind can find a haven in the Dragon Mountain Thien Long Son.
It also boasts a steep hike where you can bring your kids and dog for fun. While visiting, you can take as many photos as possible of the numerous buildings and statues.
If you are a Buddha, you can visit the camp for prayers, as it harbors a Buddhist temple. Hence, the park is one-size-fits-all.
Address: 3215 Calaveras Rd, Milpitas, CA 95035, United States
10. Starlite Park
This luxuriant spot has shaded picnic tables, horseshoe pits, barbecue units, and a sandy playground. Starlite Park covers around 3.5 acres and is one of the best Parks in Milpitas.
The place is perfect if you want a spot for family activities, strolling, or coming in touch with nature. And when you feel like walking the dog on a gravel pathway, the park is a fantastic place to take it on.
It is large enough and gives a quaint and fun feel. The site also has a restroom with a water fountain nearby.
It is full of excitement and laid-back vibes whenever you visit. Above all, your friends will enjoy sitting under the oak trees, picnicking, and sharing lunch with you. To make it more exciting, you can choose to celebrate your small wins and special days here.
Address: Abbot Ave, Milpitas, CA 95035, United States
11. Albert Augustine Jr. Memorial Park of Sunnyhills
This national park holds a special place in the history of Milpitas, CA. It is located in the Sunnyhills neighborhood, the first planned integrated community.
The Augustine Memorial Park is new and ideal for morning runs or picnicking with family. Its position along the Hetch-Hetchy pipeline trail, running through the city's north-south, makes it an unforgettable spot.
Another great landmark is the presence of the Milpitas Community Garden along the north of the trail.
The Park, Sitting on a six-acre, has a large seating area for large groups, especially for birthday parties. The barbecue grill is an exciting part of the park, offering something to keep the mouth busy.
There is something for the kids and dogs, promising an enviable moment. On weekends, it may be busy, but you will get to meet pretty faces. At other times, it could be quiet.
Address: Cortez St & Coelho St, 400 Roger St, Milpitas, CA 95035, United States
12. Alviso Marina County Park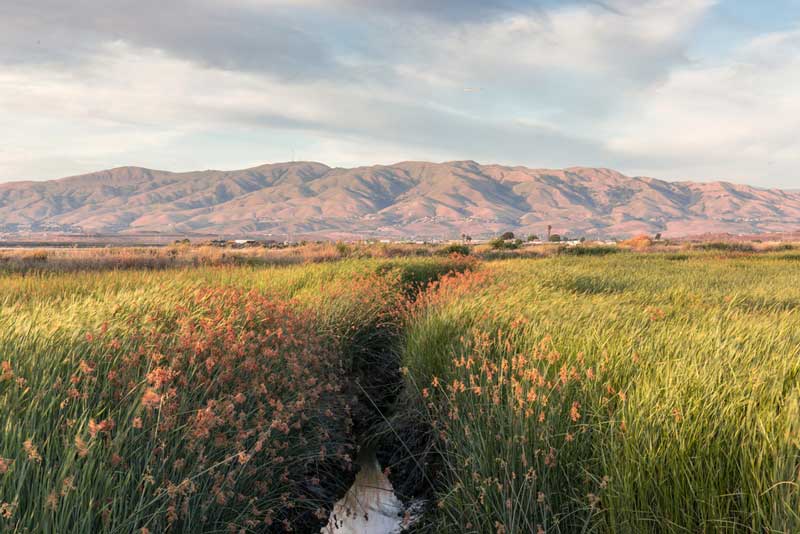 Walking through the Alviso Marina County Park in Milpitas is like walking through the streets of heaven. The feel is extraordinary, leaving you refreshed after each visit. It is an excellent place to come in contact with nature.
It is an excellent place to stroll, enjoying charming views of the salt ponds and marshes. You can also go kayaking, boating, biking, and hiking as the summer breeze hits your skin.
If you plan to bring your puppy, you may have to think twice because the park is not dog-friendly. But that does not change the description of Alviso Marina County Park. It is still an excellent place for wildlife enthusiasts, while photography lovers have many cool spots to take photo ops.
It is such a remarkable sight of the golden glow of the sunset as it hits the water in the evening. So, make it a date, but come with a jacket because it could get windy in the evening.
Address: 1195 Hope St, Alviso, CA 95002, United States
13. O'Toole Elms Park
The O'Toole Elms Park is sandwiched between two apartment complexes, a convenient location for those with cars. It has many benches and picnic tables to relax, enjoy the views, or eat lunch.
The park is undoubtedly carefully maintained, leaving visitors with fresh air while doing their business. For those looking for a getaway during the weekend, O'Toole Elms Park got you covered with its short walking trail, tent, playground, and lots of shades.
In addition, only a few people know about the park, which is a plus for those who want a quiet place. You can walk with the kids if they don't want to join other kids at the playground. Chilling on the grass area is another thing you can do here.
Address: 700 South Abel St Milpitas, CA 95035, United States
14. Murphy Park
When looking for a favorite spot for a date or outdoor event, look no further than Murphy Park. While tall trees shade it, the park has a large lawn for movies and concerts.
Even if you come alone, you will always meet friendly people with cheerful faces.
Cyclists, bikers, dog walkers, and hikers find it an exciting place, which could make the park trails overcrowded sometimes.
Gorgeous hills surround a portion of the playground and the areas where children play. But the highlight of the spot is catching a glimpse of the sunset on a cool evening.
Murphy Park's neat surroundings, barbecue units, tables, parking lot, picnic area, and clean restrooms make it a lovely destination to visit.
Address: Milpitas, CA 95035, United States
15. Dixon Landing Park
The Dixon Landing Park is a neighborhood park offering lovely barbecue grills, playgrounds, tennis/basketball court, and bathrooms. You can bring your family here and enjoy some BBQs and laughter.
Friends visit on weekends to play tennis or other games while catching up on old times. However, you can walk through the trails with your partner or enjoy a lonely walk. Dixon Landing Park is your best bet, regardless of your reason for coming.
You will find a nice parking spot if you are coming by car. Your comfort is guaranteed here, as everywhere is neat and welcoming, with lots of happy faces to keep the vibe rolling.
Address: Milmont Dr & Jurgens Dr, 1313 N Milpitas Blvd #159, Milpitas, CA 95035, United States
Check out more cities in South Carolina. Here is a guide on things to do in Cayucos, and things to do in San Bernardino for a fun time
Plan a Trip to Milpitas
The above parks in Milpitas, CA, are among the city's top fun places. Ensure to check them out! They have all the necessary amenities to make your stay an enjoyable one.
Have fun!