On Alameda Island is Alameda, a city. It is situated in Alameda County, California, United States. Alameda's population was 76,362 in 2021.
The geographical terrain of this place is exceptional as the city occupies two islands and some parts of the mainland, which has earned it the moniker "The Island City."
Alameda is close to the prime cities of San Francisco and Oakland in the San Francisco Bay Area, making the many attractions in these places very accessible to people.
There are quite some fun things to do in Alameda, CA. Alameda houses so many attractions which cut across art spaces, restaurants, varieties of parks, and museums. The city is famous for its natural open space, beaches, bicycle and pedestrian paths, extensive waterfront picnic areas, and bird refuges.
It also has numerous shopping areas, such as the Alameda Landing, South Shore Center Bridgeside, and its downtown area. In addition, the city houses several brewhouses and pubs.
Here are the best things to do in Alameda, CA.
Things to Do in Alameda, CA
1. Crown Memorial State Beach
One of the best things to do in Alameda, CA, is to check out the Crown Memorial State Beach, which stretches over 80 acres of land.
The Beach features areas for picnicking, water sports activities, and swimming. It even has a baseball field and a biking trail.
Summer attracts tons of windsurfers to the Beach, and on weekends there are rental sailboards and lessons available for people to participate.
The Beach also organizes a sandcastle and sand sculpture competition every June, causing it to be filled with many activities and people.
At the east end of the Crown Memorial Beach, visitors can enjoy watching shorebirds and other salt marsh animals who come here to settle at the Elsie Roemer Bird Sanctuary.
The north end of the Crown Memorial Beach houses the Crab Cove Marine Reserve, which features a visitor centre that displays artifacts from the significant part of the region formerly called the "Coney Island of the West."
You will also be able to see exhibits and aquaria in the visitor's centre, which showcases the San Francisco plant and animal life.
Address: 8th Street, Otis Dr, Alameda, CA 94501, United States
2. Coast Guard Island
Another wonder item on the list of best places to visit in Alameda, CA, is Coast Guard Island. You can tour the 67-acre Coast Guard Island, allowing you to interact closely with 10 of its primary features.
When you visit, you can choose to check out their building for information about beginner's training for the Coast Guard, a longtime tradition of the Island.
A licensed visit to the Coast Guard Island involves a stop by its tidal canal, a typical running path where you can see close-by gun mounts.
A visit to this facility allows you to interact closely with the US Coast Guard Command and the Cutters it organizes.
Address: Alameda, California, United States
3. Alameda's Waters
Thirteen square miles of the entire area of Alameda is covered by water out of the 23 square miles of landscape it occupies. With this, one can conclude that the city is an ideal location for boating enthusiasts.
The city features two excellent marinas. The first one is the 497-berth Fortman Marina, located on Clement Avenue facing the Oakland estuary and recognized as one of the first-class marina sites in the Bays Area.
The next prime marina is the 42-acre Alameda Marina, also nestled on Clement Avenue and has 530 berths.
The famous waterfront of these marinas houses some bay cruises and boat rentals. Bae Boat, a part of the boat rental establishment, provides electric boats for water cruises.
Address: Alameda, California, United States
4. East Ocean Seafood Restaurant
After a long house of touring through the city, you will surely be tired and need a place to treat your stomachs to delicious foods; therefore, what to do in Alameda, CA, is to dine at East Ocean Seafood Restaurant.
It is a local restaurant located on Webster Street. It serves traditional-style Chinese dishes. Over the years, the East Ocean Seafood Restaurant has grown into becoming a top-tier restaurant in this part of the country.
The favorite dish for lunch is their steamed dim sum, and for dinner, you can have their Peking duck dinner.
Address: 1713 Webster St, Alameda, CA 94501, United States
5. Bill Osborne Model Airplane Field
If you are interested in the aircraft carrier called the USS Hornet, stop at Bill Osborne Model Airplane Field when you visit.
Bill Osborne Model Airplane Field is a 1.3-acre park located on Doolittle Drive at Harbor Bay. It has been a destination for airplane enthusiasts since 1947. This destination comprises two flying circles singularly devoted to model airplanes.
You can see the website of the Alameda model aircraft hobbyists, Aeromaniacs, or Aeronauts for the weekly flying classes provided at this destination. These lessons do not cost a dime and only require a personal liability insurance document.
Address: Oakland, CA 94621, United States
6. Alameda Museum
In 1948, the Alameda Museum was established, and in 1983 it was named the official archive for the historical documents and artifacts of Alameda. Exploring this Museum is one of the top things to do in Alameda, CA.
Upon getting to the reception space, you will be welcomed by many fascinating artifacts, such as a brass locomotive bell and an antique six-seater bicycle.
Other exciting highlights in the Museum include the Museum's architectural detail grouping and the Victorian-era section that showcases period furniture.
The Museum also showcases artifacts that date back to the construction of the US railway system, which helped immensely to improve and grow the city.
There is a scale mode reproduction type of exhibit of an 1899 South Pacific Railroad locomotive. Guests will be happy to find shows relating to the culture of Native Americans, ancient dioramas, toys, and model ships.
Address: 2324 Alameda Ave, Alameda, CA 94501, United States
7. Shoreline Park
Visit the Shoreline Park located on Seaview Parkway and take a walk to see exceptional views of the San Francisco Bay and San Francisco Skyline.
It is the largest Park in the city of Alameda, with a land area of roughly 32 acres. Its extension covers the northwestern outer section of Bay Farm Island.
The Park was open for tourist activities in 1981. The Shoreline Park offers bikers and pedestrians the opportunity to use their pave trail located along the shores of the Island, which links north to the Island of Alameda
The Shoreline Park also offers numerous routes to help visitors quickly access the trail. The park is well-illuminated at night for safety reasons. Its waterfront benches are available for use if you want to chill and enjoy views of San Francisco Bay.
The Park also has fountains to drink from, playgrounds, a picnic area, and restroom facilities for your convenience.
Address: Highway 61, Alameda, CA 94502, United States
8. Jean Sweeney Open Space Park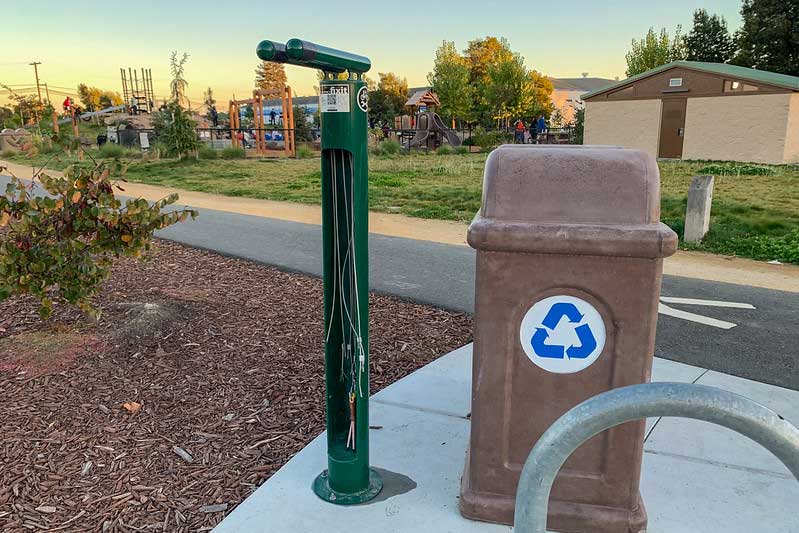 Visit the Jean Sweeney Open Space Park to gain all the information you need about community gardens' importance.
This community establishment is nestled on a 25-acre land area of Atlantic Avenue and is named after Jean Sweeney. This old-time advocate preaches the importance of infusing community gardening in the Alameda park system.
The lands in these gardens are available for free planting by members of the Alameda Food Bank and even indigenous faith organizations.
The Open Space Park also organizes gardening programs and other educational lessons about gardening and its environmental benefits.
However, the Jean Sweeney Open Space Park has several recreational facilities such as climbing structures, a solid, and a zipline.
Address: 1100 Atlantic Ave, Alameda, CA 94501, United States
Are you planning a road trip in California? here is a guide on things to do in Point Reyes Station, things to do in Concord and things to do in La Guerneville for a fun trip.
9. The Alameda Naval Air Base
The Alameda Naval Air Base was formerly the United States Navy Air Station in Alameda.
The base was sealed off in 1997 but currently has a museum on its grounds to celebrate the rich heritage of this iconic place and even all of the vessels that docked and set sail from this base.
You can explore the images, photographs, documents, and other archives that unfold the history of the individuals who came together to construct the base, worked in the military, and were even involved in establishing this Naval base.
The Alameda Naval Air Base is a destination with lots of history and tradition. If you are a history buff, stop by when you visit and enjoy your trip.
Address: 2151 Ferry Point, Alameda, CA 94501, USA
10. Hornet Museum
The USS Hornet is most likely very famous because it led the reclamation of the Apollo 11 mission, which also resulted in Neil Armstrong and Buzz Aldrin being the first humans to land on the moon.
From being an aircraft carrier that showcases its mode of operation and functionality, Aiden also features an incredible museum with World War II retired aircraft and other famous aircrafts and jets.
It also has exhibits concerning the 1960s and 1960s Apollo moon missions. You can go on a self-guided trip on the hangar deck and the flight deck, the first deck of the large ship.
Visitors can explore a part of the engineering spaces that houses the USS Hornet propulsion turbine with their tour guide. Visitors can access navigation control areas and the ship's flight deck through a docent-led tour.
Address: 707 W Hornet Ave, Alameda, CA 94501, USA
11. Myers House and Garden
The Alameda Museum maintains the Meyers House and Garden. It is a famous landmark and one of the best places to visit in Alameda, CA.
The Meyers House is situated on Alameda Avenue. It covers three city lots; all of these properties were given to the city by the owner to use as a museum and park.
Construction of the Myers House was done in 1897. It boasts Colonial Revival Architecture and is the foundation for other buildings on its grounds.
The features in this place include a carriage house, a three-car garage, a 1935 circa architectural studio, and a pergola. This destination is available for tours each fourth Saturday of the month.
Address: 2021 Alameda Ave, Alameda, CA 94501, United States
12. Alameda Art Association Art Gallery
The Alameda Art Association Art Gallery was initially founded in 1944. It was formed to support local talent and visual arts in the community.
The Alameda Association Art Gallery, for more than six decades, has provided support for artists, shows, and numerous artistic styles and disciplines.
When you visit the Alameda Art Association Art Gallery, you can interact closely with the many incredible arts showcased here.
Make sure to stop by this place and enjoy the artistic works put up for display.
Address: Shore Center, Alameda, CA 94501, USA
13. Frank Bette Center for the Arts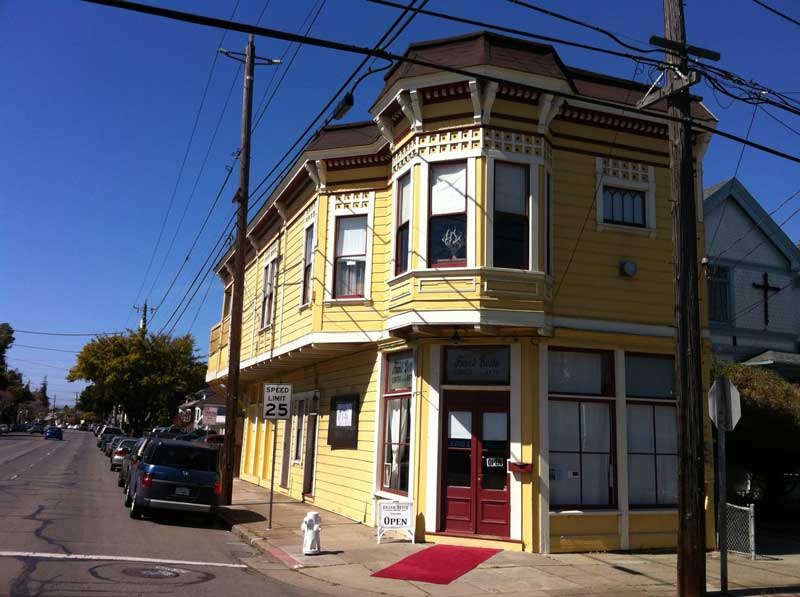 Right from the exterior, the magnificent yellow Victorian-style building that accommodates the Frank Bette Center for Arts is a great place for arts.
Its previous owner, Frank Bette, a professional in revamping old antiques, especially furnishings, passed on the property when he died for people to use it for showcasing art, meet and greet, conversing about new ideas, and showing their creativity.
This venture has been keeping up with the legacy and vision of Frank Bette. It provides classes from time to time, and they also showcase contemporary exhibits in its galleries.
Other things to see here include formal art shows, poetry slams, musical jams, demos, and workshops organized by local creative talents.
Address: 1601 Park St, Alameda, CA 94501, USA
14. Pacific Pinball Museum
Pacific Pinball Museum is an interactive museum that showcases historical displays of over 90 pinball machines from the 1940s until today.
Early pinball games and extraordinary bagatelles are appropriately arranged in sequence for visitors to play, just like a typical arcade game on display at the Pacific Pinball Museum.
This 7,000-square-foot museum even features exhibits rotating about its theme, visible on the hand-painted murals and high-quality jukeboxes.
Visitors can go on field excursions and self-guided tours.
Address: 1510 Webster St, Alameda, CA 94501, United States
15. Alameda Island Brewing Company
The brewhouse stretches more than 10,000 square feet in land and is open for guided trips as tourists can capture views of the large mash tuns and fermenting tanks that produce the fine beer.
The beers in the brewhouse are served in pints and even flights so that visitors can get a complete knowledge of what this company has in place for everyone.
They have an excellent staff who are always available to help with all the necessary information visitors need for a wonderful tour of this facility.
Address: 1416, 1716 Park St, Alameda, CA 94501, United States
Also, check out our list of things to do in Culver City, and things to do in Nevada City, for a fun vacation in California.
16. Faction Brewing
If you love good beer, one of the top things to do in Alameda, CA, is to stop at Faction Brewing.
Faction Brewing is situated on monarch Street and houses its cousin, a taproom that overlooks the San Francisco Bay Bridge and the Golden City's skyline.
Visitors who come here are amazed by the barrel table furnishings that are in the taproom. You can talk with Roger Davis and his wife, Claudia Pamparana, who make up for an excellent team. The Faction Brewing functions as a 20-barrel brewhouse.
This brewhouse produces many barrel ages, Belgian types of stouts and lagers, and their favorite hoppy beers. Customers who visit can bring their food to complement their beers. However, it also has a food truck that collaborates with the taproom to serve food to its patrons.
Address: 2501 Monarch St, Alameda, CA 94501, United States
17. Antiques By The Bay
Antiques by the Bay is also called the Alameda Point Antiques Faire. It features over 100 dealers and booths selling vintage clothing, books, trinkets, home decor, collectibles, furniture, jewelry, and many more.
There are numerous antique fairs to find in Northern California. However, the Alameda Point Antique Fair has earned its spot as the largest in the area. Each antique sold in the market is twenty years old at least.
Therefore, you should expect to find high-quality antiques in the whole place other than browsing through modern products and market goods.
Address: 3800 Main St, Alameda, CA 94501, USA
18. Crab Cove
The Crab Cove is situated at the northern end of Crown Memorial State Beach. It is a mini aquarium and education institution which provides its visitors with all the necessary information to learn about the natural marine life of this area.
There is an 800-gallon aquarium in the visitor's centre where visitors can check out the several sea animals that inhabit San Francisco Bay. They also feature many exhibits that are ideal for visitors to see.
The exhibits will teach guests about crabs, mudflats, and the wide variety of sea creatures.
It also features an outdoor where visitors can see the different wildlife in San Francisco Bay.
Address: 1231 McKay Ave, Alameda, CA 94501, USA
19. Admiral Maltings
Another fascinating place to visit is Admiral Malting, a pub and malthouse that is owned and run by Bay Area brewing experts Dave McLean and Ron Silberstein.
These veterans brought in the many experiences they gained from ThirstyBear Brewing Company and Magnolia Brewing Company to start up the first-floor malting operations in California before the era of Prohibition.
The Malting company collaborates with local farmers to source top-quality malt production grains.
You can enjoy their fine selection of locally crafted brews on tap; plenty of their beers are made with the company's malt. You can also have their Cask-conditioned ales with a complete menu of Charcuterie boards, artisanal sandwiches, and bar snacks.
Address: 651 W Tower Ave, Alameda, CA 94501, United States
20. Downtown Alameda
In Downtown Alameda, there are many exciting sites to check out, such as the beautiful restaurants, shops, indigenous boutiques, and the many events that occur here.
The downtown area of Alameda is ideal for individuals searching for a place to escape the populated and busy streets of San Francisco and Oakland.
Downtown Alameda retains its initial appearance during its early start as a mini town that changed from rail and ferry systems. The most iconic structures include the Masonic Temple, the Old Alameda Theater, and the Old Alameda Post Office.
Address: 2447 Santa Clara Ave #302, Alameda, CA 94501, United States
21. St. George Spirits
St. George Spirits 1982 has produced spirits and liquors like their California Citrus Vodka, St. George Absinthe, and the Terroir Gin.
The distillery is an exceptional artistic work featuring large copper tanks and wooden barrels lined up in rows. You can take a guided trip or check out the facilities for a small token.
During the tour, you will better understand how the spirits are produced and the various distilling processes involved.
After getting all of the information that you need while touring, you can check out their tasting room, where you will be taught by an expert distiller how to taste spirits. You can try out six of their distillery products that are produced in the facility.
Address: 2601 Monarch St, Alameda, CA 94501, United States
22. Corica Park's Golf Courses
Corica Park's Golf Courses is a 45-hole Municipal golf system located on Clubhouse Memorial Road with two layouts for golfers to use.
The Golf Course is perfect for golfers of all skill levels, not minding if you are an amateur, junior golfer, or even a professional. Therefore, golfing here is one of the fun things to do in Alameda, CA.
The Golf Magazine has voted this golf facility as part of the unique 9-hole golf US mini links. It is most suitable for anyone who chooses to have a short practice.
Golfers can tee off at Corica Park's par 72 South Course for a better competitive game. However, you can check out the park's beautiful nature if you are not into golfing that much.
Apart from the two golf courses, this 328-acre Corica Park has a night-illuminated driving range, a pro shop, a restaurant that features a lounge, and a golf academy shop.
Address: 1 Clubhouse Memorial Rd, Alameda, CA 94502, United States
23. The Altarena Little Theater Company
The Altarena Little Theater Company has been providing top-class entertainment for residents and tourists since the late 1930s. In 1957 they converted a discarded supermarket into the Altarena Playhouse.
For more than 75 years, the Altarena Little Theater Company has been providing shows for the local community, thus making it one of the many oldest community theatre establishments in San Francisco Bay.
Visitors are exposed to many shows at the theatre, ranging from classic Shakespearean performances to modern plays. Nighttime in the theatre is the best.
The theatre also collaborates with other establishments, such as the local restaurants within walking distance of this destination. Watching performances at this Theater is one of the fun things to do in Alameda, CA.
Address: 1409 High St, Alameda, CA 94501, USA
24. Dashe Cellars
It is recommended you have a taste of good wines in Alameda. So among what to do in Alameda, CA, is to visit Dashe Cellars.
Dashe Cellars offers you the best wine-tasting experience at its state-of-the-art tasting room in a famous aircraft hangar located on Monarch Street in Alameda Point.
The Dashe Cellars tasting room allows you to check out the winemaking processes involved in producing a bottle of delicious wine.
While having a glass of this delicious wine, you will perceive the sweet aroma of this wine that has long been stocked in oak barrels to ferment.
During the wine tasting, patrons are allowed to see and appreciate the natural winemaking processes involved, such as the use of small lot fermentation and local yeasts.
Address: 1951 Monarch Street Hangar 25, Alameda, CA 94501, United States
25. Alameda Theatre & Cineplex
The Alameda Theater and Cineplex was constructed in 1932. It was built in a deluxe and outstanding Art Deco Style. It is known ideally for its gorgeous and well-illuminated blade-shaped sign in front that displays "this is the Alameda,"
The ticket booths and marquee still retain their look, just like they were in the 1930s, coupled with a gorgeous, two-story foyer that is inside.
Visitors can sit at a mini table on the upper balcony to enjoy the architectural details of this structure before going in to watch a movie. The theatre also has a Cinema Grill where visitors can place orders for drinks and food just close to where they are seated.
Address: 2317 Central Ave, Alameda, CA 94501, United States
26. Alameda Rockwall
Alameda features an excellent onshore fishing site at the Rockwall close to the Encinal Boat Ramp, located in the southwestern part of Alameda.
The Alameda Rockwall is one excellent fishing site in Alameda that extends over a mile into San Francisco Bay.
The structure was constructed to stop the invasion of enemy submarines and torpedoes from entering the US Naval facilities in Alameda.
A nearby winery on Monarch Street, having considered the historical importance of this wartime structure, adopted the name for its company; the company's name is Rockwall Wine Company.
Visitors can fish for Rockfish, Stripers, Jacksmelt, Lingcod, Sturgeons, Perch, Halibut, and lots more.
Address: Alameda, California, United States
27. Asena Restaurant
Asena Restaurant was founded by two Turkish men named Muhittin Arpaci and Mustafa Yildirim, who came to Alameda with their country's iconic dishes and culture.
This Asena restaurant makes use of seasonal ingredients to cook their food. Visitors are also offered varieties of unique cocktails and wines to complement their foods.
Address: 2508 Santa Clara Ave, Alameda, CA 94501, USA
Want to spend more time in California?, check out our list of things to do in Inglewood, things to do in Oxnard, and things to do in Livermore for a memorable vacation.
Plan Your Trip to Alameda
Alameda provides visitors with a mix of attractions that will pique their interest. So if you plan to have an ideal weekend getaway experience with family and friends, Alameda, CA, assures that and more.
This city is graced with US Naval facilities, making it a perfect destination for people interested in war memorabilia. Enjoy your stay!