In search of the best and most fun things to do in Cayucos, CA?
Cayucos is an unincorporated town by the coast in San Luis Obispo County in California. In the 2020 census, the population of the town was 2,505. Cayucos features a stunning beach, a famous pier, premier dining options, and hiking trails.
The beautiful Cayucos State Beach in this attractive seaside town is one of the best in the state for swimming, surfing, and basking in the sun.
Despite the small size of the town, it has dining options to suit everybody's palate, from a chowder house to top-tier five-star dining establishments.
You will also discover attractive antique stores, surf shops with handmade boards, and gift stores.
For kids, they are play areas designed for them. Adults looking for a fun time will also find attractions designed for them.
Are you planning a visit to Cayucos? Let's explore the best things to do in Cayucos, CA.
Things to Do in Cayucos, CA
1. The Cayucos Pier
One of the best places to visit in Cayucos, CA, is The Cayucos Pier. Strolling the Pier is a fun activity to do; you can stroll early in the morning when there are not a lot of people around or later in the day when people surround you.
The Cayucos Pier is located on the stunning Cayucos Beach. The Pier was originally constructed in the early 1870s, but it was recently renovated after a winter storm damaged it in 2013.
Along the pier, you will discover plagues honoring the people that aided in paying for the reconstruction.
Take a picture of the jumping dolphin statue at the bottom of the pier as you stroll. Enjoy the gorgeous view of the beach and the weather. You can search for birds and marine life, watch surfers in the water, and fish from the pier.
The Pier is illuminated to aid in night fishing, and you don't need a fishing license. There are also eateries and restrooms close by
Street parking is available nearby, and also a free parking lot close by. Dogs are not allowed on Caycos Pier.
Address: Pacific Ave, Cayucos, CA 93430, USA
2. Cayucos State Beach
A visit to Cayucos State Beach is one of the best things to do in Cayucos, CA. Cayucos State Beach is one of the most stunning beaches along the Central Coast.
Popular activities at this beach include swimming, sunbathing, beach combing, and building sand castles.
The beach often has lifeguards on duty during summer. The water can be chilly sometimes, so come with a wetsuit if you plan to stay in the water for a long time.
However, if you plan to enjoy short periods of wading, playing at the water line, or swimming, swimwear should do just fine.
If you love flying kites on a beach, Cayucos State Beach is an ideal place to do so. Come along with a windcheater.
Picnic tables, restrooms, and outside showers are provided. Leashed dogs are allowed at Cayucos State Beach
Address:99 5th St, Cayucos, CA 93430, United States
3. Sea Shanty
Another seafood restaurant to eat at when you visit Cayocus is Sea Shanty.
Sea Shanty is a family-owned and operated restaurant that offers fantastic seafood in the town.
Some of this seafood includes shrimp cocktails, crab salad, ceviche, cayucos fish tacos, calamari strips, and lots more. Sea Shanty serves meals in the morning, afternoon, and evening.
If you do not like seafood, you can ask for veggies and burritos for breakfast or try any of their different desserts.
Address: 296 S Ocean Ave, Cayucos, CA 93430, United States
4. Cayucos Festival
For such a small town, Cayucos has numerous fun events. If you are spending the new year at Cayucos, you can attend the exciting Cayucos Polar Beer Dip, which takes place every New Year's Day at Cayucos Beach.
Partaking in a Cayucos Festival is among the fun things to do in Cayucos, CA. Thousands of tourists, locals, and folks dive into the chilly waters for a dip at noon.
Fourth of July is celebrated with a fun parade, sand sculpture competition, and fireworks at the pier.
The Cayucos Sea Glass Festival takes place in March every year. Enjoy food and music as you look around for jewelry and other items made from sea glass.
During spring and fall, Cayucos holds the Cayucos Antique Street Faire along Ocean Avenue. During this festival, you can buy collectibles and look around for antique treasures. If you get hungry, you can get something at the food station.
Address: Cayucos, CA, United States
5. Downtown Cayucos
Among what to do in Cayucos, CA, is to explore Downtown Cayucos. Downtown Cayucos is picturesque and charming, perfect for wandering.
Although the town is small, you will find several things to browse, from cafes and first-class restaurants to small shops selling gear for surfing, antique stores, outdoor apparel shops, and gift and souvenir shops.
You can drop by the historic Cass House as you explore the town. The two-story wood home was constructed in the second half of the 1800s for Captain James Cass, who relocated here from New England. The house serves as an inn now.
Address: Cayocus, CA, United States
6. The Coastal Discovery Center
The Coastal Discovery Center is where you should go if you want to know more about marine life.
The Monterey Bay National Marine Sanctuary and California State Parks are the founders of this education and research center.
The Coastal Discovery Center is free to the public and permits guests to gain a comprehensive understanding of the sanctuary. You will also find ways to protect it for generations to come.
Among the different things at this center are interactive exhibits, murals, and automated games.
This exhibit contains the Wildlife of San Simeon, the History of San Simeon Bay, the Delta Submarine Ocean Exploration, and the Plankton Ocean Exploration.
You can find the Coastal Discovery Center at William Randolph Hearst Memorial Beach, so anytime you go to the beach, you should go there.
Address:CA-1 & Slo San Simeon Rd, San Simeon, CA 93452, United States
7. Antique Shopping
If you like antiquing, you don't want to miss visiting some amazing antique shops during your stay in Cayucos, CA. It is one of the fun things to do in Cayucos, CA.
Cayucos is home to numerous well-stocked antique shops where you can shop and explore all year round.
One of these antique shops is Main Street Antique. Main Street Antique is a well-stocked shop featuring anything from retro furniture to collectibles.
The other two antique shops you will find in Cayucos are Remember When and Remember When Too. These antique shops are located close to each other.
With offerings from numerous vendors, the malls have plenty of items. Antique lovers will want to take time to view items ranging from kitchenware to furniture, jewelry, vintage apparel, décor, collectibles, and home furnishings.
Address: Cayucos, CA 93430-1602, USA
8. Shoreline Inn
Shoreline Inn is situated close to the beautiful Cayucos Beach. The rooms at this hotel are exquisite, exceptionally cozy, and embellished with contemporary nautical grace.
Since all the rooms face the stunning Cayucos Beach, you will have a stunning view of the sand, sun, and surf when you stay here. You can enjoy these views from the room's private patio or the balcony.
Shoreline Inn rooms have a miniature fridge and coffee-making facilities. Shoreline Inn also has a beach shower and picnic and barbecue areas.
Address:1 N Ocean Ave, Cayucos, CA 93430, United States
Meet some of the best cities in California. Here is a list of things to do in Barstow, and things to do in Arcadia for a fun time.
9. Cayucos Surf Company
Another excellent thing to do in Cayucos is to shop for surfing items at Cayucos Surf Company. Cayucos Surf Company has existed since 1996.
This company has been providing people with quality products and services. They sell the latest apparel, rentals, and surf gear.
Every staff at Cayucos Surf Company knows the products sold and ensures that customers have a fantastic and enjoyable shopping experience.
They have been providing items for several families over the years, and they are eager to serve you.
Address: 146 N Ocean Ave, Cayucos, CA 93430, United States
10. Cayucos Beach Inn
Getting a place to stay for your vacation is one of the top things to do in Cayucos, CA. Cayucos Beach Inn has 14 spacious rooms with private bathrooms, distinctive décor, and balconies that showcase the beautiful views of downtown Cayucos or the beach.
The hotel has amenities that will make you feel at home, such as plush robes, a cozy fireplace, expensive linens, a mini fridge, a coffee maker, and a microwave.
Cayucos Beach Inn aims to mix hospitality and luxuriousness and invites all visitors to this home away from home. Visitors can enjoy the rooms' amenities while sampling an excellent selection of wines and beer.
You can view the Pacific Ocean while enjoying a delicious breakfast or the fresh sea breeze.
Address: 1 N Ocean Ave, Cayucos, CA 93430, United States
11. Cayucous Farmers Market
Buy fresh produce at Cayucos Farmers Market This Farmer's Market is open every Friday from 10 am-12:30 pm on Memorial Day through Labor Day.
Cayucous Farmers Market features nuts, eggs, dairy, flowers, fruits, vegetables, and other fresh produce.
Every week, ranchers, farmers, fishers, purveyors, and bakers bring their items to Cayucos Farmers Market in Downtown Cayucos to sell.
Besides fruits and vegetables, the Market features food vendors selling quiches, pies, tamales, pita, and hummus. For a laidback summer morning, grab a bite at Cayucos Farmers Market and stroll down the pier.
You can search for honey, tomatillos, grapes, pomegranates, peaches, squash, melon, Asian pears, and strawberries in the season.
You can also buy products from one of the many stalls at the Market for a picnic or a healthy snack.
Since these fruits and vegetables are selected when they are fully ripened, a few minutes before the Market starts, you can be sure that they will be fresh and taste great.
Address: 10 Cayucos Dr, Cayucos, CA 93430, USA
12. Café della Via
One of the top things to do in Cayucos, CA, is to dine at Café della Via. Café della Via is an Italian restaurant in the picturesque beach town of Cayucos.
The restaurant offers a wide variety of traditional and fusion cuisines. Additionally, it is home to a handcrafted selection of excellent wines to complement your food.
Café della Via's food menu features different traditional and fusion meals professionally made by the chefs.
Many of the restaurant's ingredients are obtained from Farmer's markets all over the country.
Their exhaustive wine list features local and Italian wines at budget-friendly prices. The wine is selected with special attention to taste and details.
Café della Via is happy to assist you in finding the perfect wine to complement your food
Address: 155 N Ocean Ave, Cayucos, CA 93430, United States
13. Estero Bluffs State Park
Estero Bluff State Park is home to stunning intertidal pools, low bluffs, wetlands, and coastal terraces. Several kinds of wildlife enjoy the different habitats.
The magnificent Estero Bluffs State Park allows guests to tour the landscape and beaches on the northern end of Cayucos.
Whether hiking trails or observing tidepools, birds, or whales, everybody is welcome to enjoy this unique stretch of pristine California coastline.
The park's trail crosses coastal grasslands, salt grass, native scrubs, sessional wildlife, and sagebrush. Along the trails, you will spot gray whales, sea otters, and harbor seals near the shore.
You can also find sea birds like gulls, cormorants, western snowy plovers, and pelicans in the sky and on the beach.
On the ground, you might be lucky to spot salamanders, California King snakes, tree frogs, and rattlesnakes.
Address: 750 Hearst Castle Road, San Simeon, CA 93452, United States
14. Brown Butter Company
If you like flour treats, Brown Butter Company is one of the best places to visit in Cayucos, CA. Brown Butter Company features rich and buttery concoctions.
Brown Butter Company has several branches in other towns in the state. If you have a sweet tooth, you don't want to miss a visit to this place.
Stop by and sample their authentic brown butter sea salt cookie made by hand. The taste and sight of these cookies will make you drool.
Address: 98 N Ocean Ave, Cayucos, CA 93430, United States
15. Illuminate Spa & Boutique
Among the several things to do in Cayucos is to indulge in self-care at Illuminate Spa & Boutique. Illuminate Spa & Boutique is a top-tier spa treatment salon in Cayucos.
The spa center is notable for its award-winning treatment and excellent customer service.
Their philosophy is to rejuvenate the natural balance between your mind through a holistic approach to well-being and beauty.
With the impression that a relaxed body leads to a restored mind, there are several luxury treatments to select from at illuminate Spa & Boutique.
Head to Illuminate Spa & Boutique to meet the welcoming staff who boast of their work and make time to know all their clients before beginning treatment.
This spa center can offer a personalized service and program if you want one. You can pick from an extensive range of holistic professional facials, massages, body treatments, and aesthetic treatments, including spray tans, waxing, manicures, and pedicures.
If you have sensitive skin, you don't have to worry because Illuminate Spa & Boutique spa and beauty products do not contain synthetic chemicals.
So you can sit back and relax with peace of mind knowing that after the treatment, your skin will feel supple, soft, and free from irritation.
Illuminate Spa & Boutique is popular for its luxury facials designed to smooth out fine lines and wrinkles, soothe your skin and make you feel confident in your skin.
Whether you want an intense, long-lasting treatment or an express facial for a fast radiance boost, you will find the ideal facial for your skin type at Illuminate Spa & Boutique
Address:257 S Ocean Ave, Cayucos, CA 93430, United States
California meets you with lots of fun attractions and activities, here is a list of things to do in Alameda, and things to do in Pleasanton for a fun tour through these cities of California.
16. Schooners
Schooners have been offering visitors a memorable dining experience since it was established in 1993.
Embracing a marine theme similar to the early days of the Central Coast sailors and fishermen, this restaurant boasts the best ocean view among all the restaurants in the area.
You can admire the deep blue sea while enjoying one of their cocktails or popular calamari strips. You can strike up lively conversations with locals in the restaurants.
Make time to drop by the restaurant and take a look at what they are offering. The restaurant's menus feature fresh seafood and steaks carefully prepared by the chef.
The Schooners is open daily from 11 am to 9 pm.
Address: 171 N Ocean Ave, Cayucos, CA 93430, United States
17 Cayucos Beach Inn
Cayucos Beach Inn is located near Cayucos State Beach. The hotel has free Wifi in the guest rooms, a picnic area, and barbecue facilities.
Each room at Cayucos Beach Inn has a microwave and a refrigerator. Visitors can watch cable TV and use the in-room coffee maker.
Cayucos Beach Inn is also located close to some attractions like the Estero Bluff State Park and Whale Rock Reservoir
Address: 333 S Ocean Ave, Cayucos, CA 93430, United States
18. Hardie Park
Hardie Park is a popular spot with Cayucos locals. The well-maintained four-acre park is a brief stroll from Ocean Drive and Cayucos Beach. It's an excellent location to take a break from the water and enjoy a cookout or family picnic.
Hardie Park has fun facilities like a kid's playground, a horseshoe throwing area, a small pool, a shaded group area, several tennis courts, picnic tables, a heated pool, and a barbecue pit.
Disabled people can use the heated pool. You can use the numerous dressing rooms and showers at Hardie Park. The park is open daily from 8:00 am until sunset.
Address: Ash Ave & B St, Cayucos, CA 93430, United States
19. Martin's Restaurant
Martin's Restaurant offers freshly made Mexican meals from scratch. The restaurant's menu features mouth-watering chilaquiles, tacos, guacamole & nachos, sandwiches, quesadillas, burritos, and carnitas.
You will find burgers of a different variety to pick from, which include veggies, classic cheeseburgers, and fish.
Although Martin's Restaurant is a Mexican restaurant, the restaurant still serves traditional Italian pasta and pizza.
Address: 49 S Ocean Ave, Cayucos, CA 93430, United States
20. Hearst Castle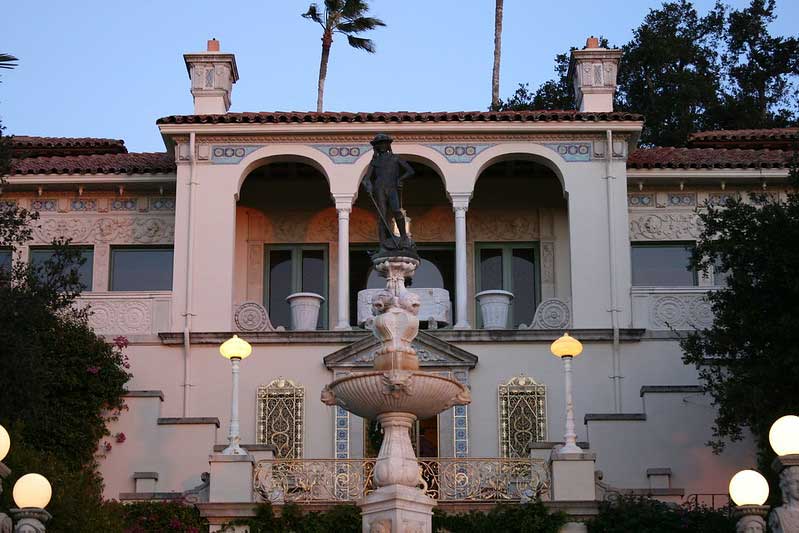 Why don't you visit Cayucos's neighboring town and explore some attractions? Hearst Castle is located in San Simeon, 28 minutes from Cayucos.
The focal point of San Simeon is subjectively the magnificent Hearst Castle, an extraordinary home and museum that you have never set your eyes on before.
Hearst Castle is a National Historic Landmark, a California Historic Landmark, and a California State Park
Between 1919 to 1947, William Randolph Hearst constructed the Castle on an inherited ranchland facing San Simeon.
Architect Julia Morgan was the brains behind the design of this Castle, also called La Cuesta Encantada or "The Enchanted Hill."
By 1947, the estate already had 127-acre manicured grounds, three luxurious guesthouses, a twin tower main structure, a fountain, and pools.
The Castle was opened to the public and visitors in 1958. Hearst Castle was originally designed to be a family home. Over the years, it has hosted popular visitors, including Hollywood stars such as Clark Gable, Charlie Chaplain, and Greta Garbo.
Well-known politicians like Calvin Coolidge and Winston Churchill have also visited Hearst Castle.
You can partake in tours carrying you through more than twenty years of art history, construction, gorgeous landscapes, and guests' memories. Hearst Castle draws approximately 750,000 visitors annually.
Address:750 Hearst Castle Rd, San Simeon, CA 93452, United States
21. The William R. Hearst Memorial Beach
The William R. Hearst Memorial Beach is beautiful, with stunning views, miles of leisurely strolling, and soft sands.
The Beach features 24 picnic areas, convenient restrooms, 150 car parks, barbecue grill stands, and water faucets.
Spend your day at the beach with several recreational activities, including fishing, boating, kayaking, sunbathing, swimming, and kayaking.
The San Simeon pier, constructed in 1958, allows fishing without a license, but they are rules and regulations.
So go and visit William R. Hearst Memorial Beach and bask in the sun.
Address: 750 Hearst Castle Rd, San Simeon, CA 93452-9740, USA
22. The Piedras Blancas Elephant Seal Rookery
Pay a visit to San Simeon's shore to have a closer look at elephant seals, one of the stunning marine mammals that are rare to find.
The Piedras Blancas Elephant Seal Rookery is the world's only elephant seal rookery.
The peak season is from October to May, while the breeding season lasts from January to February. Over fifteen thousand of these beautiful animals crowd the shoreline during this period.
The low bluff provides a great position to watch the elephant seals. To boost your viewing experience, get a guide from the Friends of the Elephant Seal, a nonvoluntary group dedicated to teaching people about elephant seals.
Aside from elephant seals, this nonprofit group can educate you about other marine creatures along California's Central Coast.
You can locate them in the viewing areas to provide answers to your questions.
Address: Plaza del Cavalier, 250 San Simeon Ave Suite 5A, San Simeon, CA 93452, United States
23. Cayucos Mural
You can't be looking for what to do in Cayucos, CA when you've not explored the murals in the town. They are indeed a sight to behold.
Cayucos features nine stunning murals you can view. The several murals in the town give it an additional charm and make it more vibrant.
You will come across some of them as you walk around the town, but if you like public art, you can download a map and go on a self-guided tour.
Address: Cayucos, CA, United States
24. The Piedras Blancas Light Station
The Piedras Blancas Light Station faces the Pacific Ocean's edge in the middle of San Simeon and Ragged Point.
This light station is a Marine Reserve, an Outstanding Natural Area, and a California Coastal National Monument.
The Piedras Blancas Light Station was erected in 1875. It helped to warn seafarers of the stony and unsafe shoreline.
The Piedras Blancas Light Station is still operating, and it offers a year-round tour of the lighthouse and its grounds
Address:15950 Cabrillo Hwy, San Simeon, CA 93452, United States
25. Old Cayucos Tavern & Cardroom
If you are looking for a Vegas-style casino while vacationing in Cayucos, head to Old Cayucos Tavern & Cardroom.
Old Cayucos Tavern & Cardroom packs all the cool things about the Vegas strip into one fantastic, saloon-themed experience right here in the town.
From billiards and gambling to drinks and dancing, there's something for everyone. You can think of this place as a cocktail lounge, casino, bar, tavern, nightclub, or a mixture of all these things.
If you want a great night that includes dancing, gambling, and playing pool while you sip a few drinks, Old Cayucos Tavern & Cardroom is the place for you.
Address: 130 N Ocean Ave, Cayucos, CA 93430, United States
Planning a California road trip? also, check out our list of things to do in Point Reyes Station, Restaurants in Cloverdale, and things to do in Turlock in for a fun trip
Plan Your Trip to Cayucos
Cayucos is a small sea town in California. The town has numerous attractions, like a gorgeous beach, quality dining options, hiking trails, fabulous antique shops, and a pier.
All these attractions make Cayucos a must-visit town. As a fishing and Surfing seaside town that creates fun and long-lasting memories, Cayucos is an ideal destination for a relaxing getaway.