Queens is a borough in New York City, Queens County, New York State, USA.
Queens stretches to about 108 square miles east of Manhattan. It has 91 different neighborhoods and fringes on the western end of Long Island. .
Queens is rich in excellent attractions. The Spas and massage centers in Queens, NY, are not to be overlooked, as they can make you enjoy your stay on a totally different level.
Want to get the best massage in Queens, NY? Here are the best places to visit.
Best Massage in Queens, NY
1. Sophia Natural Spa
Sophie Natural Spa is an Asian massage spa that is designed to assist you in stress reduction, relieving pain, and boosting the overall quality of your life.
They specialize in many affordable, customized treatments to satisfy the needs of a wide variety of customers in a serene atmosphere.
Sophia Natural Spa's professional staff will help you relax after a long day exploring the city.
They provide a contemporary Asian atmosphere that will make your visit unforgettable.
Sophia Natural Spa undoubtedly provides one of the best massage in Queens, NY. It has options for walks ins or appointment bookings.
Address: 501 E Boston Post Rd, Mamaroneck, NY 10543, United States
2. Spa Castle
Spa Castle, established in May 2007, is the perfect mixture of traditional Asian and luxurious European Spas.
This large wonderland has taken on an almost legendary statue in NYC, partly because it draws a diverse following and partly for its eccentric layout.
The center is open throughout the year and promotes an environment perfect for physical and social well-being.
The traditional Asian and European bathhouse and lounge provide a traditional relaxation experience.
This bathhouse has an acupressure hydrotherapy aqua-jet pool, heated mineral pool, cold bath pool, and wet and dry sauna.
These pools target various pressure points to optimize digestion and circulation, strengthen the immune system and soothe muscle aches.
There are outdoor pools referred to as the grand pool, which are separated into two sections.
These pools are filled with aqua jets and hot water, allowing guests to relax to their heart's content.
Another feature of Spa Castle is the Hot Event Tub which is influenced by old Japanese baths. Additionally, you can utilize the exfoliation scrub and massage services.
Take some friends and add a little spice to the fun; once you pay your entrance fee, you can have a wild adventure while snacking on corn and dumplings from the on-site food court.
Address: 131-10 11th Avenue, Queens, NY 11356, United States
3. Green Aura Spa
Green Aura Spa is a new spa concentrating on well-being and athletic massage. It is among the providers of top massage in Queens, NY.
They offer different massages and facial treatments designed to meet your needs.
The spa center has licensed professionals to attend to your concerns and help you feel restored.
The Green Aura Signature Massage is a blend of two massages, Deep Tissue, with any other relaxation massages. It is customized according to your lifestyle and body.
Spa treatments are available for visitors aged 16 and above. A parent or guardian must escort visitors below the age of 16.
Before you secure a spa reservation, you have to present a valid credit card.
Green Aura Spa provides you with a luxury robe and slippers for your privacy and comfort.
A spa locker is also provided to keep your personal property in an individual room.
Address: 34-09 Steinway St, Queens, NY 11101, United States
4. Arpi's Spa
Arpi's Spa opened its doors in 2006 with the idea and mission to provide lavish therapeutic spa treatments for men and women. They strive daily to surpass the expectations of every visitor constantly.
What awaits you at Arpi's Spa is an aesthetically soothing environment, from the light-filled reception area to the peaceful treatment room filled with gentle music and the sounds of nature.
April's Spa produces unmatched results that keep visitors returning repeatedly.
Address: 189-07 Union Tpke, Queens, NY 11366, United States
5. Thai New York Spa
Thai New York Spa lets you experience pure serenity in their relaxing spa.
Make sure you try their signature treatment which is an Authentic Thai Massage.
Their signature massage is done with essential oil, mixing long Swedish strokes with Thai pressure point therapy. An ideal treatment to relieve tension, improve lymphatic drainage, and promote circulation.
Their goal is to provide you with the best treatments at budget-friendly prices.
Their famous services include deep tissue massages, manicures & pedicures, facials, Swedish massages, and waxing treatments.
Thai New York Spa's professional and friendly staff will deliver the best services in a lovely and tranquil environment.
Visit this massage center and let them soothe your muscle, refresh your body, and ease your mind.
Address: 23-92 21st St, Astoria, NY 11105, United States
6. American Beauty and Health Spa
American Beauty and Health Spa is a full-service salon that offers complete treatments for men and women.
Their entire staff and facilities provide guests with the luxury and comfort that their body deserves.
American Beauty Health Day Spa package deal offers you an opportunity to spoil yourself.
Visit this spa and massage salon and let their staff take your mind and body to the realm of relaxation and beauty.
American Beauty and Health Spa's services include a massage spa, colon hydrotherapy, facial treatment, skincare, cosmetology, body wraps, body treatment, Swedish massage, hot stone massage, sauna, acne treatment, and steam room.
Address: 97-25 64th Ave #2-G, Queens, NY 11374, United States
7. Spa Zone
At Spa Zone, you will experience premium luxury and holistic healing.
When you go to this massage center, you will pick from a wide range of therapies and treatments that they have.
Spa Zone specializes in hot stone, Swedish, and shiatsu massages, perfectly combining ancient traditional and contemporary techniques.
Spa Zone's mission is to provide an incredible spa experience in a professional, ethical, and relaxed manner.
To attain this goal, they offer their patrons unique treatment that stimulates health and well-being.
A session at Spa Zone is an ideal gift for yourself or loved ones, as it offers one of the top massage in Queens, NY.
Address: 3212 Broadway, Queens, NY 11106, United States
8. Chelsea Wellness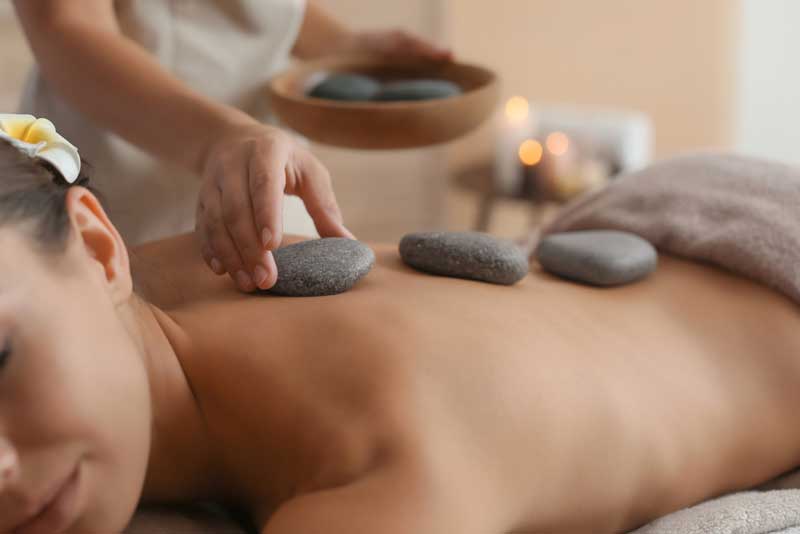 Chelsea Wellness is a must-visit for a spa treatment that blends traditional and contemporary, natural and urban elements in effortless symmetry.
This massage parlor offers various treatments, from specialized athletic massages for people living more vigorous lifestyles to pure relaxation massages.
They also offer hot stone massages, deep tissues, and foot reflexology options.
For more customization, there are aroma, salt, and hydro options that add an extra natural take on healing that feels completely natural.
Depending on your needs, the sessions run as short as 10 minutes or as long as 90.
Chelsea Wellness is open every day from 10 am to 10:30 pm.
Address: 133 W 25th Street, New York, NY 10001, United States
Check out our guide on things to do in Riverhead, and things to do in Oneonta for a fun time in New York.
9. Banyan Tree Thai Spa
When a conventional massage does not undo all the stubborn knots in your muscle, you will require a Thai-style massage, which mixes yoga, massage, and acupressure.
The Banyan Tree Thai Spa is the best place to experience this supreme healing art.
At this spa, you can enjoy a deep tissue massage, a traditional Thai massage, or a unique Four Hands massage for ultimate tension relief.
Try their signature combination massage to further loosen your muscles and mind.
When Banyan Tree Thai Spa combines elements of deep tissue massages and traditional Thai massage, the massage will undoubtedly leave you with a healthy glow as you walk out the door.
Banyan Tree is open every day from 11 Am to 9 pm.
Address: 121 W 27th St Ste 206 (2nd Floor, New York, NY 10001, United States
10. Cloud 9 Spa
Cloud 9 is dedicated to creating a euphoric environment perfect for restoring one's mind, body, and soul.
A happy escape awaits you at this massage and spa center. You will be greeted by accommodating staff, light, calming music, and a peaceful aura.
The philosophy of Cloud 9 Spa is to provide the utmost care to satisfy your wants and desires.
Whether you are enjoying a calming massage, facial or other services, their staff will talk with you to discover your specific needs and assess them accordingly.
Cloud 9 Spa's treatment rooms have padded heated tables and aromatic scents.
Their services have been thoughtfully designed to allow your inner and outside beauty to shine and to release you from any body ache.
Address: 469 7th Ave, New York, NY 10018, United States
11. Ascend Wellness and Medical Spa
Ascend Wellness and Medical Spa has been offering services in Queens for over ten years.
This day spa boast of licensed massage therapists and experienced estheticians on staff.
Many of Ascend Wellness and Medical Spa's products are organic and chemical-free.
Treatment includes laser hair removal, HydraFacial, vein removal, Botox, Micro-Retinol, chemical peeling, dermal filler, pedicures, massages, tanning, facials, and airbrush tanning
The spa center also offers men's sports manicures and pedicures.
Address: 82-62 Austin St, Kew Gardens, NY 11415, United States
12. Aire Ancients Baths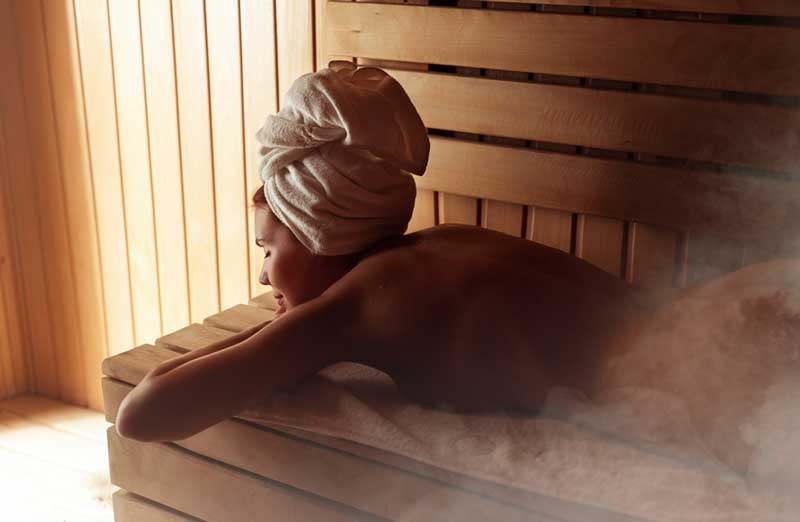 The atmosphere of this spa is unrivaled, taking place in a cavernous space with soft lanterns, lamps, salt, and candles.
This is the ideal place for you or a partner to indulge in maximum pampering.
Aire Ancients Baths' unique selling point is their treatment established on the bathing of traditions ancient Rome, Greece, and the Ottomans.
All the massages here are paired with the component of water to wash your body and spirit.
Massages are paired with treats such as the Ancient Thermal Bath to ensure that every feeling of discomfort and ache pain is a thing of the past by the time you leave.
They are open every day from 9 am to 9 pm. It is a getaway from the modern and ordinary you are used to.
Address: 88 Franklin Street, New York, NY 10013, United States
13. Earth + Sky Massage and Acupuncture
Earth + Sky Massage and Acupuncture is a women-owned wellness center.
Each therapist at this center has several years of experience and offers personalized holistic treatments in different modalities.
Whether you are looking for wellness and relaxation, help with a particular problem or injury, acupuncture, and massage during pregnancy, they offer qualified support and nurturing care.
Earth + Sky Massage and Acupuncture's trademark holistic massages relieve physical and emotional tension and foster well-being.
This massage applies a different pressure, along with fuller, rhythmic, and conventional massage methods. It dramatically affects the nervous system, therefore permitting lasting relaxation, reduced muscle tension, improved circulation, and general mobility.
Earth + Sky Massage and Acupuncture's deep tissue massages focus on treating general tension in the body and chronic and acute pain.
Examination of deeper layers of muscles allows them to deal with specific discomforts.
Application for myofascial release methods, trigger points, and vigorous release therapies will enhance your mobility, flexibility, and circulation, allowing your nervous system to take a break.
By applying more profound and direct pressure to problem areas and using a holistic approach, they aim to ease pain at its root cause.
Address: 5-31 50th Ave, Long Island City, NY 11101, United States
14. Mahalo Massages NYC
If you are searching for a terrific NYC spa that may blend massages and therapy, Mahalo Massage NYC is an ideal option.
Visiting this place requires openness, trust, and willingness to relinquish your worries, pain, and aches to your trusted practitioner.
Although you can specify the base type of massage you desire, the leading option here is the Mahalo Signature Intuitive Massage.
Your massage therapist will study your body's pressure points and knots and select the best techniques to heal you.
For other specialty options, you can begin with a base session of an intuitive Prenatal Massage for expecting mothers or Craniosacral Therapy for anyone looking for a healthy flow in their craniosacral system.
Regardless, you will have one of the most thorough and personalized massage sessions at Mahalo Massages.
This massage center opens from 10 am to 9 pm every day, excluding the weekends, where they close at 4 pm.
Address: 32 Union Square E, New York City, NY 10003, United States
15. Natura Spa
Natura Spa is undoubtedly one of the nicest spas in New York City. After your first experience with the therapist, you will rush to book another session.
Whether you are visiting Natura Spa for a massage, a wax, or a haircut, you will have a fantastic experience.
Everybody at this massage and spa center loves what they do and the incredible products that each treatment comes with; you will step out of here looking and feeling your best.
This haven of balance and calmness is an escape from the city, utilizing natural and chemical-free ingredients with an extra dose of kindness and care to mix as the best massage and spa day.
Address: 30-79 Steinway St, Queens, NY 11103, United States
16. Nuansa Spa
For a unique massage, visit Nuansa Spa. It is unlike any place you have ever seen.
From the "Dear Mother-To-Be" massages to the "Walking on Air" massages, you won't go wrong here.
Other options, such as "Awakening That Yoga" and "Healing Swedish Flow," are also refreshing and are ideal for relaxing or boosting your energy.
Nuansa is indeed an urban oasis combined with relaxing modern lighting, fresh flowers everywhere, and modern lightning.
This massage center's doors are open daily from 8 am to 10 pm.
Address: 605 5th Ave, New York, NY 10017, United States
17. Grand Central Bodywork
As the name suggests, Grand Central is just a few steps from the well-known station off 7th Avenue and Avenue of the Americas.
The pampering begins when you enter this building, with a calming environment, relaxing music, and complimentary champagne services.
You will feel like you have just walked into a grand party and you are the honored guest even before the real massaging begins.
The specialty massages at Grand Central Bodywork range from deep tissue to Swedish massages.
With their usage of unadulterated grape seed oil and Thai Jasmine bamboo oil, you will feel rejuvenated and relaxed.
Grand Central Bodywork is open every day from 11 am to approximately 8 pm, making it easy to find a date and time that suits you best.
Address: 211 E 43rd St, New York, NY 10017, United States
Plan to explore other cities of New York. Check out our list of things to do in Cold Spring, things to do in Binghamton, and things to do in Watertown.
Plan a Trip to Queens
Massage Parlors in Queens dish out peace through massages, facials, and other calming treatments so you can be rejuvenated and on the way to a stress-free vacation.
Some offer couples massages which can serve as a date option for you and your significant other.
Queens massage range from budget-friendly to all-out luxurious, so visit one or more massage parlors for a few hours of pampering.