Carmel, commonly called Carmel-by-the-Sea, is a small beachfront city in Monterey County, California, United States.
The city is home to numerous scenic beaches, attracting locals and tourists worldwide.
Families frequent these beaches to relax, unwind, and explore the many other attractions within these locations.
Some of these fantastic beaches include Carmel City Beach, Carmel River State Beach and so much more.
Are you planning a getaway to this city? Here are the best beaches in Carmel, CA.
Best Beaches in Carmel, CA
1. Gibson Beach
Locals and tourists frequently call Point Lobos State Natural Reserve the "crown jewel of the California State Park System."
Gibson Beach is the southernmost beach at this reserve. It is the best beach in the State Natural Reserve and one of the top beaches in Carmel, CA.
Gibson Beach consists of numerous rocky cliffs and tiny bays. The name "Sandy Beach" is also used on maps to describe this beach.
Like some other Point Lobos coves, you have to stroll a short distance on trails to get to this beach. Drive to the paved road's end, then take the Bird Island Pathway to Gibson Beach, which passes through China Cove.
Bird Island is a fantastic location for bird watching. To capture lovely pictures for memory, you can always stop briefly at the Island as you pass through it on your route to Gibson Beach.
You can enjoy typical beach activities like surfing, playing in the sand, beachcombing, sun-tanning, and more while on the beach.
Gibson Park is quite famous and gets filled up on warm-weather weekends. So you should visit early to find a good parking spot, or you will be forced to trek quite a distance from another parking lot if that one is filled.
Address: S Plateau Trl. Carmel-by-the-Sea, CA 93923, United States.
2. Monastery Beach
A part of Carmel River State Beach is Monastery Beach. It can be reached directly from Highway 1 or by taking a one-mile stroll through Carmel Meadows from Carmel River State Beach.
Monastery Beach is unsafe for swimming and walking due to a dangerous riptide in the sea.
As a result of all the accidents that have happened here in the past, this beach has earned the horrific title 'Mortuary Beach.'
Visitors are helped to observe the enormous warning signs by the relatively new lifeguard tower.
Aside from all the mishaps, it is a beach where you can do many other activities. There is much room to spread out a towel and take in the beautiful ocean scenery at Crescent Beach.
Although less popular than the south-facing Point Lobos State Natural Reserve, the beach is still famous for seasoned scuba divers.
General beach relaxation and sunbathing are also everyday activities at Monastery Beach.
Address: Carmel-By-The-Sea, CA 93923, United States
3. Carmel City Beach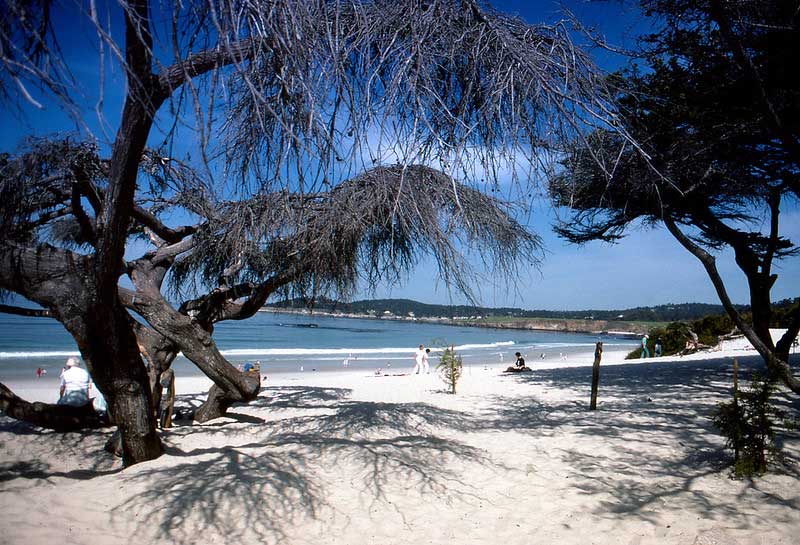 The Central Coast of California is home to the long, broad Carmel City Beach, which features beautiful and dazzling white sand. It is one of the top beaches in Carmel, CA.
Carmel City Beach can be best described as an image of the seaside taken from a postcard. The beach offers spectacular views of the ocean and the Monterey Bay National Marine Sanctuary.
Carmel City Beach is perfect for relaxing with family and friends. This makes it a popular attraction, typically crowded with visitors on sunny days, especially during weekends.
Nonetheless, this part of the coast is usually chilly and cloudy, allowing guests to find a spot on the broad beach easily and quickly.
Activities such as sand playing, picnicking, laying out blankets to sun-tan and relax, and surfing are typical activities you can carry out in Carmel State Beach while visiting.
Swimming isn't an everyday activity because the water is a little chilly and has some riptides that could be dangerous.
The facility does not have lifeguards on duty; therefore, you should take extra precautions when visiting, especially if you come with little children.
The beach also features a granite pathway suitable for long walks. The scenic path is a walking trail that begins close to 8th Avenue and travels south along the ocean.
Alcohol is permitted on the beach, and small bonfires are allowed in city-provided fire pits from 4 to 10 pm, making the regulations ideal for a romantic or joyous evening.
Carmel City Beach is very well-liked by dog owners because of a no-leash rule. Dogs are allowed to run and play in the surf as long as they are constantly under the control of their owner's voice.
You can easily reach the beach from any parking spot. Parking is available at the beach's main parking lot at Ocean Avenue's end. On crowded days, you can easily find other open spaces to park your vehicles around the vicinity.
Address: Ocean Ave and Scenic Rd, Carmel by the Sea, CA 93921, USA
4. Garrapata State Park Beach
Another fun beach to visit is the Garrapata State Park Beach, which is accessible a few miles from Point Lobos State Natural Reserve on the northern Big Sur coastline.
The park captures all that this lovely area has to offer, with great features such as redwood hiking paths and a spectacular shoreline.
There are four miles of shoreline in Garrapata, although only one mile is made up of sand.
The State Park is well-liked, although the sand is often less busy than other beaches along the Big Sur coastline.
Picnics, sunbathing, and other activities like hiking on the trails are popular in this location.
The trails lead up the canyon of trees on the opposite side of the road, frequently providing magnificent views of the Monterey Bay National Marine Sanctuary.
Dogs are permitted on this beach but on the condition that they must be leashed. You can park along Highway 1, a small trek from the coast.
Address: 34500 CA-1, Carmel-By-The-Sea, CA 93923, USA
5. Fort Ord Dunes State Park
Located in Marina, about 11.17 miles from Carmel, the Fort Ord Dunes State Park is among the newest parks in California.
The coast between Moss Landing and Monterey has more than 20 kilometers of public beaches. And this particular State Park comprises six state beaches, the furthest south of which is Monterey State Beach.
Over 1,000 acres of former fort land, including four miles of shoreline, make up this recently created state park. Also, the facility features a lengthy walkway you may stroll along.
In addition, the walkway leading up to the cliff where the viewing platform is situated provides beautiful views of Monterey Bay.
The beach setting makes it simple to spread out a towel with a few other people around, which is an excellent activity for folks who want to avoid crowds.
Address: Parking lot, Beach Range Rd, Marina, CA 93933, USA
6. Carmel Meadows Beach
Between Monastery Beach and Carmel River State Beach lies the beautiful Carmel Meadows Beach. It gets its name from the town of Carmel Meadow just above it.
Carmel Meadows Beach is a fantastic site where you can easily enjoy the beach's splendor in peace, especially during the early hours of the day.
This beach faces west, making sunset an excellent and ideal time to visit.
The rogue tides and dangerous waves around the Monterey coast make swimming risky in Carmel Meadow Beach.
Sunbathing, picnics, long walks, beachcombing, and watching wildlife, such as birds and marine life, are typical activities you can engage in at this beach. Unsurprisingly, it's reputed as one of the fun beaches in Carmel, CA.
It is excellent to go beachcombing and take exciting walks along the rocky coastline to find beautiful sea shells to add to your collection.
When the tides have reduced, another fun activity is to search the tide pools amid the rocks for small marine life.
This beach is a terrific area for building sand castles with your children and for artists to practice their outdoor artistic skills by creating beautiful designs in the sand.
When the trail is lined with wildflowers in the spring, the bluff trail just above the beach is a spectacular place to carry out your long walk.
The trail offers crystal clear views of the ocean and the chance to spot varieties of marine creatures such as whales and so much more.
The facility is pet-friendly, but on the condition that they must be on a leash. There are several parking spaces around.
Address: Highway 1 & Ribera Rd Carmel CA 93923, USA
7. China Cove
One cove at the amazing Point Lobos State Natural is the timeless and picturesque China Cove, which features a small beach.
Like Gibson Beach, you would have to embark on a little hike to arrive at this location inside the State Park Reserve. There are rock barriers all around the deep, small sandy beach.
The hike along the trail will offer you a range of visual treats for your eyes at every turn.
Professional photographers routinely take pictures of this cove and the surrounding natural rock formations. Aside from professionals, everyone is welcome to visit and capture these beautiful views on camera.
During a low tide, you will see a small cave and a rock arch in the south wall of China Cove. A little path just south of China Cove will take you to Pelican Point, where you can see Bird Island.
This is your go-to place, whether you want to spend an entire day here or stop by briefly before visiting other attractions.
Address: Point Lobos State Natural Reserve, 62 CA-1, Carmel-By-The-Sea, CA 93923, USA
8. Monterey State Beach
Two distinct units and three beaches make up the Monterey State Beach at the southern borders of Monterey Bay.
These beaches are about a mile apart and linked to surrounding parks and preserves by the Monterey Bay Coastal Recreation Trail. The trail is an 18-mile route connecting all beaches between Castroville and Pacific Grove.
The trail is a great place to stroll, jog, ride a bike, skate, and engage in other sports.
Tourists and locals frequently visit this Monterey Beach to surf, fish, kayak, go tide pool watching, and kite-flying. There is also a section for both talented and inexperienced volleyball players.
The leveled landscape of the Beach is perfect for sand-playing, jogging, and walking.
Address: At Park Ave. Del Monte Ave. Monterey, CA 93940, United States
Are you planning a road trip to California and wondering what to do? here is a guide on things to do in Carpinteria, and fun things to do in Cayucos for a memorable
9. Asilomar State Beach
Another fabulous beach to check out is Asilomar State Beach. The beach is about 4.88 miles from Carmel.
This beach, formerly known as Moss Beach, is now called "Asilomar State Beach" in honor of the famous YWCA Asilomar Conference Grounds nearby.
The historic Asilomar Conference Grounds, formerly owned by the YWCA, are just one of the few reasons this beach is well-known.
The conference grounds and the Asilomar Hotel, which are just a stone's throw away, are currently owned and run by California State Parks. This hotel would be a convenient place to lodge, especially for tourists visiting the area.
The beach is stunning and narrow, featuring various rocky bays mixed with short lengths of sand. Due to the beach's setting, you may have picnics, go beachcombing for treasures, or enjoy yourself in the beautiful surroundings.
Other activities include rock climbing, taking a walk, and playing in the sand, among others.
You can opt to hike and explore the Asilomar Coast Trail. These trails are popular and showcase the full back view of the beach.
While at the beach, you can also check out the Asilomar Marine Reserve. This reserve protects aquatic life and things like rocks and shells.
Therefore, fishing and collecting items are not permitted in this area to preserve all the species and their habitat.
To have a fun day, follow all the safety regulations the park has provided for its guests.
Address: Sunset Dr, Pacific Grove, CA 93950, United States
10. Carmel River State Beach
The south side of Carmel-by-the-Sea is home to the breathtaking Carmel River State Beach. It is revered as one of the fun beaches in Carmel, CA.
The beach is surrounded by the ocean and wetlands, known as the Carmel River Lagoon Wetlands Natural Preserve, formed at the delta of the Carmel River.
Due to the presence of the swamps, you would tell that varieties of birds such as great blue herons, pelicans, terns, gulls, egrets, and more frequent these wetlands to enjoy their natural habitat.
Carmel River State Beach has stunning white sand spread all over the area and is surrounded by beautiful cypress trees and rocks.
Bird watching, picnics, capturing images of the local wildlife, sun-tanning, sand plays, enjoying long walks on the beach, and beachcombing for seashells are just a few of the activities you may enjoy here.
Although swimming might seem like one of the most enjoyable activities at a beach, it is strongly discouraged at Carmel River State Beach. This is due to the extremely dangerous riptides and rogue waves from the river.
Yet, it is common to see experienced kayakers taking off from the shore of the beach despite its tides and waves.
You are welcome to bring your dogs or other pets to the beach because it is pet-friendly, but you must keep them on a leash to protect the other beachgoers.
Due to the parking lot's limited size, it may be difficult for guests to find a parking spot.
But there's no need to worry because a small, nearby supplementary parking area can hold around a dozen vehicles and is accessible at the end of Carmelo Street. Therefore, ensure to come early to get a good spot.
Address: 26478 Carmelo St, Carmel-By-The-Sea, CA 93923, USA
11. McAbee Beach
McAbee Beach is one of the significant parts of Monterey's history.
The small beach has a scenic view and was named after John McAbee, who, in the early 1900s, intended to develop the cove as a seasonal tourist destination by buying the land there.
The beach is just a thin strip of sand at high tides, but at low tides, particularly in the summer, the volume of sand increases, and it's always interesting to explore.
Despite being surrounded by hotels and restaurants, the beauty of the beach still stands out.
McAbee Beach has smooth and round rocks where you can rest after strolling or walking on the beach.
If the weather is favorable, you will see kayakers and scuba divers taking off from McAbee Beach. So you can join the mass of divers and experience a great time.
Watching the seals that usually line up at the nearby Coast Guard Pier is another fascinating activity you can partake in at the park. McAbee also offers an ideal spot for setting up a picnic for family and friends, especially in the sandy and grassy area.
Address: 1 Hoffman Ave, Monterey, CA 93940, USA
12. Del Monte State Beach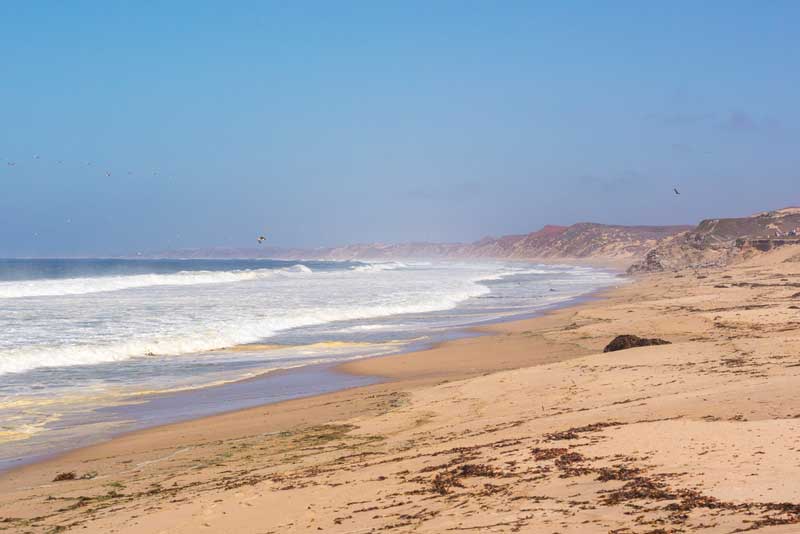 The hidden gem, Del Monte Beach, is a broad, stunning beach with a picturesque view.
This serene sandy beach is perfect for unwinding. It is tucked between charming coastal villas amid Monterey Bay's rough surf and sand dunes.
Monterey State Beach extends to Del Monte State Beach, a pristine sandy beach. As a result, Del Monte State Beach and Monterey State Beach have similar features.
This is also a prominent location for beachcombing and surfing. This spot also allows you to escape from the hustle and bustle of the city and enjoy the tranquil environment of the beach.
You can also stroll along the wooden broad walk trail, picnic with close friends or family at one of the picnic tables, or, even better, join the surfers as they ride the waves.
Address: 653 Del Monte Ave, Monterey, CA 93940, USA
13. Spanish Bay Beach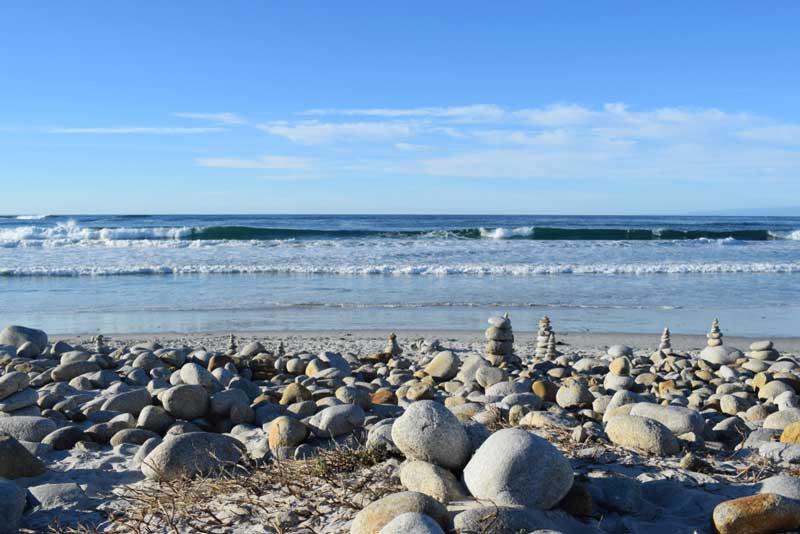 Spanish Bay Beach is about 1.88 miles from Carmel and is situated in the private community of Pebble Beach. This long beach is arguably the most well-known beach along the 17-Mile road.
This site is ideal for creating stunning photos because of the picturesque scene of the brilliant white sand contrasted with the pristine blue waters of the Pacific Ocean.
The cold water and dangerous waves at Spanish Bay make it unsafe for swimming.
Popular activities at Spanish Bay Beach include strolling along the sand, tanning, playing in the sand, surfing, having a picnic, and taking in the panoramic views of the Pacific Ocean.
Walking the trail by the beach is another enjoyable activity at Spanish Bay Beach. Following the path can lead you to beautiful scenery and in-season wildflowers.
At Spanish Bay, sunsets are a must-see, not only for the scenic sight but also for the entertaining bagpiper play.
You can park your cars at the 17-Mile Drive for a ticket or for free along Sunset Boulevard, a short walk from the beach. Dogs are not permitted on this beach.
Address: 87 Customs Rd, Pebble Beach, CA 93953-2709, USA
14. Lovers Point Beach
Lovers Point Beach is your go-to destination for all fun and outdoor activities. This lovely and tranquil Beach in Pacific Grove is only a 14-minute drive from Carmel.
Lovers Point is a charming 4.4-acre coastal park with many amenities, soft sand on two little beaches, and various entertaining activities.
Due to its location facing east and superb viewing location, Lovers Point is the best place to witness the sunrise.
The beach offers breathtaking scenery where you can take priceless photos. You can also hire a kayak or, better still, bring yours and explore the seas while looking for marine life and birds.
Try surfing or scuba diving. Play beach volleyball, enjoy the sun, or set a blanket and picnic on the sand. It is an endless list of fun.
Although the water at Lovers Point Beach can be a little cold, it is one of the few Monterey beaches where swimming is permitted.
The beach also features a Beach House Restaurant on-site, serving coffee and light meals.
With its gigantic cypress trees, sparkling waters, and sheltered Beach, Lovers Point Park is the perfect destination for natural beauty.
Unlike most parks, dogs are not allowed at Lovers Point Park.
Address: 631 Ocean View Blvd, Pacific Grove, CA 93950, USA
15. Marina State Beach
Marina State Beach, located 11.17 miles from Carmel, between Monterey and Santa Cruz, is your only destination to experience superb parasailing and hang-gliding near Monterey.
Currents here are too dangerous for swimming or other water activities. Stand well back and admire the waves! Or set up chairs to read and catch some sun.
Swimming is not safe due to the currents in this area. It is advised that you keep your distance while admiring the waves. Spread your towels and enjoy the sun.
Here, people enjoy bird watching, surfing, kite flying, hang gliding over stunning dunes, and looking for marine life in the ocean. Walking or strolling on the trails while wearing a windcheater is also a great activity on this beach.
Sunsets at Marina State Beach are an excellent opportunity to capture lovely images to add to your photo album.
The Marina Dunes Preserve, a lovely place to explore and spot wildlife and birds, is beside the beach. The Central Coast's highest beach dunes can be seen on the 170 acres of this area.
Dogs are not permitted on this beach, and the parking spaces are limited, so arrive early in nice weather to secure a spot.
Address: 200 Reservation Rd, Marina, CA 93933, USA
Check out more cities in California. Here is a guide on things to do in Lake Arrowhead, things to do in Arnold, and things to do in San Rafael for a fun time
Plan a Trip to Carmel
A beach is a fantastic and exciting location appropriate for people of all ages.
It's a terrific place to unwind with loved ones and friends because there are so many enjoyable things to do there.
The beaches in and nearby Carmel promises to be a worthwhile experience, so when planning your trip, use this list to take advantage of all the best beaches in Carmel, CA.