Looking for the best and most fun things to do in Sugar Land, TX?
Sugarland is a picturesque city on the Southside of Texas and is situated 20 miles from central Houston. The city was known for growing sugarcane but is currently one of Texas's developing and blooming destinations.
Despite having hot weather during summer, the winter season is always normal and cool. All through the year, crowds of people come to visit either the museum, indoor performance center, or concerts.
Visitors can also watch a game at the Constellation Field, visit the Old Imperial Sugar Refinery, or have a good dining and shopping experience at Town Square.
Planning a trip to Sugar Land? here are the top things to do in Sugar Land, TX.
Things to Do in Sugar Land
1. Nature at Cullinan Park
The Cullinan Park is a large waterhole of a beautiful area perched in the center of suburbs of a city named after Joseph A. and Kucir H. Cullinan.
The park is a popular nature park in the Houston area, and it features over 750 acres of creeks, wetlands, woodlands, lakes, and prairies. Because of the park's closeness to the Gulf Coast has become a huge attraction for bird watchers as warblers, hawks, woodpeckers, ducks, and others can be seen in the park.
Grasslands can be seen everywhere in the park. You might want to bring a camera along to take beautiful photos of the lakes filled with southern cattail, pickerel weeds, and rushes.
You can also check out its lush, full forest consisting of Shumard and sycamore or, more still, go on a walk via the marshes and Meadows that supports the development of blackberry, Cherokee, and wildrye.
The park also consists of animals such as reptiles, feral hogs, snakes, coyotes, alligators, raccoons, and bobcats and all of these animals are under the park's protection.
Since the park is filled with plenty of lovely flowers, plants, wildlife, and serene terrain, it consists of boardwalks with observation towers where you can have a closer rapport with the elements of nature.
Visitors can unwind and enjoy a great day of canoeing, kayaking, fishing on the makes, or even having some quiet moments alone chilling on the beautiful smooth paved and tree-sheltered trails.
Address: 12414 Hwy 6, Sugar Land, TX 77498,
2. Municipal Pool at City Park
The Municipal Pool Park has a distance of 25 yards and a depth ranging from 3-12 feet. The pool was first constructed in 1968, and a place of abode for the Sharks swim team in Sugar Land.
Memorial Day weekend kicks off with the Municipal Pool season and extends until the Labor Day weekend. Aside from Labor Day and Memorial day, maintenance is carried out on the lake on Mondays.
There are 3 pools available to make choices from, here is an ideal place to chill and cool off in the pool. You can bring along your friends, family, company workers to come to have some great time.
Address: Wood Street Path, Sugar Land, TX 77498,
3. Oyster Creek Park

Another huge attraction on our list of things to do in Sugar Land is the Oyster Creek Park situated in Sugar Land. Here is an ideal place to be in the city as it features an iconic three-mile hiking trail, a bridge that stretches through the Oyster Creek with turtles swimming underneath, and a beautiful pond with rocks on it.
You can have a perfect biking experience on the trail, go for some lovely walk, or walk through the smaller trails and get loved up with nature and outdoor activities.
Enjoy the views from the picturesque pond and fountain and the sounds coming out from the splashing of small waterfalls against the rocks.
Get to take interesting photos of the alligator statue close to the pond, although you have to be careful of the main alligators that find their way close to trails and be sure not to feed them.
You can also bring a camera along to take lovely photos of Oyster Creek Park as you pose alongside the picturesque plants and trees.
Address: 4033 Hwy 6, Sugar Land, TX 77478,
4. Brazos River Park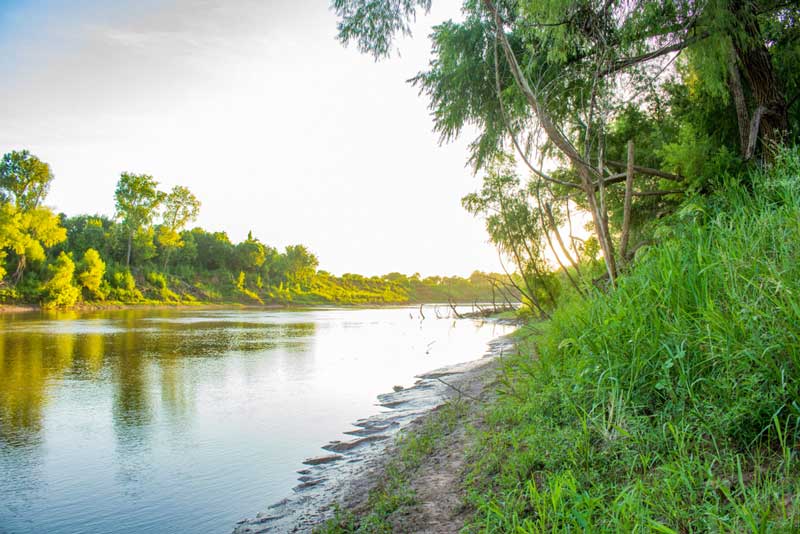 The Brazos River Park occupies 67 acres, beside the Brazos River and close to the Crown Festival Site. The park has a 9 hole disc golf course, a stage space for special events such as weddings and birthday parties.
Also available at the Park is a picnic table with barbeque grills, a picturesque walking trail, an extensive parking lot about 600 spaces, and many others.
The park has numerous activities installed for visitors to have a great time and should be an ideal place for visitors to spend some quality time.
Address: 18427 Southwest Freeway Sugar Land, TX 77479
5. Altitude Trampoline Park
Have an exciting time at the Altitude Trampoline Park. Here is the right place for you if you are seeking to have a fun-filled moment with friends and loved ones
Enjoy good moments with family at the indoor Park and check out your aerial and acrobatic skills. You can play dodgeball on the trampoline floor, go against one another like gladiators, jump on all sides of their wall-to-wall trampolines, and lots more.
Visitors can also climb up to the peak of a warped wall, go cartwheeling on tracks, go trapeze swinging into the foam pit, jump into a large area of foam cubes, and many more.
Great height is the major attraction for activities such as jumping, dodging, climbing, and here is the ideal place to enjoy such activities. Be sure to check out the website of Sugar Land Altitude and see their schedule of programs.
Watercolor Tennis is a perfect place to have fun with the kids in Sugar Land, So add to your list of things to do in Sugar Land, TX.
Address: 4550 Hwy 6, Sugar Land, TX 77478
6. Sugar Land Ice and Sports Center
The Sugar Land Ice and Sports Center is situated South of Sugar Land and is the only skating rink complex on the whole Gulf Coast
The complex is available for visitors throughout the year and is an ideal place for the whole family to come to visit and have a nice time skating.
The Sugar Land Ice provides visitors with a complete program to learn how to skate no matter your age or size, they have an excellent staff to help guide you no matter your skill level.
Safety is of utmost importance when it comes to activities in the complex. One of the outstanding sports not to miss out on in the complex is broomball. The center also features adult and youth competitions, coaches with a great deal of experience, and complete programs to guide you on your skating escapade.
Address: 16225 Lexington Blvd, Sugar Land, TX 77479
7. Escape Again Rooms
The Escape Room in Sugar Land is a huge destination you should not miss out on, especially if you are planning an ideal getaway experience with friends and family and should be on a checklist of things to do in Sugar Land, TX.
The escape room is a puzzle game whereby a team of players is locked in a room to find solutions to puzzles, find answers to riddles and clues and get various tasks to assign them solved. In essence, the main goal is to find a solution.
No matter your skill level in solving puzzles, there is something for you to engage in from their varied selection of puzzles. You can come along with your friends from work to check your efforts together to solve mysteries.
You can also engage in the Wizard's Tale that positions you as a wizard, you play the role of recovering a stolen crown and freeing captured dragon eggs.
Here is a great place to be, so be sure to leave all of your city lifestyles and come have a feel of a great escape session, get to increase your brain skills at solving mysteries, and increase their work with fellow workers.
Address: 3564 Hwy 6, Sugar Land, TX 77478,
8. Clyde and Nancy Jacks Conference Center
The Clyde and Nancy Jacks Conference Center has a land area of 3000 Square feet and a seating capacity of about 100 visitors. The Jacks Conference Center is kept strictly for social and private meetings.
The structur, in June 2018 was renamed in honor of Clyde and Nancy Jacks. Visitors who come here will have a deep insight into these two activities and how they impacted the community in Sugar Land to the extent of making it a global attraction.
The center features complete restrooms, fourteen regular tables, One-hundred twenty beige chairs, and a spacious parking lot.
Address: 3232 Austin Parkway Sugar Land, TX 77479
Considering a road trip through Texas, here is our guide on things to do in Marble Falls and things to do in Kerrville to aid you meet the top attractions in these parts of Texas.
9. Fort Bend Children's Discovery Center
The Fort Bend Children's Discovery Center is focused on supporting the development and creativity of kids. The Museum is a creative one and does this through educational and interactive exhibits that the kids can relate to perfectly.
Here is a great place to bring the kids as they get to learn about the various facets of science, carry out their findings, ask questions, operate various educational machines, and discover more about our everyday life.
The Kidtropolis USA exhibit is the most popular to find on-site which is a small-scale town with businesses and a government that allows children into the main world. Kids are given a deep insight into the various facets of life and how they contribute to solving problems.
They also have another exhibit known as the Cum Ya Gullah that showcases the activities of the Gullah people of West Africa and its traditions through its music, customs, storytelling, language, rich ecosystem, and geography of their Sea Islands.
You kids will enjoy every moment spent in this museum as they learn about different cultural heritages and languages worldwide even as they learn how to be ambidextrous at creating their crafts.
Address: 198 Kempner St, Sugar Land, TX 77498,
10. Duhacsek Park
The Duhacsek Park is situated on farmland with 59 acres that consists of an extensive hand grafted pecan tree. Walter and Virginia Duhacsek gave the Park outright to the city of Sugar Land.
The Park is at the center of an open area and makes up for a perfect location for social meetings, business meetings, and church gatherings.
Other amenities to find here include a kitchen, large parking lot area, picnic areas, tables, volleyball, complete restroom, a kitchen, and many others.
If you would want something much private, you can make reservations for private use via their website. A visit to this park is amongst the fun things to do in Sugar Land, TX.
Address: 17034 Old Richmond Road, Sugar Land, TX 77498
11. Sugar Land Heritage Foundation
If you are in the city make out time to enjoy yourself exploring the history of the Sugar Land Heritage Foundation.
The Foundation is greatly focused on improving the community via collection, communication, preservation, and the celebrations of the history of Sugar Land.
The Museum has Its major focus on the city's long line of history and its surrounding communities surrounding Fort Bend County, Texas Stars, and the United States, and the different ways they share a common goal with Sugarland.
The museum showcases exhibits and artworks geared towards telling the happenings and lifestyle of the town, the people residing in it, its neighborhoods and how they have grown, how they manage their land and resources, the sugar industry and technology, their railway system, and oral history.
Exhibits such as documents, photographs, art, letters, clothing, household items, artwork, documents, and fragments are collected and preserved in the museum.
Address: 2nd Floor, 198 Kempner St bldg b, Sugar Land, TX 77498
12. Farmer's Market at Imperial
The easy-going market is available for visits on Saturdays all through the year from 9 am-1 pm. The market is near the imperial Sugar factory and in a fenced area.
The market started small but gained popularity. when it became steady for people to get stuff during weekends. There is something for everyone who visits as the market brings quite a huge crowd to come purchase products of the local vendors.
You will get to see the local artists playing some lovely tunes as you walk the market searching for that item to buy.
Everything to find here is freshly seasoned produce cultivated by local farmers like their earthy mushrooms, locally sourced vegetables, fruits, chickens and eggs, and many others.
Visitors can also find other special farm-to-fork produce such as plantains, wheatgrass, wildflower honey, salsa, chocolate, brewed coffee selections, sauces, jam, kombucha, and already cooked dishes from the local cooks.
Also available at the Farmers Market are locally crafted items and accessories produced by locals like their pendants, bracelets, essential oil blends, henna products, locally made soap, cosmetics, light clothing, and many others.
Address: 234 Matlage Way, Sugar Land, TX 77478
13. Spree Sugar Land Town Square
If you intend to have one of the best experiences going for a shopping binge,
Sugar land Town Square
is the ideal place to be and get all you need.
Get your bags ready and hit the road as you walk the brick pathways of this blooming district to enjoy shopping in different stores and boutiques that suit your needs.
You can also have a great experience shopping for clothes from the different fashion and shoe stores available at the square. There are artworks, accessories, and gift items available to bring back home as souvenirs to your loved ones.
There are beauty shops and spas so you can have a massage, haircut, manicure or pedicure, and skin treatment, or stay fit exercising at the yoga studios.
Visitors can have an amazing time at the place taking beautiful photos at the selfie statue or the fountain, and also enjoy a great time enjoying the music concerts, cultural events, fitness programs, sports viewing, and many other an organized by the town center
A visit to Sugar Land Town Square is amongst the top things to do in Sugar Land, TX. You can enjoy lots of delectable dishes from their various restaurants as you treat your taste buds to something delicious.
Address: 15958 City Walk, Sugar Land, TX 77479,
14. Enjoy Sweet Treats at Sugar Land
Sugar land is an ideal destination for lovers of good foods, as this city has the best choices of restaurants you could find anywhere in the world.
If you want to have a delectable dessert, here should be the first choice destination to visit in Texas. Enjoy their well topped, homemade ice cream at the Churned Creamery, check out the créme brulee and delicious cakes with a sweet latte from the Decadent Coffee and Dessert Bar, or more still get a sugar high from the brownies, macarons at the Sweet Boutique Bakery and cupcakes
Enjoy some great Taiwanese treats at the Sweetie Bakery Café, you can have some freshly baked cookies at the Tiff's Treats Cookie Delivery, check out the Sweet Paris Creperie, enjoy a great deal of Blue Bell ice cream and smoothies from the Thirsty's and enjoy different flavors of yogurt from the Swirl Frozen Yogurt.
There is a lot to explore when it comes to sweet delectable foods in Sugarland and here should be a major item on your checklist of things to do in Sugar Land, TX.
Address: Sugarland, Texas, United States
15. St. Theresa Catholic Church
One of the top things to do in Sugar Land is to visit the St. Theresa Catholic Church. The Catholic church was built in 1927 and in 1940 an expansion was done on the
building by adding a rectory.
The church has a whole lot of history-making it a huge destination for visitors especially tourists who are Christians and wish to have a good time to meditate within the walls of a church.
In the year 1960, the Church got a new site situated at the side of the Seventh St and Main and In after town years, the church was completely built. Subsequent additions and renovations were done over the years to keep the church in good shape for Christians worldwide to come see.
The church features a Parish Hall, a youth and adult education center, classrooms, a music hall, and a food pantry included in the additions done in the building.
705 St. Theresa Blvd., Sugar Land, Texas 77498
Are you planning a trip to Texas and wondering what to do here? check out our guide on things to do in Sherman, things to do in Bandera, and fun things to do in Lufkin for a memorable vacation.
16. Houston Museum of Natural Science at Sugar Land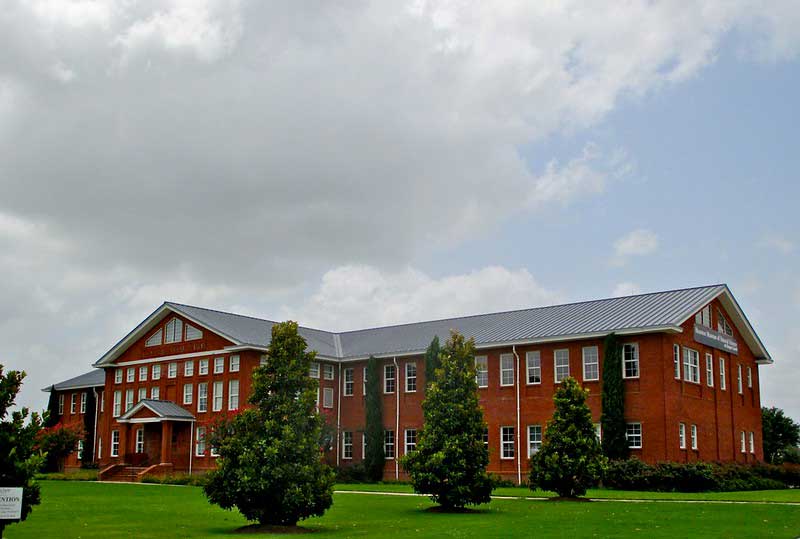 Since 2009, the Houston Museum of Natural Science has been a major pillar in improving scientific exploration.
Visitors can view different history, wonder, and mystery collections and check out the galleries of huge size animals and treasurable science artifacts.
Get more insights about Earth science together with terrified fossils, minerals, and special rocks. You will be amazed at the sight of the dinosaur bones situated at the Hall of Paleontology, you can also go into space to see and learn about the planetary objects.
Address: 13016 University Blvd, Sugar Land, TX 77479
17. Benihana
Stop by at the Benihana situated in Sugar Land Texas to enjoy a great deal of delicious Japanese dishes from their unique teppanyaki cooking technique.
This cooking mode was adopted after World War II where meals are prepared using the best from propane and a flat-surfaced iron griddle.
The setting style of the restaurant for guests to enjoy delectable dishes is on a round table surrounded by the teppanyaki grill. Experienced chefs cook the grills and it is done right in the presence of visitors, the experience is lovely and fun at the same time.
The restaurant began as a family establishment in New York when it opened its first restaurant. The historic restaurant has grown to have its brand in different locations spread across the US, in South and Central America, and the Caribbean Islands.
18. Sugar Land Memorial Park
Taking a break from the busy city life is not a bad idea if you wish to have some quality time with family and friends in Sugar Land Memorial Park
In this park, visitors can go for a walk, go riding in the tree-lined trails, picnicking in the pavilion, play a ballgame on the lawn, go for a jog.
Enjoy the large green areas, have a good time under the shady trees, enjoy the calm atmosphere and breathe in the fresh air, or enjoy the lovely views of the large lakes and undulating green grass.
There are art pieces situated at various strategic areas of the park for everyone to see. Visitors can obtain a license to go fishing or canoeing at the lakes or have a fun time riding on a bike.
This place is furry friendly as well, your pets can have a nice time playing in the Pawm Springs Dog Park which features an extensive Pavillion, a dog wash station, swimming pond, and training programs.
This park is a cool place in Sugar Land, a visit here is one of the top things to do in Sugar Land, TX.
Address: 15300 University Blvd, Sugar Land, TX 77479,
19. Freer Park
Do you intend to have one of the most perfect holidays with friends and family? The perfect thing to do is to plan your visit to Eldridge Park and it should be a major item on your checklist of things to do in Sugarland. TX.
The Park has a land area of 43 acres and features different kinds of amenities that include restrooms, grills, picnic tables, 40 miles of picturesque trails, a concession stand, soccer fields, a five-acre pond and parking space of 500 spaces, a picnic pavilion, benches, and many others.
The Park is a place of abode of the Sugar Land Soccer Club and it also organizes a Funfair Positive Soccer event. Many of the soccer fields to find in the park are kept for league play, whereas two fields are open for people to see.
Address: 2511 Eldridge Rd, Sugar Land, TX 77478,
20. Constellation Field
If you are a lover of sports, the baseball game at Constellation Field should be a must-visit for you. The Constellation Field was unveiled in 2012, It is situated at the center of Fort Bend County and Sugar Land and has been a place of abode for their junior league team, the Sugar Land Skeeters,
The Constellation Field has organized more than 700 Atlantic League competitions, since its unveiling and blooms with the highest number of skeeters fans in 2016 having 8606 fans, and they came out victorious as the winner of the Atlantic League Ballpark in 2012 and 2018.
Aside from playing baseball, the constellation organizes different cultural festivals and the Sugar Land Holiday Lights event. The stadium is a huge, clean attraction with excellent facilities, better seats for a good view of the game, delectable snacks and drinks are available, and other lovely events to keep you entertained.
The stadium also features a swimming pool, a splash pad, a children's play space, a basketball court, and a pavilion.
Address: 1 Stadium Dr, Sugar Land, TX 77498,
21. Wood Bridge Park
The Wood bridge Park features a picturesque terrain perched Southwest of Houston, Texas. The area has 1,249 houses specially kept for Rita Drabek Elementary School, Kempner High school, and Garcia Middle School.
The amenities to find here includes a tennis court, a clubhouse, community pool, four playground areas and an area for strolling
Their goal is centered on supporting, preserving, strengthening, and enriching homeowners in a wood bridge with a good lifestyle through the art of beautification.
The wooden bridge park is a hidden gem and an exciting place to have a family getaway and have lots of fun and excitement.
Address: 11201 Lake Woodbridge Dr, Sugar Land, TX 77498
22. Sugar Land Art Center and Gallery
The Arts Center and Gallery is a voluntary organization focused on giving visitors a fun-filled experience artistically. The Art gallery hosts regular programs and workshops to educate individuals on arts and these classes are done by skilled and famous artists.
The kids are not left out of the fun as they can learn and practice art with watercolor, collages, oil pastels, sculptures, weaving, and many more.
Adults are also inclusive as their program is centered on portraits, illustrations, charcoal, soft pastels, watercolors, landscapes, and others. To produce outstanding art creations while learning, visitors are taught extensively how to use colors, composition, and colors to improve their art.
Visitors can organize their painting events or parties at the studio and have fun creating artistic paintings with friends and family.
Address: 104 Industrial Blvd Ste q, Sugar Land, TX 77478,
23. Artsy Soul
If you are looking for something new and fun to do as an art lover, you should head over to The Artsy Soul.
Arty Soul has various Crafts and activities you and your friends can do together that will reveal your creative side.
Whether you love to create mosaic art, paint pottery, make your own candles or paint canvas, here at Arty Soul, there's something for you.
So visit Arty Soul and spend some quiet time alone or meet up with some buddies at the studio.
You will not just love creating art here; you will feel right at home.
Address: 12920 University Blvd # 300, Sugar Land, TX 77479, United States
24. Cheeky Monkey
This tourist attraction is a soft play area & kids' birthday celebration destination between 10 months to 8 years old.
Cheeky Monkey provides an exceptional arena for everyday social and educational interaction concentrated on kids, teachers, and parents.
All through the day, Cheeky Monkey guests can take part in free daily activities like story times, puppet shows, baby yoga, drama, literacy, language, fairytale ballet, and dance classes.
Cheeky Monkey is also a celebration professional, having hosted more than 5,000 birthday parties.
The center offers numerous private party rooms with different themes and packages, and they provide everything a kid may need for a fantastic birthday celebration.
All the events are hosted by professional staff and can add hours of supervised fun, ice cream, food, cake, and beverages.
Address: 2601 Town Center Blvd N, Sugar Land, TX 77479, United States
25. Fire It Up Pottery & Art Studio
One of the fun things to do in Sugar land is to reveal your creative side in Fire it Up Pottery & Art Studio.
Fire it up Pottery & Art Studio is a fun modern art studio in Sugar Land.
They offer different art projects that will bring out your creative skills, including Glass Fusing, Ready to paint pottery, Dichroic Glass Jewelry Making, and Wet Clay Hand-Building Potter's Wheels.
Fire It Up Pottery & Art Studio welcomes customers at any time for some creative fun, or you can enroll in a class, partake in a BYOB event, or plan a child's birthday party.
The studio offers everyone an authentic, unique experience, and you don't even need prior experience.
The ambiance of the studio is inspiring and comforting. Everybody can be an artist at Fire it Up Pottery & Art Studio.
Address: 13817 Southwest Fairway, Sugar Land, TX 77478, United States
Texas holds quite some fun attractions and activities, explore some of its fun cities, here are guides on Waxahachie , Nacogdoches, Bastrop, and Rockport.
Plan Your Trip to Sugar Land
Sugar land is a huge destination for everyone who want to have a perfect getaway with loved ones and friends. There is a lot for visitors to engage in and with our list of things to do in Sugar Land, TX, you are sure to have a fun holiday.
Start planning your trip to Sugar Land, Texas, today for that fun getaway.
Happy Travels!