Mount Shasta is a city in Siskiyou County, Northern California, lying on the southwestern side of a mountain named Mt. Shasta.
The city is approximately 3,600 feet above sea level. Mt. Shasta is the dominant attraction of the city and has attracted many tourists over the years.
Mt. Shasta is believed to be one of the supernatural hubs of the universe, attracting spiritual seekers from across the world. The Mountain town has numerous features worth visiting, from parks to clear water bodies, dining areas, shopping areas, and more.
If this town has caught your attention and you're you want to know the best places to visit in Mount Shasta, here's a list of the top things to do in Mount Shasta, CA.
Things to Do in Mount Shasta
1. Castle Crags State Park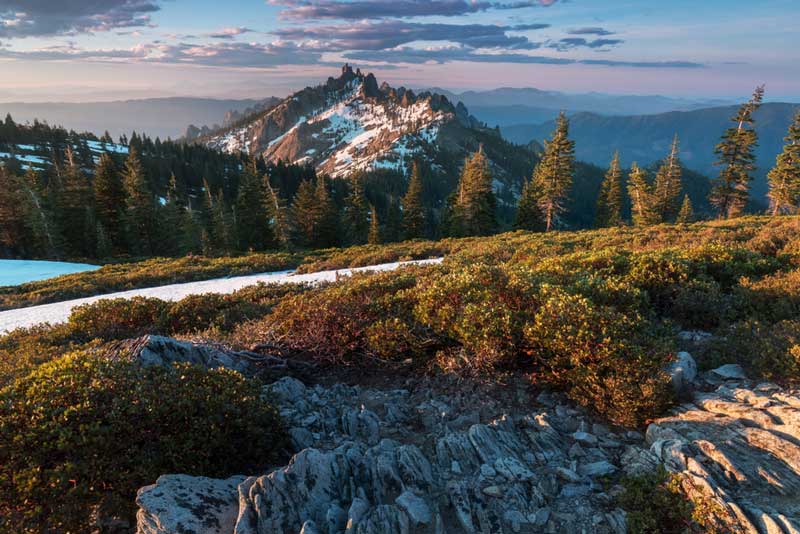 Castle Crags State Park lies 14 miles south of Mount Shasta City. The over 170 million years, 6000 feet tall granite spires in the Castle Crags Wilderness on the northwestern side of Castle Crags State Park.
The park acts as a platform to see the magnificent view; this feature makes the park one of the best in California. In addition to the fantastic view of Castle Crags, visitors can enjoy several recreational activities, including hiking the famous trailhead (Vista Point), camping, fishing along the Sacramento River, and picnicking.
Castle Crags State Park campgrounds are one of the best around Mount Shasta, having about 76 developed campsites possessing a picnic table, a food locker, drinking water, a fire ring, and shower amenities. Don't miss out on the fun experience in this California State Park, which is roughly 15 minutes away from Mount Shasta.
Address: 20022 Castle Creek Rd, Castella, CA 96017, USA
2. Mount Shasta City Park
Mount Shasta City Park encompassing 26 acres, is a gorgeous open space offering numerous recreational activities. One of the park's major features is the Big Springs, also regarded as the Headwaters of the Upper Sacramento River.
The clean water which emerges from Mt. Shasta draws numbers of tourists as the water is believed to have healing powers.
There's a paved area designed for close viewing of the spring. However, the scenery alone is worth the visit. The Park has a vast, green grassy area that can be used for various activities or simply relaxing. Kids can play in a nearby playground designed especially for them.
Visitors can enjoy biking, picnicking, and hiking at the attraction as picnic areas and trails are scattered in the Park. There's undoubtedly something for everyone. A visit to this Park should be added to your bucket list of things to do in Mount Shasta, CA.
Address: 1315 Nixon Rd, Mount Shasta, CA 96067-8900, USA
3. Sisson Meadow
This attraction is a must-visit if you are in Mount Shasta, California. Lying behind Mount Shasta Library and Sisson Elementary School is the impressive open grassland encompassing 7.5-acres. The Meadow, although situated at the center of town, is a peaceful environment. Families and hikers mostly visit the location
Sisson Meadow offers beautiful views of Black Butte, Mt. Shasta, Castle Spire, Mount Eddy, plants, and wildlife communities. Since 2013 when the property was acquired, the Meadow was modified to include benches, boardwalks, public installation art, and picnic tables.
Spring and summer are the perfect visiting time because that's when the Meadow is covered in wildflowers, flourishing fruit trees, and roses. Nevertheless, there's no wrong time to check out Sisson Meadow, as it's stunning year-round.
Address: 313 E Castle St, Mt Shasta, CA 96067, USA
4. Mount Shasta Sisson Museum
One of the top things to do in Mount Shasta, CA, is a visit to Mount Shasta Sisson Museum. The Museum lies within the historic fish hatchery building. The attraction, which is more significant than it looks outside, shares Mount Shasta's social, cultural, scientific, and natural history.
The Museum features three large exhibit halls on lenticular clouds, the Mt. Shasta volcano, and the spiritual and supernatural beliefs associated with the mountain. The Museum also houses an event room for hosting theatrical performances, art shows, lectures, quilt exhibits, annual History Nights, and meetings. The Events Room was refurbished in 2012 and 2013.
The Kid-friendly Museum is only accessible from early April to early December. During the closure period, the museum undergoes essential maintenance and is updated with new exhibits to guarantee there's something for everyone. Plan to spend some hours at the Mount Shasta Sisson Museum and be enlightened.
Address: 1 N Old Stage Rd, Mount Shasta, CA 96067, USA
5. Spring Hill Nursery and Gardens
This attraction is a wonderland for plant fanatics. Spring Hill Nursery and Gardens, created in 1997 on two overlooked acres, lies on the northern flank of Mt. Shasta. The Garden has blossomed into an intelligent expression and beautiful scenery for people in its neighborhood.
In this Mount Shasta attraction, you will find yourself encircled by plants, pottery, mature trees, and statues. Pathways in the attraction have a nursery stock, display gardens, and a cutting garden. There are arrays of shrubs, flowers, fruits, perennials, and garden art that exhibit the various gardening styles.
Every summer, various exceptional gardens in the location are open to the public for tours. You can learn more about any plant of your interest from the knowledgeable staff eager to help out in any plant-related field.
Address: 1234 Nixon Road, Mount Shasta, CA 96067, USA
6. Downtown Mount Shasta
If you're looking to get different shopping experiences and activities, head to Downtown Mount Shasta. The district is bustling with social and spiritual activities and is fun to tour on foot, although there are few parking lots.
The central shopping ground downtown is Mount Shasta Boulevard, among many others, such as the Fifth Season outdoor store for outdoor gear and Directions for clothes, jewelry, and accessories. For a magical and spiritual experience, you can head to Crystal Matrix Gallery, Crystal Tones, or Soul Connections.
You can also shop for art pieces and graphic prints. Discover the local and exotic restaurants serving delicious meals along this district, such as Seven Suns Coffee and Cafe, and Mike and Tony's, among others. The magnificent view of Mt. Shasta enhances all these experiences. Exploring this location is one of the fun things to do in Mount Shasta, CA.
Address: Downtown Mount Shasta, Mount Shasta, CA 96067, USA
7. Wagon Creek Bridge on Lake Siskiyou
Lake Siskiyou, 2.3 miles away from Mt Shasta, is a reservoir known to give off the incredible reflection of Mt. Shasta. The Lake has a seven-mile paved walking trail that goes around it, cutting across meadows, deep forests, and everything surrounding it. Wagon Creek Bridge is an extension of one of Lake Siskiyou Trails.
The prestigious Bridge was created in 2010 and extends about 262 feet over the Lake. Visitors can admire the Lake from the arch Bridge and view waterfowls and boaters in the water body. The Lake is a hot spot for anglers as it holds numerous types of fish such as trouts and smallmouth bass.
However, ensure to check with the local Fish and Wildlife department to know which section of the water body is open to the public. Dogs are allowed around the Lake but must be on a 6-foot maximum leash. Take pictures of the magical view. The experience promises to be a memorable one.
Address: North Shore, Lake Siskiyou, Mt. Shasta, CA 96067, USA
8. Handsome John Speakeasy
Beer lovers are going to love this location. Handsome John's Speakeasy, owned by John Redmond, is a great place to gulp some beers after touring the city.
The site is famous for its excellent service and exceptionally delicious sushi. Aside from beer and sushi, visitors can enjoy great ciders, fish, wines, and pizza.
The establishment has a homely, fun, and relaxed ambiance where you can select from a vast option of craft beers and enjoy watching games.
Ping pong, football, and several TVs with all sports are offered in this outstanding location. The local Speakeasy has restrictions for those less than 21 years of age; however, well-behaved dogs can stay in the outdoor seating space
Address: 326 Chestnut St., Mount Shasta, CA 96067, USA
Planning to explore California? Get the best of attractions and activities in San Marcos, Idyllwild and Redlands for a fun vacation.
9. The Crystal Room, Crystal Tones
Mount Shasta is a crystal palace, having many shops focused on crystals of varying sizes, shapes, and colors. A vacation in Mount Shasta is incomplete without visiting a crystal store. The Crystal Room is one of those unique locations in Mount Shasta.
This location houses stunning crystals and minerals from different parts of the world, such as Gemstone jewelry and Lemurian Seed Crystals. Some of the crystals are believed to hold healing properties, while others are artifacts that can be used to decorate your workplace or home.
The store staff will assist you in choosing the perfect crystal for you. The remarkable thing about it all is you can get crystals of varying price ranges, so you don't have to break the bank to purchase one. An adventure in the Crystal Room is one of the best things to do in Mount Shasta, CA.
Address: 109 W Castle St. Mount Shasta, CA 96067, USA
10. Black Butte
One of the valuable landmarks in Mount Shasta, California, is the Black Butte. Formerly known by different names, including Cone Mountain and Wintoon Butte, the Black Butte lies about 13km west of Mt. Shasta and is visible from any point in the city.
The Black Butte, a plug dome volcano, is formed from the overlapping of thick magma that overflows during volcanic eruptions. If you get close to the peak, you will see the remaining part of the conical Butte solid core.
The attraction is a significant marker if you're passing through interstate 5. If you're up for a challenge, you can hike to the rock's peak, a 5-mile round trip. At the conical summit, you will be rewarded with a magnificent view of Mt. Shasta and the Trinity Alps.
Visiting the Black Butte is one of the best things to do in Mount Shasta, CA. Aside from the rocky attraction, some vegetations abound, such as ponderosa pine, Douglas Fir, and a forest of incense cedar.
Address: Black Butte, Mount Shasta, CA 96067, USA
11. Shastice Park
For a fun time, visit Shastice Park. In 1978, Siskiyou Union High School District deeded the property to the Recreation and Parks District. Shastice Park is situated on the northeastern side of Mount Shasta, California. The Park encompasses 38 acres, of which 14 acres are developed for the community to take pleasure in the lawn activities and attractions.
The Park houses the outdoor Siskiyou Ice Rink, a local treasure. Several intramural sports are held in the premises sports facilities, including tennis courts, lighted softball field, skate park, pickleball courts, and a multipurpose field complex. Other features in the Park include a large playground, an off-leash dog park, and picnic areas.
You can go mountain biking or hiking on the Park's grounds and admire the mountain view while you're at it. Meteor showers in the field are an amazing sight to behold. A visit to Shastice Park is one of the fun things to do in Mount Shasta, CA.
Address: 800 Rockfellow Dr, Mount Shasta, CA 96067-9608, USA
12. Mei Drucker Art Gallery and Gift Shoppe
This auspicious Art Gallery and Gift Shoppe is the work of Mei Drucker, a contemporary and Chinese art painter. Mei Drucker initially resided in China until June 2010, when she moved to Mount Shasta. After five years, Mei founded Mei Drucker Art Gallery and Gift Shoppe.
The founder's goal is to create designs in inexpensive mediums, so the public can easily access her art and promote peace and happiness across the world through her art. Bright colors are the signature of Mei's art and are visible from the gallery entrance.
Some of the items found in this location include wall hangings, original paintings, cards, brightly colored tiles, jewelry, photography, Budha sculptures, Printed Tee shirts, and Coffee mugs. You are bound to be captivated by the contents of this art gallery, and it is a must-visit in Mount Shasta.
Address: 418 N Mount Shasta Blvd, Mount Shasta, CA 96067-2232, USA
13. Berryvale Grocery
Healthy eating is essential for healthy living. Berryvale, a natural food grocery store and Cafe, is a regional, family-owned, and operated enterprise in Mount Shasta Berryvale is one of the best shopping spots in Mount Shasta, California. Shopping in Berryvale is one of the best things to do in Mount Shasta, CA.
This grocery and Cafe store offers fresh and high-quality foods for your nourishment. Berryvale service aligns with its mission, " to nourish our world through food, knowledge, and community. Berryvale features groceries, local farm produce, organic products, wellness and beauty products, beer and wines, meats, and a café.
There is something for everyone in the unique shopping ground. So why not check the store out and stock yourself with healthy options during your visit to Mount Shasta.
Address: 305 S Mt Shasta Blvd, Mount Shasta, CA 96067-2553, USA
14. Mount Shasta Cinema
The fun is not complete if you don't see a movie or two. Mount Shasta Cinema is one of the best places to head to for such an exciting experience. Mount Shasta Cinemas, which lies close to Black Bear Diner, was established on September 27, 2001.
The cinema is updated with the latest release, so you don't have to worry about missing a movie in Mount Shasta. This excellent Cinema features a six-screen movie theater with a great sounding system, 459 seats, and of course, a snack bar.
You don't have to break the bank as the tickets are reasonably priced compared to bigger cities. Don't hesitate to check it out during your vacation in Mount Shasta, California.
Address: 118 Morgan Way, Mount Shasta, CA 96067, USA
15. Shasta-Trinity National Forest
Shasta-Trinity National Forest is California's largest National Forest, covering an area of more than 2.2 million acres. The Forest features five wilderness areas, 6,278 miles of streams and rivers, and hundreds of mountain lakes.
Visitors can enjoy numerous recreational activities in the forest, including mountain climbing, hiking, camping, fishing, horseback riding, and boating. The Winter season allows visitors to enjoy snowmobiling, skiing, and snowshoeing. Pets on leashes are granted access to the recreational sites.
However, most of the recreational areas in Shasta-Trinity National Forest are accessible from May 15th to September 15th. The Forest is the former abode of American Indian groups- the Nor-Rel-Muk Wintu and the Chimariko. Exploring Shasta-Trinity National Forest is one of the fun things to do in Mount Shasta, CA.
Address: 3644 Avtech Pkwy, Redding, CA 96002, USA
Planning to explore California? Get the best of attractions and activities in Manhattan Beach, and Rancho Cucamonga for a fun vacation.
16. Everitt Memorial Highway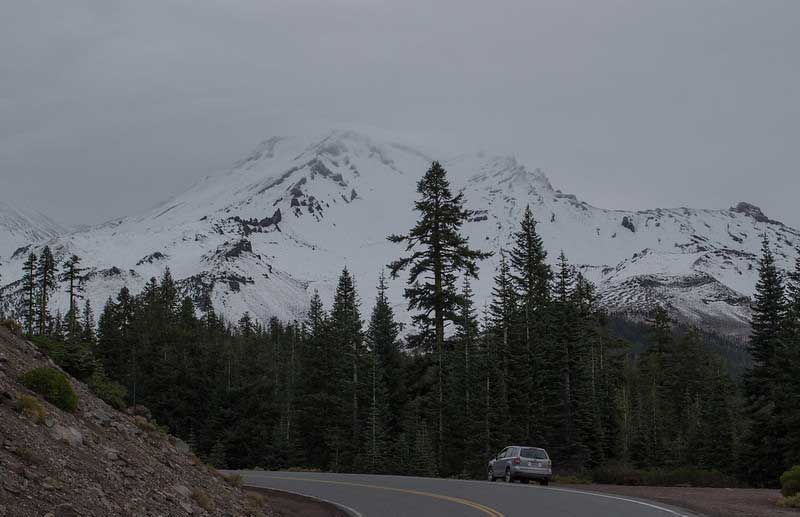 Everitt Memorial Highway is a 14-mile two-lane paved road that extends up the southwest side of Mount Shasta. The Highway is named after John Samuel Everitt -Shasta National Forest Supervisor, who lost his life while fighting the Bear Springs fire in 1934.
Everitt Memorial Highway offers a spectacular view above the tree line, and it takes about thirty minutes to drive up the road. While driving up the Highway, you'll see notable birds, mammals, and plants.
You can drive through the road from late June till late October when it's closed by snowfall. During the previously stated duration, you can access the Old Ski Bowl, which is a great picnicking spot. Come along with a camera to capture the magnificent scenery.
Address: Lake St. Mount Shasta, CA 96067, USA
17. Gateway Peace Garden
As earlier stated, Mount Shasta is a place where spiritual seekers largely assemble; if you're one of those people, check out the Gateway Peace Garden. The Garden, which was put in place in 2002, is a place for peaceful meditation.
The artfully contrived Garden is full of colorful spring wildflowers and altars of different religious beliefs, such as the Mother Mary and Quan Yin meditation Gardens. You can wander in a maze, add a prayer flag, view the lens-shaped cloud above the mountain close by, or marvel at the majestic surrounding.
The Gateway Peace Garden is open year-round from sunrise to sunset except during winter, when snowfalls completely cover the Garden and the trails are no longer visible. Attain inner peace in the serene Gateway Peace Garden, which aligns with the Garden's Message " world peace through inner peace."
Address: 834 Ski Village Dr, Mount Shasta, CA 96067, USA
18. Castle Lake
Castle Lake is a primitive icy cirque lake lying west of Mount Shasta City. The Lake has a surface area of 47 acres and is 110 ft deep. This attraction is popular in Mount Shasta and visited by tourists.
The water body and its surroundings are filled with plants and animals such as osprey, deer, fawn lily frog, trout, red columbine, etc. Visitors can also enjoy numerous recreational activities in the attraction, including kayaking, rafting, swimming (although limited to summer months), picnicking, row boating, etc.
During winter, the Lake freezes over and allows for ice fishing, snowshoeing, ice skating, and cross-country skiing. There's a brief and straightforward shoreline trail west of the Lake. The attraction offers something for everyone to enjoy in the summer and winter months. A stop by Castle Lake is one of the top things to do in Mount Shasta, California.
Address: Castle Lake, Siskiyou County, CA 96067, USA
19. Shasta Abbey
Shasta Abbey
is a Buddhist training monastery and a place of practice for lay Buddhists and visitors who seems interested. The monastery, which covers an area of 16 acres of forested land, was created in 1970 by Rev. Master P.T.N.H. Jiyu-Kennett, an Abbess and spiritual director, till she died in 1996.
Shasta Abbey offers teachings, spiritual counseling, annual retreats, training, and ceremonies. Visitors are taught how to meditate and given introductory retreats to explain to them the ways of a Buddhist. The Monastery incorporates the Serene Reflection Meditation tradition (Soro Zen).
Tours of the monastery are offered by appointment. During the tour, visitors can see the Budha Hall, the guest house, the Stupa, and the meditation grounds and ask any questions concerning the monastery.
Address: 3724 Summit Drive, Mount Shasta, CA 96067-9102, USA
20. Mount Shasta Retreats
Mount Shasta is a beautiful place to recharge your spirit, mind, and body. Mount Shasta Retreats is one of the places to have such a magical encounter. Andrew Oser started the Retreats in 1982 to help visitors discover their true purpose on Mt. Shasta.
Mt. Shasta, believed to hold magical powers, is the location for the Retreats. Andrew takes visitors to sacred areas on the mountain, which aids them to feel its power, tap into it, and receive the gifts it has for them.
The spiritual retreats help people from different spheres of life to let go of fears and constraints, reconnect with their true selves, and walk into wisdom, confidence, love, and clarity. Andrew holds various activities annually, such as couples retreats, customized personal retreats, and sacred site tours.
The most intense life-changing retreat offered yearly is the Mount Shasta Spiritual Adventure Retreat. After participating in this retreat, you will leave revitalized and will forever be grateful you came. Taking part in this rejuvenating retreats is one of the fun things to do in Mount Shasta, CA.
Address: 601 Kenneth Way, Mount Shasta, CA 96067, USA
21. Black Bear Diner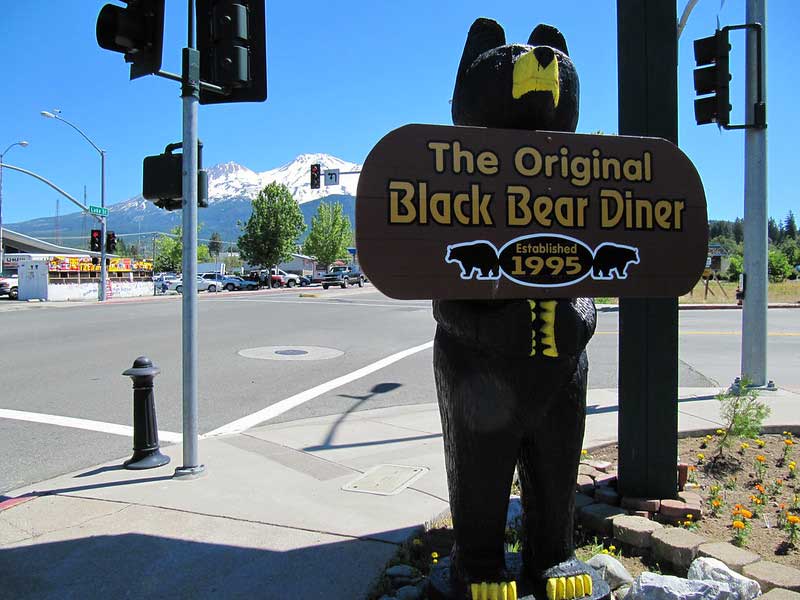 This historic family restaurant is a favorite among locals due to its delicious, large-sized meals. Black Bear Diner started as an inn established by a gold prospector, Sisson, after he settled down in 1861. In 1995, the premier Black Bear Diner was opened on the location of the old strawberry patches by Bob and Laurie Manley.
The restaurant has a fun, bear-themed ambiance. Everything about the restaurant is unique, down to the menu. The menu titled 'The Black Bear Gazette' resembles an old newspaper and even has articles on the front page. Similarly, the children's menu was also designed with 'The Best Tale times' and contained kids' activities.
The menu includes the Grizz, sweet cream pancakes, bigfoot chicken fried steak and eggs, vegetarian omelet, hot sausage patties, and Shasta scramble. Drinks are also included, such as lemonade, coffee, tea, soft drinks, and assorted juices.
In addition to the restaurant, the diner has a small store where you can purchase small ornaments, postcards, clothing, honey, and mug. A stop at this amazing restaurant is one of the top things to do in Mount Shasta, CA.
Address: 401 W Lake St, Mount Shasta, CA 96067-2122, USA
22. Hariom Shri Ram Restaurant
For an exotic dining experience, Hariom Shri Ram Restaurant is one of the best places in Mount Shasta, California. This Indian restaurant is headed by a chef with over 20 years of experience cooking in the best restaurants.
The Restaurant focuses on not just taste by also quality, and this is why their foods are prepared using fresh ingredients sourced from the local farmers' market. Hariom offers lunch, dinner, and cocktails. Organic, vegan, gluten-free, non-GMO's foods are also available. Some meals served include chicken tikka masala papadum, paneer tikka, ras malai, and garlic naan.
Drinks available include Soda, mango lassi, wine, chai, bottled beer, and beer on tap. You can enjoy the beautiful view and meal in the paved outdoor dining area.
Address: 531 Chestnut St, Mount Shasta, CA 96067-2218, USA
23. Snow Creek Studios
This art establishment encompassing 2200 square feet, opened in 2012. The Studio was refurbished to include LED lighting and solar energy. The Studio aims to uphold a pleasant, contemporary space to showcase art and enrich the creative side of everyone. A visit to this Studio is one of the funt things to do in Mount Shasta, CA, especially for art enthusiasts.
Snow Creek Studios has three sections: the studio space, gallery, and offices. In the studio space, Chris Messer, a diverse and productive local artist, paints and conducts teaching classes in different art fields.
She also organizes creative workshops to share what she knows about art journaling, process, and mixed media. Sometimes guest artists educate visitors on card-making, pastel, art business classes, and encaustic.
The gallery displays beautiful art by Chris Messer, who uses gauche, oil, watercolor, mixed media, and acrylic. Art, ceramics, fiber art, sculpture, collage, and jewelry by other artists are also found in the gallery. A fascinating experience awaits you in this location.
Address: 416 N Mount Shasta Blvd, Mount Shasta, CA 96067-2232, USA
24. Mount Shasta Ski Park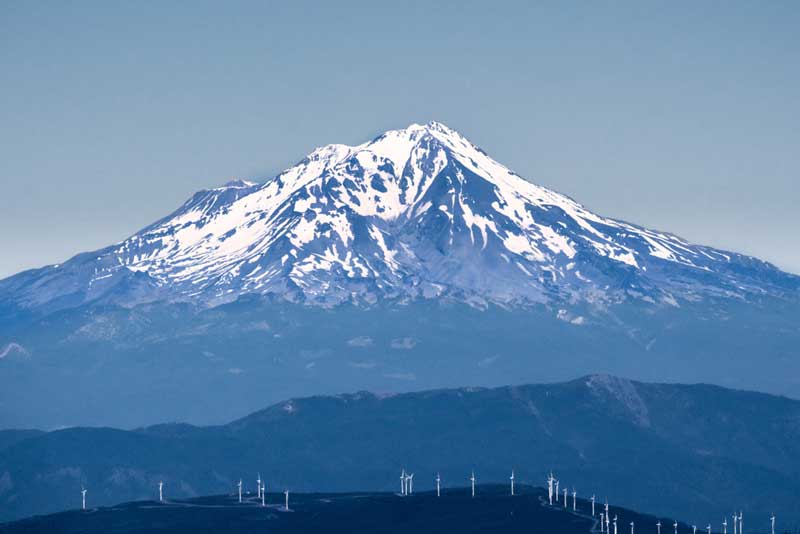 If you are spending your winter or summer holiday in Mount Shasta, one of the best places to visit is Mount Shasta, Ski Park.
Mount Shasta Ski Park is a ski resort that runs during winter and summer and is one of the best ski resorts in California.
During winter, the ski resort has operations such as skiing & snowboarding, rentals, events, backcountry cabin programs, and lessons. The resort offers Disc Golf, Mountain Biking, and Scenic Chairlift Rides during summer.
Downhill lovers have more than 400 acres and 32 trails to explore at this tourist attraction.
Mountain Shasta Park also houses two terrain parks and night skiing during the weekends.
Address: 4500 Ski Park Hwy, McCloud, CA 96057, United States
25. Mount Shasta Hatchery
One of the best places to visit in Mt. Shasta is Mount Shasta Hatchery.
Around 1877, Justin H. Sisson, the owner of a local inn and tavern, started raising salmon and trout to attract visitors to his bar.
In 1888, the California Fish Commission purchased the hatchery.
However, when the building of the Shasta Dam on the Upper Sacramento River began in 1938, salmon could not travel to Mount Shasta Hatchery, so it had to switch to other species.
Mount Shasta Hatchery has raised different trout, salmon, largemouth bass, catfish, perch, sturgeon, arctic grayling, and sunfish.
If you are holidaying in Mount Shasta Hatchery from March to July, you can visit Mount Shasta Hatchery and observe how the eggs are hatched, and fry is raised.
You can also see the change from the hatchery building to the nursery ponds, where the fry is raised until suitable to be transported to the raceway.
Additionally, this hatchery supplies most of the eggs to other CDFW trout hatcheries and, at one period, supplies them to numerous countries worldwide.
The hatchery has supplied trout eggs to New Zealand, Mexico, China, India, Philippines, Bangladesh and Pakistan, and other US countries, including Hawaii.
In more than a century of operation, Mount Shasta Hatcher has raised more salmon and trout than any other hatchery around the globe.
Address:3 N Old Stage Rd, Mt Shasta, CA 96067, United States
Meet the top attractions in California, here is a guide on the top things to do in San Pedro, things to do in Sonora, and the best things to do in Chula Vista.
Plan your Trip to Mount Shasta
Outdoor adventures and spiritual enrichment abounds in the incredible Mount Shasta. If you've decided to visit Mount Shasta, do go along with this list to not miss out on the top things to do in the city.
The renowned mountain makes a perfect background for the numerous attractions in Mount Shasta. A memorable time awaits you here, so start planning your trip to Mount Shasta, CA.