In search of the best and most fun things to do in Terrell, TX?
If you have chosen Terrell, TX, as your next vacation destination, anticipate an intriguing, fun-packed, and history-wealthy experience because the city offers nothing less.
Terrell is situated in Kaufman County of Texas, 25 miles drive east of Dallas through the U.S. and Interstate Highway. It had 18,567 inhabitants in 2021.
The construction of the renowned Texas and Pacific Railway line in the late 19th century facilitated this city's establishment.
The railroad city has developed into a vibrant commercial hub that provides its residents with a higher standard of living today.
Terrell's numerous museums and other historic structures showcase its rich culture and past.
However, Terrell is also dotted with many exciting locations, some of which might expose you to surreal or eerie encounters.
Check out some of the best things to do in Terrell, TX.
Things to Do in Terrell
1. Historic Downtown
A key feature of Terrel is its Historic Downtown area, whose brick-lined sidewalks take visitors past stores with classic architectural accents.
The Historic Downtown, formally known as Main Street City, has a nostalgic feel. It features restored old buildings, attractive vintage lighting, and well-constructed walkways lining its roads.
If you are new in the area, the Kiosks will help you find your way to your desired destination. Shop for a present, a new dress, an accessory, a home item, or even a book that has been out of print.
Terrell's Historic Downtown is brimming with lots of things to do, such as enjoying foreign or local cuisine in an eatery or cafe, grabbing a beer, or sipping on craft cocktails in a lively bar.
Other nice things to do in the area include participating in the yearly festival, parading the vibrant streets, and more.
As you walk through the streets, you may see hand-painted murals on the walls, offering
a glimpse into Terrell's cultural past, featuring everything from old movie posters to fire trucks and the Texas flag. Terrell's Historic Downtown is one of the best places to visit in Terrell, TX.
Address: W Moore Ave, Terrell, TX 75160, United States
2. The R.A Terrell Home
Nestled in the Southwestern Christian College Campus is The Robert A. Terrell Home. Although its shape is Octagonal, it is referred to as the "Round house."
The R.A Terrell Home is among the last three standing buildings constructed in the 1860s and 1870s.
Robert Adams Terrell, a surveyor and farmer, who immigrated to the Republic of Texas in 1840, owned the home, hence the house's name.
The octagonal house will astound you with its beautiful design. M. Goodfellow, a skilled carpenter from Canada, constructed it.
The initial construction of the house had it facing south, but after the Texas Military College took over, it was modified to meet west.
Many firsts may be attributed to this stunning home; for example, the first appearance of glass windows in the country was in this home.
Ensure you see the R.A Terrell Home, especially if you are architecturally inclined or enjoy sights of stunning historical structures
Address: 207 North Frances St, Terrell, TX 75160, United States
3. Gentle Zoo
The Gentle Zoo is a kid's zoo situated on the outskirts of Terrell, TX, in Forney. If you are traveling with kids, taking them to this Zoo will surely put a smile on their faces.
The Zoo offers more of a hands-on approach since the animals they have are pretty friendly. The kids can get close enough to the animals even to pet them.
The animals in the Zoo include llamas, pretty little birds like cockatoos, bigger ones like majestic peacocks, and more.
Aside from the petting zoo, the facility also has a party room, playground, train ride, maze, classroom, picnic area, and a therapeutic environment for kids that require special stimulatory activities.
Additionally, the Zoo organizes seasonal events such as the Holiday Magic and Pumpkin Patch. A trip to Gentle Zoo is perfect for outdoor fun with the little ones.
Address: 12600 FM2932, Forney, TX 75126, United States
4. British Flying Training School Museum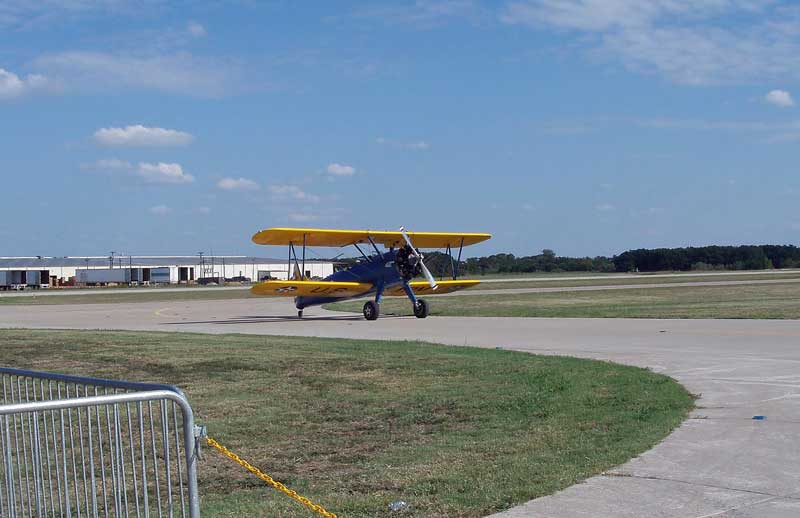 The British Flying Training School Museum is the ideal place to get an insight into the events during the Second World War.
Exploring the Museum would be a perfect inclusion to your list of best things to do in Terrell, TX, whether you are a history lover or an aviation enthusiast.
This Museum, soaked in WWII history, has a lot of interactive exhibits and honors the collaboration between America and Great Britain.
Over one thousand British and American soldiers learned to fly at Terrell's Flying Institute, the largest flying school at the time.
Other historical artifacts on display in the Museum, such as logbooks, souvenirs, uniforms, and training manuals, provide details on this phase of World War II.
The archive has more information about the top British flying training schools. The Museum also investigates the intriguing origins of the objects.
Read through these accounts to learn more about the cadets' backgrounds, education, and what transpired after leaving the city.
Address: 119 Silent Wings Blvd Terrell, TX 75160, United States
5. Griffith Homeplace Museum
While on your vacation trip, an ideal way to enjoy indoor quality time is to visit the Griffith Homeplace Museum.
The Griffith Homeplace Museum was initially owned by a significant family but was later converted into a Museum.
Today the Museum features numerous relics and memorabilia belonging to the home's former inhabitants.
One of the most exciting things to do here is to listen to David-Griffith Cox's history lessons as he tells tales of incidents that followed the establishment of the Museum.
The Museum is easily accessible from the Historic Downtown area and other attractions. If you are adventurous, you can partake in the Museum's famous ghost tour.
Address: 805 1st St, Terrell, TX 75160, United States
6. Thrillvania Haunted House Park
The Thrillvania Haunted House Park, spawned from urban legends, with the help of its haunted theme, offers a distinctive immersive experience on 50 acres of the land mass.
Lance Pope established the Haunted House Park in 1996 out of canon Manor. He bought it from Disney Imagineers and renamed Verdun Manor when he brought it to Terrel.
This establishment was among the first to utilize film effects for increased impact among other haunted theme parks, such as Cassandra's House of Clowns and Sam Hain's Trial of Torment.
Verdun Manor might have all the attributes of a spooky thriller, but Sam Hain's Trial of Torment will leave you just as terrified as you thread its village scenes.
Cassandra's House of Clowns is also horrifying, with macabre decorations throughout the place.
Therefore, bear in mind that it is not for the faint of heart before exploring the international terror theme park.
Address: 2330 Co Rd 138, Terrell, TX 75161, United States
7. The Scuba Ranch
The Scuba Ranch is a family-owned establishment that offers underwater tours of the most exotic natural habitats in a freshwater lake spanning 22 acres.
The Scuba diving facility provides an immersive experience of the aquatic world, allowing you to explore marine life such as jellyfish, turtles, and more.
Since it is a freshwater lake, the area is void of sharks, so you can enjoy the tour to the fullest.
Furthermore, if you want to dive deeper into the water, you can rent the needed equipment at the facility's store.
In January, you can catch the annual Polar Bear Dive, which entails exploring the waters along with other amateur and professional divers.
Additionally, in summer, NTSRA, "North Texas Scuba Realtors Association, organizes a fun dive that creates the opportunity for you to try out new diving equipment.
Aside from you being a lover of water adventure, the rarity of this attraction alone makes exploring it worth adding to your list of fun things to do in Terrell, TX.
Address: 8131 Co Rd 346, Terrell, TX 75161, United States
8. 125 Iris Theater
Visit the 125 Iris Theater to browse the latest best-sellers and out-of-print books. You can also peruse a chic boutique offering women's clothing near the Theater.
In addition, there are twice-monthly screenings of vintage films and even plays by the Vagabond Players.
The Theater houses an eatery where you can enjoy delectable snacks while waiting for your movie time if you arrive earlier than scheduled.
You can also get popcorn, hot dogs, and soft drinks to enjoy while you watch a movie or play on the big screen.
The Theater is relatively easy to find as it is in the Historic downtown area. In addition, the movie ticket price is quite reasonable so you can get extra for your friend and family.
Address; 211 W. Moore Avenue, Terrell, TX 75160
Planning a road trip in Texas? Explore this list of things to do in McAllen, and things to do in Brenham for a memorable Texas road trip.
9. Terrell Ghost Walk
Are you wondering what to do in Terrell, TX? Join the Terrel Ghost walk for a heart-racing and spooky adventure. The Ghost Walk guided tour lasts an hour and a half.
You will be guided by expert knowledge of the city's size, its haunted locations, and all that seems unusual in the area.
Please bring your camera along, as you might get the chance to get a snapshot of something paranormal.
The Ghost Walk offers a chance to explore the Brin Opera House building on E.Moore Street. This historic landmark houses several business offices and is rumored to be haunted.
Clergy members, businessmen, and city officials often tell spooky stories of their paranormal experiences in the city.
Address: 209 W Moore Ave, Terrell, TX 75160, United States
10. Film Alley
Film Alley, located along the American way, is an entertainment complex packed with fun activities for all visitors, including children.
Do not be deceived by its name; the entertainment complex features a bowling alley, an arcade, an eatery, and a movie theater which is its main attraction.
With this many options in one place, you will never have a dull moment, as you can grab some food at the bar and grill, engage in bowling, or beat high scores in the arcade.
If you don't know what to do in Terrell, TX, for group entertainment, explore the fun features of Film Alley.
Address: 750 American Way, Terrell, TX 75160
11. OK Corral Ranch and Arena
The 50 acres famous Equestrian facility in Terrell is situated on Moore Avenue. It is the go-to place if you want to see horses.
The OK Corral Ranch and Arena was initially called Mystic Acres. It currently organizes several horse events in an enclosed space.
You can take horseback riding lessons from wade or watch interesting competitive events such as barrel horse racing.
The enormous nature of the facility creates a calm ambiance that keeps you relaxed while in the area. The expansive sky above and the broad land leave a long-lasting picture in your mind.
The obstacle course has a spooky yet funny Halloween theme, and the area is family-friendly. Horse riding on this Ranch is one of the fun things to do in Terrell, TX, for some family time.
Address: 6558 FM2578, Terrell, TX 75160, United States
12. Java Junkies Coffee Company
If you enjoy drinking coffee, get ready to be blown away because the Coffee company with the most extensive selection of top-quality coffee in the world is situated in Terrell, TX.
The Coffee Company boasts more than 140 distinctive flavored coffees, organic coffee, single-origin, and unique blends. You may browse a broad selection of leaf tea as well.
The customer service at the Coffee Company is top-notch. If you run your coffee shop, you can buy at wholesale prices at the company.
The company's famous products include Sumatra's Black Satin Coffee, Southern Pecan Coffee, Christmas Cookie Coffee, Mocca-Java Coffee Blend, Espresso Verdi Coffee, and more.
On request, you may tour the facility to learn how their delicious, flavorful coffees are made. You can get some of their famous coffee to take home with your friends.
Address: 110 E Moore Ave Ste B, Terrell, TX 75160-3204, United States
13. The Riter C. Hulsey Public Library
Do you enjoy reading? If yes, lose yourself in the realm of books at the Riter C. Hulsey Public Library on North Rockwell in Terrell.
The Library is fantastic for kids as it has a kids' section brimming with appropriate books for kids of different ages.
The Library's book collection encompasses printed books, E-books, and audiobooks in case listening suits you better than reading.
Riter C. Hulsey Public Library organizes several annual events for adults and kids, for example, spelling Bees and word trivia.
Address: 301 N Rockwall Ave, Terrell, TX 75160, United States
14. Outlaws Saloon
The Outlaws Saloon in Terrell, also known as "Terrell's Home For Happy Hour," is a fantastic bar owned by Deborah Seabourn, who started the business in 2011.
Since the establishment of the business, the bar has thrived in several areas as the number of customers has increased. They serve different brands of chilled beer.
The main aim of the bar is to give you such an excellent experience that it would make you invite a friend on your next visit.
The inside of this fantastic bar in Kaufman county has air conditioning, televisions, and a jukebox that plays your favorite songs. It is ideal for birthday celebrations.
The bar has been modified to include a patio area outback featuring horseshoe pits, fire pits, and a corn hole for those who prefer drinking out in the open.
Just like its nickname implies, the establishment offers happy hours from Monday to Friday at different hours of the day. On Thursday and Friday, by 8:30 pm, you can take part in Karaoke.
Address: 10572 FM 2932 Terrell, TX 75160, United States
15. The Shops at Terrell
One of the famous shopping destinations in Terrell, TX, is The Shops at Terrell, which has over 175,000 square feet of top retail stores.
If you are a compulsive shopper seeking entertaining activities in Terrell? Why not indulge in a little retail therapy in this wonderland of stores?
This well-known outlet mall houses a variety of prestigious brands and retailers, from Gap to Rue21. Additionally, it features a movie theater on-site and provides a wide range of superb food alternatives.
Look for the best deals and embark on a shopping extravaganza. After shopping, savor lunch at one of their eateries, including Mariachi's Mexican or Applebee's.
Address: 301 Tanger Dr. Terrell, TX 75160, United States.
Texas holds quite some fun attractions and activities. Explore some of its fun cities. Here are guides on Paris , Bryan, and Burleson.
16. Ham Orchards
Located East of Terrel, Ham orchard, launched in 1979, is renowned for its luscious peaches; it is popularly referred to as home to Texas's sweetest peaches.
This orchard has been attracting tourists from far and near with its juicy and delectable peaches for many years.
Additionally, it features a market where you can buy apricots, watermelons, strawberries, beans, blueberries, zucchini, and tomatoes.
Stop by the orchard to pick up various treats, such as jams, strawberry ice cream, and fruit, from May through August.
On some weekends at HAM Orchards, you may taste peach BBQ by Eddie Deen in an environment that offers picture-worthy views.
Address:11939 Co Rd 309 Terrell, TX 75161, United States
17. Terrell ISD Jamie Foxx Performing Arts Center
Among the best places to visit in Terrell, TX, for performing arts is the Terrell ISD Jamie Foxx Performing Arts Center. It is situated on Poetry Road.
The venue accommodates rental and educational activities all year round. Additionally, it arranges concerts featuring international musicians.
Thus, if you visit the area and are fortunate enough, you can see a live performance there.
You can also tour this roomy structure, which is completely furnished with every necessary amenity.
Address: 400 Poetry Rd, Terrell, TX 75160, United States
18. First Monday Trade Days
First Monday Trade Days is the most extensive flea market you will see in your lifetime. It is only a 30-minute drive from Terrell in Canton.
The market is available only on the weekend before the first Monday of every month so go then if you want to experience shopping at the most prominent market.
This market has been consistent for years, featuring roughly 7,000 vendors on 300 acres of land, with their goods ranging from furniture and antiques to clothing and even livestock.
If you visit the market with family, you must stay close because it attracts over 100,000 shoppers. The market also features more than 700,000 square feet of enclosed shopping.
First Monday Trade Days is famous amongst Dallas and Houston shoppers and quality-seekers from Oklahoma, Louisiana, and Texas.
With this many vendors, you can be sure to find what you want, be it home decor, crafts, gifts, jewelry, or collectibles.
Shopping at First Monday Trade Days is worth adding to your list of the top things to do in Terrell, TX, for the best shopping deals.
Address: 800 First Monday Ln, Canton, TX 75103, United States
19. Poetry Shooting Club
Never used a firearm before? Well, here is your chance, add acquiring shooting skills at Poetry Shooting Club to your schedule of top things to do in Terrell, TX.
Poetry Shooting Club is a family-styled club where you can hone your shooting prowess at a 700-yard range; the targets are clay pigeons.
The Shooting Club has instructors who can give shooting lessons to amateur and beginner shooters.
If you are a hunting enthusiast looking for a place to hunt without young against State laws, the Poetry Shooting Club will be a must-visit destination,
This Shooting Club is recognized by Texas State as a " Private Bird Hunting Area," "Game Bird Breeder," as well as a "Quail Hunting preserve."
Address: 20495 TX-34, Terrell, TX 75161, United States
20. Books and Crannies
This local bookstore, located in the Historic Downtown area of Terrell, offers more than 90,000 used books.
When exploring a new environment, the first attraction that comes to mind is hardly ever a bookstore, except if you are a teacher or a book lover.
However, this is not your regular bookstore; this is Books and Crannies, which isn't only all about books. You can catch free screenings of old movies each month.
This bookstore has many books at discounted prices. Of course, you may also view its complimentary movies and lighthearted theatrical productions.
Although there are other movie theaters in Terrell, Tourist reviews say that catching a classical movie at this bookstore with your significant other is among the most romantic things to do in Terrell.
Address: 209 W Moore Ave, Terrell, TX 75160, United States
21. Terrell Heritage Museum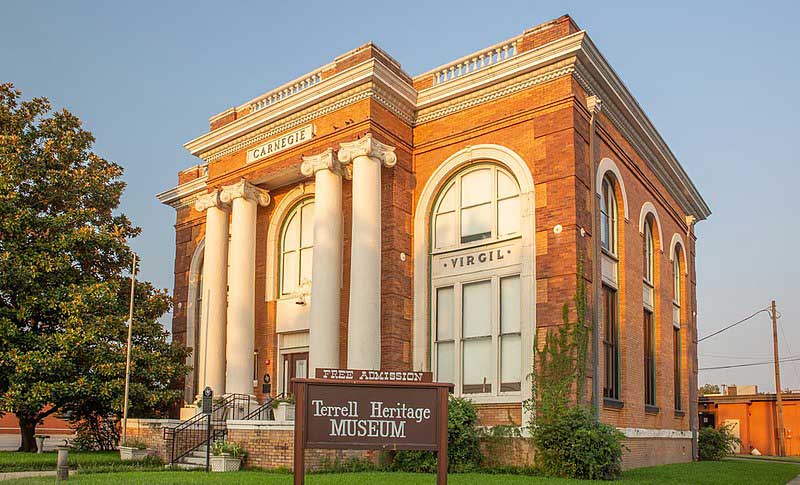 Terrell Heritage museum
on North France Street is nestled within the Carnegie Library Building.
The structure was initially a library for Terrell's residents before it became a museum in the 1980s. The historical landmark now houses artifacts that reflect the city's past.
The sight of the restored 1912 pipe organ will catch your eyes as you enter the history-rich building. Moving further, you will spot an enchanting Torah cupboard.
You can also check out collections from the Midland Railroad, the NO. 1 British Flying Training School, and more.
The exhibits also provide helpful information about early farming practices in this area. Prepare to be stunned by a remarkable assortment if you admire dolls.
The Terrell Heritage Society's records, which comprise various pictures and documents, are also kept at the museum.
Address: 207 N Frances St, Terrell, TX 75160, United States
22. Terrell Bowling Center
If you enjoy bowling, play a game at the Terrell Bowling Center in Terrell, TX. The Bowling Center is seated on More Avenue. It is where you can hone your bowling skills or bring your bowling dreams to reality if you are an aspiring beginner.
The bowling alley has 16 bowling lanes and hosts many events, such as the Special Olympics and other tournaments.
When you get tired of bowling, you can relax and enjoy tasty snacks and drinks at the restaurant in the facility.
The Bowling Center features party amenities and an arcade where you can play different games if you want to try your hands on something different.
Address: 2500 W Moore Ave, Terrell, TX 75160, United States
23. The Side Street Bar
This pub has entertained customers with unique cocktails and nightly activities since its launch in 2002.
When night comes, the Side Street Bar becomes a venue for some of the most exciting activities in the city.
The pub offers terrific entertainment and spectacular drinks, ensuring a wonderful time at the night bar.
Have a taste of the daily specials, like the 10-oz, or ask the bartender to make you something unique.
The bartender makes excellent cocktails you can sip on. At the same time, you enjoy the live music, jukebox, open mic nights, DJs, and Karaoke.
Address: 106 S Adelaide St Terrell, TX 75160, United States
24. Ben Gill Park
Ben Gill Park is a spectacular outdoor recreational facility spanning 100 acres. It features lush greenery and a large lake, making it an ideal location to visit with loved ones for fresh air and revitalization.
Ben Gill Park offers standard park amenities that facilitate exercise and sports, such as nine soccer pitches, volleyball courts, a baseball complex, and lawn tennis courts.
This park also offers a bit of history by providing access to the historic railroad. On a sunny day, you may cool off in the park's Olympic standard swimming pool or show off your ability by competing with random people for fun.
Basic amenities like water supply, concessions, and restrooms are available at strategic points at Ben Gill Park.
With a 261 parking facility in a central location for easy accessibility, you have no problem coming in a privately owned vehicle. The facility also offers playgrounds for kids of all ages
Among the nice things to do in Terrell, TX, for family & team bonding is to have a picnic in one of the pavilions or gazebo. Bbq grills, fireplaces, and picnic tables are also available
Address: 1039 9th St, Terrell, TX 75160, USA
25. Terrell Jubilee
An excellent way to spend time with the entire family and friends of loved ones is to go with them to Terrell Jubilee. This event is suitable for all ages, so your kids will also have a great time here.
Terrell Jubilee is a fun-packed annual celebration of the town's culture and heritage. The festival lasts four days and usually takes place between the 15th and 18th of April.
Terrell Jubilee features exciting functions like a carnival, culinary competitions, art exhibitions, a car show, a health and business expo, live music, "Whiplash the CowboyMonkey," a Dog show, and more.
There is usually no need to pack food for the celebration as the venue is generally brimming with food vendors and concessions. If you visit with kids, try to keep them close as the festival usually attracts over 15,000 attendees.
Terrell Jubilee is designed to attract many visitors and help raise revenue for the town through tourism and entertainment. It would be best if you don't miss out on it.
Address: 1039 9th St, Terrell, TX 75160, USA
Explore more cities in Texas, check out our list of things to do in Laredo , things to do in Lubbock, and things to do in Mckinney for a fun time
Plan Your Trip to Terrell
Terrell, TX, is a worthy getaway destination with its most remarkable, rarest, and unusual attractions.
This culture and history-rich location, filled with lots of intriguing things to do, is a go-to destination if you want a spectacular vacation.
Terrell, TX, awaits you!