Marianna, nicknamed "The city of Southern Charm," is a town and the county seat of Jackson country in Florida, USA.
In the 2010 Census, the town's population was 6,102. Marianna was founded by a Scottish businessman man Scott Beverage. He coined the town's name from his two daughters, Mary and Anna. The following year, the town was appointed as the county seat of Jackson County.
Marianna is famous for being the burial location of the Confederate Governor of Florida, John Milton, and is also the site where the historic battle of Marianna took place.
Marianna is surrounded by natural springs, parks, and spring-fed rivers. It is also home to one of the oldest colleges in the state.
Check out the best and fun things to do in Marianna, FL.
Things to Do In Marianna, FL
1. Jackson County Visitors Center
One of the top things to do in Marianna, FL, is to learn about the beautiful town, and Jackson County Visitors Center provides you an opportunity to do so.
Jackson County Tourist Visitors Center lies on Lafayette Street, downtown Marianna.
This destination has a vast collection of family-friendly outdoor activities you can enjoy with your loved ones and family.
The Center is filled with travel magazines, brochures, and maps that are free for everyone.
Jackson County Tourist Visitor Center also features pictures of the town's original settlers.
The Center's workers are knowledgeable, passionate, and helpful local volunteers.
Furthermore, the Center also offers special discounts, lodging, and coupons for cheap meals.
Address: 4318 Lafayette St, Marianna, FL 32446, USA
2. Blue Hole Spring
Blue Hole Spring is found in the Florida Cavern State park in Marianna, FL. In June 1674, the Spanish soldiers and missionaries crossed the Chipola bridge and the Blue Hole Spring.
This Spring is one of the water sources that form the Chipola River. According to legend, this destination got its name due to the hole being covered with water that is so cold, which will make you blue. Another theory is that the name was gotten due to the blue water.
Nevertheless, the Blue Hole Spring is a beautiful tourist attraction that attracts the presence of locals and tourists who come to engage in activities like picnicking, swimming, sunbathing, and enjoying the stunning view.
Aside from its natural importance, Blue Hole Spring is a significant historical Landmark. Therefore, exploring the Spring is one of the top things to do in Marianna, FL.
Address: 3345 Caverns Rd, Marianna, FL 32446, United States
3. Florida Caverns State Park
This destination, situated on Caverns Road, was opened for public use in 1942. It is the only park in the state with access to dry caves and offers tours to people.
Undoubtedly, Florida Cavern State park is one of the best places to visit in Marianna, FL.
Florida Caverns State Park serves as a habitat for diverse ecology, which includes bats, salamanders, and cave-living blind crayfish.
The Park has stunning arrangements of soda straws, limestone stalacites, stalagmites, draperies, and flowstones. Florida Caverns State Park is famous for hiking, picnicking, horseback riding, and fishing.
As you go on this flashlight tour, you will come across the cave's mazes of passageways established years ago. This site gives visitors a peep into an Underground world that may seem creepy and exciting.
The Park also features shaded picnic spots, a visitor center, a museum, and a playground.
The top-notch condition of these caves is attributed to the impressive hard work of the people working in the cave.
Since the attraction does not permit drinks, food, or bags, it has a store where you can buy souvenirs and snacks.
Address: 3345 Caverns Rd, Marianna, FL 32446, USA
4. The Bellamy Bridge Heritage Trail
Among the fun things to do in Marianna, FL is to walk the one-and-a-half-mile Bellamy Bridge Heritage Trail.
This Trail will enable you to access the oldest bridge in Florida, which is the historic Bellamy Bridge.
The main feature of The Bellamy Bridge Heritage Trail is the bridge. The bridge is among the ten oldest bridges in the state. It was built in 1914 on a site that used to house an old wooden bridge.
A variety of ghost stories surrounds the Bellamy Bridge. However, the most popular story that attracts visitors is the story of Elizabeth Jane.
Elizabeth Jane, who died on May 11, 1837, is believed to haunt the bridge in search of her dead husband, Dr. Samuel C. Bellamy so that she could be together with him again.
After the death of his wife in 1837, he spent 15 years trying to heal from the pain of her death, and he later died in Chattahoochee, Florida.
The Trail is free to visit and is open every day of the week.
Address: Marianna, FL, United States
5. Southern Craft Creamery
If you love ice cream, you will love Southern Craft Creamery.
Southern Craft Creamery sits on Jefferson Street, Marianna. It is a popular spot frequented by locals and tourists for a good scoop of handmade ice cream.
Southern Craft Creamery has formulas it follows devotedly: using fresh and local ingredients, having a good relationship with the customers and suppliers, and offering quality ice cream at considerable prices.
The enterprise has a large base of visitors, and people who have visited the restaurant have observed that aside from its quality products, the restaurant has a welcoming and charming ambiance that will make you feel right at home.
They also offer quality coffee and several types of beverages and sweets. Southern Craft Creamery is said to have the best-handcrafted ice cream in North Florida.
Address: 2884 Jefferson St, Marianna, FL 32446, United States
6. Mashawy Grill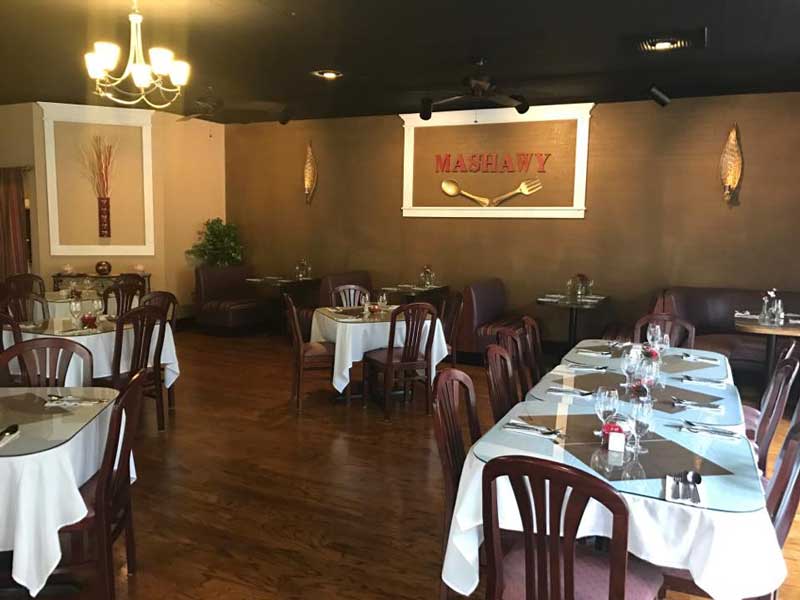 One of the best places to visit in Marianna, FL, for a good meal is the family-owned restaurant Mashaway Grill.
This destination is a restaurant that offers fresh and top-notch Greek- American and Mediterranean cuisines.
The restaurant's exterior will deceive you. You don't have to worry because the place will meet and exceed your expectations.
Mashaway Grill features soft piano music and a mixture of warm and natural light, creating the perfect environment for excellent dining.
The dining room is pristine and relaxing. The restaurant staff and owner are attentive, civil, and polite.
Lunch and dinner are served seven times a week. You can get options like lamb mandi, chicken, layered eggplant moussaka, seafood meals, fillet mignon, cowboy ribeye, and yellowfin tuna steaks.
Furthermore, they offer delicious desserts and tea that complement the meals. Dining here will give you a wonderful experience.
Address:3297 Caverns Rd, Marianna, FL 32446, United States
7. Country Cottage Antiques and Florals
Antique shops are known to give people feelings of nostalgia, and Country Cottage Antique and Florals are no exception.
The shop is a stunning and fascinating antique shop filled with unique items ready to be bought by you; as such, visiting it is one of the best things to do in Marianna, FL.
Country Cottage Antique and Florals offer items such as Victorian-style types of furniture, wind chimes, and jewelry.
It also has a large array of quilts, beautiful antique furniture, linen, and handwork. The room of the store is filled with plenty 20th- century-vintage and antique pieces.
Also, all the rooms are designed with different themes and are full of pleasant surprises. However, the decorations are changed every season. The seasonal décor alternates between vintage and contemporary designs.
Country Cottage Antique and Florals also offer floral arrangement services and sell vases. The shop owner is polite and will provide you with the necessary assistance when you visit.
This shop is perfect for you if you are searching for where to buy a special present for a friend or a family member.
Address: 2813 FL-71, Marianna, FL 32446, United States
8. Blue Spring Recreational Park
Blue Spring Recreational Park sits a few miles east of the town. It features a popular reservoir called Merritt's Mill pond that is famous among swimmers and fishermen.
People who visit this park for the first time are usually surprised to discover the clear and shining Waters of Merritt's pond because these features are only seen in the high mountain lakes in the western states.
The reservoir's water is always refreshing regardless of the season, thanks to the natural spring. The Park also features boat docks, playgrounds, swimming areas, and volleyball courts.
The family-oriented Park also features basic amenities like outdoor showers, bathrooms, and changing rooms. You are also allowed to bring food and snacks into the Park.
Address: 5461 Blue Springs RD, Marianna, FL 32446, United States
9. Wharf Casual Seafood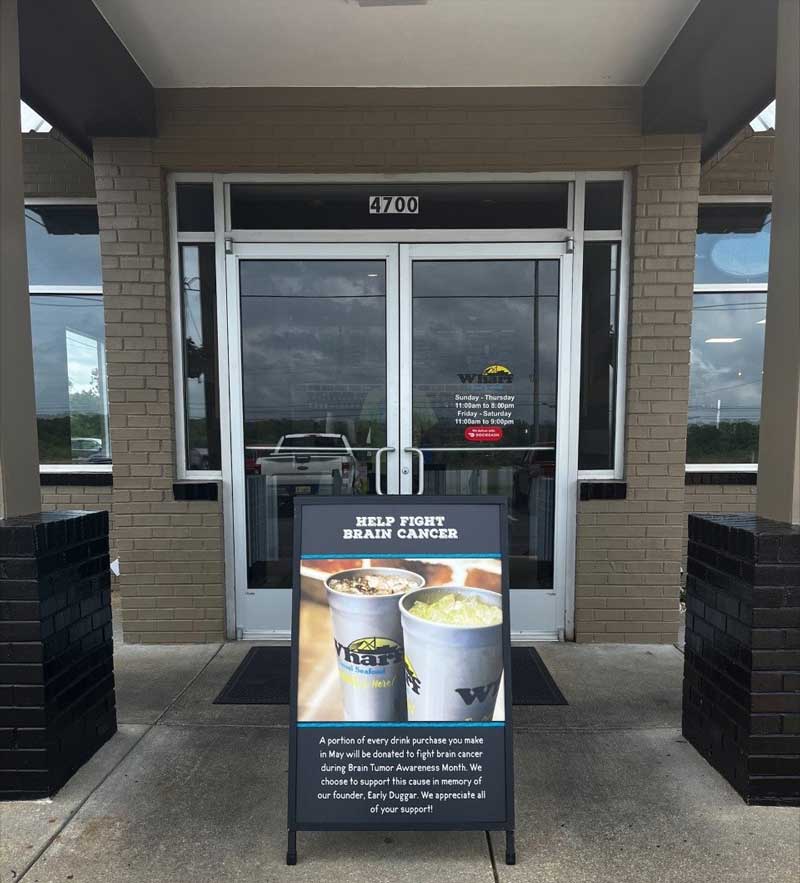 You can locate Wharf Casual Seafood on Highway 90. The restaurant is known for its considerable prices, large portions, and welcoming atmosphere.
Wharf Casual Seafood may seem like an ordinary restaurant, but the food is anything but casual.
It is also famous for its pies and fresh cakes. Their key lime pie is inarguably one of the best around the block.
Their menu includes many traditional favorites, like fried fish, steamed shrimp, and fish tacos. For those with dietary restrictions, they offer a gluten-free menu as well.
Their food menu includes delicious delicacies like steamed shrimp, fish tacos, and fried fish. Even people with dietary restrictions have a gluten-free menu.
Wharf Casual Seafood has seats indoors and outdoors. They also allow people to keep their pets with them outside.
Address: 4767 US-90, Marianna, FL 32446, United States
10. Challenger Learning Center
There's nothing wrong with learning new things if you're wondering what to do in Marianna, FL, with your kids. Challenger Learning Center is one of the destinations where you can learn about science and technology in Florida.
Challenger Learning Center is situated at Duval Street in Tallahassee, 106 kilometers from Marianna.
Challenger Learning Center is a program controlled by Florida's A&M University engineering program.
This 30,009 square feet center is designed to capture the minds of young people. It features interactive exhibits on mathematics, science and technology, and engineering.
Additionally, Challenger Learning Center has a planetarium, an IMAX theater, and a space flight simulator.
Visiting this destination with your kids will make a memorable impact on you and your kids, so make sure you don't miss it.
Lastly, other special programs are offered by the Challenger Learning Centre. All you have to do is to check their calendar online so you will know what to expect when you visit.
Address: 200 S Duval St, Tallahassee, FL 32301, United States
11. Merritt's Mill Pond
The seven natural springs constantly feed the clean and clear waters Of Merrit's Mill Pond. This clear water is suitable for lots of water-related activities.
This destination is a 4-mile pond that houses different types of wildlife. You can observe this wildlife as you move along the pond on a boat or a canoe.
Cave diving, swimming, and fishing are some popular activities in the pristine waters of the pond.
Also, you can rent diving equipment from the cave adventurers.
The Blue Spring Recreational Area opposite the pond has designated swimming areas, picnic tables, and restrooms.
Address: Merritt's Mill Pond, 4820 Highway 90 East, Marianna, FL 32446, United States
12. Marianna Civil War Battlefield
History lovers will want to visit this destination. Marianna Civil War Battlefield is a walking tour that shows you the many significant sites of the Battle of Marianna.
This battle took place in September 1864 during the American civil war. The battle was between confederate soldiers and the union.
During this battle, more than a quarter of the male population was killed, and churches and houses built on the site were burnt to ashes.
The site is open for visitors to explore seven days a week and is a self-guided tour. You can get the self-guided tour brochures at the Historic Russ Visitor Center.
Address: 4944 Malloy Plaza E, Marianna, FL 32448, United States
13. Beef O'Brady's
Beef O' Brady's is a popular family-friendly sports bar in Marianna known for its Irish pub food and quality craft beer.
Despite being designed like a restaurant, this destination will give you a sports bar vibe when you visit it.
Delicious meals such as beef burritos, cheesy bacon chicken breasts, and Nashville hot fried shrimp are served at Beef O'Brady's. It also serves grilled cuisines such as southwestern chicken bowls and salmon fillets.
Other delicious foods include cheeseburgers, barbecue bacon, Buffalo chicken, boom boom shrimp, cheesy bacon pub chips, and beer-battered onion rings.
Beef O' Brady's is an amazing place to kick back, relax and have a nice meal while you watch the game and enjoy its excellent services.
Address: 4944 Malloy Plaza E, Marianna, FL 32448, United States
14. Bear Paw Escape
Among the fun things to do in Marianna, FL is to go on a river trip with Bear Paw Escape.
They offer a river floating and canoeing trip along Marinna's stunning Chipola River. These trips last between two hours and all day, depending on the type of services you require.
Visitors aged five and above can go on canoeing and kayaking trips for the entire year. All you have to do is have an expert guide to assist you with navigating.
You and your family can explore natural attractions like freshwater springs and dry caves.
Every trip includes shuttle services and tube and boat rental for the length of the trip. You are free to bring a sandwich, drinks and water speakers.
Address: 2100 Bear Paw LN, Marianna, FL 32448, United States
15. Panhandle Watermelon Festival
Take part in the Panhandle Watermelon Festival. Watermelon, strawberries, and citrus are popularly known as the mainstay of Florida, so of course, there's going to be a festival about it.
The Panhandle Watermelon Festival is held in Chipley, which is 28 minutes away from Marianna. For over 60 years, Chipley has been the host of the yearly watermelon festival that attracts people from all over Florida and neighboring states such as Georgia and Alabama.
The festival features lots of delicious fresh watermelon served in different ways. It also features live entertainment, a kids' play area, a parade, and art and crafts.
This event is free and held every June, so if you are in the region in June, make sure you attend the event.
Address: 1544 N Railroad Ave, Chipley, FL 32428, United States
Florida presents breathtaking attractions and activities. Explore some of its fun cities, here are guides on places to visit in Hudson, and Port St. Joe.
16. Chipola College
Colleges are not popular places that tourists like to visit, but if you are looking for what to do in Marianna, FL, for a low price, and with less crowd, you should check out Chipola College.
Chipola College was established in 1947. Initially, it was designed as a two-year community college, but in 2003, it became a full-fledged institution with the addition of a bachelor's degree program.
The College is the third smallest and the third oldest in Florida. It offers more than 40 programs and awards four types of diplomas.
The College is famous due to a recent new art center that was finalized in 2012. The art center cost nearly 20 million dollars.
Chipola College has two theatres for performances such as plays, live music, and classical and chamber music.
Address: 3094 Indian Cir, Marianna, FL 32446, United States
17. Historic Russ House Visitor Center
This attraction was listed on the National Register of Historic Places in 1983. It is the official visitor center for Jackson County and was refurbished In 1910.
The house is said to be among America's most stunning examples of Queen Anne- style and Classical Revival architecture.
The attraction is also believed to be haunted by the spirit of soldiers murdered during the Battle of Marianna in 1864 and the suicide of Joseph W. Russ. Over the years, the house has hosted an impressive amount of supernatural investigations.
A guided tour of the house is available from Monday to Friday.
Address: 4318 Lafayette Street, Marianna, FL 32446, United States
18. Bradfordville Blues Club
If you are a big fan of the blues, a visit to the Bradfordville Blues Club seems like a fantastic way to spend your evening.
The Bradfordville Club is situated in a single-room block building surrounded by cornfields and Spanish Moss-draped oak trees.
On Friday and Saturday, the club is often filled with blues performances by local musicians and even national ones.
Bradfordville Club offers a feeling of nostalgia, almost like you have leaped back in time.
Address: 7152 Moses Ln, Tallahassee, FL 32309, United States
19. St. Marks Lighthouse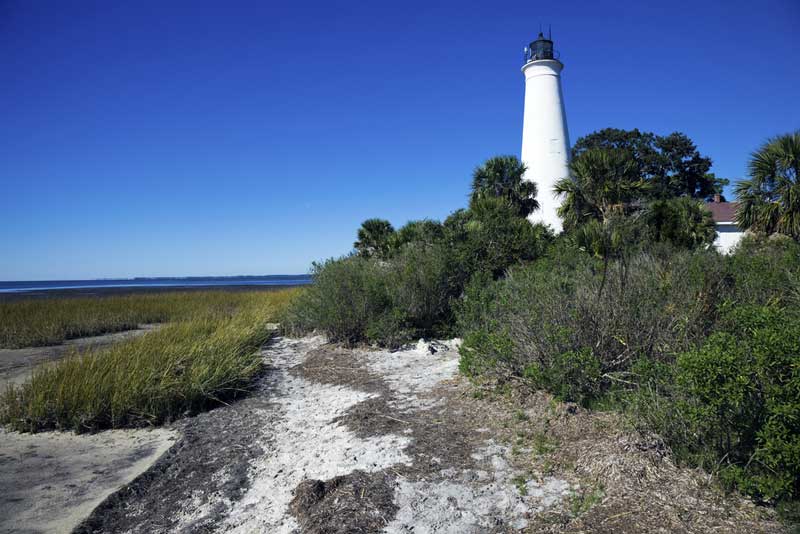 St. Mark Lighthouse is located south of Tallahassee, along the Gulf coast, 106 kilometers away from Marianna.
The Lighthouse was constructed in 1831 and is the second-oldest lighthouse in Florida.
For over 150 years, the Lighthouse worked diligently to service the town during challenging weather and hurricanes.
Despite falling into despair and disuse during its life, it has now been reinstated to its almost original state.
If you are visiting Florida on a budget, this is one of the places you should visit since it doesn't require much money.
St Mark Lighthouse is going through reforms to enable disabled visitors to access the destination quickly.
Address: St Marks, FL, United States
20. Citizen's Lodge Park
Citizens' Park is another amazing destination to visit in Marianna, FL. The Park is filled with forests and ponds built for the town's locals.
Citizen's Lodge Park features six walking trails and a fitness trail.
In addition to these features, it is often used as a venue for festivals and concerts to entertain the locals of Marianna.
Citizen's Lodge Park's seating capacity can accommodate up to 100 people.
Address: 4574 Lodge Dr, Marianna, FL 32446, United States
21. Spanish Trail Playhouse
The Spanish Trail Playhouse was established in 1962. It is famous for its exciting musicals and local talents.
It is located at Chipley, 28 minutes from Marianna. The Playhouse, which features four primary stage production and three series events, is a well-known local theatre.
Plays like Old Lace, Arsenic, and Annie have been previously played in this theater.
Every year, the Playhouse puts on a few shows held in the local high school auditorium.
Even though the show's venue is not spectacular, there's something personal and adorable about it.
The Spanish Trail Playhouse is controlled by a non-profit organization comprised of willing volunteers.
Address: 680 2nd St, Chipley, FL 32428, United States
22. Florida Historic Capitol Museum
Florida Historic Capitol Museum is located in Tallahassee, which is 1 hour away from Marianna.
The space at this attraction is not ample, but it is filled with a lot of historical information.
Florida Historic Capitol Museum will provide different cultural, recreational, and historical activities. The people that man the front desks are civil and polite.
When planning your trip to Florida Historic Capitol Museum, endeavor to leave Marianna early enough so you can spend quality time at the destination.
Even kids are not left out of the fun; a scavenger hunt is organized for them in case they get bored with other activities.
Address: 400 S Monroe St, Tallahassee, FL 32399, United States.
23. Spring Creek Park
The creek flows from Merritt's Mill Pond, where it opens out to the Chipola River.
Spring Creek Park offers plenty of Wildlife. The Park's trees can be used as shades to protect you from the sun. The tree also serves as a home for wildlife.
Some species found in Spring Creek Park are sweet bay, loblolly bay, swamp gum, pond cypress, green ash, and water hickory.
Address: 4289 US-90, Marianna, FL 32446, United States
Oklahoma has some of the best cities in the United States to explore. Here is a list of fun things to do in Altamonte Springs, things to do in New Port Richey, and things to do in Delray Beach for a fun exploration.
Plan Your Trip to Marianna
Marianna is a stunning town with a southern charm that offers thrilling, exciting indoor and outdoor activities for Individuals, couples, and families.
Although the list of activities and attractions in Marianna, FL, is endless, the carefully selected activities listed above will guide you when you visit.
Have a fun vacation!