In search of the best and most fun things to do in Sun Valley, Idaho?
Sun Valley is a resort city located in the Rocky Mountains of Blaine county, Idaho, United States. The population of Sun Valley was 1,581 in 2020.
Sun Valley, Idaho, is a great vacation destination, offering numerous recreational activities, exhilarating ambiance, and fascinating history. However, the city is renowned for its Ski Resort.
Visitors can enjoy snowboarding, hiking, picnicking, biking, horseback riding, and fine dining.
Some famous attractions in Sun Valley, ID, include the Earnest Hemingway burial site, Sun Valley Museum, Roundabout restaurant, Atkinson Park Center, etc.
Are you planning on going on a vacation to Sun Valley? Here are the top things to do in Sun Valley, Idaho.
Things to Do in Sun Valley, Idaho
1. Dollar Mountain
Winter sports do not have to be your favorite pastime before visiting Sun Valley. One of the famous attractions in the city is Dollar Mountain.
Dollar Mountain in Sun Valley is a ski hill of 6638 ft. is an area for beginners to learn skiing and snowboarding. This Mountain, one of Idaho's most special family-friendly hills, has existed since the 1930s.
Initially, the area was part of the Sun Valley ski resort in the 1930s. However, as the resort grew more extensive, there was a need to move to a more prominent location.
The Mountain has four chairlifts, two new high–speed quads, a terrain park, and a magic carpet-a conveyor belt placed at the same position as the snow.
Visitors can also enjoy the stunning views from the Mountain.
Address: 82 Elkhorn Rd, Sun Valley, ID 83353, United States
2. Sun Valley Lake
If you are feeling bored, rent a boat and let yourself enjoy the beauty of Sun Valley. One of the ways you can admire Sun Valley is to go sailing, which is perfect for a sunny day.
In Sun Valley Lake, you can participate in kayaking, paddle boarding, etc.
Sun Valley lake is the perfect place to take your family to unwind after a stressful period. You can't miss visiting this place, so pick up that jotter and add a visit to the Lake to your list of best things to do in Sun Valley, Idaho.
Address: Sun Valley Lake, Sun Valley, ID 83353, United States
3. White Clouds
Since the twentieth century, Sun Valley has been known for combining elegance with a little bit of letting loose.
Sun Valley resort has welcomed another addition of fun places to its collection, the White Clouds golf club.
White Clouds club is nestled above the resort and provides a stunning view. The golf course is capable of golfing at more than 3,600 yards.
White Clouds is arguably the best place to golf in Sun Valley, ID. This sport is entertaining and an excellent way to pass the time.
The White Clouds golf club provides a clear view of the Wood River Valley. Anybody can have access to this Sun Valley golf club.
Tourists who golf at white clouds also take time to admire the beautiful landscape in this place.
Address: Sun Valley Trail, Sun Valley, ID 83353, United States
4. Boulder Mountain Clay work
Have you ever tried sculpting? If your answer is no, then this place is a must-visit.
The Boulder Mountain Clay Work is within walking distance of Ketchum. From the glaze room, you can view Bald Ski Mountain.
Boulder Mountain Clay Work was founded in July 1997 to facilitate the development of clay art within society by setting up free classes for kids and adults.
Boulder Mountain offers weekend workshops with prominent clay and other media artists during the summer.
The art Boulder mountain clay work has everything you need to create your signature piece. Occasionally, events and competitions take place here, in which tourists and locals can participate.
Creating your signature piece in this workshop is a priceless adventure. So make sure to add it to your list of top things to do in Sun Valley, Idaho.
Address: 271 Northwood Way, Ketchum, ID 83340, United States
5. Sun Valley Gun Club
Shooting as a sport can be a fun activity. Why don't you try learning how to shoot a gun at the Sun Valley gun club?
Sun Valley Gun Club has professional and certified teachers who provide services for people- from beginners to experts.
The staff in Sun Valley Gun Club is friendly to its customers. They provide satisfactory services for you and your friends.
You don't need to bring your ammunition or weapons because they will give them to you.
Another interesting thing to note about this Gun Club is that they make shooting lessons attractive by creating obstacles to challenge the shooters.
Address: 301 Trail Creek Rd, Sun Valley, ID 83353, United States
6. Sun Valley Opera House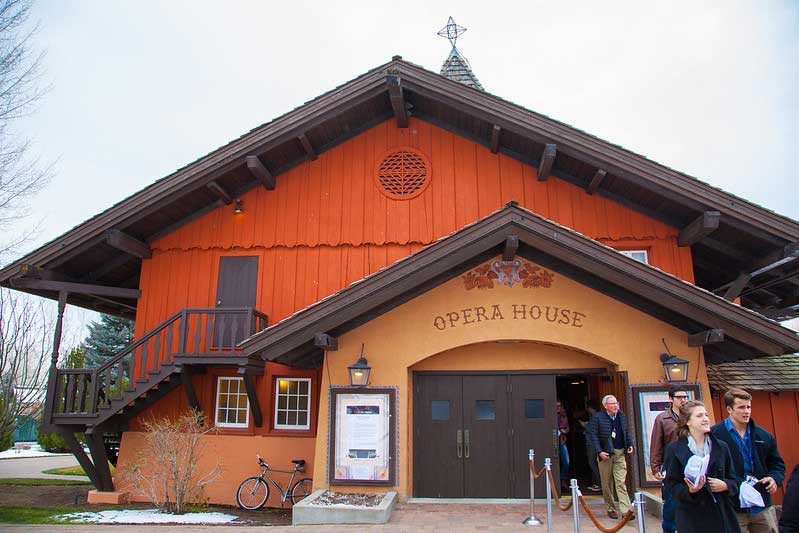 Averell Harriman founded the Sun Valley lodge and ski resort in 1936 and also built The Sun Valley Opera House within the resort in 1937. He was also the owner of the union pacific railroad. He
This Opera House came into existence in 1937 in Sun Valley, Idaho, as a cinema. The Opera House can occupy 344 people and has an excellent sound system. Several famous actors have lodged in the resort.
Most nights, you can watch newly released movies in this place. The opera house is where people watched the "Sun Valley serenade" film when it was released.
If you have never watched the 1941 movie "Sun Valley serenade," you are in luck because you can watch it for free at 4:30 on Tuesdays, Thursdays, and Sundays.
Why don't you take a respite from outdoor activities, go to the Sun Valley Opera House with your loved ones, and enjoy an excellent movie?
Address: 1 Sun Valley Rd, Sun Valley, ID 83353, United States
7. Sun Valley Stables
Your trip to Sun Valley will not be complete if you don't visit the Sun Valley Stables. Trail rides on horses are available for individuals and groups ranging from novice to professional riders.
Sun Valley Stables' purpose is to develop competent and confident riders with a passion for horses.
You can learn about Sun Valley's famous western history at this Stable. Visitors are encouraged to ride in a danger-free zone.
Aside from the excitement of riding horses on the trails, horsemanship training is available for you and your loved ones.
If you have a horse, there are many trails you can explore in the smoky mountains.
So if you want to try horse riding in Sun Valley, you should add it to your list of fun things to do in Sun Valley, Idaho.
Address:1 Sun Valley Rd, Sun Valley, ID 83353, United States.
8. Bald Mountain
Bald Mountain area, which is 9150 feet, is one of the mountains along the Gold rush Bayway in south-central Idaho and one of the famous attraction sights in Sun Valley.
The Mountain is Sun Valley ski resort's prominent ski mountain featuring fourteen ski lifts and children-themed adventure trails. Visitors can also enjoy gondola rides.
Tourists who visit are often confused about picking an activity to participate in because there's so much going on in this place.
During the winter season, there are various snow activities you can participate in, such as snowboarding and skiing. Bald Mountain is an excellent place also to have a walk.
Address: Idaho 83340, United States
9. Wood River Trail
The Wood River Trail, also known as the bike path, is a 20 miles paved, multi-use path that provides a non-motorized link between wood river valley, Bailey, and Sun Valley.
Locals and tourists can enjoy biking, walking, inline skating, and running along the Trail. While walking on the path, you are sure to come across some incredible scenery.
Cross-country skiing and snowshoeing are popular activities in the attraction during winter.
This path is in different sections and different directions. There are marks on every junction to prevent you from getting lost.
Emergency phones, restrooms, and benches are along this path which makes the way convenient for anyone to use.
The Trail is perfect for families with young children who want to try hiking for the first time.
Address: Wood River Trail, Idaho, United States
10. Sun Valley Museum
Art is a vital element of Sun Valley history. If you love visual art, take a trip to the Sun Valley museum of art, showcasing several works by Sun Valley local artists and international artists.
The Sun Valley museum started in 1995 to preserve the local history of Sun Valley.
This museum is so popular that it attracted the famous writer Earnest Hemingway. Suppose you want to know about the Sun Valley people. In that case, the museum displays the history of the Sun Valley people and their ancestors.
The museum exhibits pictures and artifacts related to the history of the place. So if you are curious about the city's origin, you should add an exploration of Sun Valley Museum to your list of top things to do in Sun Valley, Idaho.
Address: 191 5th St E, Ketchum, ID 83340, USA
11. Downtown Ketchum
Ketchum is a small and spirited community located in the mountains of central Idaho, four minutes away from Sun Valley. These mountains are set against a backdrop of blue skies.
Ketchum is famous for hosting the wagon day parade. The wagon day parade is the biggest motorless parade in the pacific northwest yearly on labor day.
Many refer to the Wood River Valley as Sun Valley, not knowing that Ketchum is also in the Wood River Valley.
Ketchum is an old mining town with a rich history of hot springs, silver, and Ernest Hemingway. You could easily spend hours wandering around and shopping for souvenirs.
This area houses fabulous boutiques and souvenir shops. You can't afford to visit Sun Valley without having a peek of Ketchum.
Address: 480 4th St E, Ketchum, ID 83340, United States
12. Central Idaho's Dark Sky Reserve
After a day of sightseeing, why not go watching the sky at night? Something is soothing about seeing the constellations at night. So you should add this activity to your list of best things to do in Sun Valley, Idaho.
The Reserve, encompassing 1,416 square miles, is the country's first gold-tier dark sky preserve. The Reserve cut across three cities; Sun Valley, Ketchum, and Stanley.
The night sky in central Idaho is elegant and zero light pollution. The advantage of night gazing is that you can see how enthralling and captivating the sky looks at night without the harsh light of the day.
The most incredible part about night gazing is that it takes little planning. Also, it's cost-free. All you have to do is wait till it gets dark, and you're good to go.
Although you don't have to suffer too much to prepare for night gazing, you must have all the equipment you may need, such as a flashlight.
Address: Idaho, United States
13. Big Wood Bread Café
There's a saying that a good breakfast can keep you happy for the entire day. Big wood Café can provide you with a sunny breakfast.
Big Wood Bread Café, a family-owned enterprise, commenced in 1997. This Café is two in Sun Valley.
For about 20 years, Big Wood Bread has been producing sandwich bread, crusty bread, bagels, and other baked products.
Big Wood Bread products are hand-made and made from the best quality natural local grains from farmers in the Pacific Northwest.
Hit up the downtown location of Big Wood Bread Café in Ketchum and enjoy a hot beverage on the patio.
They have plenty of options for everyone. This quaint little Café has a stunning view of the bustling downtown area and the mountains as the backdrop, which visitors can enjoy while munching on their treats.
Address: 271 Northwood Way, Ketchum, ID 83340, United States
14. Limelight Hotel
The Limelight Hotel lies in the Center of Idaho. The Hotel is affordable, so if your budget is on the low side, this is an excellent place to lodge in Sun Valley.
Limelight Hotel has 93 rooms and six suites. The Hotel has natural light and a comfy feeling.
When you are in Limelight Hotel, you don't need to stay inside all day. They have a batch of activities that will draw you outside to hang out with other guests.
Dogs are allowed; however, you are not allowed to bring your pets to the bar and the lounge area where people eat.
Limelight provides music for its customers. Local bands also play in the lounge areas on Saturdays and Sundays.
Address: 151 Main St S, Ketchum, ID 83340, United States
15. Ernest Hemmingway Grave Site
Earnest Hemingway is known for his relationship with Sun Valley. He first came in 1939 and lived on Sun Valley resort's second floor with his mistress, journalists Martha Gellhorn.
At the Sun Valley resort, he completed his famous novel "for whom the bell tolls.
Ernest spent most of his time writing and fishing. In Sun Valley, he found peace and solace. He was at the club downtown when he was not writing or fishing.
As a result of this relationship with Sun Valley, he has his grave here. Earnest Hemingway is a model for writers and poets. If you are a writer visiting, you should add paying respect to Ernest Hemmingway Grave Site to your bucket list.
Address: Sun Valley, ID 83353, USA
Considering a Idaho road trip, check out our guides on things to do in Lewiston , things to do in Nampa and things to do in Driggs for a memorable trip.
16. Sun Valley Lodge
In the 1930s, the pacific union railway chief executive was looking for a way to entice more people to take the train out west.
He decided an alpine ski resort would be the perfect draw, so he hired an Austrian friend to choose a destination suitable for the railway. They selected the Ketchum area, and within months, Sun Valley resort was born.
Sun Valley resort aims to provide you with luxurious services. The resort has a stunning view and organizes fun activities for its visitors.
Sun Valley Lodge is famous for its services to its guests. The club provides enjoyable recreational activities in the house so you won't get bored quickly.
If you want a comfortable place to stay while exploring the city, you should add a visit to this place to your list of top things to do in Sun Valley, Idaho.
Address: 1 Sun Valley Rd, Sun Valley, ID 83353, United States
17. Roundhouse Restaurant
After spending the day sightseeing, you might get hungry, and of course, you'll want to find an excellent place to have a meal.
The Roundhouse Restaurant is famous due to its peculiar location, which is in Bald Mountain,
Nestled atop the Roundhouse on Bald Mountain, the Roundhouse Restaurant has been serving unforgettable meals and gorgeous views since its establishment in 1939.
Spring and summer are equally pleasant times to visit the Roundhouse. Wouldn't it be perfect for you to feast on hamburgers and sandwiches while staring at this magnificent view?
Try it during your visit to Sun Valley, ID.
Address: Bald Mountain, NF-135, Ketchum, ID 83340, United States
18. Lost River Outfitters
The Lost River Outfitters has been knee-deep in the rivers of the Sun Valley region since 1984. They have a large variety of water that fits the different levels of the fly-fishers.
One of the pioneer founders of Lost River Outfitters is Scott Schnebly. All the Lost River Outfitters members are enthusiastic about fly fishing, and their passion for the sport is infectious when you spend a day with them.
They offer a range of outdoor activities with beautiful scenery. Lost River Outfitters provides hunting services, including mule deer, big horn sheep, and elks hunting.
The accommodations provided are top-notch with unique designs. From the window, you can view the breathtaking Mount Bora.
Address: 371 N Main St, Ketchum, ID 83340, United States
19. Baker Lake Trail
Are you looking for where to hike in the Sun Valley? If you are, then Baker Lake Trail is an option you should consider. This place offers a nice view and a pretty lake to dip in when you get hot.
For nature lovers, Baker Lake is a beautiful place to visit if you are looking for the best things to do in Sun Valley, Idaho.
Baker Lake is the perfect place to spend an afternoon among beautiful flowers and the sweet-scenting air.
Although some sections of the trails may seem profound, it's highly manageable for you to walk through.
The fishing in this Lake is top-notch. However, it is impossible to see the Lake until you are on top. If you go camping in Bakers Lake, a few campsites are available.
For influencers, this is an excellent place to take great pictures because there are gorgeous wildflowers.
Address: Baker Lake, Sun Valley, United States
20. Sun Valley Outfitters
Sun Valley outfitters consist of outdoorsmen and women who love outdoor activities and are passionate about sharing that with people.
Aside from teaching people about fishing, the Sun Valley outfitter has a shop where you can shop for all your fishing needs, such as reels, lines, and rods.
These waters are known for their charms and beauty, even to the extent of attracting the attention of Ernest Hemingway; he often waded and fished in the water.
At Sun Valley outfitters, proper assistance is available to people who want to experience the obstacles and nuances of local water.
Address: 415 Sun Valley Rd East, Ketchum, ID 83340, United States
21. River Rafting & Tubing
Anyone could ask, "what is the need to go rafting"? But a better question is, "why haven't you gone rafting yet"?
Whether you go rafting on any of the rivers in Sun Valley will make for a fantastic adventure. When you go rafting in Sun Valley, you can feed your eyes with the pleasing aesthetics of Idaho.
There are a lot of rafting options in the Sun Valley region. Deciding to go rafting is perfect for you and your family to spend the day.
These rafting trips will keep you, and your family pumped up. Several of the rafting trips are suitable for youngsters from the age of 4.
The River Company offers fabulous reserves to tourists who are interested in rafting. Family-style rafting, kayak trips, and float fly-fishing trips are some of the services provided by the River Company
Address: 1150 Eva falls Ave, Stanley, ID 83378, United States
22. Atkinson's Park Center
Sports people are always happy to find new sports areas. Are you one of those people? If you are, you should add a visit to Atkinson's Park to your bucket list.
Atkinson Park is one of the central areas in the city of Ketchum for sporting activities. The Center has soccer fields, a softball field, and tennis courts.
Nevertheless, if you are only here for sightseeing, there are places where you can sit and enjoy the view.
The Park has five tables and an area for barbeque. The attraction also has a playground section for kids, with play facilities and swings. However, pets are not allowed here.
Address: 900 3rd Ave, Ketchum, ID 83340, United States
23. Adam's Gulch
Another attraction you can hike is Adam's Gulch. The attraction has a few trails in a loop from which visitors can select. You will see mountain bikers and people walking with their Dogs.
Adam's Gulch is just 1.5 miles from Ketchum, providing different types of trails for adults and children.
Adam Gulch is also known as the griffin butte loop by the locals. It is an exciting ride that has a lot of settings.
This Trail is quick and pretty smooth. However, you should look out for a few steep places and rocky areas just in case.
When walking on the Trail of Adam's Gulch, you can see the full view of Sun Valley. You can easily ride your bike from the town to Adams Gulch.
This Trail is dog friendly, so don't hesitate to come with yours.
Address: NF-141, Ketchum, 1D 83340, United States
24. 2Wheel Epic
2Wheel Epic is a guide that offers mountain bike tours in Sun Valley, Idaho. They are dedicated to providing visitors with a one-of-a-kind mountain bike experience that allows participants to explore the limitless singletrack routes.
They provide visitors with Mtb trips with an ideal mix of exceptional mountain biking and cultural inclusion.
Their guides are expert mountain bikers and knowledgeable in all areas of the region, the trail, and the communities you would see while biking. They are super friendly and speak both Spanish and English languages.
Address: Sun Valley, Idaho, United States
25. Sun Valley Heli Ski
Appreciate the picturesque Idaho backcountry by going on a trip with Sun Valley Heli Ski, America's first ski operator.
They are situated in Sun Valley and have complete helicopter access to a large playground of about 750,000 square acres, the largest heli landscape, and the oldest helicopter ski guide in the lower 48 states.
The historic powder landscape provides ski trips for average and professional riders and skiers. Experience how it feels in a four-passenger B-3E, the perfect helicopter for skiing.
The recent guides at Sun Valley Heli Ski are professionals with more than 100 years of collective experience in touring and guiding their territory. It is proof of their height of devotion and expertise.
They also provide half-day held skiing, full-day heli-skiing, scenic flights, heli-assisted ski touring, and private charters. You can also choose to lodge at their Smoky Mountain Lodge.
Address: 301 Trail Creek Rd, Sun Valley, ID 83353, United States
Check out other cities in Idaho, here is a list of things to do in Moscow, things to do in Lake Rexburg, and fun things to do Meridian in for a fun time
Plan Your Trip to Sun Valley
There are a lot of activities in Sun Valley that are suitable for everyone, including visiting the museum, stargazing, biking the trails, climbing the snow Mountains, catching a movie at the Sun Valley opera house, and most importantly, having the perfect accommodation at the Sun Valley lodge.
Start Planning your trip to Sun Valley, and do have a fun trip!