In search of the best and most fun things to do in Ruston, LA?
Ruston is a small borough located in Lincoln Parish ( Ruston is the parish seat) in the northern part of Louisiana, United States.
The city is the biggest in the Eastern Ark-La-Tex area, with a population of 22,166 after the 2020 census.
Ruston city began as a small parish before growing into a magnificent city in the state. The town got its name from "Robert Russ," the city's land donator, and the word "town."
The unique collection of amazing museums, lovely shops, and serene spots makes the city exceptional.
Ruston consists of attractions like Louisiana Tech University, Ruston Farmers' Market, Rock Island Greenway, Huckleberry Trails Park, Cottage of Ruston, R. L. Cook Park, Mitcham Farms, and more.
Let's explore the best things to do in Ruston, LA
Things to Do in Ruston, LA
1. Louisiana Tech University
Touring Louisiana Tech University should be on your list of top things to do in Ruston, LA if you want to explore the town fully.
The University's main campus extends for two hundred and eighty acres and is located a few blocks from downtown Ruston.
The campus is well furnished with mighty oak trees and elegant colonial revival architecture. Self-guided tours of the University are allowed.
The campus's oldest section and the major spotlight is the Quadrangle bound by the Lady of the Mist Fountain. It is encompassed by dignified buildings such as the university hall, the Howard Auditorium, and Keeny Hall.
Louisiana Tech University is known for its role in sports, majorly for football and the basketball program for Lady Techsters women, plus three national championships and thirteen final four appearances.
The University is dedicated to creating a conducive environment for research, learning, creativity, economic development, and public service.
Address: 201 Mayfield Ave, Ruston, LA 71272, United States
2. Huckleberry Trails Park
A place that allows you to commune with nature in Ruston, Huckleberry Trails Park is a natural oasis open to everyone.
Huckleberry Trails Park is a peaceful park that extends for twenty-three acres with woodland and other essential amenities.
The Park has an exciting playground featuring numerous play equipment for the little ones to enjoy.
Nature trails are easily accessible and open for exploration in the forested area, offering visitors a chance to enjoy the natural gifts.
Huckleberry Trails Park offers pavilions for rentals by those who would like to take a break and have a nice meal.
Address: 2304 Magnolia Ave, Ruston, LA 71270, United States
3. Rock Island Greenway
Rock Island Greenway is a multi-purpose route and linear land developed after breaking ground in phases in 2016.
It travels through Ruston for almost six miles, featuring Chicago's right-of-way, Pacific railroad, and Rock Island, which played important roles in the advancement of Ruston during the 20th century.
The Greenway is one of the region's major highlights as a link to residential neighborhoods, recreation amenities, local businesses, and more.
Rock Island Greenway, formerly a railroad, is relatively wide and smooth, making it a popular choice for biking.
The path is well covered during the summer, with rural and developed parts crossing through creeks, native forests, and farmland.
This destination is popular for running, hiking, and walking as visitors get to move across different types of the natural environment.
Address: Rock Island Greenway, Ruston, LA 71270, United States
4. Mitcham Farms
Make a stop at Mitcham Farms, the most extensive peach orchard in Louisiana. Mitcham Farms was founded in 1946 and currently consists of 120,000 trees.
Mr. J.E. Mitcham established the farm. It quickly grew due to the unique flavor and quality of Mitcham peaches.
They offer sweet, and juicy handpicked peaches at their peach store farm stand in different sizes of baskets.
The store also offers a variety of peach items such as jams, cobbler mix, peach candy, jellies, pies, preserves, etc.
Mitcham Farms also offers canned vegetables, ice cream, teas, fudge, and seasonings with an extensive collection of gift baskets.
Address: 1007 Woods Rd, Ruston, LA 71270, United States
5. Joe Aillet Stadium
Joe Aillet Stadium is home to the famed Louisiana Tech Bulldogs matches and was named after the head coach who was in charge of the team from 1940 and 1966 (twenty-six years).
The comfortable Stadium, offering clear views, features a seating capacity of twenty-eight thousand five hundred persons.
Joe Aillet took the team to nine consecutive conference championships. In 1989, it was enlisted into the College Football Hall of Fame.
Joe Aillet Stadium officially opened to the public in 1968. However, numerous modern innovations have been added, including LED lighting, a press box, and more.
The team has developed dozens of great talents into famous professionals such as William Roaf, Terry Bradshaw, Fred Dean, Roger Carr, and Pat Tilley.
There are handicapped accessible areas on either side of the Stadium with concessions and restrooms.
Address: 1450 W Alabama Ave, Ruston, LA 71270, United States
6. Dixie Center for the Arts
Dixie Center for the Arts
has been an active cultural center for nearly a century in Ruston as a vaudeville stage and movie theater.
Dixie Center for the Arts, formerly known as Astor, was changed to its new name after it was purchased in the 1950s by Theater Corporation of New Orleans.
The Center functioned as a movie theater for many years before being abandoned. It was later refurbished and reopened in 2006 as a performing arts center.
Dixie Center for the Arts is a venue for traditional movie screenings, concerts, stage productions, and dance performances.
If you want to watch talented, world-class performers in Ruston from the international and national stage, make sure you visit this Center.
Address: 212 N Vienna St, Ruston, LA 71270, United States
7. Downtown Ruston
One of the best things to do in Ruston, LA, is to take a quiet stroll through the Downtown District of Ruston.
Downtown Ruston is found on gorgeous blocks as a Louisiana Historic District, showcasing the people's love for their community.
The region is filled with many exciting attractions, which the city is known for, although lots of development is still happening.
There are numerous art galleries, museums, and small companies such as restaurants, boutiques, antique stores, and more.
You will also find amazing restaurants like Raw Restaurant, Ponchatoulas, Freighthouse Food Truck Park, and more.
Downtown Ruston is a host of large events, including outdoor concerts held at Railroad Park downtown and the annual Peach Festival.
Address: Ruston, LA 71272, United States
8. Lincoln Parish Park
Are you ready to go outside for an incredible recreational experience? If yes, Lincoln Parish Park is one of the best places to visit in Ruston, LA.
Lincoln Parish Park is a large green space with over ten miles of trails open to everyone, both residents and visitors.
The Park is an excellent place for mountain biking, making it one of the popular places for bikers in the region regardless of their skill level.
You will also find the scenic Hoogland Lake, which occupies a large part of the Park. It is also open for canoeing, fishing, and kayaking.
There is a gorgeous 1.25-mile paved trail along the shores of the lake, which is perfect for a walk. Lincoln Parish Park features a campground featuring campsites with campfires and electricity.
Lincoln Parish Park also features picnic areas with picnic tables and pavilions where families can hang out and have fun.
The Park consists of a playground for little children and benches for those who want to rest for a bit.
Address: 211 Parish Park Rd, Ruston, LA 71270, United States
9. Ruston Artisans
For those looking for what to do in Ruston, LA, ensure to visit Ruston Artisans, an outstanding fine art gallery.
Ruston Artisans houses over fifty local artists who create, showcase, and sell their works; you will see something that would draw your attention.
The gallery was established in 2015 as the first ever online gallery that displays and sells beautiful artwork on the internet to buyers.
Later in 2017, they realized they needed a physical store to expand their business into what it is today.
Ruston Artisans offers visitors a fun and stress-free way to get a closer look into the culture and art of Ruston City.
This destination is also an event venue, co-op studio, and gift boutique. It hosts workshops and art-focused gatherings, including other events like birthday parties.
Address: 203 W Alabama Ave, Ruston, LA 71270, United States
10. Peach Festival
An event you wouldn't want to miss, Peach Festival has been held annually from way back in 1951. Peach Festival is held every June at the beginning of the peach season.
The Northern part of Louisiana is well known for growing fruits; however, the city of Ruston is known for growing peaches, cultivated by small groups until the Louisiana Fruit Growers Association was created in the late 1940s.
A few years later, the association coordinated the first festival, a one-day event on the first Saturday of June.
Peach Festival involves many hours of live music presentations at the Railroad Park stage, including art markets and contests.
It also has numerous food vendors with various treats, including peach ice cream and other fun activities for kids. Attending this festival is among the fun things to do in Ruston, LA.
Address: Ruston, LA 71272, United States
11. Downtown Ruston May Days
Though it mainly depends on when you visit the city, make an effort to ensure you don't miss Downtown Ruston May Days. The fair is held in May.
Downtown Ruston May Days hosts numerous cultural activities on Saturdays, co-occurring with the farmers market.
It usually involves a series of Railroad Park performances, which are usually supported by different activities such as art shows.
During this period, emerging talented artists from Louisiana Tech music school get the opportunity to showcase their skills.
There are usually many food trucks where you can enjoy a delectable traditional meal made with local ingredients.
Address: Ruston, LA 71270, United States
12. Railway Coffee
Starting your day with a delightful cup of coffee from Railway Coffee is an amazing opportunity.
Railway Coffee is a laid-back and simple cafeteria where you can relax, chat with loved ones, study, or spend time alone.
They are known for roasting their beans on-site, always trying to ensure that only fresh batches of coffee are served.
They also served other delicious beverages besides freshly prepared coffee, such as signature lattes, teas, lattes, lemonade, and more.
Railway Coffee also offers homemade pastries and baked goods to blend with the drinks, including cinnamon bread, breakfast sandwiches, muffin, acai bowl, pot pies, and more.
Their staff is known for being highly professional and friendly, always putting on bright smiles when welcoming visitors.
Address: 130 W Park Ave, Ruston, LA 71270, United States
13. North Louisiana Military Museum
Here is something for history fans, North Louisiana Military Museum is an exclusive military Museum in Ruston.
The North Louisiana Military Museum is home to a massive collection of memorabilia connecting to every conflict, including the Indian, French, and Desert Storm.
The Museum features two floors filled with exhibits, including tanks, a civil war cannon, helicopters, anti-aircraft firearms, and artillery.
You will find three congressional medals of honor downstairs obtained from three separate branches of service.
North Louisiana Military Museum offers a mind-blowing display of flags, uniforms, typewriters, and more from the Civil War, World War I, the War on Terror, and World War II.
Address: 201 Memorial Dr, Ruston, LA 71270, United States
14. Bandit Axe @ The Zone
How else do you want to create memorable moments with your friends in Ruston without visiting Bandit Axe @ The Zone?
Bandit Axe @ The Zone is a locally owned and managed Axe throwing facility that assures visitors a fantastic time.
This family-friendly Center allows children from eight years to throw axes while kids from the age of four throw ninja stars. Visiting this establishment is one of the fun things to do in Ruston, LA.
They offer bounce houses, batting machines, and cornholes for visitors to have massive fun. Bandit Axe @ The Zone trains their staff by the only World's WATL trainer as the only axe throwing Center in Northern Louisiana.
Bandit Axe @ The Zone offers visitors twelve alleys of axe throwing pleasure, perfect for family outings, birthday parties, bachelor/ bachelorette parties, date nights, team building events, date nights, and so on.
Bandit Axe focuses on coaching energetic axe throwers from their league members for league nights or competitions such as duel leagues.
Address: 5131 Hwy 167, Ruston, LA 71270, United States
15. Cottage of Ruston
A tranquil and soothing setting, Cottage of Ruston offers you the perfect escape you have been seeking in the city.
Cottage of Ruston offers a beautiful lodge with a fully equipped room featuring a queen-sized bed, television, and seats.
The Cottage is designed with white decor, including ceilings, walls, cabinets, and other furniture.
The owner put in so much effort to make this place look and feel like humble heaven and a home that brings delight to the soul.
The Cottage of Ruston is available for you alone or with your guests; it may be small, but it is great for the family. Every morning, complimentary breakfast is served to the guests in a continental style.
Address: 3102 Kavanaugh Rd, Ruston, LA 71270, United States
Planning to explore Louisiana? here is a list of things to do in Slidell, things to do in Lake Charles, and fun things to do in Bossier City for a memorable vacation.
16. Lincoln Parish Museum
Lincoln Parish Museum lies in historic Kidd Davis House and is managed by the Lincoln Parish Museum & Historical Society.
The Kidd-Davis was erected with an Italianate design in 1886 before it gained its current Colonial Revival appearance in 1920.
This Lincoln Parish Museum has an immense concentration on the 19th century. There are kitchen supplies, drawings, period furniture, clothing, dolls, photographs, and more dating back to the 1800s on display.
The Walls That Talk exhibit features seven murals that offer images of the parish's past, including detailed voice recordings by locals.
On the upper level, you will find a large display of farm equipment and an exhibit relating to Huey Long, a former governor of Louisiana. Several events are held in the Museum, including an educational lecture series.
Remember to visit their website and check out the event calendar so you will know the perfect time to visit.
Address: 609 N Vienna St, Ruston, LA 71270, United States
17. Duncan Park
Duncan Park is an exceptional Park for the whole family to go out and spend quality time together in Ruston; it is also great for those visiting alone.
The Park encloses a land space of twelve acres and features spacious play areas and essential athletic facilities.
The Park features fun equipment for everyone. You will find these fun areas within the cypress, oak, pecan, and bald trees.
Duncan Park features a softball or baseball field and basketball court through which visitors can engage in friendly competitions.
There is a gigantic playground for the younger ones, a pavilion, and bathroom facilities.
Address: 1311 Arlington St. Ruston, LA 71270, United States
18. Ruston Farmers' Market
Are you looking for what to do in Ruston, LA? Go shopping at Ruston Farmers' Market and prepare a delicious family meal.
Ruston Farmers' Market was founded in 2008 as a market that promotes the city's agricultural industry. You can also purchase wooden pieces, glassworks, books, artwork, and more.
Ruston Farmers' Market is housed in a beautifully designed warehouse located on the verge of downtown Ruston.
The Market is open on Saturday mornings and Tuesday evenings. It provides a platform to encourage the growth of local businesses for Louisiana's economic expansion.
You will find nearly everything you need here, including honey, eggs, salsas, grass-fed meats, handmade crafts, baked goods, and cosmetics.
Address: 220 E Mississippi Ave, Ruston, LA 71270, United States
19. Ruston Sports Complex
Whenever you feel like losing some extra calories, Ruston Sports Complex is one of the best places to visit in Ruston, LA.
As a state-of-the-art facility, Ruston Sports Complex is spacious and packed with standard facilities for sporting activities.
Ruston Sports Complex is an impressive sports location spread over approximately one hundred and eighty-five acres with sports amenities in fantastic conditions.
There is a soccer and football field, tennis court, and baseball and softball fields available for everyone, both locals and visitors, to explore.
The complex features interpretative biking and walking trails with a small pond, playgrounds, and more.
Ruston Sports Complex features a concession stand that offers delicious drinks and snacks, making it a perfect place for the whole family.
Address: 2001 Champions Way, Ruston, LA 71270, United States
20. R. L. Cook Park
It would be best if you didn't miss visiting R. L. Cook Park before leaving the city with your friends, family, or colleagues.
R.L. Cook Park is a beautiful twenty acres open and wooded area, making it an excellent choice for a quiet walk.
The Park is encompassed by thick hard wooden regions, providing room for visitors to receive fresh air and loosen up.
R.L. Cook Park features a 1.75-mile trail for hikers to explore, a playground, a gazebo, a small table shelter, and a pavilion.
Address: 2800 Kavanaugh Rd, Ruston, LA 71270, United States
21. Sundown Tavern
If you're still looking for an energetic and eclectic place to bring out the partying vibes in you, stopping by Sundown Tavern is one of the top things to do in Ruston, LA.
Sundown Tavern offers a rustic atmosphere with simple indoor seating and a cozy outdoor patio, allowing guests to make their choices.
The tavern offers a casual and relaxed atmosphere, making it an excellent place to spend the night alone or with loved ones.
They offer various drinks, including spirits, cocktails, and craft beers from national and local producers.
Sundown Tavern offers an extensive menu featuring a diverse selection of meals such as salads, small plates, kiddies meats, and main courses.
The tavern also hosts many live music entertainments presented by different types of musicians from national, regional, and local settings.
Address: 111 E Park Ave, Ruston, LA 71270, United States
22. Utility Brewing Company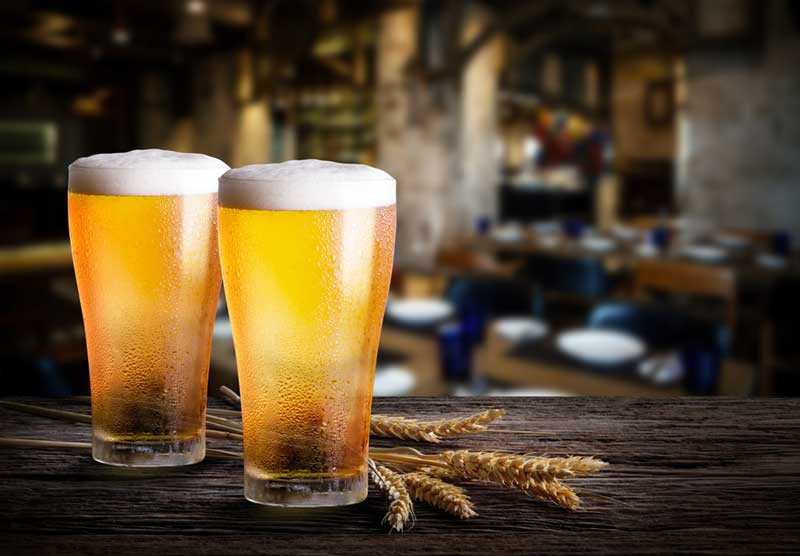 Enjoy some beer bottles at Utility Brewing Company while chit-chatting with friends.
Utility Brewing Company offers a large selection of beers made from scratch in the city, including signature cocktails.
They also offer different kinds of pizzas made with various types of fresh and locally sourced toppings or veggies.
The company offers guests a nice place to relax and relieve their stress as they sip from their chilled beer bottle while taking a bite from the deliciously made pizza.
Utility Brewing Company features a more comfortable outdoor area ideal for premium relaxation, especially during hot days.
Musicians from different music genres are often invited to the brewery to help the guests enjoy live music presentations.
Address: 206 N Vienna St, Ruston, LA 71270, United States
23. Log Cabin Grill & Market
Log Cabin Grill & Market is a popular restaurant in Ruston located along Farmerville Highway, which also serves as a market.
Founded in 2005, Log Cabin Grill & Market has served the public with homemade delights for many years.
Over the years, they added some Mexican cuisines to their food menu, including fajitas and chimichangas.
Log Cabin Grill & Market offers visitors various options, including authentic Texas cuisine.
Due to the high growth of the restaurant, they decided to broaden and establish a market that offers drink blends, meat, desserts, and sauces.
As a local joint, Log Cabin Grill & Market offers a comfortable and vibrant atmosphere for people to come in and dine.
Address: 1906 Farmerville Hwy, Ruston, LA 71270, United States
Louisiana presents breathtaking attractions and activities, explore some of its fun cities, here are guides on things to do in Covington, Lafayette, and Monroe.
Plan Your Trip to Ruston
Ruston is known for its vibrant historic downtown packed with shopping centers, including the famous Farmers' Market.
The city hosts numerous annual festivals such as Peach festivals and Downtown Ruston May Days.
The eclectic cultural heritage and active art scene are some of the major highlights in Ruston, making it a place worth visiting.
Start planning your trip to Ruston.